Axios Sneak Peek
November 17, 2019
Welcome to Sneak Peek, our weekly lookahead for both ends of Pennsylvania Avenue, plus our best scoops.
Situational awareness: "Hong Kong police threatened on Monday to fire live bullets if 'rioters' did not stop using lethal weapons in the latest flare up in anti-government protests that have convulsed the Chinese-ruled city for five months." (Reuters)
Tonight's newsletter is 1,748 words, < 7 minutes.
1 big thing: Trump said Haspel agreed with him "100%" on torture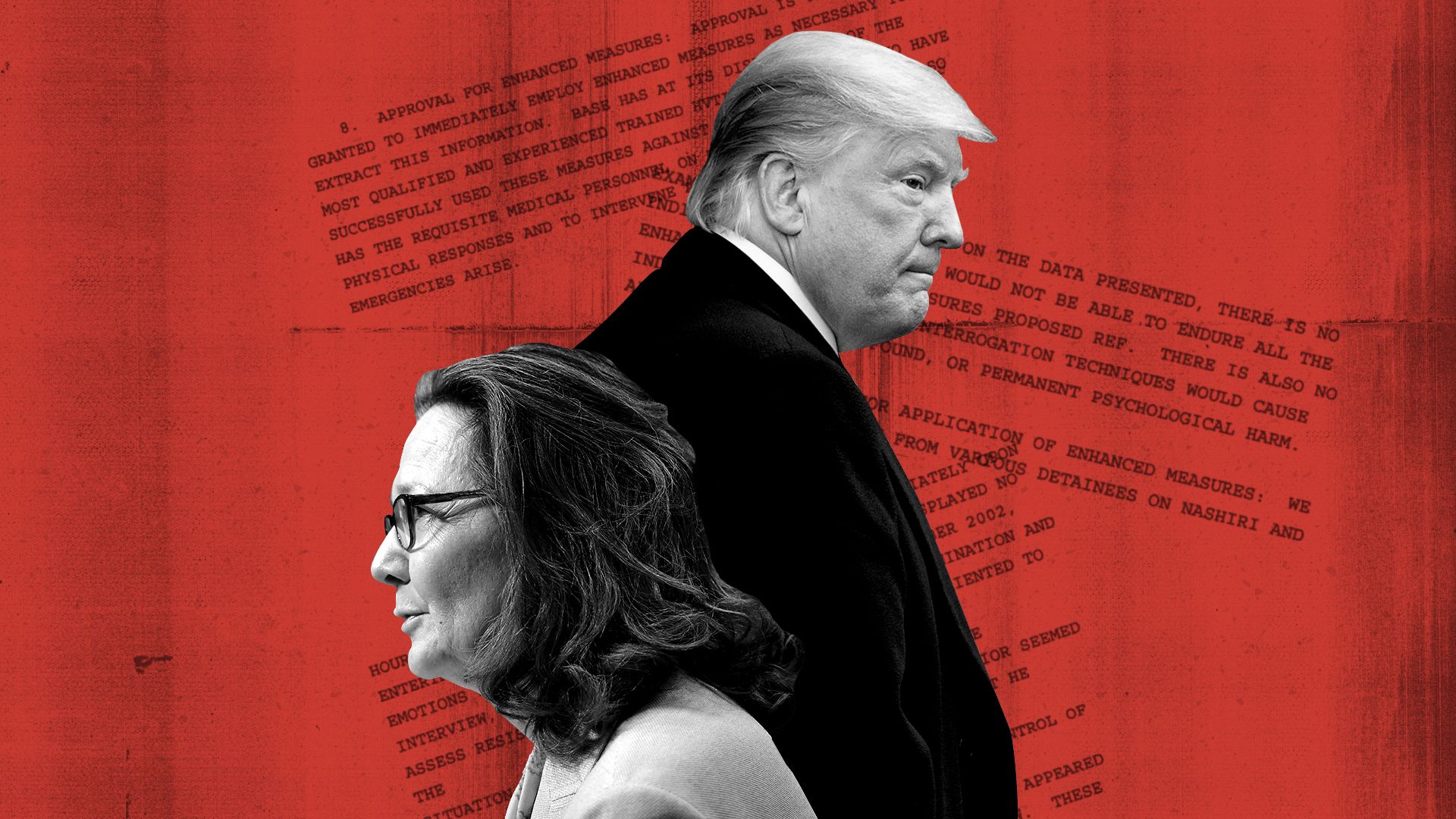 Last May, then-White House counsel Don McGahn wanted to withdraw Gina Haspel's nomination for CIA director. McGahn told colleagues that Haspel's role in the CIA's controversial "enhanced interrogation" program could kill her in her Senate confirmation.
Driving the news: President Trump disagreed. Trump actually liked this aspect of Haspel's resume, according to three sources who spoke to the president at the time. In fact, Trump told aides that Haspel's support for "torture" or "waterboarding" (Trump uses these words interchangeably in his private conversations) was an asset, not a liability.
Trump told advisers that he asked Haspel her opinion on whether waterboarding works. In Trump's telling, Haspel replied to him that she was "100%" sure it works, a source who spoke to Trump about it told me.
"He seemed impressed with how sure she was about something so controversial," the source said. "That she did not bat an eye, did not sugarcoat it, that it works. When it comes to national security, she does not hesitate."
A CIA spokesperson declined to comment for this story, but pointed Axios to a section of Haspel's confirmation testimony in which she said the CIA "learned some tough lessons from that experience" interrogating suspected terrorists after 9/11.
"Having served in that tumultuous time," Haspel told Congress, "I can offer you my personal commitment, clearly and without reservation, that under my leadership, on my watch, CIA will not restart a detention and interrogation program."
The White House and McGahn did not respond to requests for comment.
Why it matters: Trump has held the same views about war crimes and torture for years — and being commander in chief has not changed him. He believes that previous presidents have been far too eager to send Americans to war, but that once they've been deployed, these soldiers should be free to treat enemies brutally.
Trump's views on this subject flared up again last week. He clashed with Pentagon brass when he cleared three soldiers who have been accused or convicted of war crimes.
Pentagon leaders had privately argued that the president's intervention in these cases would undercut the code of military justice.
Trump has told advisers that the U.S. military became too politically correct under President Obama and that he wanted to unleash them to fight with "toughness," without these burdensome rules of engagement.
Trump's immutable views on this subject have put him at odds with Pentagon leadership more than once. From the outset, Trump disagreed with former Defense Secretary James Mattis over the effectiveness of waterboarding.
Former chairman of the Joint Chiefs of Staff, Gen. Martin Dempsey, captured the widespread concerns in a tweet earlier this year: "Absent evidence of innocence or injustice the wholesale pardon of US servicemembers accused of war crimes signals our troops and allies that we don't take the Law of Armed Conflict seriously. Bad message. Bad precedent. Abdication of moral responsibility. Risk to us."
2. Democrats' Week 2 impeachment strategy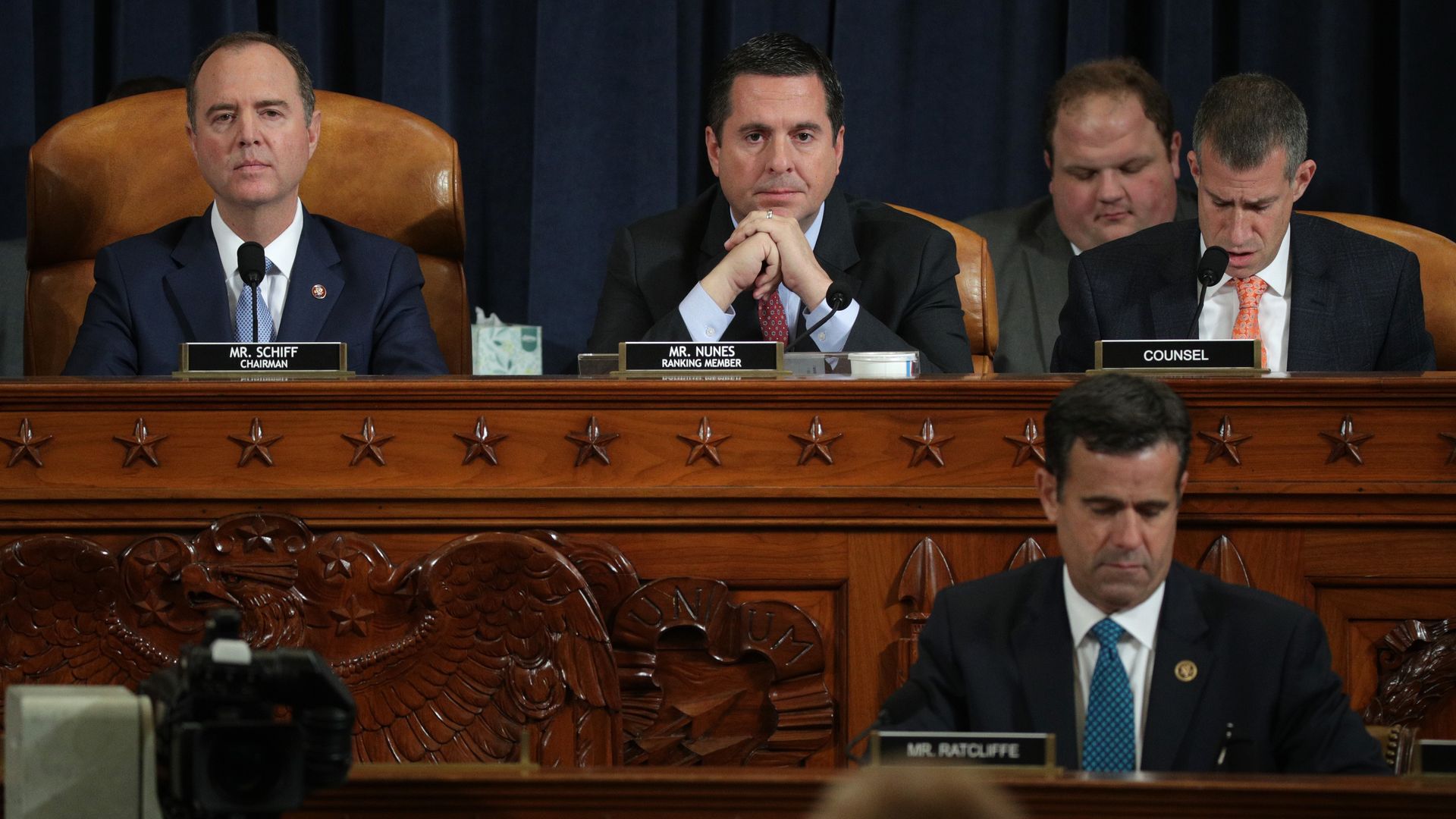 Democrats are approaching Week 2 of impeachment hearings with one key goal: show more of President Trump's direct involvement in the scheme to tie Ukrainian aid to an investigation of Joe Biden's son, Axios' Alayna Treene reports.
What to watch: Of the eight officials testifying next week, the one with the most known direct interactions with Trump is EU Ambassador Gordon Sondland. The Trump megadonor already had to amend his testimony once. He may be the most legally vulnerable, and he has spoken with Trump about the investigations.
At least two others — National Security Council top Ukraine expert Lt. Col. Alexander Vindman and former Trump Russia adviser Fiona Hill — also have the potential to offer key details from within the White House, with one Democratic official describing them as this week's star witnesses.
Vindman, who will appear on Tuesday, was on the July 25 call between Trump and Ukrainian President Volodymyr Zelensky. He says acting Chief of Staff Mick Mulvaney was responsible for withholding aid to Ukraine.
And Hill will close out the week on Thursday. "She can put an entire bow on this thing ... and speak to the president's actions directly," a Democratic aide said.
3. Inside Republicans' defense strategy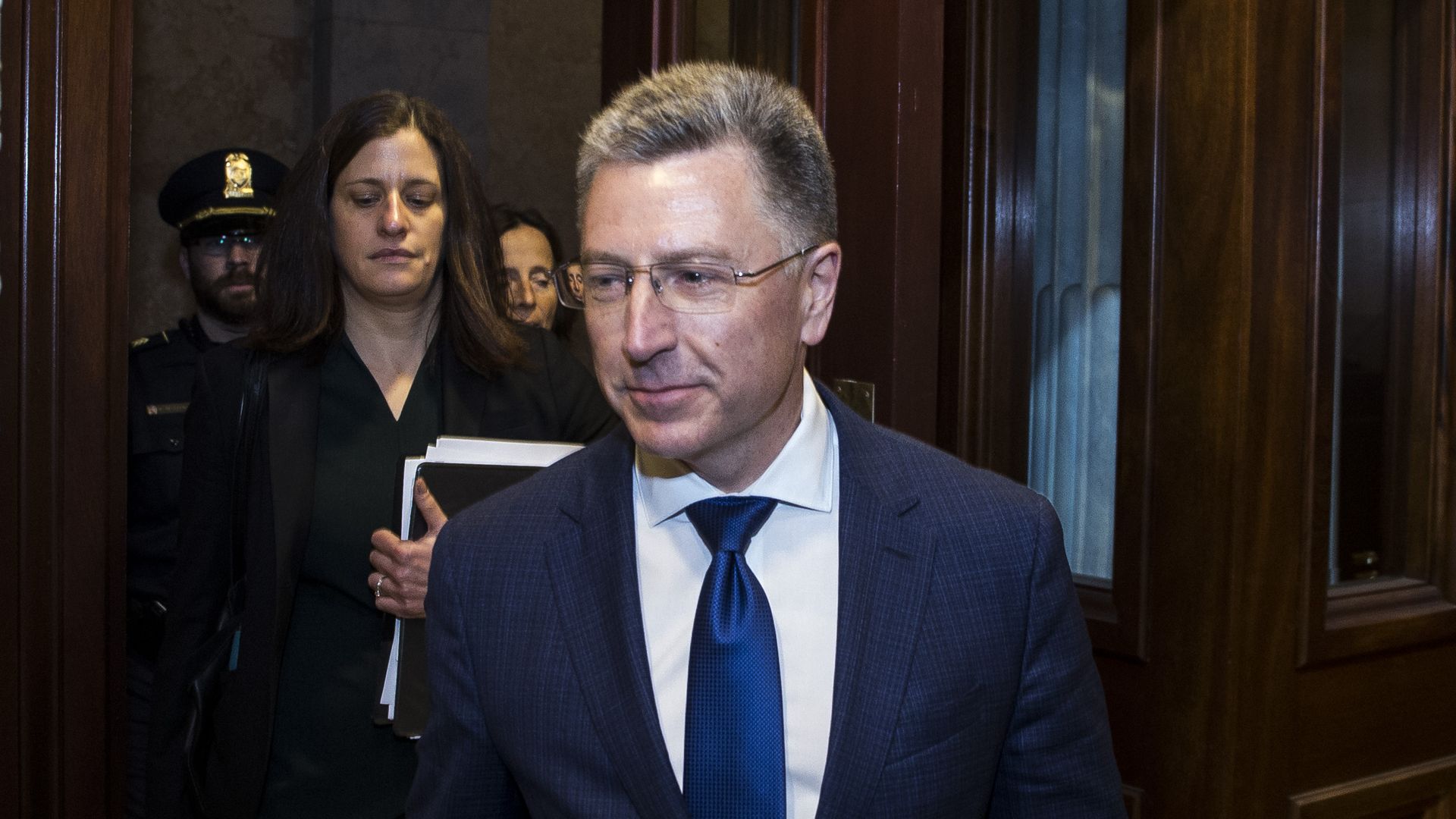 Republicans' goal this week is to create as much distance as possible between President Trump and the witnesses and make the case that Trump himself never specifically ordered a halt on aid to Ukraine with the intention of forcing a political investigation.
Behind the scenes: Republicans think Trump's former special envoy to Ukraine Kurt Volker and former NSC official Tim Morrison will be their star witnesses, though some are griping that Schiff has tucked their hearing into Tuesday afternoon, Republican officials working on impeachment tell Alayna.
"Their testimony is super important, and Schiff knows they undermine his case. So what he's done is taken these two critical witnesses and buried them in the afternoon when no one pays attention," one GOP official said.
And while Democrats think Sondland will be a damaging witness for the president, Republicans think they can use him to their advantage.
They'll say Sondland only talked to the president a handful of times about Ukraine, and he was eager to please Trump.
They'll also focus on the idea that Sondland's knowledge was "presumed" and the president never directly linked the two.
Still, they concede that Sondland's decision to revise his testimony to say he told a Ukrainian aide that military assistance was tied to an investigation of Burisma could be problematic.
Meanwhile, White House communication with the Hill has tightened over the past week, according to people involved. Trump has made clear to aides he wants them to fight on substance — "he's done nothing wrong" — not just process, a senior administration official said.
The White House has been monitoring the Hill for any signs of wobbliness. Some senior aides were concerned about Trump's tweet attacking Yovanovitch — believing that it was the type of thing that could fracture Republican support.
Two senior officials told me that Trump has been advised that his Yovanovitch tweet was not helpful.
4. What's next: Buttigieg to face the frontrunner treatment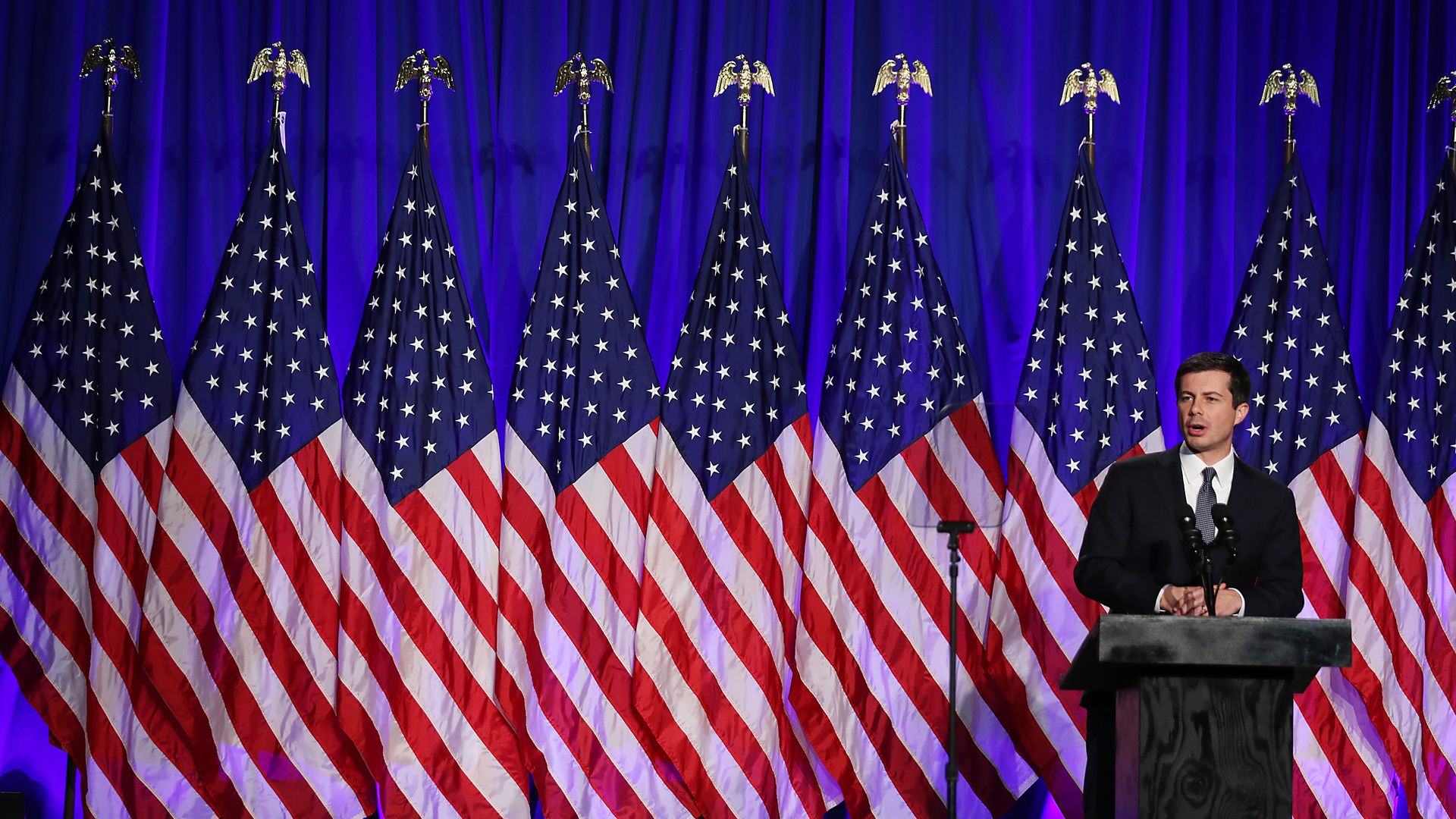 Top Republicans are taking Pete Buttigieg seriously as a potential general election candidate after his breakout poll in Iowa. The respected Des Moines Register poll, released Saturday night, has Buttigieg at the top of the Democratic pack in Iowa.
"He'd be a fresh face with a message of unity and a more traditional Democratic program that's not as scary to suburbanites," Karl Rove told me. "His weaknesses would be in motivating African Americans and connecting with blue-collar middle America that's dubious of any Harvard-educated elites."
Others, including several top Trump advisers, raised concerns that Buttigieg is more talented than Joe Biden and that he will be harder to brand as a leftist radical than Sens. Elizabeth Warren or Bernie Sanders.
What they're saying:
"Buttigieg might be better for them to win Wisconsin than Warren," said a source close to the Trump campaign. "And I think it comes down to Wisconsin right now."
Buttigieg, the 37-year-old mayor of Indiana's fourth-largest city, has defended himself against charges of inexperience by saying he has more executive experience than Trump.
But he's failed, so far, to win support from many African American voters. And some of his outreach efforts have backfired badly. The Intercept's Ryan Grim published a damaging story on the blowback to Buttigieg's poorly handled plan to gain support from black voters in South Carolina.
A Buttigieg spokesperson said: "Pete believes we need to dismantle systemic racism in order to deliver justice for Black Americans and make our country whole. Which is why, as we said the time of its release, we're proud the Douglass plan has earned the support of many South Carolinians, including many African-Americans," per The Intercept.
What's next: Buttigieg has had a huge surge of support in Iowa, but he has never had to face the scrutiny and attacks that come with frontrunner status. This week, that will likely change. Watch for the other candidates to turn on him in Wednesday's Democratic debate in Atlanta.
5. Sneak Peek diary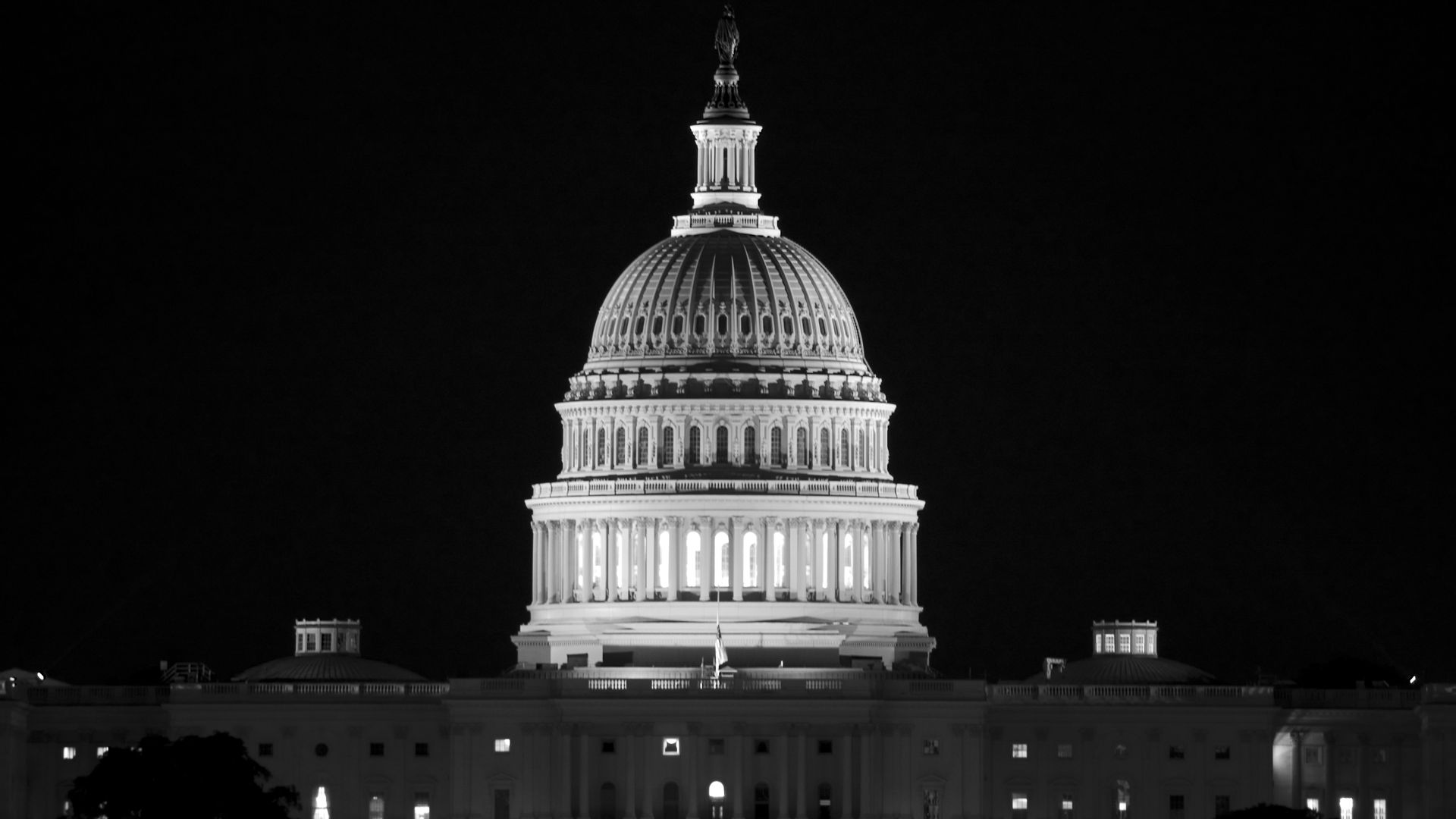 The leading Democratic presidential candidates will take part in the sixth Democratic debate on Wednesday. The debate will be moderated by MSNBC and the Washington Post at Tyler Perry Studios in Atlanta, Georgia, Alayna reports. 
The House Intelligence Committee will hold a series of public impeachment hearings:
Tuesday:
Jennifer Williams: an aide to Vice President Mike Pence, on detail from the State Department.
Lt. Col. Alexander Vindman: a decorated war veteran and the National Security Council's top Ukraine expert.
Kurt Volker: former special envoy to Ukraine.
Tim Morrison: former National Security Council adviser.
Wednesday:
Gordon Sondland: EU Ambassador.
Laura Cooper: deputy assistant secretary of defense for Russian, Ukrainian and Eurasian Affairs.
David Hale: undersecretary of state for Political Affairs.
Thursday:
Fiona Hill: former Russia aide who reported to former National Security adviser John Bolton.
The House will vote on a short-term spending bill to fund the government through Dec. 20 (the current continuing resolution expires on Nov. 21).
The Senate will process a short-term continuing resolution and vote on the following nominees, per a Republican leadership aide:
Robert Luck as a judge for the 11th Circuit.
Barbara Lagoa as a judge for the 11th Circuit.
Adrian Zuckerman as U.S. ambassador to Romania.
6. Trump's week of counterprogramming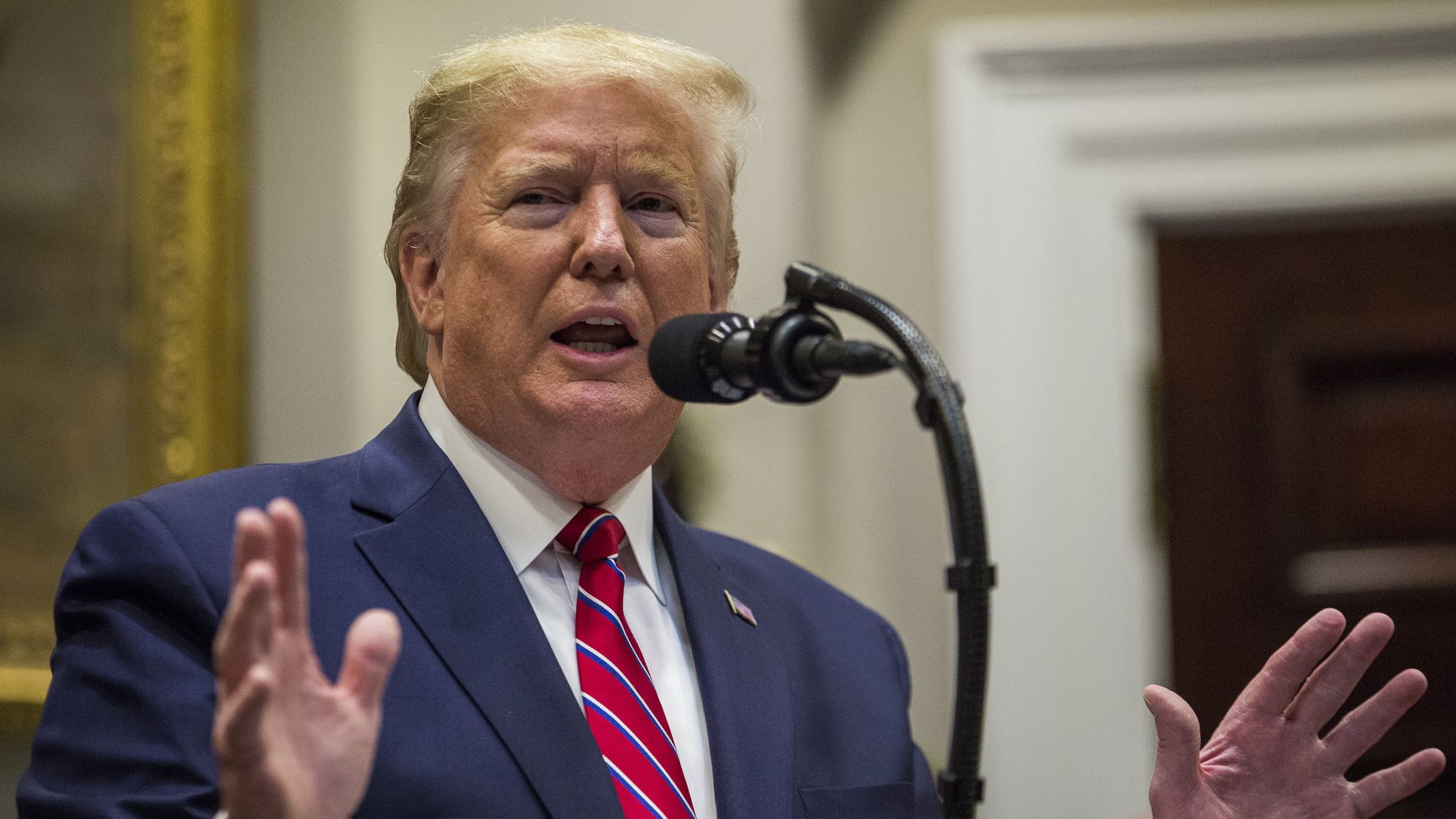 President Trump's public schedule next week is designed to keep him distracted from the televised hearings — and to counterprogram Week 2 of those hearings, Axios' Margaret Talev writes.
Trump's schedule for the coming week shows him governing, promoting U.S. jobs and highlighting the arts and pop culture.
On Tuesday, as Democrats question Lt. Col. Alexander Vindman, Trump will be meeting with his Cabinet.
On Wednesday, as Democrats grill Trump megadonor turned EU Ambassador Gordon Sondland, Trump will he visiting Apple's manufacturing plant in Texas.
And on Thursday, after Democrats question Fiona Hill, Trump will be presenting the national medals of arts and humanities.
The bottom line: Trump, who'll cap the week by welcoming college athletes, will have built-in opportunities to address the cameras at all of these events. If he shows discipline, he can convey that he is carrying out the range of duties of the presidency while Democrats are focused on impeachment. But if last week is any guide, that's a big if. 
7. 1 pardon thing: Trump forces offer clashing advice on Roger Stone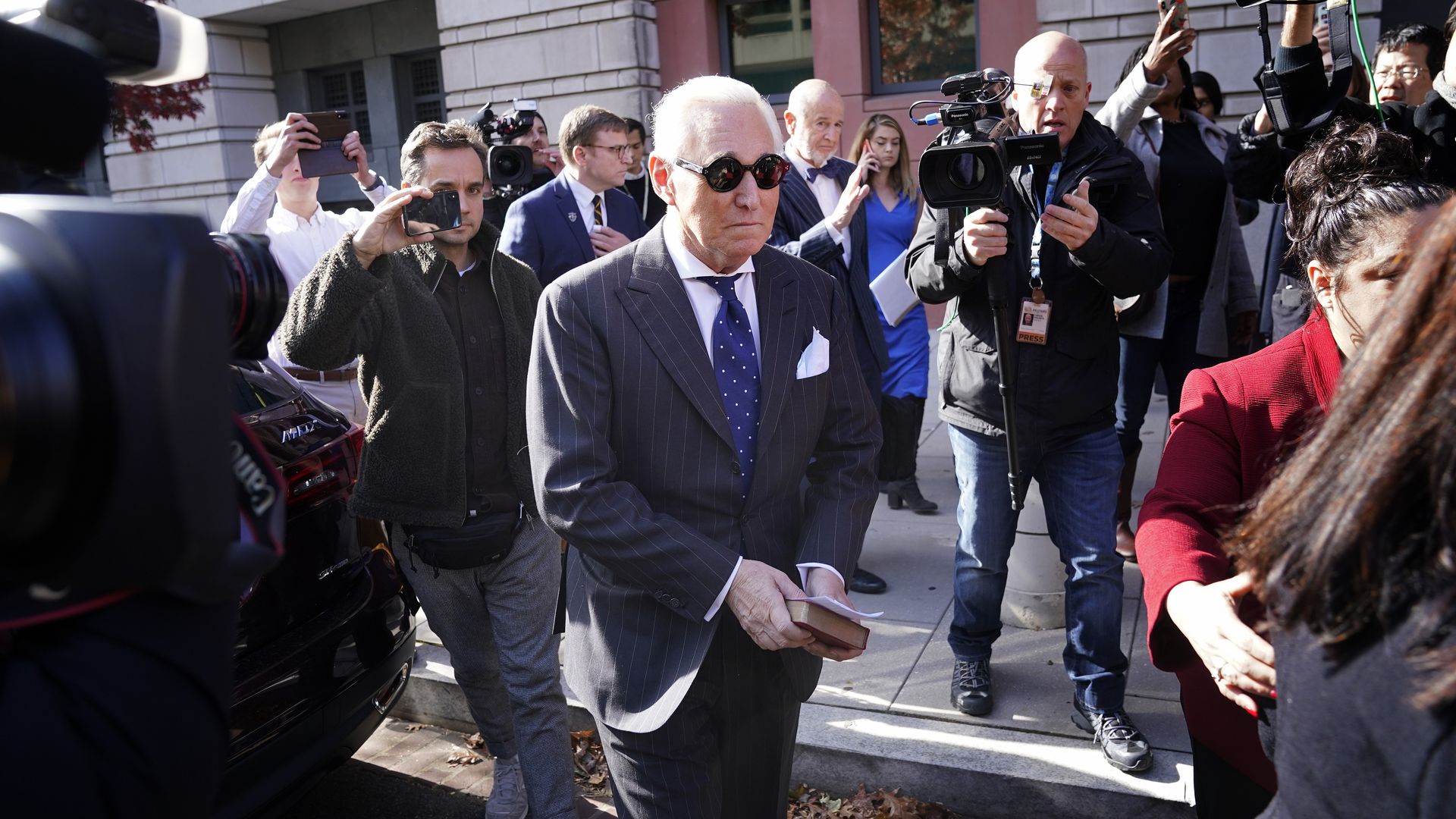 A big question swirling through Trumpworld: Will President Trump pardon his old friend Roger Stone? Some of Trump's closest advisers told me the president would be making a huge political mistake if he does.
Stone was found guilty on Friday of obstruction, witness tampering and making false statements to Congress. A judge will sentence him in February.
What we're watching: Fox News host Tucker Carlson is pushing hard for Trump to pardon Stone and interviewed his daughter Adria Stone on his Friday night show. She pleaded with President Trump to pardon her father. "Donald Trump, if you can hear me, please save our family," she said.
Why it matters: Trump watches Carlson's show religiously and values his opinions.
Carlson indicated on Friday night's episode of "Tucker Carlson Tonight" that he won't let this go.
"I honestly do think," Carlson told Stone's daughter, "that after watching a series of people, some of whom are not deserving at all, get pardons from this White House ... I think people are going to be watching really carefully to see if your dad is pardoned. I'm going to be."