Axios Sneak Peek
August 09, 2020
Welcome to Sneak Peek, our weekly look ahead from both ends of Pennsylvania Avenue, plus our best scoops.
Today's newsletter is 1,492 words, a 6-minute read.
1 big thing: Scoop — Inside Trump's debate prep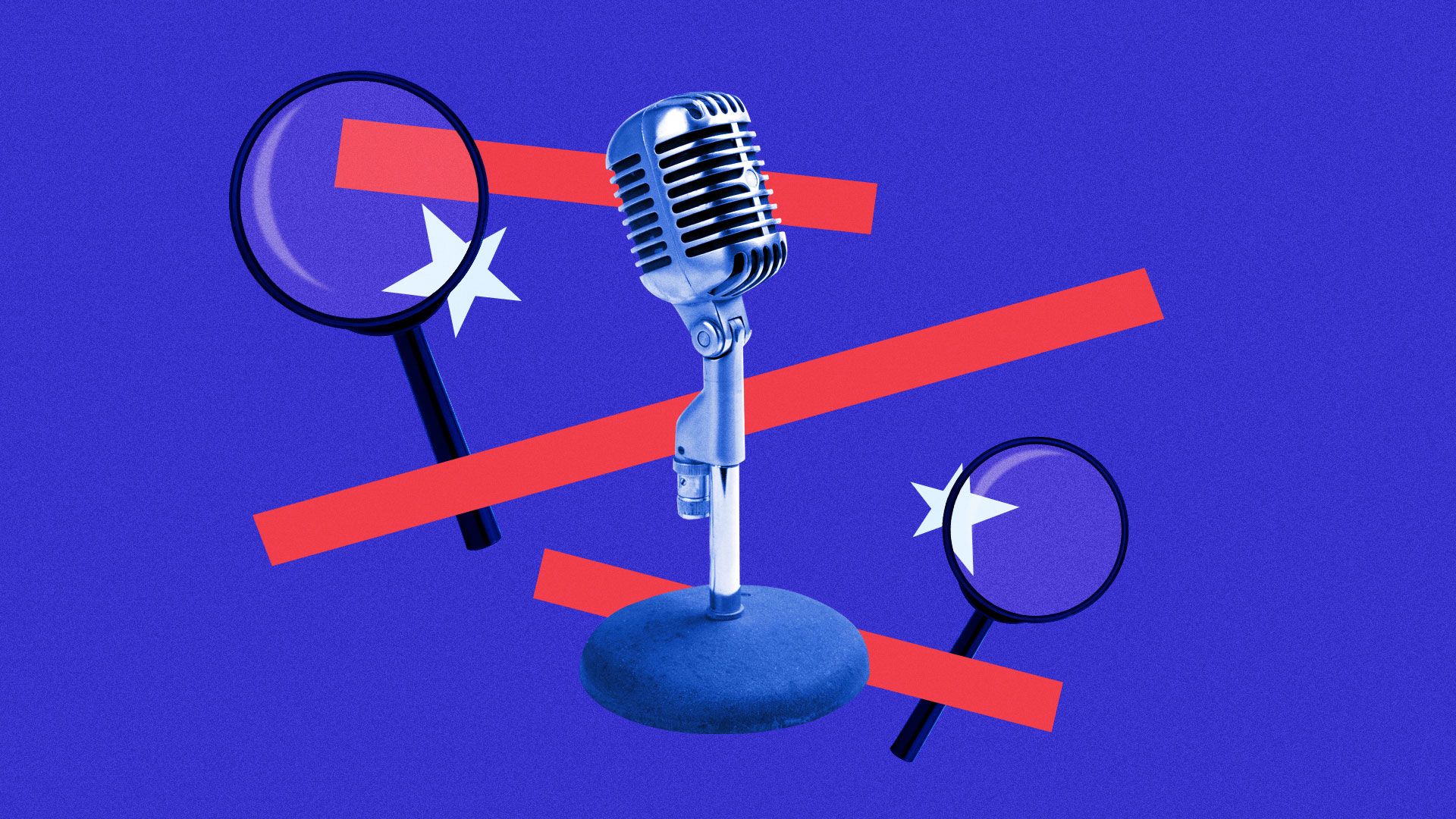 Two weekends ago, President Trump met with a group of his closest aides in the conference room of his Bedminster golf club to discuss a subject that has been weighing heavily on his mind: the three scheduled debates with Joe Biden.
Why it matters: These debates have taken on outsized importance to close the polling gap and get Trump within striking distance by Election Day. The Trump campaign views the debates as the crucial inflection points left before Nov. 3.
Behind the scenes: In the room with Trump were his son-in-law Jared Kushner, campaign manager Bill Stepien, senior adviser Jason Miller, and former New Jersey Gov. Chris Christie, who role-played Hillary Clinton in Trump's 2016 debate prep sessions.
The team agreed to meet at least every 10 days or so between now and the first debate, according to two sources familiar with the results of the meeting.
They resolved to keep the group very small. They may bring in different people based on subject matter expertise, but the group would remain five to six people to limit the potential for leaks.
The group did not specifically discuss whether Christie will play Biden in debate rehearsals. But Trump has made private comments indicating Christie is likely to role-play Biden as he did Clinton. Trump has told associates that Christie "was better than Hillary" and "harder to debate than Hillary" in 2016.
What they're saying: "I don't think he [Trump] sees the debates as the last inflection points, but potentially the most important," said a source familiar with the results of the planning meeting.
"I think he always thinks he can create an inflection point," the source added.
"But he has verbalized how important these are going to be. He's said, 'We gotta win. The press will never give me the credit for it, but the people will.'"
Between the lines: Team Trump doubts Biden will submit himself to any tough interviews before Election Day, so they view the debates as the only opportunity to batter him before a national audience, according to three sources involved in the internal discussions.
Key Trump advisers, including Miller and Christie, have cautioned Trump that Biden is actually a decent, experienced and relatively disciplined debater. 
Miller has also been publicly trying to reset expectations about Biden's performance in the debates. "Joe Biden is actually a very good debater," Miller told the Washington Post. "He doesn't have as many gaffes as he does in his everyday interviews."
2. What to expect from the debates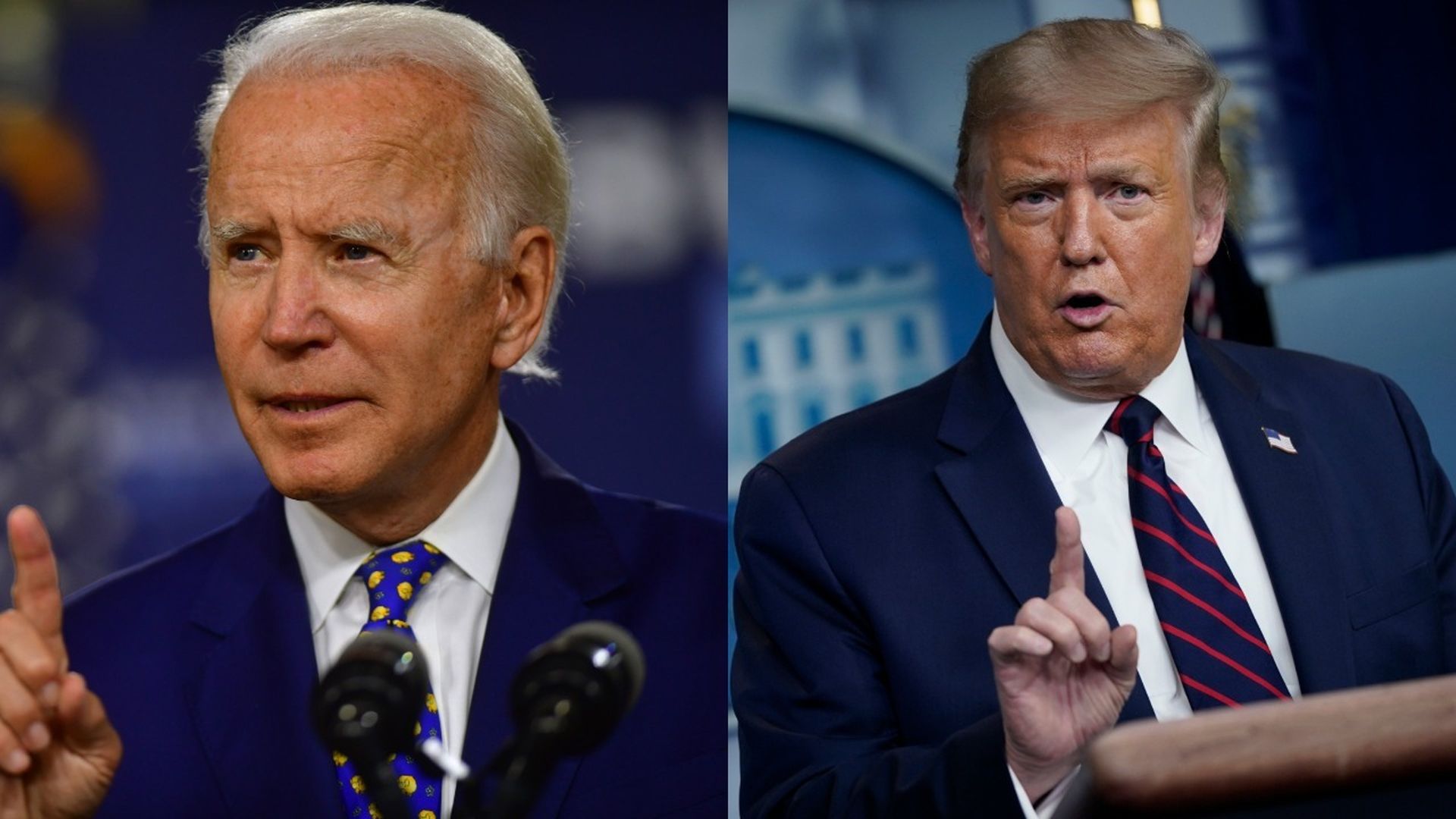 The problem for the Trump campaign is they have no leverage over the Commission on Presidential Debates — the independent body that will manage this fall's presidential debates.
Team Trump has made clear it's itching to debate Biden, so Trump can't credibly threaten to withdraw from the debates if he doesn't get one of his preferred moderators from a list that Rudy Giuliani sent to the commission.
What we're hearing: A source familiar with the debate planning said the commission will announce the debate moderators the first week of September. In keeping with its history of independence, dating back to 1988, the commission will not let either campaign pressure it into choosing a particular moderator.
The commission will select the moderators entirely itself. It may give the campaigns a courtesy heads-up before publicly announcing, the source said, but under no circumstances will the commission let the campaigns influence its decisions.
Since 1988, the commission has always sought to choose moderators that would be broadly seen as fair and would not provoke a violent reaction from either campaign. Never, in 30 years, has a campaign vetoed a selection, though they've complained afterward about "unfair" moderators.
The big picture: The commission is not willing to bow to the Trump campaign's request that it change the debate schedule to add a September debate before early voting begins in some states.
"If the campaigns agree they want another debate, we will take a look at that and see if that will work," the source said. But the commission won't change the debate schedule or add another debate unless the Biden campaign also pushes for it. And so far, the Biden campaign has indicated it won't do that.
"It would be nice if people understood how complicated this is," the source added.
This year, the commission needs to manage the biggest television event of the year during the worst pandemic in a century. The debates will have tiny on-campus audiences — "two-digit sized," the source said. Attendees will be socially distanced and wear masks.
The Cleveland Clinic will supervise all of the debates, and everyone will be tested for the coronavirus before entering the room.
3. What's next: Democracy in crisis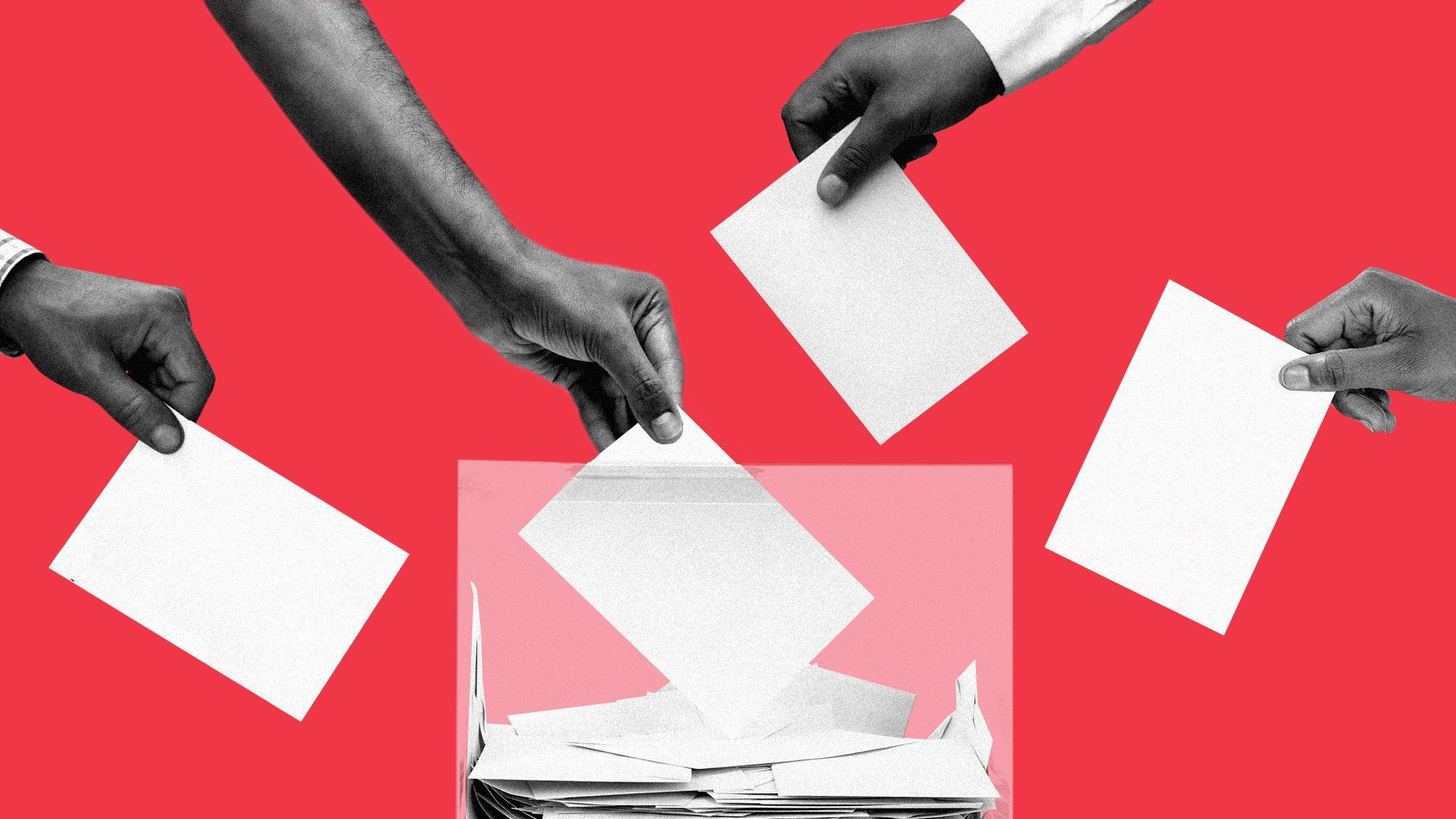 "The stormy once-in-a-lifetime Florida recount battle that polarized the nation in 2000 and left the Supreme Court to decide the presidency may soon look like a high school student council election compared with what could be coming after this November's election," reads a chilling, but entirely plausible, New York Times article.
"Imagine not just another Florida, but a dozen Floridas."
Why it matters: "The possibility of an ugly November — and perhaps even December and January — has emerged more starkly in recent days as President Trump complains that the election will be rigged and Democrats accuse him of trying to make that a self-fulfilling prophesy," the Times reports in this essential piece.
It paints a stark and dramatic picture of the litigation and overall chaos my colleagues Stef Kight, Hans Nichols and Alexi McCammond foreshadowed this week — and eloquently captures the dangers in the vote-counting and vote-litigating battles ahead of us.
The big picture: "Already ... party organizations, campaigns and interest groups have filed 160 lawsuits across the country trying to shape the rules of the election," per the Times.
"About 40 have been filed in 17 states by Mr. Trump's campaign and the Republican National Committee, some in response to Democratic lawsuits, as part of an expansive $20 million litigation campaign against policies making it easier to vote on the grounds that they could lead to fraud."
Flashpoints to watch for:
"A long-troubled Postal Service, now run by a Trump megadonor and seemingly overwhelmed by the prospect of delivering tens of millions more votes cast by mail with an administration resistant to providing substantial new funding."
"Concern among Democrats that Mr. Trump or Attorney General William P. Barr could use their bully pulpits to raise loud enough alarms about voter fraud to lead sympathetic state and local officials to slow or block adverse results."
"Fights over whether mailed ballots should be counted if received by Election Day or simply postmarked by Election Day, not to mention what to do if the post office does not postmark them at all."
"Fights over the use of drop boxes to return ballots and the number of polling places for in-person voting amid the risk of disease."
"Fights over whether witnesses should still be required for absentee votes in a socially distant moment and what to do if signatures do not match those on file."
4. Legal fight brewing over Trump's executive actions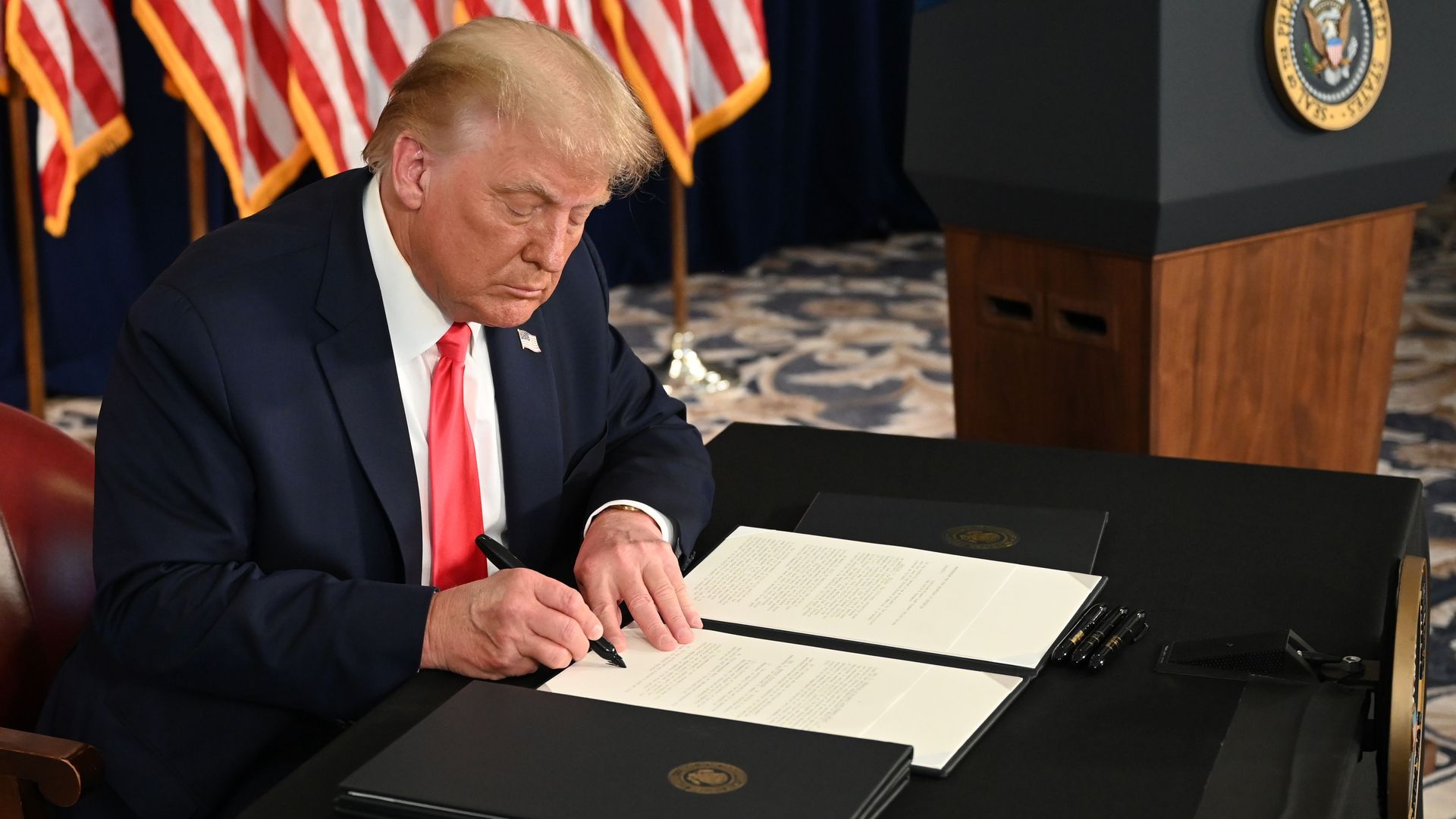 "House Speaker Nancy Pelosi and Treasury Secretary Steven Mnuchin offered sharply different takes on President Trump's coronavirus relief measures Sunday, with Mrs. Pelosi branding the actions 'absurdly unconstitutional' and Mr. Mnuchin defending the actions as legal," per the Wall Street Journal.
"Mr. Trump signed four executive actions Saturday after negotiators for congressional Democrats and the White House failed to reach accord on extending aid measures, including $600 in additional unemployment benefits that expired last month."
What they're saying: "Mrs. Pelosi and others say the actions usurp congressional authority to appropriate federal funds, and are too meager for the continuing fallout of the coronavirus pandemic."
The Trump administration, however, is daring opponents to challenge the measures in court. "We've cleared with the office of legal counsel all these actions," Mnuchin said on "Fox News Sunday."
Mnuchin added, "If the Democrats want to challenge us in court and hold up unemployment benefits to those hardworking Americans that are out of a job because of COVID, they're going to have a lot of explaining to do."
Details: Frustrated that Democrats wouldn't agree to his team's offers, Trump directed the federal government to tap disaster funds to provide an extra $300 a week in unemployment benefits. Trump is asking states to tap their own funds to provide an additional $100 — to get the overall weekly boost to $400. (It's unclear which states will be willing or able to do so.)
Democrats have been calling to continue the current $600 weekly boost in unemployment payments — which expired as negotiations broke down — into next year.
Per the WSJ: "In other actions Saturday, Mr. Trump directed the Treasury Department to defer the 6.2% Social Security tax on wages for employees making less than about $100,000 a year. That suspension would last from Sept. 1 through Dec. 31."
"Mr. Trump also said that Americans with federally held student loans would be able to suspend monthly payments through Dec. 31, and that the government would waive interest on the loans during that period."
And "the president also signed an order directing his administration to take 'all lawful measures to prevent residential evictions and foreclosures' related to the pandemic."
5. Sneak Peek diary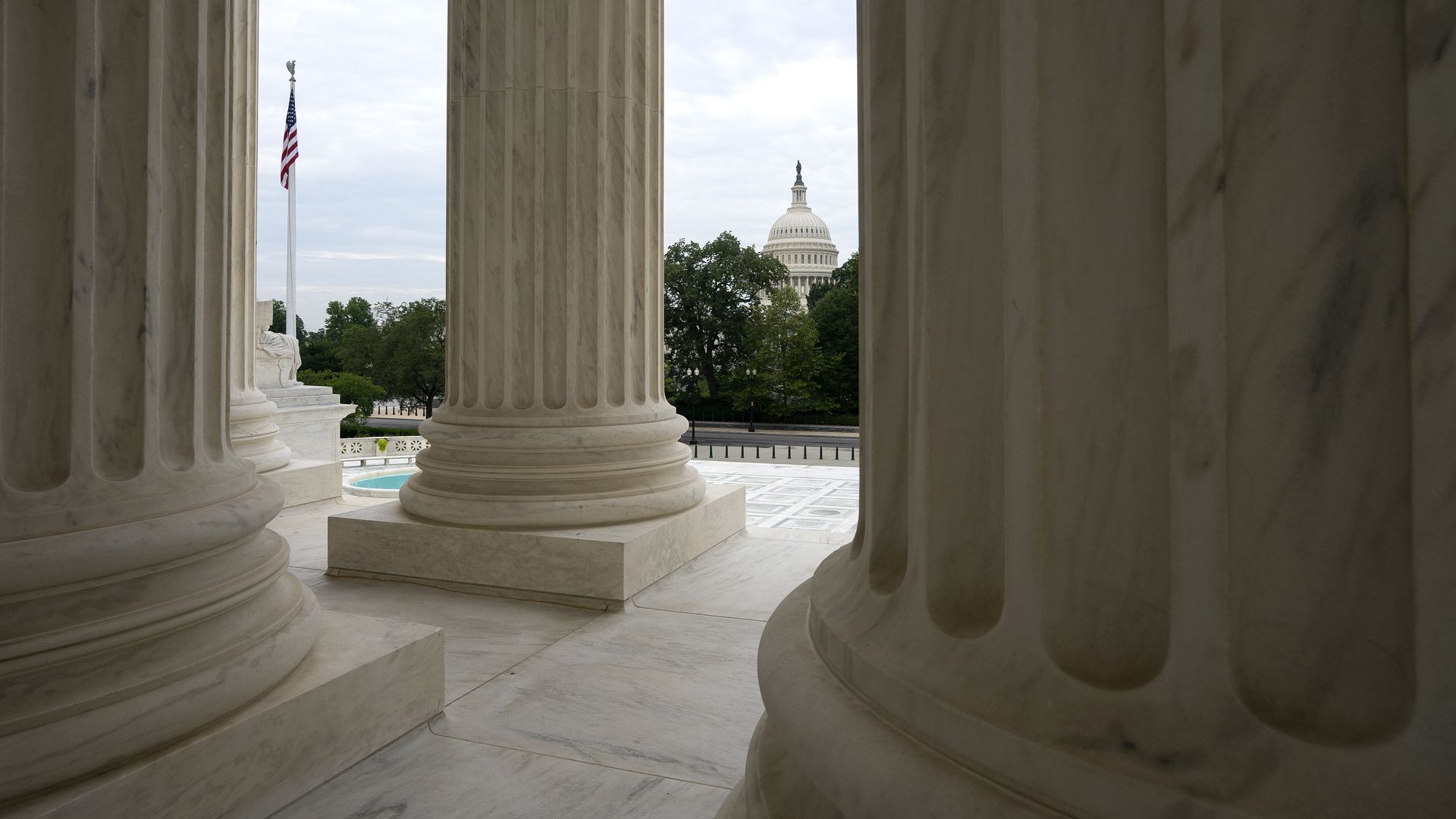 The House is on recess this week, though House Speaker Nancy Pelosi (D-Calif.) plans to stay in D.C. for ongoing coronavirus stimulus negotiations, Axios' Alayna Treene reports.
Majority Leader Steny Hoyer (D-Md.) has reserved the right to call members back to Washington for a vote on a potential stimulus bill.
Most senators have also flown home and are awaiting further instruction from Majority Leader Mitch McConnell (R-Ky.) on whether they will need to return to Capitol Hill to consider a coronavirus relief bill. Members will be given 24 hours' notice if they do.
The White House did not provide a week-ahead schedule for President Trump. A White House official told me to "expect the president to continue his rhythm of regular press briefings to provide COVID updates."