Axios Sneak Peek
April 23, 2017
Welcome to Sneak Peek, our weekly lookahead for both ends of Pennsylvania Avenue. I'd love your tips and feedback: [email protected]. And please urge your friends and colleagues to join the conversation by signing up for Sneak Peek. See you all week in the Axios STREAM.
1 big thing: Scoop — the president's orders
President Trump is going on an executive order frenzy in the final week of his first 100 days.
By Friday, Trump will have signed at least 32 executive orders — the most signed in the first 100 days of a new administration since World War II.
Here are the executive orders coming this week, per a White House source with direct knowledge:
"Executive Order Improving Accountability and Whistleblower Protections at the Department of Veterans Affairs": "This Executive Order will establish, in the Department of Veterans Affairs, an Office of Accountability and Whistleblower Protection. The Office will help the Secretary of Veterans Affairs to discipline or terminate VA managers or employees who fail to carry out their duties in helping our veterans. The Office will also identify barriers to the Secretary's authority to put the well-being of our veterans first."
"Executive Order for a Review of Designations under the Antiquities Act": "The Antiquities Act of 1906 authorizes the president to declare federal lands of historic or scientific value to be 'National Monuments' and thereby restrict the types of uses to which those lands can be put...The Antiquities Act Executive Order directs the Department of the Interior to review prior monument designations and suggest legislative changes or modifications to the monument proclamations."
"Executive Order Implementing an America-First Offshore Energy Strategy": "Past administrations have been overly restrictive of off-shore energy exploration. The America First Energy Executive Order directs a review of the locations available for off-shore oil and gas exploration and of certain regulations governing off-shore oil and gas exploration."
"Executive Order Promoting Agriculture and Rural Prosperity in America": "The Agriculture and Rural Task Force Executive Order creates an interagency task force to examine the concerns of rural America and suggest legislative and regulatory changes to address them."
Behind-the-scenes: Trump, used to getting his own way in his business career, is frustrated that Congress won't bend to his will. And he isn't the only one who feels like that. Trump's filled his administration with guys like Gary Cohn and Wilbur Ross who are used to having their orders followed. They, like Trump, regard Washington and the folks who've spent their careers here, as hacks. Team Trump is learning to love the executive order — the tool that gives them instant gratification.
2. Another scoop: there's more on trade
The White House communications team wouldn't confirm this, but my sources tell me there could be as many as three additional executive orders this week (in addition to the four we report on above!) — all related to trade.
The big one, which could come Thursday (but don't hold me to that date!) is a similar model to last week's presidential directive on steel; but this time it's applied to aluminum. Last week, Trump directed Commerce Secretary Wilbur Ross to investigate whether foreign steel imports compromise U.S. national security. This is a big deal — which largely got lost amid the North Korean crisis and the re-emergence of healthcare. If Ross finds that steel or aluminum imports threaten national security, then Trump can take extraordinary protectionist measures to rectify the situation.
My sources also tell me there could be a couple other trade orders released in the lead-up to Trump's Saturday rally in Harrisburg, Pa., to mark his first 100 days. The spilt-screen image Trump wants: As TV cameras show Washington's press corps dressed in black tie at the White House Correspondents Dinner, Trump is giving a full-throated economic nationalist pitch in the heartland.
Connecting the dots: As we've written previously, President Trump flip-flops all over the policy map, but the one thing he's believed constantly for 30 years is that America should be tougher on trade and retaliate against foreign governments who he thinks rip the U.S. off. Trump doesn't believe it when people tell him America has to leave heavy manufacturing behind and evolve into a sophisticated service economy. Everything he's doing is about bringing back manufacturing jobs.
The globalist versus nationalist divisions in the White House are less than meet the eye when it comes to trade, because everyone knows where Trump stands. In his appearance this week at a Washington conference, Gary Cohn kept emphasizing "fair" trade.
Cohn also embraced Trump's favorite word ("reciprocal") — a word that makes free traders feel nauseous.
Treasury Secretary Steven Mnuchin, who's closer to Trump than many realize, recently pushed back on world finance chiefs who wanted America to join them in rejecting "protectionism."
North Korea got all the headlines during the recent trip to Asia by VP Mike Pence and Commerce's Ross. But this trip was planned well in advance and trade was a major agenda item. Trump is committed to remaking Asian trading relationships, including a bilateral deal with Japan (despite resistance from the Japanese.)
Another country to watch for trade negotiations (or re-negotiations): South Korea.
3. Shutdown watch
The government runs out of money on Saturday and, with that in mind, the most important line on any of the Sunday shows today came from White House chief of staff Reince Priebus.
Chuck Todd, host of NBC's "Meet the Press," asked Priebus whether the administration would veto a government funding bill if there's not money in it to fund Trump's border wall. Priebus' response here was telling:
"It will be enough in the negotiation for us to move forward with either the construction or the planning, or enough for us to move forward through the end of September to get going on the border wall and border security in regard to border patrol..."
Between the lines: By refusing to demand funding for the bricks-and-mortar "wall," Reince tipped his hand. Trump can't stomach a shutdown on his watch, so he'll likely take a "win" on some form of funding for border security, even if it's not specifically for building the wall.
What we expect will happen: Congress will pass a short-term funding bill early in the week to buy themselves another five or seven days' negotiating time. We think there's enough common ground for this to get done in the end, with perhaps a fairly substantial appropriations bill in the end.
4. Trump's third way on Iran
When candidate Donald Trump addressed the American Israel Public Affairs Committee (AIPAC) last March, he made the crowd go wild when he declared: "My number-one priority is to dismantle the disastrous deal with Iran."
Well ... not so much. On Tuesday the Trump administration grudgingly certified that Iran was living up to its end of the 2015 nuclear deal. The President's subsequent comment that Iran is violating the "spirit" of the nuclear deal doesn't mean he's going to tear the deal up — he won't. But our sources say it's foolish to dismiss that sentence as pure bluster.
Around the corner: The way you should read Trump's comment is that the President wants to "un-do" the Obama policy that the U.S. couldn't push back on Iran at all because of the deal. The way the administration sees it is they're getting rid of an Obama-era Iran policy that amounted to accommodation of Tehran at every turn.
Keep an eye out for these policy options (that would amount to a third way on Iran — not withdrawing from the deal, but not accommodating Iran either):
Additional sanctions designations to punish Iran's ballistic missile program or target the Islamic Revolutionary Guard Corps (IRGC).
More sanctions to deal with human rights abusers and Iran's involvement in Syria.
Interdiction of Iranian weapons shipments to Yemen.
Discontinuation of efforts, pursued by former Secretary of State John Kerry, that could be perceived as helping Iran derive economic benefits from the deal.
Wildcard: This report by Fox News correspondent James Rosen on Bret Baier's "Special Report" caught the attention of foreign policy and national security officials both inside the White House and on Capitol Hill. An Iranian opposition group — which is viewed with deep suspicion but has been proven correct in the past — has released images it says proves Iran is secretly working on weaponization in violation of the deal. Watch for Republican members of Congress to ask CIA Director Pompeo to investigate these new claims.
5. 1 never-changing thing: don't mess with the fam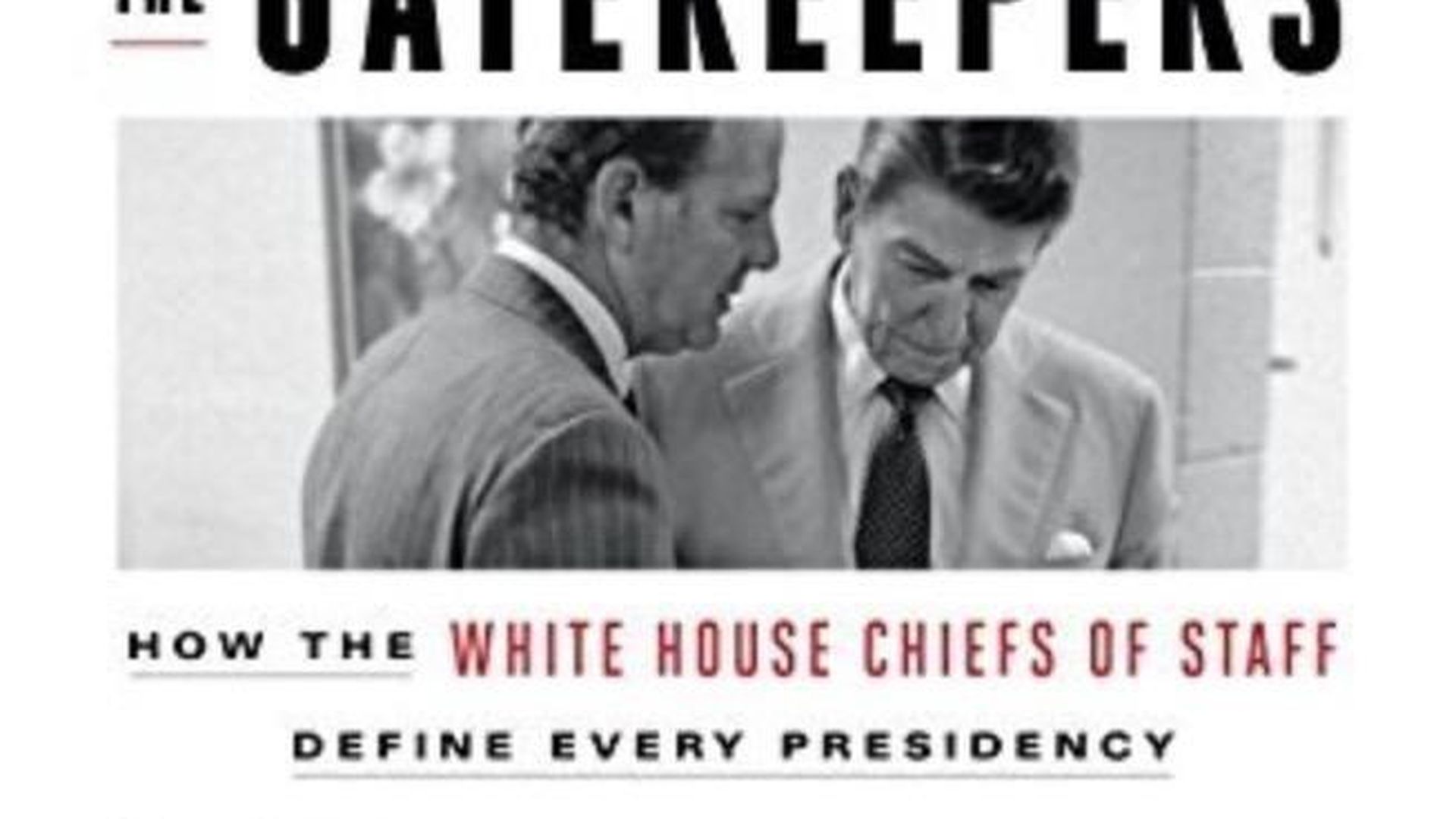 I'm reading Chris Whipple's excellent new book "Gatekeepers" — "how White House chiefs of staff define every presidency."
President Reagan's second chief of staff Don Regan had lots of problems, but what ultimately killed him was getting on the wrong side of Nancy:
"While Reagan was in the hospital, Regan indulged his imperial instincts. He was not above planting leaks in the press to let the world know who was in charge...the New York Times reported...'With each passing day, Regan's grip on the machinery of the administration grows firmer.'...The self-serving quotes displeased Nancy. But even worse was another line: 'Nancy Reagan, the president's wife, has come to rely increasingly on Mr. Regan'."
The nail in Regan's coffin: during a heated phone call, he hung up on Nancy. Reagan's first, much more successful, chief of staff James Baker recalls, still incredulous, 30 years later. "That's not just a firing offense. That may be a hanging offense!"
Lesson for today's West Wingers: don't make Jared or Ivanka mad. And don't get too much positive press! The most damaging hit on Steve Bannon was the Time cover. And Gary Cohn's worst nightmare would be a newspaper POTUS reads branding him "the brain behind President Trump." That's a Trumpian death sentence.