Hope you got a breather during this holiday weekend. Please have your friends and colleagues sign up here for Sneak Peek and the other Axios newsletters.
https://www.axios.com/newsletters/axios-sneak-peek-7405592e-b746-4022-86b3-09d2fa608693.html?chunk=0#story0
1 big thing: The "candy option"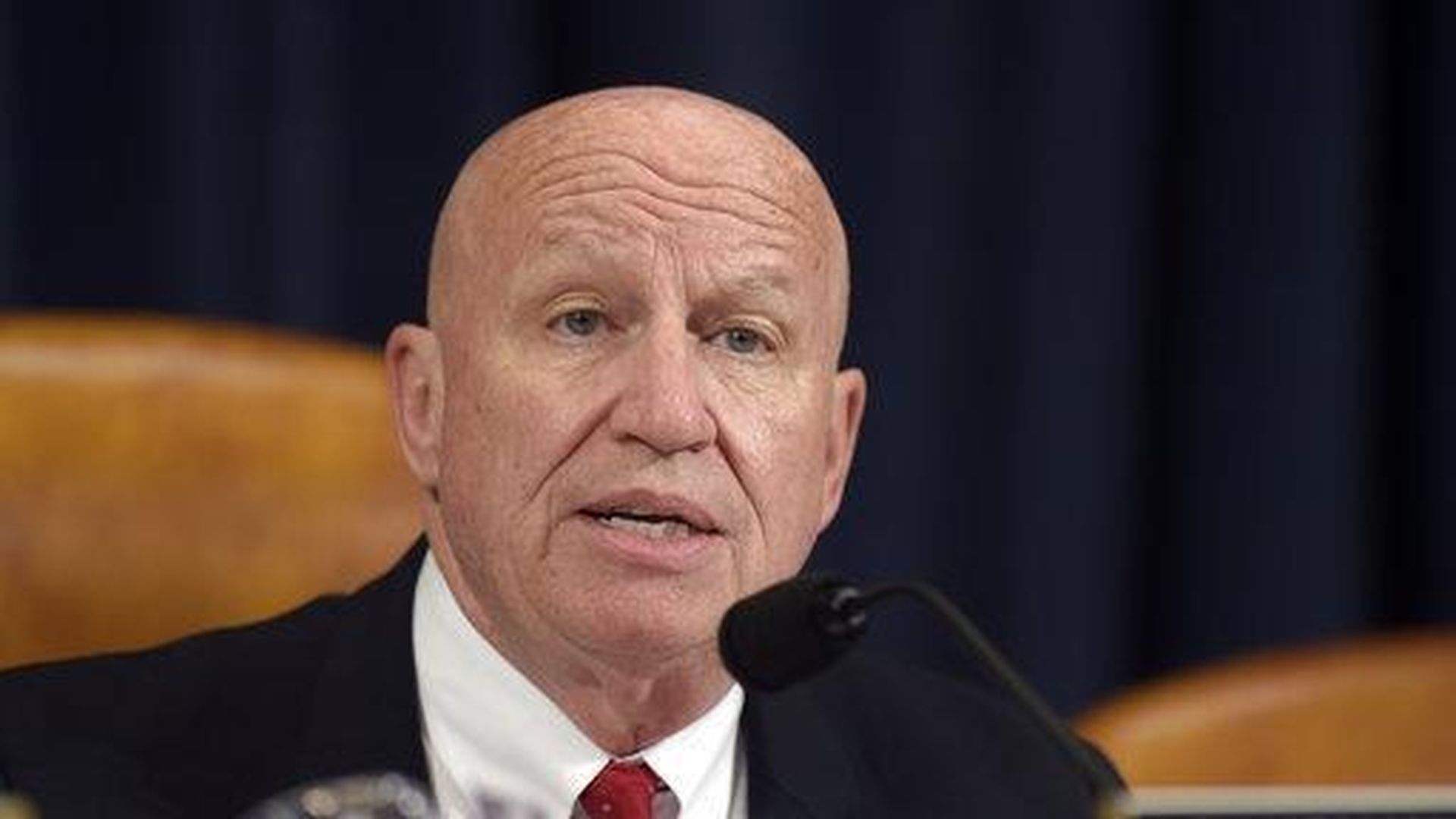 As full-blown tax reform looks more and more like an unreachable stretch, there's increasing conversation on the Hill about what's being called a "candy option" — all the goodies, with none of the pain.
That would mean lower personal and corporate rates, plus some limited repatriation, funded largely by deficit spending.
The case for: "It's something they can pass," said a Republican lobbyist who's deeply connected to all sides of the debate. "We need to junk our current tax code for one more suited to the modern economy. But the ability to accomplish that goal just isn't there."
The objection: Both House and Senate leadership sources tell us they don't think the "candy" route is feasible. "The problem with the candy option is it grows quickly," a senior Senate aide said. What he meant is that once you cut corporate rates, politically you have to also deal with pass-throughs for small businesses and also lower individual rates.
Then there's the "Ivanka credit" for child care. Pretty soon, you've racked up several trillion in revenue losses. And while you might not have angered anyone by taking away their goodies or imposing a new revenue mechanism (like the border-adjustment tax), you've still got a heck of a job convincing Republicans in either chamber to pass something that blows a hole in budget and is by definition temporary (since under reconciliation, you can't make the cuts permanent if they add to the deficit).
The bottom line: Speaker Ryan is still determined to go as big as possible and do real tax reform. But the White House needs to buy into it and get right behind it. Otherwise there'll be the same disaster as healthcare. A senior House aide said: "When it comes to real tax reform, there is no easy option."
https://www.axios.com/newsletters/axios-sneak-peek-7405592e-b746-4022-86b3-09d2fa608693.html?chunk=1#story1
2. No mood for a fight
They're playing tough in public — it's called negotiating — but privately, senior White House officials are in no mood to get into a knock-down-drag-out fight over government funding.
The government runs out of money April 29, and the White House has less fire in its belly than it might seem from media reports. Around a week and a half ago, Budget Director Mick Mulvaney "came in a little hot" in setting terms of negotiations with appropriators, according to a Senate source familiar with the meeting. Mulvaney said Trump needed language in the bill to cut funding to sanctuary cities.
The reality, according to three well-placed sources: These words are fairly toothless.
Behind-the-scenes: If Trumpcare 1.0 hadn't been such a mishandled flop, the administration might be willing to pick real funding fights over sanctuary cities or Planned Parenthood. But with healthcare still unresolved, the White House can't risk another calamity like a shutdown. The administration will be happy to claim a couple of "victories" — like boosted military spending and border security money, if not specifically for the bricks-and-mortar wall — and then move on as quickly as possible.
The wildcard: Chuck Schumer has plenty of leverage and won't concede anything of value to Trump in the negotiations; but he's the predictable one. Top sources in the House and Senate tell me their much bigger concern is the Freedom Caucus. If these ultra-conservative House members come back from recess and ask for things leadership can't deliver — like defunding Planned Parenthood or cutting the payments to Obamacare insurers — then leadership and the White House will have a new crisis on their hands.
https://www.axios.com/newsletters/axios-sneak-peek-7405592e-b746-4022-86b3-09d2fa608693.html?chunk=2#story2
3. Trump's Easter tweets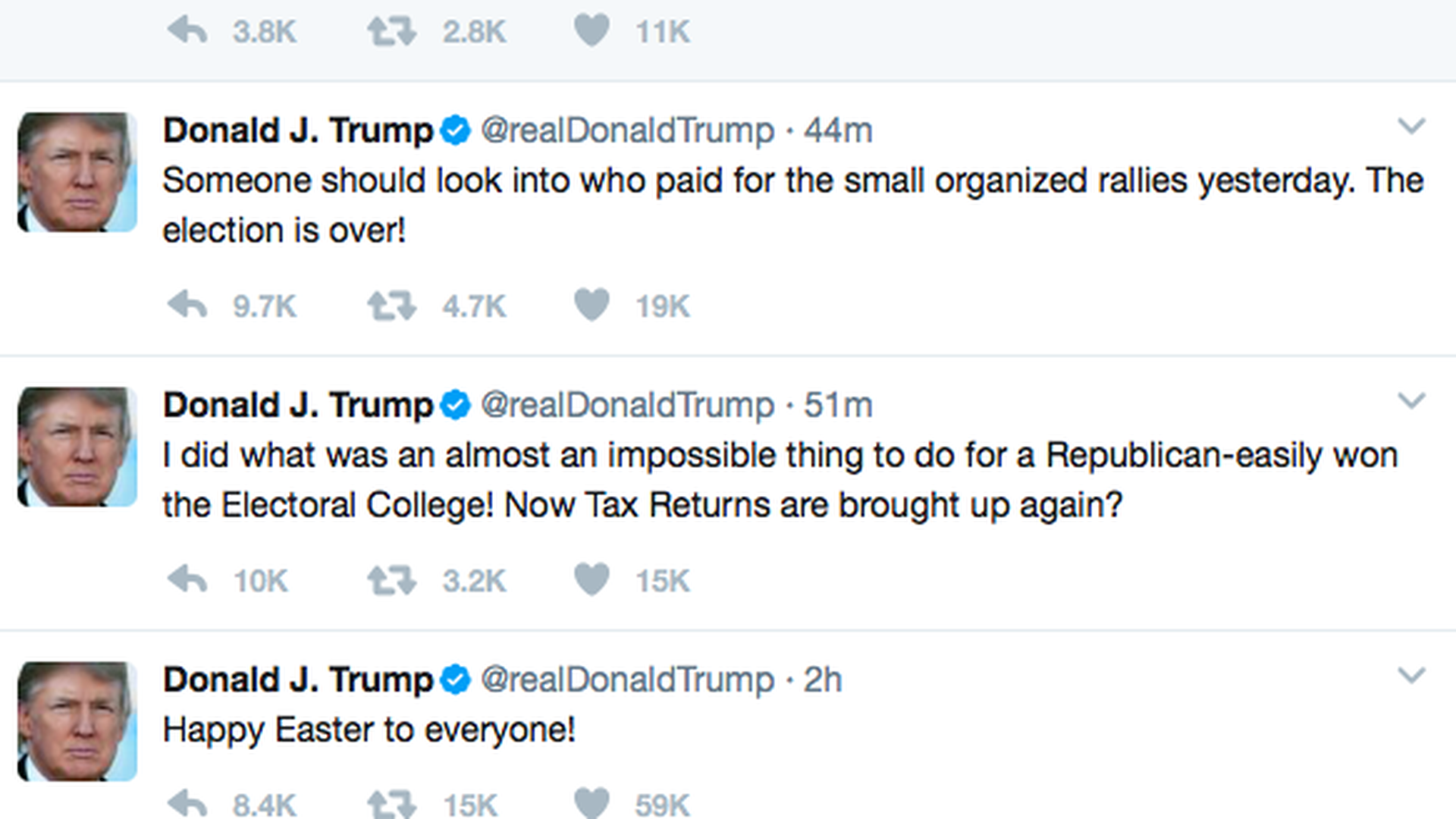 A prolific morning at Mar-a-Lago ...
https://www.axios.com/newsletters/axios-sneak-peek-7405592e-b746-4022-86b3-09d2fa608693.html?chunk=3#story3
4. The shows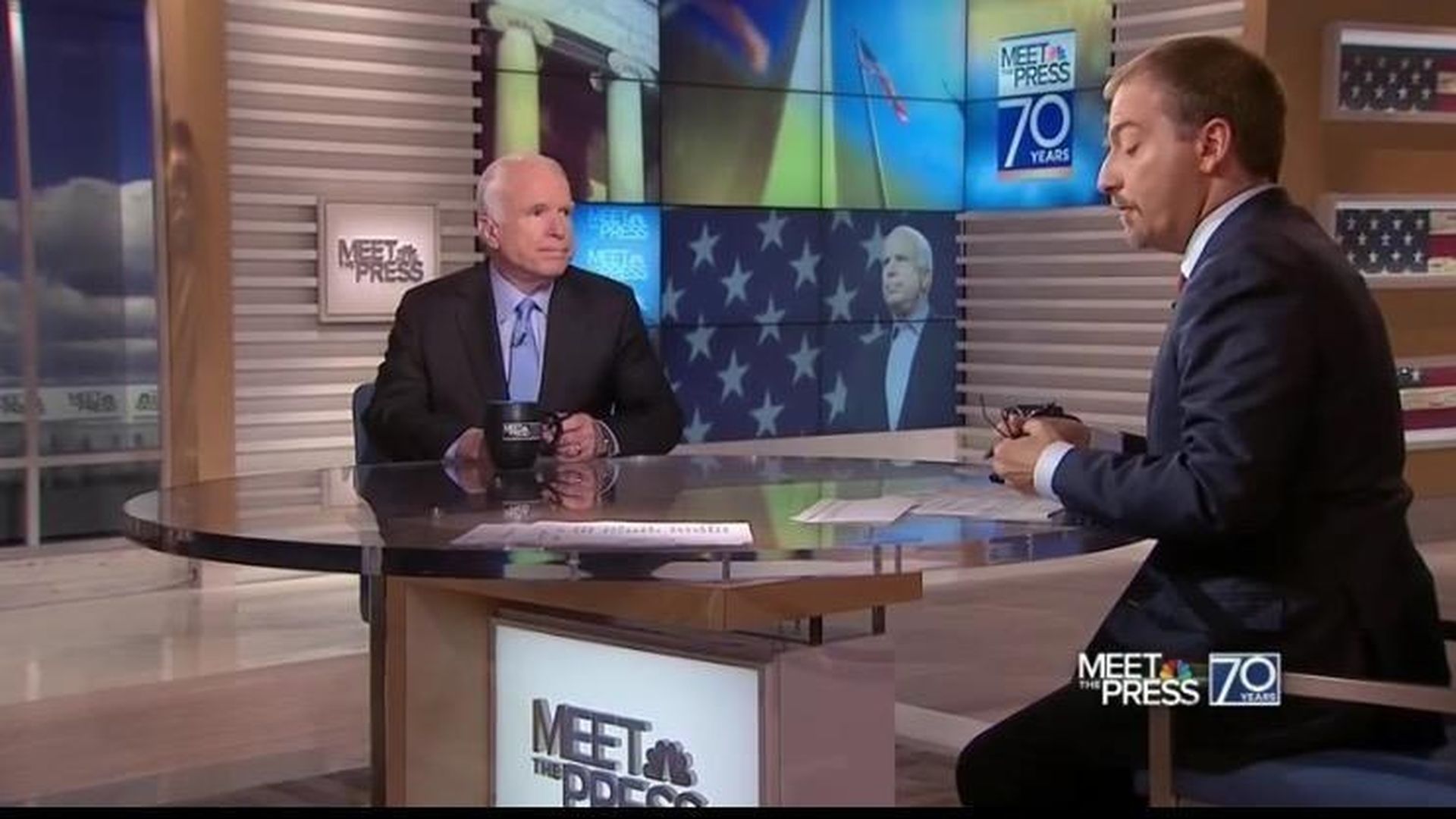 Sunday highlight reel, with reactions to North Korea:
Sen. John McCain, to Chuck Todd on NBC's "Meet the Press: "China is the key. ... This may be the first test of this presidency."
National Security Adviser H.R. McMaster, from Afghanistan, to Martha Raddatz on ABC's "This Week": "I think there's an international consensus now, including — including the Chinese and the Chinese leadership — that this is a situation that just can't continue."
Homeland Security Secretary John Kelly, in his first Sunday-show interview, on "Meet": "In the case of North Korea, ... a kinetic threat against the United States right now, I don't think is likely. But certainly a cyber threat."
https://www.axios.com/newsletters/axios-sneak-peek-7405592e-b746-4022-86b3-09d2fa608693.html?chunk=4#story4
5. 1 fun thing: Trump stock-trading bot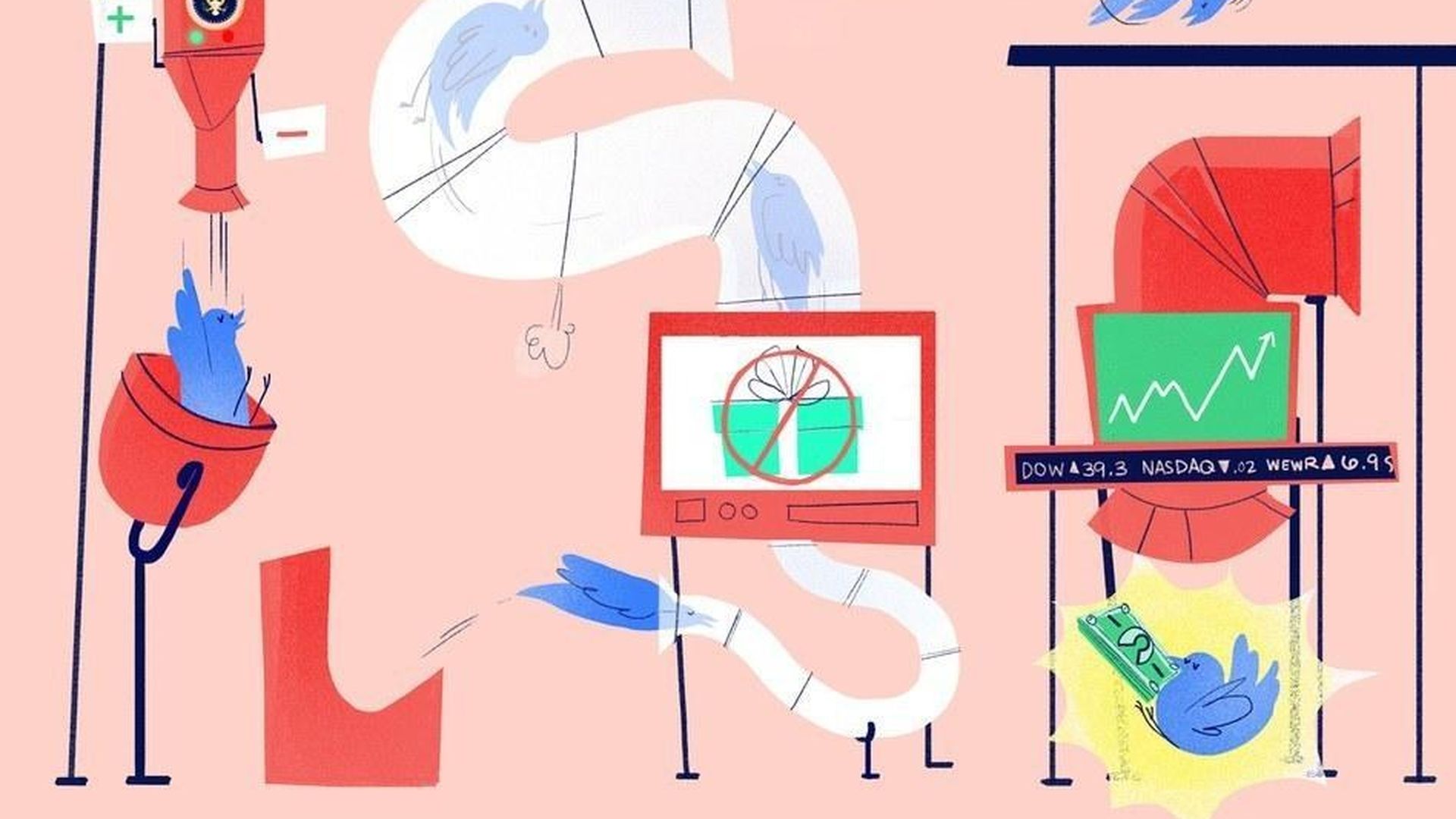 NPR's "Planet Money" podcast built a computer program that trades stocks based on President Trump's tweets. It's called BOTUS. Here's the podcast on how they made it.
Why Trump makes it easy for computers: "Those algorithms work really well, because he uses words like 'bad' and 'sad' and 'great' ... and they always mean what he means them to mean."