Axios Sneak Peek
November 19, 2017
Welcome to Sneak Peek, our weekly lookahead for both ends of Pennsylvania Avenue. I'd love your tips and feedback: [email protected]. And please urge your friends and colleagues to join the conversation by signing up for Sneak Peek.
1 big thing: Lighthizer rising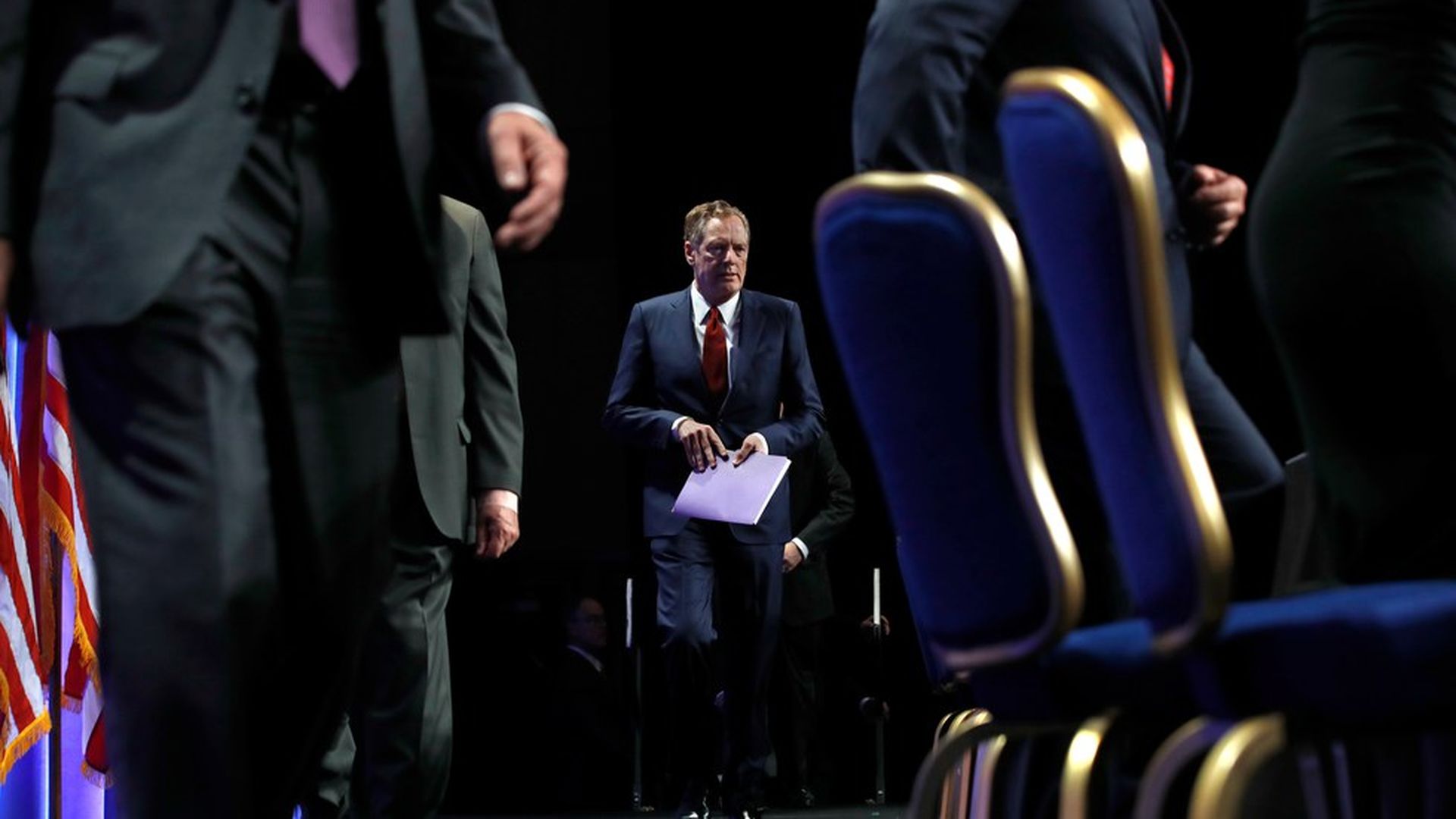 You won't see him on cable news, but President Trump's hardline trade negotiator Robert Lighthizer is wielding extraordinary — and growing — influence inside the White House.
Lighthizer was the lead economic adviser for Trump's Asia trip, with Gary Cohn and Steven Mnuchin staying home to handle tax reform. He briefed the president constantly on Air Force One and was by his side at just about every meeting.
Trump has huge respect for Lighthizer. He likes that he will take on his colleagues and doesn't back down, even in front of Trump. He's increasingly winning internal arguments over the administration's inevitable economic confrontation with China.
Why this matters: Lighthizer makes the pro-trade community nervous. He agrees with Trump that the mounting trade deficits with China are unacceptable. And he's staking out such hardline negotiating positions with South Korea (on the KORUS trade deal) and Canada and Mexico (on NAFTA) that top Republicans on the Hill and in Washington's business community fear he will torpedo both deals.
Behind-the-scenes: Shortly before Trump left for Asia, Lighthizer met with the entire economic team in the White House to discuss the U.S.-China relationship. If the Trump administration takes the hardline actions we expect them to eventually take on China, historians will look back on this meeting as a seminal moment.
The scene — these details were described to people outside of the White House and weren't disputed by Lighthizer's spokeswoman or the White House:
Lighthizer — in front of the whole economic team including Cohn, Mnuchin, Commerce Secretary Wilbur Ross, and Agriculture Secretary Sonny Perdue — described the U.S.-China economic relationship as "bullshit." Lighthizer laid out the history of the last 25 years of U.S.-China relations. He went through what each "dialogue" was called under presidents Clinton, Bush, and Obama. His point: every administration comes up with a new catchword and strategic framework to describe the U.S.-China relationship, but the trade deficit with China just keeps ballooning by the billions.
I'm told many in the group — which includes officials like Cohn who often disagree with Lighthizer philosophically — found Lighthizer's presentation compelling.
Why he's gaining influence: There aren't many senior officials in this administration who share Trump's hardline / protectionist views on trade. Steve Bannon did — but he's gone and not missed by his colleagues. Then there's Peter Navarro — but his colleagues have little respect for him, frequently marginalize him and accuse him of leaking stories to the press. That leaves Lighthizer, whose views cannot be dismissed because he's been a major figure in U.S. trade policy since the Reagan administration. He wins internal arguments with his colleagues by swamping them with his historical knowledge.
Worth noting: Avowed free-traders in the administration didn't even push back against this narrative when I reached out to them.
What's next: The Trump administration has been very secretive about its next moves on trade policy. You won't see anything aggressive before tax reform is done. But people on the Hill and in the business community — who worry about this administration taking harsh economic actions against China — shouldn't be lulled by Trump's public praise of President Xi. Behind the scenes, Lighthizer's arguments are winning the day.
2. A sleeper story that matters
Tax reform and the end of year spending deal will consume all of Washington's oxygen until the end of the year. But quietly, a potentially far more important, though far less sexy story is unfolding.
If Mitch McConnell's schedule goes to plan, the week after Thanksgiving the Senate Majority Leader will confirm his ninth federal judge. That would beat President Reagan's eight in his first year — the most in recent history. And it triples the three federal judges President Obama appointed in his first year in office.
Why this matters: The federal courts affect almost every area of policy: gun rights, presidential executive orders like Trump's travel ban, social policy issues like abortion and freedom of religion, and tensions between regulation, litigation and private enterprise. McConnell's judges — who passed through a well-funded and organized conservative pipeline — will shape the U.S. over many decades in ways we can't yet imagine.
Smart Democrats are deeply concerned about this trend, and understand that these lifetime judicial appointments will have a much greater impact on the future direction of this country than any short-term spending deal or policy.
Example: "This will be the single most important legacy of the Trump administration," Sen. Chris Coons, a Delaware Democrat and member of the Senate Judiciary Committee, told Business Insider. If conservatives have their way, he said, the Senate would "put judges on circuit courts all over the country, district courts all over the country, that will, given their youth and conservatism, will have a significant impact on the shape and trajectory of American law for decades."
As Congress becomes more and more dysfunctional, and more and more power accrues to the executive branch, it's the judges who increasingly decide policy. It wasn't Congress that blocked Trump's travel bans. It was judges in states like Hawaii and Maryland.
Inside McConnell's head: Leonard Leo, a top outside adviser on judicial appointments for President Trump and Republican leaders, told me McConnell places "an enormously high priority on the confirmation of judges" and has throughout his career. "His thinking behind that is that the federal judiciary has an enormous impact on the future direction of our country in ways that many pieces of legislation and public policy initiatives don't."
3. The next wave of sexual allegations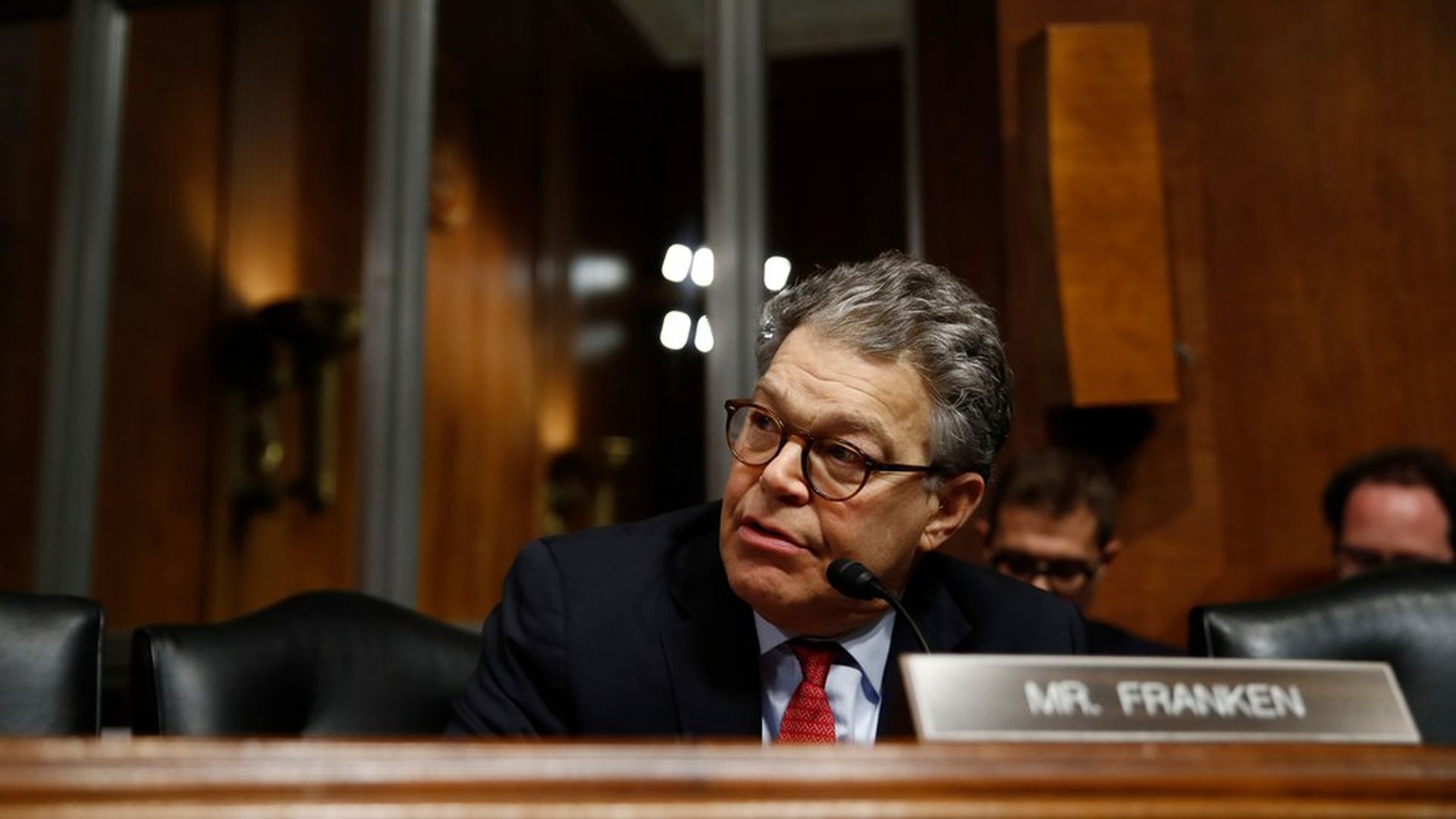 Members of Congress with histories of mistreating women should be extremely nervous.
Major outlets, including CNN, are dedicating substantial newsroom resources to investigating sexual harassment allegations against numerous lawmakers. A Republican source told me he's gotten calls from well-known D.C. reporters who are gathering stories about sleazy members.
Bottom line: Democratic Sen. Al Franken is the very tip of the congressional iceberg. Many more stories are coming and we wouldn't be surprised if they end several careers.
4. The weaponization of space
I spent two days last week traveling with Defense Secretary James Mattis. The most memorable moment: inside Cheyenne Mountain, a Cold War-era fortress dug into the Rocky Mountains, and built to withstand nuclear attacks.
But the most illuminating session happened inside the Peterson Air Force Base, the hub for monitoring threats to the homeland. Colonel Todd Moore, who commands the 21st Space Wing, and his colleagues, told us about the escalating military space battle with China.
As one officer put it to us: America's superiority in space is why the 170 pound U.S. solider in Afghanistan is so much more lethal than the 170 pound enemy soldier he faces. The American soldier can look down at a screen and see the enemy on the other side of the mountain. The U.S. military has so much more information than its adversaries — provided by satellites, GPS, and other sophisticated systems.
Why this matters: A senior military officer summed it up in his briefing: "Our adversaries see space as a potential war fighting domain" and while Russia has always understood the importance of space, "it's really China that's growing incredibly [fast]."
What's next: America's adversaries are rapidly developing their military space capabilities. China is determined to dominate space, and is investing gobsmacking amounts of money to get the edge on the U.S. In 2007, China tested its first anti-satellite weapon, and its military space capabilities have grown substantially since then. These concerns will grow ever-louder as the Pentagon fights for a larger budget.
5. Exclusive: progressives to target key GOP senators on tax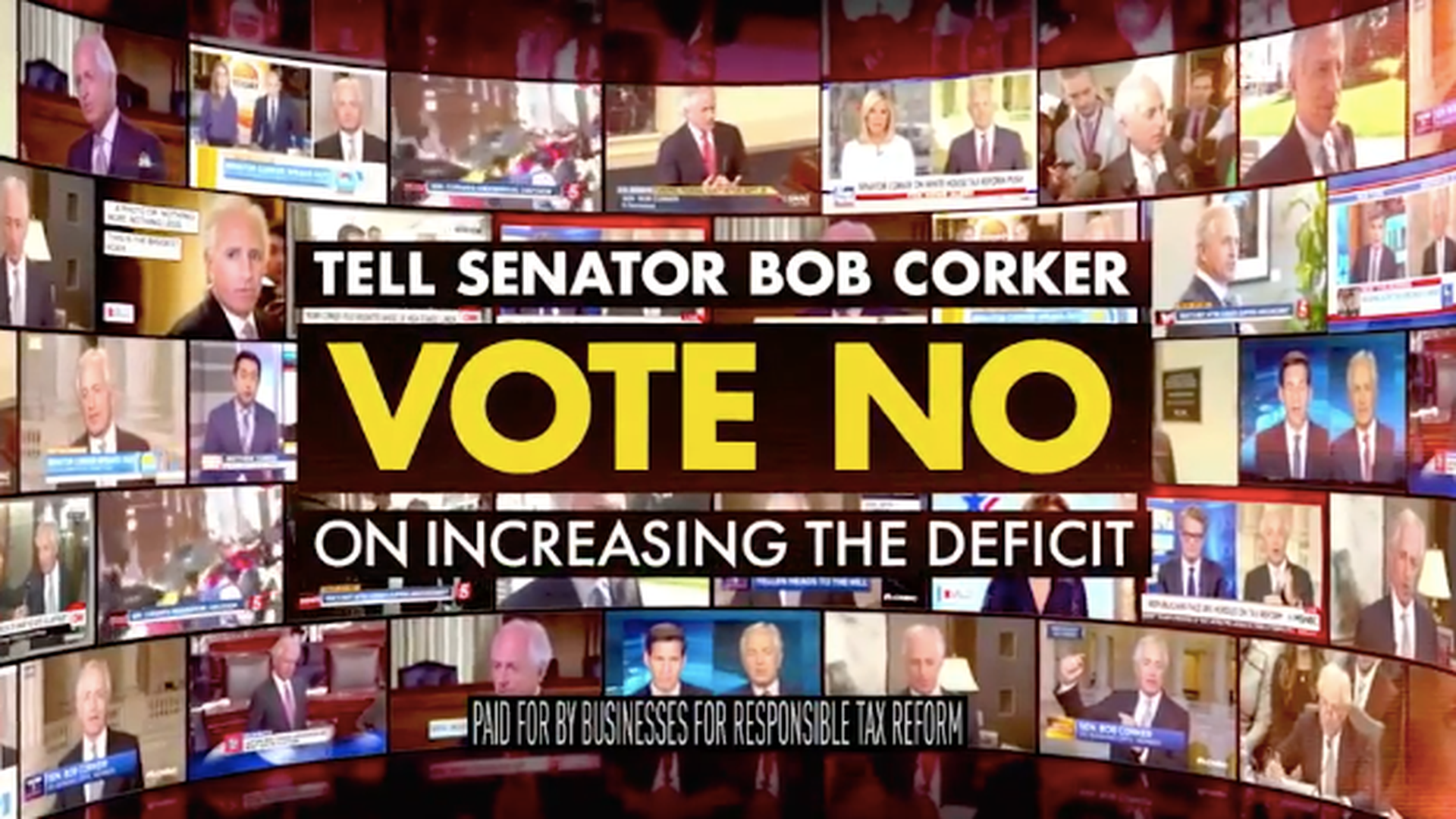 Businesses for Responsible Tax Reform, a coalition of progressive small business leaders, will launch a six-figure TV campaign to oppose the GOP tax bill on the grounds that it balloons the federal deficit by more than $1 trillion.
Per a source involved in the efforts: The first ads highlight promises by GOP senators James Lankford and Bob Corker to oppose any plan that increases the deficit.
The TV ads — which you can see here and here — will run in these senators' home states of Tennessee (Corker) and Oklahoma (Lankford.)
Why this matters: Polls show the Republican tax plans are unpopular — as Axios' David Nather has reported. But progressives know they can't rely on lackluster public opinion to sink the bill, given the extraordinary political pressure on Republicans to pass something before the end of the year.
Democrats know they don't necessarily have the votes to kill the tax bill in the Senate. The path to sinking the bill in the Senate is through lawmakers like Corker, Lankford and others like John McCain who care about the deficit and debt implications.
This campaign is the first time a progressive group has run advertising specifically calling out GOP senators on the debt issue, with the goal of making it harder to vote for the bill.
6. Bannon's new group
Steve Bannon is setting up a new 501(c)(4) — aka a "tax-exempt social welfare organization" — to promote his agenda, and, he argues, the president's.
Such groups don't have to disclose their donors so long as — according to the IRS code — they "be operated exclusively to promote social welfare" and so long as politics are not the group's "primary activity."
Bannon first publicly mentioned his new plans on billionaire John Catsimatidis' Sunday morning radio show, "Cat's Roundtable."
I asked a source close to Bannon to tell me more about the group. Here's what they told me:
The group has no name yet but will be set up this week.
Bannon plans to use the group to establish a "war council" to promote hawkish policies against China.
Bannon is obsessed with the rise of China and believes that Beijing will become a hegemony — sinisterly dominating America — if the U.S. doesn't aggressively confront it. (His detractors inside the White House say his ideas are reckless and would start a globally devastating trade war. Bannon, however, says China is already engaged in economic warfare against America, stealing the country's IP and technology, but the U.S. refuses to properly fight back.)
He also plans to use the group to "focus on grassroots efforts" so the base is "unified and energized to support the president's agenda."
Other policy issues that animate Bannon: trade, immigration, education, and inner city infrastructure development.
Why it matters: For all the speculation about Bannon's relationships with donors he's had no fundraising apparatus to date.
What we don't know: Which donors will fund the group. And we may never know because, under the law, Bannon won't have to tell us.
7. Sneak Peek diary
The House and Senate are on recess for Thanksgiving week.
President Trump's schedule:
Monday: In the morning, Trump will hold a cabinet meeting. Treasury Secretary Steven Mnuchin is expected to update the group on tax reform. The president then has lunch with Vice President Mike Pence and Secretary of Housing and Urban Development Ben Carson.
Tuesday: Trump participates in the "National Thanksgiving Turkey Pardoning Ceremony."
Rest of the week: Trump will spend Thanksgiving at his Mar-a-Lago club in Palm Beach, Florida.