Axios Sneak Peek
December 01, 2019
Welcome to Sneak Peek, our weekly lookahead for both ends of Pennsylvania Avenue, plus our best scoops.
Situational awareness: "Iran is experiencing its deadliest political unrest since the Islamic Revolution 40 years ago, with at least 180 people killed — and possibly hundreds more — as angry protests have been smothered in a government crackdown of unbridled force," per NYT. 
Tonight's newsletter is 1,756 words, <7 minutes.
1 big thing: NATO allies spooked despite White House soothing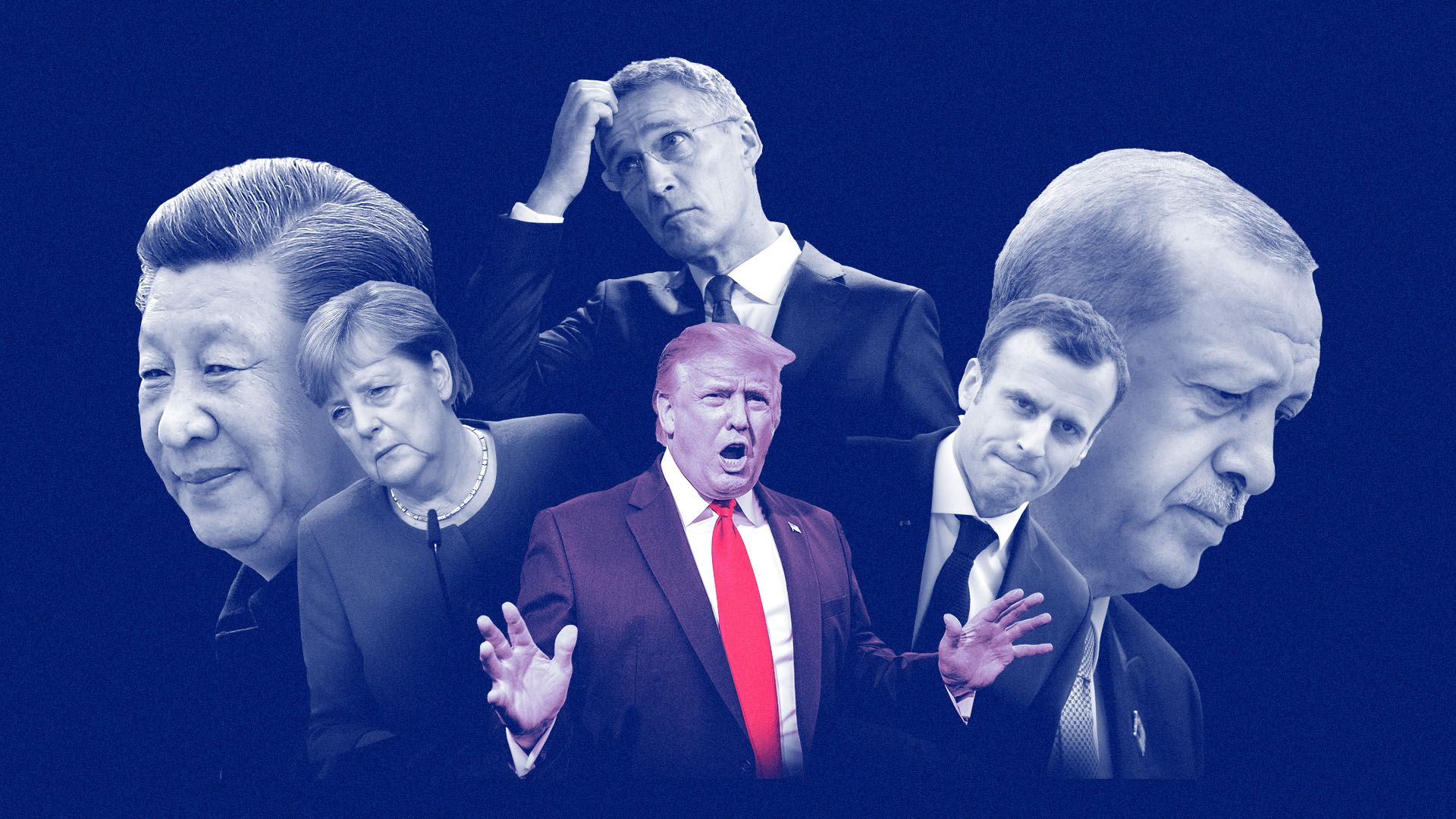 This week's NATO meeting in London will be "a celebratory leaders' meeting" — at least that's the White House talking point ahead of President Trump's trip. But European officials aren't betting on it. And Trump has been privately complaining about France's president. 
Best-case scenario, for Europeans: Trump sticks to the script — taking credit for a stronger NATO and celebrating the fact that the Europeans are spending more on their defense. 
"Allies believe they have worked hard to construct a positive narrative that Trump can buy into," a senior official from a NATO member state told me.
The official summarized that narrative as "increased defense spending by European allies of $130b since 2016 ... plus decrease in U.S. share of NATO budget plus increased high readiness forces."
Trump, with the 2020 election coming up, "will want to take credit for that," the official said. But "allies still very much fear the unpredictability of the president."
Behind the scenes: Three senior administration officials told me Trump has been deeply annoyed by French President Emmanuel Macron, who recently told The Economist that "what we are currently experiencing is the brain death of NATO" and that the United States under Trump's leadership appears to be "turning its back on us."
"He's been down on Macron for a long while," said one official.
The leaders' "bromance" appears to be a distant memory. Trump has described Macron as a "wise guy" in conversations with his advisers. (He has privately used the same phrase to describe Canadian Prime Minister Justin Trudeau.)
Another official said Macron's comments may have the ironic effect of causing Trump to speak more positively about the alliance to contradict Macron's negativity.
The Europeans, meanwhile, have shared their worries widely ahead of the meeting. "All I'm hearing is great anxiety about what Trump might do or say," said Ivo Daalder, who served as U.S. ambassador to NATO from 2009 to 2013.
"The last two NATO meetings didn't go well," Daalder told me. "In 2017, [Trump] refused to reaffirm Article 5, and in 2018, he threatened to walk away from NATO if Europeans didn't spend more on defense."

Article 5 guarantees that NATO allies will defend one another against an armed attack. NATO means nothing without this promise. After an outcry, Trump explicitly endorsed NATO's mutual defense clause.
Between the lines: NATO Secretary-General Jens Stoltenberg has preemptively placated Trump. He released new data showing that allies are spending many billions more on their defense, which Trump has demanded.
And in a move tailored for Trump — who has been infuriated by Germany's reluctance to spend more on defense — Stoltenberg announced that NATO allies will pick up some slack so that the U.S. no longer covers a larger share of the alliance's $2.5 billion central budget than Germany: 16% each starting in 2021.
The bottom line: Though a senior administration official told reporters on a Friday call that the NATO alliance "remains instrumental," European leaders say they've seen this movie before. They've learned the hard way to ignore cheery lines from the White House staff — and that only Trump speaks for Trump.
2. The big picture: What we'll be watching at the NATO summit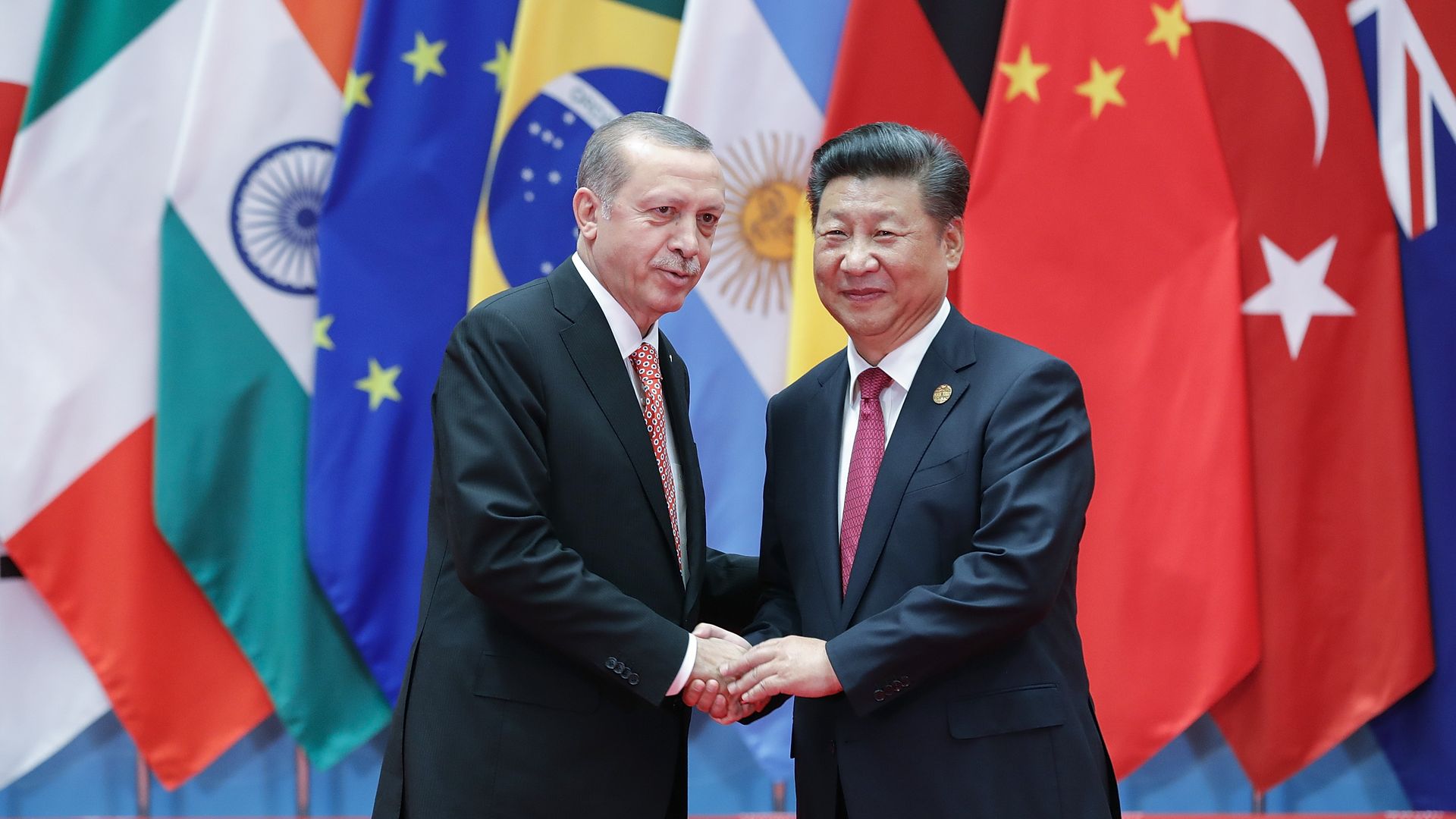 We'll be watching to see how the NATO allies handle two crucial internal debates — how to manage NATO's problem child (Turkey) and how to handle a global power that poses a growing threat to the alliance (China).
Between the lines: "Turkey appears to have decided that its future is better assured by close alignment with Putin's Russia than with a US-led NATO," said Daalder. "The S-400 decision" — Turkey's decision to defy America and its NATO allies by purchasing the Russian anti-aircraft system — and its "deal with Russia" to take control of the border zone in Syria "are but the latest blows to NATO unity."
There's also increasing division in NATO over China, over whether to allow Huawei to operate 5G networks and over a growing alignment between Beijing and central and eastern European countries, Daalder said.
It's "dividing east and west Europe economically, politically and, increasingly, strategically as China's power and influence in Europe is on the rise."
3. Impeachment preview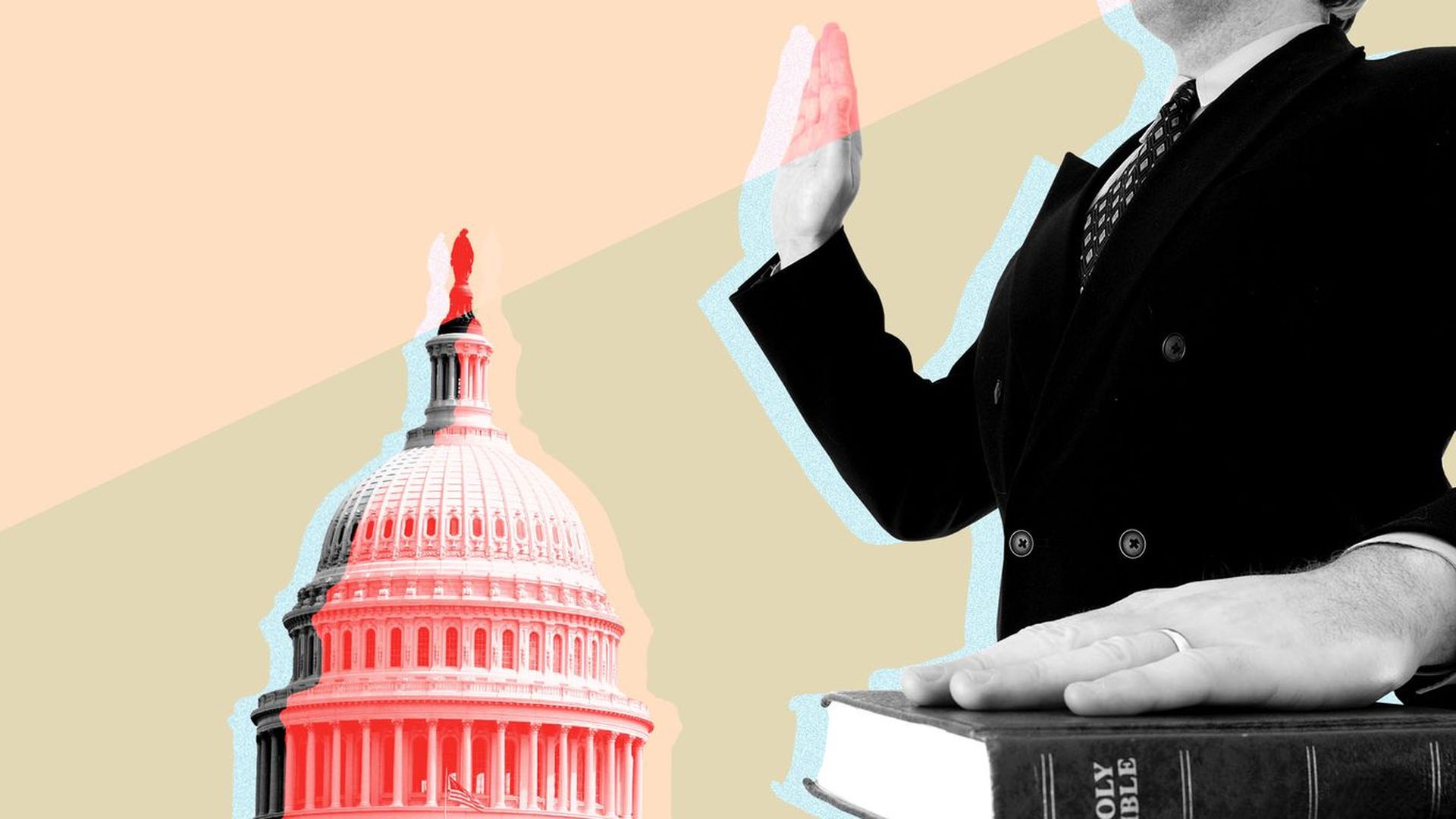 Don't hold your breath for the White House to show at this week's impeachment hearings — and it's possible they won't participate at all until the Senate trial, Axios' Alayna Treene reports.
What we're hearing: House Judiciary Chairman Jerry Nadler has given the White House until 5 pm ET on Friday to decide whether President Trump will have his counsel participate.
White House lawyers are skeptical about cooperating, instead focusing their energy on how to prepare for the eventual Senate battle.
"It seems stupid for the president to show up and dignify this thing. It makes the stakes seem higher than they are," a Trump administration official said.
What's next: The Judiciary Committee will hold a hearing at 10 am ET on Wednesday examining whether Trump's actions toward Ukraine qualify as high crimes and misdemeanors.
The hearing will be "academic," featuring legal scholars who will lay out the constitutional framework for what warrants impeachment, a Democratic leadership aide said.
A more pivotal moment may be the presentation of the House Intelligence Committee's report, outlining the evidence Democrats have gathered so far and their recommendations for articles of impeachment, according to officials working on the inquiry.
Details: Members of the Intelligence Committee will have an opportunity to review a draft of the report tomorrow night in classified spaces. Then Tuesday at 6 pm ET the panel will meet behind closed doors to adopt the report and add Republicans' views. The report will then be forwarded to the Judiciary Committee.
At some point after the Tuesday night meeting, there will be a public presentation of the report.
Republicans, who have been drafting their own report, are expected to release their version shortly after.
Behind the scenes: A Democratic Judiciary aide said the committee expects Republicans to fight them "at every step of the way" on fairness, so Nadler has made a point to lay out the rules and give them an opportunity to cooperate before they have a chance to undercut them.
The aide added that, unlike the Intelligence committee (which is "not geared for public hearings"), Judiciary attracts "the most ambitious members" who are used to battling it out over controversial issues.
The bottom line: "The Judiciary Committee is a very different environment. We are no longer in fact-finding mode, but a consideration of possible impeachable violations," the aide said.
Why it matters: It's the Judiciary Committee's ultimate responsibility to draft articles of impeachment.
Timing: Democrats are still planning to wrap up the House's investigation by the end of the year, with an expected vote on articles of impeachment as soon as mid-December.
"This next phase is going to happen really fast," an official working on impeachment told Axios.
4. What's next: How to think about Trump's two big trade deals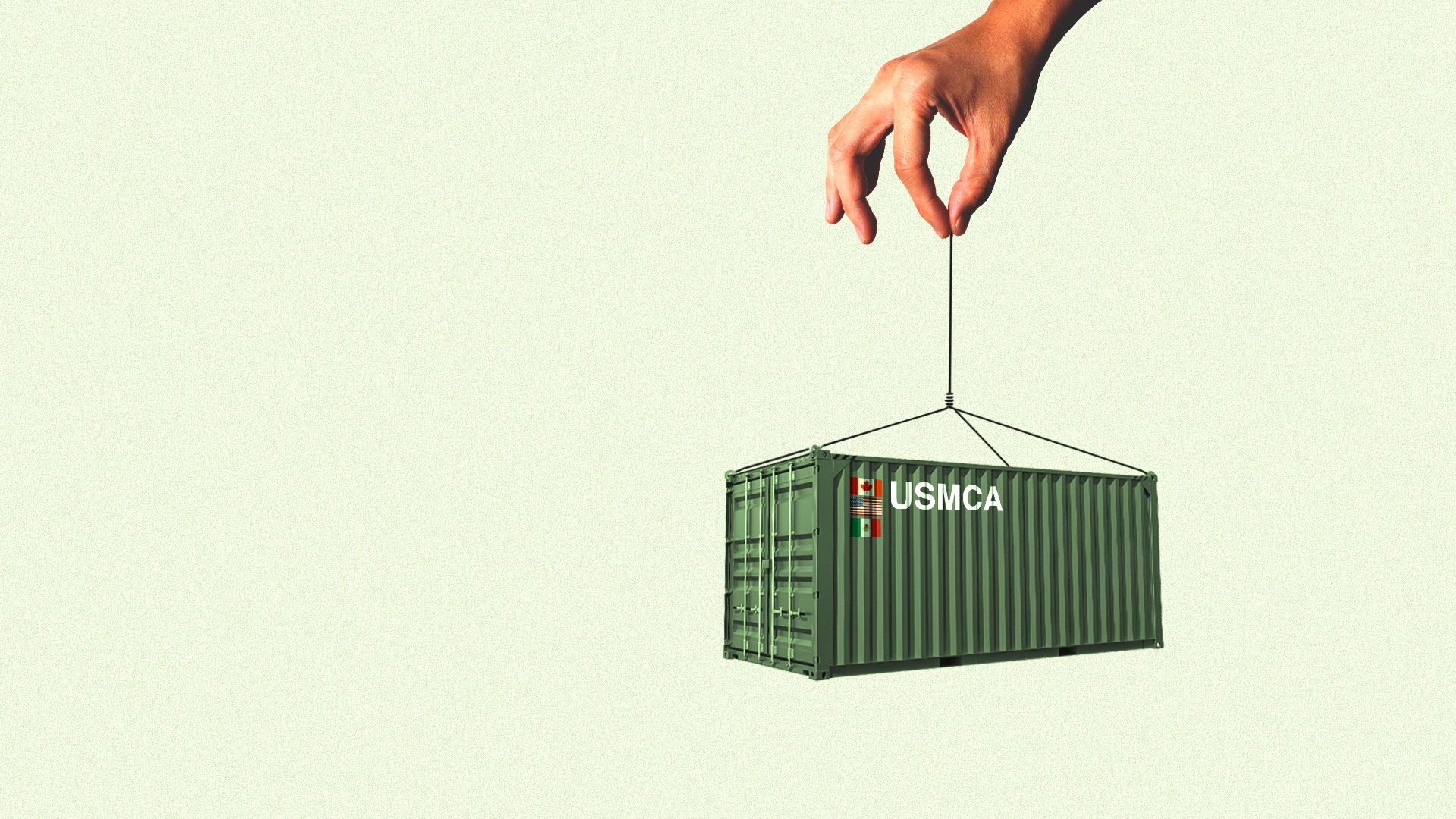 President Trump's two most important trade deals — one with China and another with Canada and Mexico — have been hobbled by forces largely outside of the administration's control.
Between the lines:
1. On USMCA: The passage of USMCA depends on the ability of House Speaker Nancy Pelosi, organized labor and the Mexican government to come to a compromise.
The Mexicans have long said there's no way they're going to let American officials inspect their factories. American labor leaders, meanwhile, have said the only thing they'll accept is a unilateral process to ensure Mexico is meeting its labor standards.
The question is whether there's a side letter that can satisfy both AFL-CIO president Richard Trumka and Mexico City. So far it hasn't been the case but the Mexicans claim they're close.
Pelosi has to balance the desires of moderate members, who want the deal to pass, against the concerns of more progressive members close to organized labor. And she's doing it all against the backdrop of impeachment, which has overwhelmed the 2019 congressional calendar.
2. On the China deal: A week ago, U.S. sources close to the China talks indicated they were on the precipice of a "Phase One" deal. But that optimism now seems premature, if not misplaced.
Congress sent legislation to Trump's desk that angered Beijing, interrupted the trade talks, and telegraphed support for democracy and human rights in Hong Kong. The new Hong Kong Human Rights and Democracy Act requires the president to impose sanctions on people who violate human rights in Hong Kong.
Trump begrudgingly signed off, as the legislation passed with veto-proof majorities.
Beijing responded with predictable fury and threats, even as Trump took pains to downplay the bill and to flatter President Xi in his signing statement.
Behind the scenes: A source close to Trump's negotiating team told me the China deal was now "stalled because of Hong Kong legislation" and that time is needed "to allow Xi's domestic politics to calm." The "Phase One" deal with China would probably happen "year-end at the earliest," and Trump is expected to hold off on his planned December tariffs to keep the deal alive.
Two other sources close to the China talks said several substantive obstacles remain, including how much of his tariffs Trump will roll back, what mechanisms will enforce the agreement, and how the Chinese will guarantee enormous purchases of U.S. agriculture products that Trump has already said they will make.
There are also logistical complications. The Trump team has bandied around possible locations to sign the deal — ideas have included Iowa and Camp David — but has struggled to find a mutually acceptable venue.
The bottom line: Most of my sources close to both trade negotiations — both Democrats and Republicans — say they expect both deals to ultimately come through. But there are plenty of reasons to remain wary about these predictions.
5. Sneak Peek diary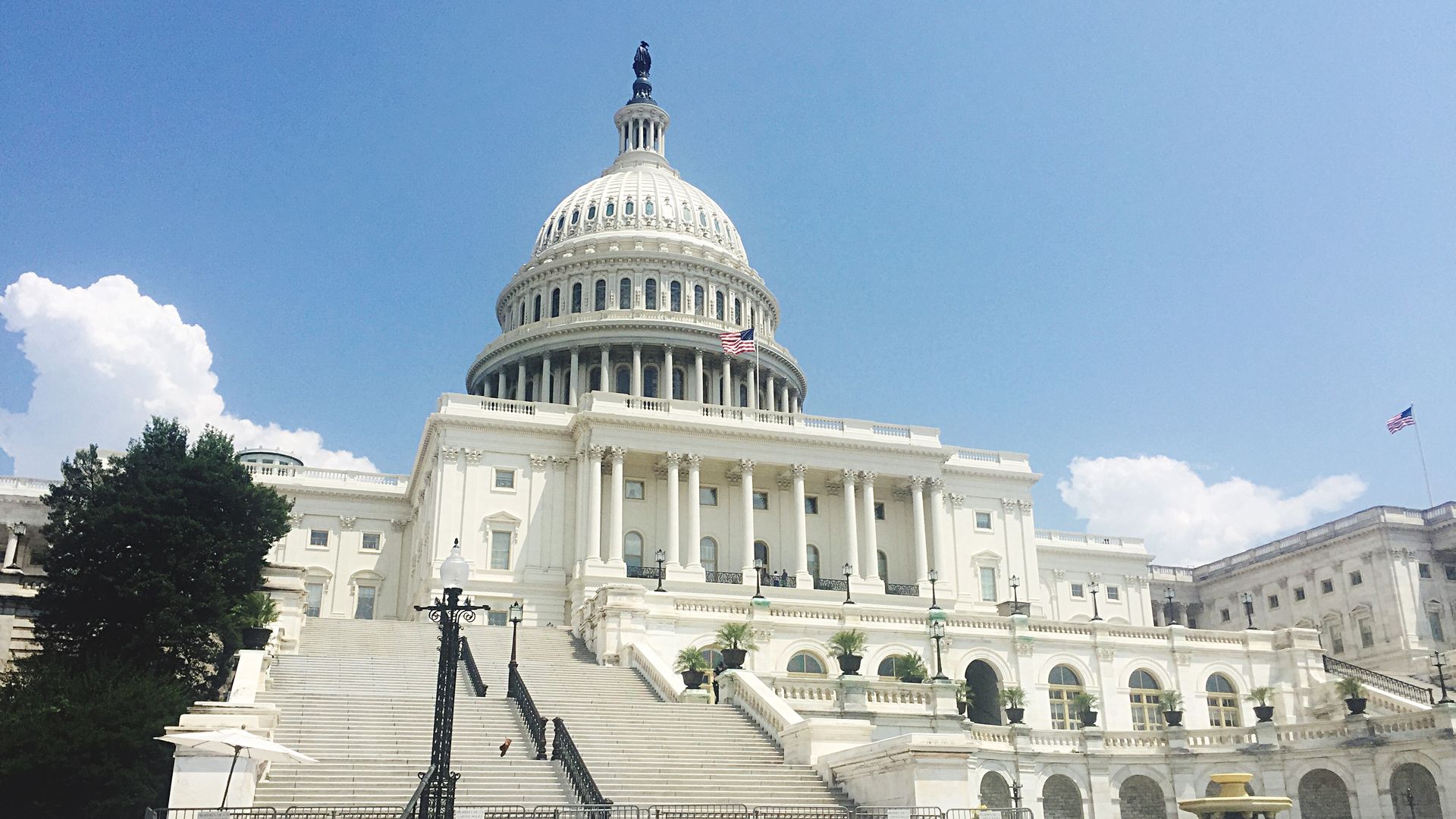 The House will vote Tuesday on the Uyghur Human Rights Policy Act, sponsored by Sen. Marco Rubio, Alayna writes.
The bill directs various government agencies, including the State Department, Office of the Director of National Intelligence and the FBI, to prepare reports on China's abuses of the Uyghur population.
They'll also vote on H. Res. 546, a bill that formally disapproves of Russia's inclusion in the Group of 7.
On Wednesday, the House Judiciary Committee will hold an impeachment hearing (see item 3 above).
The Senate will vote on the following nominees, per a Republican leadership aide:
Dan Brouillette as Secretary of Energy.
Eric Ross Komitee as a judge for the Eastern District of New York.
John Sinatra Jr. as a judge for the Western District of New York.
Sarah E. Pitlyk as a judge for the Eastern District of Missouri.
Douglas Russell Cole as a judge for the Southern District of Ohio.
R. Austin Huffaker Jr. as a judge for the Middle District of Alabama.
David Barlow as a judge for the District of Utah.
Richard Ernest Myers II as a judge for the Eastern District of North Carolina.
Sherri Lydon as a judge for the District of South Carolina.
Robert Duncan as Governor of the U.S. Postal Service.
President Trump's schedule, per a White House official:
Monday–Wednesday: Trump is in London for the NATO summit.
Thursday: Trump has lunch with members of the UN Security Council. He will also deliver remarks at the National Christmas Tree Lighting Ceremony.