July 07, 2019
Welcome to Sneak Peek, our weekly lookahead for both ends of Pennsylvania Avenue, plus my best scoops.
Please encourage your friends and colleagues to sign up.
1 big thing: Inside Trump's "Javanka Special" speech
The president is giving a speech on the environment on Monday. And some people think that's a little weird. Two senior administration officials told me they were surprised when they first heard that President Trump would be giving a speech about his administration's "environmental leadership." Both said the president probably won't win a public debate on environmentalism, given he's spent much of his time in office proudly repealing President Obama's environmental regulations.
"I don't know why we'd spend any time talking about their issue," one of the senior officials told me. By "their," the source meant Democrats.
The other official described the speech as a "Javanka Special" (a phrase some conservative administration officials use to describe liberal moves they blame on Jared Kushner and Ivanka Trump).
White House response: Judd Deere, a WH spokesman, pushed back on this characterization, saying there was "broad consensus at the leadership level" of the White House and the EPA "to put the facts out on the president's record and what this administration is doing. There should be no surprise about this speech. We've been discussing internally for weeks."
Behind the scenes: Administration sources with direct knowledge confirmed that Ivanka Trump encouraged the president to make a public case for his environmental record. These officials also said Brooke Rollins, a presidential adviser who is close to Kushner, has helped with Monday's speech.
Between the lines: Aides say we shouldn't expect Trump to do a backflip and declare that, suddenly, he's become deeply concerned about climate change. When Axios interviewed the president in October, he pooh-poohed the findings of his own government's scientists, who reported that human activities are the dominant cause of global warming observed since the mid-20th century.
Perhaps foreshadowing themes we might hear on Monday, Deere added: "We are the party of conservation, environmental protection and expanding responsible clean energy technologies while the Democrats' radical Green New Deal would outlaw cows, cars and planes, crippling America's economy and crushing the poorest communities across the globe that rely solely on fossil fuels to survive." (Fact check: The Green New Deal resolution does not outlaw cows, cars and planes.)
A senior administration official said the White House crafted the speech to present the president as pragmatic and to appeal to suburban women, a demographic that has moved away from him and which his advisers believe he needs to win back to be re-elected in 2020.
The official said the same political calculus informed Kushner's recent rollout of a "merit-based" immigration plan. (The plan seems dead on arrival.)
What to expect: Axios' Amy Harder writes that "one of the most common environmental talking points of Trump administration officials is that natural gas has lowered America's carbon emissions and is cleaning up the air for countries around the world importing U.S. gas."
Reality check: The Trump administration is correct on this point, but the truth is complicated. Scientists say that simply replacing coal with natural gas won't cut emissions nearly enough to seriously address global warming, Amy writes.
And Trump is trying to repeal regulations on methane, a potent greenhouse gas that's emitted during oil-and-gas development.
2. Joe Biden's reboot: A "wrap the bow" strategy
On Tuesday, Joe Biden told his advisers he wanted to give a speech in South Carolina to address, and preempt, the mounting attacks on his record concerning race and civil rights. Sources close to Biden told me he was still rewriting the draft on Saturday in the car en route to Sumter, South Carolina, where he gave the speech to a mostly black audience.
"Given the coverage we got coming out of the debate ... we could die by death by a thousand cuts here," said a source familiar with the thinking in Biden's camp.
"So it was either you wrap it all up in a bow and you say, 'Look, this is who I am. Barack Obama picked me, so if it was good enough for Barack Obama it's good enough for me' ... or we could have fought each one of these battles individually."
"This was an attempt to wrap it all up in a bow."
Between the lines: Biden's interview with CNN anchor Chris Cuomo and his speech on Saturday signaled a more assertive approach from the Democratic front-runner.
In Biden's Sumter speech, he emphasized his close relationship with Obama, defended himself against Sen. Kamala Harris' busing attack, expressed regret for his comments about his work with segregationists, and pitched a progressive vision for criminal justice reform — trying to preempt attacks on his support for the 1994 crime bill. 
"Anyone who believes that the VP is going to take distortions and out-of-context snippets of his record without fighting back should have been disabused of that notion," a Biden adviser said.
Behind the scenes: Advisers say Biden was ready for Sen. Bernie Sanders to attack him on the debate stage for being insufficiently progressive, as his camp hinted it would come. Biden anticipated that busing might come up in the debate, aides said, but they said he did not expect Harris to misleadingly imply that he opposed the local voluntary busing that took her to school as a child.
Biden told Cuomo: "I wasn't prepared for the person coming at me the way she came at — she knew Beau [Biden's late son], she knows me, I don't — anyway, I — but here's the deal. What I do know — and it's the good and the bad news, the American people think they know me, and they know me. 
"Since that occurred, I had the most sought-after endorsement for the mayor of Atlanta, a black woman who is a great leader, endorse me. I've had numerous members of a Black Caucus endorse me."
3. What we're watching: Iran's escalation
As the Iranian economy craters, Tehran and its proxies are lashing out in increasingly aggressive ways. In just the past month:
Between the lines: A senior administration official told me on Sunday they thought Iran has made a "miscalculation" by believing that "if they started being provocative the effort [from the U.S. and Europeans] would be to de-escalate at all costs."
The official said the Trump administration had no plans to ease economic pressure on Iran. (The line from administration officials is that every dollar they keep away from Iran is a dollar that the Iranian regime cannot spend on terrorism.)
The official said the administration wanted the Europeans to take stronger and more comprehensive steps against Iran — not just to put new sanctions on Iran, but to interdict Iranian oil or weapons shipments.
Why this matters, from Behnam Ben Taleblu, an Iran expert at the Foundation for Defense of Democracies: "This escalation will be a case study in risk-taking for Tehran. That's why the Western response matters so much."
4. What we're hearing: Inside Trump's Census play
Senior administration officials told me on Saturday afternoon that they expected the president to take executive action early this week to force the citizenship question onto the 2020 Census.
This afternoon, Trump spoke briefly to reporters as he was about to board Air Force One to leave New Jersey after spending the weekend at his Bedminster golf club. On the Census, he said: "We are moving forward. We have a couple of avenues."
Trump also said Attorney General William Barr is exploring several options. "We can do a memorandum. We can do an executive order."
Behind the scenes: As recently as Wednesday afternoon, administration lawyers, both in the White House Counsel's Office and in the Justice Department, did not even consider an executive order to be a realistic option, according to two sources with direct knowledge. And administration lawyers remain skeptical an executive order would pass muster at the Supreme Court, these sources told me.
But Trump took to the idea of taking executive action to force the citizenship question into the Census, sources familiar with the situation told me. "This is now White House led," one of these sources said.
The opinions of former Federal Judge J. Michael Luttig have been brought to the president's attention, per sources close to Trump.
Luttig, who has deep ties to top officials in the Trump administration, told me he believes an executive order grounded in the president's full Article II constitutional powers would succeed at the Supreme Court.
"If the President were, by Executive Order, to direct that the citizenship question be added to the 2020 Census, I would expect the question to be added to the Census, and for the Supreme Court to set the Census case for argument either immediately or during the first sitting of the October 2019 Term of Court," Luttig emailed on Sunday afternoon.
"The Chief Justice will not change his vote in order to affirm the President's and the Secretary's decision to add the citizenship question to the 2020 Census," Luttig added. "He will simply hold, with at least four other members of the Court, that the new justification for the question offered by the Secretary and the President satisfies the Administrative Procedures Act and the Constitution."
5. Sneak Peek diary
The House will take up the 2020 National Defense Authorization Act — must-pass legislation that outlines defense budgets and policies, per a senior Democratic aide. This legislation will take up most of the week given there are roughly 300 amendments to the bill.
What to watch: The Iran-related amendments, as tensions rise with Tehran.
The Senate plans to consider four tax treaties that were reported out of the Foreign Relations committee in late June, per a Republican leadership aide. The aide said the Senate will also confirm the following nominees in this order:
Daniel Aaron Bress as a judge for the Court of Appeals for the 9th Circuit.
T. Kent Wetherell II as a judge for the Northern District of Florida.
Damon Ray Leichty as a judge for the Northern District of Indiana.
J. Nicholas Ranjan as a judge for the Western District of Pennsylvania.
Robert L. King as an Assistant Secretary for Postsecondary Education in the Department of Education.
John P. Pallasch as an Assistant Secretary of Labor.
Peter C. Wright as Assistant Administrator in the EPA's Office of Solid Waste.
President Trump's schedule, per a White House official:
Monday: Trump will have lunch with Mike Pence and give a speech about "America's Environmental Leadership" (see item one). He will also attend a dinner hosted by Treasury Secretary Steven Mnuchin in honor of the Emir of Qatar, Sheikh Tamim bin Hamad Al Thani.
Tuesday: Trump will meet with Al Thani.
Wednesday: Trump will speak about kidney health.
Thursday: Trump will speak at the Presidential Social Media Summit.
6. Exclusive excerpt: Inside Kavanaugh's leaked mock hearing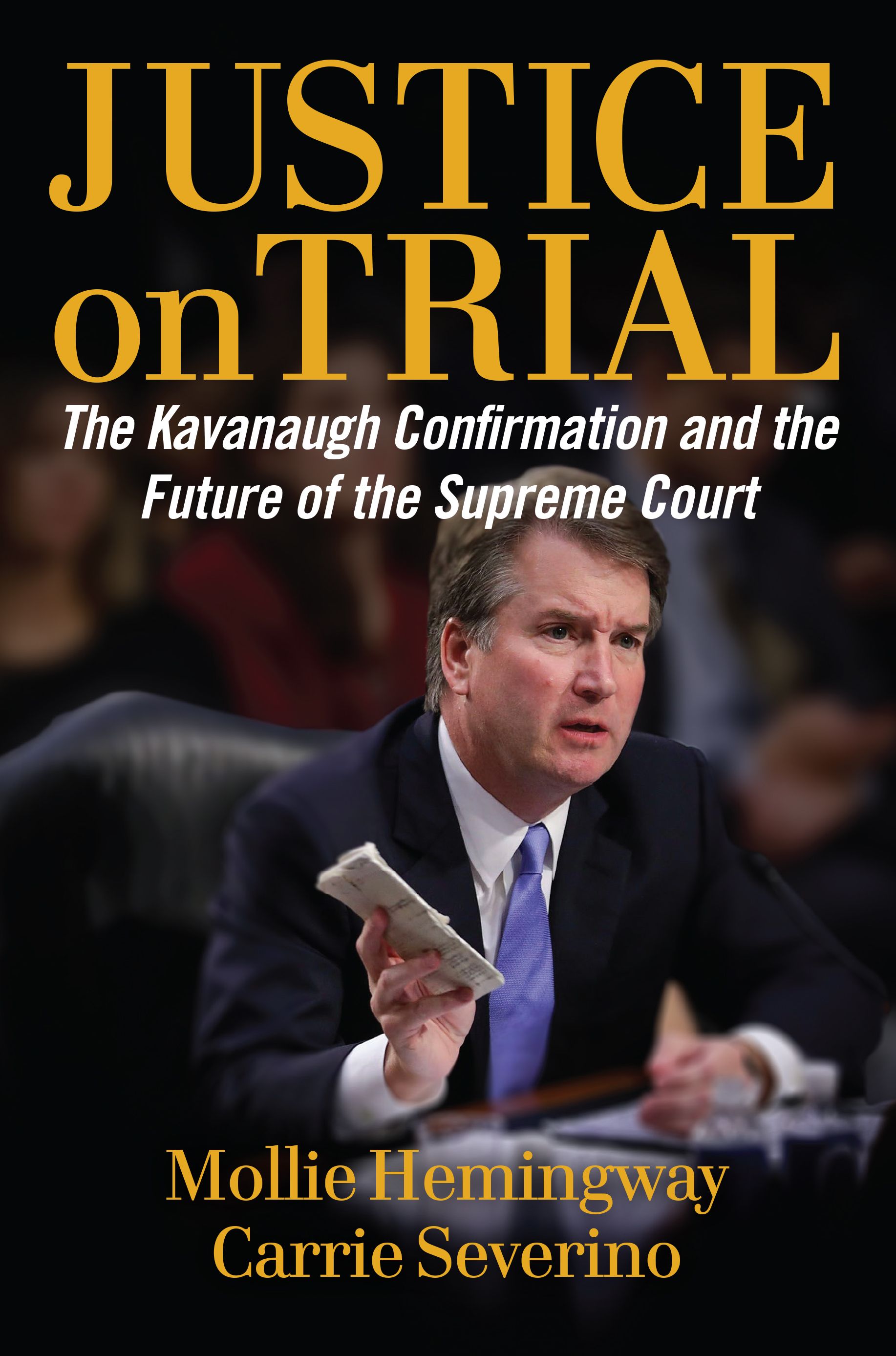 A new book on Justice Brett Kavanaugh's confirmation process discloses that the White House held a secret mock hearing for Kavanaugh after allegations of sexual assault against him broke — which leaked to the press before it was even finished, Axios' Alayna Treene reports.
What they're saying: In the forthcoming book — "Justice on Trial," out Tuesday — the Judicial Crisis Network's Carrie Severino and The Federalist's Mollie Hemingway write that Kavanaugh's team was wary of leaks, but that those leading the confirmation effort argued that the advantages of broadening the group involved in his preparation were "worth the risk."
So former White House communications director Bill Shine and press secretary Sarah Sanders, along with a number of others, played the parts of various senators in a mock hearing.
But soon after Kavanaugh left the room and the team began discussing his performance, "someone interrupted the discussion to announce that the media were already reporting that Kavanaugh was mooting with the press team," the authors write.
"Later the Washington Post cited three sources who reported that 'Kavanaugh grew frustrated when it came to questions that dug into his private life, particularly his drinking habits and his sexual proclivities.' They added that he declined to answer some questions altogether, which made it sound like he had something to hide."
"Their suspicions about the discretion of the broader group confirmed, the core Kavanaugh team resolved to get rid of any nonessential aides."
Go deeper: