Axios Sneak Peek
November 18, 2018
Welcome to Sneak Peek, our weekly lookahead for both ends of Pennsylvania Avenue, plus my best scoops. I'd love your tips and feedback: [email protected]. And please urge your friends and colleagues to sign up for Sneak Peek.
📷 "Axios on HBO" at 6:30 pm ET/PT — Apple's Tim Cook on the need for new tech regulations; NBA commissioner Silver on sports betting; and an exclusive poll showing the big and growing problems for social media/tech giants. Tune in ... 

1 big thing: Trump's private Saudi line — "really bad" but others do it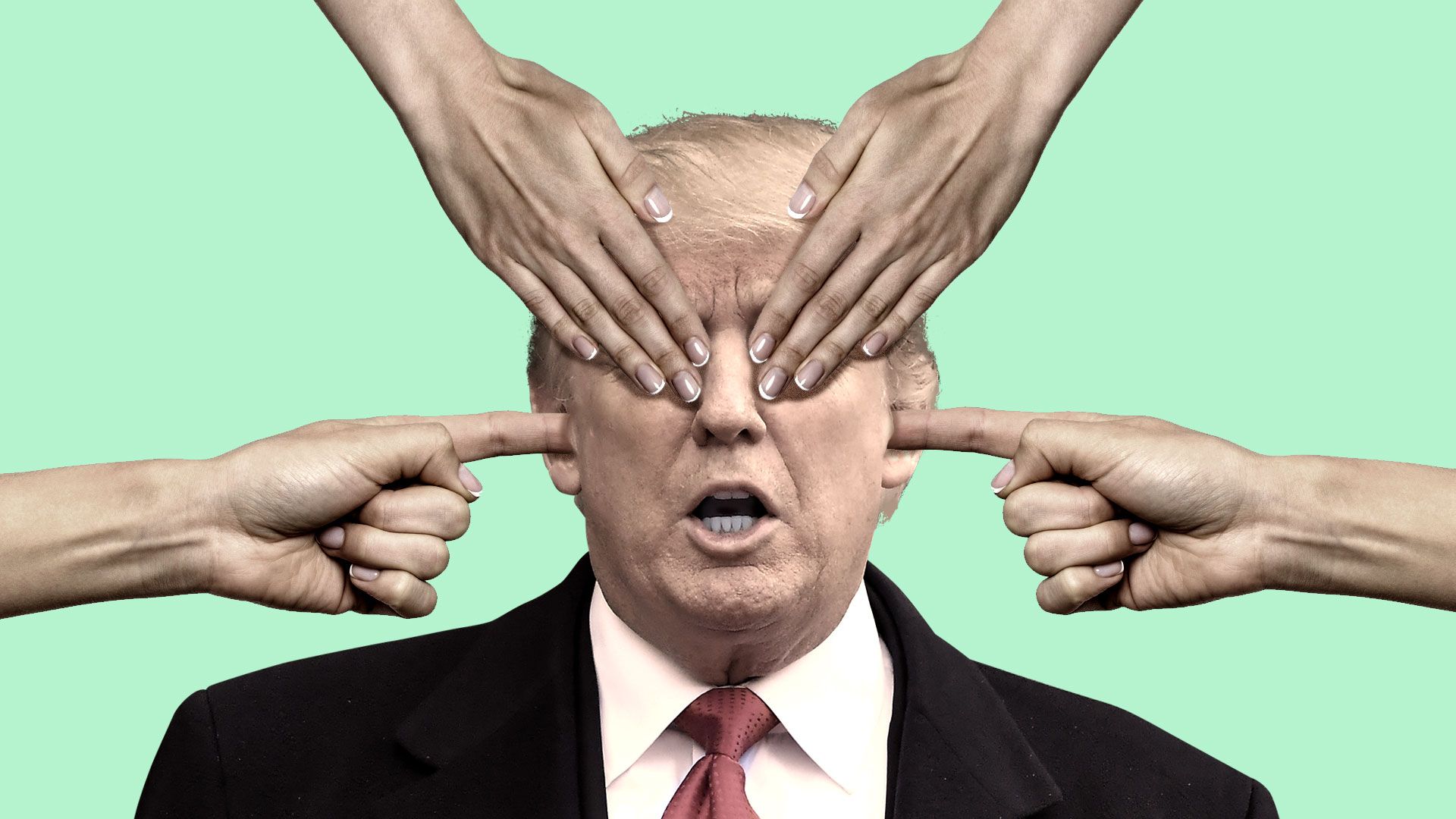 President Trump has never wanted to make a big deal out of the assassination of journalist Jamal Khashoggi, which the CIA reportedly has concluded was ordered by Crown Prince Mohammed bin Salman (MBS).
Behind the scenes: Trump has privately called the assassination "really bad," but immediately adds that other countries America deals with, including China, do "a lot of bad things," according to sources with direct knowledge.
Trump has also privately told associates he thinks it's ridiculous that people are making so much of the Saudi murder of one man given the brutal practices of countries like China. (President Xi Jinping has detained more than 1 million Uighurs in internment camps because of their religion. Vice President Mike Pence and Secretary of State Mike Pompeo have spoken out against these camps, but Trump has shied away from publicly condemning this and other Chinese human rights atrocities.)
Trump has also wondered aloud to aides why America should take a side in the Khashoggi fight, as the journalist was not a U.S. citizen and the murder didn't happen here. (Khashoggi was an American resident and wrote for the Washington Post. His murder has sparked worldwide outrage and focused attention on the Trump administration's cozy relationship with the Saudis.)
Senior Trump administration officials, including State Department spokesperson Heather Nauert, say the U.S. government has reached no final conclusion on who should bear responsibility for Khashoggi's killing.
What's next? "Fox News Sunday" host Chris Wallace asked Trump whether MBS lied to him. "I don't know. You know, who can really know?" Trump replied. "But I can say this, he's got many people now that say he had no knowledge."
Trump's key quote to Wallace: "You saw we put on very heavy sanctions ... on a large group of people from Saudi Arabia. But at the same time, we do have an ally and I want to stick with an ally that in many ways has been very good."
Wallace then asked Trump whether he'd listened to the tape that recorded the murder.
The exchange is revealing, especially given Trump still stands by the Saudis:
Trump: "We have the tape, I don't want to hear the tape, no reason for me to hear the tape."
Wallace: "Why don't you want to hear it, sir?"
Trump: "Because it's a suffering tape, it's a terrible tape. I've been fully briefed on it. There's no reason for me to hear it. In fact I said to the people should I? They said, you really shouldn't, there's no reason. I know exactly — I know everything that went on in the tape without having to hear it."
Wallace: "And what happened?"
Trump: "It was very violent, very vicious and terrible."
The bottom line: Unless there is a recording of MBS directly ordering the hit, every sign is that Trump will cast doubt over the CIA's reported findings — "who can really know?" — and get back to business with the Saudis.
2. Inside Trump's G-20 plans
Trump has locked in meetings with Vladimir Putin and Xi Jinping in Buenos Aires for the G-20 summit next week, according to sources with direct knowledge of his plans.
Trump's schedule, which isn't final, may include additional meetings, these sources said. White House officials have discussed meeting with Argentine President Mauricio Macri, Japanese Prime Minister Shinzo Abe and European Commission President Jean-Claude Juncker.
Behind the scenes: All eyes will be on the Trump-Xi conversations at the G-20. It's the first time they've met in person since Trump imposed massive tariffs on Chinese imports, which resulted in Chinese retaliation and a trade war that spooked global markets.
Nobody in the Trump administration has any idea how that meeting will play out — including Trump himself, according to sources who've discussed it with him.
Pence gave a hawkish interview last week to the Washington Post's Josh Rogin, saying China would need to offer major concessions — which they've never before prepared to offer and seem unlikely to anytime soon.
Between the lines: A former senior administration official with a keen understanding of how Trump handles these summits put it this way:
"In a typical administration, there's a process from the bottom up, where assistant secretaries and then deputy secretaries and Cabinet secretaries meet with their Chinese counterparts to hammer out an agreement and to work through the tough and thorny issues. And then eventually it falls on the heads of state to consummate a deal, but you know going into the summit that there will be a deal."
"In the Trump administration, it's inverted." Trump walks into a room and feels out the other leader for a deal.
The official's advice: Ignore efforts by administration officials, including Commerce Sec. Wilbur Ross, to preview the Trump-Xi meeting. "Totally tune it out," he said. Others inside the administration share that view.
The big question: Will the meeting go well enough — and will the Chinese make enough concessions — for Trump to postpone ratcheting up tariffs on $200 billion worth of Chinese imports, as he's scheduled to do in January?
3. Trump trolling Pelosi?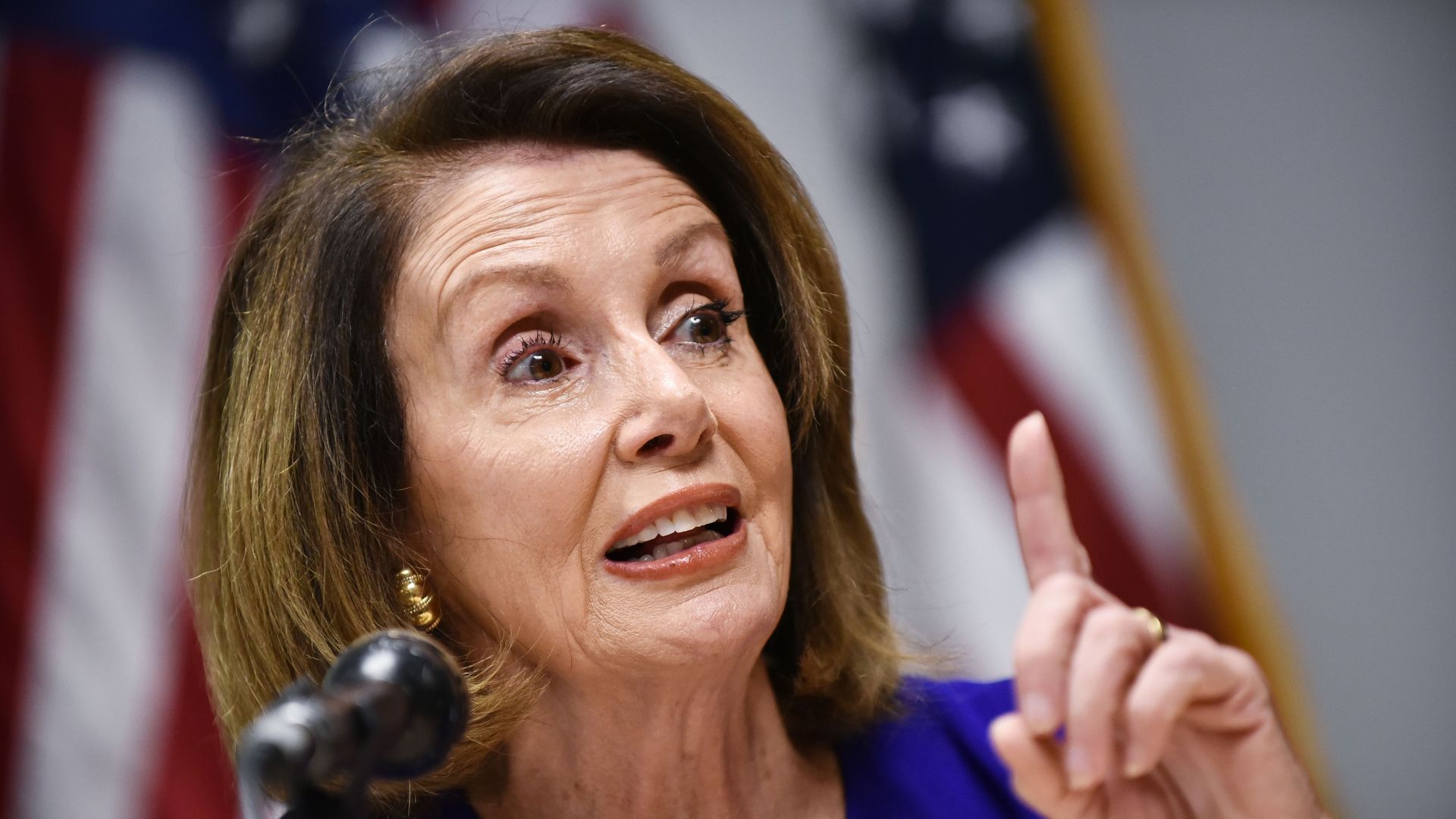 Was Trump trolling when he offered on Saturday to personally whip votes to help Nancy Pelosi become speaker of the House?
I asked that question to about a dozen current and former White House officials and sources close to the president. None of them knew, including a source who spoke to the president on Saturday.
Most guessed it was partly trolling, but also partly serious (although disingenuous) given he wants to sow chaos in the Democratic Party:
One former senior White House official texted: "Trolling. Highlighting Dem dissension. Distracting from other news. Confusing typical partisan patterns. Feeding the narrative that he wants to work with Pelosi so that she looks worse when things turn nasty. All of the above."
Another former White House official, who has not discussed this latest tweet with the president, added: "He knows that chaos is good. ... If she becomes speaker there will be lingering resentment and criticism of the establishment."
Two Republican members of Congress, both of whom are close to Trump, didn't put any stock in his comments. "There is no chance Pelosi would receive Republican votes because her Republican supporters got beat in the midterms," one said.
The bottom line: Even Hill Democrats who oppose Pelosi have privately conceded to me that she looks like a lock for the speakership. She'll clear the caucus vote on Nov. 28. Then anti-Pelosi rebels will be able to say they kept their promise to oppose her in the conference and backed her on the floor to keep Kevin McCarthy from becoming speaker. In other words: Trump is a sideshow; she won't need him.
4. Leonard Leo attacks George Conway's "Checks and Balances" group
In a rare public rebuke of an old friend, Federalist Society leader Leonard Leo is sharply criticizing a group of conservative lawyers called "Checks and Balances," helmed by George Conway, who argue President Trump is breaking legal norms.
"I find the underlying premise of the group rather offensive," Leo told me. "The idea that somehow they need to have this voice because conservatives are somehow afraid to talk about the rule of law during the Trump administration."
"And my response to that is, no, people aren't afraid, many people just don't agree that there's a constitutional crisis and don't agree with the people who have signed up with this group."
Leo spoke in a personal capacity and not on behalf of the Federalist Society.
Why it matters: Leo, who has known Conway for more than two decades, is one of the most influential figures in the conservative legal world. He is a key outside adviser to Trump on judicial nominations.
Behind the scenes: Conway's actions have irritated Trump, according to two sources with direct knowledge. Conway's wife, Kellyanne Conway, is a top White House adviser.
I asked Leo if he saw any merit in Conway's criticism. For example, Conway told Yahoo News he was "appalled" that Trump attacked Jeff Sessions because the Justice Department indicted two Republican congressmen ahead of the midterms.
Leo's response:
"I measure a president's sensitivity to the rule of law by his actions, not his off-the-cuff comments, tweets or statements. And the president has obviously had lots of criticisms about former Attorney General Sessions and about the department, but at the end of the day, he hasn't acted upon those criticisms.
"He's allowed the department to have an awful lot of freedom and independence. ... He can say what he wants to say, but at the end of the day, words don't threaten the rule of law, actions do. I've been to 48 countries around the world. I know a constitutional crisis, and I know what a rule of law crisis is. Lots of countries have them. This country doesn't right now."
George Conway declined to comment. Peter Keisler, a former DOJ official under George W. Bush and member of Conway's group, said they have received an "overwhelmingly positive response," including from Federalist Society members.
Responding to Leo's comments, Keisler said: "We do think the words of a president matter. When a president demands that the Justice Department investigate his political opponents and protect himself and his political allies, those words undermine confidence in the fairness of our criminal justice system and convey to the country a corrupt set of values and priorities."
"And in any event, when a president fires his attorney general for failing sufficiently to respond to those demands, he's also crossed the line from words into actions."
Leo did have one "bone" he said he was prepared to throw Conway's way. "The one bone I would throw them, a tiny wish bone off the carcass," Leo added, "is that they credit the president with advancing the rule of law through his judicial appointments."
Conway did tell Yahoo News that "we love the judges." And the administration "deserves a tremendous amount of credit for that. I'll be the first to clap my hands for it."
5. Leadership jam on criminal justice reform
Republican Sen. Rand Paul said on CBS' "Face the Nation" today: "If Senator Mitch McConnell, from my home state, will allow a vote" on the bipartisan criminal justice reform bill pushed by President Trump and Jared Kushner and key Senate Republicans and Democrats will get "65–70 votes in the Senate." Sen. Lindsey Graham, another supporter of the bipartisan plan, "is guessing around 80 votes," reports WaPo's Seung Min Kim.
Between the lines: It's possible they're right that a bipartisan criminal justice bill will pass overwhelmingly, but Senate leader Mitch McConnell does not plan to bring it up for a vote during the lame duck period, citing a lack of floor time, lack of consensus and other priorities like the farm bill and funding the federal government.
The White House has been pressing McConnell to move forward on a whip count, and President Trump's support has generated pressure that didn't exist before that.
Key law enforcement groups, like the Fraternal Order of Police, have come on board.
But the biggest Senate obstacle comes from law-and-order hard-liner, Sen. Tom Cotton, who has called it a "jailbreak" proposal. And it appears McConnell himself has no organic enthusiasm for criminal justice reform.
A senior Senate Republican aide told me:
"The Senate not taking up this proposal in the lame duck in no way spells its defeat.
"The President of the United States supports it, Lindsey Graham supports it, Sen. Grassley supports it, so there is enough support there. The question is whether there's enough time, and it's clear Senate Republican leadership does not feel there is, to do this in a lame duck session."
6. Maxine Waters targets global banks with Financial Services shake-up
Democratic Rep. Maxine Waters is proposing a new direction for the House Financial Services Committee, which she will almost certainly lead in the next Congress, Axios has learned.
The most notable proposed change: lumping oversight of "International Financial Institutions" — which could mean anything from the World Bank to foreign banks — with the existing Terrorism and Illicit Finance subcommittee, while scrapping the Monetary Policy and Trade subcommittee.
Between the lines: As word leaks out about the proposal, it's catching the attention of foreign banks, reports Axios' Courtenay Brown. It's a strong signal that Waters is not just talking about going after the likes of Deutsche Bank, sources familiar with the proposal tell Axios.
"[Waters has] not been shy about the direction and focus she would take if she got the gavel; she's just now literally putting it in writing which got folks' attention. Sort of like, "oh ... she wasn't kidding!" the source who shared the proposal with Axios told us via text.
Background: Waters has been fixated on going after international financial institutions for their potential roles as laundromats for bad actors like Russia and China.
A big target for Waters is Deutsche Bank, for its ties to Trump and Russia money laundering. She's been publicly outspoken about going after the bank and come January, Democrats will have subpoena power.
On proposing to change the committee's name to seemingly include overseas financial institutions with illicit finance and terrorism, "it's a bit like shooting first, aiming later as by title it's accusatory," a source says.
Other proposed changes to the House Financial Services Committee include dropping insurance from the "Housing and Insurance" subcommittee and renaming it "Housing and Community Development."
Waters also proposed to swap "Consumer Credit" with "Consumer Protection" for the current Financial Institutions and Consumer Credit subcommittee.
There's also a new proposed subcommittee, solely focused on diversity and inclusion within the financial sector, as first reported by Reuters.
The bottom line: It's common for new leaders to shift the agenda of subcommittees, but the proposals are a strong signaling of priorities for Waters.
Waters' office tells Axios: "Ranking member Waters is in the process of having conversations with the Democratic members of the committee about the committee's future structure and seeking their input. This process has not been completed."
Go deeper:
7. Sneak Peek diary
The House and Senate are out of session for Thanksgiving.
President Trump's schedule, per a White House official:
Monday: The president and first lady will participate in the "White House Christmas Tree delivery." Trump also has lunch with Mike Pence.
Tuesday: The president and first lady will participate in "the presentation of the National Thanksgiving Turkey." Trump is then scheduled to travel to Palm Beach, Florida.
8. 1 fun thing: How Trump announced Kavanaugh's replacement
The president and first lady had lunch this past Tuesday with Supreme Court Justice Clarence Thomas and his wife, Ginni Thomas, in the private dining room adjoining the Oval Office, Axios has learned.
One moment in the lunch illuminates Trump's fly-by-the-seat governing style:
Trump mentioned he planned to nominate Neomi Rao to replace Brett Kavanaugh on the US Court of Appeals for the D.C. Circuit.
Justice Thomas said, "Oh, she clerked for me," and sung her praises, according to two sources familiar with the lunch.
Then Trump got his personal secretary, Madeleine Westerhout, to call Rao over to the dining room to join them. Rao came over and spent a few minutes chatting to them. Then and there, the sources said, Trump decided to announce her nomination that day.
Straight after the lunch, Trump announced at a White House Diwali ceremony that Rao would take Kavanaugh's vacant seat.