Axios Sneak Peek
December 02, 2018
Welcome to Sneak Peek, our weekly lookahead for both ends of Pennsylvania Avenue, plus my best scoops. I'd love your tips and feedback: [email protected]. And please urge your friends and colleagues to sign up for Sneak Peek.
Situational awareness: חג חנוכה שמח to my fellow Members of the Tribe.
1 big thing: Trump's defining night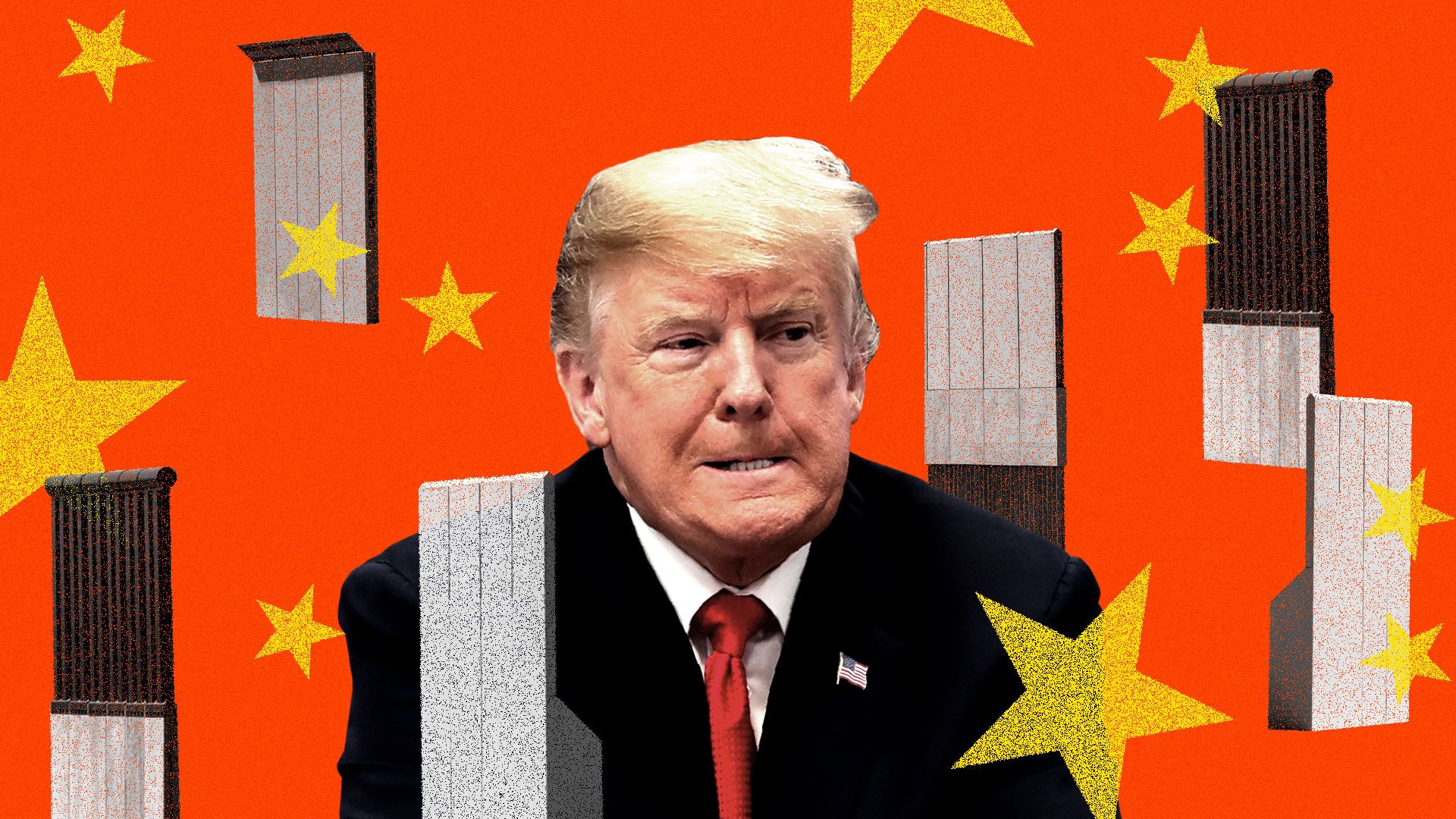 One night in Buenos Aires could define Donald Trump's presidency. Within a few hours, Trump telegraphed ambivalence about the two issues that have defined his time in politics: China and the wall.
On China, Trump eased free traders' concerns by agreeing to freeze the trade war for 90 days — keeping the tariffs at 10% instead of ratcheting up to 25% — in the hope that the Chinese will crack down on fentanyl exports, buy a "very substantial" amount of U.S. products and, for the first time, earnestly address their bad behavior including theft of American intellectual property.
On the wall, Trump signaled he's prepared to sign a temporary government funding bill to delay a shutdown fight for two weeks.
Why it matters: Trump's comments mean the next three months may define his presidency. His first term is slipping away from him. On the trail, he promised to build a wall. But almost two years into his presidency, he's barely built anything. He also promised to force China to end its abuse of American businesses. But China hasn't changed in any meaningful way.
The Chinese are doing what they always do: making vague promises of reform and seeking to delay confrontation while continuing to steal intellectual property and abuse trade rules.
"The principal agreement has effectively prevented further expansion of economic friction between the two countries" and has opened up "new space for win-win cooperation," Chinese Foreign Minister Wang Yi told reporters after the dinner.
In the coming weeks and months, Trump must decide what means he will use to force these two seemingly impossible outcomes: getting Democrats to pay for his wall and getting China to stop stealing from American companies.
Behind the scenes: China hawks may have more reason to be concerned given that stock futures are way up on the G20 news. In the wake of Buenos Aires, I spoke to two sources familiar with Trump's thinking on China, and both said they worry he's too concerned about keeping the stock market buoyant to risk tanking it by hitting China with new tariffs. A stock market boost on Monday could reinforce Trump's instincts. (Which would suit free traders Larry Kudlow and Steven Mnuchin just fine.)
These hawks worry the Chinese can drag the "dialogue" with the Trump administration beyond the 90 days, delaying action from a president hobbled by looming Democratic subpoenas, a special counsel investigation and a wobbly stock market.
"Everything has got to be seen through the prism of the investigation and needing short-term micro tactical wins," said one of these concerned hawks. "And that's why the stock market going up is a win."
"The whole effort with China has been brought to a grinding halt," the source argued, comparing the delay to a short-term continuing resolution to kick the government funding fight down the road.
The bottom line: "Elections have consequences," the source added. "The defeat in November leads to compromises in December on the wall and trade — and we haven't yet begun '19."
2. Key Republican Senator wants to limit Trump's trade authority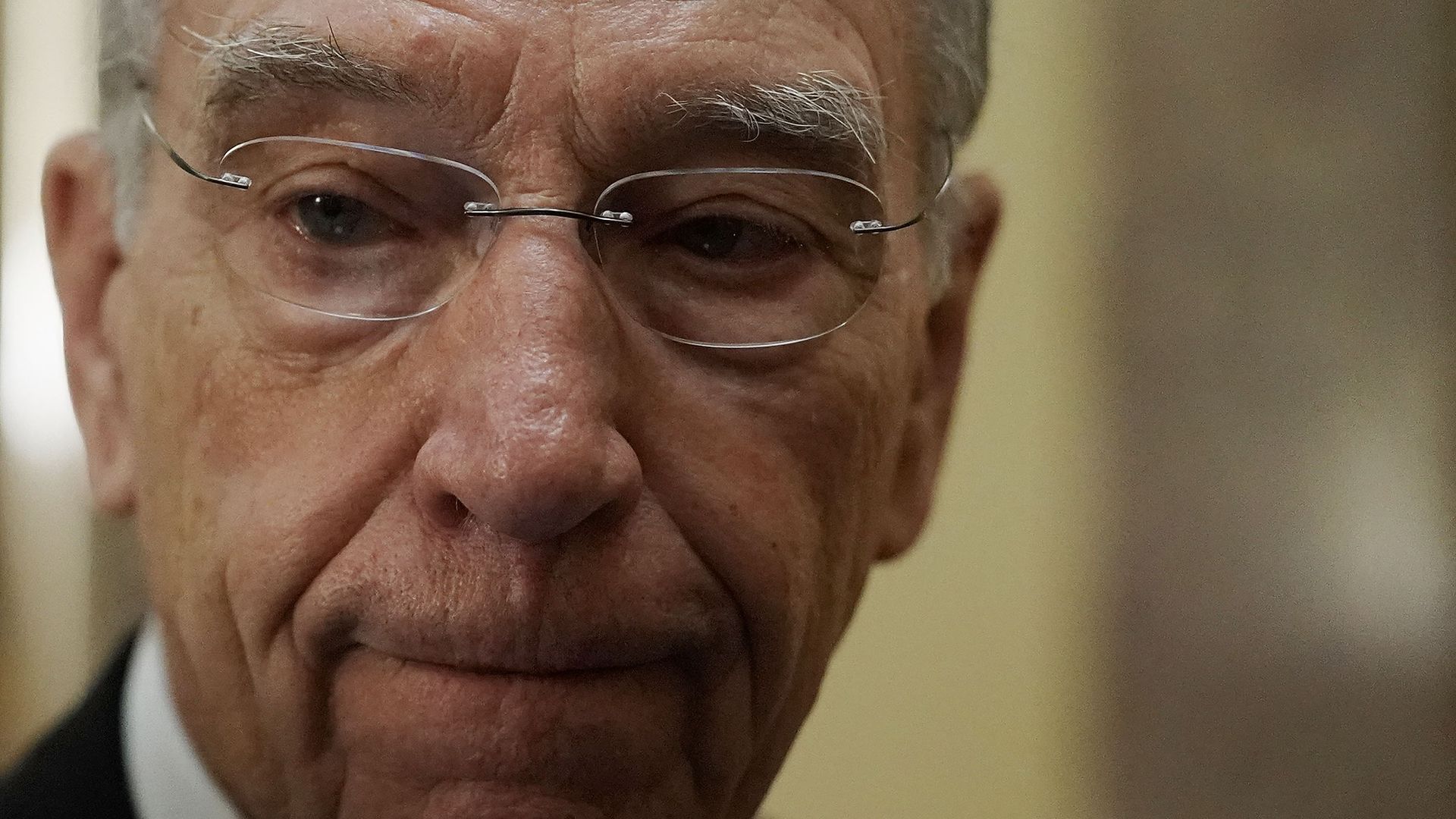 A fresh example of the political hurricane about to hit Trump's hardline trade agenda: Incoming Senate Finance Chairman Chuck Grassley (R-Iowa) told Axios' Caitlin Owens he may try to make it harder for the president to impose new tariffs.
Grassley said he would take a favorable view of legislation limiting the administration's power to impose tariffs to protect national security (known as Section 232 authority).
"Maybe the definition of national security or maybe the conditions under which national security could be used as an excuse is a little wide," he told Axios.
Why it matters: Grassley's frankness about supporting this type of effort will cheer free traders. The concept of constraining Section 232 power isn't new, but Republicans thus far have been loath to defy Trump.
That could be changing. Members of Congress sound increasingly worried they'll need to block the president from putting massive new tariffs on auto imports. Trump already used Section 232 to tax steel and aluminum, and he is now looking to use it to impose tariffs of more than 20% on foreign cars.
Between the lines: Grassley, a farmer himself, is among farm country's staunchest congressional advocates. The Chinese and other countries have targeted American farmers with penalties in retaliation for Trump's tariffs.
Grassley only has two years left to chair Finance (this will be his second round in the position), so he will need to quickly cement his legacy.
One bill to watch is Republican Ohio Sen. Rob Portman's 232 reform, co-sponsored by Sen. Joni Ernst (R-Iowa).
Defying Trump will never be easy for Republicans, especially as Trump will likely say any congressional push to limit his trade agenda favors the Chinese over Americans.
But Grassley will likely fire back with his own populist defense of American farmers.
The bottom line: While the administration has eased some Republican members' concerns by reaching an updated trade deal with Mexico and China, many farm-state members say they still worry about how the rest of Trump's trade disputes will play out.
"The interest in solving this problem is increasing," said Sen. Jerry Moran (R-Kan.).
Having Grassley chair Senate Finance is "beneficial," he added, since his constituents are "significantly challenged by lack of trade with China."
3. Government shutdown on ice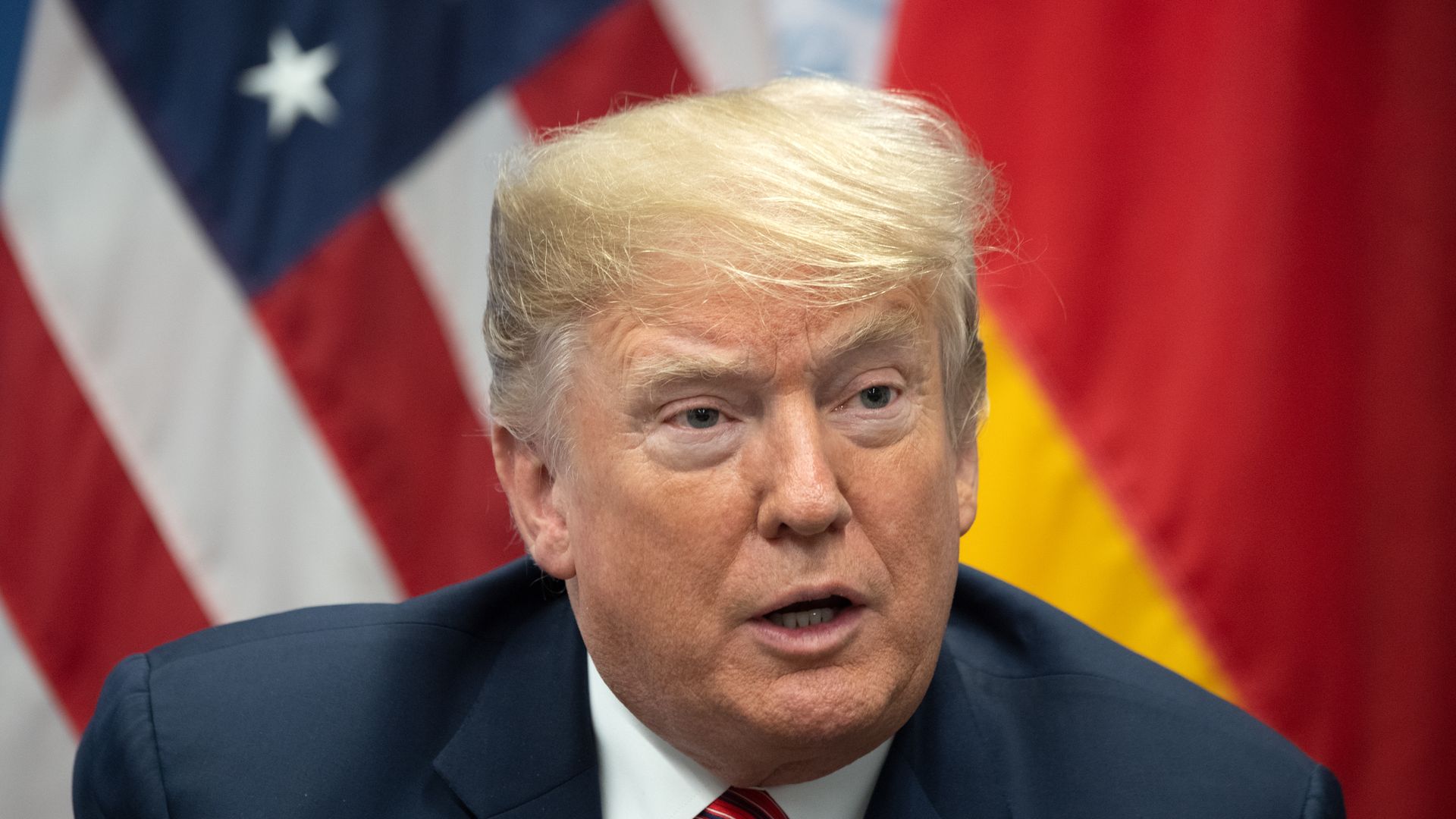 Until George H.W. Bush's death on Friday, most of my GOP leadership and White House sources expected the government to partially shut down on Dec. 7, as Democrats won't give Trump the $5 billion he wants for his border wall.
But these same sources now say the week of national mourning for George H.W. Bush — his body will lay in state in the Capitol and services will be held in D.C. and Texas — makes it likely Trump signs a short-term funding bill to delay the shutdown by 1–2 weeks.
Trump told reporters this was likely on Air Force One on his way back from Argentina on Saturday.
Behind the scenes: House Republican leadership has privately discussed a "Plan B": sending a dead-on-arrival bill to the Senate that would satisfy Trump's border wall demands, according to sources with direct knowledge. That plan: "Watch it die, and hope that that then generates the discussion that needs to happen," one source said.
What's next? Trump is expected to meet with Nancy Pelosi and Chuck Schumer on Tuesday morning, according to two sources briefed on the plans. Until last week, White House officials and Republican leaders sounded cautiously optimistic about cutting a deal with Schumer to give Trump close to the $5 billion he demands.
Some progressives criticized Schumer for offering Trump $1.6 billion for border security — what Trump's 2019 budget requests. (The White House later asked the Hill for $18 billion for border fencing.)
Schumer made clear in a floor speech this week that he has no intention of moving further toward Trump's $5 billion. And as Pelosi has a floor vote for speaker in January, she isn't about to play ball with Trump and give the few remaining holdouts a reason to vote against her.
The question swirling in GOP circles: If Trump lets the government shut down because Congress won't fund his wall, how would he negotiate its re-opening — especially given his scant leverage over Democrats?
"Politically, both sides probably see benefits," Marc Short, former White House director of legislative affairs, told me.
"But unlike previous shutdowns ... it's hard to see what the pressure is to end the shutdown" given that spending bills passed before the midterms already fund so much of the government, including the military.
It would be a partial shutdown, covering about 25% of federal spending — including Transportation, Interior, Agriculture, Homeland Security, Justice and State.
4. Sunday highlight reel
My Axios colleagues Khorri Atkinson and Marisa Fernandez saved you time by watching the Sunday shows; here are their highlights in the Axios stream:
George H.W. Bush's colleagues react to his death: Gen. Colin Powell, who served as George H.W. Bush's Joint Chiefs chairman told Jake Tapper on CNN's "State of the Union": "[Bush] knew what combat was all about. He knew that combat meant the death of people, people on your side and people on the other side. And so, he wanted to avoid a war."
Incoming House Intelligence Chairman Adam Schiff (D-Calif.) claimed on ABC's "This Week" that President Trump's refusal to rule out a pardon for his former campaign chairman Paul Manafort "adds to the growing body of evidence that the president is engaged in obstructing justice."
And Roger Stone on his Trump pardon potential to ABC's "This Week": "There's no circumstance under which I would testify against the president because I'd have to bear false witness against him. I'd have to make things up. And I'm not going to do that. I've had no discussion regarding a pardon."
5. Sneak Peek diary
Congress will pause this week to pay tribute to the life of George H.W. Bush. The 41st president's remains will lie in state in the U.S. Capitol from Monday to Wednesday, and the House and Senate will suspend legislative business during that time.
Bush's Washington, D.C., funeral will be held Wednesday at the National Cathedral.
Bush's remains will then be flown to Houston for another funeral service, scheduled for Thursday morning at St. Martin's Episcopal Church.
The House and Senate are expected to resume business Thursday and Friday, during which time the Senate could consider more Trump nominations.
The White House is not releasing President Trump's schedule, though he has already said he will attend Bush's funeral.
6. Dershowitz says he's still advising Jeffrey Epstein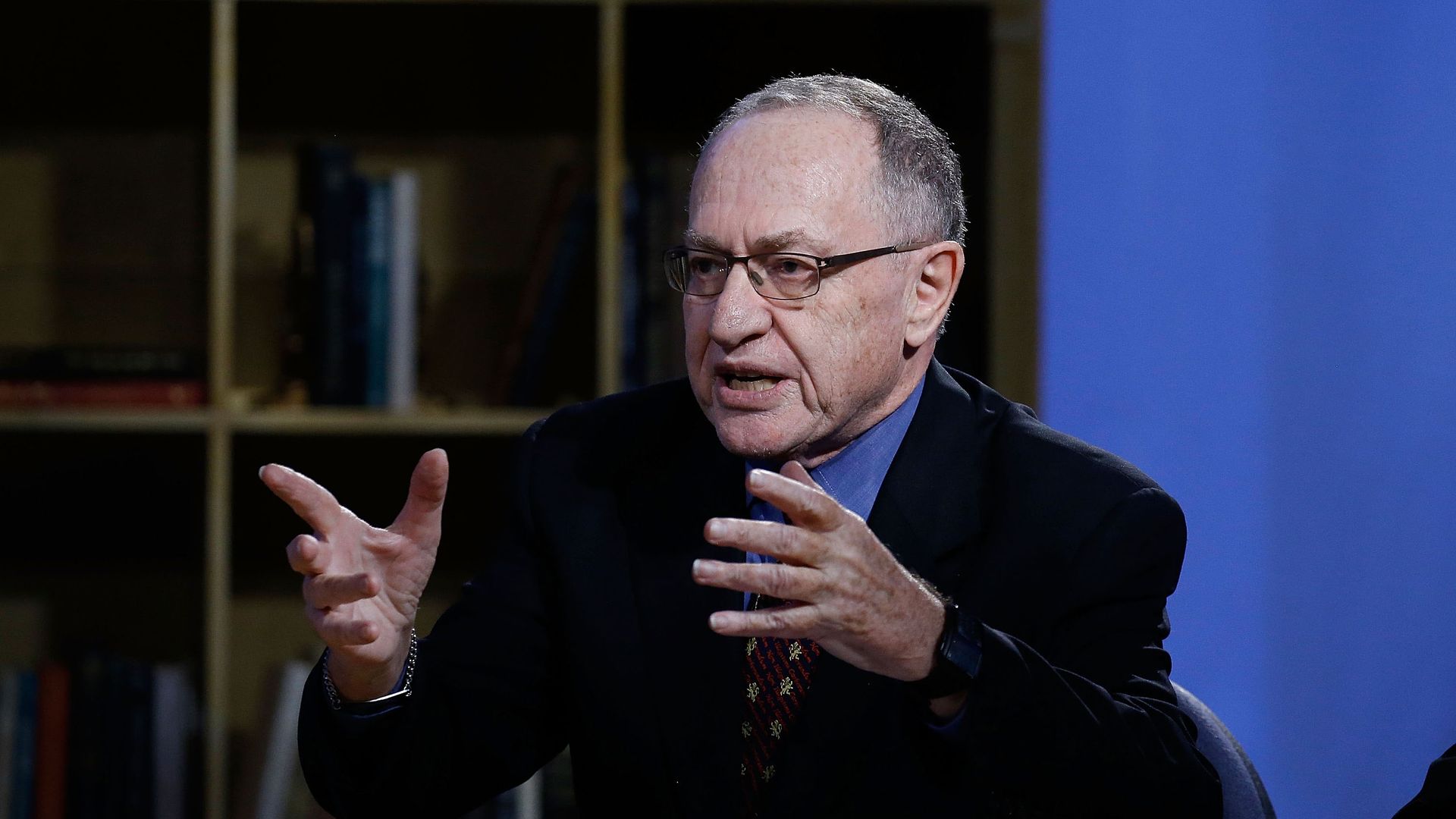 Alan Dershowitz still provides legal advice to serial pedophile Jeffrey Epstein, he confirmed to Axios.
"He has called me a couple of times about legal issues, because I'm still technically his lawyer," Dershowitz told me in a phone interview on Saturday.  "But I haven't had any social, or any other kind of contact. ... You never stop being a person's lawyer."
Background: Dershowitz helped Epstein get a sweetheart plea deal from then-U.S. Attorney Alexander Acosta (now Donald Trump's labor secretary and a rumored long-shot contender for attorney general).
A bombshell Miami Herald investigative series last week highlighted for the first time the extent of Epstein's alleged crimes and the soft treatment he received from federal prosecutors.
The Palm Beach multimillionaire would "serve just 13 months in the county jail, but the deal — called a non-prosecution agreement — essentially shut down an ongoing FBI probe into whether there were more victims and other powerful people who took part in Epstein's sex crimes," according to a Miami Herald examination of thousands of emails, court documents and FBI records.
Dozens of women alleged that Epstein molested and raped them when they were underaged using a sophisticated human trafficking network. A civil trial is scheduled to begin on Tuesday in Palm Beach County that may finally let these women tell their stories in court.
Behind the scenes: While he was allegedly raping teenage girls, Epstein cultivated cozy relationships with America's elites.
Bill Clinton flew on Epstein's plane, nicknamed the "Lolita Express," numerous times, according to flight logs.
And Donald Trump, in a profile with New York magazine written several years before the police caught up with Epstein, praised his friend as a "terrific guy." "It is even said that he likes beautiful women as much as I do," Trump said of Epstein, "and many of them are on the younger side."
Dershowitz was also friendly with Epstein before the broader public knew he was a pedophile.
Dershowitz confirmed to me that he received a massage at Epstein's Palm Beach home, adding that the woman who provided it was of legal age.
"What happened was I, um, he lent us, this was well before any of this thing came out, he lent us his house once. And I was there, my grandchildren were there, my daughter was there, and we all got massages.
"And, um, it was therapeutic. I had a therapeutic massage with an old old Russian, but I never never ... and that was part of when we had his house for about a week during I think it was Christmas vacation."
"Believe me, if I had known that anything improper had ever taken place in that house, I never would have allowed my children, my grandchildren, my wife, my daughter-in-law, my son, to have spent time there. I can tell you categorically there were no inappropriate pictures, no inappropriate anythings. It was like any other house."
One of Epstein's accusers, Virginia Roberts, has claimed Dershowitz had sex with her when she was underage. Dershowitz has denied the allegation and told the Miami Herald "the story was 100 percent flatly categorically made-up" so "she could get money."