Axios Sneak Peek
February 11, 2018
Welcome to Sneak Peek, our weekly lookahead for both ends of Pennsylvania Avenue, plus my best scoops. I'd love your tips and feedback: [email protected]. And please urge your friends and colleagues to join the conversation by signing up for Sneak Peek.
1 twisted thing: Trump says Porter guilty, but defends him publicly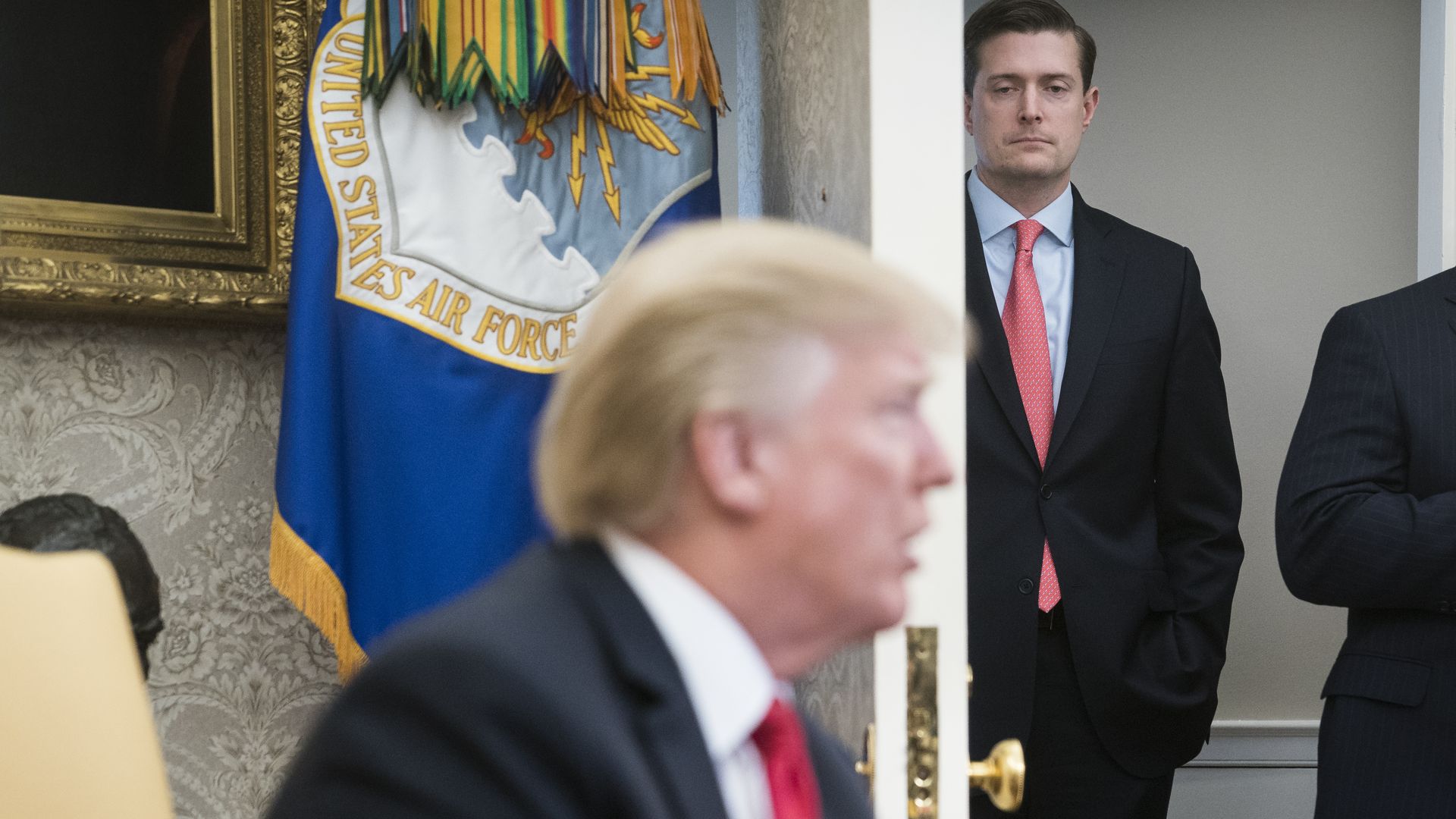 President Trump is defending Rob Porter even though, privately, he says he's guilty.
Behind closed doors: The president has told multiple people that he believes the accusations about Porter, and finds him "sick."
Four sources who have spoken directly with Trump tell me his private comments about ex-aide Porter — whose two ex-wives accused of violent attacks — have been brutal.
But his public comments don't reflect that, at all.
This is the strongest indicator yet that Trump will reflexively defend his male allies from any and all accusations, even when he thinks those accusations are true.
Trump tells friends that he deplores the #MeToo movement and believes it unfairly exposes CEOs to lawsuits from their female employees. The fact that women frequently face sexual predation in the workplace doesn't impact his view on this.
Behind-the-scenes: Porter appears to have crossed Trump's red line. In the Oval Office, Trump read a print-out of the Daily Mail story with incredulity. He quickly turned on Porter. Trump said he was shocked that this clean-cut Harvard guy with the perfectly parted hair — "straight out of central casting" — could have violently attacked women.
Over the last few days, the president has told associates he believes Porter's ex-wives' accusations.
Trump has also told associates that he views men who beat their wives the same way he views child molesters: as "sick puppies." (This sits uncomfortably beside the fact that Trump stood by accused pedophile Roy Moore.)
"He thinks there's something wrong with them [men who attack their wives] and they never change... He thinks they can't be reformed."
— One source who has spoken with Trump about Porter.
But — at least in Porter's case — he'll still publicly back them up. On Friday, Trump expressed sympathy for Porter, praised his White House work, and made no mention of the women who say he attacked them.
2. The White House can't get its story straight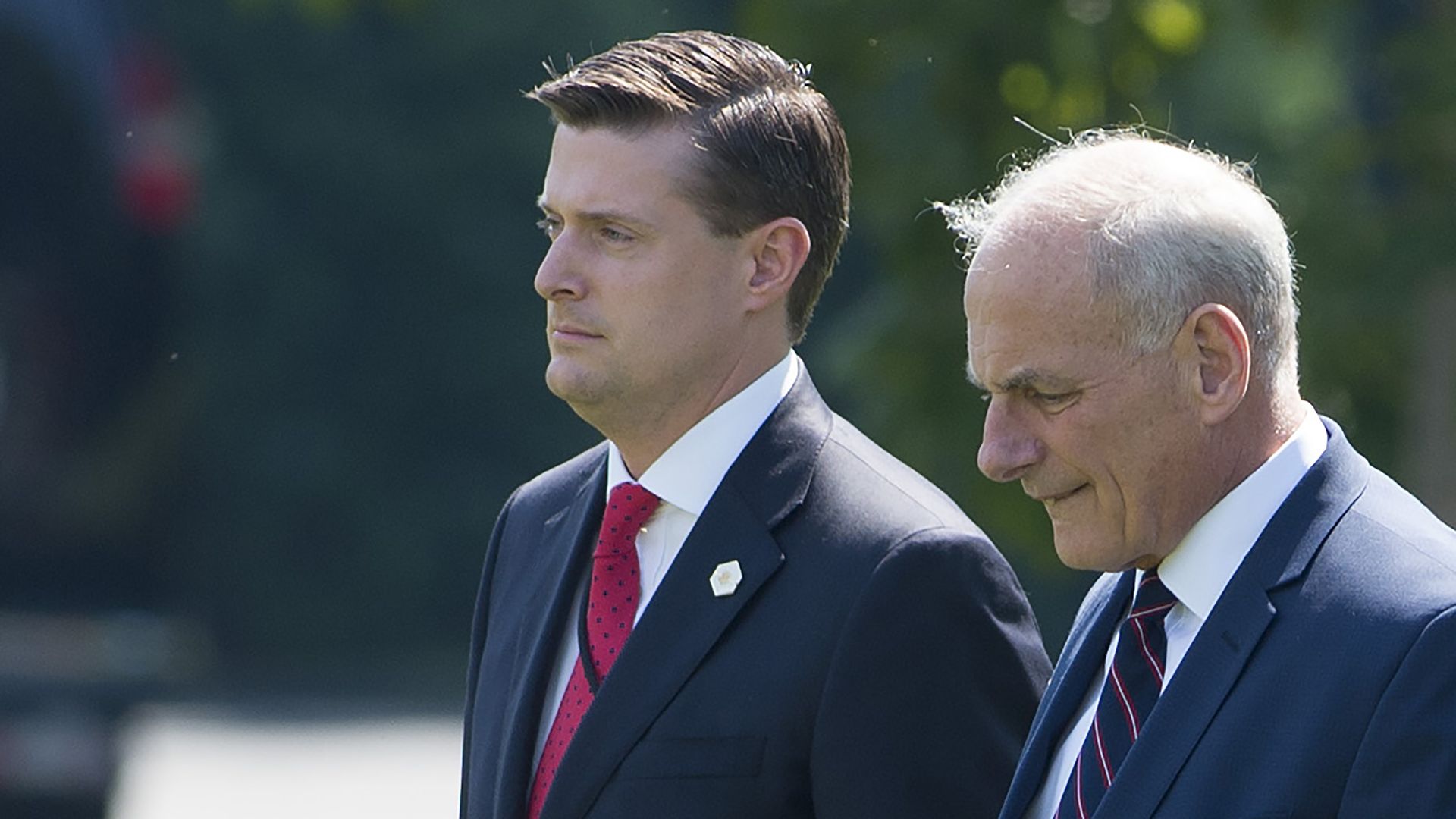 Consider this: It's been five days since domestic violence allegations toward Rob Porter surfaced. Within 24 hours, Porter was out of a job. The scandal has rocked the White House and one of its most astonishing components is that Chief of Staff John Kelly and the White House press shop are still providing conflicting stories about what happened.
This is crazy. Even in a White House that's famous for chaos, I've never seen anything like this.
Through an outside ally, Kelly has given the following account:
On Tuesday afternoon, Porter told Kelly a damaging story was coming about his messy marriages and divorces, with allegations of verbal and emotional abuse.
Kelly asked if the story was about domestic violence and Porter said it wasn't.
After the story broke on Tuesday evening, Kelly realized immediately that Porter had lied about what was in the story.
Within 40 minutes, Kelly demanded Porter's resignation.
Porter complied and Kelly told all of this to the president.
But the White House has publicly projected the opposite version of events. Here's what officials have told reporters on background and, in part, on the record:
On Tuesday afternoon, The Daily Mail told the press shop the story was coming and asked for comment.
The press shop huddled with Porter, and then told Kelly there was a story coming with horrific allegations — including domestic violence — against Porter. (This is a key break from Kelly's narrative; see item 1 above.)
Together, Sarah Huckabee Sanders, Kelly, and other press shop officials drafted a statement defending Porter.
The Daily Mail story published, including that statement.
On Wednesday, around noon, the White House press team told reporters that nobody asked for Porter's resignation. They added that several senior officials encouraged Porter to "stay and fight."
White House Press Secretary Sarah Huckabee Sanders said from the podium that nobody asked Porter to leave but he resigned anyway.
One more surreal twist: Representing the Trump administration on CBS' "Face the Nation" today, Budget Director Mick Mulvaney said Porter was given "the benefit of the doubt" until the photos came out showing the black eye he allegedly gave his ex-wife. (This contradicts Kelly's story: The first time anybody saw these photos was at 1:53 a.m. on Wednesday when The Intercept's reporter Ryan Grim tweeted them out.)
Bottom line: Either the White House spokespeople or the president's chief of staff is lying. It's a stunning display of incompetence that five days after the initial story broke, they still can't get their stories straight.
3. A Trump fairy tale
The White House will release two documents on Monday: its much-ballyhooed infrastructure plan and its 2018 budget. Readers should file both documents under the genre of "science fiction." The budget is dead on arrival because presidential budgets are always dead on arrival, and the infrastructure plan appears to be dead on arrival because of a larger crisis facing the party. 
Behind-the-scenes: Caitlin Owens and I have spent the past two weeks interviewing Republican aides and lawmakers on Capitol Hill about their support for a massive infrastructure spending bill. Though some will publicly applaud the plan, most Republican members will crinkle their noses. Few want a midterm-year spend-a-thon when they're marching toward a $1 trillion deficit this year.
"I think [the budget deal] does hurt the chances for an infrastructure package to get done, unless you use the money we're just now spending... I think there's not going to be the appetite to continue to add additional monies without real offsets."
— House Freedom Caucus Chairman Mark Meadows
It's not just ultra-conservative House Freedom caucus members who worry about the mushrooming debt under total GOP control of government.
Sources say Speaker Paul Ryan has zero interest in juicing the debt even more with a massive infrastructure package. (The White House plan is to leverage $200 billion of new federal spending into a $1.5 trillion infrastructure package.)
At Tuesday's Republican Study Committee meeting, members vented about metastasizing debt and deficits. ​Republican Study Committee Chairman Mark Walker called the national debt a "moral problem, not a financial problem," according to two sources in the room. ​And that was even before Republicans passed a budget bill that put the debt on steroids.
All that said, it's certainly plausible Congress could move some hodge-podge of provisions which they could describe as an infrastructure package. It won't look remotely like Trump's proposal, but it may give cover for a Rose Garden celebration.  
A White House spokeswoman pushed back vociferously on this story, saying Republicans and Democrats are aligned "in a lot of places" on infrastructure. She pointed to polling that shows a vast majority of Americans want some sort of infrastructure spending, and said the president's team has spent the past year trying to build support from both parties. But privately, several senior administration officials have admitted to me they see no path to passage for anything resembling their infrastructure plan. 
Meanwhile, congressional leadership is hedging. GOP leadership aides reminded me of all the infrastructure legislation Republicans have already passed under Trump, but didn't dispute that there's scant GOP appetite for another mammoth spending bill this year.
Don Stewart, a spokesman for McConnell — whose wife, Elaine Chao, is Trump's Transportation Secretary and invested in infrastructure happening — was a little snarky in his statement:
"It's easy to write obituaries in advance — it's hard to cover dozens of hearings and weeks of floor debate."
Good one, Don.
4. Senate free-for-all on immigration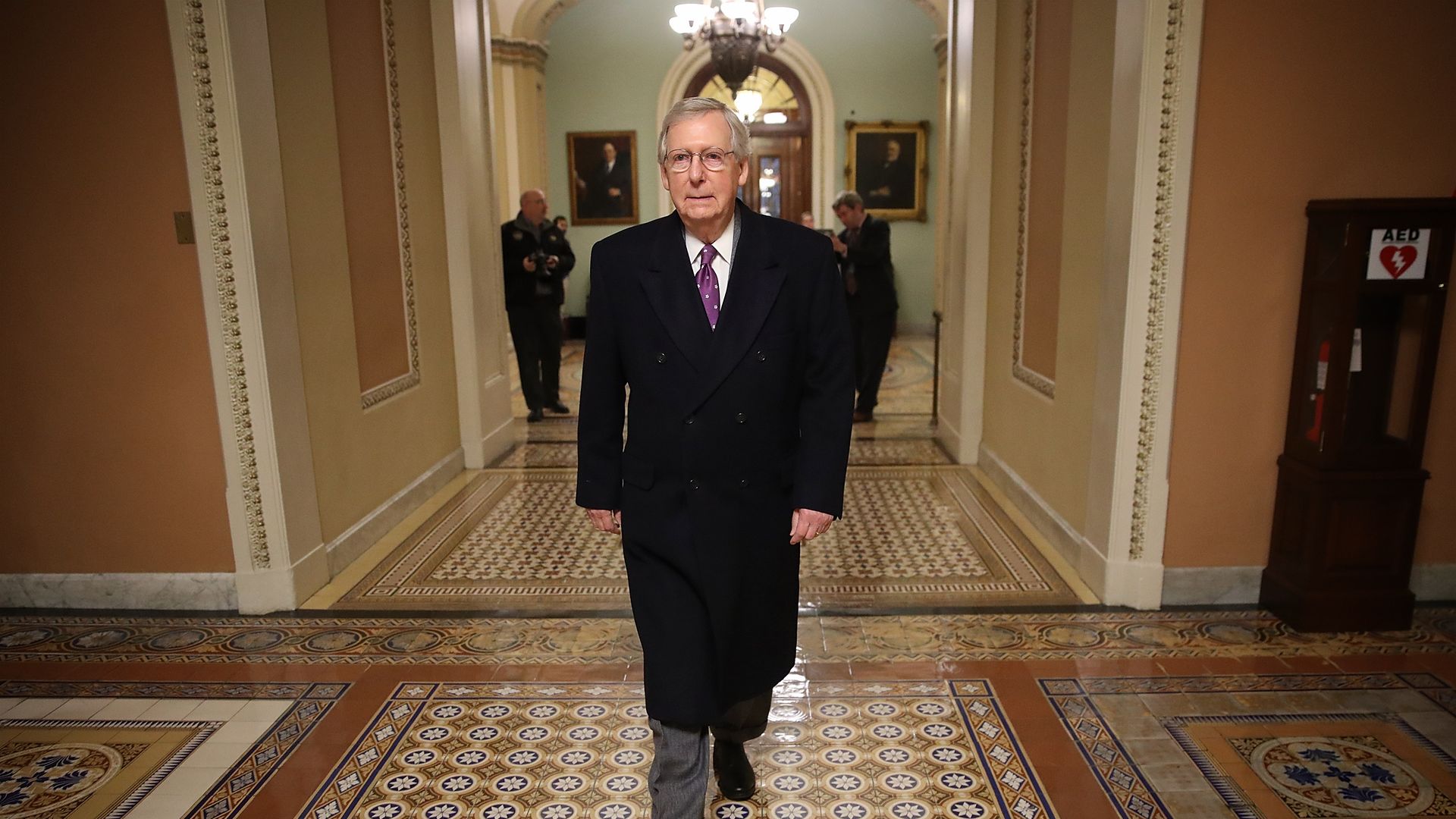 The Senate will do something highly unusual on Monday.
In the words of a senior Senate aide, Mitch McConnell will effectively tell his colleagues: "Listen boys and girls, you all have lots of different ideas about what should be done on immigration. So put your big boy and big girl pants on, and put your ideas on the floor for a vote. Do your best; try to get to 60 votes to pass a bill."
Bottom line: This is McConnell fulfilling his promise to allow an open-ended vote on immigration. He gave the promise in order to reopen the government, but it's likely he would've felt he had to do so anyway because his conference is so hopelessly divided on immigration and Democrats have a lot of power, too.
Our tip: Keep an eye on senators Tom Cotton and David Perdue. They reflect President Trump's thinking on immigration.
5. Grassley twists Trump's arm for criminal justice reform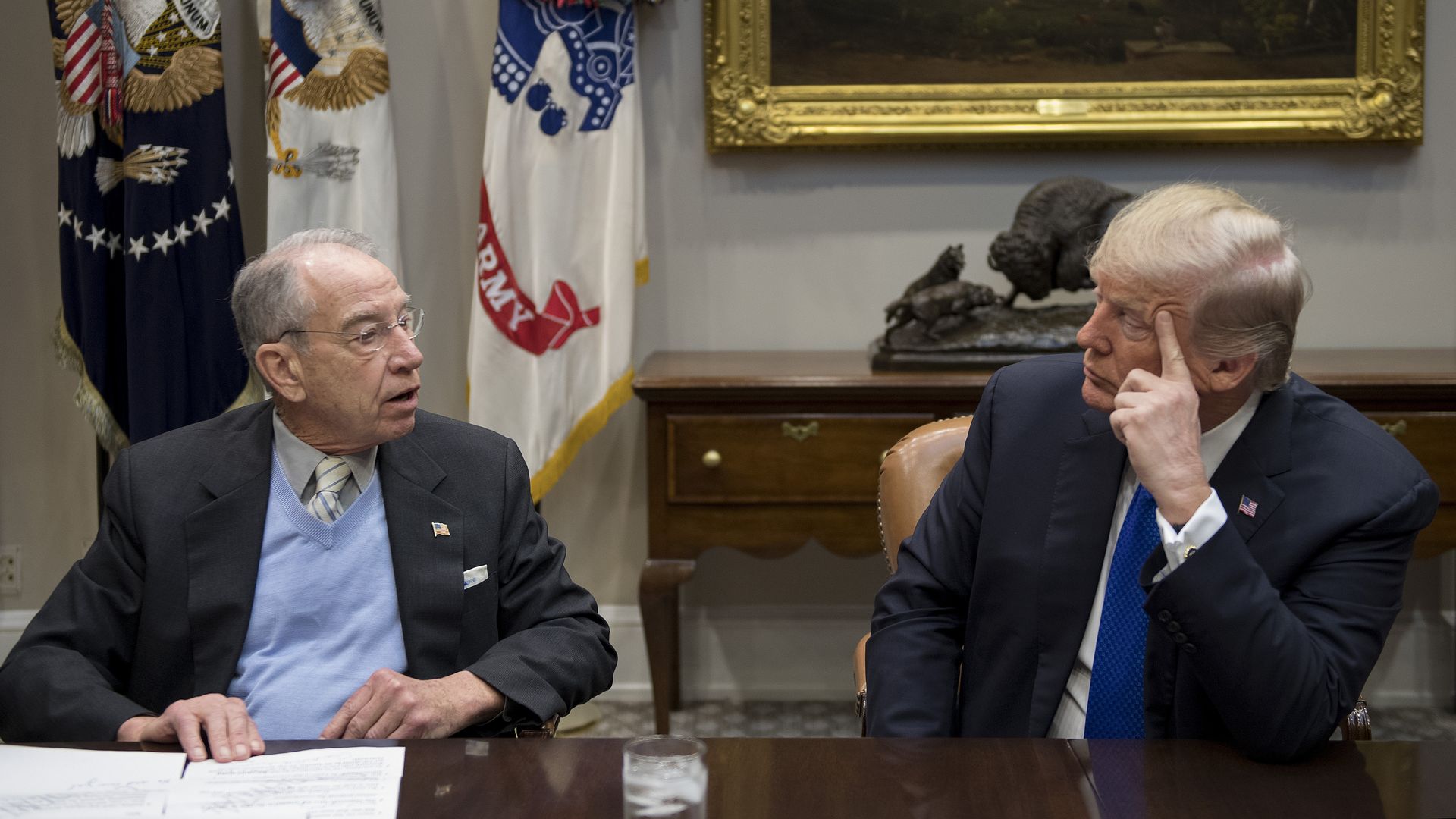 I checked in with Chuck Grassley, the powerful Senate Judiciary Chairman, who's been twisting arms for his (and Dick Durbin's) Sentencing Reform and Corrections Act .
Why it matters: Grassley-Durbin is the most ambitious bipartisan criminal justice reform bill out there. On Thursday, the Judiciary Committee will vote on it. Little known fact: 20 senators are co-sponsors.
What we're hearing: There's scant appetite in the Trump administration for Grassley's bill, which combines both prison reform (including programs to rehabilitate prisoners) and sentencing reform (shorter sentences for non-violent criminals.) Grassley introduced the same bill last Congress but McConnell refused to bring it up for a vote.
Attorney General Jeff Sessions can live with prison reform, but adamantly opposes anything that could be perceived as "soft on crime."
Trump has similar instincts. And even the White House's most passionate criminal justice reform advocate, Jared Kushner, believes they're better off shooting for what is achievable — prison reform only — rather than getting nothing at all, according to sources with direct knowledge. (Though Kushner personally backs criminal justice reform overall.)
A White House official told me they spent 6 months listening and learning on this topic and don't see a path forward at this time on criminal justice reform but do see a path forward on prison reform.
"We could have the status quo or we could have movement on a serious issue that could save money, reduce crime, and help people," the official added. "And it could build momentum for other areas as well."
The political reality: Grassley didn't deny the White House's cool reception of his bill, but he plans to use his substantial political clout to press Trump to change his mind.
As I've

reported

, Trump bends over backwards to

keep Grassley happy

. He knows that as Judiciary Chairman, Grassley played a crucial role in delivering two of Trump's biggest successes so far: the confirmation of Supreme Court Justice Neil Gorsuch and a modern record for circuit court judges in a president's first year.
"I've carried a lot of water for the White House," Grassley told me. "They ought to give some consideration for the close working relationship we've had on issues we agree on."
"I think people at the White House have not wanted to go against Gen. Sessions," he added, before closing with a sentence crafted perfectly to appeal to Trump's ego. "This is an opportunity for a bipartisan victory by the President of the United States."
6. Sneak Peek diary
President Trump's week, per a White House official:
Monday: The president hosts an infrastructure initiative meeting with state and local officials. Trump also has lunch with the Vice President and the Education Secretary.
Tuesday: The president will meet with members of Congress on trade. The president hosts a roundtable with the National Sheriffs' Association and local law enforcement representatives. Trump also hosts a national African American history month reception.
Wednesday: Trump hosts a signing ceremony for the Department of Homeland Security Blue Campaign Authorization Act and the Protecting Young Victims from Sexual Abuse and Safe Sport Authorization Act.