Axios Sneak Peek
October 28, 2018
Welcome to Sneak Peek, our weekly lookahead for both ends of Pennsylvania Avenue, plus my best scoops. I'd love your tips and feedback: [email protected]. And please urge your friends and colleagues to sign up for Sneak Peek.
1 big thing: Scoop — Inside Trump's last-minute road trip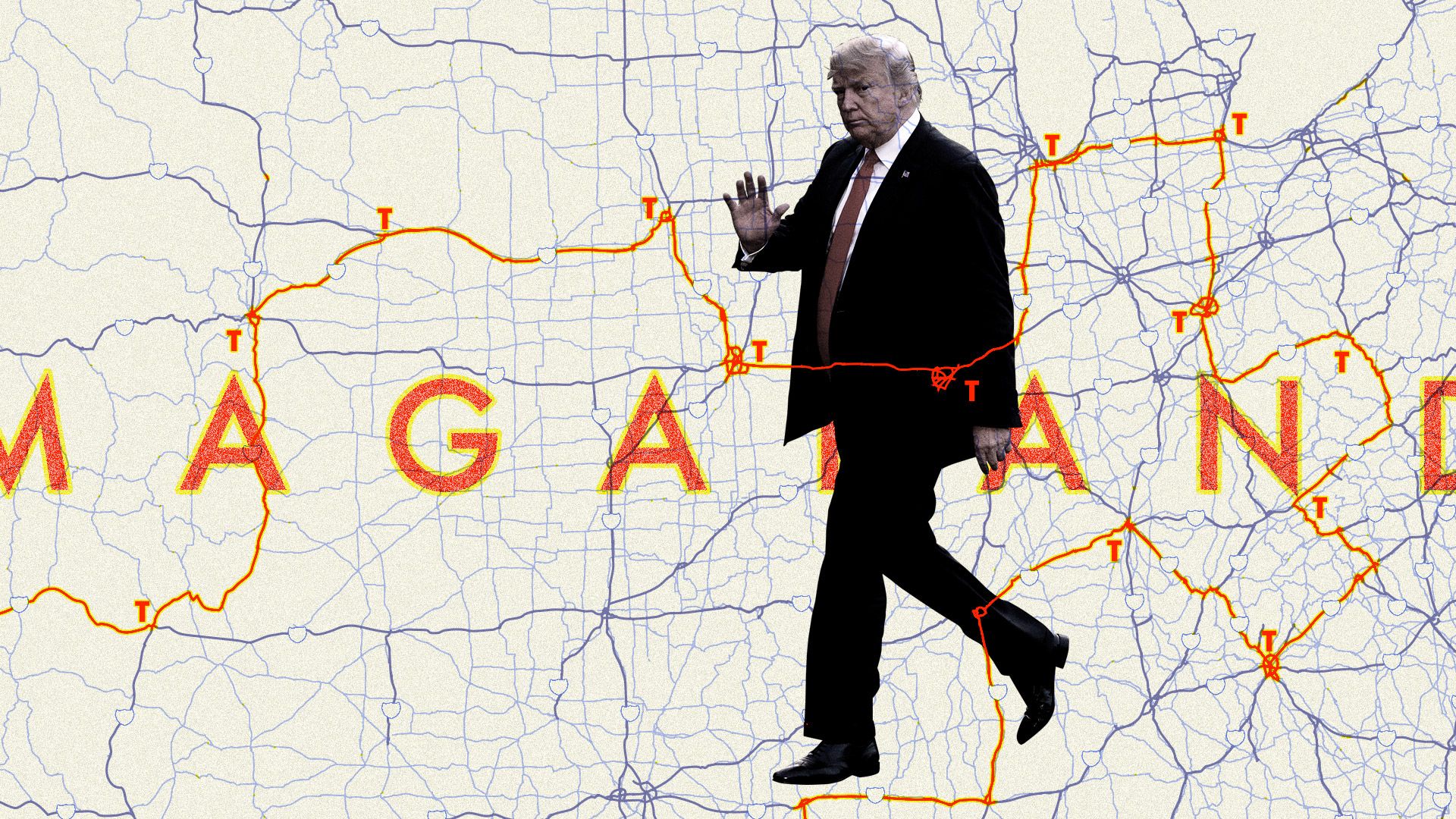 President Trump is adding an 11th rally to his final six-day blitz leading into the Nov. 6 midterm elections. Trump will be ending his campaign swing, on election eve, in the pivotal Senate state of Missouri, according to a source with direct knowledge of Trump's plans.
Alexi McCammond got her hands on fresh details — dates and specific locations — of the Trump political team's schedule ahead of the midterms. The locations and dates we cite here, the big picture details of which were first reported by Bloomberg, are based on internal White House planning and could change:
Oct. 31: Fort Myers, Florida
Nov. 1: Columbia, Missouri
Nov. 2: Huntington, West Virginia and an undisclosed location in Indiana
Nov. 3: Bozeman, Montana and an undisclosed location in Florida
Nov. 4: Macon, Georgia and Chattanooga, Tennessee
Nov. 5: Fort Wayne, Indiana and Cape Girardeau, Missouri
Another rally, on a date we haven't established: an undisclosed location in Ohio
Why this matters: In his final blitz, Trump is going to Trump country within Trump states. Not a single competitive House seat lies within these locations.
Between the lines: The Cook Political Report's elections analyst Amy Walter told me the schedule, developed by White House Political Director Bill Stepien, is a "very strategically smart tour" and also appears to her to basically "concede the House."
"It's all about the Senate... really expanding the Senate," Walter said when I shared the presidential travel schedule with her.
Trump is "going to the places where he remains popular, more rural or exurban, and he's staying away from big cities that have suburbs where he's toxic," Walter said.
"It's notable, by the way, that he's not spending the last week in places that won him the White House in 2016," Walter added. For example, Trump is not rallying in Pennsylvania, Wisconsin or Michigan.
Asked to respond to this analysis, the White House declined to comment. A person familiar with the situation pointed out that Trump "made six House-only trips during October, all in districts considered to be competitive, outnumbering the Senate trips in the month."
And "during the final week, when high demand for the president results in the need for him to make multiple campaign stops per day, logistics come into play and where he is going in the final stretch will cover as much ground as possible to drive turnout for Republicans."
Go deeper: Alexi crunched the 2016 vote numbers for the counties and congressional districts surrounding each of these locations, and found in each case that we have a specific location: It's Trump country in a Trump state.
Trump won many of the counties by at least 20 points. He won all of the congressional districts by at least 20, and in one case (Cape Girardeau, MO) he won by more than 50.
The most striking exception is Macon, Georgia, which sits within Bibb County, which Hillary Clinton won by 20 points. But Trump won Macon's congressional district by almost 30 points.
The wildcard: We were surprised to see Trump do a rally in Ohio, given the Senate race there is not competitive. Our guess is this decision has nothing to do with the Senate race. There's a strategically important governor's race in Ohio that Republicans badly want to win. The Ohio governor plays a huge role in overseeing elections in the state — more so than any other presidential battleground.
The bottom line: The difference between having a Republican governor's political team in Ohio for 2020 versus a Democratic governor in that state cannot be overstated.
2. Republicans hit with pre-existing conditions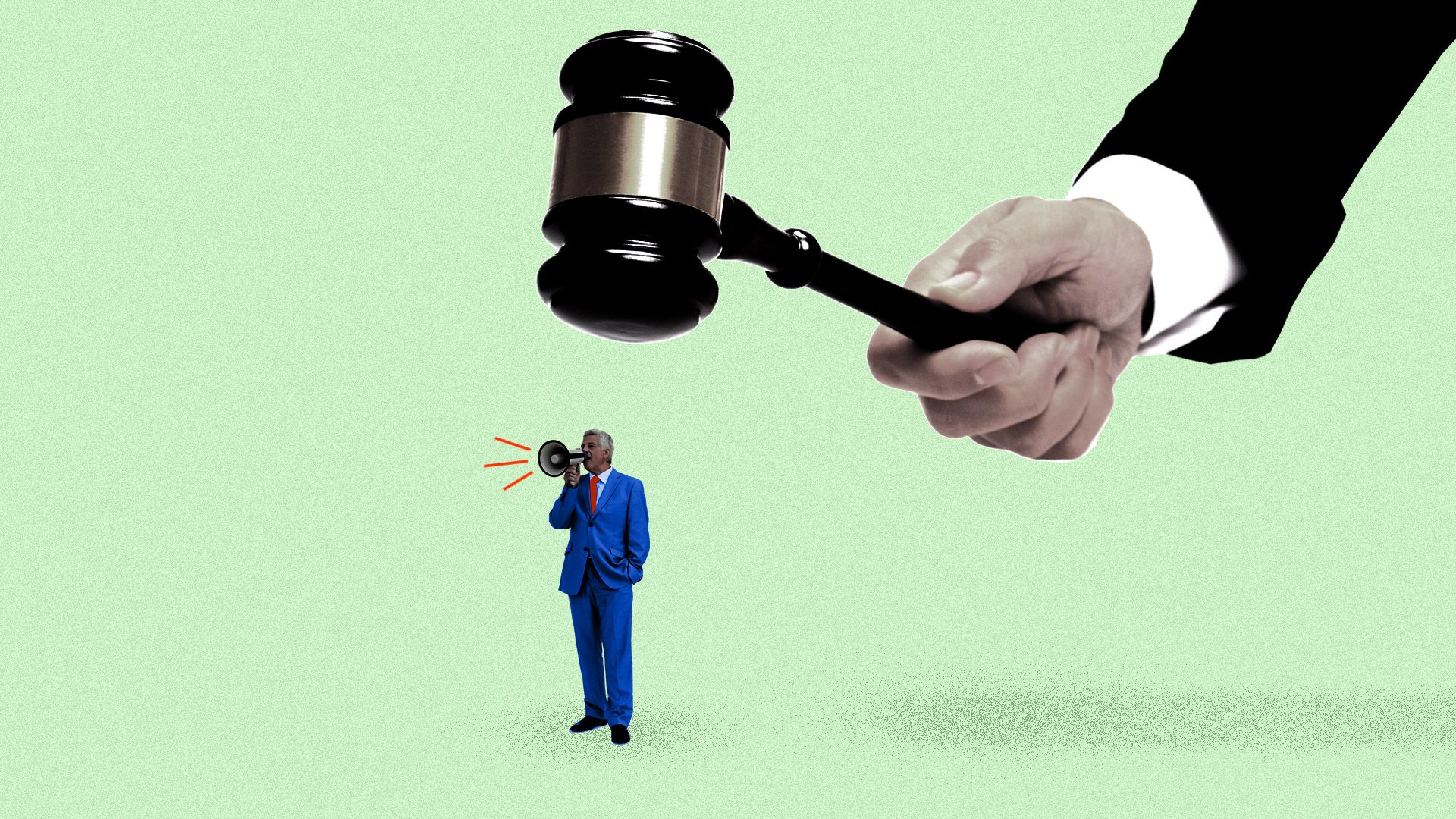 Vulnerable Republican incumbents face an awkward question on health care: "You say in your campaign that you're committed to protecting insurance coverage for people with pre-existing conditions; what do you make of the fact that the Trump Justice Department is currently arguing in court to strike down the law forcing insurers to cover people with pre-existing conditions?"
Over the weekend, my colleague Alexi McCammond posed that very question to Republicans Mike Coffman (CO-06), John Culberson (TX-07), Carlos Curbelo (FL-26), Mimi Walters (CA-45), Pete Stauber (MN-08), Kevin Cramer (challenging for North Dakota Senate), Josh Hawley (challenging for Missouri Senate), Martha McSally (challenging for Arizona Senate), Leah Vukmir (challenging for Wisconsin Senate) and Mike Braun (challenging for Indiana Senate).
Of the Republicans who replied, their responses were strikingly similar: All want to mandate that insurance companies cover people with pre-existing conditions, but only one of them disavowed the Justice Department's position.
Some examples:
Josh Hawley, who is one of the Republican attorneys general trying to get the whole Affordable Care Act (including pre-existing conditions protections) thrown out: His press secretary Kelli Ford told Axios that "Josh wants Congress to mandate that insurance companies cover everyone with pre-existing conditions. Senator Claire McCaskill would have you believe that the only way to do it is through Obamacare. That's a lie...Josh is committed to covering those with pre-existing conditions, and we don't have to break the Constitution to do it."
Carlos Curbelo: His campaign spokeswoman Joanna Rodriguez told Axios that "if Congress must take action to ensure these protections remain intact, he looks forward to joining colleagues from either side of the aisle to do whatever is necessary."
The outlier: The only Republican on that list who said he opposed the Justice Department's position was Colorado Rep. Mike Coffman. His spokesman Tyler Sandberg told Alexi "he's opposed to any attempt to get rid of pre-existing condition protections" and pointed out that he voted against the Republican Obamacare repeal bill due to the addition of an amendment weakening pre-existing condition protections.
When Alexi asked Sandberg to clarify that his opposition also included the DoJ position, he replied: "Yes."
Why this matters: Polls consistently show health care is a top issue for midterm voters. Republicans are already on their heels on this issue — a reversal from the previous eight years of easy campaigning against Obamacare — and the Justice Department position pits them face-to-face with an inconvenient reality.
3. Behind the scenes: Trump's interview for D.C. circuit court
President Trump has interviewed Office of Management and Budget official Neomi Rao to replace Brett Kavanaugh on the D.C. circuit court, Axios has learned. 
Why this matters: Given the power federal agencies have to affect national policy and law, the judges of the D.C. Circuit can have an extraordinary impact over the direction of the country. Because of this, people often refer to the D.C. Circuit as the second-most powerful court in the United States, behind only the Supreme Court.
Behind the scenes: Don McGahn, as one of his last acts, recommended Rao for the job, according to sources close to the situation.
Sources briefed on Trump's thinking say he initially liked the idea of nominating a minority woman and somebody who could be a feeder of Supreme Court.
Immediately after Trump met with Rao, two sources briefed on their encounter say they got the strong impression that the president was not impressed by her.
Yes, but: A third source, who is close to Trump, told me late this week that it seemed like he was reconsidering his initial judgement of Rao and may still pick her. Spokespeople for the White House and the Office of Management and Budget declined to comment for this story.
Rao's advantages: She's well respected at the OMB, knows regulatory law back to front, has the advantage of already being Senate-confirmed and is well-liked by several key Democratic senators.
4. Trump pits Republicans against their donors
Congressional Republicans don't seem to have the pharmaceutical industry's back the way they used to — and the way the industry might expect them to, after donating millions of dollars to GOP campaigns, cycle after cycle.
The big picture: The Trump administration rolled out a drug-pricing proposal last week that pharma hates — and that, on paper, congressional Republicans should hate, too, Sam Baker and I report.
It would take a bite out of drug companies' bottom lines, and it would do so by piggybacking off of European countries' price controls.
But there was barely a peep from Capitol Hill as Trump and Health and Human Services Secretary Alex Azar announced the proposal.
"People are definitely kind of blindsided by it. They think, 'Oh my gosh, this is so much worse than we were expecting'," a pharmaceutical lobbyist told Axios.
Between the lines: Pharma industry PACs have given almost $9 million to Republican candidates this cycle, according to Center for Responsive Politics, on top of $11 million in 2016, and $9 million in 2014.
"To some extent, the lobbying effort has looked like how you would treat a traditional Republican administration and a Republican-controlled Congress. And that's not at all what we have. We have something that looks wildly different than that," the lobbyist said.
Yes, but: For pharma companies, betting on Republicans is still safer than helping out Democratic campaigns.
And the proposal Trump rolled out last week is simply a plan to come up with a plan. There will still be plenty of opportunities for industry to try to kill it, as they did with a similar initiative under the Obama administration.
Republicans' silence now doesn't necessarily mean they won't return to industry's side if and when Democrats gain power.
"The real test will be, do Republicans vote 'no' on this shit when it's on the floor?" the lobbyist said.
The bottom line: "This is what is so surprising, is it's a midterm play for Republicans. Because they are so desperate to get well on health care that they actually want to be talking about major drug pricing initiatives," the industry lobbyist said.
5. Pittsburgh Mayor: "Our heart is broken"
Pittsburgh Mayor Bill Peduto described the emotional state of his city following Saturday morning's shooting attack that killed 11 people attending services inside a Pittsburgh synagogue.
"Our heart is broken," Peduto told CNN's "State of the Union" anchor Jake Tapper. "We are a small city.  What affects one community affects all of us."
"And, right now, I would say that there's a shock that is over the city. 
"But Pittsburgh's a strong city. We are a people that have a strong resilience.  And we will get through this."
Postscript: Over on NBC's "Meet the Press," Peduto told host Chuck Todd he disagreed with President Trump's suggestion that arming houses of worship instead of enacting stronger gun control laws would stop mass shootings like the one at the Tree of Life Synagogue.
6. Sneak Peek diary
The House and Senate remain on recess until the midterm elections.
President Trump's schedule, per a White House official:
Wednesday: Trump receives his intelligence briefing, attends the "Our Pledge to America's Workers" event and throws a campaign rally in Florida.
Thursday: Trump throws a campaign rally in Missouri.
7. 1 fun thing: Another collar-grabbing ex-General WH Chief of Staff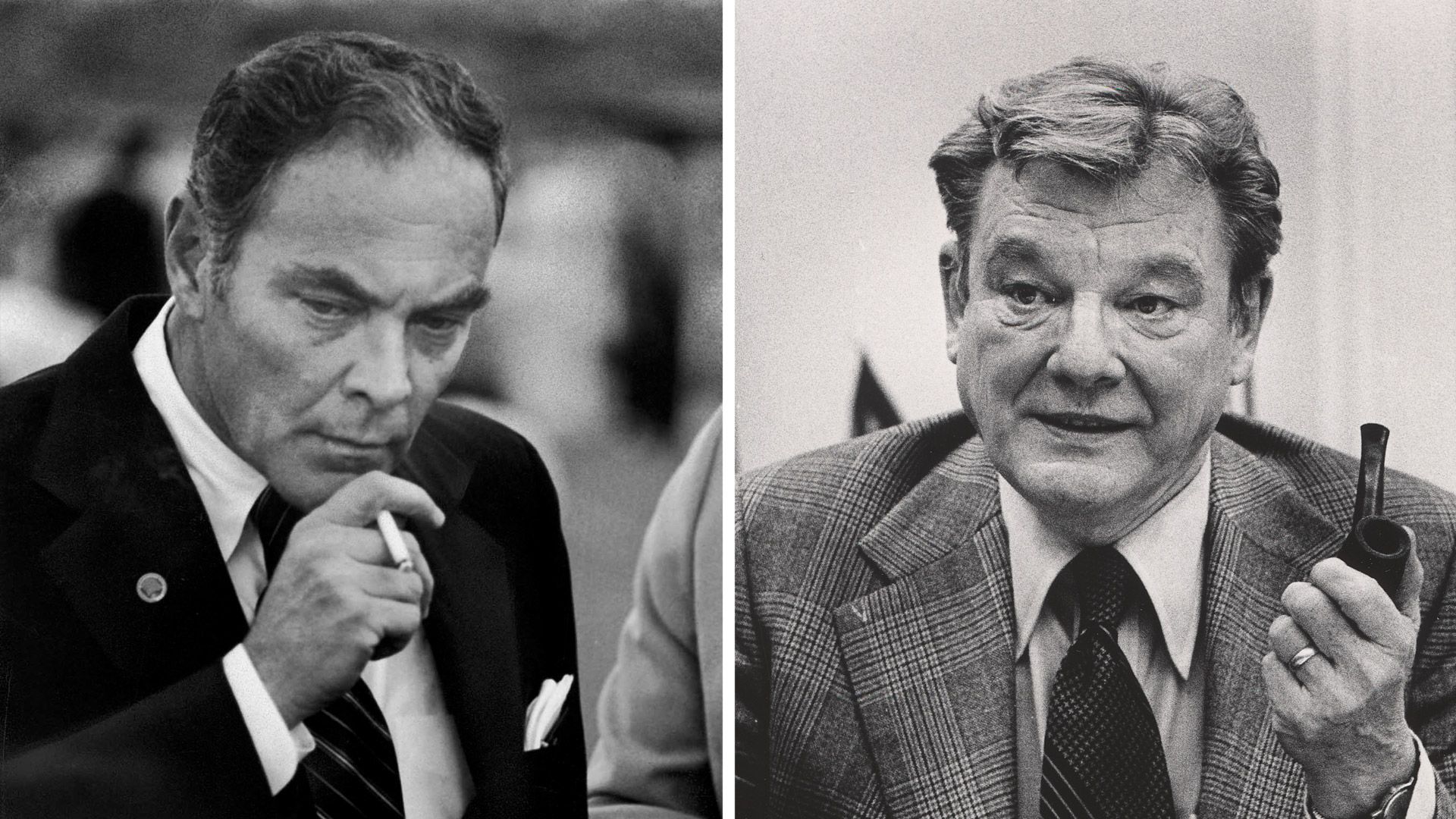 I loved the story by the New York Times' Maggie Haberman and Katie Rogers about the physical altercation between John Kelly and Corey Lewandowski outside the Oval Office in February. "The near brawl — during which Mr. Kelly grabbed Mr. Lewandowski by the collar and tried to have him ejected from the West Wing" sounded like a fairly bizarre and perhaps unprecedented scene.
Turns out not. Tevi Troy, a presidential historian and former Deputy Secretary of Health and Human Services, emailed me his reaction:
I couldn't help but note the eerie parallels to the story about another collar-grabbing ex-General White House Chief of Staff, Al Haig, in the Ford White House:
"There was little love lost between Hartmann and Haig; the two became bitter rivals after Nixon's resignation. Haig, furious over what he viewed as Hartmann's sniping to the press behind his back, once grabbed a Hartmann aide by the lapels, according to that aide, and declared, 'If you have any influence over that fat Kraut, you tell him to knock it off or he's going to be the first stretcher case coming out of the West Wing'."
Note: The 'fat Kraut' was Bob Hartmann, Ford's close friend and aide, and a notorious leaker.
(The story came from the August 1983 issue of The Atlantic.)