Axios Sneak Peek
September 10, 2017
Welcome to Sneak Peek, our weekly lookahead for both ends of Pennsylvania Avenue. I'd love your tips and feedback: [email protected]. And please urge your friends and colleagues to join the conversation by signing up for Sneak Peek.
1. Scoop: Jeff Sessions' lie detector idea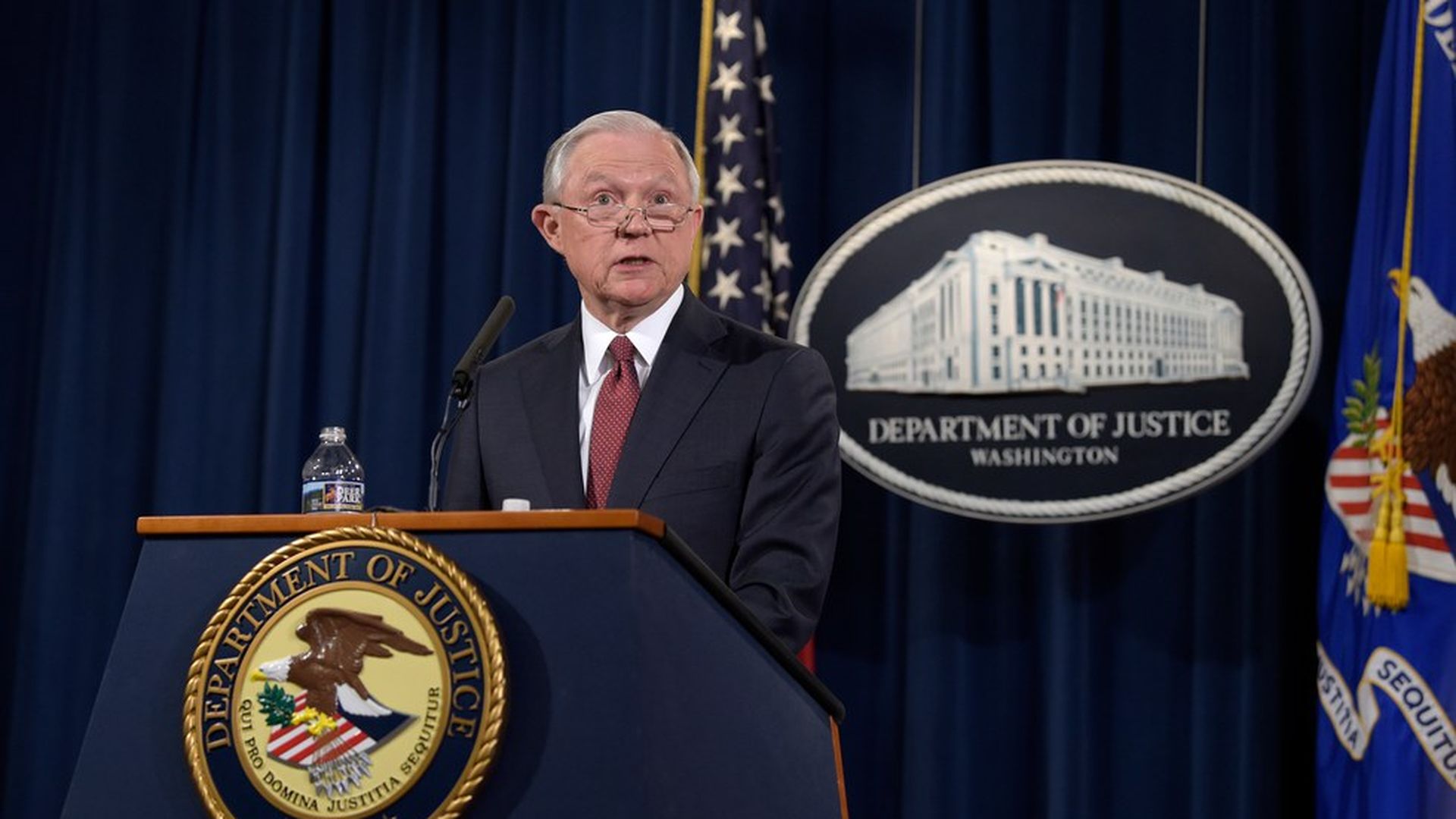 Attorney General Jeff Sessions has told associates he wants to put the entire National Security Council staff through a lie detector test to root out leakers. It's unclear whether this will ever happen, but Sessions floated the idea to multiple people, as recently as last month.
Sessions' idea is to do a one-time, one-issue, polygraph test of everyone on the NSC staff. Interrogators would sit down with every single NSC staffer (there's more than 100 of them), and ask them, individually, what they know about the leaks of transcripts of the president's phone calls with foreign leaders. Sessions suspects those leaks came from within the NSC, and thinks that a polygraph test — at the very least — would scare them out of leaking again.
Sessions has told associates he likes the idea of targeting the foreign leader phone calls because there's a small enough universe of people who would have had access to these transcripts. Also, the idea that the President of the United States can't have private conversations with foreign leaders was a bridge too far, even for Democrats.
Ian Prior, a spokesman for Sessions, declined comment when presented with the details of this report.
Why this matters: That Sessions would seriously entertain such a startling action reveals how frustrated he's become about the rampant leaking of classified information. Leak probes like the one Sessions announced at a big press conference on August 4 have happened under previous administrations, and rarely with any significant success. In fact, they can even backfire – look no further than the leak probe that ensnared James Cartwright, Obama's favorite general. Obama later pardoned Cartwright. So much for cracking down on leakers.
Bottom line: Sessions seems to understand that it's extremely tough to successfully prosecute leakers, especially when they are career intelligence professionals who are skilled at covering their digital tracks.
2. What's really happening with the U.S.-Korea trade deal
Last weekend, we reported that President Trump was seriously considering withdrawing from the U.S.-Korea free trade deal, known as KORUS.
Turns out Trump's withdrawal from KORUS was much more than a serious consideration. It was as close as it gets to a done deal, stalled at the last minute by senior officials who raised concerns with Chief of Staff General, John Kelly, that the president hadn't been fully briefed before making such a consequential decision.
I've spent the past week piecing together what happened with the KORUS trade deal, talking to sources with knowledge of what happened.
The sequence of events:
Two Fridays ago, on the morning of September 1, Kelly told senior administration officials the president was headed towards withdrawing from KORUS.
Several officials, including National Security Adviser H.R. McMaster and top economic adviser Gary Cohn, raised concerns with Kelly about whether the president had been properly briefed before making such a consequential decision. (According to the U.S. government, South Korea is America's sixth-largest goods trading partner, with $112.2 billion in two-way trade in 2016.)
Senior officials aired concerns about the effect the withdrawal from KORUS would have on financial markets, U.S. exports, relationships with allies, and the overall national security picture with the rising threats from North Korea.
McMaster's concerns were taken especially seriously, as there'd been far less discussion about the national security implications than there'd been about the economic consequences.
Kelly expressed frustration when he learned the appropriate range of information hadn't been shared with the president.
Kelly delayed the withdrawal and set up a normal process for Trump to make the decision. (This echoes Trump's last minute reversed decision, in April, to re-negotiate rather than withdraw from the North American Free Trade Agreement. Top staff, including Cohn and Agriculture Secretary Sonny Perdue, aggressively lobbied the president to rethink the NAFTA decision, and are key voices protecting KORUS now, as well.)
Trump spoke by phone to South Korean President Moon Jae-in on Friday, September 1, as scheduled. Some U.S. government officials were relieved when they learned Trump didn't tell Moon he was withdrawing from KORUS.
On Sunday, September 3, North Korea detonated by far its most powerful nuclear bomb ever.
Top administration officials met with Trump on Tuesday, September 5, to hash out KORUS. Those who shared their concerns about withdrawing from the deal included Secretary of State Rex Tillerson, Defense Secretary James Mattis, and Perdue.
The only adviser encouraging Trump to terminate the deal immediately has been Bannon's ally Peter Navarro, a protectionist trade hawk. Sources familiar with the arrangements tell me Trump has sent his trade representative Robert Lighthizer back for more negotiations with the South Koreans. Trump wants real, tough, concessions from Moon — a man he regards as a weak leader.
Bottom line: Administration sources say Trump might still decide to withdraw from KORUS, although probably not in the near term.
3. Irma's wrecking ball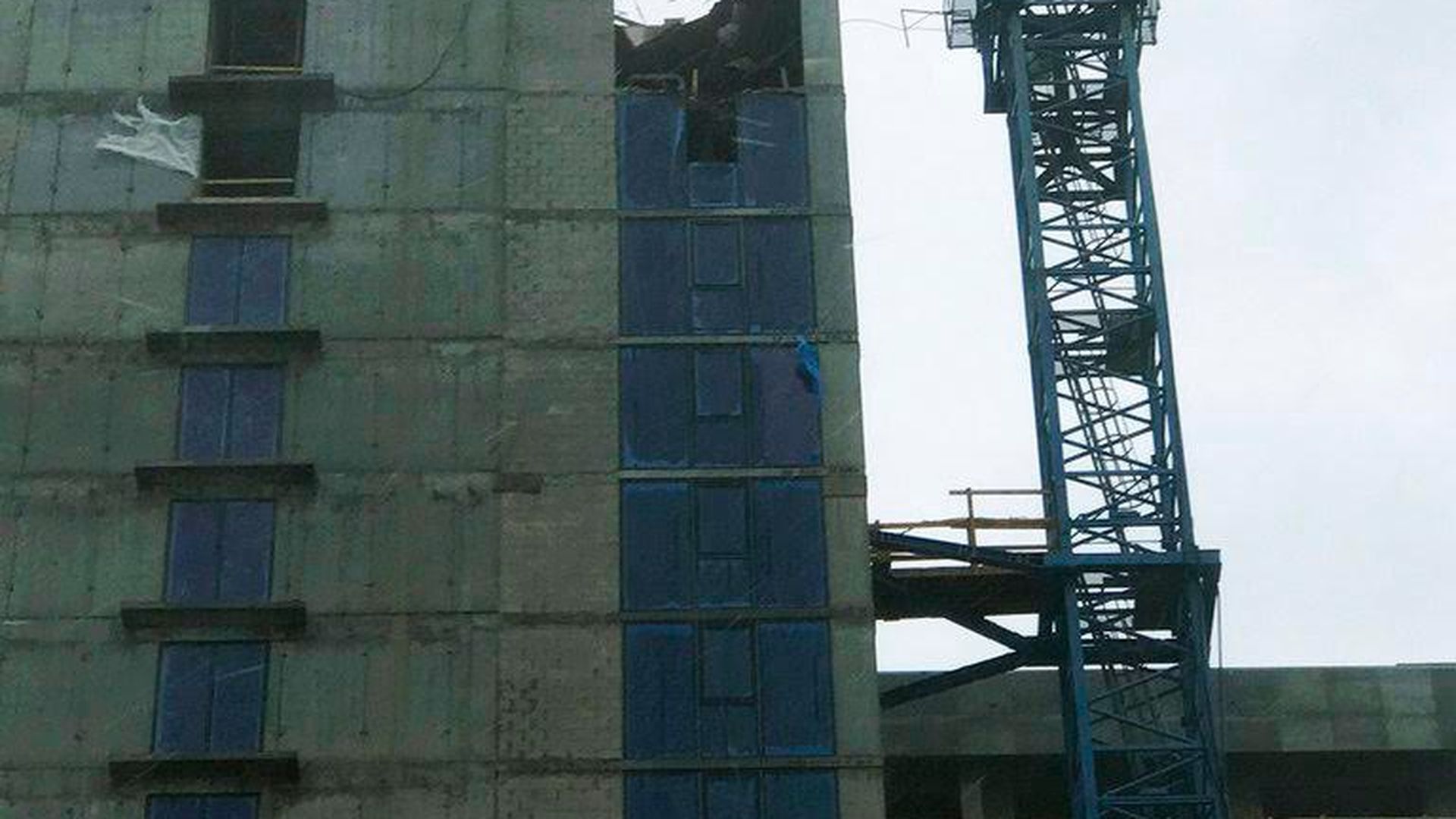 Above photo: "A crane atop a high-rise under construction in downtown Miami collapsed Sunday, Sept. 10, 2017, amid strong winds from Hurricane Irma. The crane collapsed in a bayfront area filled with hotels and high-rise condo and office buildings, near AmericanAirlines Arena, according to a tweet from the City of Miami."
4. Sneak Peek diary
Hurricane Irma: President Trump's week will be dominated by the storm response. Trump said he plans to visit Florida "very soon," according to CNN, but the travel schedule hasn't been finalized, according to a senior administration official.
House agenda: Because so many members will be out of town due to Hurricane Irma, no votes are expected in the House on Monday. Later in the week, House Republicans will pass their eight remaining appropriations bills (sending the full package of 12 spending bills over to the Senate.)
Senate agenda: The defense authorization bill — John McCain's baby — is expected to come up this week. It's unclear how long this traditionally bipartisan bill will take to get through the amendment process.
9/11 remembrance: Monday is September 11. President Trump and the First Lady will lead a staff-wide moment of silence at the White House. They'll then visit the Pentagon.
Foreign visitor: Malaysian Prime Minister Najib Razak visits the White House on Tuesday.
Hill outreach: Trump hosts a bipartisan dinner with senators on Wednesday night. Earlier that day, South Carolina Sen. Tim Scott, the only African-American Republican in the Senate, will have a one-on-one meeting with Trump at the White House. The topic: race in America. Scott has been harshly critical of Trump on racial issues — especially post-Charlottesville — and plans to expose the president to his own moving life story in forceful terms.
UNGA prep: President Trump will be preparing to address the United Nations General Assembly — the annual September meeting of world leaders, that begins in New York on September 19.
5. 1 poignant moment: Jake Tapper with John McCain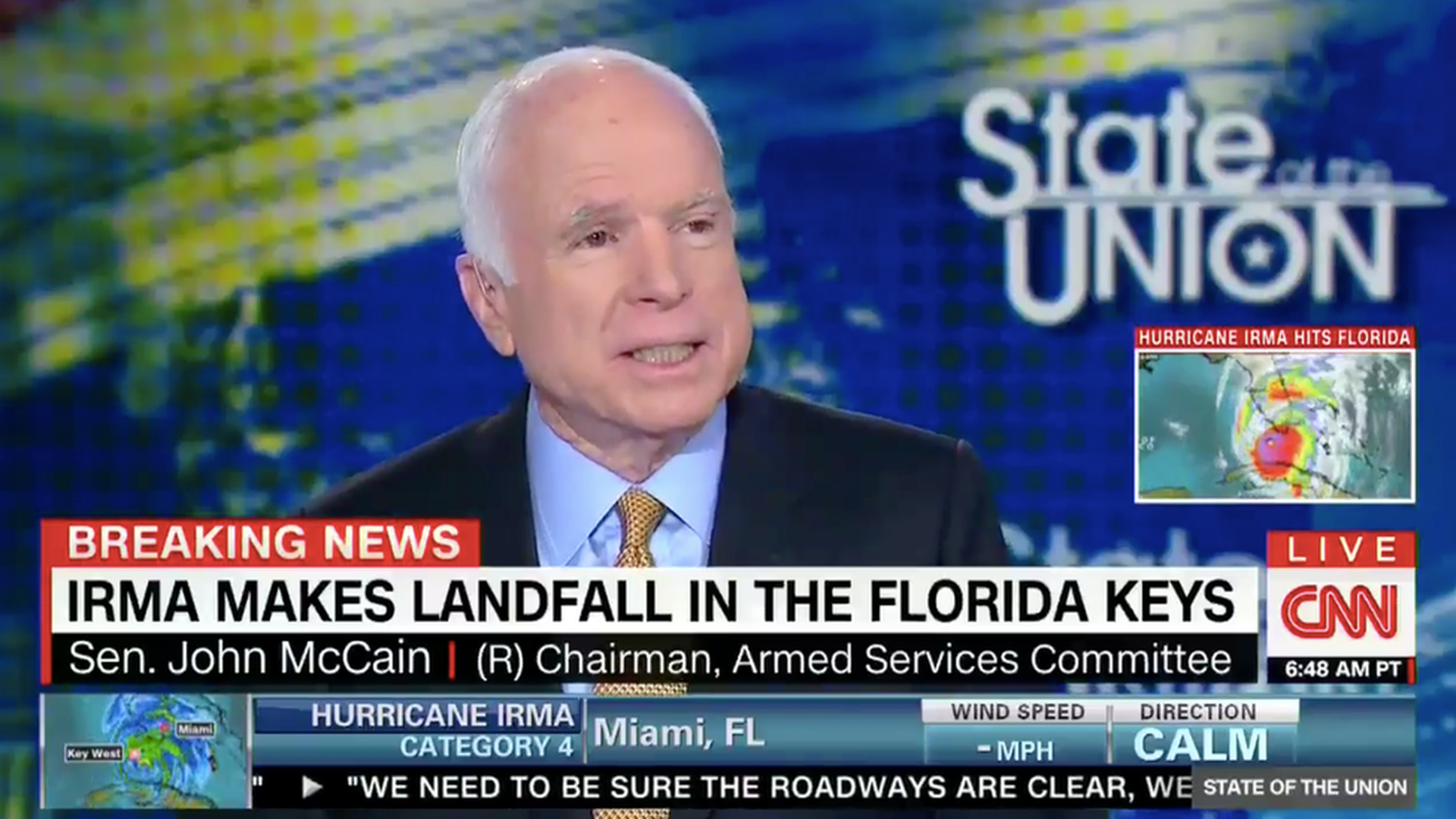 An unforgettable, deeply moving moment on CNN's "State of the Union." Jake Tapper interviewed John McCain, who is undergoing treatment for brain cancer.
Their final exchange belongs on a prominent shelf in the archives:
TAPPER: The last question for you and I hope this is not our last interview. I know a lot of people want to interview you and I appreciate that --
MCCAIN: A lot of people want it to be the last.
(LAUGHTER)
TAPPER: But it's my last question for you. And I hope I don't run this clip for another 50 years. But how do you want the American people to remember you?
MCCAIN: He served his country and not always right. Made a lot of mistakes. Made a lot of errors, but served his country.
And I hope we could add honorably.
TAPPER: I think that we can say honorably. Senator John McCain, it's always great to have you here.
Do not be a stranger. There's a seat for you any time you want.
MCCAIN: Thanks.