Axios Sneak Peek
February 03, 2019
Welcome to Sneak Peek, our weekly lookahead for both ends of Pennsylvania Avenue, plus my best scoops. Please encourage your friends and colleagues to sign up.
1 big thing ... Exclusive: Insider leaks private Trump schedules; "executive time" dominates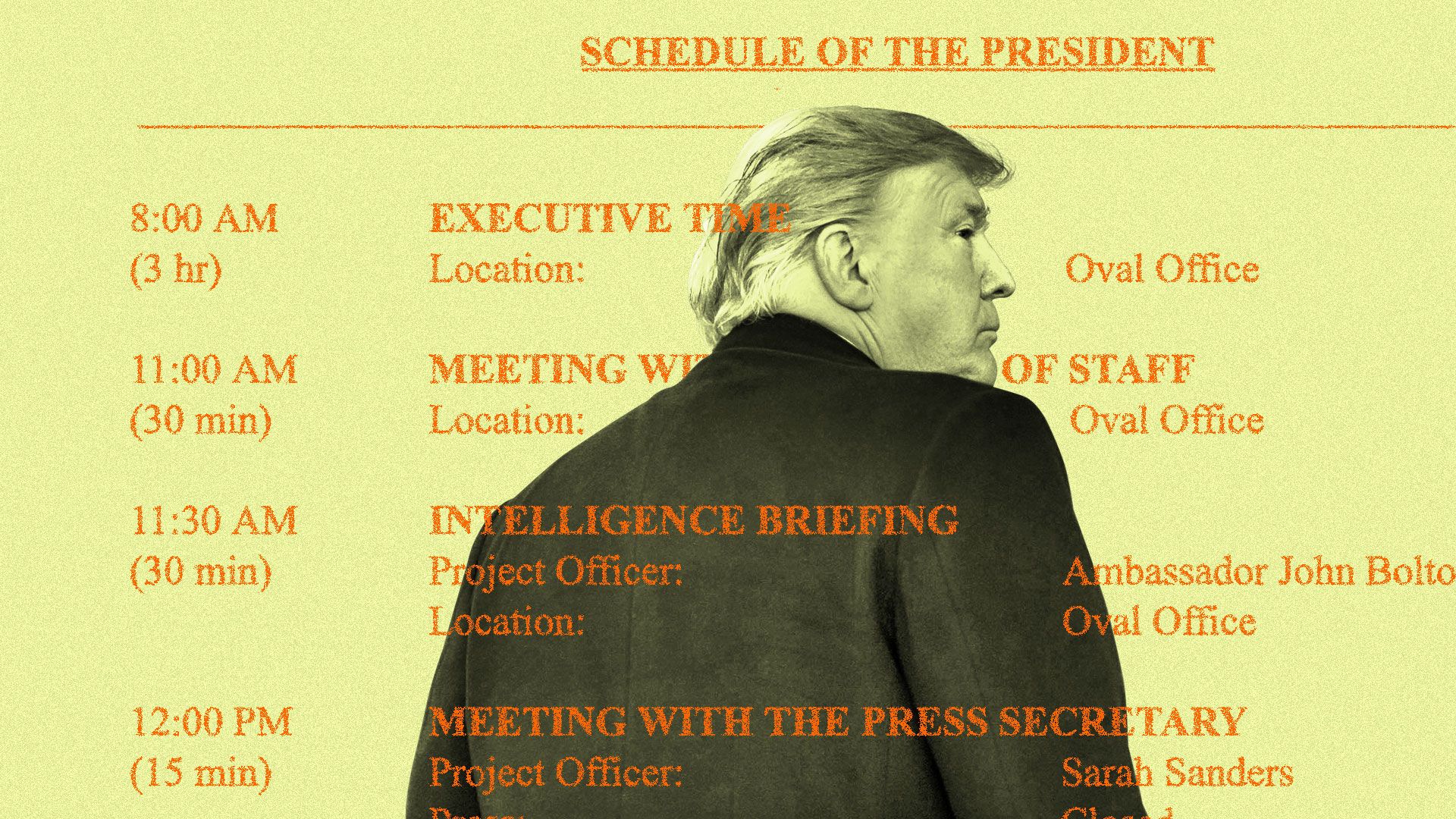 A White House source has leaked nearly every day of President Trump's private schedule for the past 3 months to Axios' Alexi McCammond.
Why it matters: This unusually voluminous leak gives us unprecedented visibility into how this president spends his days.
We've published every page of the leaked schedules in the story that accompanies this item. To protect our source, we retyped the schedules in the same format that West Wing staff receives them.
The schedules, which cover nearly every working day since the midterms, show that Trump has spent around 60% of his scheduled time over the past 3 months in unstructured "Executive Time."
What the schedules show: Trump, an early riser, usually spends the first 5 hours of the day in Executive Time. Each day's schedule places Trump in "Location: Oval Office" from 8 to 11 a.m.
But Trump, who often wakes before 6 a.m., is never in the Oval during those hours, according to 6 sources with direct knowledge.
Instead, he spends his mornings in the residence, watching TV, reading the papers, and responding to what he sees and reads by phoning aides, members of Congress, friends, administration officials and informal advisers.
Trump's first meeting of the day — usually around 11 or 11:30 a.m. — is often an intelligence briefing or a 30-minute meeting with the chief of staff.
Since Nov. 7, the day after the midterm elections, Trump has spent around 297 hours in Executive Time, according to the 51 private schedules we've obtained.
For those same schedules, Trump has had about 77 hours scheduled for meetings that include policy planning, legislative strategy and video recordings.
Some days, Executive Time totally predominates. For instance, he had 1 hour of scheduled meetings on Jan. 18 (with acting chief of staff Mick Mulvaney and Treasury Secretary Steve Mnuchin) and 7 hours of Executive Time.
The day after the midterms, Trump's schedule had 30 minutes for a chief of staff meeting and more than 7 hours for Executive Time.
Former chief of staff John Kelly introduced the concept of Executive Time because the president hated being locked into a regular schedule.
"He's always calling people, talking to people," a senior White House official told us. "He's always up to something; it's just not what you would consider typical structure."
Between the lines: The private schedules we published below do not list all Trump's meetings over the past three months.
That's because many of his meetings are spur of the moment, according to senior White House officials with direct knowledge of his daily habits.
It's also because a more detailed schedule — kept within a very small, tight circle — typically has 1 or 2 extra meetings per day that aren't listed on private schedules sent to staff.
The president sometimes has meetings during Executive Time that he doesn't want most West Wing staff to know about for fear of leaks. And his mornings sometimes include calls with heads of state, political meetings and meetings with counsel in the residence, which aren't captured on these schedules.
For example, the private schedule we obtained said Trump had a "media engagement" at 4:30 p.m. this past Wednesday. The more detailed schedule revealed it was an interview with the right-wing Daily Caller, according to a source with direct knowledge.
Wednesday's more detailed schedule also listed Trump's meeting with former presidential candidate and former Godfather's Pizza CEO Herman Cain, whom he is reportedly considering for a Federal Reserve governorship. (The private schedule obscured that meeting with Executive Time.)
The longer view: Chris Whipple, a student of presidential schedules who wrote the book 'The Gatekeepers: How the White House Chiefs of Staff Define Every Presidency," told us that "there's almost no [historical] parallel" for how this president spends his days.
"The most important asset in any presidency is the president's time," Whipple said. "And Trump is a guy who gives new meaning to the notion of an unstructured presidency."
Responding to Axios' reporting, White House press secretary Sarah Sanders emailed this statement: "President Trump has a different leadership style than his predecessors and the results speak for themselves."
"While he spends much of his average day in scheduled meetings, events, and calls, there is time to allow for a more creative environment that has helped make him the most productive President in modern history."
"President Trump has ignited a booming economy with lower taxes and higher wages, established the USA as the #1 producer of oil and gas in the world, remade our judiciary, rebuilt our military, and renegotiated better trade deals. It's indisputable that our country has never been stronger than it is today under the leadership of President Trump."
Read Trump's "Executive Time"-filled leaked private schedules
2. How Trump's schedule compares to past presidents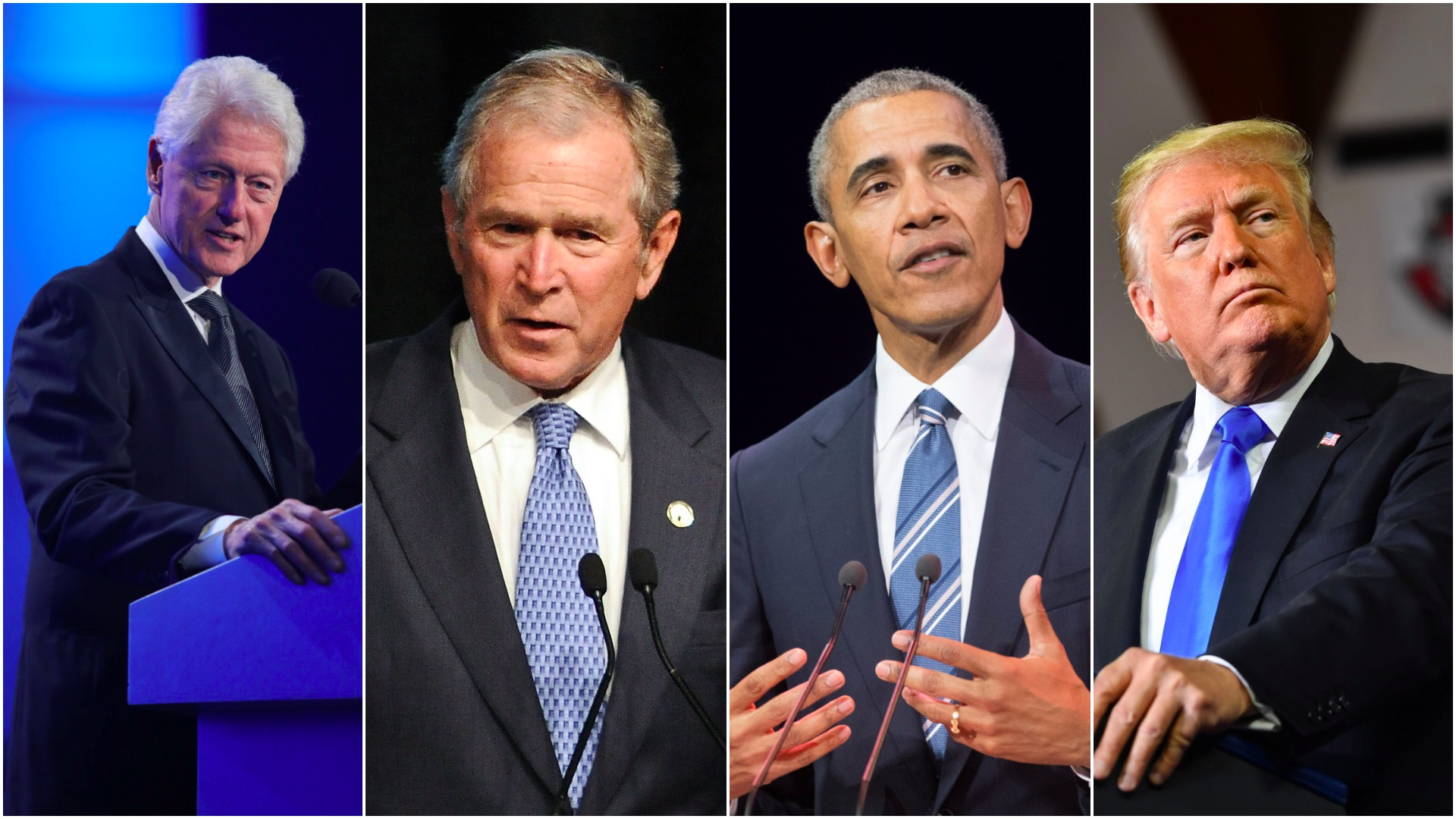 President Donald Trump's time management — or lack thereof — is without recent historical precedent. To put our new reporting on his schedules in context, we spoke with former top aides to presidents Barack Obama, George W. Bush and Bill Clinton.
The difference between Trump and his recent predecessors is eye-popping.
Trump has the least in common with George W. Bush.
Bush's calendar was tightly scheduled and booked out months ahead.
Bush would wake around 5:15 a.m.; have coffee with his wife, Laura; read the newspapers; and get to the Oval Office by 6:45 a.m., per a former top aide who spoke anonymously to avoid offending Trump.
Bush 43 was assiduously punctual. His schedulers broke his days into 10-minute increments, with the first meeting around 8:15 a.m., according to the former aide.
A 20-minute meeting would run over two increments; meetings started early and finished on time. If Bush wanted to continue a conversation with an outsider, his staff would schedule a follow-up meeting.
He sometimes watched sports in the residence, but rarely watched TV in the West Wing.
After Bush finished his workday, around 5:30 or 6 p.m., he'd do a workout on his stationary bike, finish dinner by 7:30 p.m., read his briefing materials in the Treaty Room, and be in bed reading a book by about 9 p.m., according to the former aide.
Barack Obama was similarly disciplined. But unlike Bush, he would sometimes stay up until 2 a.m. reading.
His daily private schedule would typically have 6 meetings, as well as intelligence and economic briefings, according to Alyssa Mastromonaco, his deputy chief of staff for operations.
Obama would usually get to the Oval Office around 9 a.m. and leave around 6 or 6:30 p.m. for dinner with the first lady and his daughters. He would have evening events around 3 nights a week and would travel domestically about 3 times a month, Mastromonaco said.
"There were unscheduled blocks of time, but they were a rare occurrence, and usually leading into bigger moments — foreign trips, State of the Union, etc.," she emailed.
Trump's approach to scheduling most resembles Bill Clinton's early days, according to presidential historian Chris Whipple.
Clinton was undisciplined, addicted to rope lines and chronically late — so much so that his deputy chief of staff Erskine Bowles conducted a "time and motion" study of the president to figure out where all the time went.
As Clinton's presidency matured, his days in the Oval Office typically began with a 9 a.m. meeting with his chief of staff followed by his intelligence briefing, according to aides from the Clinton White House.
Once in the Oval, Clinton typically spent the day there. Staff built time into his schedule for him to read policy briefings, meet with staff and make phone calls. He worked well into the evening, often with events, the aides said.
Mack McLarty, Clinton's first chief of staff, told us that although Clinton often deviated from his schedule, he started the day with a structure — usually with every hour full, with 1 to 3 p.m. to catch up on mail and calls.
3. Inside the president's days and nights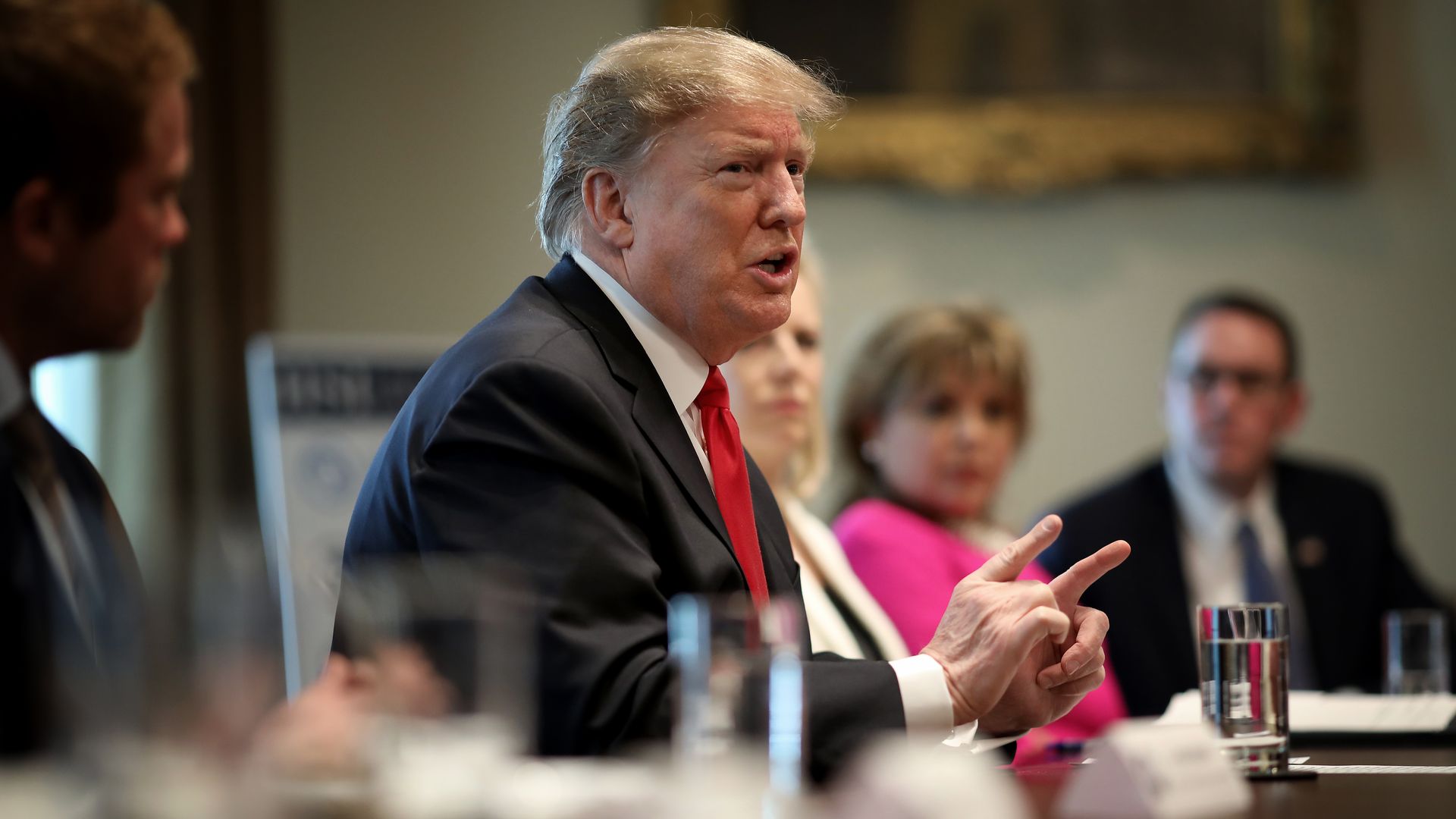 Trump's fancy-free scheduling approach is no mistake. In "The Art of the Deal," he explained that he thought too much planning curbed his creativity and impeded his thinking.
That philosophy is alive and well in the White House, according to more than half a dozen current and former officials.
Between the lines: Trump believes to his core, one former senior White House official told Axios, that he's better off not preparing for some meetings. He thinks preparation hinders his ability to read the room and act with spontaneity, this former aide said.
"I play it very loose," Trump wrote in 'The Art of the Deal."
"I don't carry a briefcase. I try not to schedule too many meetings. I leave my door open. You can't be imaginative or entrepreneurial if you've got too much structure. I prefer to come to work each day and just see what develops."
One of the key challenges for his staff: He doesn't like long or complex documents.
He'll skim newspaper articles, news summaries and bullet points, but hates anything longer. So his evening briefings look quite different from his predecessors'.
"Trump does review briefing materials, at least if you make it a point to have him do so," said a former senior White House official who has direct knowledge of Trump's reading habits. "But only if you talk and guide him through it as he's reading."
Trump receives national security materials and news summaries every evening. But the package is more visual than those of his predecessors, with screenshots from the Drudge Report homepage, pictures of his own tweets and snapshots of cable news chyrons from throughout the day, according to people who've seen Trump's nightly briefing packages.
4. International pressure mounts on Maduro
Thousands of rival protesters hit the streets of Venezuela's capital, Caracas, yesterday — many pushing for the replacement of Nicolás Maduro with self-proclaimed interim successor Juan Guaidó, and others rallying behind Maduro, the BBC reports.
Why it matters: International pressure has been mounting on Maduro since President Trump and other world leaders said they considered Maduro illegitimate due to rampant election fraud and that they recognized Guaidó as Venezuela's leader, in line with the Venezuelan constitution.
"The rival protests come a day ahead of a deadline given to Mr Maduro by major European countries to announce new presidential elections — otherwise they would also recognise Mr Guaidó," the BBC reports.
What's next? "Military support is seen as crucial to Mr Maduro's hold on power."
"Many supporters at Saturday's rally were seen wearing the khaki uniforms of the government militia."
National security adviser John Bolton is publicly urging others in the Venezuelan military to defect from Maduro.
Bolton tweeted yesterday: "Another Venezuelan military officer recognizes the legitimate President of VZ. The US calls on all military members to follow General Yánez's lead, and to protect the peaceful protestors supporting democracy."
5. Sneak Peek diary
The House will vote this week on the Veterans' Access to Child Care Act, according to a Democratic House leadership aide.
This bill is a priority for Speaker Nancy Pelosi and Julia Brownley (D-Calif.), the newly elected chair of the House Veterans' Affairs Health Subcommittee. The bill makes permanent a pilot program that requires Veterans Affairs to pay for child care, or provide it onsite, while a veteran goes to doctor appointments.
Committee hearings to watch include Thursday's Ways and Means hearing on presidential tax returns and three Energy and Commerce hearings — climate change on Wednesday, Texas ACA case/pre-existing conditions on Wednesday, and family separation on Thursday — according to another Democratic leadership aide.
The Senate will vote on Monday "to adopt the bipartisan McConnell amendment to S1 (the Strengthening America's Security in the Middle East Act) and then move to final passage of S1 before the end of the week," according to a Senate GOP leadership aide.
Trump's nominee for Attorney General, Bill Barr, is expected to come out of committee on Thursday, according to the leadership aide.
And last week Republican leader Mitch McConnell took a procedural vote to advance on the "Bipartisan Lands Package." (Summary of the legislation here). The Senate could move to this as early as this week, according to the leadership aide.
President Trump's public schedule for the week ahead, per a White House official:
Tomorrow: Trump has lunch with Vice President Mike Pence. 
Tuesday: Trump delivers the State of the Union address.
Wednesday: Trump has dinner with faith leaders.
Thursday: Trump delivers remarks at the 2019 National Prayer Breakfast and has lunch with Secretary of State Mike Pompeo.
Friday: The president has no public events scheduled.
6. 1 fun thing: Trump's favorite compliment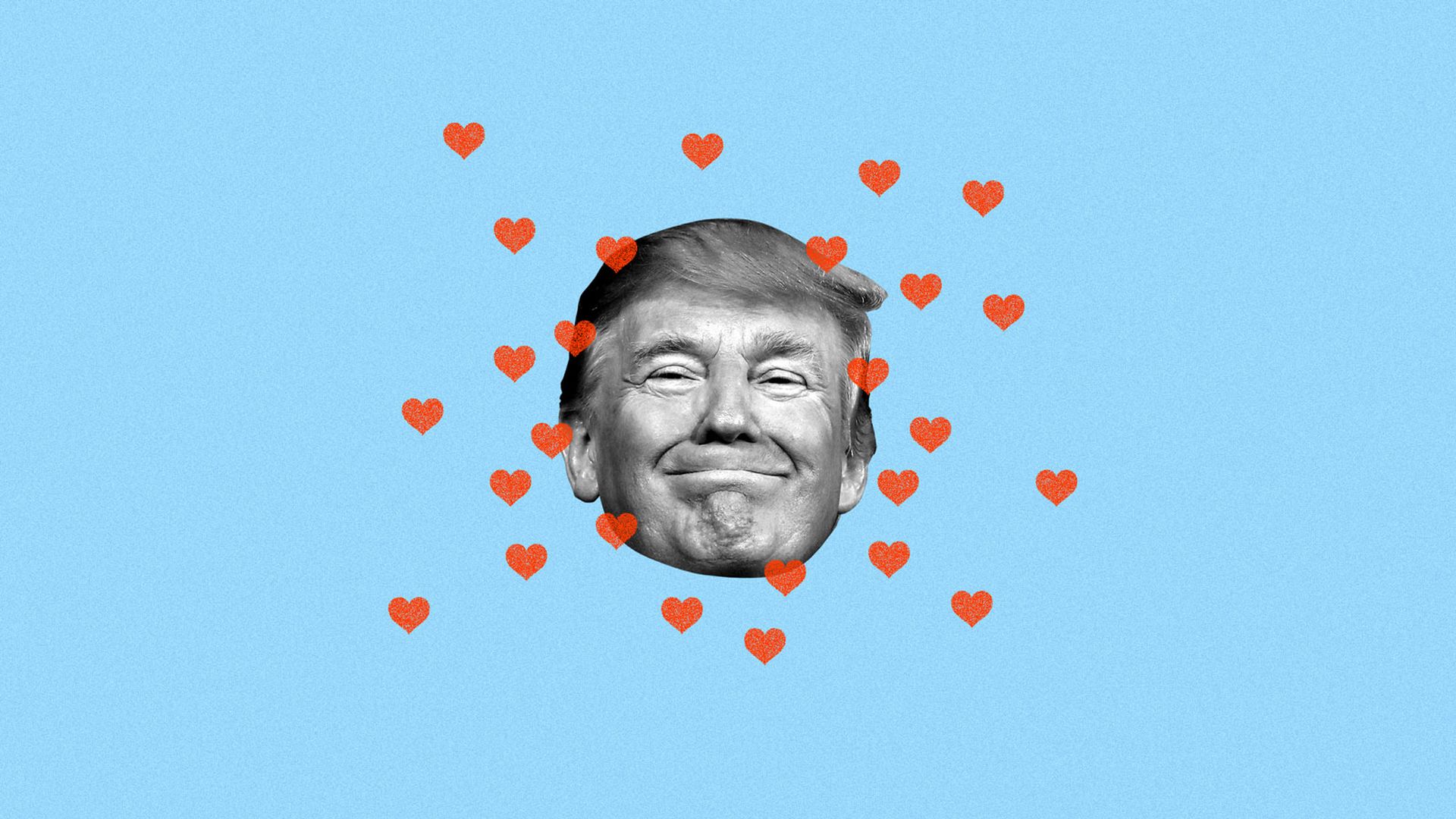 Kevin Warsh had prepared deeply for his interview with President Trump. It was the fall of 2017, and Trump had narrowed his search for the next chairman of the Federal Reserve down to four candidates. Warsh was one of them.
The former Federal Reserve governor arrived at the White House with a set of sharp points to make to Trump about monetary policy, according to a friend of his. But that's not quite how the conversation went.
"You're a really handsome guy, aren't you?" Trump said, per the friend. "How old are you?"
Warsh was 47.
"Well, you look good for 47," Trump told Warsh. (Warsh did not respond to requests for comment.)
This was not a one-off. Trump often tells powerful men how handsome they are. It's one of his favorite compliments. At one global gathering, he told the husband of one female official that he was so handsome he was "glad I don't have to compete with you," according to a source who witnessed the exchange.
Sen. David Perdue has gotten the same treatment, per a source with direct knowledge. "You're a really good looking man, you look the part," Trump told the Georgia Republican at one meeting. "Those other guys [senators] don't know to dress," the president added. "Those bozos — it must be embarrassing to stand next to them on TV."
Perdue found it hilarious.
At a trade meeting with members of Congress at the White House the week before last, Trump lifted up a board to show the room some charts. In doing so, he covered Rep. Robert Aderholt's face. He then joked to the congressman, "I don't want to cover you up. You're such a good-looking guy."
During a Montana MAGA rally in October, Trump launched into a diatribe about the failed nomination of Ronny Jackson to head Veterans Affairs. Praising his former White House physician, he told the crowd what "a handsome, wonderful father" Jackson was.
At the White House celebration for the Clemson Tigers' National Championship win, Trump told the room: "Wow! Wow, what a group. Look at that quarterback. Oh, I want to be the agent of that tall, handsome quarterback. Six-foot-seven."
At a fundraising event last March, Trump bragged about making up information in a meeting with Canadian Prime Minister Justin Trudeau. "Nice guy, good-looking guy, comes in — 'Donald, we have no trade deficit.'"
The president also has a high view of his own looks.
On the campaign trail in April 2016, Trump addressed the crowd: "Do I look like a president? How handsome am I, right? How handsome?"
The confidence predates his political endeavors.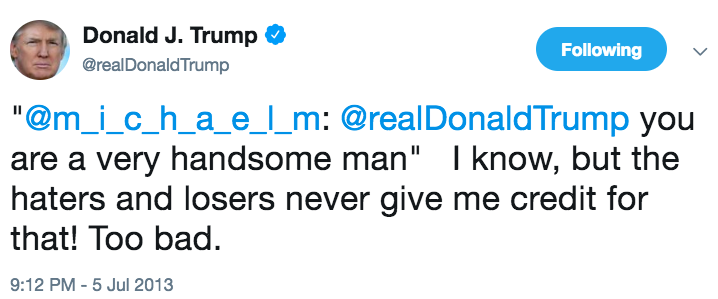 7. 1 last thing: A way better sport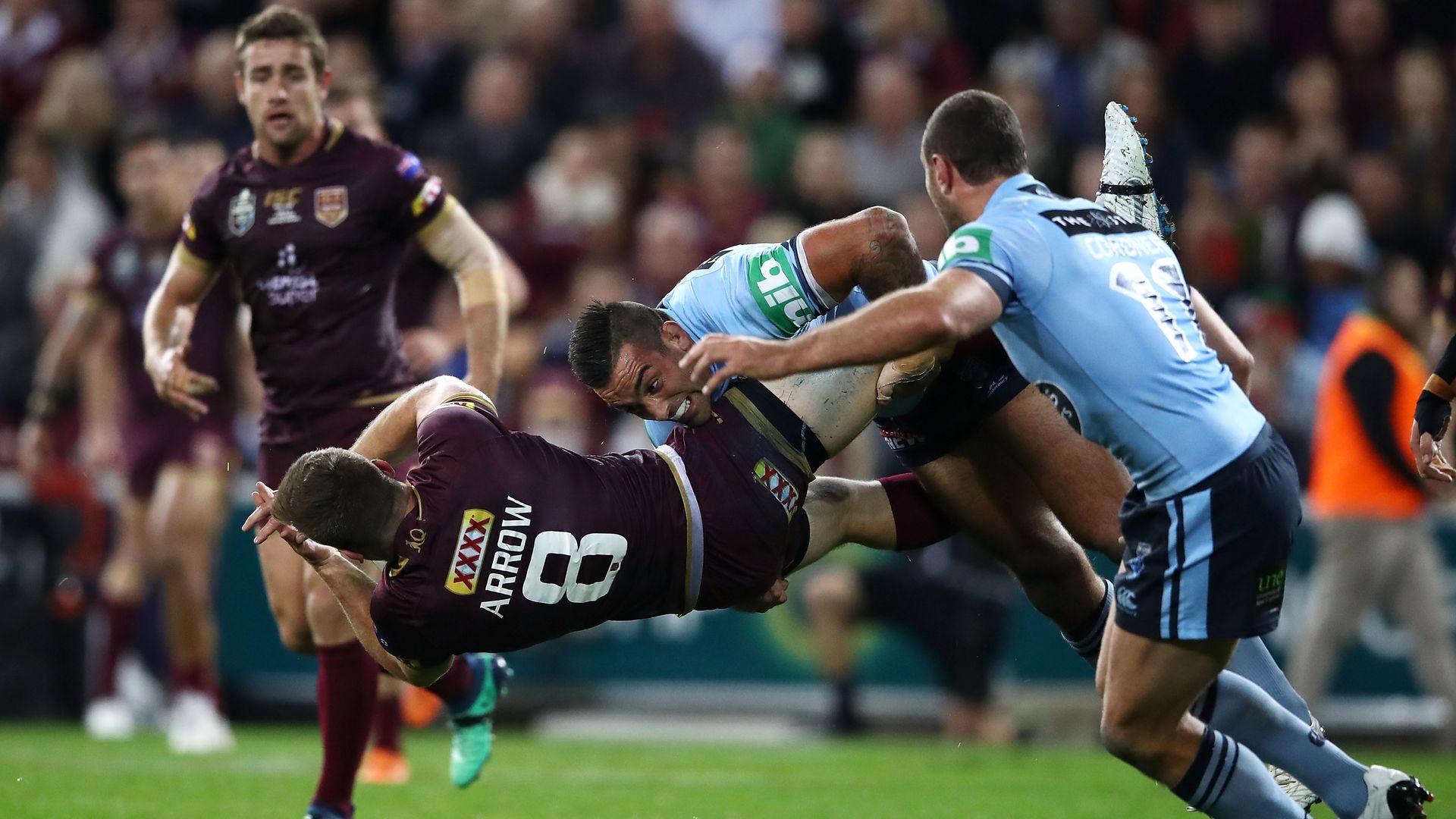 It's come to my attention that some Sneak Peek readers will be watching the Super Bowl tonight. It's also come to my attention that some Sneak Peek readers are unaware of a way better sport: Rugby League.
In Australia, my homeland, we have a thing called "State of Origin," a glorious annual series that pits the best Rugby League players from New South Wales against the best players from Queensland.
I think after watching some State of Origins you'll agree it's way better than "American football."
Here's a video that will help you understand why this is a correct opinion.