Axios Sneak Peek
March 18, 2018
Welcome to Sneak Peek, our weekly lookahead for both ends of Pennsylvania Avenue, plus my best scoops. I'd love your tips and feedback: [email protected]. And please urge your friends and colleagues to join the conversation by signing up for Sneak Peek.
1 big thing: Trump's plan that would blow up the WTO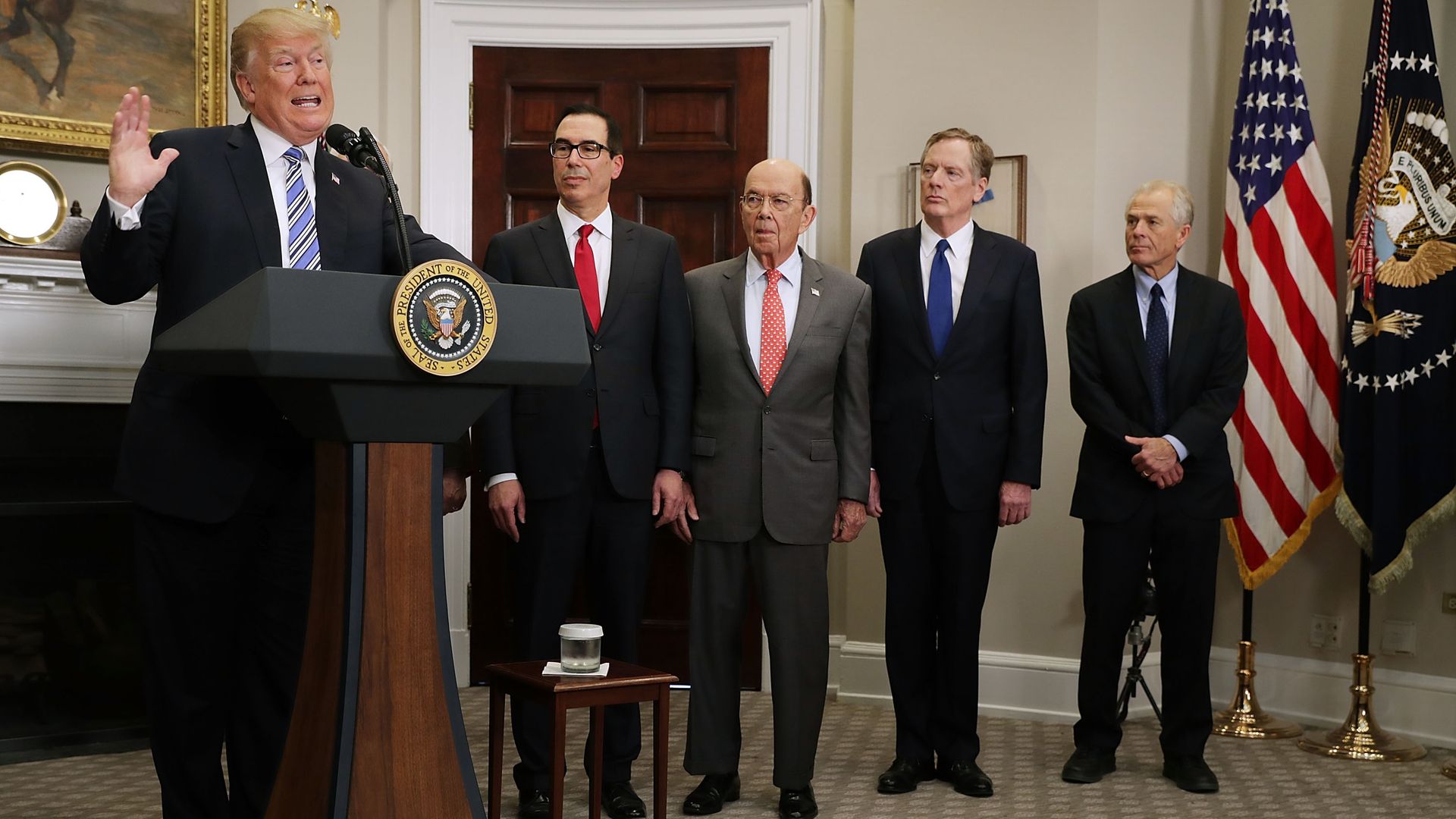 For months, President Donald Trump has been badgering his economic advisors to give him broad, unilateral authority to raise tariffs — a move that would all but break the World Trade Organization.
His favorite word: "reciprocal." He's always complaining to staff about the fact that the U.S. has much lower tariffs on some foreign goods than other countries have on the same American-made goods. The key example is cars: The European Union has a 10 percent tariff on all cars, including those manufactured in America, and China hits all foreign-made cars with 25 percent tariffs. But the U.S. only charges 2.5 percent for foreign cars we import.
Trump and ascendant nationalist economic advisor Peter Navarro think this is wildly unfair. So the president wants Congress to pass a bill to let him raise tariffs to reciprocal levels, according to three sources with direct knowledge.
One source familiar with Trump's thinking told me that Trump doesn't want to raise tariffs — he wants to use the new power this bill would give him as leverage to force other countries to lower theirs. Some of his advisers, including Gary Cohn, have told associates this won't work and could lead to a trade war. CNBC's Eamon Javers was the

first

to report this development.
Trump initially asked senior officials, including then-Staff Secretary Rob Porter, to draft an executive order to let him do it unilaterally. Porter and others explained he couldn't legally do that by himself. So now, Trump is asking for a bill.  
Trump's idea would effectively break the WTO. One of the core WTO principles — which has underpinned globalization and trade for 70 years — is an idea called "most favored nation status."​ Countries that belong to the WTO have all agreed to charge the same tariff rate for imports from all other WTO members.
Wealthier nations like the U.S. have tended to commit to lower tariff rates than poorer nations. The U.S. can re-negotiate tariff rates, but is supposed to go through the WTO process — and whatever rate they re-negotiate they have to give to everybody else. Trump doesn't like that. He wants to match tariffs nation-by-nation, product-by-product.
This is probably dead-on-arrival in Congress: Most Republicans on the Hill are free-traders and nearly universally opposed to Trump's tariffs. They won't get behind this. And a source familiar with Trump's legislative affairs team's thinking says such a bill has little chance of success. Trump, however, thinks the idea is a no-brainer. He mused aloud to staff in an Oval Office meeting last week, "Who could be against reciprocal?"
Why it matters: Trump is just getting started on his hardline trade mission. Gary Cohn and Rob Porter were among the few in the White House who would fight for free trade policies. Once they're gone, the most influential voices on trade will be economic nationalists (with the possible exception of Larry Kudlow; we'll have to wait and see if he'll start off his tenure as chief economic advisor by going to war with the president over trade.)
What else to watch for: Aggressive tariffs against China. As Politico first reported, when Trump's team presented him with a package of tariffs that would target the equivalent of $30 billion a year in Chinese imports, Trump told them he wanted even bigger tariffs.
Axios has further learned that in an Oval Office meeting on Thursday, Trump told Kevin Hassett, the chair of his Council of Economic Advisers: "Kevin, you've gotta make the number bigger." Hassett told Trump he'd have to go away and study the potential impacts of these larger tariffs against China, according to a source familiar with the interaction. Two sources with direct knowledge tell me the administration's current tentative plan is to potentially put tariffs on hundreds of Chinese products by the end of March.
2. A monster spending bill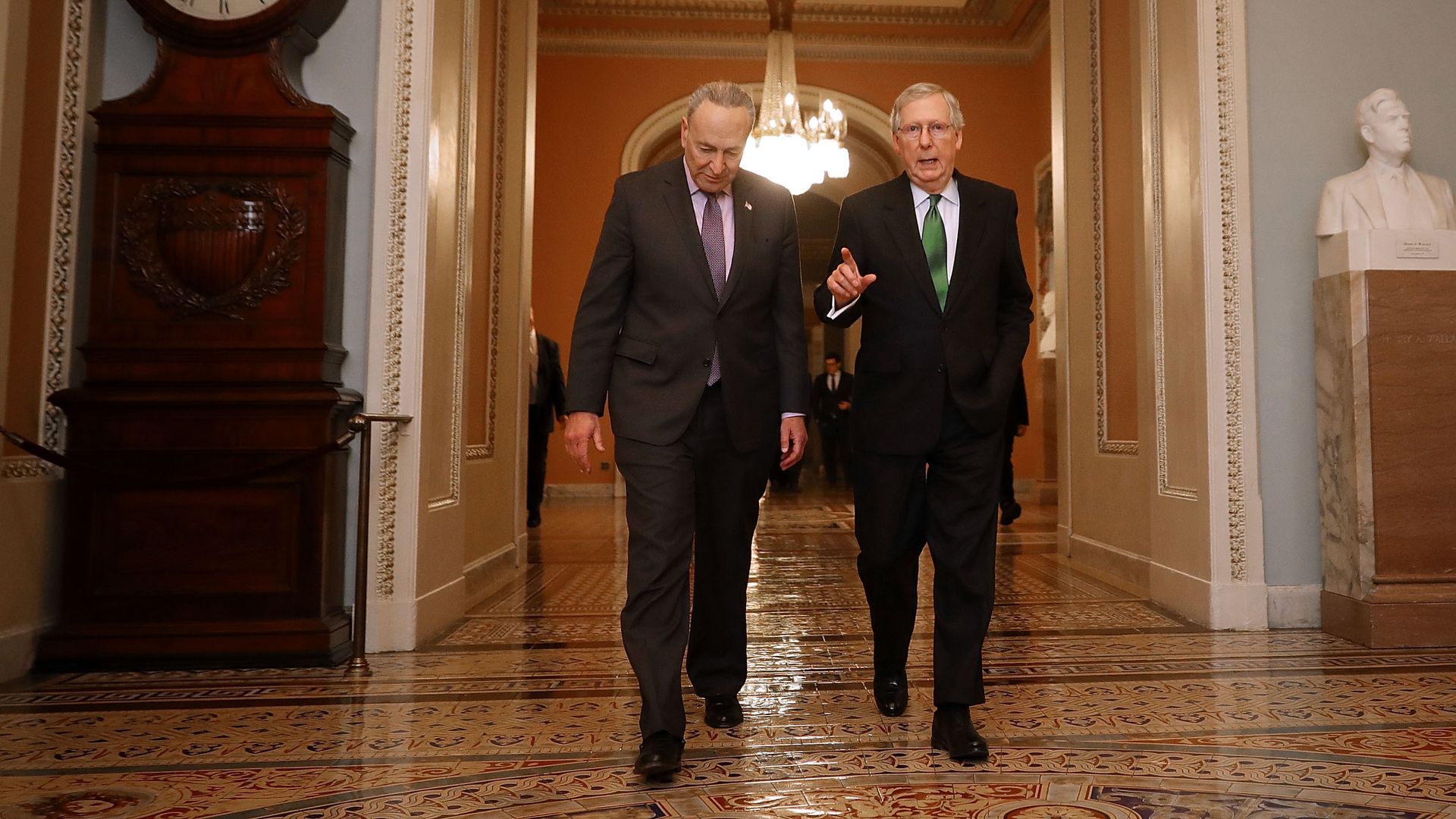 The House and Senate need to pass their massive 2018 spending bill before the government shuts down on Friday. Senior sources from both parties on Capitol Hill tell me they expect they'll get the deal done — though there's plenty of last minute haggling.
Big picture: This spending bill will cost more than $1 trillion and will further add to the deficit, which is likely to reach at least $800 billion for the 2018 fiscal year.  Republican leaders and Trump will sell the spending package as a much-needed boost to military spending. House defense hawks, led by House Armed Services Chairman Mac Thornberry, campaigned aggressively for this boost. And Democrats will rightly be thrilled that they've forced Republicans to capitulate to fund so many of their domestic priorities.
But fiscal conservatives are furious. "[Leadership is] going to say we funded our defense," one conservative House member told me. "And they will ignore the fact they've bankrupted our country in the process."
"People will start to say 'Why does it matter who's in power'?" added the member, who asked for anonymity because the bill has not been published yet.
Behind-the-scenes: During a closed-door meeting on Capitol Hill last week, a deeply frustrated conservative House member said he wanted to introduce a motion to rename this week's spending bill the "2018 base voter suppression bill," according to a source in the room. We expect that the ultra conservative House Freedom Caucus members will vote against the bill, and that the deal will ride through with Democratic votes. (A common view within leadership and the administration is that the Freedom Caucus was never going to vote for the bill anyway.)
What's next: According to three sources with direct knowledge, House Republicans have scheduled a conference meeting tomorrow at 5:45 p.m. where they will share the details of the spending bill with members. They expect to post the bill text tomorrow night after that meeting.
Leadership sources tell me they think this spending bill will be the last major law passed this year. The rest of the congressional calendar will mostly be given over to confirming Trump's nominees, including Trump's choices for Secretary of State, Mike Pompeo, and CIA director, Gina Haspel.
3. Ominous Mueller warnings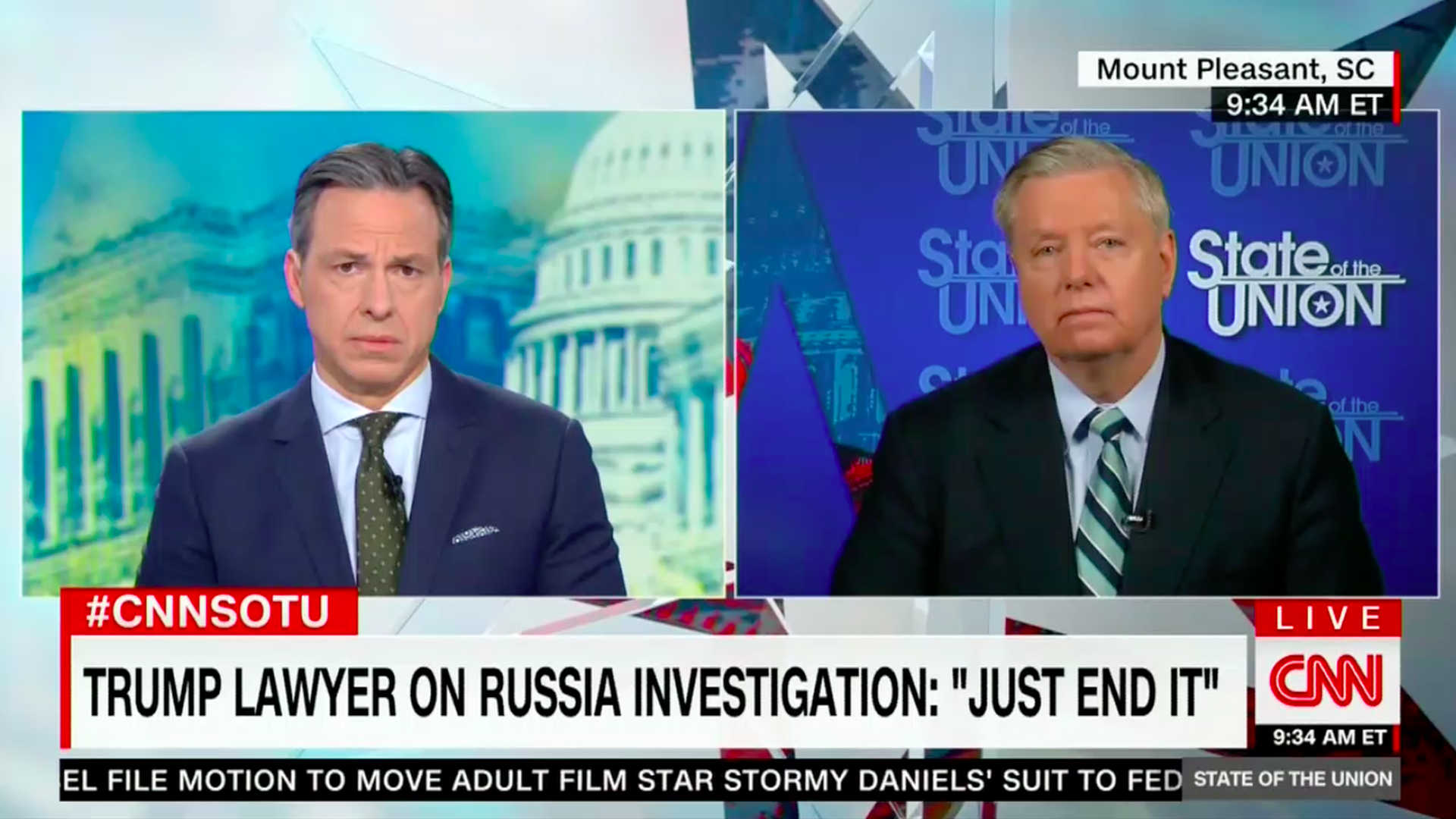 If Trump TiVos the Sunday shows after his round at his Virginia golf club today, he'll find some prominent Republican senators urging him to cool it with his attacks on Robert Mueller, Andrew McCabe and the broader FBI:
Lindsey Graham to Jake Tapper on CNN's "State of the Union": "The only reason Mr. Mueller could ever be dismissed is for cause.  I see no cause when it comes to Mr. Mueller.  He needs to be able to do his job, independent of any political influence.  I pledge to the American people, as a Republican, to make sure that Mr. Mueller can continue to do his job without any interference."
Jeff Flake to Tapper: "...once he goes after Mueller, then we will take action. I think that people see that as a massive red line that can't be crossed."
Flake added: "I would just hope that enough people would prevail on the president now, don't go there. Don't go there."
Marco Rubio to Chuck Todd on NBC's "Meet the Press": "We need to be very careful about taking these very important entities and smearing everybody in them with a broad stroke."
Rubio said this about McCabe's firing, which happened a little more than a day before he was eligible to retire and get his pension: "I don't like the way it happened. He should've been allowed to finish through the weekend."    
However, White House director of legislative affairs Marc Short sought to lower the temperature, telling Margaret Brennan on CBS' "Face the Nation": "I don't think that the president or anybody right now in our White House is suggesting not cooperating — any way with the Mueller investigation."
Why this matters: Lindsey Graham put it most succinctly, telling Tapper today that if Trump tried to fire Mueller, "that would be the beginning of the end of his presidency..."
4. A "cyber bomb" on Election Day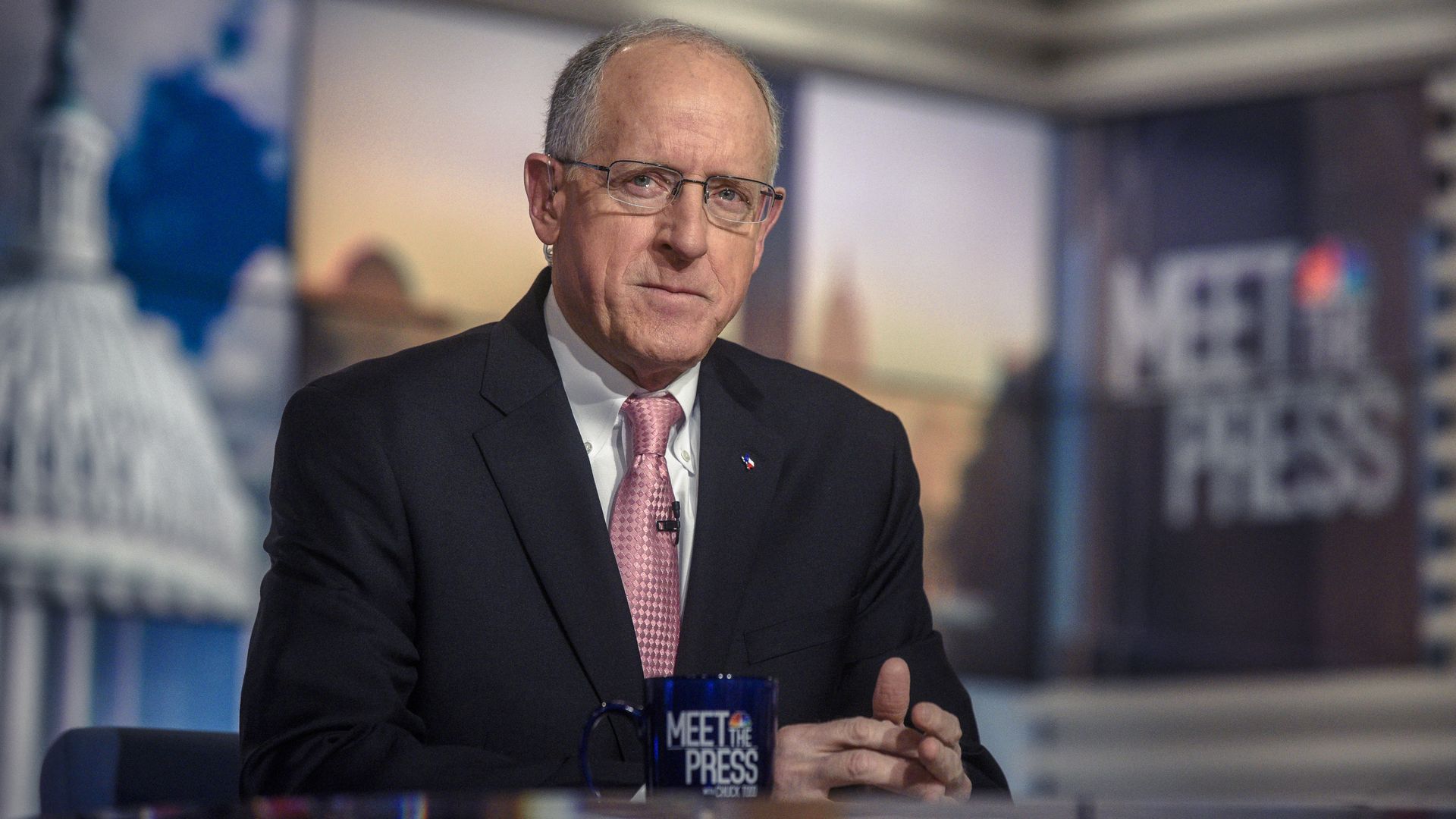 Rep. Mike Conaway (R-Texas), who's leading the House Intelligence Committee through the Russia investigation, tells Mike Allen and me he's worried Vladimir Putin could "test some things" in the 2018 midterm elections that he "would want to fully develop and blow out in a bigger way... in the presidential [election] in 2020."
Conaway, previewing the Republicans' coming findings and recommendations during an interview in his Capitol Hill office, said that given the Russians used a nerve agent in Britain and penetrated the U.S. power grid, he doesn't "put anything past this guy [Putin]."
Conaway laid out one of his nightmare scenarios: "As an example, if they got into the voter registration data and planted a cyber bomb to go off at 7 a.m. on Election Day, they'd scramble that information." 
"So when the people went to the polls to vote, it's like, 'Whoop.  No, you're not registered.  We don't have your name.'  Well, think of the chaos that would create at a point where it would be really difficult to reset it, to not having it."
What's next: The House Intelligence Committee expects to release some of its findings from the Russia investigation on Thursday. And they also expect to release some of their recommendations to better secure the U.S. electoral system against foreign enemies.
5. AT&T's courtroom showdown
AT&T's $85 billion attempt to buy Time Warner and its way into the content business goes to trial on Monday, kicking off a courtroom battle with the Justice Department that could stretch on for two months.
Why it matters: My colleagues David McCabe and Sara Fischer write that when the deal was announced nearly 18 months ago, it was viewed as a fairly sure thing. But its prospects gradually dimmed as President Trump criticized it from the campaign trail and DoJ moved to block it. The outcome of the case will not only determine AT&T's future, but also the future of tech, media and telecom deals in general.
Go deeper: The high stakes for AT&T's courtroom showdown.
6. Sneak Peek diary
The House and Senate expect to vote this week on the "omnibus" — the more than $1 trillion spending bill that will fund the government until the end of the 2018 fiscal year. They need to pass the bill before the end of the week to avoid a government shutdown.
The House will also vote (again) on "Right to Try" — legislation to give terminally ill patients access to experimental medicines. The House failed to pass the bill last week.
The Senate expects to confirm Kevin McAleenan to be Commissioner of U.S. Customs and Border Protection, and pass an anti-sex trafficking bill pushed by Ohio Sen. Rob Portman.
President Trump's schedule, per a White House official:
Monday: The President and First Lady will travel to New Hampshire for an opioids event.
Tuesday: Trump welcomes the Crown Prince of the Kingdom of Saudi Arabia to the White House. The President will also attend the National Republican Congressional Committee Dinner.
Wednesday: Trump hosts a cabinet meeting.
Thursday: Lunch with Vice President Pence. Trump also hosts a Greek Independence Day Celebration.
7. 1 fun thing: John Dowd's version of Fox & Friends
President Trump and his personal lawyer, John Dowd, draw their commentary from very different influences. While the president is fond of live-tweeting Fox & Friends, his attorney quoted Cat on a Hot Tin Roof at length when he told The Daily Beast he thinks it's time to end the Mueller probe.
An eagle-eyed source noted that the film adaptation of Tennessee Williams' classic play aired on Turner Classic Movies the night before he sent that email. Here's the trailer for the film, starring Elizabeth Taylor and Paul Newman. There's no Tennessee Williams films on the line-up for tomorrow, but you can catch another potentially relevant classic: Bonnie and Clyde.