Axios Sneak Peek
March 26, 2017
Welcome to Sneak Peek, our weekly lookahead for both ends of Pennsylvania Avenue, plus the cream of the Sunday shows. I'd love your tips and feedback: [email protected].
Please urge your friends and colleagues to join the conversation by signing up for Sneak Peek and the other Axios newsletters. See you all week in the Axios STREAM, and next Sunday evening in Sneak Peek.
1 big thing: Planned Parenthood is Trump's next emergency
The fight to defund Planned Parenthood could shut down the government in less than a month. It's getting hardly any media attention but it's the most immediate emergency confronting the Trump Administration, which is reeling after its Obamacare fiasco.
What you need to know:
The current continuing resolution to fund the government expires on April 28.
The conservative House Freedom Caucus — the group Trump blamed on Twitter this morning for killing his Obamacare replacement bill — will almost certainly make defunding the women's health group and the country's biggest abortion provider a non-negotiable condition for it to support the government funding bill.
That's a big problem. There's no way a bill that defunds Planned Parenthood gets 60 votes in the Senate.
Ryan faces a potentially diabolical situation. He wants to defund Planned Parenthood but he's not going to let the government shut down on his watch. His two bad options:
Defund Planned Parenthood but do so knowing the bill won't make it through the Senate. Where that game ends: a government shutdown.
Leave out the provision to defund Planned Parenthood. That's also politically awful. He'd lose lots of Republican votes and would need to pass the funding bill with Democrats' support. That's the kind of thing John Boehner was forced to do during the dying days of his speakership.
Watch what Mike Pence does here. When the VP served in the House he led the conservatives' charge to defund Planned Parenthood. Unlike the President, he's authentically steeped in the social conservative movement and views it as a matter of unwavering principle.
Trump's argument: The Freedom Caucus squibbed its historic opportunity to defund Planned Parenthood (for one year) through the Obamacare replacement bill. It'll be interesting to see how social conservative leaders respond to that talking point, given groups like Penny Nance's Concerned Women for America backed the bill. Nance tells me she won't let Trump or Republicans "move on" from their promise.
2. Power move: watch the Congressional Black Caucus
The healthcare fiasco taught Trump he can't accomplish big things with just one party. He's looking to work with Democrats but Trump's inner circle anticipates total opposition from Chuck Schumer and Nancy Pelosi. Some in that circle, however, believe there's an opportunity to go through the Congressional Black Caucus, a Democratic group Trump met with last week.
Sam Geduldig, a Republican lobbyist at CGCN Group, has been working with African-American lobbyists on just such a project.
"There is a path for bipartisan victories in Congress," Geduldig says. "A coalition of black caucus Democrats and Republicans is kryptonite to rich white liberals. Imagine a tax and infrastructure bill that provides tax cuts for Republicans and new pipes for Flint, Michigan. How do Stabenow and Peters [Michigan's U.S. Senators] justify voting no?"
One of these Democrat lobbyists, Jennifer Stewart of Stewart Strategies and Solutions, tells me she opposes the left's resistance movement because "resistance isn't going to get anything for our communities." She says unusual political times demand unusual methods.
Note of caution: Another lobbyist working on Geduldig's project, Mike Williams of the Williams Group, tells me CBC members are leery of being "used as a photo op." Williams says this will only work if Trump brings them in to help write the legislation, whether it concerns educational opportunities, prescription drug prices, or infrastructure investment.
3. Reince's threat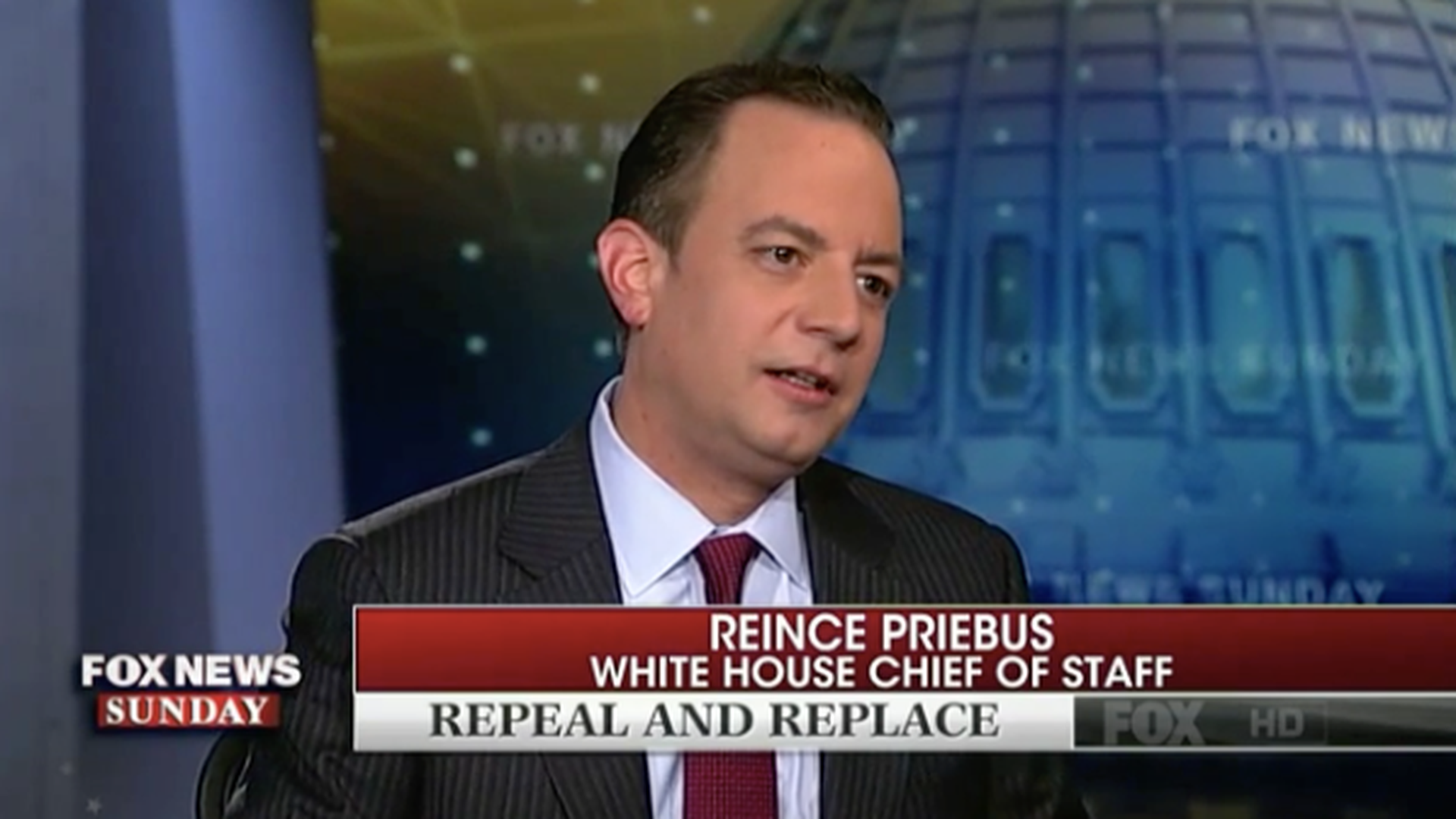 The White House is threatening House conservatives, after the Obamacare debacle:
I think it's more or less a warning shot that we are willing to talk to anyone —White House chief of staff Reince Priebus on "Fox News Sunday"
Chris Wallace had asked Priebus if the lesson the President is taking away from this defeat on healthcare is that he's got to change his legislative strategy and work with moderate Democrats instead of the ultra-conservative House Freedom Caucus.
Freedom Caucus leaders Mark Meadows and Jim Jordan are unapologetic about killing Trump's Obamacare replacement plan. They're even flagging future fights.
Meadows told George Stephanopoulos on ABC's "This Week" that tax cuts don't need to be fully offset with new revenue. (That directly contradicts House leadership's tax plan, which is to pay for tax cuts by raising $1 trillion over 10 years through a tax on imports.)
EPA Administrator Scott Pruitt made a big announcement on ABC's "This Week": Finally, after many delays, the Trump administration will drop its major climate executive order — which attacks Obama's "Clean Power Plan." Axios' Ben Geman says the action, due Tuesday, will begin the long bureaucratic process of unwinding a sweeping EPA rule to cut carbon emissions from power plants.
On "Fox News Sunday," Priebus denied rumors that Trump wants to fire him after the Obamacare failure. "I'm not in any trouble," the White House chief told Chris Wallace. "I've got a great relationship with the President, we talk all the time. In fact, just before coming on the set he gave me a call."
4. Ivanka's priorities
Ivanka is back from her family's Aspen ski trip and plunging into one of her top priorities in the West Wing. She says she's concerned about the barriers women and minorities face when they want to start a small business. And she wants to help the President craft policies to address these barriers — whether it be affordable childcare, or making it easier to access loans, workforce development training and education.
At 11 a.m. tomorrow in the Roosevelt Room, ten female small business owners will sit with Trump, the VP, the Small Business Administrator Linda McMahon and the President's eldest daughter.
Ivanka called the meeting after spending the past month with dozens of female business owners and other leaders including National Urban League President Marc Morial and U.S. Hispanic Chamber of Commerce President Javier Palomarez. The meeting will include the CEO of a security company based in the Bronx, Jessica Johnson, and Suzie Scanlon, whose firm helps minority women get high-ranking legal jobs.
1 fun thing: inside the Judge Jeanine conspiracy theory that's lighting up the Internet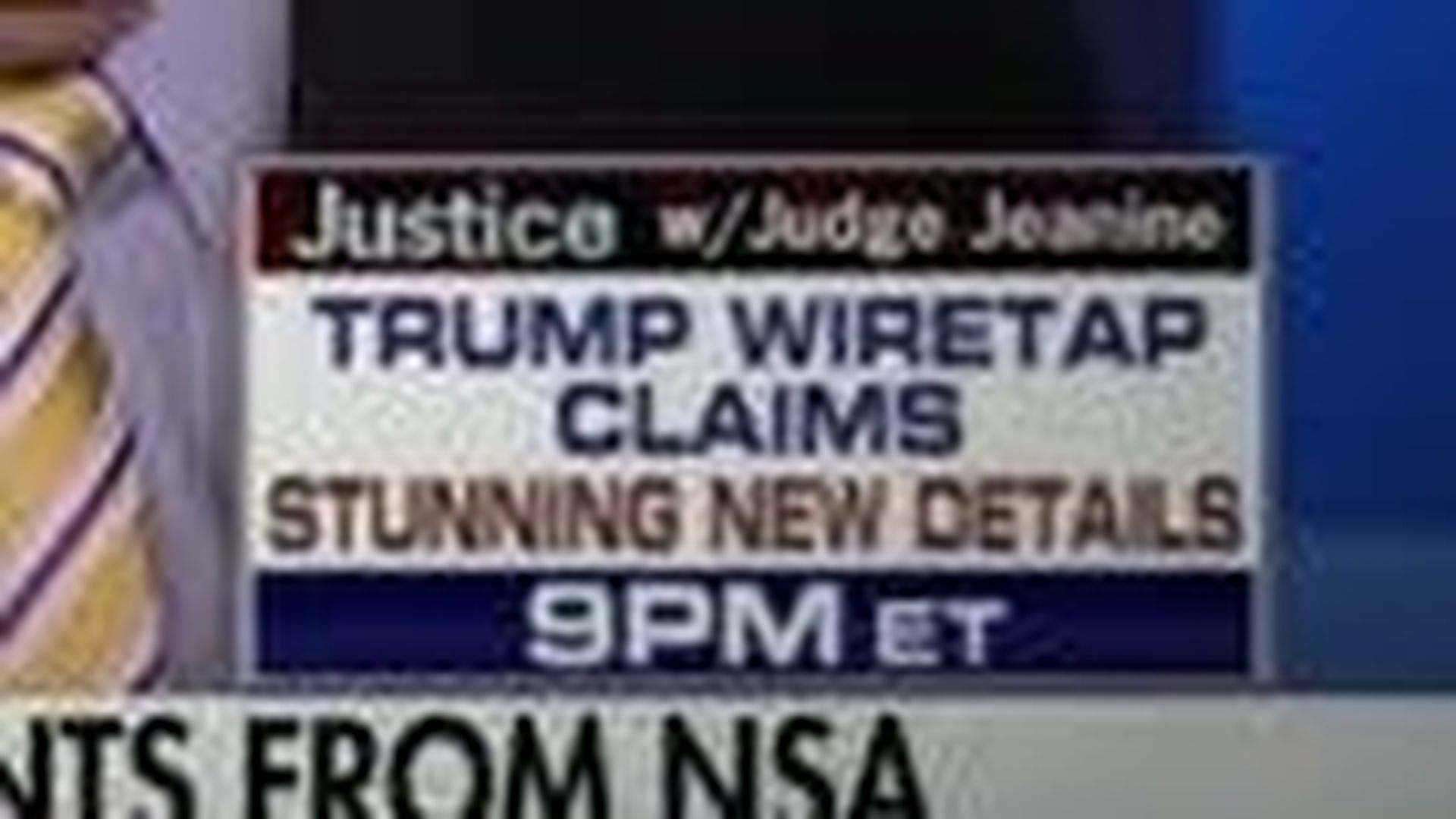 That blurry screenshot promoting Judge Jeanine Pirro's show on Fox — "TRUMP WIRETAP CLAIMS STUNNING NEW DETAILS" — is almost certainly the explanation for the President's unusual tweet yesterday telling people to watch the Judge's show. Trump, an avid Fox watcher and friend of Pirro's, would've loved the idea that new evidence might vindicate his unsubstantiated claim that Obama spied on him.
Behind the scenes: Judge Jeanine was blindsided by Fox's promotional banner, according to a source familiar with the situation. She had no "stunning new details" to share with her viewers; just her regular show. Her opening monologue — in which she called for Paul Ryan to resign — made people think that Trump had colluded with her in some grand conspiracy to bring down the Speaker.
A couple of points: Those who know Trump well find that conspiracy laughable. Trump has never been afraid to attack Ryan publicly, and it's hard to imagine he'd go to such elaborate and coordinated lengths to do so now. Trump and Ryan spoke for nearly an hour yesterday and the President called the Speaker again today. Ryan's spokeswoman AshLee Strong tells me Trump made it clear to Ryan "his tweet had nothing to do with the speaker."
Our thought bubble: Trump and his team could've easily cleaned this up. That they took so long to do so either means they were happy for the misunderstanding to circulate or that their operation remains wildly dysfunctional.