Welcome to Sneak Peek, our weekly lookahead for both ends of Pennsylvania Avenue, plus my best scoops. I'd love your tips and feedback: jonathan@axios.com. And please urge your friends and colleagues to join the conversation by signing up for Sneak Peek.
https://www.axios.com/newsletters/axios-sneak-peek-198d2999-a3e9-4719-80a6-15c0439cc633.html?chunk=0#story0
1 big thing: Inside Scott Pruitt's "miserable" bunker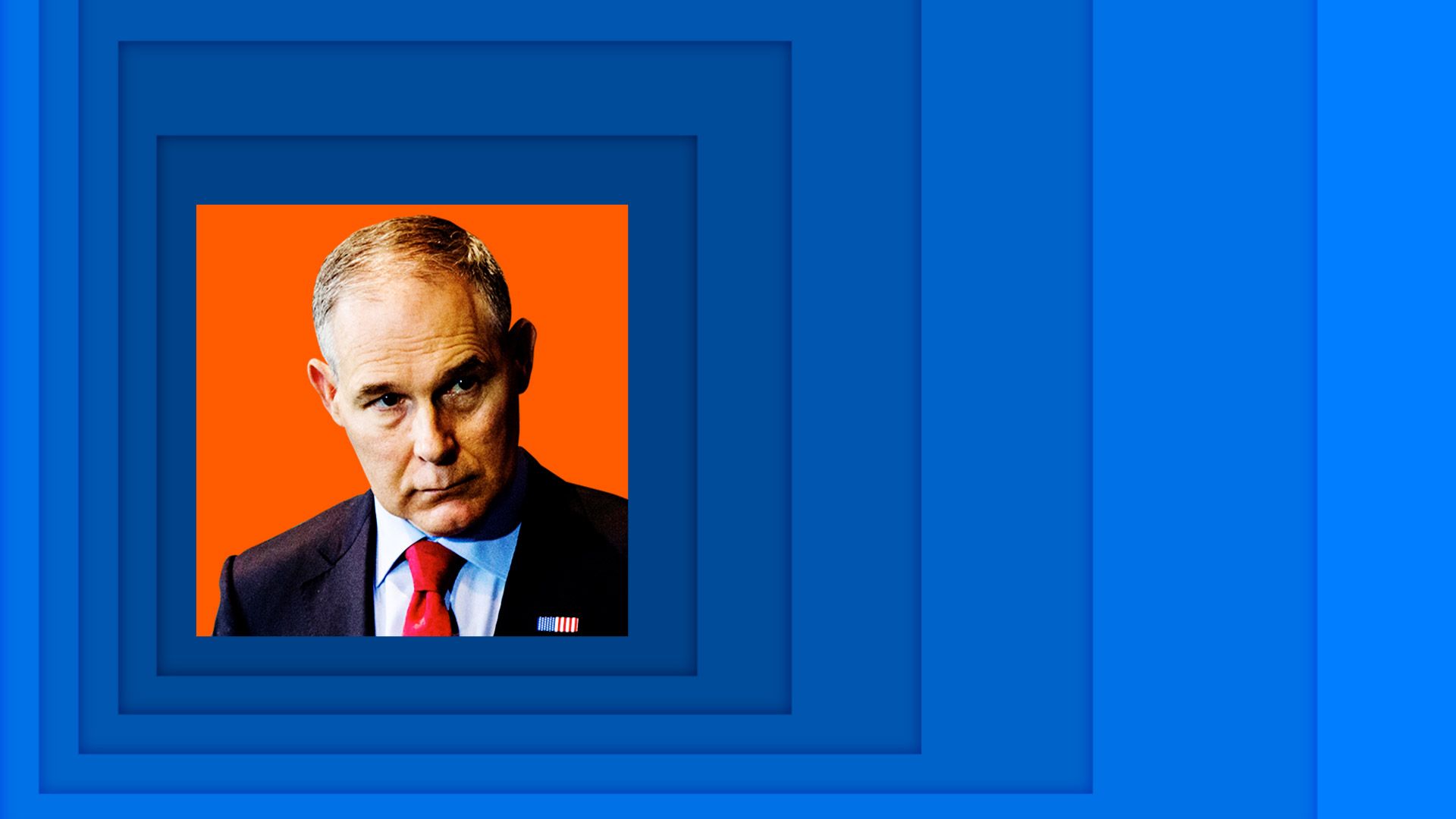 President Trump is unhappy about a report in The Atlantic which says a member of EPA Administrator Scott Pruitt's press team has been shopping negative stories about Interior Secretary Ryan Zinke to multiple outlets.
A source who spoke to Trump told me the President raised the issue in conversation and said, "That's not good." Trump has been souring on Pruitt as more and more negative press about his ethical lapses piles up.
Pruitt's spokesman Jahan Wilcox has denied that his team pushed negative stories about Zinke: "This did not happen and it's categorically false."
Why this matters: Pruitt — who is under siege from federal investigators, the White House, Capitol Hill, and the media — survives because the one guy who matters in the White House won't fire him. Trump's draining supply of goodwill towards Pruitt is the EPA administrator's lifeline. Most everyone else in the building wants him gone.
Behind the scenes: On Friday afternoon, Scott Pruitt had lunch with four members of his team at Ambar restaurant on Capitol Hill. The gathering came as a surprise to just about the entire senior staff of the EPA; they found out about the meeting from a picture a lobbyist tweeted.
Over the last few months, Pruitt has walled himself off from all but five EPA political appointees: ​Millan Hupp, Sarah Greenwalt, Hayley Ford, Lincoln Ferguson, and Wilcox. Of those five, only Wilcox is over 30. Hupp, Greenwalt and Ferguson came with Pruitt from Oklahoma. Wilcox is the only press aide Pruitt appears to trust.
Pruitt's chief of staff, Ryan Jackson, runs the agency's operations but rarely knows where his boss is. Pruitt has frozen Jackson out of his inner circle — a disaster for a chief of staff. Pruitt and Jackson don't trust each other, multiple sources told me.
"All of us have been frozen out over time," one EPA political appointee told me. "It's absolutely unreal working here. Everyone's miserable. Nobody talks. It's a dry wall prison."
The pushback: Wilcox told me Pruitt ended daily morning meetings with dozens of political appointees because they had grown unwieldy and unproductive. "There were 98 individuals that were invited to the morning meeting with Administrator Pruitt and it's been pared down to make it more efficient."
The bottom line: Pruitt has grown paranoid and isolated, and he only trusts a small handful of people at the agency. Senior White House staff darkly joke among themselves every time a fresh bad story comes out about Pruitt. Numerous senior EPA staff have already resigned or plan to quit.
Go deeper, with fresh details of what's going on inside Pruitt's EPA. The twist? Despite Pruitt's problems, my colleague Amy Harder reports that the EPA's policy trains appear to be running mostly on track.
https://www.axios.com/newsletters/axios-sneak-peek-198d2999-a3e9-4719-80a6-15c0439cc633.html?chunk=1#story1
2. The Hill's next Russia battle
Republican leaders are quietly bunkering down for a fight over Russia sanctions. Defense Secretary James Mattis has asked the House Armed Services Committee Chairman Mac Thornberry to put a provision into the National Defense Authorization Act (NDAA) that would let the administration waive sanctions for U.S. partners, like India and Vietnam, who buy weapons from Russia. And Thornberry has agreed to do so.
Why this matters: In this political environment, anything Russia-related can be explosive. Republicans involved in the conversations tell me they worry that Democrats will use the issue to bash them as appeasing Putin.
A senior Democratic aide emailed me: "Yes, we are concerned that R [Republican] efforts to chip away at the integrity of Russian sanctions that were passed with the overwhelming majority of support from Congress last summer indeed shows that they are more concerned about appeasing Trump and supporting his efforts to appease Putin."
Behind the scenes: The aide told me Democrats are still formulating their strategy on the Russia sanctions. Senate Democrats like Bob Menendez and Republican Russia hawks, particularly in the Senate, may oppose the waiver.
What we're hearing: I spoke to Thornberry this morning. He told me he plans to include in his "chairman's mark" of the NDAA on Wednesday "a very limited waiver for the Secretary of Defense, if he believes that a country that is trying to move in our direction still needs to get some sustainment and logistical support for the Russian equipment that they already have."
Thornberry told me that "part of the problem" with the sanctions bill Congress passed last fall is that "if the Indian military has Russian helicopters and they need to keep them flying they have to do business with the Russian military."
A source with direct knowledge told me the NDAA will include new sanctions targeting Russia's arms industry.
Mattis' spokeswoman Dana White told me the Secretary appreciates Thornberry's support and "wants to avoid any legislation that inadvertently punishes nations with which we are working to expand our defense cooperation." (Meaning India.)
What's next: Unless Mattis and Co. sell Democrats and hawkish Republicans on the waiver, you'll see a brawl.
https://www.axios.com/newsletters/axios-sneak-peek-198d2999-a3e9-4719-80a6-15c0439cc633.html?chunk=2#story2
3. Behind the Trump n' Rudy show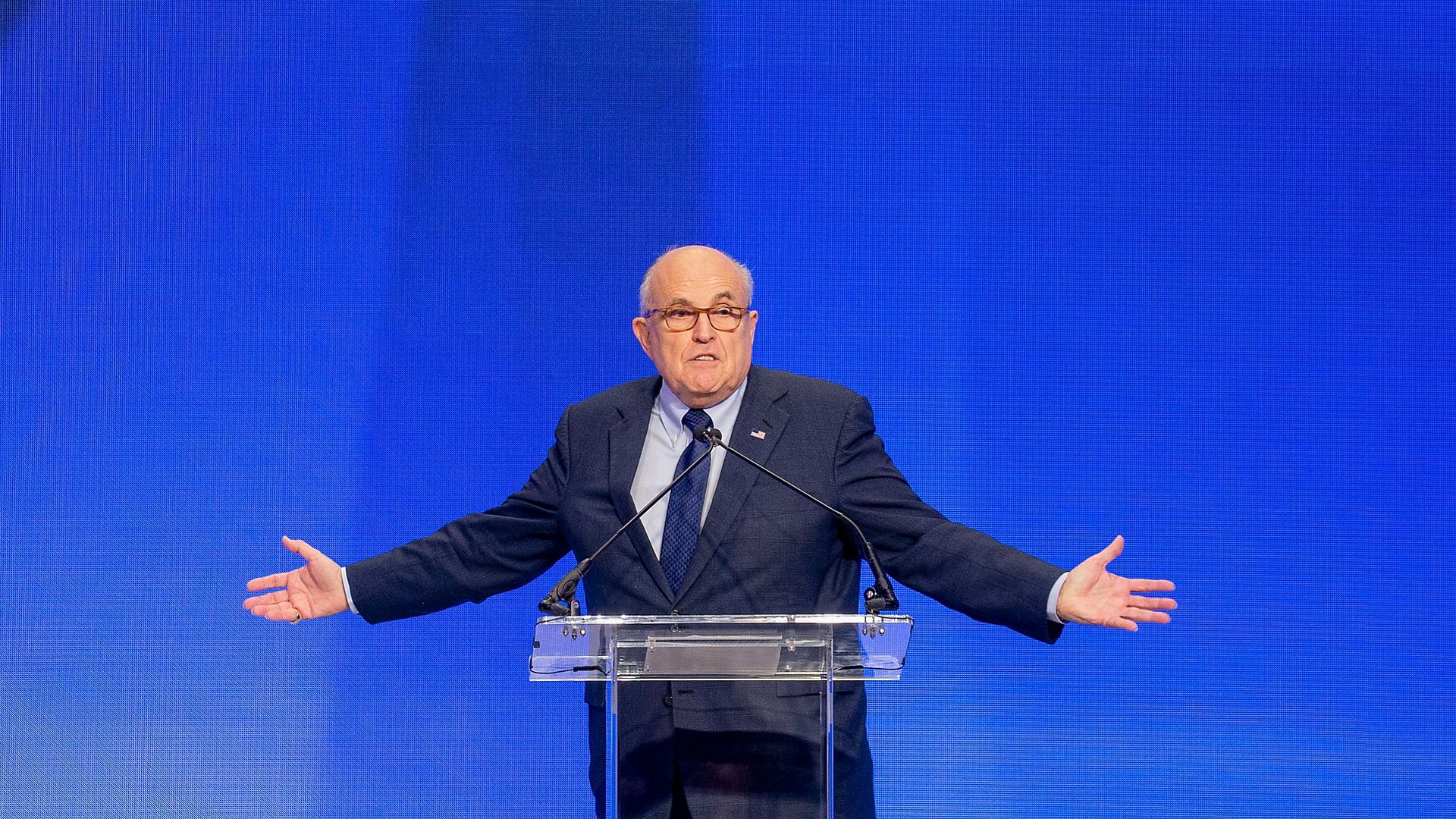 If you were gobsmacked watching Rudy Giuliani's media tour this week — which he launched on Fox News' Hannity by announcing that Trump reimbursed lawyer Michael Cohen for a hush-money payment to Stormy Daniels — you weren't alone.
A White House official told me there were "a couple of Mooch references" in the West Wing last week, as Giuliani's performance recalled Anthony Scaramucci's frenzied 11-day stint last summer as White House communications director.
If the Giuliani circus continues unabated — with him taking media calls day and night and freelancing on legal and policy matters — White House staff will likely quit, a well-placed source tells me.
When Giuliani began opining about U.S. hostages held in North Korea, senior staff were irritated and perplexed.
And West Wingers raised their eyebrows when he took a gratuitous shot at Jared Kushner, describing the president's son-in-law as "disposable."
Meanwhile: Trump has been growing increasingly frustrated that his legal team wasn't "fighting back" against Special Counsel Bob Mueller, according to sources familiar with the president's thinking.
Rudy's latest: Giuliani continued his media blitz over the weekend, proclaiming that the president supports regime change in Iran at a Saturday event, telling Fox News' Judge Jeanine Pirro on Saturday evening that Attorney General Jeff Sessions should end the Mueller probe, and telling ABC's George Stephanopoulos on Sunday's "This Week" that he can't be confident Trump will plead the Fifth if subpoenaed by Mueller.
The bottom line: Giuliani's been so sloppy that he's had to revise his statements multiple times. From a PR standpoint, it's been a mess.
Trump's public undermining of Giuliani on Friday — telling reporters his newest lawyer wasn't fully up to speed and would "get his facts straight" — came as a relief to many in the White House.
https://www.axios.com/newsletters/axios-sneak-peek-198d2999-a3e9-4719-80a6-15c0439cc633.html?chunk=3#story3
4. Roy Moore: the sequel
Republicans in D.C. are panicking over Tuesday's West Virginia Senate primary.
Don Blankenship, a coal baron who's spent time in prison, is running a demagogic campaign in which he's repeatedly invoked the Chinese heritage of Mitch McConnell's wife, Transportation Secretary Elaine Chao.
He's also taken to calling McConnell "cocaine Mitch" in his ads — which,

according to Politico

, "is in reference to a 2014 report that drugs were once found aboard a shipping vessel owned by McConnell's in-laws."
Blankenship is outspending his opponents on TV and has a ton of his own money to play with. He's aired one ad that refers to "China people," which you can watch here (or not).
And yet ... he's gaining in the polls and may win on Tuesday.
Behind the scenes: Republican officials monitoring the race tell me it's hard to get reliable polling data, but some internal polls show Blankenship has surged over the past week and now leads his two Republican opponents — conservative Patrick Morrisey and establishment-favorite Evan Jenkins.
A Republican source familiar with the internal polling of one of Blankenship's opponents told me: "At the beginning of last week, the internals showed a 2-man race between Jenkins and Morrisey, with Morrisey having a slight edge and Blankenship down in the teens.
"However, following a week centered on media coverage of Blankenship's feud with 'cocaine Mitch' and a bombardment of attack ads against Jenkins over the airwaves, the same poll now shows Blankenship surging with a slight lead over Morrisey, and Jenkins now down in the teens."
Another national strategist who is engaged in the race told me: "There is rising concern that, without any refereeing from the national party, Morrisey and Jenkins have beaten each other to a pulp and that may be giving Blankenship an opening."
Several Republicans involved in the race told me primary candidates can usually boost their popularity by sparring with McConnell, given how much the party's base loathes Washington leadership.
The bottom line: Republican leaders at outside groups worry that if Blankenship wins Tuesday, he'll get crushed in November by the otherwise beatable Democratic Sen. Joe Manchin. It's the Roy Moore nightmare.
Go deeper: Politico's Alex Isenstadt, who's been covering this race minute-by-minute, has a closer look at Blankenship's late surge.
https://www.axios.com/newsletters/axios-sneak-peek-198d2999-a3e9-4719-80a6-15c0439cc633.html?chunk=4#story4
5. Sneak Peek diary: North Korea edition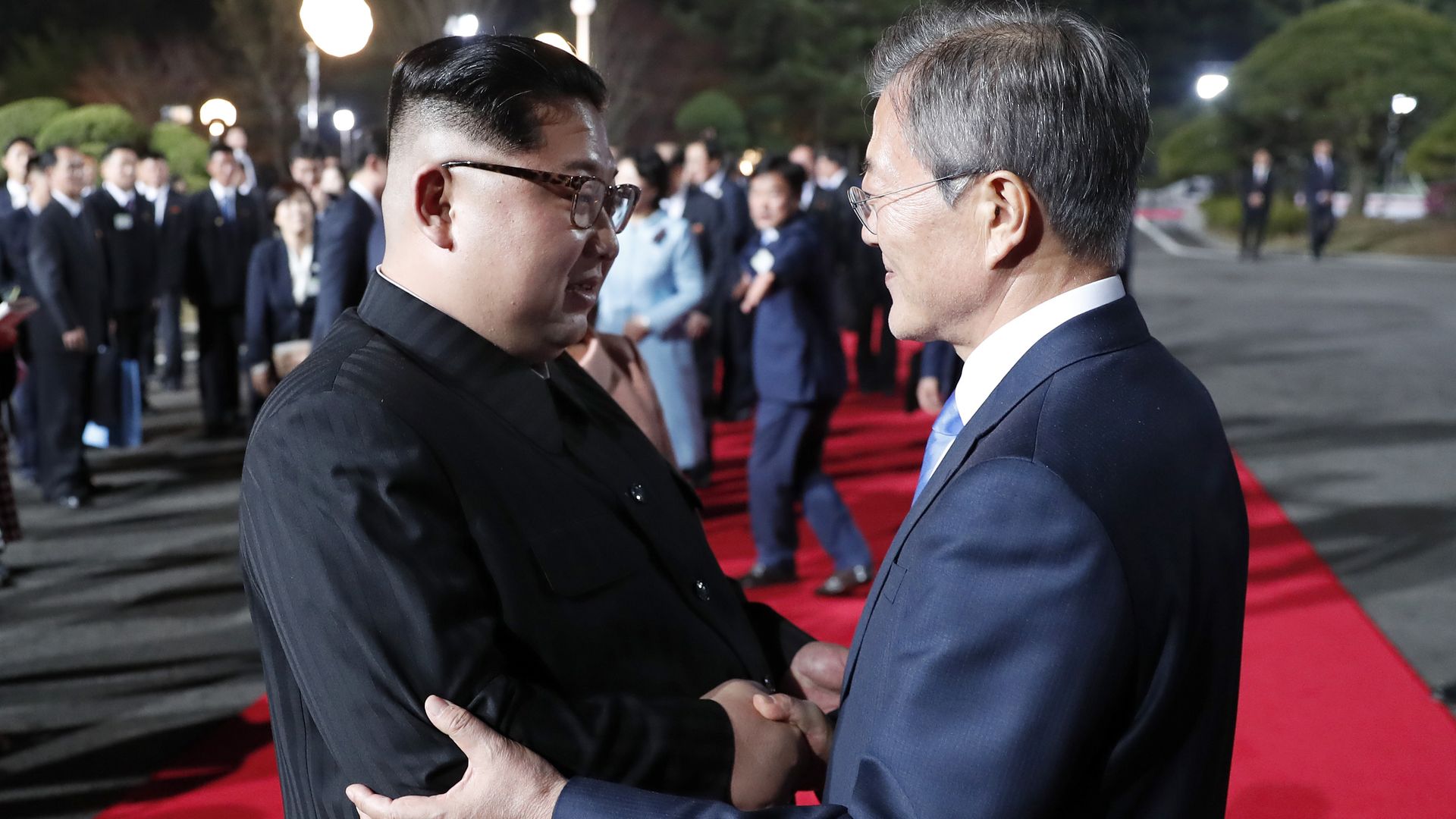 Here's what North Korea experts tell me they expect will happen next in the nuclear negotiations:
Kim Jong-un is expected to soon release the three American hostages imprisoned in North Korea.
In the coming weeks, Kim is expected to invite international observers and media to watch him dismantle the Punggye-ri nuclear test site near the Chinese border. (Kim has plenty more nuclear facilities around the country.)
Trump is expected to hold his summit with Kim, possibly at the demilitarized zone separating the two Koreas, in either late May or early June. (No media outlet has yet confirmed the details of the summit, which are tightly held. A White House source with knowledge of the arrangements would only tell me that the Trump-Kim meeting will occur after South Korean President Moon Jae-in visits the White House on May 22.)
https://www.axios.com/newsletters/axios-sneak-peek-198d2999-a3e9-4719-80a6-15c0439cc633.html?chunk=5#story5
6. Kim Jong-un's USB drive
The Korean dynamics are changing at light speed because Kim Jong-un cares far more about economics than his father ever did, per people close to advisers of South Korean President Moon Jae-in.
Under the hood: A source who has spoken recently with top South Korean government advisers — and who spoke anonymously to preserve their confidences — told me Moon "freaked out" last year when Trump was threatening "fire and fury" against Kim.
Moon saw last summer that the White House and Pentagon were working on military options in the event that Kim threatened the U.S.
So he went into diplomatic overdrive, using the military crisis to present Kim with economic development plans he'd long wanted to deliver.
One story that was widely reported in the South Korean press but didn't get much attention in the U.S. is that, at their April summit, Moon gave a USB drive to Kim.
"The USB makes the case to Kim — there really is another path for you," John Delury, an expert in North Korean affairs at Seoul's Yonsei University, told me. He said the USB, which contained a plan for tens of billions worth of economic development in North Korea including railways and energy, sent the message to Kim: "We're serious about working with you for what we think is your real ambition — to be a wealthy East Asian country."
Delury thinks Trump's abnormalities — his disdain for bureaucratic processes and deliberative decision-making — have helped create abnormal momentum on the Korean Peninsula.
"I do give one-third of the credit to the Trump administration," Delury told me. "They ended Strategic Patience and ramped up sanctions. Then they ramped up the military threat, and because we all thought he was crazy enough to take us to war," that forced everyone to act differently.
"But he also ramped up diplomacy" by immediately agreeing to meet with Kim. "Maybe if [Trump] asked his advisers, they would've stopped him."
https://www.axios.com/newsletters/axios-sneak-peek-198d2999-a3e9-4719-80a6-15c0439cc633.html?chunk=6#story6
7. Sneak Peek diary: D.C. edition
The House will pass and send Trump his 16th Congressional Review Act (CRA) — a mechanism Republicans have been using to eliminate Obama-era regulations.
A leadership source tells me this week's would get rid of the Consumer Financial Protection Bureau's "Indirect Auto Lending Rule."
Per Reuters: "In March 2013, the CFPB limited loan markups and compensation for dealers on auto loans — specifically on the basis of race, national origin, or credit score."
The Senate has six nominees for circuit court judges on the floor this week.
Why this matters, per Mitch McConnell on Hugh Hewitt's radio show Thursday: "What I want to do is make a lasting contribution to the country. And by appointing and confirming these strict constructionists to the courts who are in their late 40s or early 50s ... we're making a generational change in our country that will be repeated over and over and over down through the years."
Gina Haspel, Trump's nominee to replace Mike Pompeo as CIA director, will have her confirmation hearing on Wednesday before the Senate Intelligence committee. 
Democrats are lining up to oppose Haspel's nomination, and the Washington Post broke a dramatic story this afternoon — which I've independently confirmed with a source with direct knowledge — of how Haspel almost withdrew her nomination on Friday.
President Trump's schedule, per a White House official:
Tuesday: The president has lunch with Vice President Mike Pence and Secretary of State Mike Pompeo. Trump also gives remarks at the Federal Judges Association reception.
Wednesday: Trump hosts a cabinet meeting and participates in the "Celebration of Military Mothers."
Friday: Trump hosts a roundtable with automaker CEOs.