Axios Sneak Peek
April 22, 2018
Welcome to Sneak Peek, our weekly lookahead for both ends of Pennsylvania Avenue, plus my best scoops. I'd love your tips and feedback: [email protected]. And please urge your friends and colleagues to join the conversation by signing up for Sneak Peek.
1 big thing: Trump's ad-lib foreign policy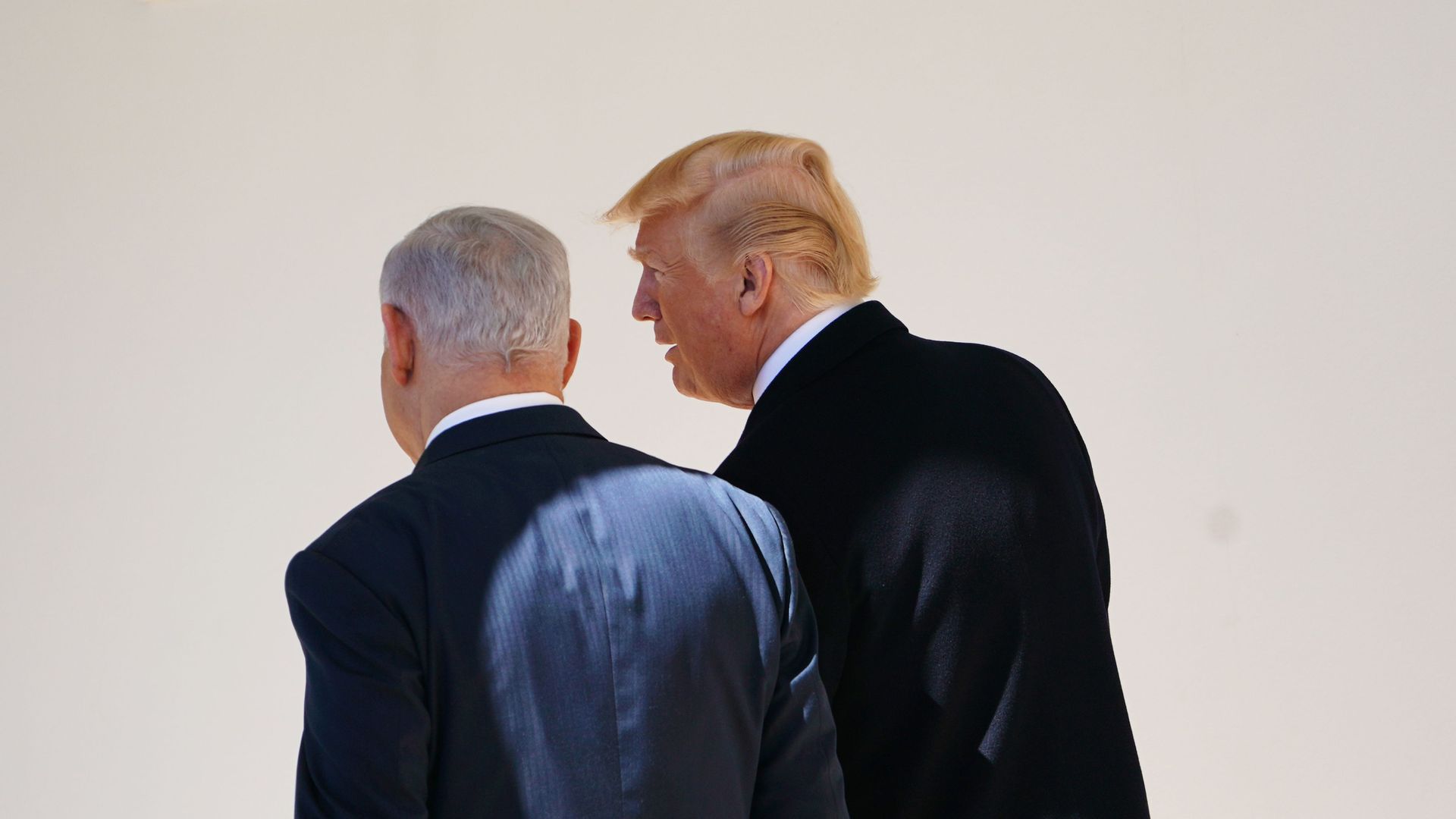 In a phone call last year with Bibi Netanyahu, President Trump said something that shocked some of the people who helped prepare his briefing materials for the conversations. According to three sources familiar with the call, Trump asked Bibi bluntly if he actually cares about peace or not.
Trump was pressing Bibi on the importance of striking a "deal" for Mideast peace. He'd read news reports about Bibi planning to build additional settlements to please his conservative base in Israel. Trump thought Bibi was unnecessarily angering the Palestinians. So, in the course of a longer conversation that was mostly friendly and complimentary, he bluntly asked Bibi whether or not he genuinely wants peace.
When Axios shared the details of this conversation with the White House before publishing, a senior official said: "The President has an extremely close and candid relationship with the Prime Minister of Israel and appreciates his strong efforts to enhance the cause of peace in the face of numerous challenges."
And Press Secretary Sarah Sanders added: "The President has great relationships with a number of foreign leaders but that doesn't mean he can't be aggressive when it comes to negotiating what's best for America."
Between the lines: According to a host of sources familiar with the president's thinking, Trump views foreign policy as a question of relationships. The way he crafts American foreign policy is almost entirely dependent on his personal rapport with world leaders. The UK is the perfect example: Though Trump has great affection for Britain (he has golf courses there, appreciates the special relationship, and has referred to himself as "Mr. Brexit"), he and Theresa May have a fraught relationship. He hits the roof when he reads that she's criticized him. So he has yet to visit America's closest ally, even after last year's terrorist bombings in Manchester, though a source privy to private discussions tells me that it's "quite likely" that Trump visits the UK before the summer.
Another example: Trump finds Japan's trade practices and regulations to be very irksome. But he has a great personal chemistry with Japanese Prime Minister Shinzo Abe, and would likely be going far harder on the country if their relationship were tense.
Why this matters: Trump's foreign leader interactions — often improvised, often hot and cold, often disregarding diplomatic conventions and basic briefing materials — have confounded much of the administration's national security staff.
​Trump freelances; he rarely refers to scripts and notes, and he disdains long briefings. Instead, he kibitzes with foreign leaders like he does with his Manhattan real estate friends.
His ad-lib style sometimes works to his advantage — and he's established genuinely good relationships with leaders like Emmanuel Macron of France and King Salman of Saudi Arabia — but it's also at times thrown staunch allies like the U.K. and Germany off-balance. And it makes the national security establishment — many of whom have longitudinal views of these relationships — break out in hives.
A Trump briefing is completely different from those of his predecessors. He doesn't want briefing books or long speeches about policy. Besides the news of the day, he almost always asks the following questions before most foreign leader meetings:
What is the trade deficit with the foreign country? How big is their army and defense spending, and to what extent is America picking up their tab? And, in some cases, how much foreign aid is the U.S. sending to the country? Put simply: what are we doing for them and how much are they contributing in return?
One hard lesson Trump's staff learned: Always find out whether the leader he's meeting with has said mean things about him.
Trump was furious with his national security team for not telling him in advance of his meeting last year with Greek Prime Minister Alexis Tsipras that Tspiras said during the presidential campaign that Trump represents an "evil" ideology.
At Trump's joint press conference with the Greek leader, Fox's John Roberts quoted the brutal things Tsipras had said about Trump. The president blew up at his team afterwards for not finding this out and briefing him about it in advance.
2. Ronny's problems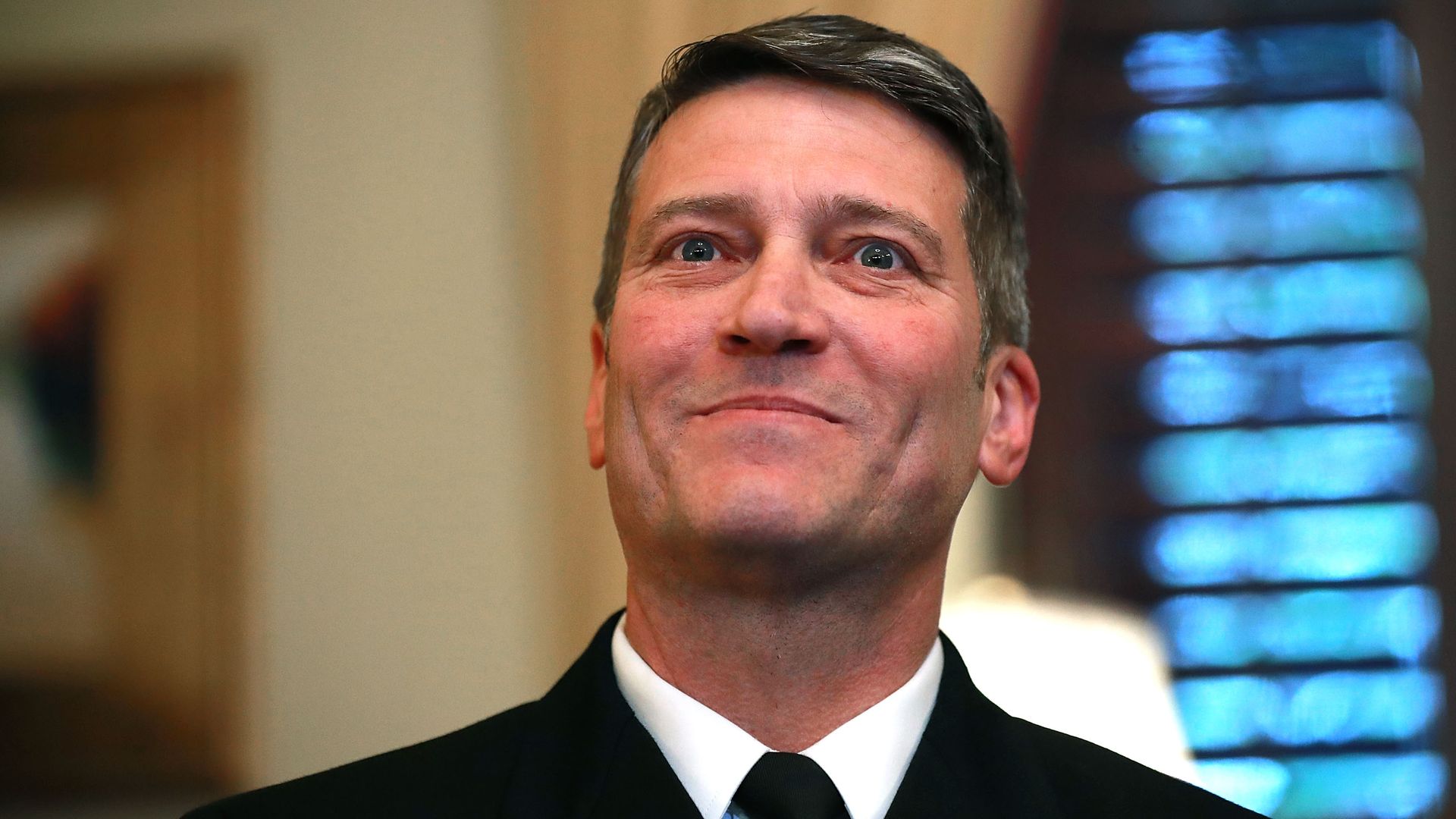 Senior administration officials and senators from both parties on the Veterans Affairs committee are growing increasingly concerned about Ronny Jackson's prospects to be confirmed as Trump's Secretary of Veterans Affairs.
Between the lines: Sources with direct knowledge of the private deliberations on Capitol Hill and inside the White House tell me the White House is well aware of these widespread concerns about Jackson.
In fact, Trump's chief of staff John Kelly thought it was unwise for Trump to nominate Jackson so quickly without going through all the due diligence that a normal cabinet nomination process would involved. Though since then, I'm told Kelly has aggressively defended Jackson.
Jackson is well liked at 1600 Pennsylvania Avenue in his role as the White House doctor, but some senior officials question whether he has the management experience necessary to run the second largest agency in the federal government.
Why this matters: Jackson has his confirmation hearing this week, and expects to testify before the Veterans Affairs' committee on Wednesday afternoon. Senators from both parties share the skepticism — and that includes some Republicans on the VA committee.
Sen. Jerry Moran (R-Kan.), who sits on the VA committee, told The Hill this week that Jackson "doesn't have the experience you'd think would traditionally be required at the VA."
Sen. Mike Rounds (S.D.), another Republican on the committee, told The Hill that Jackson knows about health care, but "has very limited background in terms of managing groups."
White House Legislative Affairs Director Marc Short pushed back against these criticisms telling me: "Ronny Jackson is a small town kid who went to medical school, volunteered to serve our nation in uniform, has risen all the way up to Admiral, treated wounded soldiers in combat, has a dad who's a veteran and a son who's a Navy SEAL, has personally served multiple presidents, and yet members of Congress who have never managed a thing outside of their own congressional office have the audacity to say he's not qualified before he even has a hearing."
Veterans groups have mostly declined to give Jackson ringing endorsements; and the White House is also aware of specific concerns about Jackson's professional conduct in the Navy that have been taken to Jon Tester in his capacity as ranking member of the Senate Veterans' Affairs Committee.
A source briefed on the situation told me the White House is looking into these complaints to see whether they are legitimate or simply politically-motivated slurs on his character.
Behind the scenes: While these concerns about Jackson metastasize on the Hill, administration officials are trying to intensely prepare Jackson for his hearing. They're doing murder board sessions this weekend in the Eisenhower Executive Office Building beside the White House, and sources briefed on these sessions tell me they have been going on pretty aggressively for the last couple of weeks.
3. Scoop: Behind the scenes of the White House comms shop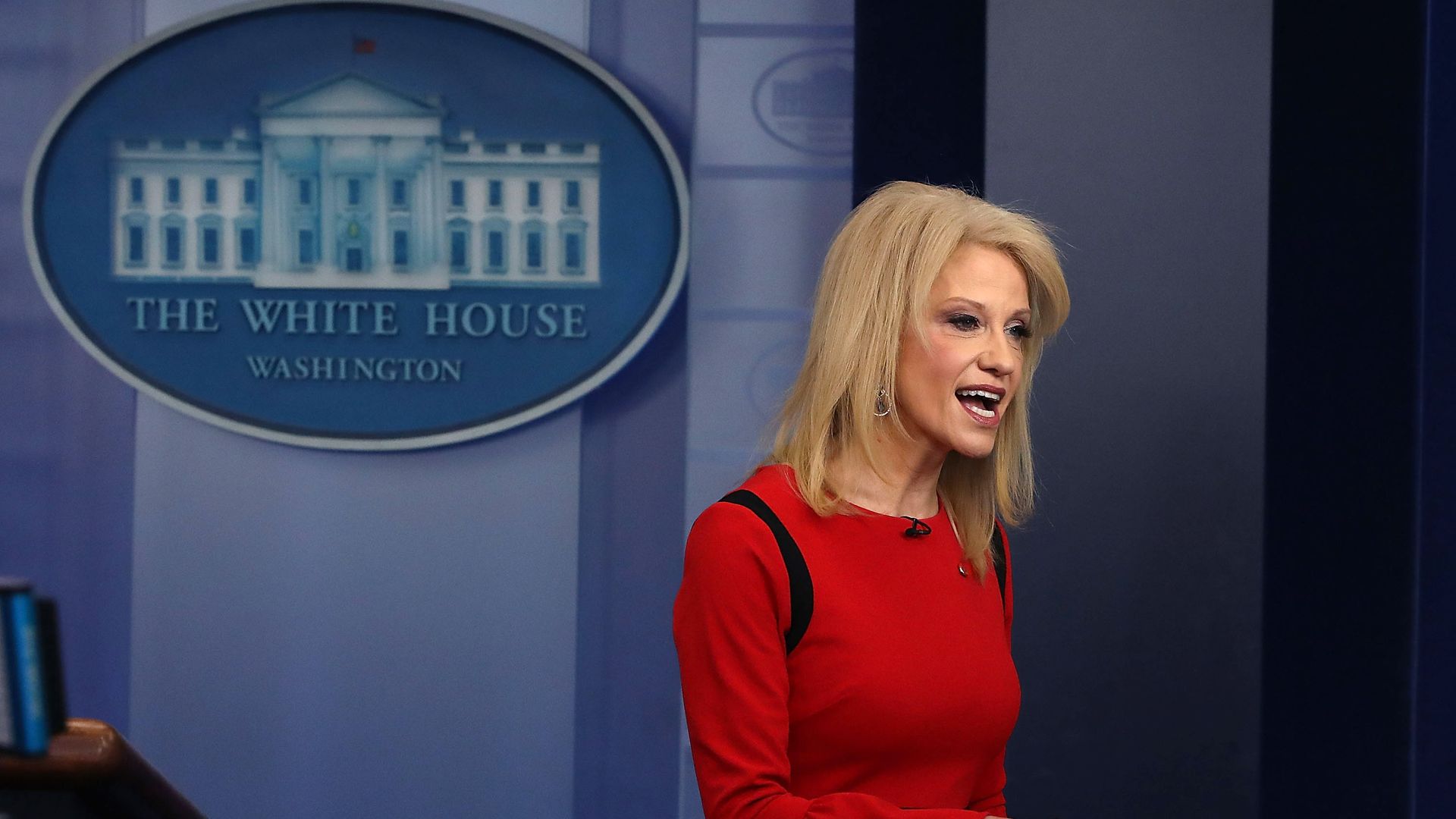 Kellyanne Conway has never actually wanted the job of White House communications director, according to sources who've discussed it with her, but Axios has learned that she left many in the White House communications team this week with the impression that she'd be leading the team in some capacity.
Behind the scenes: Senior White House communications official Mercedes Schlapp convened an off-site team-building and planning retreat last week for the White House comms team. They held the session on Thursday at the General Services Administration building a couple blocks from the WH (the same building that once housed the transition). About 40 people were in the room, and according to sources who were there:
Conway opened the session by addressing the group and giving what a source in the room described as a "pep talk".
She told the staff that the President had asked her to take a more active role in communications. She didn't directly address any of the communications director speculation but many in the room were left with the impression that she'd be taking a leadership role going forward.
She then asked the group for ideas to take to POTUS.
One suggestion that most in the room agreed with: that Trump should do more local and regional media, which increases his chances of getting more favorable coverage than he's getting in the national media.
But one person asked how to reconcile what the president wants to see versus what actually helps but that he might not notice.
Trump wants to see surrogates defending him on cable TV but the consensus within Trump's own communications team is that getting surrogates out in regional and local markets is a far more effective way of conveying POTUS' messages and accomplishments than appearing on cable TV.
Besides Conway's address to the group — in which the communications director role wasn't directly discussed — there was no other discussion during the session about who would replace Hope Hicks.
Other tidbits: The group, which has been beset by leaks and media reports of infighting, ran team-building exercises on large notepads. One of the questions posed to the group: If somebody was making a documentary about the White House communications team in five years, what would they say?
At one point in the session, Kirk Marshall, Joe Hagin's top deputy for Human Resources, asked the group to explain what they thought the difference was between comms and press.
Somebody asked a question about the standard of the Trump administration's communications work and Brad Rateike, director of cabinet communications, joked: "It's impossible to get fired around here."
Next steps: Kirk Marshall will lead one-on-one interviews with communications staff, soliciting suggestions on how to better improve the White House team and will encourage staff to offer a more candid perspective than they might have in a large group. They then plan to hold another planning retreat.
4. The Bob Mueller protection bill
On Thursday, the Senate Judiciary Committee expects to report out a bill that would protect Bob Mueller from being fired by President Trump. This is the same bill that Mitch McConnell said he'd never bring to the floor for a vote, but Judiciary Chairman Sen. Chuck Grassley is doing it anyway. 
Why this matters: Grassley is sending a blunt signal to the President that neither party on Capitol Hill will tolerate him firing Mueller.
What the bipartisan bill does, per Sen. Tom Tillis (R-NC) — one of the cosponsors along with Sens. Lindsey Graham (R-SC), Chris Coons (D-DE), and Cory Booker (D-NJ):
"The Special Counsel Independence and Integrity Act:
"Codifies existing Department of Justice regulations to ensure that the Special Counsel can only be fired for good cause by a senior Justice Department official, and the reason must be provided in writing."
"Provides the Special Counsel a 10-day window in which he can seek expedited judicial review of his removal to determine whether the firing was for good cause.  If the firing is ultimately determined to have violated the good-cause requirement, the removal will not take effect."
"Preserves the staffing, documents, and materials of the investigation while the matter is pending."
Between the lines, per a source close to Grassley:
"There were three bills last year when issue was first discussed. Grassley asked the sponsors of the respective bills to get together and come up with a unified bill because he didn't want to waste his time on three separate bills."
The source said we should not read Grassley's action as a rebuke of McConnell. Grassley made a commitment to these members on his committee that he'd bring the bill up for a vote if they consolidated their efforts into one bill.
5. Trump's week of foreign visits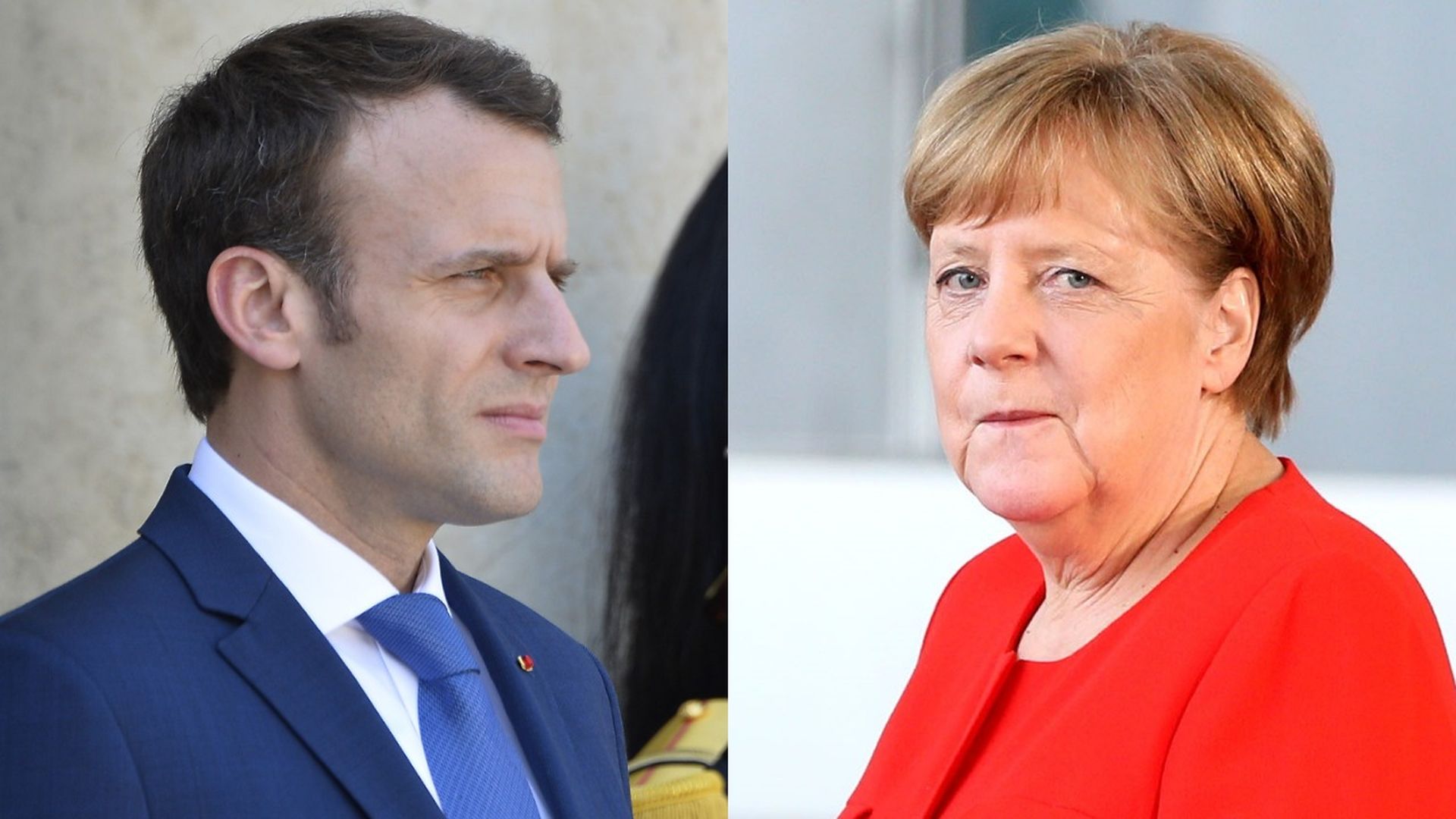 This week in Washington will be dominated by two foreign visitors:
French President Emmanuel Macron and the First Lady join the Trumps for dinner Monday night followed by an arrival ceremony on Tuesday, a day of bilateral meetings and a joint press conference, and culminating with the first State Dinner of Trump's presidency at the White House on Tuesday night.
And on Friday, Trump hosts German Chancellor Angela Merkel at the White House.
What we're hearing: Macron hopes to persuade Trump to work with the Europeans to fix the Iran nuclear deal rather than to follow his instincts and tear up the deal next month by reimposing American sanctions on Iran.
Macron has also worked behind the scenes to try to persuade Trump to re-engage with the international community on climate change after he dramatically announced the United States' withdrawal last year from the Paris climate accord.
Sources who've worked closely with Trump are skeptical about whether Macron's assiduous and successful efforts to build personal chemistry with Trump will pay off and sway Trump on either Iran or climate change.
Behind the scenes: Trump's ambassador-to-Germany-in-waiting, Ric Grenell, was seen at Mar-a-Lago on Saturday night talking to Trump. Grenell, who was there for dinner, was being introduced around the room by Terry Allen Kramer, a long-term Palm Beach resident and Broadway producer, and by the president's friend Chris Ruddy.
According to a source who saw the president make the rounds of the room at Mar-a-Lago, Trump spent a substantial amount of time talking to Grenell.
The president has let it be known he's impatient with the hold-up in the Senate over Grenell's confirmation and has told people he had wanted to get it done before Merkel's visit this week.
6. Mike Pompeo's crucial week
The White House and (almost all) Senate Republicans hope to confirm Mike Pompeo this week as Trump's new Secretary of State. But, according to multiple sources involved in the vote counting, Pompeo's fate is still not entirely certain with the Senate Foreign Relations Committee set to consider his nomination on Monday afternoon.
What we're hearing: Rand Paul remains a hard no, though White House Legislative Affairs Director Marc Short told me he thinks Paul's vote on Pompeo is still gettable, and refuses to give up trying. Short told me: "I still think it's hard for Rand Paul to explain to Kentucky voters how he voted 'yes' for John Kerry for Secretary of State and 'no' for Mike Pompeo."
Paul's deputy chief of staff Sergio Gor emailed me in response to Short's comment: "Senator Rand Paul remains a strong supporter of President Donald Trump's America First agenda. From cutting taxes to limiting our foreign interventions, there is a lot they both agree on. They remain friends and speak regularly."
Senate Republican leaders and the White House are still unsure whether Sen. Jeff Flake (R-AZ) will vote for Pompeo.
If Paul and Flake vote no, they'll need two red state Democrats to vote yes. They've already got Sen. Heidi Heitkamp (D-ND), and Republicans involved tell me they're optimistic about getting Joe Manchin (D-WV), Doug Jones (D-AL), and Joe Donnelly (D-IN).
Bottom line: The Pompeo confirmation process has been revealing — and has shown the White House how difficult it will be for Trump to get anybody confirmed should he fire any more cabinet secretaries. It was only a little over a year ago that the Senate voted 66-32 to confirm Pompeo as CIA chief; and now his vote is down to the wire.
7. Sneak Peek diary
The House expects to vote on a five-year reauthorization of the Federal Aviation Administration, a leadership source tells me. Included in the FAA reauthorization are reforms to the Federal Emergency Management Agency.
The House also expects to vote on a bill to "impose sanctions for Iranian officials and their family members responsible for politically motivated detentions of U.S. citizens and residents, or abuses against Iranian expatriates," the source added.
We'll also be watching Tuesday's Arizona special election to replace Trent Franks — the Republican member who resigned last year after Politico reported that he'd "approached two female staffers about acting as a potential surrogate for him and his wife... [and] the aides were concerned that Franks was asking to have sexual relations with them" to impregnate them.
A senior Republican House aide emails his perspective on why the Arizona race matters: "Debbie Lesko [the Republican candidate] is going to win, but if she wins by six or eight points that could be a problem. She needs to win by double digits to stem the latest speculation of a Democrat wave in 2018."
The Senate: Beyond Pompeo's confirmation and the Senate Judiciary bill to protect Mueller, the Senate will consider another circuit court judge.
President Trump's schedule, per a White House official:
Monday: Trump has lunch with Mike Pence. Trump and the First Lady host Macron and the French First Lady for a private dinner at Mt. Vernon.
Tuesday: Meetings all day with Macron. Trump has lunch with Defense Secretary James Mattis, and that evening hosts the Macrons for a state dinner.
Thursday: Trump and the First Lady host the "Wounded Warrior Project Soldier Ride." Trump will also welcome the press corps' children to the White House for "Take Our Daughters and Sons to Work Day."
Friday: Trump hosts Team USA — U.S. Olympic athletes — at the White House. He also hosts German Chancellor Angela Merkel.