Axios Sneak Peek
September 16, 2018
Welcome to Sneak Peek, our weekly lookahead for both ends of Pennsylvania Avenue, plus my best scoops. I'd love your tips and feedback: [email protected]. And please urge your friends and colleagues to sign up for Sneak Peek.
1 big thing: The president of debt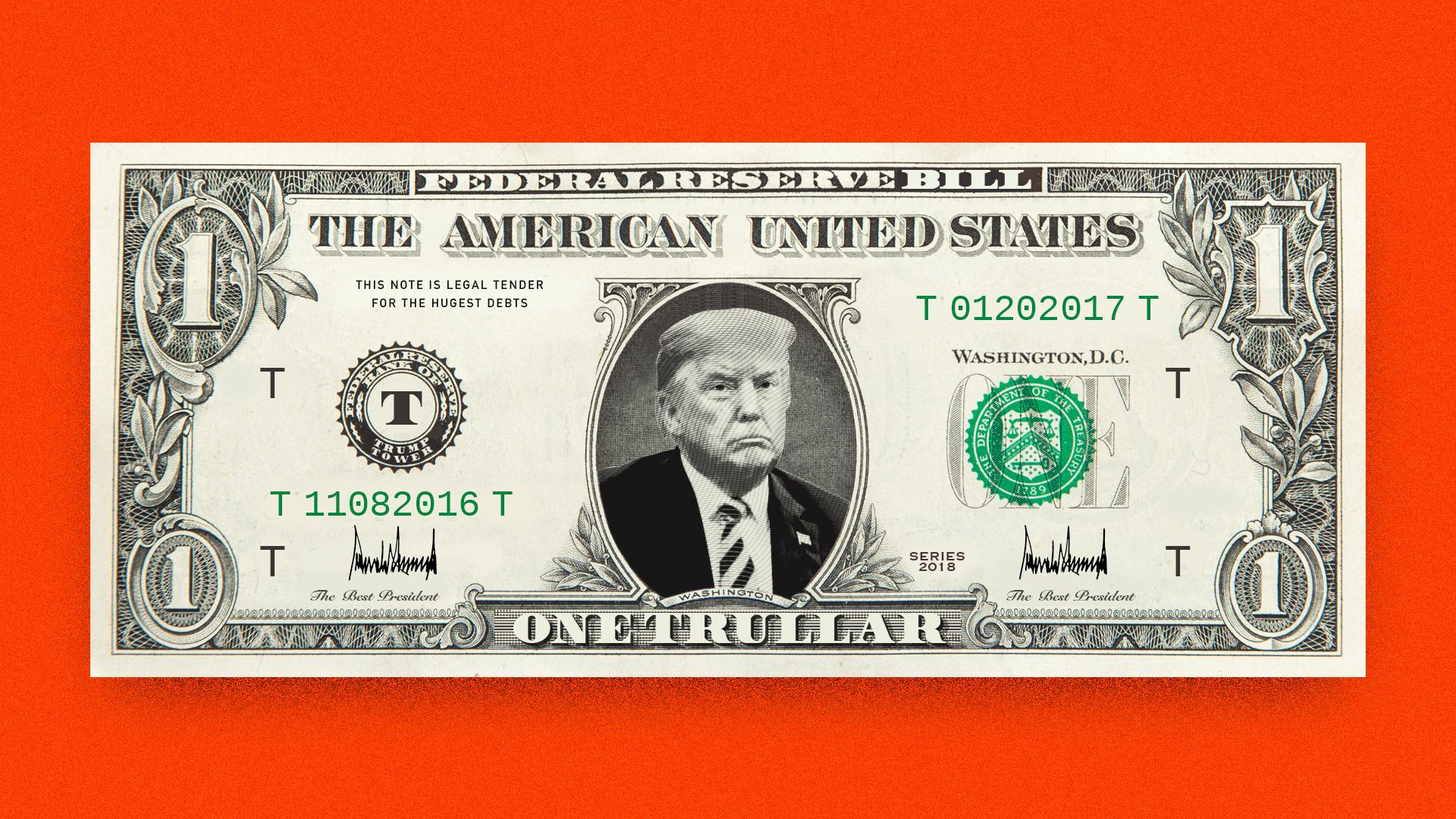 Donald Trump wants to rebuild America's infrastructure the same way he built his buildings: debt, debt and more debt. His then-economic adviser, Gary Cohn, learned this the hard way in a fraught meeting last year, the details of which haven't been previously reported.
As Cohn and his team were putting together their $1.5 trillion infrastructure package, Cohn tried to use a real estate analogy to sell Trump on his plan to pair public and private investment. It backfired.
The Cohn plan proposed leveraging $200 billion of federal investment into a $1.5 trillion overall infrastructure package — with state and local governments and the private sector making up the difference.
Trump was skeptical. Instead, he just wanted the federal government to borrow tons of money for infrastructure projects. He was especially obsessed with overhauling his hometown airport LaGuardia, which he calls "Third World."
The President horrified some Republicans in an October 2017 meeting with members of Congress at the White House when he told the Democrats that he liked their plan of massive public investment in infrastructure, according to a source in the room.
"We've just gotta spend money on this," Trump said, according to the source.
"He wants to govern like Robert Moses, but Republicans won't let him," the source added, referring to the titanic public official known as the "master builder" of mid-20th century New York City.
In a separate conversation, Cohn tried to win Trump over with a real estate analogy, according to two sources familiar with their conversation. "Think about when you're putting up a building, you put down $50 million of your own money to leverage several hundred million," Cohn told Trump.
The president scoffed. He told Cohn that when he was building, he'd never be so stupid as to put down his own money. He'd borrow the first installment from one bank and borrow the rest from another bank.
Cohn told associates afterwards that he'd never have supported such an idea when he worked at Goldman Sachs. "I'm a 30% equity guy," Cohn told associates after the conversation. "He [Trump] is 100% leverage."
Why this matters: During his career as a real estate magnate, Trump proudly called himself the "King of Debt." Now, he's the President of Debt — stimulating the economy by slashing taxes and jacking up defense spending without doing anything serious to rein in entitlement spending.
A source familiar with Trump's private conversations with Republican members tells me it's going too far to say he doesn't care at all about debt. "When he talks to [Rep. Mark] Meadows and Freedom Caucus members, he's very sensitive to the sense that we're accumulating as much debt as the Obama years," the source said.
But the proof is in the

numbers

: Under Trump, the U.S national debt has passed the $21 trillion mark.
What's next? Senior administration officials tell me Trump is still dead keen on passing a massive infrastructure bill. He likes the sound of big round numbers: A $1 trillion package is music to his ears. If Democrats win the House in November, it's more than possible Trump will defy his own party and favor Sen. Elizabeth Warren's approach of heavy federal borrowing over private investment.
2. Exclusive: NATO leader "reassured" Montenegro after Trump comments
NATO Secretary-General Jens Stoltenberg told me he reassured Montenegro after President Trump publicly questioned whether it was worth it for the United States to defend the tiny NATO ally if an enemy attacked.
"I have reassured Montenegro," Stoltenberg told me in an interview on Friday, "and I also know that the United States has clearly stated that they are fully committed to Article 5 and NATO and the collective defense."
Why this matters: NATO's foundational principle is that an attack on one member country is an attack on all. America's willingness to honor that commitment provides the security blanket that keeps the transatlantic alliance alive.
But in a

July interview

, Fox News host Tucker Carlson asked Trump why his son should "go to Montenegro to defend it from attack?"
"I understand what you're saying; I've asked the same question," Trump replied. "You know, Montenegro is a tiny country with very strong people. ... They are very aggressive people. They may get aggressive, and congratulations, you're in World War III."
Trump was criticized at the time for — perhaps unwittingly — echoing a Vladimir Putin talking point.
I asked Stoltenberg whether he agreed with Trump's assessment that Montenegrins are "very aggressive people."
The NATO leader smiled wryly. "Montenegro is a very welcome ally of NATO," he responded.
"I've been in Montenegro many times ... when I was a child ... we went to Montenegro many times, and I have a good relationship to many Montenegrins."
You can read the rest of my interview with Stoltenberg here. It's a case study in how carefully the NATO leader chooses his words so as not to offend Trump.
Highlights:
Stoltenberg on Trump: "I fundamentally believe that he is committed to NATO because that's what we see when I see actions on the ground by the United States."
On whether he was worried about NATO members — such as Poland, Hungary and Turkey — sliding toward illiberalism, Stoltenberg said his hands were tied, given that NATO doesn't have a mechanism for punishing wayward members.
I asked him whether a Russian cyberattack on a NATO member would trigger Article 5 (NATO's collective defense provision). "Not automatically.  It depends on the character of the cyberattack," he said. "We will never be specific on when we trigger Article 5."
I also challenged Stoltenberg on whether Trump deserves as much credit as he has given him for NATO members increasing their defense budgets. He said Trump does deserve a lot of credit.
3. What's next: The politics of Kavanaugh's crisis
What was previously an allegation of sexual misconduct against Brett Kavanaugh by an unidentified person — without a lot of details or evidence — is now backed by a name, a specific allegation and therapist's notes. A senior Republican official involved in Kavanaugh's confirmation privately admitted to me that they felt queasy when they read The Washington Post story.
And there was one sign tonight that these allegations could actually derail Kavanaugh's confirmation to the Supreme Court — which was previously a sure thing. Jeff Flake told the WashPost's Sean Sullivan that the Senate Judiciary Committee should wait to hear more from Kavanaugh's accuser, Christine Blasey Ford: "For me, we can't vote until we hear more."
Why it matters: Doug Jones' special election victory late last year gave Democrats an extra seat on Senate Judiciary — there are now 11 Republicans and 10 Democrats — meaning that Flake's defection could stall Kavanaugh's confirmation process.
Since the story broke, I've spoken to four sources close to the Kavanaugh confirmation process. All were defiant and sought to raise doubts about the accuser's credibility and the holes in her story — though none were willing to do so on the record. They signaled potential lines of attack: the accuser's Democratic political background, lapses in her memory and the accounts of the 65 women who've known Kavanaugh since high school who've vouched for his character.
But now Senate Judiciary Committee Chairman Chuck Grassley is working to schedule follow-up calls with Kavanaugh and Ford, per WashPost's Seung Min Kim.
I've also contacted spokespeople for the swing-vote Republican senators Susan Collins and Lisa Murkowski to see if the allegations have changed their voting intentions. I hadn't heard back by deadline.
4. Behind the scenes: Republican fears and opportunities
A source who has seen recent polling, conducted by the Republican National Committee, told me the data show that a majority of Trump voters don't believe the mountain of evidence that Democrats will win back the House in November.
57% of strong Trump supporters believe it's unlikely Democrats win the House, according to the source, who wasn't authorized to share findings from the RNC poll with the media. (The survey of 800 registered voters — 480 via landline calls and 320 via cellphone calls — was conducted from Aug. 29 to Sept. 2 and has a margin of error of 3.5%.)
By contrast, election forecaster Nate Silver's FiveThirtyEight website gives Democrats an 83.1% chance of winning control over the House.
Why this matters: A month ago, we reported in "Sneak Peek" that Republican strategists were detecting something interesting — and from their POV, concerning — in focus groups of Trump voters. These voters — who have been listening to the president predicting a "red wave" in November — didn't believe polls showing Democrats would win the House.
This disbelief freaked out Republican strategists who want their voters to be panicked enough to vote in November.
But, but, but: Several Republican officials who have reviewed the latest polling tell me they see an opportunity amidst the gloomy data. They think they can energize seniors, suburban women and Republicans less likely to vote by attacking the high costs and potential implications of Democrats' "Medicare for All" single payer health care plans.
For these Republican constituencies, an anti-Medicare for All message "is the best performing message of persuading and motivating these groups in this November's election," said a source familiar with the president's political thinking.
"If you're giving something to everyone, that means less for seniors," the White House's political director, Bill Stepien, told me.
Trump has been briefed on this new polling and has been hammering these messages in recent rallies.
Democrats plan to fight back against this messaging. Democratic strategist Jesse Ferguson told me: "For years, Republicans have been trying to make Medicare wither on the vine, so voters aren't going to believe they're now trying to save it. Even if Lex Luther put on a cape, people wouldn't start believing he's Superman." 
Ferguson pointed out that an August NBC News/ Wall Street Journal poll found Democrats had an 18 point advantage over Republicans in dealing with health care.
5. Between the lines: Trump's shutdown decision
On Saturday morning, a senior administration official told me President Trump has "come to realize that there's not a path to 60 votes" to pay for his border wall before the November elections. "The president, I think, is not really in veto mode right now," the official said.
On Saturday evening, Trump tweeted: "When will Republican leadership learn that they are being played like a fiddle by the Democrats on Border Security and Building the Wall? Without Borders, we don't have a country. With Open Borders, which the Democrats want, we have nothing but crime! Finish the Wall!"
Between the lines: Trump has privately assured Republican leaders Paul Ryan and Mitch McConnell that he accepts his border wall won't be funded before the midterms. He's promised them he won't shut down the federal government at the end of September in a fight over the wall.
But Trump is still deeply frustrated. And the senior official I cite above acknowledged there's "always a chance" Trump dramatically changes his mind and refuses to sign a spending bill without wall money.
What's next? President Trump expects to sign his first package of spending bills late this week. That "minibus" will fund the Energy and Water, Military Construction and Veterans Affairs, and Legislative Branch Appropriations bills for 2019.
But the really important package is the Defense, Labor and Health and Human Services minibus that could pass the Senate as soon as this week.
It's the largest spending bill and the first time the Defense Department has been funded properly, and on time, since 2008. Once the DoD package is signed into law, this year will have the most spending bills enacted on time since 1996.
This bill also matters because attached to it will be a continuing resolution (CR) to fund all the agencies not covered by regular spending bills, keeping the government open until Dec. 7.
Bottom line: That CR will reveal that Trump won't get his wall money. He'll get the $1.6 billion he requested in his first budget, but nowhere near the $25 billion he once hoped for, or the $5 billion he asked for.
Republicans agree almost unanimously that a shutdown would shatter their fragile holds on each chamber. For now, they have to pray the president sticks with the plan.
6. Sneak Peek diary
The House is on recess.
The Senate will pass a pharmacy transparency bill, major opioids legislation on Monday, and expects to report Judge Brett Kavanaugh out of the Judiciary Committee on Thursday. 
The Senate also has a conference report on the two biggest spending bills (Defense and Labor-HHS). Work continues on additional spending bills. 
President Trump's schedule — which could include a visit to hurricane-affected areas:
Monday: Trump participates in a Hispanic Heritage Month Celebration and has dinner with National Republican Senatorial Committee supporters.
Tuesday: The president and first lady host the Polish president and his wife at the White House.
Thursday: Hold for presidential travel to Las Vegas for a campaign rally.
7. 1 opportunistic thing: Republicans' new get-out-of-jail-free card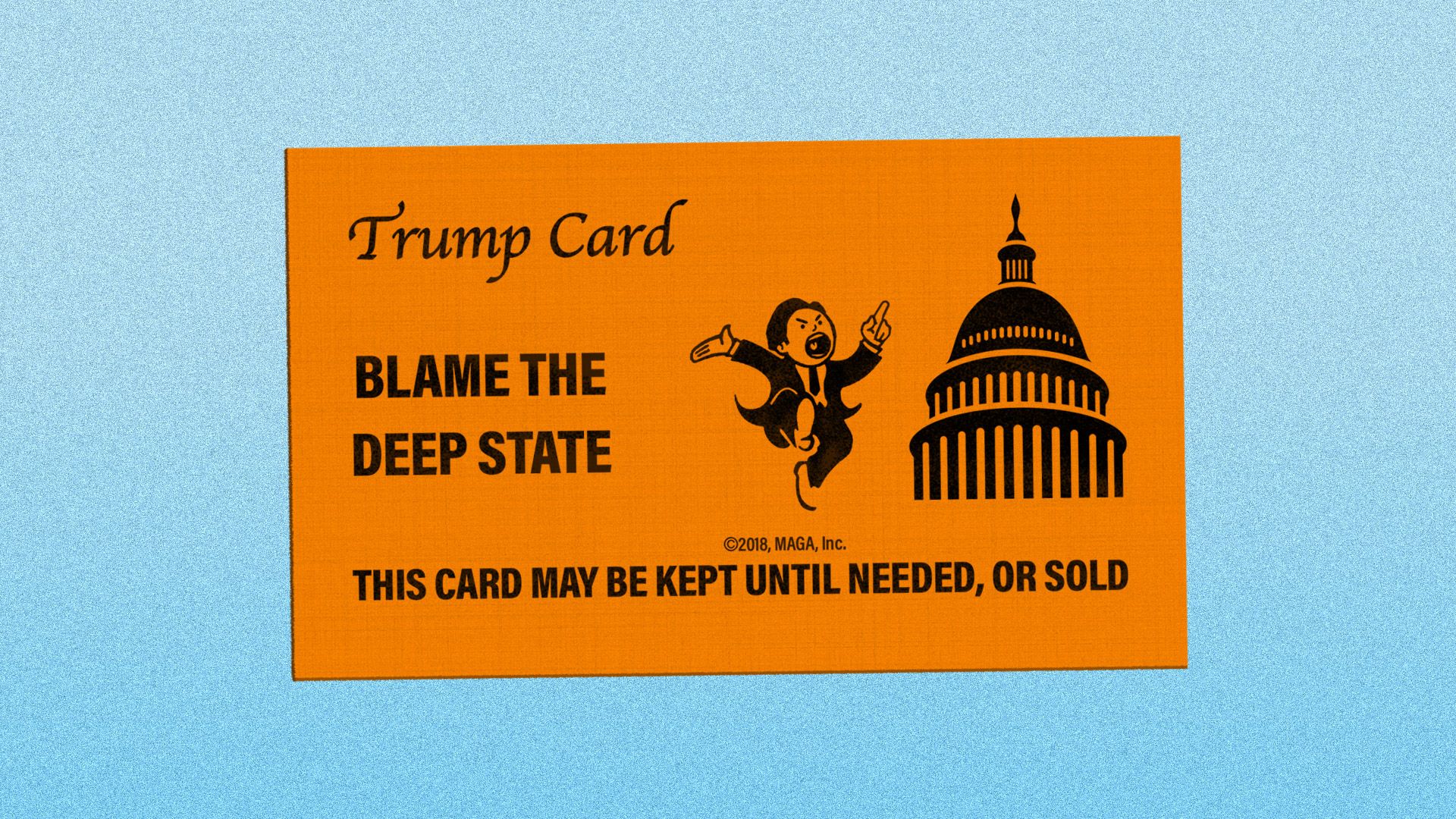 Politicians across Trumpworld are aping the president's "never admit defeat" tactics, crying "WITCH HUNT!" after finding themselves in legal hot water, writes my colleague Alayna Treene.
Why it matters: By appealing to the president's distrust of the nefarious "Deep State," these Trump acolytes attempt to convince him — and his base — that they're being targeted by shadowy forces inside the government.
The "blame the Deep State" cardholders:
Rep. Duncan Hunter (R-Calif.) — one of Trump's earliest supporters —

has been adamant

that the

brutal 47-page indictment

alleging he and his wife routinely and illegally used campaign funds to pay for their lavish lifestyle is a ploy by the DOJ to take him, and anyone else with whom they differ, down.
"This is political — period. This is the U.S government — what I would call the Deep State ... they want to rig the election their own way, because they can't beat me in a real election." Rep. Duncan Hunter to The San Diego Union Tribune
White House National Security analyst Adam Lovinger had his high-level security clearance yanked by Pentagon officials following allegations of misconduct, including that he reportedly took a classified report on an airplane. Lovinger's attorney, Sean Bigley, told Axios that his case is a prime example of the Deep State "weaponizing" clearances to thwart the president's agenda and carry out political vendettas.
Former Illinois Gov. Rod Blagojevich was convicted on sweeping corruption charges in 2011 and sentenced to 14 years in federal prison. In May, Trump said he was considering commuting the rest of his sentence. Soon after, Blagojevich's wife Patti made the rounds on Fox News and wrote blistering op-eds to appeal to Trump, claiming that "the same people" who took down her husband are now going after the President.
Rep. Jim Jordan (R-Ohio), who has denied accusations that he ignored sexual abuse claims while a wrestling coach at Ohio State University, has publicly pointed to the fact that the law firm hired by OSU to investigate the allegations is connected to the Clintons and is linked to the Steele dossier. And while Jordan hasn't gone so far as to call this "a conspiracy," other notable Republicans, including Rep. Matt Gaetz (R-Fla.), maintain the Deep State is out to get him.
The bottom line: These men have taken a page straight out of Trump's playbook — deny, deny, deny — whether with eyeing potential pardons or looking to revive their battered reputations. And, like the president's campaign to discredit the FBI and those he deems political enemies, these men have succeeded in sowing seeds of doubt among those on the right.