Axios Sneak Peek
January 28, 2018
Welcome to Sneak Peek, our weekly lookahead for both ends of Pennsylvania Avenue, plus my best scoops. I'd love your tips and feedback: [email protected]. And please urge your friends and colleagues to join the conversation by signing up for Sneak Peek.
Situational awareness: On Monday, Vice President Pence will headline the Great America Committee fundraiser at Trump Hotel in D.C., according to a source with direct knowledge. Pence will be introduced by Donald Trump Junior and they expect to raise roughly $500,000. The source described it as the "unofficial kick-off" of Pence's political action committee's 2018 plan. "It's an all day summit...in attendance will be long time supporters of VPOTUS, including...CEOs from various industries."
1 big scoop: Trump team mulls federal takeover of 5G
Trump national security officials are considering an unprecedented federal takeover of a portion of the nation's mobile network to guard against China, according to sensitive documents obtained by Axios.
We've got our hands on a PowerPoint deck and a memo — both produced by a senior National Security Council official — which were presented recently to senior officials at other agencies in the Trump administration.
The main points: The documents say America needs a centralized nationwide 5G network within three years. There'll be a fierce debate inside the Trump administration — and an outcry from the industry — over the next 6-8 months over how such a network is paid for and built.
The two options laid out by the documents:
The U.S. government pays for and builds the single network — which would be an unprecedented nationalization of a historically private infrastructure.
An alternative plan where wireless providers build their own 5G networks that compete with one another — though the document says the downside is it could take longer and cost more. It argues that one of the "pros" of that plan is that it would cause "less commercial disruption" to the wireless industry than the government building a network.
Between the lines: A source familiar with the documents' drafting says Option 2 is really no option at all: a single centralized network is what's required to protect America against China and other bad actors.
The source said the internal White House debate will be over whether the U.S. government owns and builds the network or whether the carriers bind together in a consortium to build the network.
Why it matters: Option 1 would lead to federal control of a part of the economy that today is largely controlled by private wireless providers. In the memo, the Trump administration likens it to "the 21st century equivalent of the Eisenhower National Highway System" and says it would create a "new paradigm" for the wireless industry by the end of Trump's current term.
But, but, but: The proposal to nationalize a 5G network also only covers one part of the airwaves; there'd be other spaces where private companies could build.
The PowerPoint presentation says that the U.S. has to build superfast 5G wireless technology quickly because "China has achieved a dominant position in the manufacture and operation of network infrastructure," and "China is the dominant malicious actor in the Information Domain."
The best way to do this, the memo argues, is for the government to build a network itself. It would then rent access to carriers like AT&T, Verizon and T-Mobile. (A source familiar with the document's drafting told Axios this is an "old" draft and a newer version is neutral about whether the U.S. government should build and own it.) 
The bigger picture: The memo argues that a strong 5G network is needed in order to create a secure pathway for emerging technologies like self-driving cars and virtual reality — and to combat Chinese threats to America's economic and cyber security. The documents also fret about China's dominance of Artificial Intelligence, and use that as part of the rationale for this unprecedented proposal.
Reality check: The U.S. wireless industry is already working on deploying 5G networks, with AT&T, Verizon and T-Mobile, for example, investing heavily in this area. The process for setting 5G standards is well underway. Korea has been at the forefront of testing, as have Japan and others. It's not clear a national strategy would yield a 5G network faster or by the memo's 3-year goal.
Go deeper:
2. White House perjury panic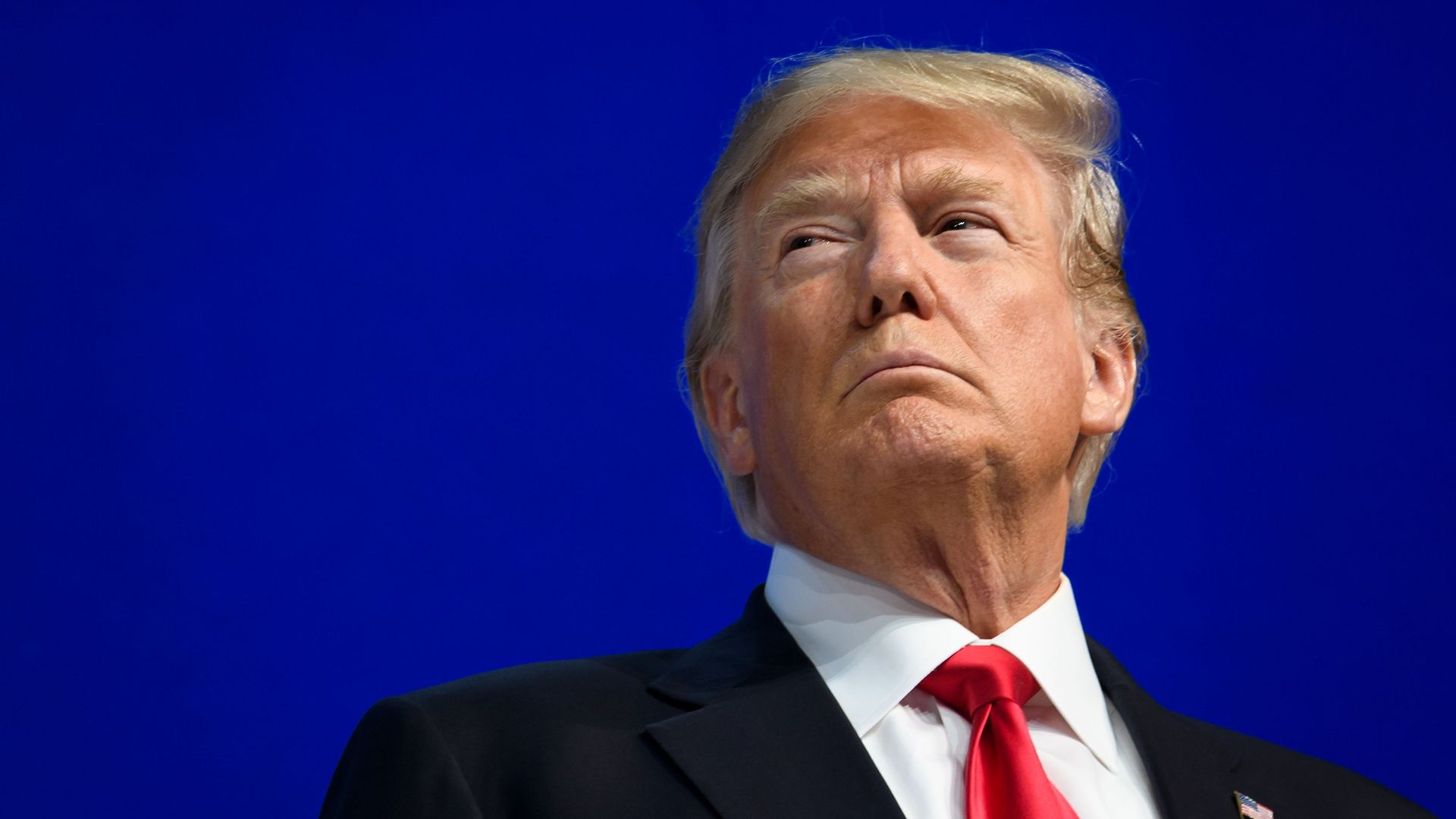 I can't overstate the level of anxiety among sources close to Trump after the president told the NYT's Maggie Haberman last week he was willing and eager to submit himself to a live interview under oath with Special Counsel Robert Mueller.
What I'm hearing: One source, who knows Trump as well as anyone, told me he believes the president would be incapable of avoiding perjuring himself. "Trump doesn't deal in reality," the source said. "He creates his own reality and he actually believes it." (The president's attorney, Ty Cobb, did not respond to a request for comment.)
A number of people in the president's orbit have read this article by Bloomberg's Timothy O'Brien: "I've Watched Trump Testify Under Oath. It Isn't Pretty."
In the article, O'Brien writes:
"Speaking from experience, I think the president's attorneys should grab their worry beads. Trump sued me for libel in 2006 for a biography I wrote, "TrumpNation," alleging that the book misrepresented his business record and understated his wealth. Trump lost the suit in 2011, but during the litigation my lawyers deposed him under oath for two days in 2007.
"Trump ultimately had to admit 30 times that he had lied over the years about all sorts of stuff: how much of a big Manhattan real estate project he owned; the price of one of his golf club memberships; the size of the Trump Organization; his wealth; his speaking fees; how many condos he had sold; his debts, and whether he borrowed money from his family to avoid going personally bankrupt.
"He also lied during the deposition about his business dealings with career criminals."
Be smart: Trump's lawyers are already signaling they are deeply uncomfortable about the prospect of a live, freewheeling session between Trump and Mueller. Shortly after Trump made his brash declaration, Trump's attorney John Dowd told CNN: "I will make the decision on whether the President talks to the special counsel... I have not made any decision yet."
Worthy of your time: The Washington Post has a juicy story on how Trump — who is obsessed with personal loyalty — remains perilously at odds with his own Justice Department.
3. Trump's first State of the Union
Trump will give his first State of the Union address on Tuesday night, and only the smallest circle of advisers have seen the full text.
I haven't seen the text — nor has any other reporter so far as I can tell — and I don't have any scoops on the content, beyond the bland talking points that the Trump administration has distributed to conservative allies outside of the White House:

Behind-the-scenes: Trump wanted a speech with big emotional "moments," according to sources close to the president. Sources tell me not to expect any major new policies to be rolled out.
Pay attention to the guests the White House invites; we wouldn't be surprised if there are emotional call-outs to families of opioid victims, who are guests in the gallery, or to the families of fallen soldiers.
Flashback: The most poignant moment of Trump's speech to Congress last February was when he spoke directly to the widow of Navy SEAL William "Ryan" Owens. The entire chamber — including the president, VP, and House Speaker Paul Ryan — gave a two-minute standing ovation to Carryn Owens, who was Trump's guest in the House gallery.
4. Sneak Peek Diary
President Trump's week ahead:
Monday: Swearing-in ceremony for the new Secretary of Health and Human Services, Alex Azar. Trump also has lunch with the United Nations Security Council.
Tuesday: State of the Union address.
Wednesday: Lunch with Education Secretary Betsy DeVos. Trump also has a meeting with Secretary of State Rex Tillerson and Defense Secretary James Mattis, and a separate meeting with Treasury Secretary Steven Mnuchin.
Thursday: Trump will address the House and Senate Republican member conference in West Virginia.
The Senate has a light schedule this week. They'll vote Monday afternoon on a motion to invoke cloture on the "Pain-Capable Unborn Child Protection Act." (I'm told it will likely fail to pass.)
The Senate is also expected to confirm another circuit judge — David Ryan Stras, of Minnesota, to be United States Circuit Judge for the Eighth Circuit. He'll be the 13th circuit court judge confirmed this Congress, far outpacing recent the performance of recent presidents. (This will be Mitch McConnell's most enduring legacy.)
The House is expected to vote on — and pass — a Defense Department spending bill. (Between the lines: Republican leaders want to squeeze Democrats who wanted to fund the DoD alone during the shutdown.) The House will also vote on a bill requiring the US Olympic Committee and other sports governing bodies to report sexual assault claims to police. 
House and Senate Republicans leave D.C. on Wednesday for their joint retreat in West Virginia. They're under mounting pressure to cut a deal on DACA and to keep the government open beyond Feb. 8.
5. 1 fun thing: A non-Trumpian motivational speaker
The United States Consulate in Frankfurt has been promoting on its official Instagram page a motivational speaker invited out from America to address the youths of Germany.
The guest speaker, Ricardo Calderón (or @CalderonSpeaks on Twitter), has some strong thoughts about President Trump: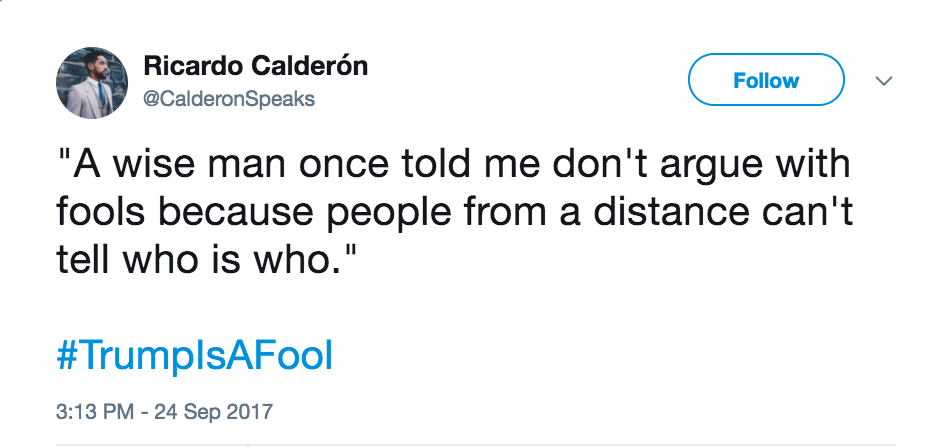 A spokeswoman for the U.S. Consulate in Germany told me that Frankfurt and Philadelphia — the city Calderón comes from — are "sister cities and he came at the invitation of one of the friendship societies between the sister cities." 
The spokeswoman said the U.S. government did not fund any of Calderón's travel. She added that Calderón is an employee of the City of Philadelphia "and he came through that capacity."
Reminder: The Senate still hasn't confirmed Trump's nominee for ambassador to Germany, Richard Grenell.