Welcome to Sneak Peek, our weekly lookahead for both ends of Pennsylvania Avenue. I'd love your tips and feedback: jonathan@axios.com. And please urge your friends and colleagues to join the conversation by signing up for Sneak Peek.
https://www.axios.com/newsletters/axios-sneak-peek-015f9103-ab9f-46bb-aedc-f0b5777c300a.html?chunk=0#story0
1 big thing: Make or break moment for Trump's America First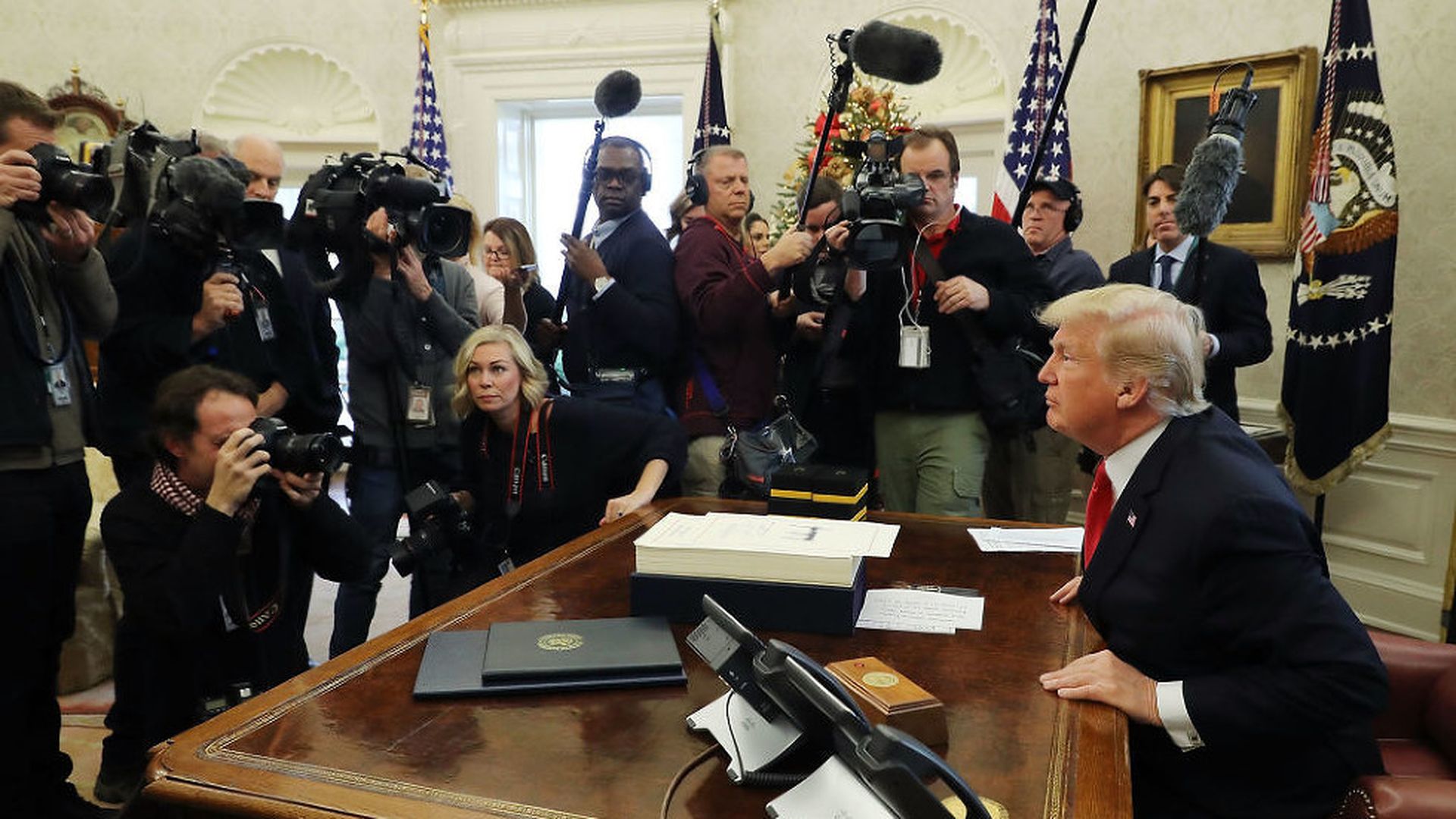 The next month is arguably the most important since Trump took office. Steve Bannon reckons January will define his former boss's presidency — and that it's his last, best chance to make good on his most controversial campaign promises.
Why it matters: The issues that defined Trump's presidential campaign are coming to a head — with significant trade and immigration decisions due and an inevitable confrontation with China.
"It's trade, DACA, and the wall — but it's much beyond that," Bannon tells me. "This is the run-up, the last 20 days before the first anniversary of his inauguration, and it's all coming to a head: a spending bill of epic proportions, the test of a veto or a government shutdown, the China confrontation and Korea, all the immigration issues, infrastructure funding and welfare reform. All on the table, with their direction uncertain."
Bannon says January is make-or-break for three big issues:
Trade with China (does Trump actually fight?)
Building the wall
Renewing DACA, which blocks the deportations of some immigrants brought to the U.S. illegally as children
The DACA fight may be the ugliest. Bannon is teaming up with the Freedom Caucus to demand that Trump refuse to protect DACA unless Congress ends so-called family migration (which lets green card holders bring their immediate family members to the U.S.). That trade-off appears dead on arrival, but Breitbart is already insisting it's the only way Trump can keep his campaign trail promise to end Obama's "executive amnesty."
https://www.axios.com/newsletters/axios-sneak-peek-015f9103-ab9f-46bb-aedc-f0b5777c300a.html?chunk=1#story1
2. Inside the new trade argument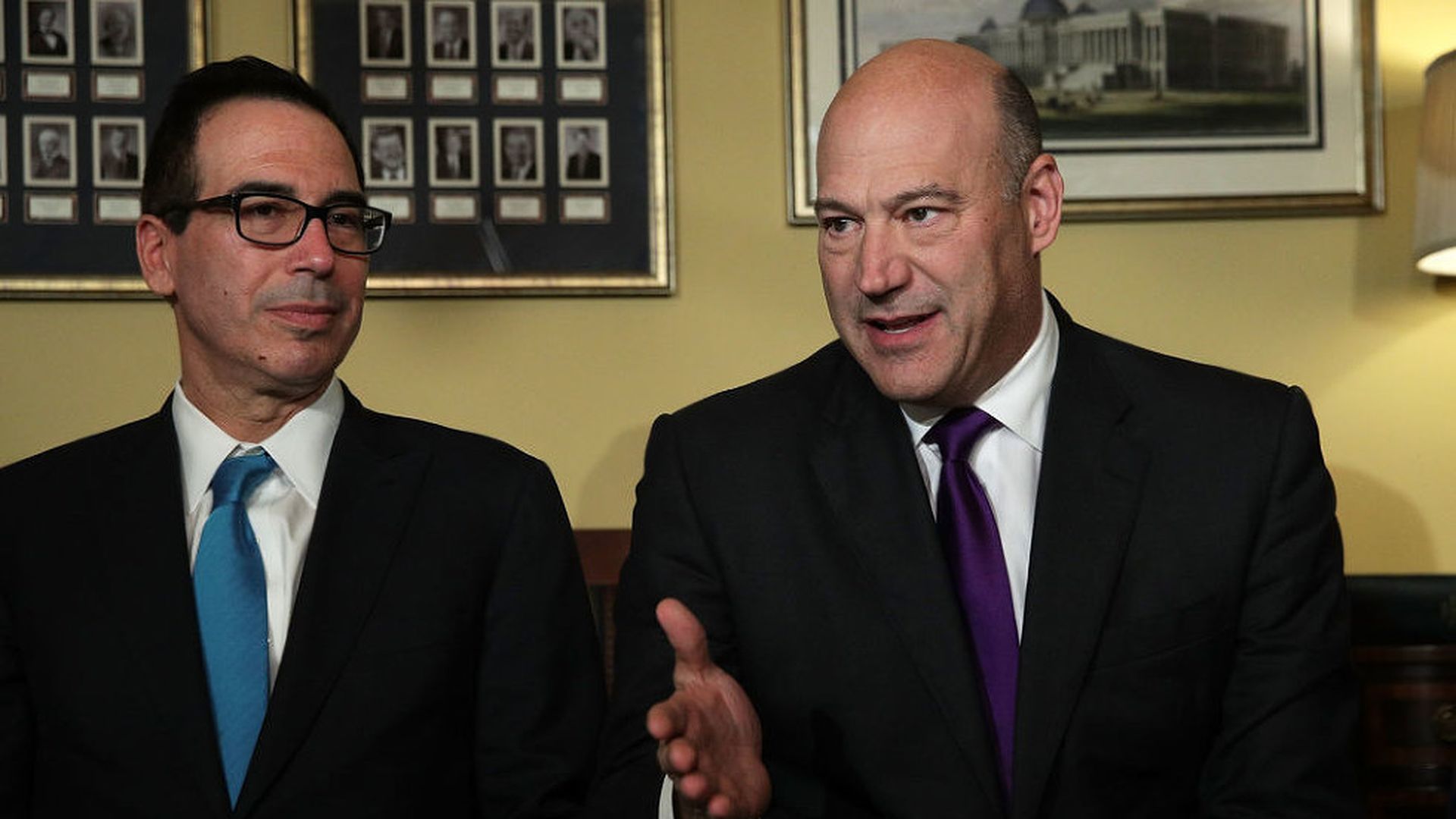 Gary Cohn and Steven Mnuchin successfully kept President Trump from making any disruptive trade actions during the tax reform fight. Now that tax reform is done — and Trump remains hell-bent on tariffs — they're making new arguments to try to mellow his hardwired trade-warrior impulses.
Cohn and Mnuchin are now appealing to Trump's obsession with the record-breaking run of the stock market under his presidency, according to four sources with direct knowledge.
They're telling him the stock market is at an all-time high, and that new tariffs on whole industries like steel and aluminum would hurt it.
They're also telling him — and others are joining them in making this argument directly to the president — that he's just given the middle class a tax cut, and that any tariffs making consumer goods more expensive would undo the pay raise he just gave them.
Why this matters: Sources who've spoken with the president say he's often said he wants to slap massive tariffs against entire countries, industries and product categories. They worry that doing so would roil global markets, start a costly trade war, and harm America's relationships with allies.
Behind Trump's thinking: He and his hawkish trade advisers, Peter Navarro and Bob Lighthizer, are deeply skeptical of the World Trade Organization's ability to resolve complaints between nations. They want to resurrect arcane laws — sections 232 and 301 of Trade laws from the 1960s and 70s — to circumvent the WTO and unilaterally retaliate against exploitive trade practices, especially from the Chinese.
It's quite likely Trump will use 301 authority — in January, we're told — to put tariffs on Chinese consumer electronics as retaliation against the country's widespread theft of American companies' intellectual property. Though Cohn and Mnuchin don't like tariffs, they're comparatively comfortable with targeted actions against truly bad actors, as in this case.
What you need to know:
In January, Trump will need to decide whether or not to temporarily protect American manufacturers from competition with imported solar panels and washing machines.
In the near future, Trump will decide whether or not to announce that global production of aluminum and steel presents a national security threat to the U.S., and then slap massive tariffs on those two industries.
Wall Street and Congressional free traders are most concerned about potential steel and aluminum actions.
Trump has not made firm decisions on any of this.
In fact, he held a recent meeting with top officials in the Situation Room, and the debate was hot.
Staff Secretary Rob Porter has been convening a trade meeting every Tuesday in the Roosevelt Room, attended by Cohn, Mnuchin, National Security Adviser H.R. McMaster, Commerce Secretary Wilbur Ross, hardline trade adviser Peter Navarro and top trade negotiator Bob Lighthizer. I'm told that at last Tuesday's meeting, there was still a "robust discussion" with "sharply diverging points of view."
Porter — typically a neutral arbiter — has argued for targeted actions rather than broad, blunt tariffs. Defense Secretary Jim Mattis is also an important voice; the Pentagon doesn't agree with Trump that global excess steel capacity is a national security threat.
Secretary of State Rex Tillerson shares Mattis' view that broad tariffs that hit allies who haven't engaged in unfair practices is bad policy that would unnecessarily harm relationships.
Bottom line: As we've repeatedly written — but can't stress enough — Trump believes this stuff to his core. Perhaps the only policy position he has consistently held for more than 30 years is that foreign countries are taking advantage of America, and that America needs to fight back. At the start of his presidency, he told President Xi that he would be gentler on trade if Xi took a harder line on North Korea's nuclear program. But in the months since, Trump has concluded that China won't play its part. So he's ready to begin the second year of his presidency with a big trade bang.
https://www.axios.com/newsletters/axios-sneak-peek-015f9103-ab9f-46bb-aedc-f0b5777c300a.html?chunk=2#story2
3. The 2018 emergency
Over the past few weeks — especially since Roy Moore's defeat — sources close to Trump say he's finally recognizing a harsh reality: If Republicans lose the House in 2018, it will pose an existential threat to his presidency, with endless investigations, legislative obstruction and a likely move toward impeachment.
"Oh, he gets it," a source who's recently spoke to Trump told me.
Some of Trump's trusted advisers are stressing the crisis-level stakes of the 2018 midterms. Many believe that the White House's political shop, run by Bill Stepien, has proven useless. And they say the Trump-endorsed outside support group, America First, is equally ineffectual. One top administration official described it to me as "not necessarily inept, but certainly inert."
Brian O. Walsh, a top official at America First, responded to the criticism by saying: "In just a few months, we've taken America First from inception to an operation that's raised over $30 million and spent more money championing the accomplishments and supporting President Trump than any other organization. In 2018, we will be even more aggressive, and are optimistic that we will get the support needed to do so."
At a recent lunch with Trump, former chief of staff Reince Priebus said 2018 is as serious as a heart attack— and that Republicans will only keep control of the House if everything goes perfectly.
Sources who've spoken to Priebus say he's pessimistic about next year and is concerned that the White House doesn't have a single ringleader who can galvanize Republican leaders around the country.
To emphasize the potential calamity, Priebus, the former RNC chair, has been telling GOP leadership that the party needs to own the entire data and ground operation for every single congressional district, and to "spend whatever needs to be spent as if 2020 relies on it."
Senior White House adviser Kellyanne Conway said she thinks the GOP can keep the Congress in Republican hands, but that a to-be-determined liability is if more and more House Republicans retire. She noted that most presidents — including Clinton and Obama — face midterm massacres but then win re-elections.
"However, in the age of Trump," she added, "history tends to be made, not repeated."
Conway said she remains optimistic because she believes Democrats "have nothing positive or concrete to run on and wasted the year talking about Russia instead of America, and holding up a stop sign screaming 'resist and obstruct'."
https://www.axios.com/newsletters/axios-sneak-peek-015f9103-ab9f-46bb-aedc-f0b5777c300a.html?chunk=3#story3
4. Sneak Peek diary
The Senate is back in session this week. The House remains on recess:
The Senate will confirm nominees and swear in two new senators (Democrat Doug Jones from Alabama, and Lt. Gov. Tina Smith of Minnesota, who replaces the disgraced Al Franken.)
At the end of the week, Paul Ryan and Mitch McConnell will go to Camp David to spend the weekend with Trump, hashing out the 2018 legislative agenda.
President Trump's schedule:
Monday: Returns from Mar-a-Lago to the White House.
Tuesday: Infrastructure meeting, convened by Gary Cohn. Lunch with Vice President Pence and Labor Secretary Alexander Acosta.
Wednesday: Lunch with Pence, Tillerson, and Mattis.
Thursday: Presents the National Security Medal to Richard Ledgett, Jr. Then has lunch with Legislative Director Marc Short and Republican senators.
Friday: Before leaving for Camp David, Trump meets with Stephen Miller in the Oval Office to discuss "enhanced screening and vetting."
https://www.axios.com/newsletters/axios-sneak-peek-015f9103-ab9f-46bb-aedc-f0b5777c300a.html?chunk=4#story4
5. Game changed: Halperin's lost Trump trove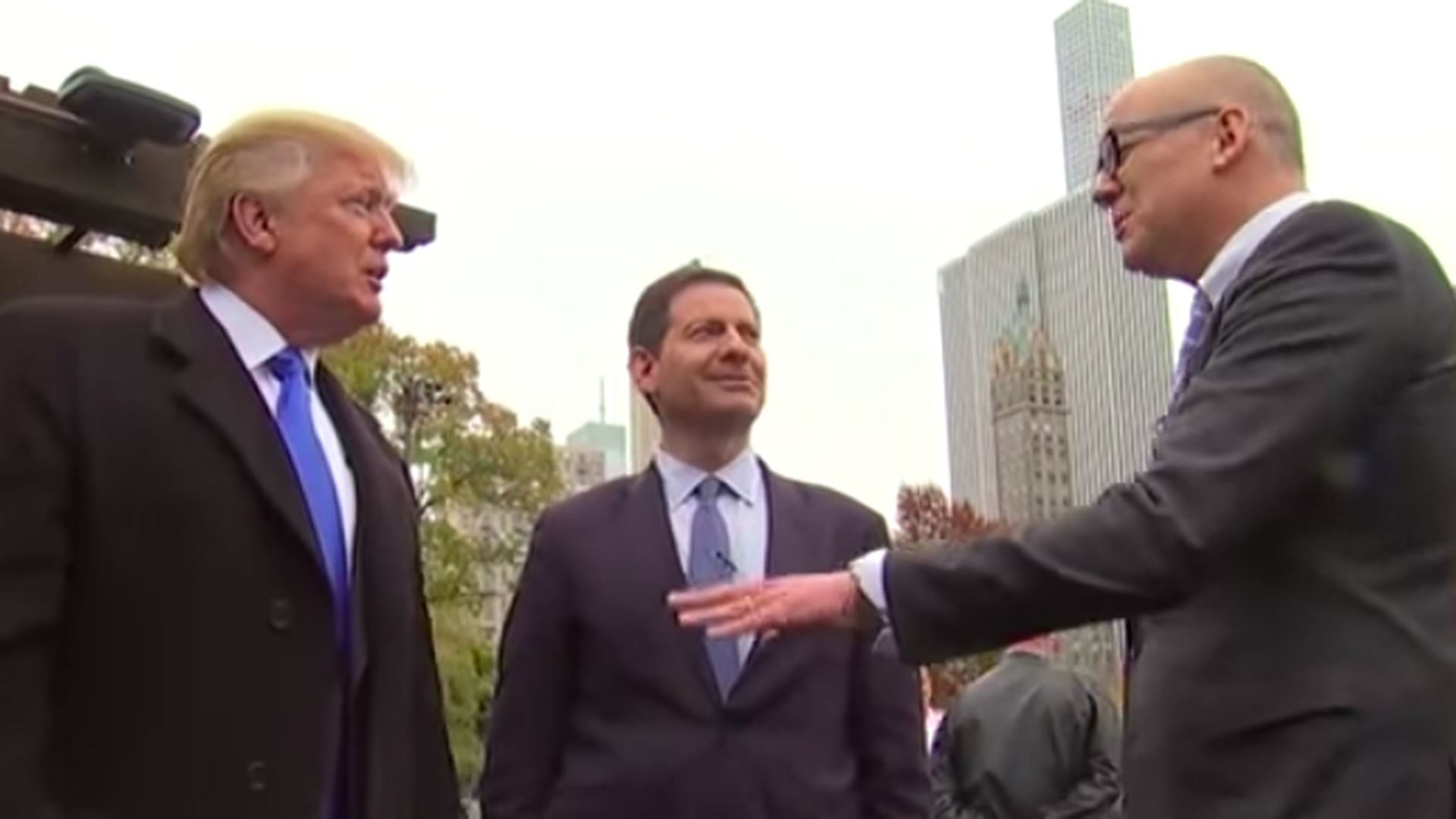 Early this year, President Trump invited Mark Halperin to dinner in the White House residence. Seated around the table were Trump's inner circle, including Jared Kushner, Hope Hicks, Stephen Miller, Kellyanne Conway, Steve Bannon, and Sean Spicer.
They spent a rollicking evening reminiscing about the campaign, according to two sources in the room.
Trump concluded the dinner by telling his team: "You guys all need to talk to him [Halperin]" for his campaign book — the third installment of "Game Change," the most valuable franchise in political reporting.
The team cooperated. In the months since, Halperin and his co-author John Heilemann used this extraordinary access to gather a treasure trove of reporting, the most comprehensive insider account of what happened on the campaign.
Several Trump campaign officials told me they gave their juiciest anecdotes to Halperin.
But Halperin has since been thrown off the book project — Penguin backed out and HBO cancelled the movie version — after a number of women went public with stories about him sexually harassing them in the workplace. That leaves the treasure trove in the hands of Heilemann, and creates a complicated situation. While Halperin and Heilemann co-conducted nearly all of the Clinton campaign interviews and some Trump campaign interviews, it was Halperin's access that unlocked the highest level of Trumpworld. I'm also told there's plenty of juicy reporting — from both men — on the Clinton side.
Will Heilemann will do the book on his own or not? I'm told it's TBD. He's made clear publicly that he wants the reporting to see the light of day; but untangling his business partnership with Halperin is complicated.
So it's literally a multi-million dollar question: What happens to this treasure trove?