August 22, 2022
It's Monday! And we're working our way up to it.
☀️ Today's weather: Mostly sunny, with a high near 80.
🏀 Situational awareness: The Seattle Storm advanced to the WNBA playoff semifinals after sweeping the Washington Mystics in their first-round matchup with a 97–84 win Sunday.
With 18 points and 10 assists, 41-year-old Sue Bird became the oldest player to record a double-double in a WNBA playoff game, per ESPN.
Today's newsletter is 918 words — a 3.5-minute read.
1 big thing: Police department has backlog of 2,800 records requests
The Seattle Police Department's slow responses to public records requests persist, with the agency now taking months — sometimes longer — to turn over records that could shine a light on its inner-workings.
Yes, but: An SPD spokesperson told Axios the department's responses have improved since last year — down from an average of 87 days to 79 days to close requests.
Why it matters: Washington's Public Records Act requires government agencies provide "prompt responses" to records requests under the law that guarantees citizens "do not give their public servants the right to decide what is good for the people to know and what is not good for them to know."
State of play: SPD's public records portal still greets requesters with a boilerplate notice citing Gov. Jay Inslee's since-rescinded pandemic emergency order, warning prospective requesters of a possible "slower than anticipated response."
The latest: As of last Thursday, SPD said it received 7,667 requests this year and closed out 5,765 of them, leaving a current backlog of more than 2,800 open requests.
What they're saying: "We think there is a serious, systemic problem in the city of Seattle in terms of its transparency," Michael Fancher, president of the Washington Coalition for Open Government, told Axios.
The other side: "We would love to be faster and more responsive … but that just has not been in the cards according to budget," SPD spokesperson Detective Valerie Carson told Axios.
SPD receives more than half of all records requests submitted citywide, per the mayor's office.
The volume combined with new complexities — including multiple new digital data sources holding records — requires more time and expertise, Carson said.
👋 Lewis here: Since I joined Axios in March, SPD has yet to provide a single document in response to any of five records requests I've submitted.
2. Light rail projects hit roadblocks
A handful of light rail projects will take longer to complete than previously expected — meaning hopeful commuters won't be boarding the trains as soon as once thought.
Driving the news: The East Link light rail extension to Mercer Island and Bellevue — originally scheduled to open in mid-2023 — is forecast to be delayed by at least a year due to faulty construction, Sound Transit officials said during a meeting last Thursday.
Meanwhile, a planned extension to Federal Way isn't expected until sometime in 2025, as opposed to late 2024.
Officials said a recent small landslide revealed soil problems that may require a redesign of part of the route.
Separately, the light rail lines to Lynnwood and downtown Redmond could be delayed four to six months because of the recent concrete workers strike, as well as pandemic-related supply and staffing shortages, the agency said.
The big picture: The Seattle area already lags some metros when it comes to building its rail system.
Flashback: After King County voters rejected a measure to build regional rail in 1970, the federal government redirected almost $1 billion to Atlanta to help launch its MARTA system instead.
What's next: Officials are still working to finalize new opening dates for the projects.
3. Local company's vintage Mexican ball caps are a hit
A Seattle company's collection of recreated vintage Mexican baseball hats almost instantly sold out when it went on sale earlier this month, illustrating the hunger fans have for uncovering the forgotten history of the game in Latin America.
The big picture: Historians, fans and activists in recent years have worked to reveal the key roles Latinos in the U.S. played in the formation of the game, Axios Latino's Russell Contreras reports.
Driving the news: Seattle-based Ebbets Field Flannels this month released a limited series of vintage caps of teams from Mexico that played from 1915 to 1940.
4. Morning Buzz: Seattle gets LeBron fever
🏀 Hundreds of people camped out overnight to see basketball star LeBron James play at Seattle Pacific University. (The Seattle Times)
But the game ended in the middle of the second quarter when humidity made the floors too slippery. (The Seattle Times)
🍃 The Seattle City Council has taken a first step toward outlawing gas-powered leaf blowers. (KING 5)
⛴ Teams are still working to remove the 49-foot commercial fishing vessel that sank last weekend west of San Juan Island. (Seattle Times)
🚨 A man suspected of killing the owners of a Kitsap County brewery on their property in Olalla last week was taken into custody "after a struggle" at a Tacoma gas station Sunday night. (KING 5)
Is a new job in your future?
5. 📸 One Lake Union boat pic to go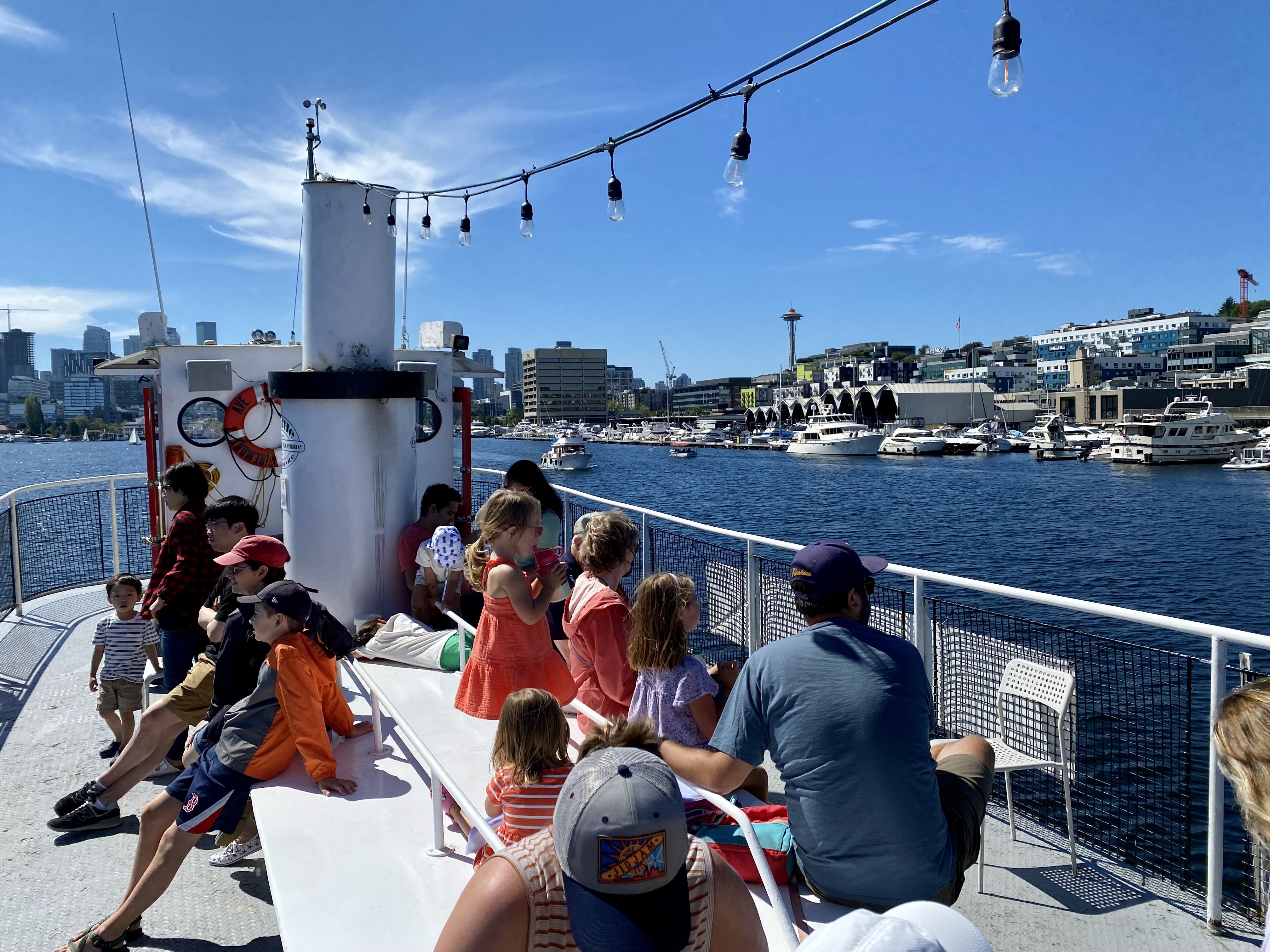 👋 Melissa here.
I'm officially a fan of the Ice Cream Cruise on Lake Union.
The lowdown: Yes, it's great for boat-obsessed kids, like my toddler.
But even for adults on board, it's one of the more economical sightseeing rides in Seattle.
It's only $15 per adult for a 45-minute ride, compared to $50 for an hourlong Argosy Cruise or $35+ for a ride with Emerald City Pirates (which, from a distance, looks like it has less room for passengers to roam around).
Bonus: You get plenty of good views and history lessons along the way.
You can buy a variety of ice cream bars and sandwiches for $2-$3 onboard.
Details: Departs from Lake Union Park, next to the Museum of History and Industry.
Pro-tip: Go online to reserve a spot for Saturday departures, but Sunday is first-come, first-served.
📑 Lewis looks forward to the day when he'll get the records he requested from the Seattle Police Department, but he's not holding his breath.
🧺 Melissa has come to peace (for now) with the reality that she will never fold all the laundry. Ever.
Want free Axios swag? Refer your friends to Axios Seattle and get cool merch like stickers, totes, hats, T-shirts and more!
To ensure the newsletter reaches your inbox, please add [email protected] to your contacts. If you use Gmail, just drag this email to your "Primary" tab. For other mail clients, check out this page.