August 18, 2022
It's a beautiful Thursday in Richmond.
😎 Today's weather: Sunny, with a high near 86.
Today's newsletter is 852 words — a 3-minute read.
1 big thing: Making room in Richmond's attic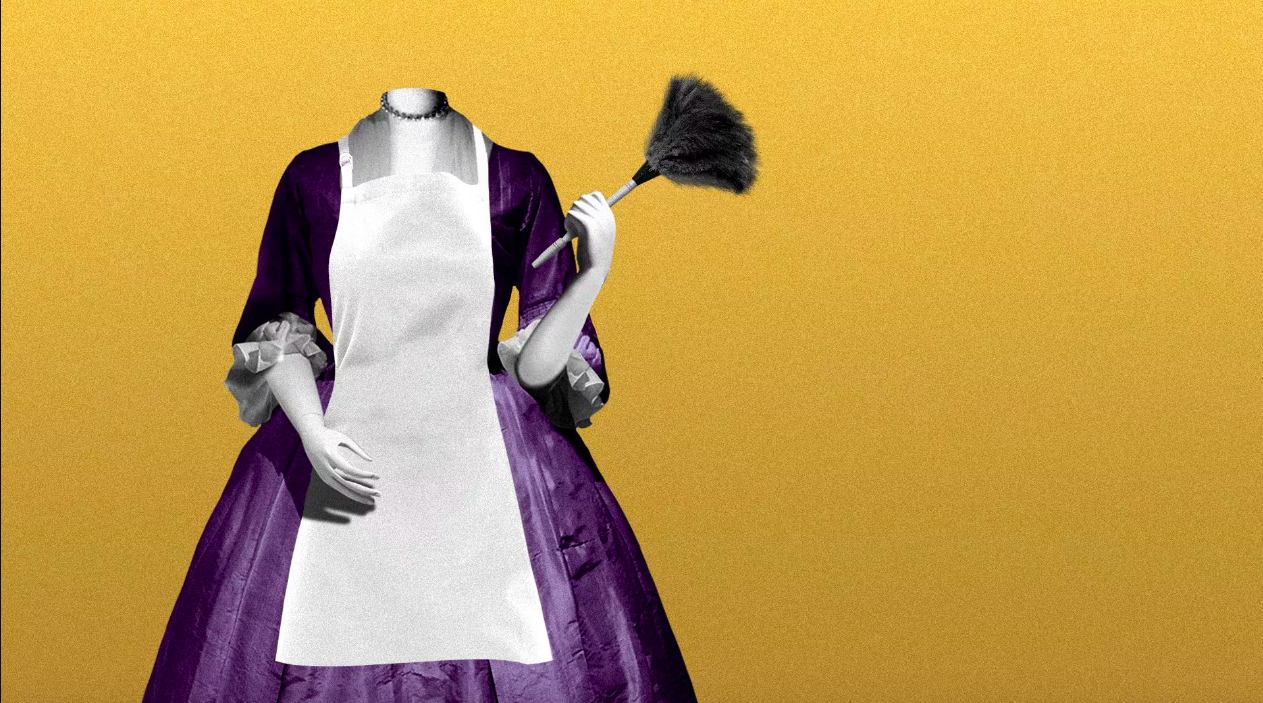 The Valentine has been amassing local artifacts since it was founded more than 100 years ago.
State of play: Things were starting to get a bit cluttered.
What's happening: The local history museum, sometimes called "Richmond's attic," is in the midst of its first comprehensive review of a collection that's grown to more than 1.6 million objects.
By the end of the process, the museum's leaders say they expect to reduce its volume by as much as 50%.
Why it matters: The purge will make space for new objects that more completely tell Richmond's story, museum director Bill Martin tells Axios.
Context: Since opening its doors in 1898, The Valentine's collection has skewed heavily toward the interests of the white and wealthy.
It was founded by Mann S. Valentine Jr., who made his fortune selling Valentine's Meat Juice, a once-popular health tonic made by boiling beef.
Edward V. Valentine, his brother and the museum's first president, is best known as a sculptor of Confederate statues and memorials.
What they're getting rid of: Items that aren't connected to Richmond, like 18th century clothing, Native American artifacts and photographs of other places.
Where it's going: Much of the material is being transferred to other institutions. A collection of Pamunkey pottery has been returned to the tribe's reservation. An early photo of Lynchburg, Virginia, is now in the hands of the Lynchburg Museum.
Items with no logical institutional home are being sold at auction or, in some cases, given to Goodwill, Martin says.
What's next: The museum expects to wrap up its review by the end of next year.
The project is tied to an expansion and modernization of the institution's offices and storage facilities.
A restoration of Edward Valentine's sculpture studio is also in the works, which the museum is using as an opportunity to confront the Lost Cause mythology the institution's first director helped foster.
"We are not the place we need to be in Richmond — we know that," Martin says. "And we ask: How do we meet our expectations?"
2. Zoom in: lost in the archives
As curators picked through the museum's collection looking for items to get rid of, they also rediscovered long-forgotten artifacts they're definitely keeping.
Here's some of what they found:
A biscuit baked in 1860 by a woman who was enslaved on a plantation in Chesterfield County.
"Southern food culture owes so much of its complexity and richness to enslaved cooks like Violet who are often barely acknowledged in the historical record," writes senior collections technician Rachel Asbury Cole.
A leather fire helmet worn during a 1915 warehouse fire in Shockoe Bottom that killed three firemen and injured others struck by falling bricks and timbers.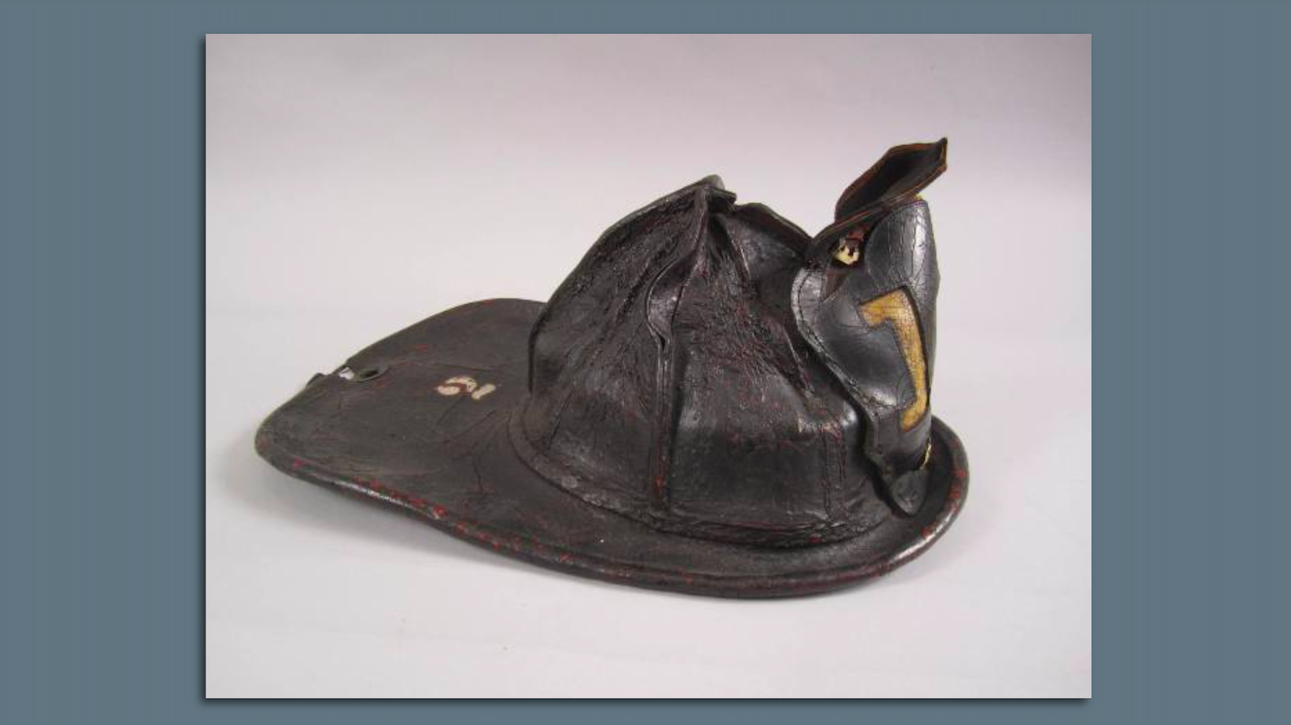 A shipping crate used to transport Pin Money Pickles, a pickle brand created by a Richmond woman in 1868 at age 16, which she grew into a massive pickle-processing operation on Leigh Street.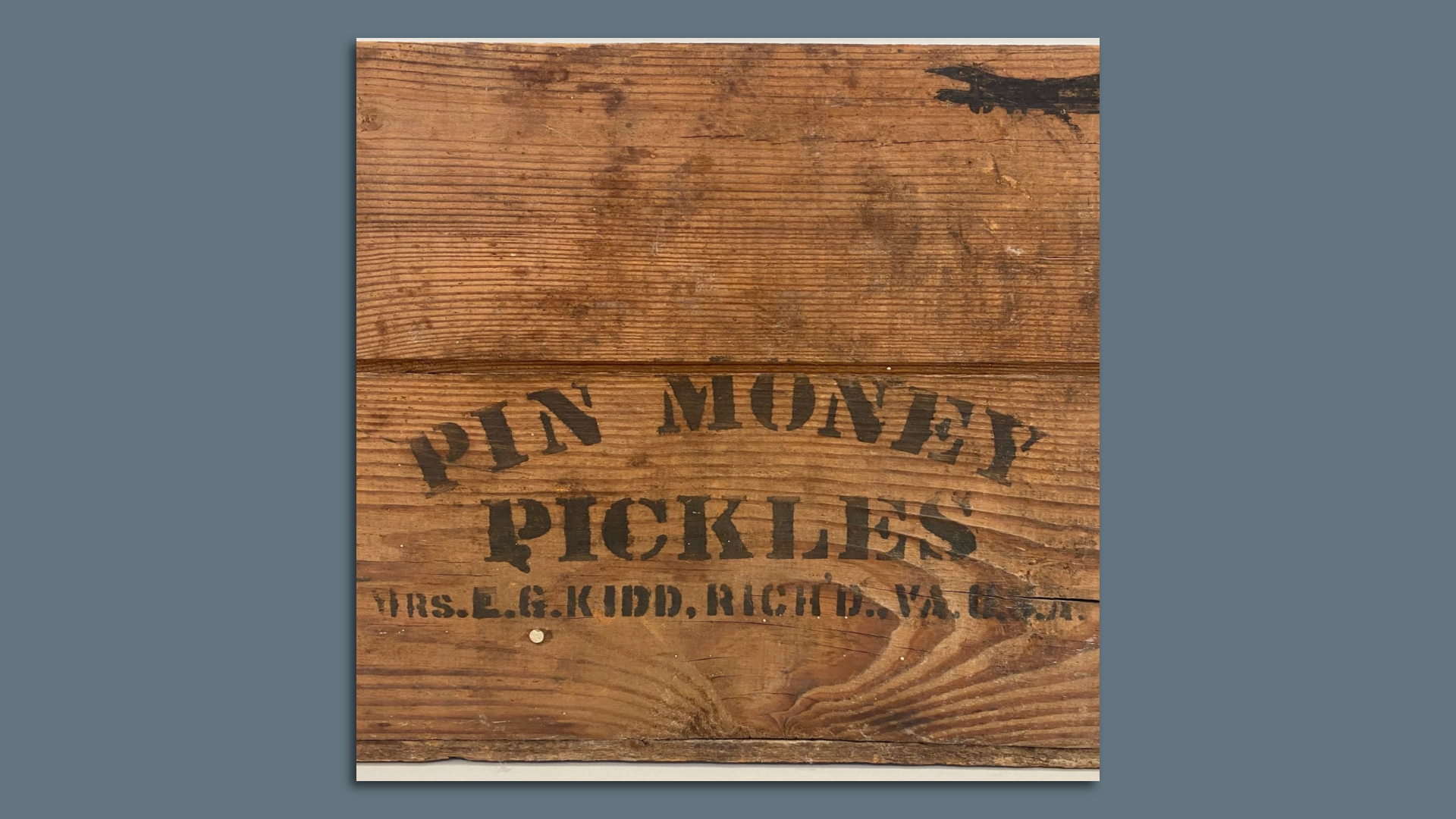 3. The Current: Casino referendum officially nixed
⚖️ A circuit court judge signed off on the city's request to remove a casino referendum question from the November ballot. (Times-Dispatch)
City officials had hoped to hold a second referendum on the issue but were stymied by state lawmakers who are instead studying whether to locate the project in Petersburg.
🍻 The Virginia Craft Brewers Guild plans to lobby the General Assembly for the right to sell beer directly to restaurants and shops, eliminating the need to go through third-party distributors. (BizSense)
🚴‍♀️ The city's second bike-share station south of the river opened at Carter Jones Park in the Woodland Heights and Swansboro neighborhood. (Twitter)
4. 🚘 Pro-abortion rights plates sell
The number of pro-abortion rights license plates in Virginia swelled after the Supreme Court's overturning of Roe v. Wade, Washingtonian reports.
Driving the news: Since the late-June Dobbs ruling through July 31, 135 people ordered Virginia's "Trust Women. Respect Choice" plate. That's more sales than all of last year combined, per Washingtonian.
Meanwhile, the number of anti-abortion rights plates has decreased.
As of last month, there were there were 5,210 anti-abortion rights plates in Virginia, compared to nearly 5,400 in July 2020.
Meanwhile, there were more than 3,200 pro-abortion rights plates last month, compared to around 2,600 a year prior.
Be smart: Anti-abortion rights plates greatly outnumber pro-abortion rights plates nationwide, likely because 34 states offer anti-abortion rights plates and only four, including Virginia, offer a pro-abortion rights option.
5. 🦆 1 weekend pick: a ducking inclusive race
Duck racing is back in Richmond after a decade, with 7,000 rubber ducks, a chance to win $10,000 and a sensory-friendly festival.
What it is: The inaugural RVA Duck Race & Festival of Inclusion is Saturday on Brown's Island from 11am to 4pm. The race starts at 3pm.
The race and festival are now brought to you by (and benefiting) the ​​Autism Society of Central Virginia.
Admission is free. Racing ducks start at $7.
Why it's the pick: The event is described as Richmond's first sensory-friendly festival, one designed specifically for people with autism.
It's just like a traditional festival — complete with live music, food, beer, vendors and activities for the kids — plus it includes sensory-free and quiet zones throughout the space for folks who need a break.
Duck racers can win prizes, including the grand prize of $10,000.