Axios Pro Rata
October 04, 2022
🚨 XFL owners Dany Garcia and Gerry Cardinale (RedBird Capital Partners) have been added to the lineup for the Axios BFD, to discuss their upcoming league launch and the booming market for pro sports deals.
Plus, Neiman Marcus CEO Geoffroy van Raemdonck will join for one of several lunchtime pop-up convos.
It all takes place in New York City on Oct. 26. Request your invitation.
Top of the Morning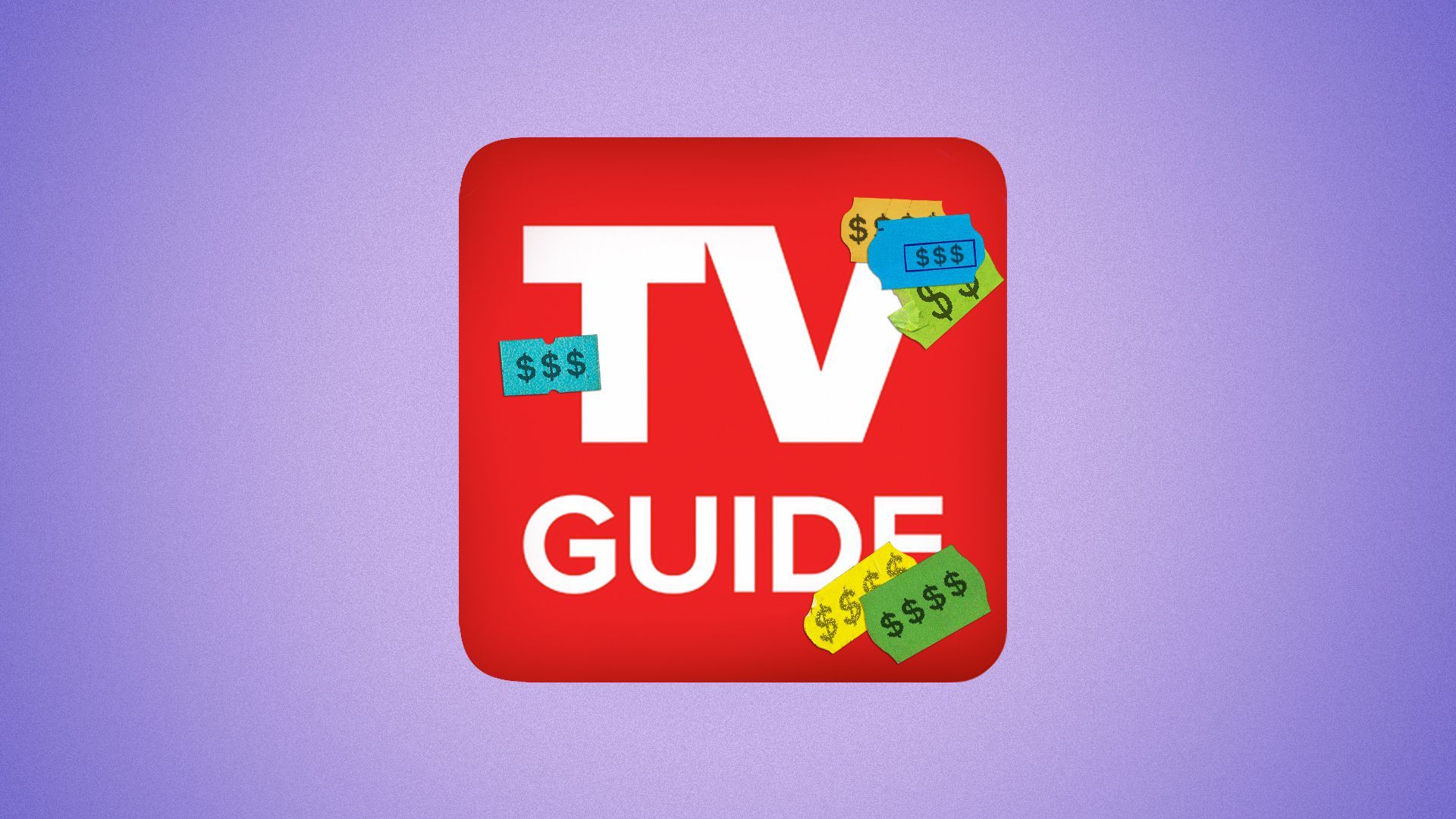 TV Guide has been sold. Again. This time as part of a digital media portfolio that switches hands from Red Ventures to TPG-backed Fandom for around $50 million.
Right now you're likely thinking one of two things, depending on your age: (1) TV Guide still exists? (2) What is TV Guide?
Or, for my precocious high school readers: (3) What is TV?
Why it matters: For those of us interested in the first question, TV Guide is an iconic brand. It's also been an M&A hot potato since the internet eradicated the need for a published compendium of TV program listings.
That includes both the magazine itself, which somehow still exists, and separately owned digital properties.
History: TV Guide first hit supermarket checkout aisles in 1953, and hit its valuation peak in 1988 when it was acquired by News Corp. for $3 billion.
By 1996 it had begun developing a digital presence, and two years later was sold by News Corp. to something called United Video Satellite Group (owner of the Prevue Channel, which became TV Guide Network) for around $2 billion. UVSG itself would be acquired by Gemstar, which then would be purchased by Macrovision.
In 2008, Macrovision sold the print magazine for just a single dollar to OpenGate Capital. The digital assets soon would be co-owned by Lionsgate Entertainment and One Equity Partners.
CBS in 2013 would buy out both One Equity Partners and Lionsgate (in that order), and eventually shove TV Guide within its CNET unit. TV Guide Network would get rebranded as Pop TV.
In 2015, OpenGate sold the print magazine to Michigan-based NTVB Media, which has published it ever since.
In 2020, Red Ventures bought CNET, and thus the TV Guide digital properties — all of which now goes to Fandom, alongside such brands as Metacritic and GameSpot.
The bottom line: TV Guide cannot and will not be killed. It will, however, almost certainly be sold again.
The BFD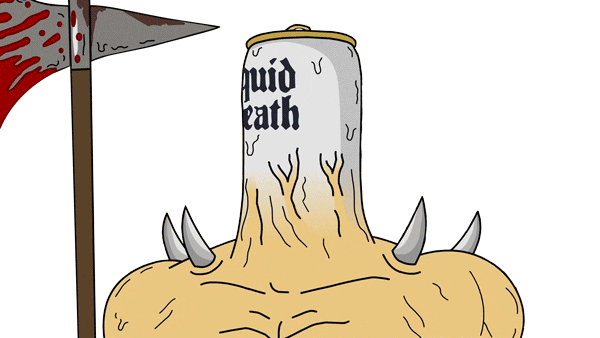 Liquid Death, a maker of branded water products in aluminum cans, raised $70 million in Series D funding led by Science Ventures at a $700 million valuation.
Why it's the BFD: The Los Angeles-based company and its early investors were widely mocked upon launch.
Details: Yes, this is an insider-led round, so we can view the giant valuation a bit skeptically, but Liquid Death reports a $130 million revenue run-rate for 2022 (up from $45 million in 2021) and is having its core product copied by legacy bottled water brands like Dasani.
Science's Peter Pham tells Axios that around 40% of the company's Amazon revenue now comes from flavored products, which launched around six months ago, and that millions of dollars come via merchandise sales.
He adds that Science led the round via an SPV, given that its original check came out of a small seed fund, and that the goal was to prevent LP dilution.
Other investors include PowerPlant Partners, Convivialité Ventures, Hinge Capital, Access Capital, Live Nation and individuals like Whitney Cummings, Tom Segura and members of Swedish House Mafia.
The bottom line: Don't underestimate the power of unconventional marketing.
Venture Capital Deals
🚑 Cellarity, a Somerville, Mass.-based developer of cell behavior therapies, raised $121m in Series C funding. Kyowa Kirin Co. and Hanwha Impact Partners were joined by founding investor Flagship Pioneering. https://axios.link/3Sy0a0A
• Securiti, a Coyote, Calif.-based data privacy and security platform, raised $75m in Series C funding. Owl Rock Capital led, and was joined by insiders Mayfield and General Catalyst. https://axios.link/3yfNrHL
• Carbon6 Technologies, an e-commerce software bundler, raised $66m in Series A equity and debt funding. White Star Capital led the equity, and was joined by Kale Investment Fund and Benevolent Capital. https://axios.link/3rr3Gho
• Tines, a Dublin-based no-code security automation platform, raised $55m in Series B extension funding led by Felicis Ventures. https://axios.link/3EgBqWC
🚑 Delphinus Medical Technologies, a Novi, Mich.-based developer of ultrasound breast cancer screening tech, raised $30m in Series D funding from Arboretum Ventures, Beringea and North Coast Technology Investors. www.delphiusmt.com
• Katalyst, a fitness equipment startup that's developing an electro muscle stimulation suit, raised $26m in Series A funding, as first reported by Axios Pro. Stripes led, and was joined by Incisive Ventures and Unlock Venture Partners. https://axios.link/3CdwGym
• Eclypsium, a Portland, Ore.-based device supply chain security startup, raised $25m in Series B funding. Ten Eleven Ventures led, and was joined by Global Brain and J Ventures. https://axios.link/3M6fRtB
• Tegus, a Chicago-based research platform for institutional investors, raised $20m from Positive Sum. www.tegus.com
• Humaans, a London-based HR tech stack, raised $15m in Series A funding led by Lachy Groom. https://axios.link/3BZjYTq
• Polco, a Middleton, Wis.-based civic participation SaaS, raised $14m in Series A funding, as first reported by Axios Pro. Mercury Fund led, and was joined by BAT Ventures and Royal Street Ventures. https://axios.link/3M2Zr51
• Partake Foods, a New York-based maker of allergy-free cookies and snacks, raised $11.5m in Series B funding from Cleveland Avenue, Fearless Fund, Supply Change Capital and Kaya Ventures, Marcy Venture Partners, CircleUp Growth Partners, Black Star Fund, FF2032 and Black Capital. https://axios.link/3rujK28
• Trash Warrior, an SF-based startup that matches companies with waste haulers, raised $8m in seed funding led by AltaIR Capital, as first reported by Axios Pro. https://axios.link/3EcFEOF
• NoFrixion, a Dublin-based installment payments startup, raised €3.6m. Delta Partners and Middlegame Ventures co-led, and were joined by Furthr VC. https://axios.link/3fDlHGt
🚑 Solvemed, a British developer of neuro-ocular biomarkers for diagnosing neurological disease, raised $3.5m from Atmos Ventures, APEX Ventures, Tensor Ventures, Preface Ventures and Techni Ventures. www.solvemed.ai
• Zenskar, a billing workflow automation solution for SaaS companies, raised $3.5m in seed funding. Bessemer Venture Partners led, and was joined by Shine Capital, Basecamp Fund and Converge. https://axios.link/3rqJuw6
• TissenBio Farms, a South Korean alt protein company, raised $1.6m in seed funding. Envisioning Partners led, and was joined by FuturePlay and Stonebridge Ventures. https://axios.link/3M2y23h
• Farmerline Group, a Ghanaian agribusiness marketplace, raised $1.5m from Oikocredit. https://axios.link/3SDlSjG
Private Equity Deals
• Accel-KKR made a "significant" equity investment in Salary.com, a compensation software and data provider to which Accel-KKR had previously provided debt financing. www.salary.com
• Acelero, a New York-based provider of early childhood education and family engagement services, raised an undisclosed amount of funding co-led by BlackRock Impact Opportunities Fund and The Builders Fund. www.acelero.net
🚀 AE Industrial Partners agreed to buy a majority stake in York Space Systems, a Denver-based provider of small satellites, satellite parts and mission operation solutions. BlackRock Private Equity Partners also participated. www.yorkspacesystems.com
• AEA Investors acquired WorldWide Electric, a Rochester, N.Y.-based maker of electric motors and related parts, from Graycliff. www.worldwidelectric.net
• Deltech, a Baton Rouge, La.-based portfolio company of SK Capital Partners, acquired StanChem, an East Berlin, Conn.-based provider of emulsion polymers and protective coatings. www.deltechcorp.com
🚑 Fingerpaint Group, a Saratoga Springs, N.Y.-based medical communications firm owned by Knox Lane, bought Parsons Medical Communications, a Brookline, Mass.-based eyecare-focused scientific and commercialization agency. www.parsons-medcomm.com
• Investcorp acquired a majority stake in Sunrise Produce, a Fullerton, Calif.-based wholesale produce distribution company. www.sunriseproduce.com
🚑 Francisco Partners agreed to buy Bswift, a Chicago-based provider of benefits administration software, from CVS (NYSE: CVS). No financial terms were disclosed, but Axios Pro reports that Bswift was projecting around $50m in 2022 EBITDA. https://axios.link/3RrgY8c
• LLCP acquired AGDATA, a Charlotte-based provider of workflow and data solutions to the agribusiness and animal health markets, from Vista Equity Partners. www.agdata.com
🚑 Prime Global, a London-based medical communications firm owned by LLCP, acquired Earthware, a digital health care agency. www.earthware.co.uk
• Tech24, a Greenville, S.C.-based portfolio company of HCI Equity Partners, acquired 1st Source, a Lewisville, Texas-based provider of repair and maintenance services for foodservice and commercial HVAC equipment. www.mytech24.com
• Vistria Group and Century Equity Partners invested in Flores & Associates, a Charlotte, N.C.-based provider of employer-facing benefits tech and administrative services. www.flores-associates.com
• Wafra acquired a passive minority stake in midmarket buyout firm Oak Hill Capital Partners from Jefferies Financial Group. https://axios.link/3C8cjCl
SPAC Stuff
• Aquaron Acquisition Corp., a SPAC led by Jie Weng (PICC Capital), raised $50m in its IPO. https://axios.link/3UZSCp7
• Two SPACs sponsored by Bill Foley, Austerlitz Acquisition Corp I (NYSE: AUS) and Austerlitz Acquisition Corp II (NYSE: ASZ) plan to liquidate after failing to find merger partners. https://axios.link/3yaMMHC
Liquidity Events
🚑 Nautic Partners sold Portland, Ore.-based Professional Eye Care Associates of America to VSP Vision, a nonprofit vision benefits company. www.pecaa.com
More M&A
🎧 Episode 2 of our Elon Musk vs. Twitter podcast series is now available. Listen here.
• Engine Capital is urging a merger of gaming companies Light & Wonder (Nasdaq: LNW) and Sciplay (Nasdaq: SCLP), in which it holds small stakes. https://axios.link/3RzssXa
• HSBC (NYSE: HSBC) is considering a sale of its Canadian operations. https://axios.link/3yfPJGR
• L3Harris Technologies (NYSE: LHX) agreed to buy the tactical data links unit of Viasat (Nasdaq: VSAT) for around $1.96b. https://axios.link/3M4tEAQ
🏀 Tom Sarver has hired Moelis & Co. to find a buyer for the Phoenix Suns (NBA) and Phoenix Mercury (WNBA) franchises, per Bloomberg. https://axios.link/3SC85dt
Fundraising
🌎 Activate Capital, an SF-based climate tech venture and growth equity firm, tells Axios that it raised $500 million for its second fund.
Co-founder Anup Jacob says that the firm's initial fundraise in 2018 ($157m) was dominated by strategic LPs, as institutional investors weren't sold on the climate tech category. This time around, however, he says that institutions represented most of the new investors, as "ESG has become table stakes."
He adds that he expects the Inflation Reduction Act will do for climate tech "what color did for television... make everything better."
• Ada Ventures of London held a £36m first close on its second fund, which is targeting a total of £60m. www.adaventures.com
• Algebra Ventures of Egypt held a $100m first close on its second fund. https://axios.link/3fI0lrP
• Industry Ventures raised $300m for its third direct venture fund. www.industryventures.com
It's Personnel
• John Curtius is leaving Tiger Global, where he's been a partner for over five years, to launch his own VC firm focused on B2B software startups.
He plans to remain with Tiger through next June, after which he'll begin fundraising for the new shop, called Cedar Investment Management.
The news was disclosed in an LP memo from Tiger, which is expected to begin raising its new private market fund later this week.
• Philip Chopin joined NEA as the firm's first Europe-based partner. He previously was with 83North. www.nea.com
• Jonathan Durham joined General Atlantic as a managing director and head of tech buyouts. He previously was with Silver Lake for more than 16 years. www.generalatlantic.com
• Matt Mazzeo is leaving Coatue, where he launched the firm's early-stage investment practice, to form his own firm, as first reported by The Information. Expect fundraising to kick off in 2023.
🌎 Teresa O'Flynn (ex-BlackRock) joined Ara Partners as a partner and co-head of infrastructure strategy. The decarbonization-focused firm also hired Gearóid Maher (Legal & General Capital) as a principal. www.arapartners.com
• Ganesh Srinivasan joined Venrock as a tech-focused partner. He previously was chief product officer at Confluent. www.venrock.com
Final Numbers
South Korean tech giant Naver last night announced that it will buy U.S. secondhand clothing platform Poshmark for approximately $1.6 billion in cash.
The $17.90 per share price is a 15% premium to yesterday's closing price. But it's well short of the $42 mark where Poshmark went public in January 2021, after which it more than doubled in its first day of trading. One big reason is slowed top-line growth.
Talks between the two companies began around nine months ago, focused on strategic partnership. Over time they evolved into M&A negotiations, without a bank auction.
Speaking of secondhand goods, Axios Pro this morning reports that Goodwill is launching an e-commerce marketplace.
The bottom line: Poshmark CEO Manish Chandra tells me that the deal should help his company expand geographically, while also introducing Naver's live streaming and image recognition technologies.
✔️ Thanks for reading Axios Pro Rata, and to copy editors Mickey Meece and Bryan McBournie! Please ask your friends, colleagues and thirst murderers to sign up.