Axios Pro Rata
November 17, 2017
Top of the Morning
Rachel Lam (ex-Time Warner Investments) and Dick Parsons (ex-CEO of Timer Warner) have teamed up to form Imagination Capital, which will focus on institutional seed deals for startups in the digital media, e-sports and big data sectors. The capital will come from Lam and Parsons (50/50), rather than via outside limited partners. Plans are to invest between $250k-$500k in at least a couple dozen companies.
"Dick didn't want to be a fiduciary," explains Lam, who says they aren't referencing a "fund size" because Imagination is in discussions to possibly add a third partner who would contribute his or her own capital (no, it's not Jeff Bewkes).
Lam is listed as managing partner, while Parsons is a partner. The two began discussing the possibility of working together after Lam left Time Warner Investments back in January. She says that several established venture firms reached out to "have me become their first female partner," but that she preferred to build something new.
• Silver-stitched lining: Stitch Fix's IPO last night comes across as a dud, given that it sold fewer shares than expected at a price below its stated range. But this isn't the disaster it might be for other VC-backed companies, in that Stitch Fix raised relatively little venture capital (<$50m) at a modest valuation (last post-money was $300m). That means both investors and employees should be in the money at the $1.5 billion, post-IPO (fully diluted) value — something that wouldn't have necessarily been true if Stitch Fix had chased bloated unicorn dreams.
I'm scheduled to interview Stitch Fix founder and CEO Katrina Lake after first trades begin, so check www.Axios.com around noon for a wrap-up.
Per Benchmark's Bill Gurley, an early investor and Stitch Fix director: "In a day and age when many founders have fears and anxieties about graduating to the next level and playing at the public level, Katrina is poised to thrive as a public company CEO."
Beware the "Amazon will destroy all other retailers" meme, judging by Q3 earnings. Not only did we see increased comp sales at generalists like Walmart and Target, but also at apparel-focused specialists like The Gap and Abercrombie & Fitch.
• Remington Outdoors, the nation's largest gun manufacturer and portfolio company of Cerberus Capital Management, is now unprofitable. Not only is it taking a toll on Remington bonds, but it's also part of a broader trend whereby major U.S. firearms manufacturers are performing worse under President Trump than they did under President Obama (can't imagine either of them are thrilled with that dichotomy). More here.
• Quotable: "At the end of the day I wasn't really ready for something that visible, that intense," – Jeff Immelt on not getting picked for Uber CEO, at an Axios event yesterday at UNC Chapel Hill.
• Deal dominoes: When news emerged last week that Disney had held talks to buy most of 21st Century Fox, we wrote that it was a siren call for the entire cadre of big media acquirors. And now there are reports that Comcast, Verizon and Sony have varying levels of interest. Expect more to come – but it's hard to imagine distribution-heavy players like Comcast or Verizon being able to sign a deal before hearing from DoJ on AT&T-Time Warner.
• Tax talk: The Senate has adopted House language on carried interest taxation, per an amendment introduced last night. That means partnerships would need to hold an investment for at least three years in order to treat investment profits as capital gains, up from the current one-year minimum.
• Oh Wilbur Wilbur Ross and his eponymous private equity firm (WL Ross, now owned by Invesco) are being sued by three former WL Ross partners, who claim they were improperly charged $48 million in fund management fees. Specifically, they argue such fees only should have been charged to outside limited partners, not to GP commitments.
Flashback: WL Ross paid $2.3 million in penalties last year, to settle SEC charges that it had taken over $10 million in fees from LPs to which it was not entitled (it also returned the money).
• Have a great weekend... Go Pats!
The BFD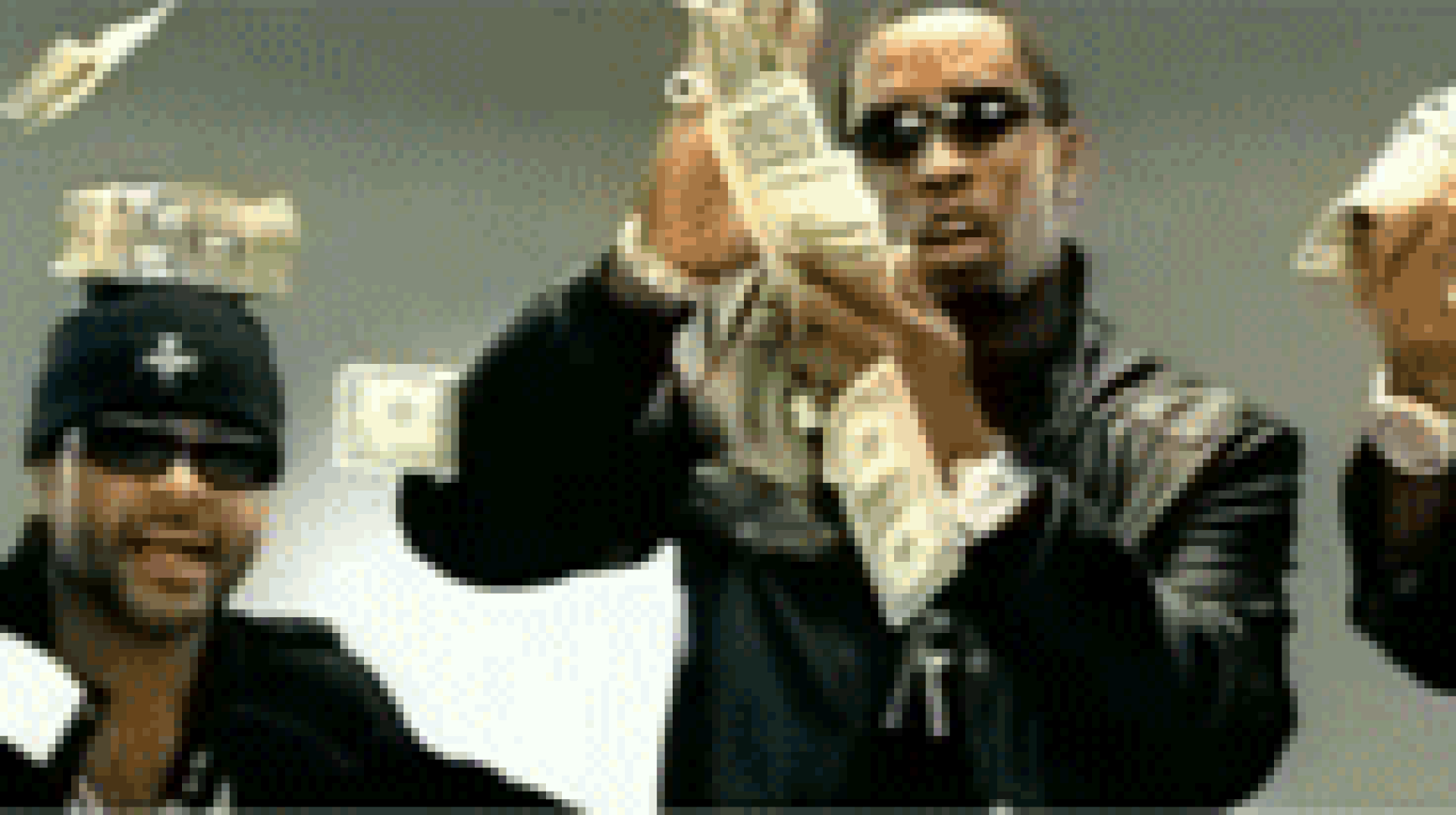 Axios, a lemon-scented digital media startup, has raised $20 million in Series B funding. Greycroft Partners and Lerer Hippeau co-led the round, and were joined by fellow return backers NBCUniversal, Emerson Collective and Greg Penner. Jeffrey Katzenberg's WndrCo also participated. Sources say the valuation is somewhere between $25 million and $25 billion.
Why it's the BFD: Because I'm a narcissist.
Go deeper: WSJ's Benjamin Mullin has the full story.
Bottom line: We launched Axios with a simple philosophy of "reader first." So thank you for reading, and please email (

[email protected]

) with any feedback or ways we can help you get smarter, faster.
Venture Capital Deals
• Maoyan, a Chinese online movie ticketing platform, has raised around $151 million in funding at a $3 billion valuation from Tencent. http://axios.link/D3Ud
🚑 X4 Pharmaceuticals, a Cambridge, Mass.-based developer of CXCR4 antagonists for the treatment of refractory solid tumors, has raised $27 million in Series B funding from firms like Cormorant Asset Management. http://axios.link/Pd4P
• Pear Video, a Shanghai-based provider of a mobile app for making short videos, has raised $25 million in funding led by People.cn.
• Less, a French ride-sharing startup for short distances and commuters, has raised €16 million from Index Ventures and Daphni. http://axios.link/gt1h
🚑 RDD Pharma, an Israeli developer of treatments for lower gastro-intestinal disorders, has raised $9.5 million in Series B funding. Pharmascience was joined by return backers OrbiMed and Capital Point. http://axios.link/Pxvt
• CY Vision, a San Jose, Calif.-based VR/AR technology platform developer, has raised $7 million in Series A funding. Vestel Ventures led the round, and was joined by Intel Capital. www.cyvision.com
• Meural, a New York-based digital art platform, has raised $5 million in Series A funding. Corigin Ventures led the round, and was joined by Netgear and Resolute Venture Partners. http://axios.link/K0Uj
🚑 Diamond Orthopedic, a Charlotte-based developer of fixation technology for orthopedic applications, has raised $3.5 million in seed funding led by MagnaSci Fund. www.diamondortho.com
🚑 Modulated Imaging, an Irvine, Calif.-based developer of light-based medical imaging technology, has raised $2.86 million in Series A funding. Grey Sky Venture Partners led the round, and was joined by Mitsubishi UFJ Capital, Fresenius Medical Care Ventures and return backer Hamamatsu Photonics. www.modulatedimaging.com
• Oros Apparel, a Cincinnati-based outerwear maker, has raised $2 million in seed funding from undisclosed backers. http://axios.link/QsWN
Private Equity Deals
• Apax Partners and The Carlyle Group are among those considering bids for a 49% stake in Indian insurer Royal Sundaram General Insurance Co., according to Bloomberg. The deal could be worth around $500 million. http://axios.link/Y0lq
• Bridgepoint has agreed to become the master franchisor of Burger King in the UK, with Restaurant Brands International (NYSE: QSR) maintaining a minority stake. Bridgepoint also will purchase Capsian UK Group, which has 74 franchises. http://axios.link/jgTC
• Caligor, a Secaucus, N.J.-based portfolio company of Diversis Capital, has acquired The Coghlan Group, a Bastrop, Texas-based provider of materials management services for clinical trials. www.caligorrx.com
• Equistone Partners Europe has acquired BFT Mastclimbing, a UK-based provider of alternatives to traditional scaffolding. www.bftmastclimbing.com
🦀 Ontario Teachers' Pension Plan has acquired Atlantic Aqua Farms, a Canadian grower and processor of mussels and other shellfish, from Encore Consumer Capital. http://axios.link/tMDH
• Omnigo Software, a Franklin, Wis.-based portfolio company of The Riverside Company, has acquired iView Systems, a Canadian provider of public safety software solutions within the gaming and hospitality markets.
• Optiv Security, a Denver-based cybersecurity company owned by KKR, has acquired Decision Lab, a Lyons, Colo.-based big data, automation and orchestration services. www.decisionlab.io
🚑 Varsity Healthcare Partners has sponsored a recapitalization of The Orthopaedic Institute, a provider of orthopedic surgical care and ancillary patient treatment services across North Central Florida. www.toi-health.com
Public Offerings
• BlueGreen Vacations, a Boca Raton, Fla.-based timeshare management company, raised $91 million in its IPO. The company priced 6.5 million shares at $14 (below $16-$18 range), for an initial market cap of around $1.05 billion. It will trade on the NYSE under ticker BXG, while Stifel and Credit Suisse served as lead underwriters. www.bluegreenvacations.com
• SailPoint Technologies, an Austin, Texas-based cybersecurity company backed by Thoma Bravo, raised $240 million in its IPO. The company priced 20 million shares at $12 (above $9-$11 range), for an initial market cap of $1.08 billion. It will trade on the NYSE under ticker SAIL, while Morgan Stanley was listed as left lead underwriter. The company reports a $6.6 million net loss on $75 million in revenue for the first half of 2017. www.sailpoint.com
🚑 scPharmaceuticals, a Burlington, Mass.-based developer of products for subcutaneous delivery, raised $90 million in its IPO. The pre-revenue company priced 6.4 million shares at $14 (low end of $14-$16 range), and will trade on the Nasdaq under ticker SCPH, while Jefferies served as lead underwriter. Shareholders include 5AM Ventures (23.2% pre-IPO stake), OrbiMed (23%) and Lundbeckfond (22.6%). www.scpharma.com
• Sterling Bancorp, a residential mortgage lender in California, raised $180 million in its IPO. The company priced 15 million shares at $12 (low end of range), and will trade on the Nasdaq under ticker SBT. Sandler O'Neill served as lead manager.
• Stitch Fix, a San Francisco-based personal shopping subscription service, raised $120 million in its IPO. The company priced 8 million shares at $15, compared to original plans to offer 10 million shares at $18-$20. Its fully-diluted market cap is $1.53 billion, and will trade on the Nasdaq under ticker SFIX. Goldman Sachs and J.P. Morgan served as lead managers. Stitch Fix reports a net loss of just under $1 million on $977 million in revenue for the year ending in July, but profitability in the prior two fiscal years. It had raised around $47 million in VC funding from firms like Baseline Ventures (28.1% pre-IPO voting power stake), Benchmark (25.6%) and Lightspeed Venture Partners (11.8%). www.stitchfix.com
⛽ Varo Energy, a Dutch oil refiner owned by The Carlyle Group and Vitol Group, is considering a 2018 IPO that could value the company at around $2 billion, per the WSJ. http://axios.link/6RcA
Liquidity Events
• Caesars Entertainment (Nasdaq: CZR) has agreed to acquire Indianapolis-based casino and horse-racing company Centaur Holdings for $1.7 billion in cash from shareholders like Clairvest Group. http://axios.link/qlHO
• Univision, a PE-backed media company, has hired Morgan Stanley and Raine Group to find a buyer for around a $200 million minority stake in subsidiary Fusion Media Group, according to Recode. http://axios.link/sQYJ
• Williams-Sonoma (NYSE: WSI) has agreed to acquire Outward, a San Jose, Calif.-based AR startup, for $112 million in cash. Outward had raised around $11 million in VC funding from firms like Merus Capital. http://axios.link/g6eY
More M&A
🚑 Merck (NYSE: MRK) has agreed to pay upwards of $374 million (including milestone payments) to Cue Biopharma through a strategic research and collaboration agreement around immunotherapeutics for cancer and autoimmune diseases. Cambridge, Mass.-based Cue has raised around $26 million in VC funding from firms like MDB Capital Group. http://axios.link/rBM8
Fundraising
• Aster, a French VC firm focused on "energy transition and mobility" startups, has raised €240 million for its new fund. http://axios.link/J6kT
• Onex Corp., Canada's largest private equity firm, has closed its fifth fund with C$7.15 billion in capital commitments. http://axios.link/wub3
It's Personnel
🚑 Kavita Patel, a practicing physician at Johns Hopkins who served in a healthcare policy role for the Obama White House, has joined NEA as a venture partner. The firm also announced the promotion of early-stage tech investor Aaron Jacobson to partner. www.nea.com
Final Numbers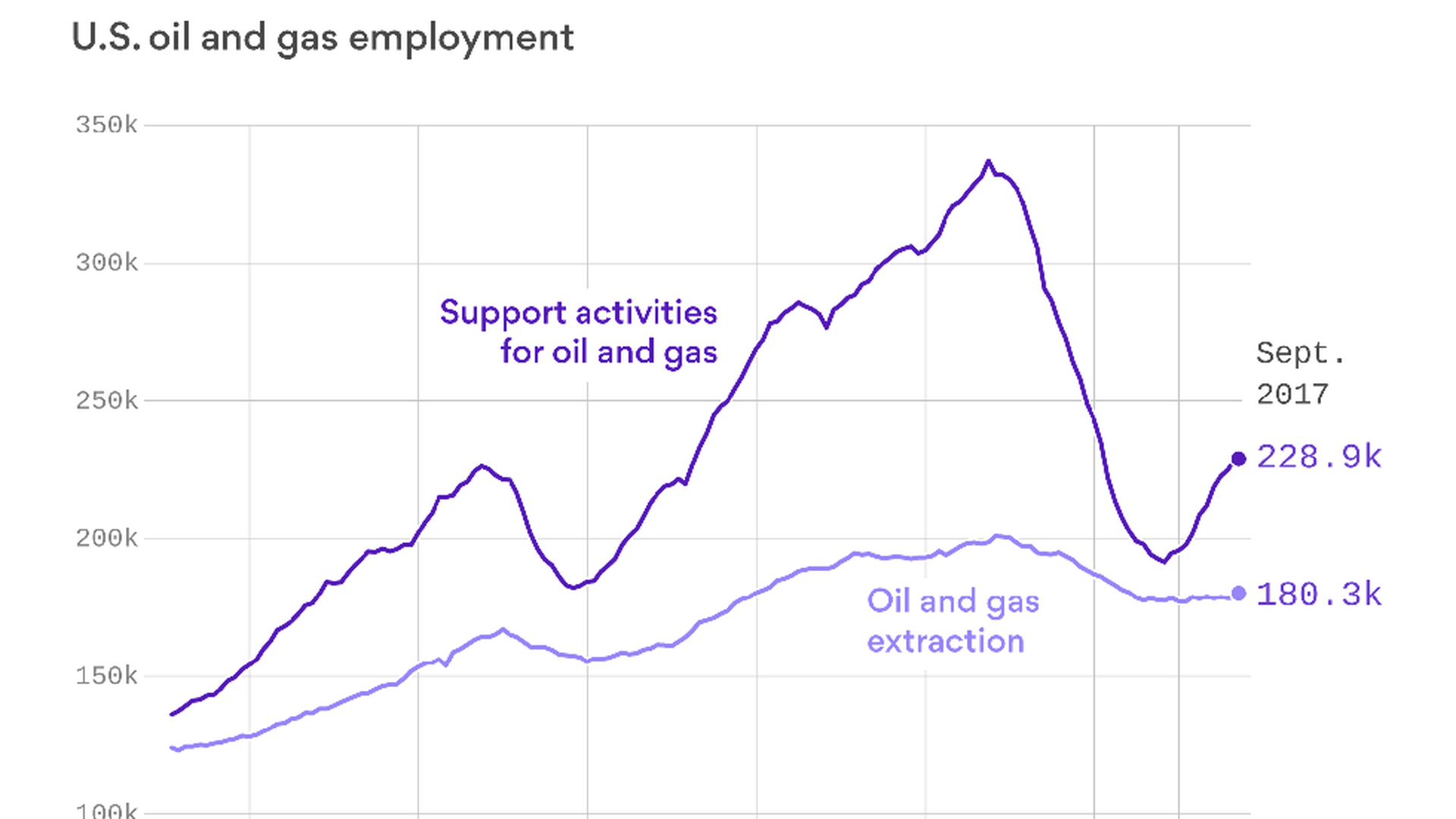 Via Generate, our energy-focused newsletter: "Employment in one key part of the oil and gas industry — extraction and supporting activities — has not bounced back alongside U.S. production, which fell sharply in the 2015 price collapse but has been moving up again for a year and heading for record levels."