https://www.axios.com/newsletters/axios-pro-rata-efb9fc0d-df54-4b0b-8e4c-a1868473164b.html?chunk=0#story0
Top of the Morning
A few Disney shorts as we continue to digest the $52 billion blockbuster:
Here's an easy-to-digest chart on what the merger looks like, in terms of the underlying assets. Note: We included "Star Wars" on the Fox side, because Fox still holds rights to the original three trilogies. Disney owns Lucasfilm, which has the rights to everything else (including Porgis In Space, which opened last night).
President Trump entered the fray yesterday, via a call to Rupert Murdoch. The two are old pals but this conversation could raise accusations of political favoritism when it comes to regulatory approvals. Not only for Disney/Fox, but also for AT&T's attempted takeover of Time Warner. Read more.
I got some pushback for my suggestion that the $2.5 billion breakup fee tied to government opposition is particularly high. It comes out to around 4.8% of the equity value, which I compared to a 2015 Houlihan Lokey study showing an industry average of 3.3%. But, admittedly, that was overall breakup fees, and Disney has an alternate $1.5 billion payout if it terminates for other reasons (like receiving a superior offer). And there is another study, this one from Thomson Reuters, that shows a 2015 average of 4.72% for antitrust-related dissolutions, which would put Disney-Fox in line with industry standard.
• Research firm Zero2IPO reports that more than 3,400 Chinese venture capital and private equity funds raised nearly $242 billion in the first 11 months of 2017, which is more than double the 2015 dollar total (h/t WSJ). That helps explain why Chinese startups are so often atop our daily VC Deals blurb list, which ranked by deal size.
• Moving out: Shervin Pishevar yesterday resigned from Sherpa Capital, the San Francisco venture capital firm he co-founded in 2013, following multiple allegations of sexual misconduct (all of which he continues to deny). Some notes:
A source familiar with the situation says that Pishevar's resignation was voluntary (i.e., he wasn't pushed out). But clearly there has been some major tension, particularly as Sherpa has kept finding itself playing last-minute defense. For example, it was unaware of Pishevar's May arrest in London until just last month, when U.S. news outlets (including Axios) were about to publish stories about it. It also was late to learn that Bloomberg was preparing to publish the initial report on allegations against Pishevar. Which leads to...
The statements issued yesterday by Sherpa and Pishevar had some major differences. Sherpa thanked Pishevar, but added that it is "deeply committed to our culture of integrity, inclusion, and respect." Pishevar, meanwhile, thanked Sherpa, but also references "truculent opponents out to settle scores."
Sherpa was in the midst of pre-marketing its third flagship fund, as it is more than 70% committed on a pair of funds that officially closed in mid-2016 (but which began soliciting commitments in early 2015, per an SEC filing). Fundraising is now on hold, as the firm tries to figure out its strategy going forward.
The fact that Sherpa's current funds are mostly called is a big reason why LPs are unlikely to kill the remaining investment period, as they've done with Binary Capital (which had just raised a new fund). Plus, there are no known allegations of impropriety that involved firm staff or founders.
Pishevar's co-founder, Scott Stanford, continues to run the show alongside a 13-person team, and it's possible that Sherpa could hire a senior investment professional to fill Pishevar's spot.
I'm unclear on exactly how key-man provisions on the existing funds are structured, but it doesn't sound like they'll be triggered. Pishevar is expected to retain vested carry — as he should, since he did the work — but will no longer have a say in investment decisions (including for existing portfolio companies). He also will no longer represent Sherpa on any boards.
• Have a great weekend... Go Pats!
https://www.axios.com/newsletters/axios-pro-rata-efb9fc0d-df54-4b0b-8e4c-a1868473164b.html?chunk=1#story1
The BFD
Snyder's-Lance (Nasdaq: LNCE), a Charlotte-based snackmaker, has hired an investment bank to explore a possible sale of the company, after receiving an unsolicited approach from Campbell Soup Co. (NYSE: CPB), as first reported by CNBC. Snyder's Lance shares jumped on the news, boosting its market cap from $3.8 billion billion to $4.3 billion.
Why it's the BFD: Because this reflects the increasing value of scale in the packaged foods biz, particularly when it comes to negotiating with big grocery retailers. Plus, I'm partial to Kettle potato chips, which Snyder's-Lance has owned since last year's $1.9 billion purchase of Diamond Foods.
History, per the Charlotte Observer: Snyder's Lance "dates to 1913 when Philip Lance first peddled roasted peanuts for a nickel a bag."
More food news: Reuters just reported that KKR has won the auction for Unilever's margarine and spreads unit, which were expected to go for more than $7 billion, beating out rivals Apollo and CVC Capital Partners.
https://www.axios.com/newsletters/axios-pro-rata-efb9fc0d-df54-4b0b-8e4c-a1868473164b.html?chunk=2#story2
Venture Capital Deals
• ThinkForce, a Chinese maker of AI chips, has raised around $68 million in Series A funding from Sequoia Capital China, Hillhouse Capital, Jack Ma-backed Yunfeng Capital and Yitu Technology. http://axios.link/Et9y
🚑 Jnana Therapeutics, a Boston-based drug discovery startup focused on targeting the solute carrier (SLC) family of transporters, has raised $50 million in Series A funding. Versant Ventures, AbbVie Ventures and Pfizer R&D Innovate were joined by seed backers Polaris Partners and Avalon Ventures. http://axios.link/e1HE
• Splice, a New York-based music creation and collaboration platform, has raised $35 million in Series B funding. DFJ Growth led, and was joined by True Ventures, Union Square Ventures and Flybridge Capital Partners. http://axios.link/ub4U
• Airwallex, an Australian provider of cross-border transaction processing solutions, has raised A$6 million in VC funding led by Square Peg Capital. http://axios.link/S0LI
• Loot, a UK-based digital bank account startup aimed at students and millennials, has raised £2.2 million in Series A funding co-led by Portag3 Ventures and Speedinvest. http://axios.link/FCJ6
• Xiaopeng Motors, a Chinese electric vehicle maker, has raised an undisclosed amount of funding from Alibaba, GGV Capital and Matrix Partners China. http://axios.link/OTP1
https://www.axios.com/newsletters/axios-pro-rata-efb9fc0d-df54-4b0b-8e4c-a1868473164b.html?chunk=3#story3
Private Equity Deals
⛽ ATX Energy Partners, an Austin, Texas-based shale oil startup, has launched with $780 million in equity funding led by Warburg Pincus (which previously backed the same management team at Brigham Resources). http://axios.link/jmM2
⛽ FourPoint Energy, a Denver-based oil and gas producer backed by GSO Capital Partners, has raised $525 million in new equity financing led by Quantum Energy Partners ($489m). Part of the proceeds will be used for an upstream and midstream acquisition in the Anadarko Basin. http://axios.link/gLul
• Goldman Sachs has acquired a majority stake in Financeit, a New York-based provider of point-of-sale financing solutions. www.financeit.io
• Hony Capital has agreed to acquire the sweater, furniture and beauty business of Hong Kong sourcing group Li & Fung (HK: 494) for $1.1 billion. The Fung family is participating alongside Hony. http://axios.link/E4FI
• Platinum Equity is in advanced talks to acquire Husky Injection Molding Systems, a Canadian supplier of injection molding equipment to the plastics market, from Berkshire Partners and OMERS for nearly $4 billion, per Reuters. http://axios.link/tDjYsweater,
• St. George Logistics, a Jersey City, N.J.-based portfolio company of Wind Point Partners, has acquired Channel Distribution Corp., a Bensenville, Ill.-based provider of cargo handling and warehousing solutions. www.stgusa.com
• TA Associates has agreed to support Old Mutual Global Investors CEO Richard Buxton in a £550 million carveout of the British investment manager from Old Mutual PLC (LSE: OML), according to Reuters. A formal announcement could come next week. http://axios.link/ym4w
https://www.axios.com/newsletters/axios-pro-rata-efb9fc0d-df54-4b0b-8e4c-a1868473164b.html?chunk=4#story4
Public Offerings
• Casa Systems, an Andover, Mass.-based maker of cable and mobile edge devices, raised $78 million in its IPO. The company priced 6 million shares at $13, compared to original plans to offer 8.4 million shares at between $15 and $17. It will trade on the Nasdaq under ticker CASA, while Morgan Stanley and Barclays served as lead underwriters. Casa Systems reports $6 million of net income on $234 million in revenue for the first nine months of 2017. Shareholders include Summit Partners (52% pre-IPO stake) and Liberty Global Ventures (6%). www.casa-systems.com
https://www.axios.com/newsletters/axios-pro-rata-efb9fc0d-df54-4b0b-8e4c-a1868473164b.html?chunk=5#story5
Liquidity Events
• Berkshire Partners has sold Toreres Unidas, a communications tower owner and operator in South America, to Andean Tower Partners, a group owned by Digital Bridge. http://axios.link/aUfo
• Target (NYSE: TGT) has agreed to acquire Shipt, an Alabama-based same-day delivery startup, for $550 million in cash. Shipt had raised around $65 million in venture capital funding from firms like Greycroft Partners, e.ventures, and Harbert Venture Partners. http://axios.link/CZV7
https://www.axios.com/newsletters/axios-pro-rata-efb9fc0d-df54-4b0b-8e4c-a1868473164b.html?chunk=6#story6
More M&A
⛽ BP (LSE: BP) has agreed to invest $200 million over three years in Lightsource, one of Europe's largest solar companies, to acquire a 43% stake. http://axios.link/gaXp
⛽ Elliott Management is readying for a potential new fight" with Hess Corp. (NYSE: HES), in which it holds a 6.7% stake, per the WSJ. Specifically, it wants either the removal of CEO John Hess or an increase in stock buybacks. http://axios.link/3bpM
• Go-Jek, an Indonesian ride-hail company, has acquired local payments gateway Midtrans and lending network Mapan. This comes one month after Go-Jek acquired a majority stake in Indonesian payment services provider Kartuku for around $50 million. Go-Jek backers include DST, JD.com and Lombard Investments. http://axios.link/ChiC
🚑 Perrigo (NYSE: PRGO) is prepping an offer for the $4.7 billion consumer health unit of Merck, according to Reuters. Rivals bidders are expected to include Nestle and Stada (which is owned by Bain Capital and Cinven). http://axios.link/rNTA
https://www.axios.com/newsletters/axios-pro-rata-efb9fc0d-df54-4b0b-8e4c-a1868473164b.html?chunk=7#story7
Fundraising
• J.W. Childs, a Boston-based buyout firm, is raising up to $500 million for its fifth fund, per an SEC filing. www.jwchilds.com
• Macquarie Infrastructure has secured nearly $3 billion in commitments for its second Asia-focused fund, which is targeting upwards of $3.25 billion, per an SEC filing.
• Scrum Ventures is raising up to $100 million for its third fund, per an SEC filing. www.scrum.vc
• Y Combinator, the Silicon Valley startup accelerator, will add a program for "growth stage" companies next year, a departure from its early-stage DNA. http://axios.link/0Ebt
https://www.axios.com/newsletters/axios-pro-rata-efb9fc0d-df54-4b0b-8e4c-a1868473164b.html?chunk=8#story8
It's Personnel
• Jill Ford has joined Toyota AI Ventures as a principal. She previously was the City of Detroit's head of innovation and entrepreneurship. www.tri.global
• Daniel Leever, former CEO of Platform Specialty Products, has joined PWP Growth Equity as a operating partner. www.pgpgrowthequity.com
• Palladium Equity Partners has promoted Luis Zaldivar and Caleb Clark to senior managing director and managing director, respectively. The New York-based buyout firm also hired Chris Allen, previously of Arlon Capital Partners, as a principal. www.palladiumequity.com
https://www.axios.com/newsletters/axios-pro-rata-efb9fc0d-df54-4b0b-8e4c-a1868473164b.html?chunk=9#story9
Final Numbers: Media & Entertainment Deals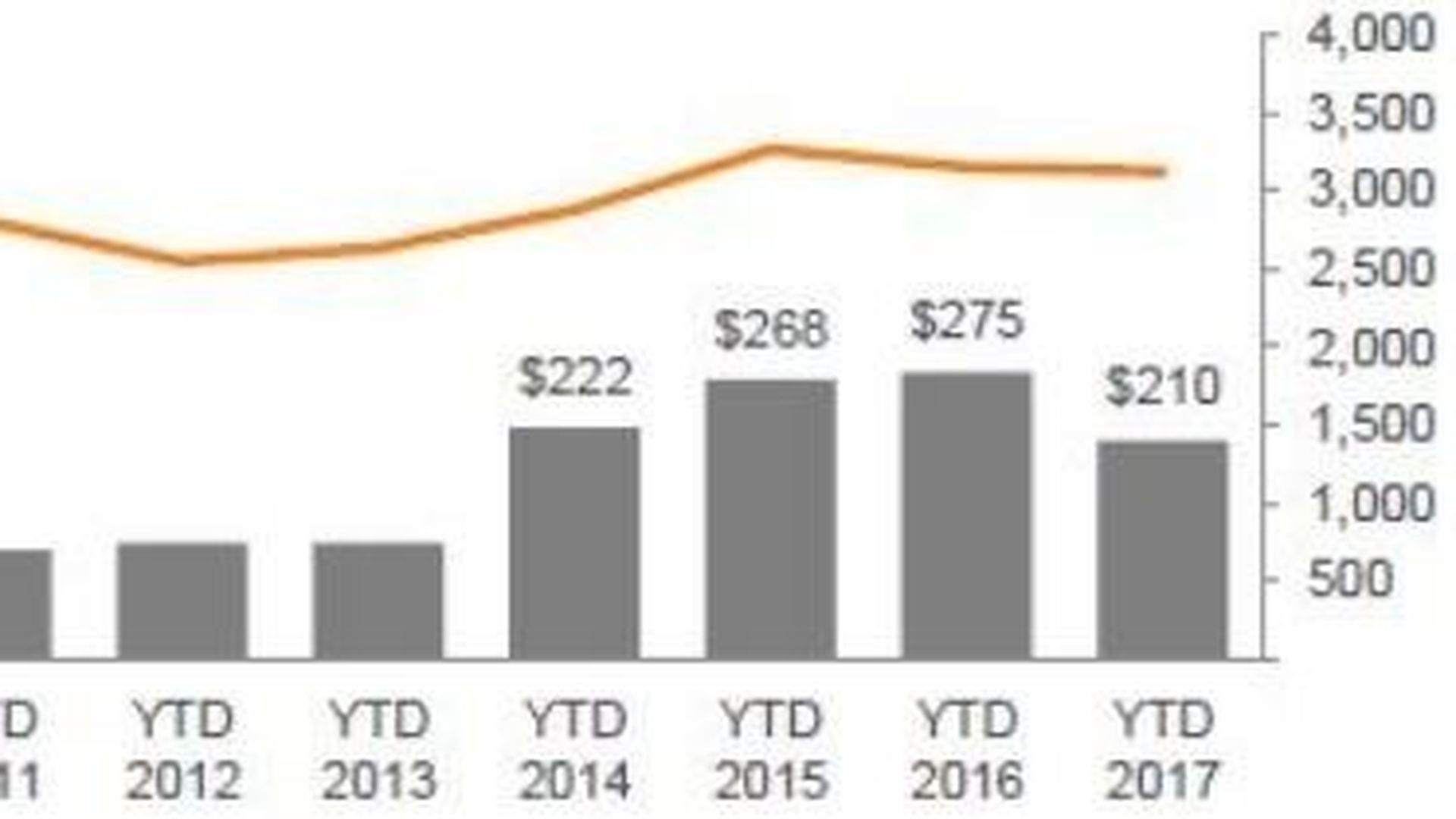 Disney's planned purchase of 21st Century Fox's entertainment assets would be the sixth-largest media and entertainment merger in history, per Thomson Reuters.