Axios Pro Rata
April 13, 2022
✉️ Axios Pro now publishes five daily newsletters, each focused on deals in an industry sector: Climate, fintech, health tech, media and retail. And we offer custom corporate packages for your team. Request a quote.
Top of the Morning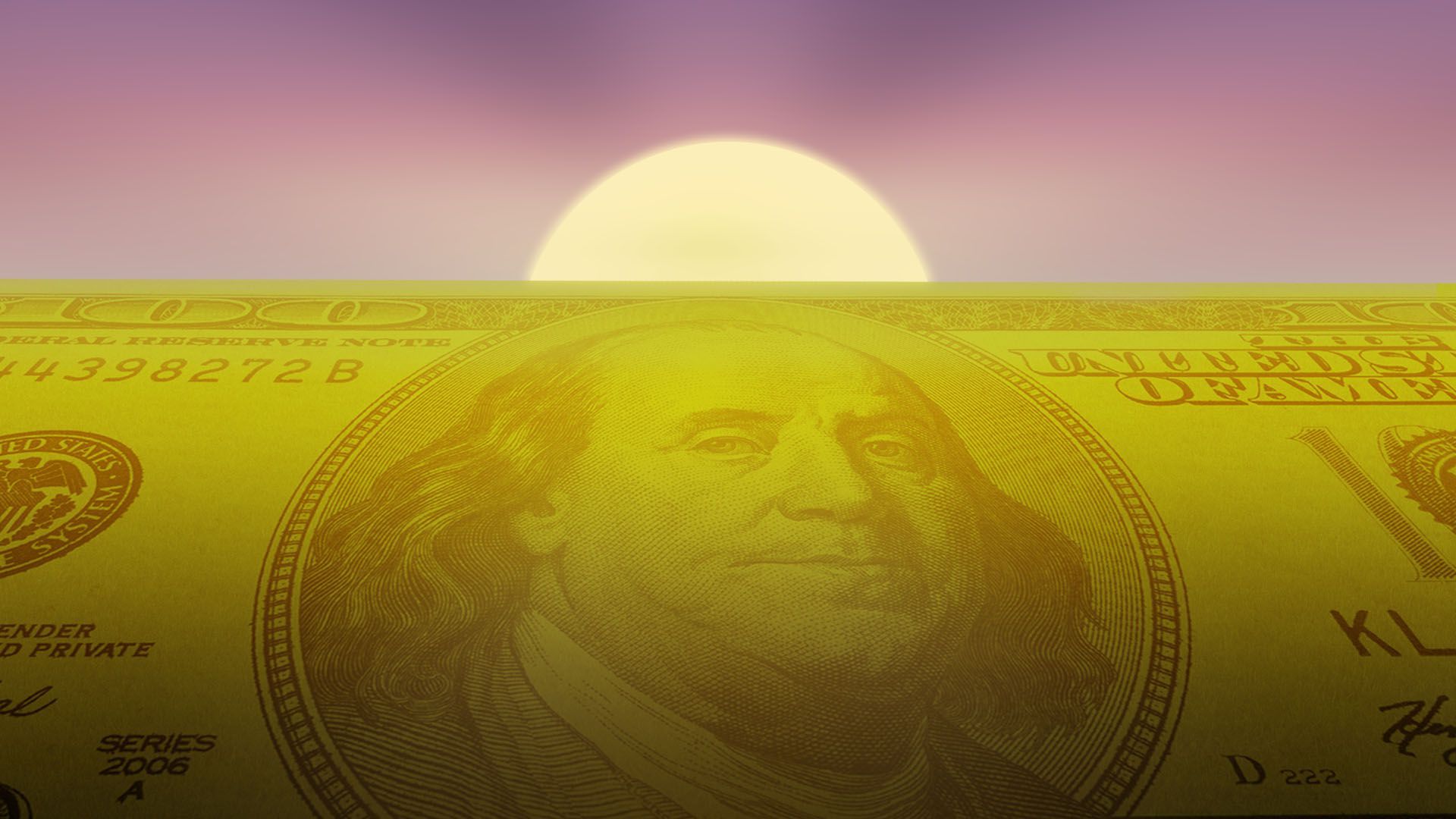 Venture capital firm Accomplice has quietly raised $405 million for what it says will be its "last fund, best fund."
Why it matters: VC shops sometimes ride off into the sunset, usually due to fundraising troubles or partnership acrimony. This, however, is the first time I can recall LPs being asked to commit to a final act.
Backstory: Boston-based Accomplice traces its history to Atlas Ventures, a firm founded in 1980 that at one point had offices in multiple cities and multiples countries. It later downsized, in part thanks to younger partners succeeding in something of a management coup, and eventually its tech and life sciences investing teams split up. The latter retained the Atlas moniker, while the tech group in 2015 rebranded as Accomplice after a crowdsourced contest.
Accomplice became known around Boston for its philanthropic and tech community building efforts, plus for raising three funds and early investments in companies like AngelList, Carbon Black, DraftKings, PillPack and Veracode. It also shed some partners along the way.
In 2018 the firm launched a blockchain investing effort and created Spearhead, in partnership with AngelList co-founder Naval Ravikant, to help entrepreneurs become angel investors and form their own funds.
Fast forward: Accomplice co-founder Jeff Fagnan realized he had become more interested in Spearhead than in traditional direct investing, so last year began plotting out what he hopes will become a sort of modern family office.
That included raising this last fund, of which around half whose deals are expected to be sourced via Spearhead leads.
Accomplice also quietly hired Chris Yang, who previously spent more than 20 years as a managing partner with Accomplice limited partner Grove Street. Firm co-founder Ryan Moore is expected to work with Yang on the family office, once the new fund is deployed.
The argument against investing in a "last fund" would be that it removes the incentive of working hard to ensure the next fundraise, although Accomplice LPs believe that's mitigated in this case by the partners' past success (i.e., they're already rich).
The argument for investing in a "last fund" is that there is no next fund incentive, thus the partners are less likely to do unnatural things to boost IRR (particularly in an increasingly fraught market).
The bottom line: This is the industry's first last, but may not be its last last.
The BFD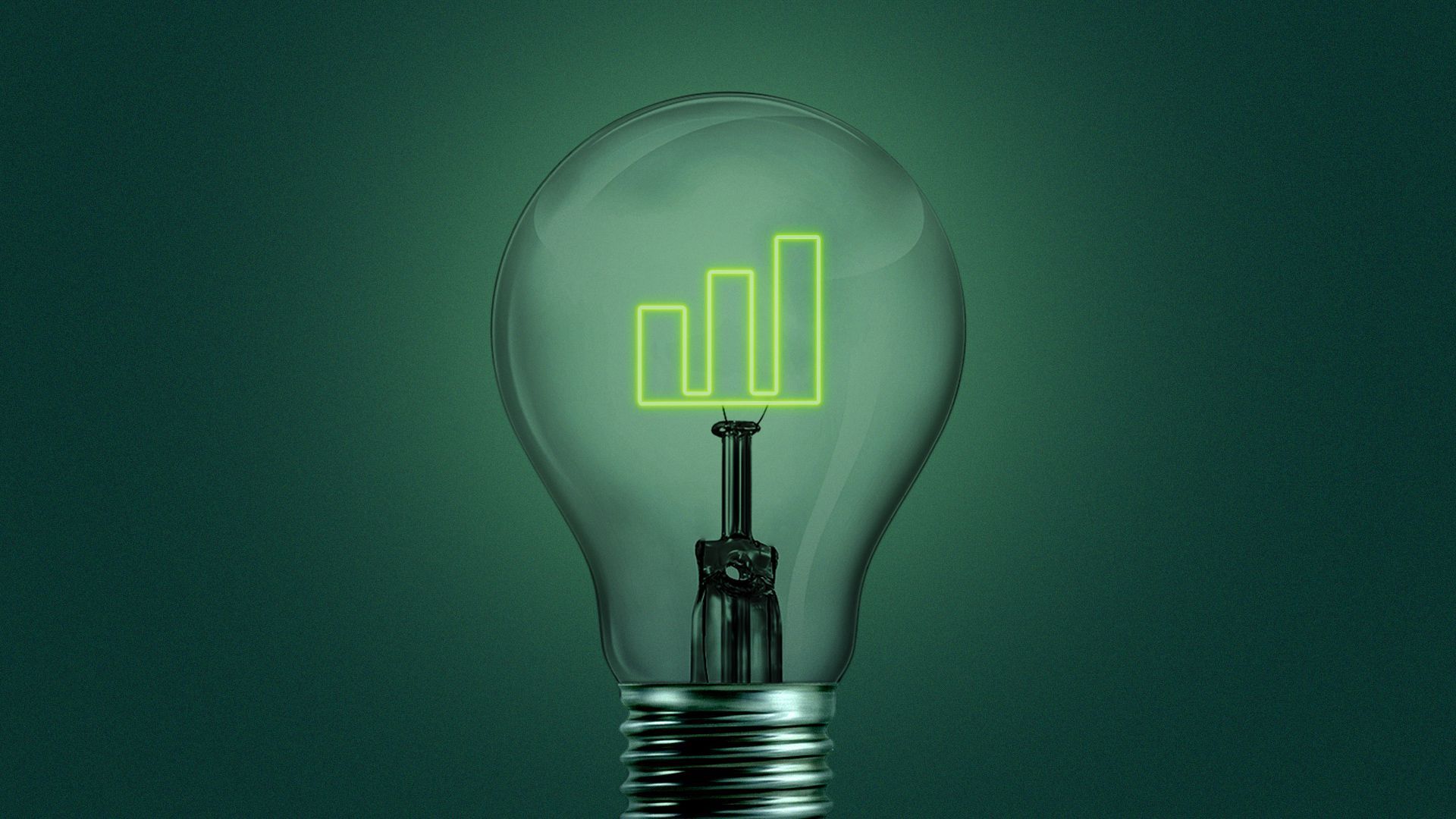 Dubai Electricity & Water Authority, a state-owned utility, raised $6.1 billion in its local IPO, and then saw its shares rise by as much as 20% in aftermarket trading.
Why it's the BFD: Dubai has long sought to be considered a major global bourse, or at least competitive with regional rivals in Saudi Arabia and Abu Dhabi, and this IPO could be the tipping point.
Details: DEWA's float is 18%, with the IPO size more than triple the Dubai government's original plans.
The bottom line: "DEWA's IPO, which drew $86 billion in orders, is a watershed moment for Dubai, after the city missed out on a listing boom that swept through the Middle East last year. Investors have flocked to share sales in the Gulf, seen as a relative safe haven among emerging markets after Russia invaded Ukraine." — Julia Fioretti, Bloomberg
Venture Capital Deals
• Viral Nation, a Toronto-based influencer marketing firm that's expanded into a full-service digital agency, raised C$250m. Eldridge led, and was joined by Maverix Private Equity. http://axios.link/6Gsg
• Critical Start, a Plano, Texas-based managed detection and response cybersecurity startup, raised over $215m from Vista Equity Partners. http://axios.link/sd0C
• Salsify, a Boston-based commerce experience platform for brands, raised $200m in Series F funding at a $2b valuation. TPG led, and was joined by Permira, Neuberger Berman and Cap Table Coalition. http://axios.link/sSm7
• OSF Digital, a Quebec City-based provider of corporate digital transformation services, raised US$100m in Series C funding. Sunstone Partners led, and was joined by insiders Delta-v Capital and Salesforce Ventures. www.osf.digital
• Natural Fiber Welding, a Peloria, Ill.-based maker of plant-based textile materials, raised $85m. Evolution VC Partners led, and was joined by Tattarang, Lewis & Clark AgriFood, Collaborative Fund, AiiM Partners, Engine No.1, Raga Partners, Tidal Impact, Scrum Ventures, Gaingels and insiders BMW i Ventures, Ralph Lauren, Advantage Capital and Central Illinois Angels. www.naturalfiberwelding.com
🚑 CDR-Life, a Zurich-based developer of immuno-oncology therapies, raised $76m in Series A funding. Jeito Capital and RA Capital Management co-led, and were joined by Omega Funds. www.crd-life.com
• Wagestream, a London-based income streaming startup, raised $60m in Series C equity funding (plus $115m in debt). Smash Capital and BlackRock co-led the equity, while SVB provided the debt. http://axios.link/NJvW
• Proxymity, a digital investor communications platform, raised $52m in Series B funding from Mediant, Citi Ventures and Deutsche Börse Group. www.proxymity.io
🌎 ComboCurve, a Humble, Texas-based energy analytics software provider, raised $50m in Series B funding co-led by Dragoneer and Bessemer Venture Partners. www.combocurve.com
🚑 MedTrainer, a Redlands, Calif.-based provider of healthcare credentialing and training software, raised $43m in Series B funding. Vista Equity Partners led, and was joined by insider Telescope Partners. www.medtrainer.com
🚑 Diligent Robotics, an Austin, Texas-based developer of service robots for healthcare, raised $30m in Series B funding. Tiger Global led, and was joined by Cedars-Sinai Health Ventures and insiders True Ventures, DNX Venture, Ubiquity Ventures, E14 Fund, Next Coast Ventures, Boom Capital and Gaingels. http://axios.link/Lx4E
• Nomad, a cross-chain messaging protocol, raised $22.4m led by Polychain Capital. www.nomad.xyz
🌎 Raptor Maps, a Boston-based provider of solar lifecycle management software, raised $22m in SeriesB funding. MKB led, and was joined by the Microsoft Climate Innovation Fund, Blue Bear Capital, DNV, Buoyant Ventures, Congruent Ventures and Data Point Capital. www.raptormaps.com
• EvolutionIQ, a New York-based insurance claims platform, raised $21m in Series A funding. Brewer Lane Ventures led, and was joined by FirstRound Capital, FirstMark Capital, Foundation Capital, Altai Ventures, Asymmetric Ventures, Reliance Standard Life, New York Life Ventures, Guardian Life and Sedgwick. http://axios.link/TWZu
• Moot, an e-commerce toolkit for brands, raised $18m led by Espresso Capital. http://axios.link/aT5w
🚑 9am, a San Diego-based virtual diabetes clinic, raised $16m in Series A funding. 7Wire Ventures and Human Capital co-led, and were joined by StartUp Health, Bayer and insiders Define Ventures and Founders Fund. http://axios.link/2ImB
• Grain, an SF-based video meeting content saving and sharing startup, raised $16m in Series A funding. Tiger Global led, and was joined by Zoom, Slack, Unusual Ventures and Freestyle VC. http://axios.link/9UVR
• Noogata, an Israeli startup aimed at simplifying AI for the enterprise, raised $16m in Series A funding led by Eight Roads. http://axios.link/TEjG
🚑 Duos, a New York-based senior care startup, raised $15m in Series A funding led by Imaginary Ventures, per Axios Pro's Sarah Pringle. http://axios.link/WokK
• Umba, a Lagos-based digital banking app, raised $15m in Series A funding. Costanoa Ventures led, and was joined by Lux Capital, Palm Drive Capital, Banana Capital, Chandaria Capital, Streamlined Ventures, Lachy Groom and ACT Ventures. www.umba.com
• Zevoy, a Finnish expense management startup, raised a €15m in Series A funding. Blossom Capital led, and was joined by Maki.vc and Brightly Ventures. http://axios.link/Gxez
• Dfns, a Paris-based provider of decentralized custody as an API, raised $13.5n. White Star Capital led, and was joined by Hashed, Susquehanna, Semantic Ventures, Coinbase, ABN AMRO Ventures, Bpifrance, Ryan Selkis and Xavier Niel. www.dfns.co
• Mintbase, a Lisbon-based NFT protocol, raised $12.5m in Series A finding from Coinbase Ventures, Libertus Capital, Sino Global Capital, Animoca Brands, Woodstock Fund and Fundamental Labs. www.mintbase.io
• NODAR, a Somerville, Mass.-based long-range 3D vision tech startup, raised $12m in Series A funding. NEA led, and was joined by Rhapsody Venture Partners. www.nodarsensor.com
• RentRedi, a New York-based provider of property management software for landlords, raised $12m in Series A funding. K1 Investment Management led, and was joined by TIA ventures, Tribecca Early Stage Partners and RiverPark Ventures. www.rentredi.com
• Union.ai (dba Flyte), an open source AI orchestration platform, raised $10m led by NEA. http://axios.link/22fx
• Neptune.ai, a Polish ML model development startup, raised $8m in Series A funding led by Almaz Capital. http://axios.link/o6zw
🚑 Pictor, an in vitro diagnostics company with offices in Los Angeles and New Zealand, raised $6.1m co-led by K1W1 and former Morrison & Co. CEO Marko Bogoievski. https://pictordx.com/
• Ugami, a gamer debit card startup, raised $4.8m in seed funding. Harlem Capital Partners and ULU Ventures co-led, and were joined by FJ Labs, Origins Fund and Top Corner Capital. http://axios.link/S79O
• Reputation DAO, an Australian reputation service for DeFi, raised $4.75m in seed funding from AirTree Ventures, Framework Ventures, Digital Asset Capital Management and Koji Capital. www.reputation.link
• Hookdeck, a Montreal-based webhook infrastructure startup, raised C$3m led by Matrix Partners. www.hookdeck.com
• Wavy, a Canadian workplace culture management platform, raised C$2.5m in seed funding. Laconia Capital led, and was joined by Garage Capital, Two Small Fish Ventures, Archangel and Backbone Angels. http://axios.link/zOiQ
• HacWare, a Dallas-based cybersecurity awareness training startup, raised $2.3m in seed funding. Elevate Capital led, and was joined by 2.0 Ventures, Aura Innovation Fund and Chai Angels. http://axios.link/zcFH
🚑 Sampling Human, a San Diego-based developer of engineered cells for single-cell analysis, raised $2m led by i&I Bio. www.samplinghuman.com
Private Equity Deals
• ABRY Partners invested in Inoapps, a Scottish Oracle partner, from BGF. www.innoapps.com
• Bregal Sagemount invested in PayArc, a Greenwich, Conn.-based payment processing software company. www.payarc.com
• Gridiron Capital invested in Vertical Supply Group, a Greensboro, N.C.-based provider of fall protection equipment and arborist tools for the tree care industry. www.verticalsupplygroup.com
🚑 Health Enterprise Partners invested in Proven Behavior Solutions, a Norwell, Mass.-based provider of in-home and clinic treatment for autism. www.provenaba.com
• The Jordan Co., agreed to buy four precision measurement and data businesses from Trimble (Nasdaq: TRMB). www.trimble.com
• KKR agreed to buy cloud security services firm Barracuda Networks from Thoma Bravo for a reported $4b. http://axios.link/te7x
• Rand McNally, a Chicago-based portfolio company of Teleo Capital, bought Fleetsu, an Australian fleet management platform. www.randmcnally.com
• Ted Baker (LSE: TED) confirmed that Sycamore Partners will be involved in its sale process, just weeks after the British fashion retailer rejected a Sycamore takeover offer. http://axios.link/NuBq
Public Offerings
⚡ Excelerate Energy, a global LNG company based in The Woodlands, Texas, raised $384m in its IPO and will trade on the NYSE (EE). This is the largest U.S. IPO in months, with the company pricing at the high end of its $21-$24 range. http://axios.link/lqMQ
SPAC Stuff
• Credit Suisse formed a committee to "assess its involvement" in SPACs, ahead of new SEC regulation, per Bloomberg. This follows a report that Citigroup has paused its SPAC activity.
🚑 EUDA Health, a Singapore-based personalized digital health platform, agreed to go public at an implied $580m valuation via 8i Acquisition 2 (Nasdaq: LAX). http://axios.link/kVzZ
• Aura FAT Projects Acquisition, a web3 SPAC, raised $100m in its IPO. http://axios.link/fdcz
• BCC Investment, a SPAC formed by Bain Capital Credit, withdrew registration for a $300m IPO.
Liquidity Events
• Twitter (NYSE: TWTR) agreed to buy OpenBlack, a Dublin-based mobile engagement startup that had been seeded by Enterprise Ireland. http://axios.link/2gtR
More M&A
• Blackwells Capital reiterated its call for Peloton (Nasdaq: PTON) to launch a sale process, just two months after the connected fitness company's CEO switch. It still isn't saying how much of Peloton it owns, or agreeing to an interview. Bottom line: Activists are gonna activist.
🚑 GlaxoSmithKline (LSE: GSK) agreed to buy San Mateo, Calif.-based Sierra Oncology (Nasdaq: SRRA) for $1.9b. http://axios.link/Erx2
⚾ The Lerner family said it will consider selling the Washington Nationals baseball franchise. http://axios.link/eJqC
⚽ Steve Paglicua, a Bain Capital partner and co-owner of the beloved Boston Celtics, said that his bid for Premier League club Chelsea has been joined by Larry Tanenbaum (NBA chairman and owner of Maple Leaf Sports & Entertainment) and former Chelsea captain John Terry. http://axios.link/q0s9
• Stephens bought around a 20% stake in Crux Asset Management, a London-based hedge fund manager with around £1.7b in AUM. www.cruxam.com
Fundraising
• Blue Lake Capital, a Chinese VC firm, is raising $400m for its fourth fund, per an SEC filing. www.bluelakecap.com
🌎 Emerald Technology Ventures raising €200 million for a fund focused on sustainable packaging companies, per Axios Pro. http://axios.link/omjy
• Haveli, the new VC firm led by former Vista Equity Partners president Brian Sheth, has secured $317m of a $500m-targeted gaming fund, per SEC filings.
• One Equity Partners raised $2.75b for its eighth fund. www.oneequity.com
It's Personnel
• BlackRock said it fired three managing directors in its private equity secondaries group — Konnin Tam, Steve Lessar and Veena Isaac — after learning they planned to leave for Apollo Global Management. http://axios.link/kxY4
• Matt DiFrisco is joining Wells Fargo as a managing director of consumer and retail I-banking, with a focus on restaurant deals, per Bloomberg. He previously was with Wedbush Securities. http://axios.link/J4yi
• Mark Esper, former U.S. Defense Secretary, joined VC firm Red Cell Partners as a partner and chair of the firm's national security group. www.redcellpartners.com
• Luther Gatewood (ex-Athyrium Capital Partners) joined Turnspire Capital Partners as a principal. www.turnspirecap.com
• Marta Obando joined activist investor Muddy Waters as head of IR and marketing. She previously was with Rosewind Partners.
🌎 Matt Trevithick (ex-COO of Google Quantum AI) and Rachel Slaybaugh (co-founder of Good Energy Collective) joined venture firm DCVC to focus on climate investments. www.dcvc.com
🌎 Lance Uggla, former chairman and CEO of IHS Markit, joined General Atlantic as CEO of its climate growth equity unit (BeyondNetZero). www.generalatlantic.com
Final Numbers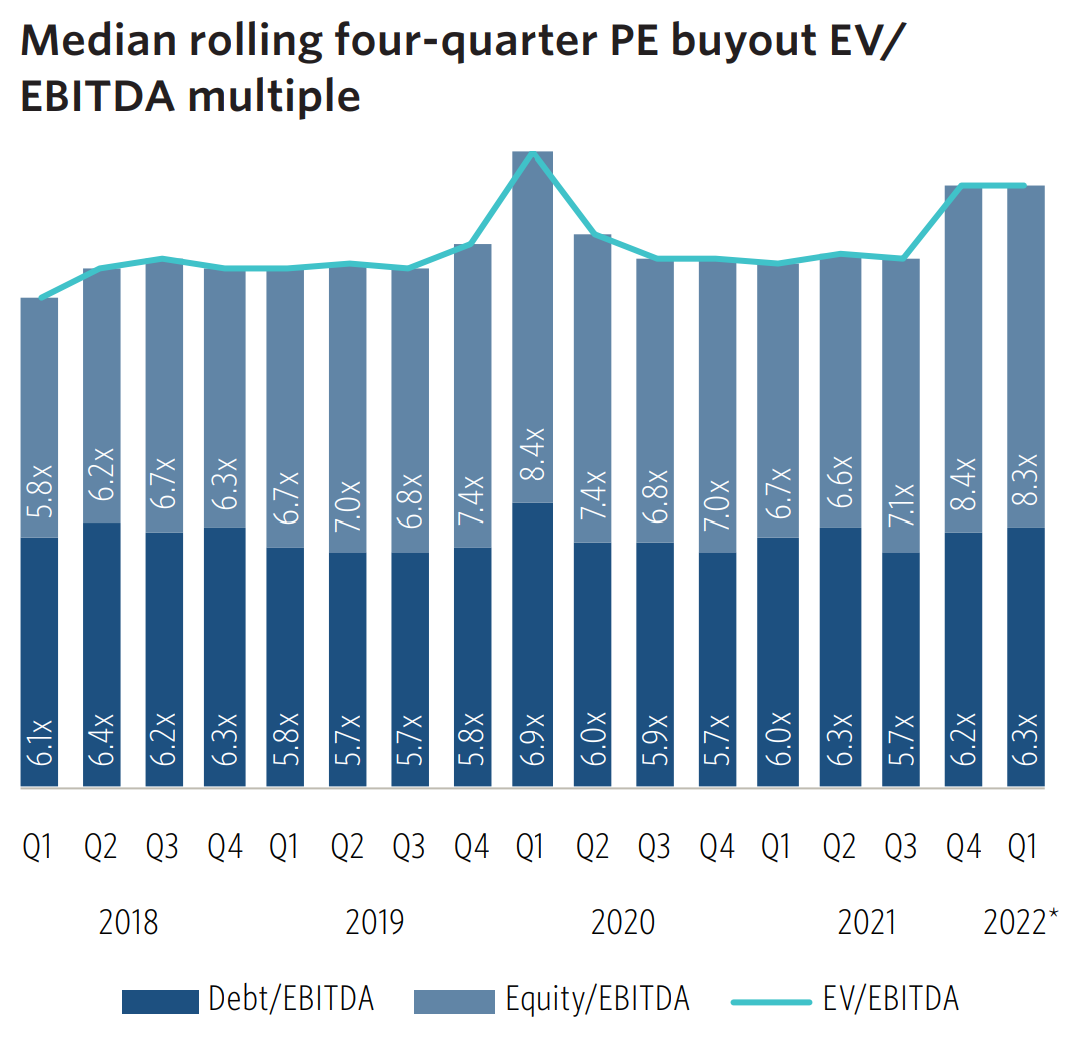 Private equity deal activity fell in Q1 2022, but EBITDA multiples and debt-to-equity ratios remained relatively stable from the prior quarter (and were up year-over-year), per new data from PitchBook.
✅ Thanks for reading Axios Pro Rata! Please ask your friends, colleagues and retirees to sign up.