Axios Pro Rata
July 28, 2022
Happy Thursday, readers! We may or may not be in a recession, but the one thing we know for sure is the week is almost done — hang in there.
As always, feel free to send me tips or comments by replying to this email or on Twitter @imkialikethecar.
Top of the Morning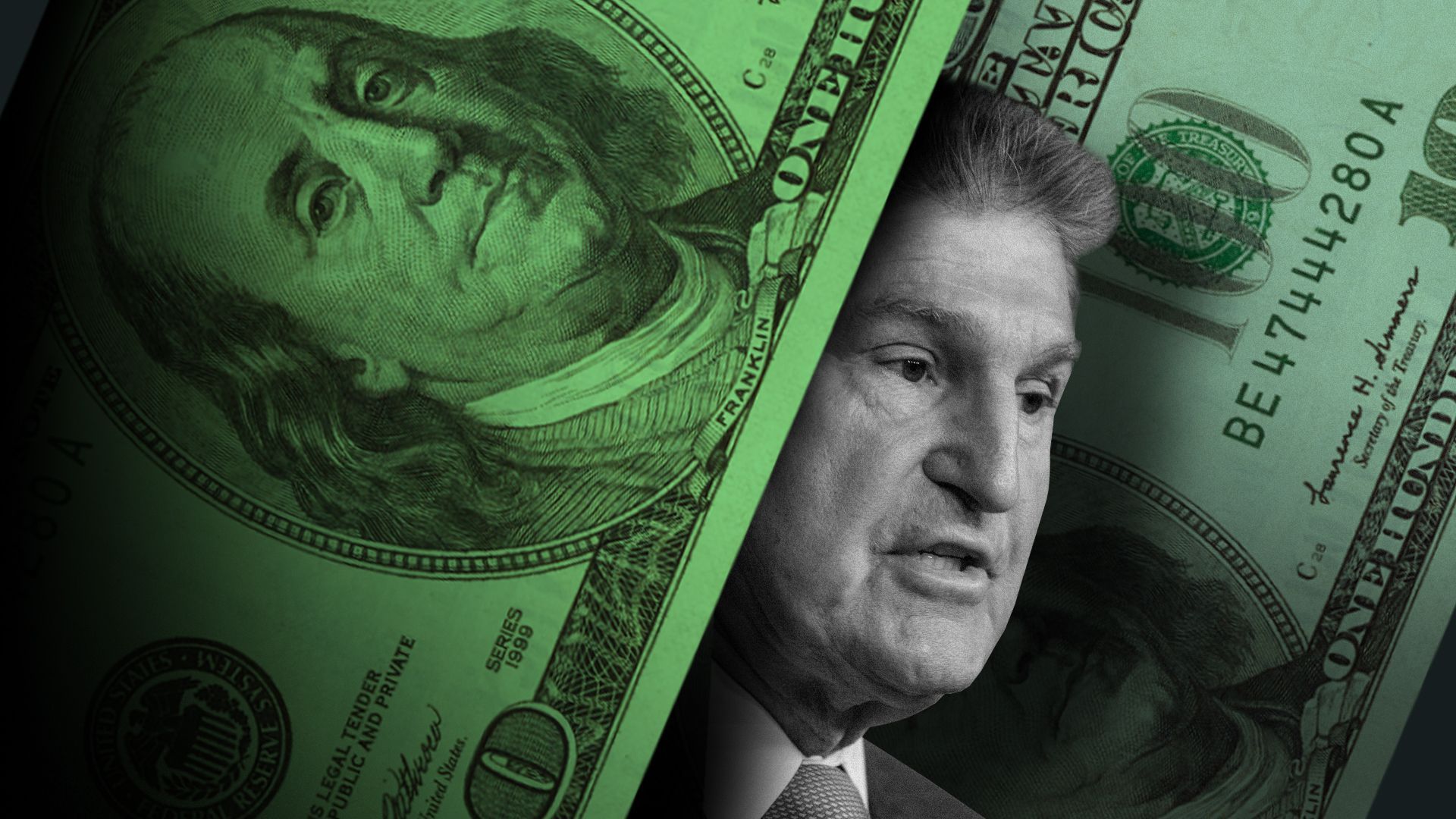 And just like that, Sen. Joe Manchin (D-W.Va.) announced last night that he'll back a deficit reduction package that tackles climate and health care, but taxes carried interest as ordinary income. The move sent a chill down the spines of everyone in private equity and venture capital.
Why it matters: Getting rid of the so-called carried interest loophole — so far, to no avail — is a threat that's come up in legislative debates over and over, including last year's Build Back Better bill as longtime Pro Rata readers may recall.
Details: According to the proposed bill outline, taxing carried interest as ordinary income (instead of capital gains) would raise an estimated $14 billion over a decade.
Other relevant bits: The bill also aims to impose a 15% minimum corporate tax for the largest corporations (worth at least $1 billion), which have thus far been able to get a lot of tax credits and pay lower taxes.
There are also provisions for investing in climate change, health care and other areas.
Naturally, investors are not happy. "Over 74% of private equity investment went to small businesses last year," American Investment Council CEO Drew Maloney said in a statement.
"As small business owners face rising costs and our economy faces serious headwinds, Washington should not move forward with a new tax on the private capital that is helping local employers survive and grow."
Yes, but: Getting Manchin on board is only one step in a still fluid process of passing this proposal.
It's unclear right now where Sen. Kyrsten Sinema (D-Ariz.) stands on all this: She's indicated in the past that she wouldn't support moving on carried interest.
And then there's the House. A number of members of Congress have been clear they want the SALT deduction cap raised as part of any proposal — something this proposal doesn't include.
Meanwhile, other more progressive members were hoping to pass a more comprehensive package.
What we're watching: Whether the carried interest political football moves the chains, or gets punted (again).
The BFD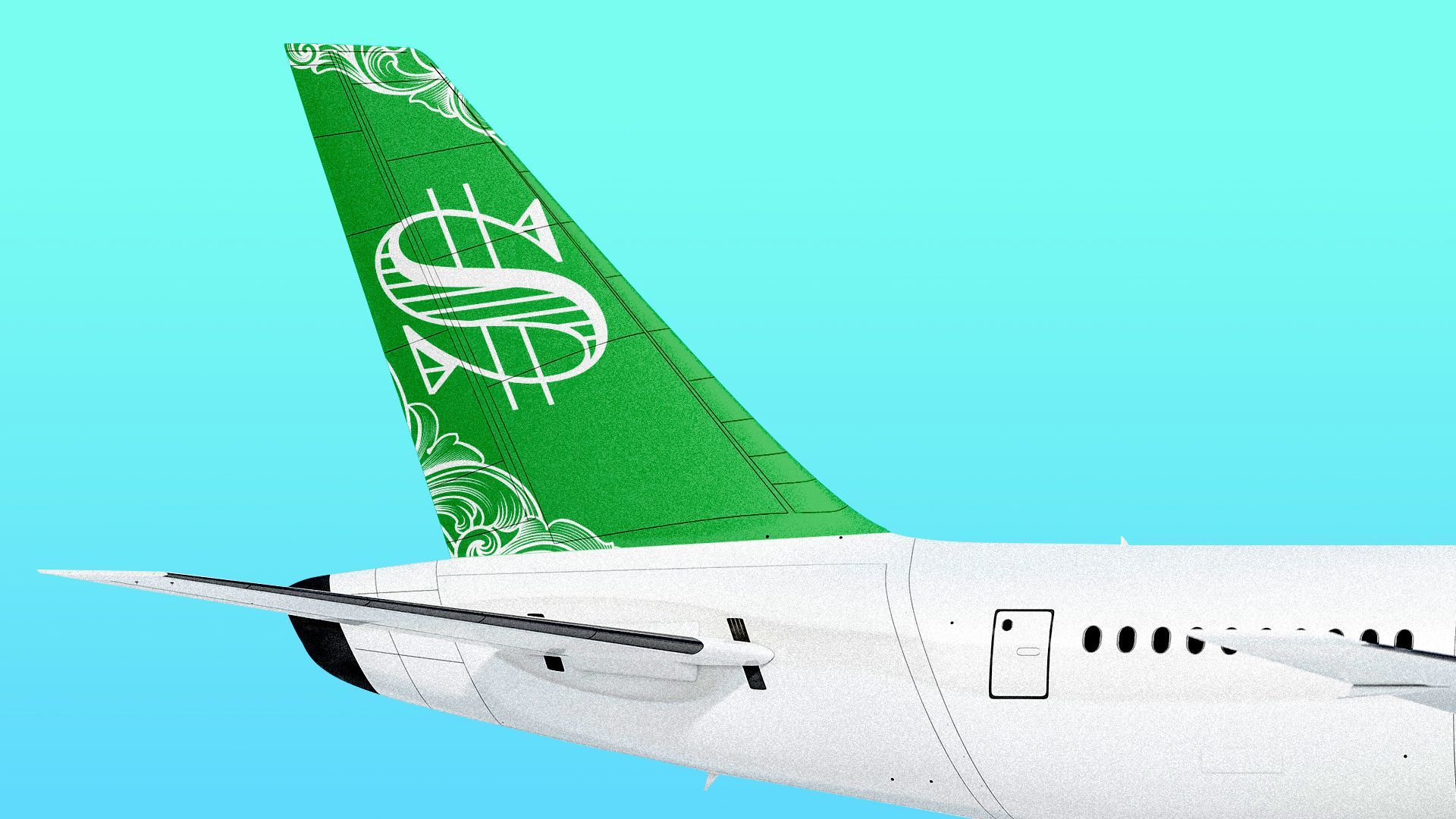 JetBlue Airways has agreed to acquire Spirit Airlines for $3.8 billion, a day after Frontier Airlines' bid for Spirit fell apart.
Why it's the BFD: If approved by regulators, the deal will create the fifth-largest airline in the U.S.
Details: JetBlue would acquire Spirit for $33.50 per share in cash, more than Spirit's closing price of $24.30 on Wednesday.
The bottom line: "But while the airlines have agreed to combine, closing the deal is far from certain. The Biden administration has taken a tough stance on antitrust, challenging corporate mergers that may reduce competition. Regulators have already sued JetBlue and American Airlines over a partnership at airports in Boston and New York."—Niraj Choksi, NYT.
Venture Capital Deals
• Crypto SNACK, an Estonian developer of a gaming-focused digital token, raised $50m in funding from GEM Digital. www.cryptosnacks.org
• Nabr, a New York-based direct-to-consumer housing startup, raised $48m in equity and debt funding led by 2150. Read more.
• Retool, a San Francisco-based software developer tools startup, raised $45m in additional Series C funding at a $3.2b valuation from Sequoia Capital, John and Patrick Collison, Nat Friedman, Elad Gil, Daniel Gross, and Caryn Marooney. Read more.
🚑 BridGene Biosciences, a San Jose, Calif.-based biotech drug discovery company, raised $38.5m in Series B funding from Lapam Capital, Junson Capital and Dyee Capital. www.bridgenebio.com
• Switchboard, a San Francisco-based remote work collaboration startup, raised $25m in Series A funding led by Icon Ventures, with Sequoia Capital, XYZ Venture Capital, and Spark Capital also participating. Read more.
• MenuSifu, a New York-based restaurant POS company, raised $20m in Series B funding led by Challenjers Venture. www.menusifu.com
• Dbank, a Pakistani consumer fintech startup, raised $17.6m in a seed funding led by Sequoia Capital Southeast Asia and Kleiner Perkins, with Nubank, Askari Bank, and Rayn also participating. Read more.
• Paragon, a Los Angeles-based maker of Saas app integration software tools, raised $13m in Series A funding led by Inspired Capital, with FundersClub and Garuda Ventures also participating. www.useparagon.com
• Evabot, a San Francisco-based corporate gifting startup, raised $10.8m in funding led by Comcast Ventures, with Alumni Ventures, Bloomberg Beta, Precursor Ventures, Forefront Venture Partners and Silicon Valley Bank also participating. Read more.
🚑 Sage, a New York-based provider of nurse call systems at senior living facilities, raised $9m in seed funding led by Goldcrest Capital, with ANIMO Ventures, Distributed Ventures and Merus Capita also participating. Read more.
• Quasar Finance, a Spanish digital asset management startup, raised $6m in funding from Polychain Capital, Blockchain Capital, Figment Capital, Lightshift Capital, and Galileo. www.quasar.fi
• Qwili, a South African merchant sales tools startup,raised $1.2m in seed funding led by E4E Africa, with Strat-Tech, Next Chymia, Untapped Global, Codec Ventures, Ashwin Ravichandran and Kanyi Maqubela also participating. Read more.
• FinLync, a New York-based corporate finance software startup, raised an undisclosed amount from Workday Ventures. www.finlync.com
Private Equity Deals
🚙 Clearlake Capital Group acquired BBB Industries, a Daphne, Ala.-based manufacturer of non-discretionary automotive, industrial, energy storage and solar parts, from Genstar, which will retain a minority ownership stake. www.bbbind.com
⛽️ Ardian, Groupe Casino, Bpifrance and Tikehau Capital agreed to acquire a majority stake in GreenYellow, a French decentralized energy company, valuing the company at €1.4b. www.fr.greenyellow.com
• OpenGov, backed by Cox Enterprises, acquired Cartegraph, a Dubuque, Iowa-based infrastructure and building management software company backed by Pamlico Capital. www.cartegraph.com
• Mainsail Partners invested $40m in Fexa, a Mullica Hill, N.J.-based facility maintenance software company. www.fexa.io
• Summit Partners invested $30m into PriceLabs, a Chicago-based provider of dynamic pricing and revenue management tools for short-term rentals. www.hello.pricelabs.co
• KSL Capital Partners acquired the W Maldives and the Sheraton Maldives Full Moon Resort & Spa from a joint venture between Universal Enterprises and Marriott International. www.kslcapital.com
• Integrity Marketing Group agreed to acquire Annexus, a Scottsdale, Ariz.-based independent insurance and financial product company, from Blackstone and other investors. www.annexus.com
• Sentinel Capital Partners acquired Bandon Holdings, an Austin, Texas-based franchise of Anytime Fitness. www.anytimefitness.com
Public Offerings
🚑 bioAffinity Technologies, a San Antonio, Texas-based company developing a noninvasive test for early detection of lung cancer, lowered the proposed size for its upcoming IPO to raise $7m by offering 1.2m units at $6. It plans to list on the Nasdaq under the symbol BIAF. WallachBeth Capital is the sole bookrunner on the deal. Read more.
🚑 MAIA Biotechnology, a Chicago-based Phase 2 biotech company developing targeted immunotherapies for cancer, raised $10m by offering 2m shares at $5, the low end of the range of $5 to $7. It plans to list on the NYSE American under the symbol MAIA. ThinkEquity acted as sole bookrunner on the deal. Read more.
• GigaCloud Technology, a Hong Kong-based cross-border B2B marketplace for large parcel merchandise, lowered the proposed deal size for its upcoming IPO and now plans to raise $28m by offering 2.5m shares at a price range of $10.25 to $12.25. It plans to list on the Nasdaq under the symbol GCT. Aegis Capital Corp. is the sole bookrunner on the deal. Read more.
SPAC Stuff
⛽️ Athena Consumer Acquisition Corp. agreed to merge with Next.e.GO, a German urban electric vehicle company, at a $900m valuation. Read more.
• SCVX Corp, a blank check company, will liquidate and return investor capital on Aug. 11. Read more.
• Tribe Capital Growth I announced it would change its name, management, and acquisition strategy after Tribe Capital withdrew as a co-sponsor. It's now named Iris Acquisition. Read more.
Liquidity Events
More M&A
• ClaimLogiq acquired SyTrue, a Chico, Calif.-based health care-focused natural language processing technology. www.sytrue.com
• HUMAN Security, a New York-based anti-bot and fraud security company, agreed to merge with PerimeterX, a San Mateo, Calif.-based online fraud prevention company. Read more.
• H&M has decided to sell its assets in Russia to a local or foreign buyer, according to the Russian Ministry of Industry and Trade. Read more.
Fundraising
• Launch House is raising $10m over two venture vehicles to invest in startups. Read more.
• Silversmith Capital Partners raised $1.3b for its fourth fund. www.silversmith.com
It's Personnel
• 3i Group hired Trevor Russo as vice president in its North America Infrastructure team. www.3i.com
Final Numbers
🙏 Thanks for reading Axios Pro Rata! Please ask your friends, colleagues and carried interest supporters to sign up.