Axios Pro Rata
March 08, 2021
🎧 Axios Re:Cap today launches a seven-part series on the anniversary of the week America changed, featuring conversations with key decision makers.
Up first is Sheryl Sandberg of Facebook, which was one of the first companies to send employees home.
Please subscribe via your favorite pod platform.
Top of the Morning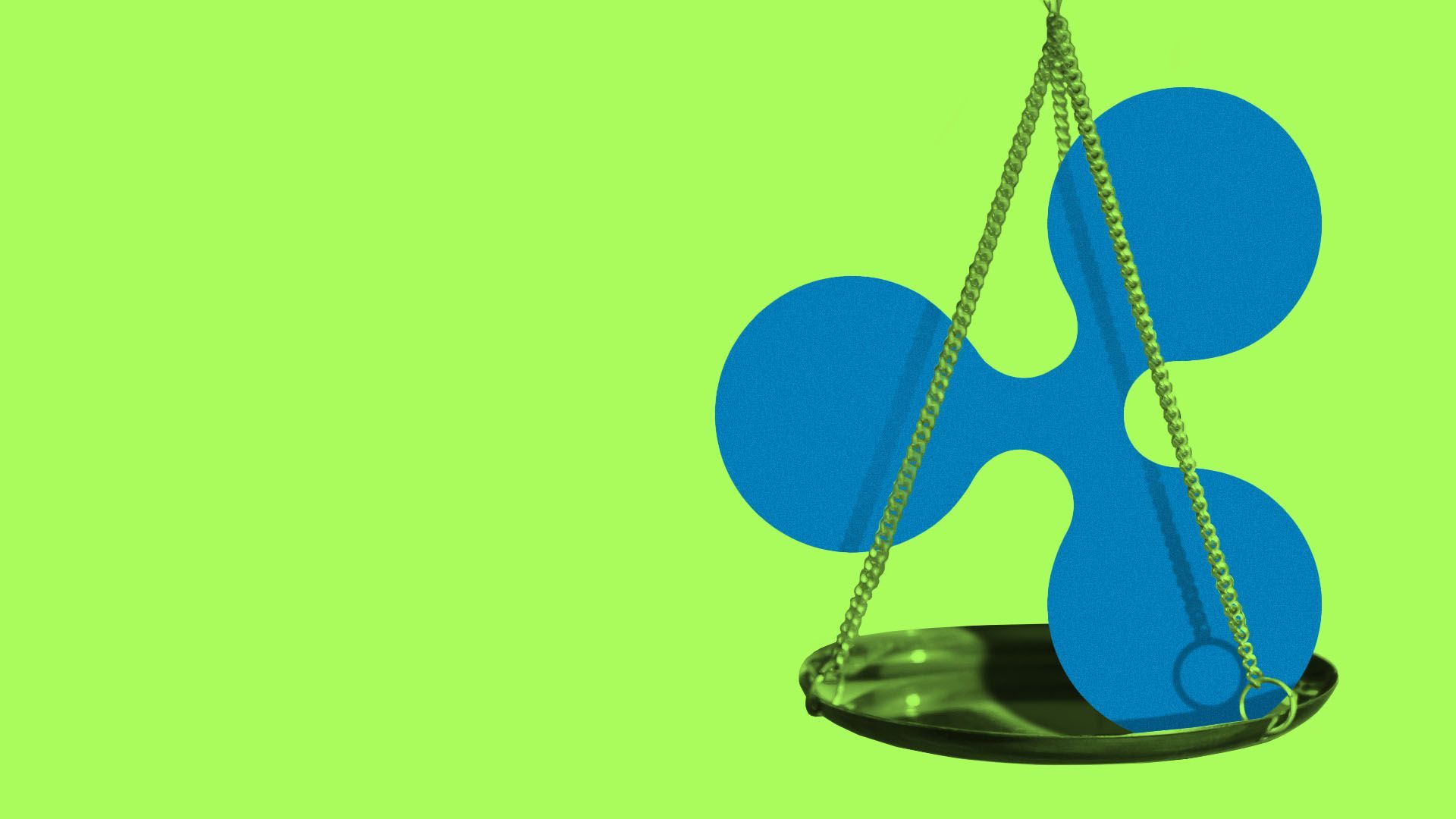 Ripple CEO Brad Garlinghouse tells "Axios on HBO" that if his company loses a lawsuit brought by the SEC, it would put the U.S. cryptocurrency industry at a competitive disadvantage.
Why it matters: Garlinghouse is obviously talking his book, but his call for clearer crypto rules is consistent with longstanding entreaties from other industry players.
History: The SEC in December sued Ripple, and Garlinghouse personally, for allegedly selling over $1.3 billion in unregistered securities.
Ripple filed its formal response last Thursday. It argues that its cryptocurrency, called XRP, didn't require registration because it's an asset rather than a security.
Ripple secured a separate legal victory last Friday, as a Delaware court ruled that U.K.-based Tetragon Financial Group cannot recoup its $175 million investment in Ripple because of the SEC lawsuit.
What he's saying: "Many countries around the world, the U.K., Japan, Switzerland, Singapore, they all have clarity and certainty that XRP is not a security. In fact, the United States is the only country on the planet that has suggested that XRP is a security. That's why I say this isn't just bad for Ripple, it's bad for crypto broadly here in the United States. And it's driving that activity is driving that entrepreneurial activity outside the United States."
In an unaired part of the interview, Garlinghouse says that were he to launch a new crypto company today, he would base it outside of the U.S.
He also expressed confidence that Ripple will prevail against the SEC, but says a loss may lead it to relocate "to a country where there is regulatory clarity and regulatory certainty."
The bottom line: The crypto industry is now large enough and old enough that it deserves a U.S. regulatory framework, whether benefitting Ripple or not.
Or, as Garlinghouse put it in another unaired segment, after I asked why ordinary Americans should care: "The nature of the U.S.'s participation in the Internet as we know it today has been a source of massive profits. It's been a source of geopolitical strength. And so our I think our lack of leadership around a next-generation technology like blockchain is not good for the United States."
The BFD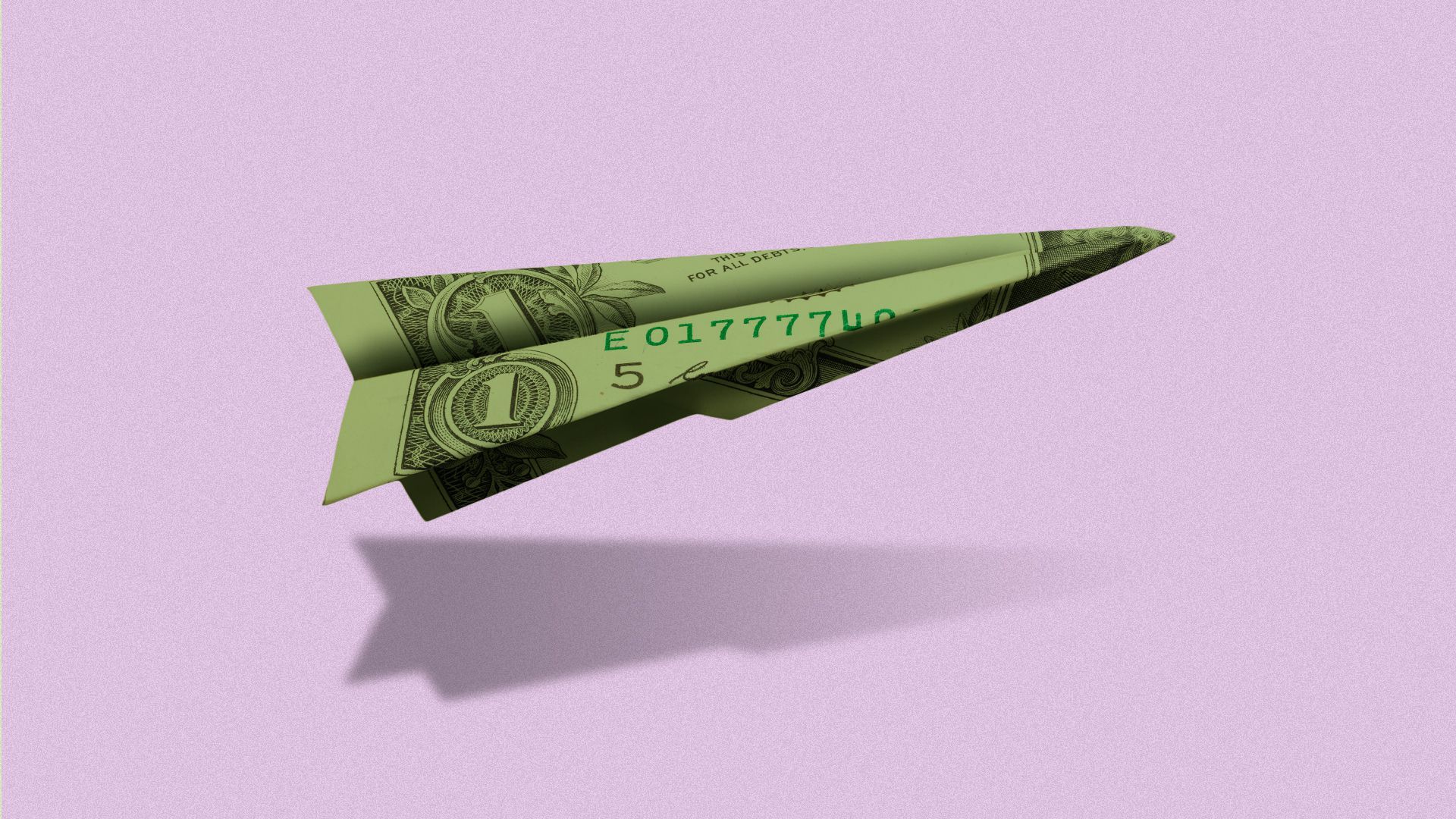 General Electric (NYSE: GE) is in advanced talks to merge its aircraft-leasing business with AerCap Holdings (NYSE: AER), as first reported by WSJ.
Why it's the BFD: This would create the world's largest jet-leasing business, valued north of $30 billion, which is certain to invite antitrust scrutiny. It also further streamlines GE, which has been shedding ancillary businesses since Larry Culp took over as CEO in 2018.
Bottom line: "The pandemic has hammered the aviation industry and pushed airlines around the world to cancel new jetliner orders, push back delivery dates and defer lease payments. As middlemen, aircraft leasing firms have suffered too, while also playing a critical financing role to keep deliveries flowing, often with sale-leaseback deals that hand cash to airlines with jet handovers." — Bloomberg
Venture Capital Deals
• Starling, a British digital challenger bank, raised £272 million in Series D funding at a £1.1 billion pre-money valuation. Fidelity led, and was joined by Qatar Investment Authority, Railpen and Millennium Management. http://axios.link/5K84
• NYDIG, a Bitcoin-focused financial services firm, raised $200 million from Stone Ridge Holdings, Morgan Stanley, New York Life, MassMutual, Soros Fund Management, FS Investments and return backers Bessemer Venture Partners and FinTech Collective. www.nydig.com
• WeLab, a Hong Kong-based mobile lender, raised $75 million in Series C1 funding led by Allianz. http://axios.link/ecT8
• Rimac Automobili, a Croatian maker of electric hypercars, raised €70 million from return backer Porsche. http://axios.link/4sZn
• Eco, a San Francisco-based cryptocurrency payments platform, raised $26 million led by Andreessen Horowitz. http://axios.link/eO6t
• AgentSync, a Denver-based provider of compliance software for insurers, raised $25 million in Series A funding at a $220 million post-money valuation. Elad Gil and Craft Ventures co-led, and were joined by Marc Benioff, Caffeinated Capital, Operator Collective and Nine Four Ventures. www.agentsync.io
• Planted, a Swiss alt-chicken maker, raised $18 million in Series A funding co-led by Vorwerk Ventures and Blue Horizon Ventures. http://axios.link/Snvs
• Refraction AI, an Ann Arbor, Mich.-based last-mile delivery robotics startup, raised $4.2 million in seed funding. Pillar VC led, and was joined eLab Ventures, Osage Venture Partners, Trucks VC, Alumni Ventures and Invest Michigan. http://axios.link/toLj
Private Equity Deals
• Apollo Global Management (NYSE: APO) agreed to merge with Athene (NYSE: ATH), a retirement services provider in which Apollo already holds around a 29% stake. The deal values Athene at around $11 billion, with Apollo shareholders to own around 76% of the combined company. http://axios.link/f6nn
• The Carlyle Group acquired a majority stake in Disguise, a London-based provider of live event virtualization solutions, from Livingbridge. www.disguise.one
• Centerbridge Partners is in talks to buy the debt collection arm of Italy's Cerved Group (BIT: CERV). http://axios.link/hnFi
• CeriFi, an Alpharetta, Ga.-based portfolio company of Leeds Equity Partners, acquired Bionic Turtle, a provider of financial risk management certification exam prep courses. www.cerifi.com
• Greenbriar Equity Group acquired Oil Changers, a Pleasanton, Calif.-based operator of quick lube facilities, from Trivest Partners. www.oilchangers.com
• McAfee (Nasdaq: MCFE) agreed to sell its enterprise business for $4 billion to an investor consortium led by Symphony Technology Group. http://axios.link/7dP8
• Nordic Capital agreed to buy Swedish recycling and waste solutions provider Sortera from Summa Equity. http://axios.link/vr8I
🚑 Platinum Equity acquired NDC, a Nashville-based healthcare supply chain company, from Court Square Capital Partners. www.ndc-inc.com
• TA Associates invested in BetaShares, an Australian ETF manager. Sellers include Mirae Asset Financial Group. http://axios.link/fDBz
• TDR Capital raised its takeover bid for Arrow Global (LSE: ARW), a British buyer of defaulted customer accounts from retail banks and credit card companies, to $470 million. http://axios.link/mLj5
🚑 Therapeutic Research Center, a Stockton, Calif.-based portfolio company of Levine Leichtman Capital Partners, acquired NetCE, a Roseville, Calif.-based continuing education platform for the healthcare industry. www.trchealthcare.com
• Vista Equity Partners increased its $3.5 billion takeover offer for Pluralsight (Nasdaq: PS), a Utah-based provider of workforce development software, by 11%. The move comes after some shareholder opposition to the original agreement. www.pluralsight.com
• Warburg Pincus agreed to invest $110 million for a 0.49% stake in Indian ports business Adani Ports. http://axios.link/2EZb
Public Offerings
• Six companies plan to go public on U.S. exchanges this week: Coupang, Roblox (via direct listing), Hayward Holdings, JOANN Fabrics, First High-School Education Group and MeaTech 3D. http://axios.link/dPR0
🚑 Agiliti, a Minneapolis-based medical equipment management company owned by Thomas H. Lee Partners, filed for a $100 million IPO. It plans to list on the NYSE (AGTI) and reports a $22.5 million net loss on $773 million in revenue for 2020. http://axios.link/EoZF
• Coursera, a Mountain View, Calif.-based online learning company, filed for a $100 million IPO. It plans to list on the NYSE (COUR) and reports a $67 million net loss on $294 million in revenue for 2020. It raised $463 million in VC funding, most recently at a $2.6 billion valuation, from firms like NEA (18.3% pre-IPO stake), G Squared (15.9%), Kleiner Perkins (9.2%), Future Fund (7.9%), The Lampert Foundation, GSV Ventures and Learn Capital. http://axios.link/SRpo
🚑 Design Therapeutics, a Carlsbad, Calif.-based biotech focused on inherited degenerative disorders, filed for a $100 million IPO. It plans to list on the Nasdaq (DSGN) and raised $170 million in VC funding from firms like SR One (12.7% pre-IPO stake), Quan Capital (11.3%), Cormorant Asset Management and WestRiver Group. http://axios.link/razL
🚑 Edgewise Therapeutics, a Boulder, Colo.-based developer of drugs for musculoskeletal diseases, filed for a $100 million IPO. It plans to list on the Nasdaq (EWTX), and raised $160 million in VC funding from OrbiMed (36.4% pre-IPO stake), Novo Holdings (13.6%), USVP (9.5%), Deerfield Management (9%), Viking Global (7.5%), New Leaf Venture Partners and Cure Duchenne Ventures. http://axios.link/xYdg
• Emitel, a Polish tower infrastructure operator backed by Alinda Capital Partners, will seek around a $1.5 billion valuation in its Warsaw IPO, per Bloomberg. http://axios.link/LC1A
• Olo, a New York-based restaurant ordering and delivery platform, set IPO terms to 18 million shares at $16-$18. It would have a fully diluted value of $3.1 billion, were it to price in the middle, and plans to list on the NYSE (OLO). The company reports $3 million of net income on $98 million in revenue for 2020, and raised over $80 million in VC funding Raine Group, RRE Ventures, Tiger Global, Battery Ventures, Staley Capital and Wellington Management. http://axios.link/WJuJ
✈️ Sun Country Airlines, a Minneapolis-based low-cost air carrier owned by Apollo Global Management, set IPO terms to 9.1 million shares at $21-$23. It would have a fully diluted value of $1.3 billion, were it to price in the middle, and plans to list on the Nasdaq (SNCY). http://axios.link/G8eC
SPAC Stuff
• Victory Acquisition, a media, sports and entertainment SPAC led by James Lites (exec chair of the Dallas Stars), filed for a $250 million IPO. Directors include Sammy Hagar and Roger Staubach. Because of course they do. http://axios.link/k9cL
• Evolv Technology, a Waltham, Mass.-based developer of weapons screening systems for large crowds, agreed to go public at a $1.7 billion valuation via acquisition by NewHold Investment Corp. (Nasdaq: NHIC). Evolv had raised from backers like General Catalyst, DCVC, Lux Capital, SineWave Ventures. Bill Gates and Jeb Bush. BFD flashback.
• IonQ, a College Park, Md.-based quantum computing company, agreed to go public via acquisition at a $2 billion valuation by dMY Technology Group III (NYSE: DMYI). IonQ would become the first publicly-traded quantum computing company, and raised $84 million in VC funding from ACME Capital, Airbus Ventures, Amazon, Robert Bosch VC, GV, Hewlett Packard Pathfinder, Tao Capital Partners, Correlation Ventures, A&E Investment, Samsung Catalyst, Mubadala and Osage University Partners. http://axios.link/FZ1v
• Callodine Acquisition, an asset management SPAC led by James Morrow (ex-Fidelity), filed for a $200 million IPO. http://axios.link/qB29
• Chardan NexTech Acquisition, a health-tech and fintech SPAC formed by Chardan, filed for a $200 million IPO. http://axios.link/vo54
• Climate Real Impact Solutions III Acquisition, a climate change SPAC formed by PIMCO, filed for a $300 million IPO. http://axios.link/QVzU
⚡ Denham Sustainable Performance Acquisition, an energy transition SPAC formed by Denham Capital, filed for a $200 million IPO. http://axios.link/VABf
• Disruptive Acquisition I, a SPAC formed by Disruptive with an "Athlete Advisory Council" that includes Pat Mahomes and Naomi Osaka, filed for a $250 million IPO. http://axios.link/ivmR
• Inflection Point Acquisition, a consumer and tech SPAC formed by Kingstown Capital, filed for a $300 million IPO. http://axios.link/T2xF
• Logistics Innovation Technologies, a logistics SPAC led by ex-UPS exec Alan Gershenhorn, filed for a $400 million IPO. http://axios.link/rUQW
• Moose Pond Acquisition, a consumer tech SPAC formed by Next Coast Ventures, filed for a $200 million IPO. http://axios.link/29OM
• Trajectory Alpha Acquisition, a tech SPAC led by Peter Bordes (co-founder of MainBloq), filed for a $150 million IPO. http://axios.link/M0Bh
Liquidity Events
• Advent International agreed to sell Laird Performance Materials, a Shanghai-based maker of electronic materials, to DuPont (NYSE: DD) for $2.3 billion. http://axios.link/fxaO
• The Blackstone Group ended plans to sell a majority stake in Indian IT outsourcer Mphasis, after bids came in lower than expected, per Bloomberg. http://axios.link/XoOK
• HGGC sold Dealer-FX, a Canadian provider of customer experience and process automation software for automotive retailers and OEMs, to Snap-on (NYSE: SNA) for $200 million in cash. www.dealer-fx.com
• Panasonic (Tokyo: 6752) agreed to buy Blue Yonder, a Scottsdale, Ariz.-based supply chain software company, at a $6.45 billion valuation from New Mountain Capital and The Blackstone Group, per the Nikkei. Panasonic acquired a 20% stake in Blue Yonder last year. http://axios.link/WTCa
Fundraising
• H.I.G. Bayside Capital raised $1.4 billion for its sixth distressed debt fund. www.higcapital.com
• Primavera Capital Group, a Chinese private equity firm, is raising up to $5 billion for its fourth dollar-denominated fund, per Reuters. http://axios.link/IlXK
• Quadrille Capital, a French growth equity firm, raised €511 million for its fourth tech fund. http://axios.link/EZjD
It's Personnel
• Gregory Nixon rejoined Cerberus Capital Management as head of strategic investments, senior MD and senior legal counsel. www.cerberus.com
• Swander Pace Capital promoted Virginia Calvo to CFO/COO, Tyler Matlock to managing director, Alex Litt to SVP, Amy Li to VP and Anne Lee to senior associate. www.spcap.com
Final Numbers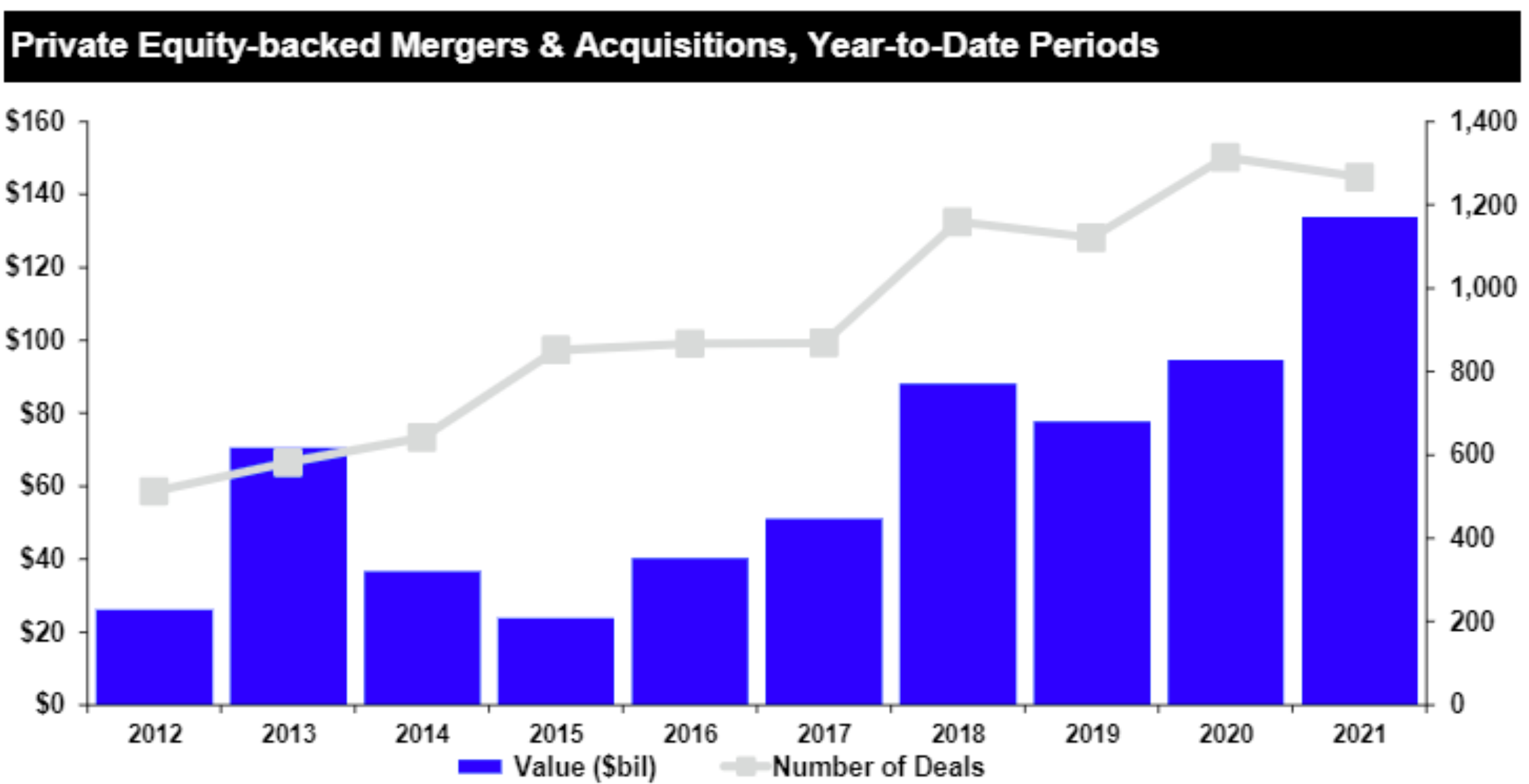 Global private equity volume hit $133.2 billion through last Friday, up 41% year-to-date over 2020, per Refinitiv.
U.S. volume is up 91% to $72.6 billion.
Asia (ex-Japan) is up 167%, while Europe is down 4%.
✅ Thanks for reading Axios Pro Rata! Please ask your friends, colleagues and XRP traders to sign up.