Axios Pro Rata
October 25, 2019
Top of the Morning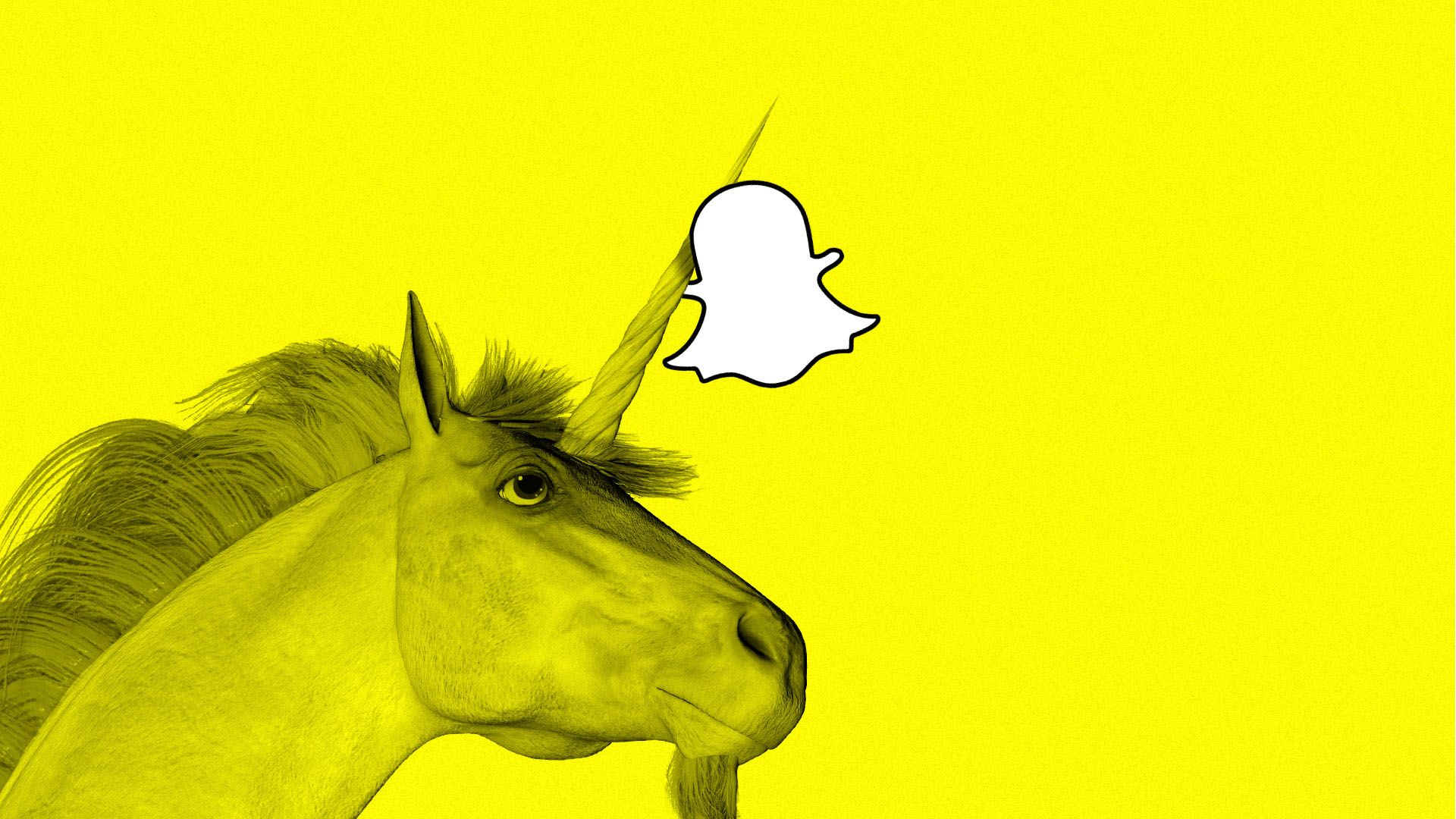 Before Lyft or Uber or WeWork, there was Snapchat. A red-hot, multi-billion dollar startup that melted upon contact with the public markets.
It's a cautionary tale for those who are quick to leave the 2019 cohort for dead.
Snap shared many of the unfavorable traits of those that would follow. Giant losses, unclear path to profitability, and a CEO whose hubris and poor communication skills had damaged both morale and product development.
It went public in early 2017 at $17 per share, sinking below $5 per share by the end of 2018. To say there was pessimism about Snap's future would be overstating it, since few people still cared enough to consider an opinion. Dead unicorn walking.
Since then, however, Snap has clawed its way back. It finally mastered Android, significantly increased its revenue-per-user, and CEO Evan Spiegel learned to listen, delegate, and be transparent.
Shares briefly topped their IPO price in July and, while only at $13.40 as of this writing, the company just crushed analyst expectations for Q3.
Snap still faces massive challenges, squeezed between incumbent Instagram and an insurgent TikTok, and too many employees remain underwater on their stock options.
But its falling knife did rebound, and should remind all of us that long-term outcomes needn't be memorialized in the moment.
• Today in Abraaj: U.S. prosecutors expanding their investigation of Arif Naqvi, founder of defunct private equity giant Abraaj Group, who was already indicted on fraud and racketeering charges. Per WSJ:
Part of their current investigation focuses on an alleged bribe they suspect may have been paid via an intermediary to former Pakistani Prime Minister Nawaz Sharif and his brother Shehbaz in 2016, the people said. Mr. Sharif was prime minister at the time and Mr. Naqvi was seeking government approval for the sale of Abraaj's stake in the power distributor K-Electric to a Chinese company.
• Today in SoftBank: Fair, a subscription-style service for car ownership, yesterday laid off 40% of its staff and replaced its CFO. This comes less than a year after SoftBank Vision Fund led a $386 million Series B round at a $1.2 billion post-money valuation.
SVF also is prepping around a $5 billion value markdown, when its parent company next reports quarterly earnings, per Bloomberg.
Shameless Self-Promotion
🎧 Acquired Podcast stopped by the home office yesterday, to tape an episode on the rise and fall of WeWork. Listen here.
📺 "Axios on HBO" has a new episode this Sunday, including interviews with Iraq's president (preview video), IMF head Kristalina Georgieva, and Sen. Kamala Harris. Plus we explore America's only offshore wind-farm. 6pm ET/PT.
The BFD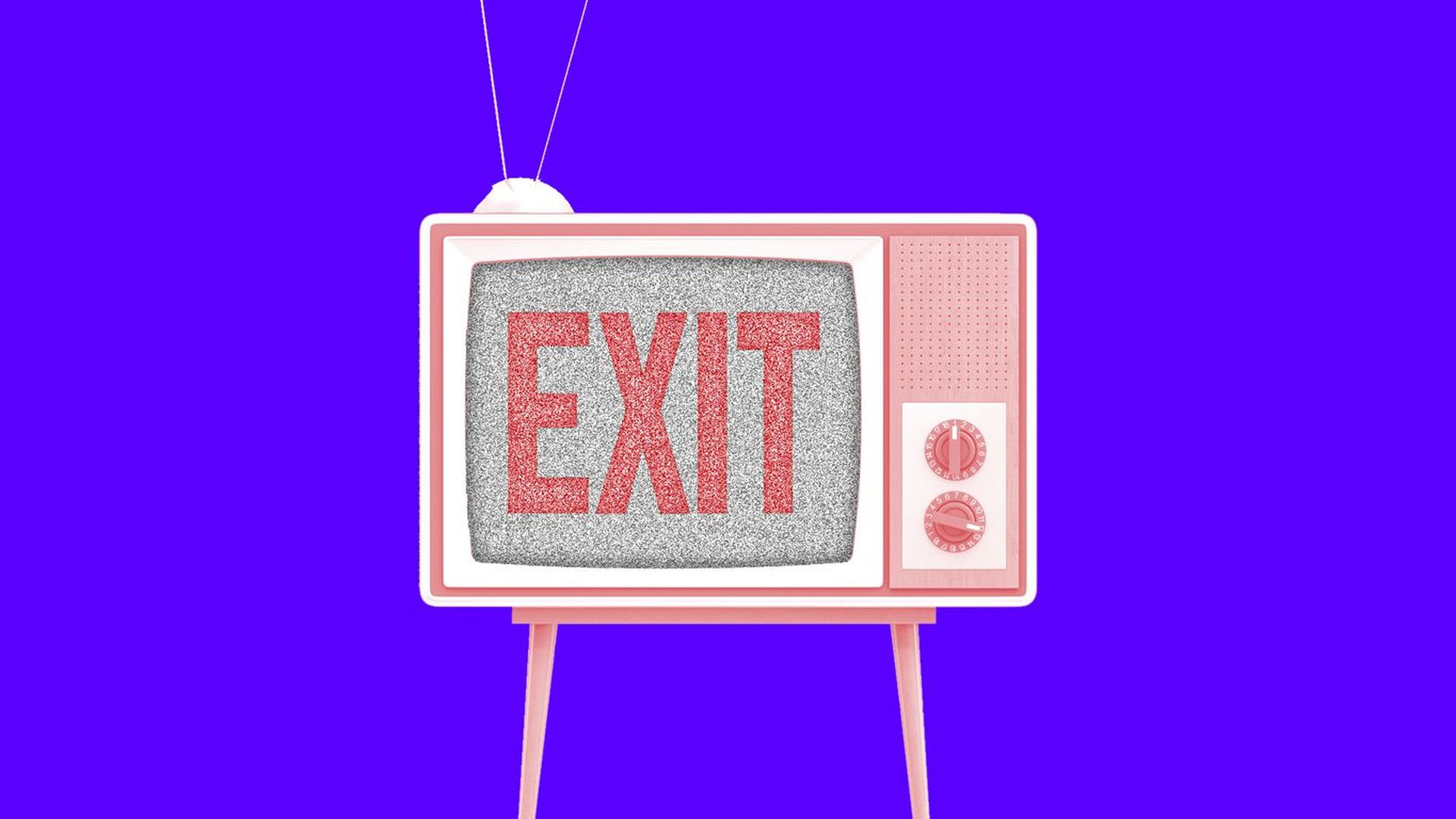 Michael Klein, a former Citi banker who now runs his own M&A advisory firm, is considering a takeover bid for broadcaster Univision, per Bloomberg.
Why it's the BFD: Univision's private equity owners have wanted to exit for years, and Klein has a knack for getting difficult deals over the finish line. But the biggest difficulty here might be Klein justifying the deal to himself: Univision still has over $7 billion of debt tied to its original buyout, is a linear broadcaster with virtually no streaming efforts, and is still trying to recover audience from its yearlong blackout on Dish.
Details: Klein would utilize a publicly-traded, blank-check company called Churchill Capital II, which raised $600 million in its IPO earlier this year. It's unclear if he could add leverage, as Univision still has over $7 billion of debt on its books.
Bottom line: "Klein is one of the world's top dealmakers, with deep connections throughout the U.S., Europe and Middle East. He is advising Saudi Aramco on its planned IPO and he counseled Dow Chemical Co. on its jumbo merger in 2016 with DuPont." — Bloomberg
Venture Capital Deals
🚑 Fountain Medical, a Chinese contract research organization for pharma, raised $62 million in Series D funding. Goldman Sachs led, and was joined by Lilly Asia Ventures. www.fountain-med.com
• Pollen (fka Verve), a London-based invite-only marketplace for group experiences and events, raised $60 million. Northzone led, and was joined by Sienna Capital and return backers Draper Esprit, Backed, and Kindred. http://axios.link/OEXf
• IonQ, a College Park, Md.-based quantum computing startup, raised $55 million in Series B funding. Samsung Catalyst and Mubadala co-led, and were joined by ACME Capital, Airbus Ventures, Hewlett Packard Pathfinder, Tao Capital Partners, Correlation Ventures, A&E Investment and return backers Amazon, NEA, GV, and Osage University Partners. http://axios.link/yvSW
• Total Expert, a Minneapolis-based marketing and customer service platform for banks, raised $52 million in Series C funding. Georgian Partners led, and was joined by Emergence Capital and Rally Ventures. http://axios.link/Gu6o
• Ally, a Seattle-based provider of business performance management software, raised $15 million in Series B funding. Tiger Global led, and was joined by return backers Accel, Vulcan Capital, and Founders Co-op. http://axios.link/4ehI
• Tonkean, a San Francisco-based robotic automation and management platform for workflows, raised $7.2 million in seed funding. Foundation Capital led, and was joined by Magma Venture Partners and Slow Ventures. http://axios.link/LYTZ
• Speechmatics, a UK-based developer of speech recognition software, raised £6.35 million in Series A funding. AlbionVC led, and was joined by IQ Capital. http://axios.link/QRsN
• E.fundamentals, a UK-based ecommerce analytics startup, raised £5.3 million. Maven Capital Partners led, and was joined by Downing Ventures and Scottish Enterprise. http://axios.link/oRJ3
• Taskade, a cross-platform workplace collaboration tool, raised $5 million in seed funding from Grishin Robotics and YC. http://axios.link/J1aS
• HowNow, a UK-based workforce learning platform, raised £2.4 million in seed funding led by Fuel Ventures. http://axios.link/lSui
Private Equity Deals
• Granite Creek Capital Partners and Red Arts Capital agreed to buy Sunset Pacific Transportation, a Chino, Calif.-based logistics company for oversized, heavy, or fragile cargo. www.sunsetpacific.com
🚑 H.I.G. Capital agreed to acquire and merge European wheelchair manufacturers Meyra Group and Alu Rehab.
Public Offerings
• Banco BMG, a mid-sized Brazilian lender, raised $396 million in an IPO. http://axios.link/JcLA
• C&A Modas, the Brazilian unit of Dutch fast-fashion retailer C&A, plans to raise $446 million in an IPO, per Reuters. http://axios.link/FzZm
🚑 Cabaletta Bio, a Radnor, Penn.-based developer of T-cell therapies for autoimmune diseases, raised $75 million in its IPO. The pre-revenue company priced 6.8 million shares at $11, versus plans to sell 5.8 million shares at $14-$16, and has an initial market cap of $272 million. It will list on the Nasdaq (CABA) with Morgan Stanley as lead underwriter, and had raised $88 million in VC funding from firms like 5AM Ventures (19% pre-IPO stake), Adage Capital (19%), Baker Brothers (19%), Boxer Capital (5.5%), and Deerfield Management (5.5%). www.cabalettabio.com
• Jinghu Expressway Railway, a high-speed railway connecting Beijing and Shanghai, filed with Chinese regulators for an IPO. http://axios.link/K99v
• Newlat, an Italian foods group, raised €74 million in its Milan IPO, pricing shares at the low end of their prospective range. http://axios.link/KN20
🚑 Phathom Pharma, a Buffalo Grove, Ill.-based developer of drugs for GI diseases, raised $182 million in its IPO. It priced 9.6 million shares at $19, versus plans to offer 7.9 million at $18-$20, for an initial market cap of $650 million. The pre-revenue company will trade on the Nasdaq (PHAT) with Goldman Sachs as lead underwriter, and had raised $90 million in VC funding from firms like Frazier Life Sciences (41% pre-IPO stake), Takeda (9.1%), Medicxi, Abingworth Management, Greenspring Associates, Sahsen Ventures, Richard King Mellon Foundation, Janus Henderson Group, BVF Partners, and RA Capital Management. www.phathompharma.com
🚑 Progyny, a New York-based provider of employee fertility benefits programs, raised $130 million in its IPO. The company priced 10 million shares at $13 (below $14-$16 range), for a fully-diluted market value of $1.3 billion. It will trade on the Nasdaq (PGNY) with JPMorgan as lead underwriter, and reports $4 million of net income on $103 million in revenue for the first half of 2019. Progyny had raised around $100 million in VC funding from firms like TPG Biotech (27.2% pre-IPO stake), Kleiner Perkins (25.6%), S.R. One (13.9%), and Merck Ventures (6.4%). www.progyny.com
Liquidity Events
• Ardian is seeking a buyer for D&B Audiotechnik, a German maker of professional-grade loudspeakers that could fetch over 600 million, per Reuters. http://axios.link/9ZF3
• EQT Partners is seeking a buyer for German facilities manager Apleona, which it acquired in 2016 for €1.4 billion, per Reuters. http://axios.link/VLeK
⛽ Kerogen Capital hired Citigroup to find a buyer for North Sea energy group Zennor Petroleum, which could fetch around $750 million, per Reuters. http://axios.link/RtDo
• Stellex Capital Management completed its $352 million sale of Morbark, a Winn, Mich.-based maker of equipment for the forestry and biomass markets, to Alamo Group (NYSE: ALG).
More M&A
• Third Point, the hedge fund led by Dan Loeb, disclosed a $700 million stake in Paris-based eyeglass conglomerate EssilorLuxottica, saying that it's seeking to help "accelerate leadership transitions." http://axios.link/bq35
Fundraising
• The Carlyle Group raised €6.4 billion for its fifth European buyout fund. http://axios.link/DgGr
• Elbrus Capital, a Russia and CIS-focused private equity firm, is raising $600 million for its third fund, per PE International. http://axios.link/UMdv
It's Personnel
• Seema Hingorani, former chief investment officer for the NYC Retirement Systems and founder of nonprofit Girls Who Invest, joined Morgan Stanley as a managing director in its asset management unit. She previously was CIO for venture firm SevenStep Capital. http://axios.link/2yi2
• B.V. Krishnan stepped down as head of KKR's India credit unit, per Bloomberg. http://axios.link/0WQj
Final Numbers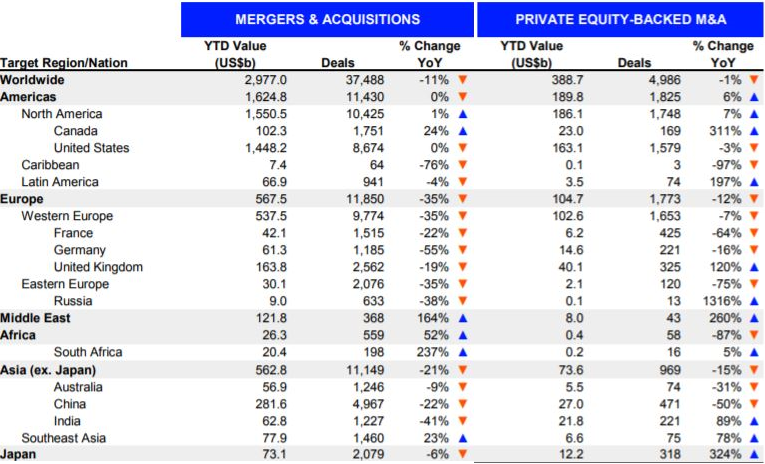 🙏 Thanks for reading Axios Pro Rata! Please ask your friends, colleagues, and to sign up here.