Axios Pro Rata
May 23, 2018
Top of the Morning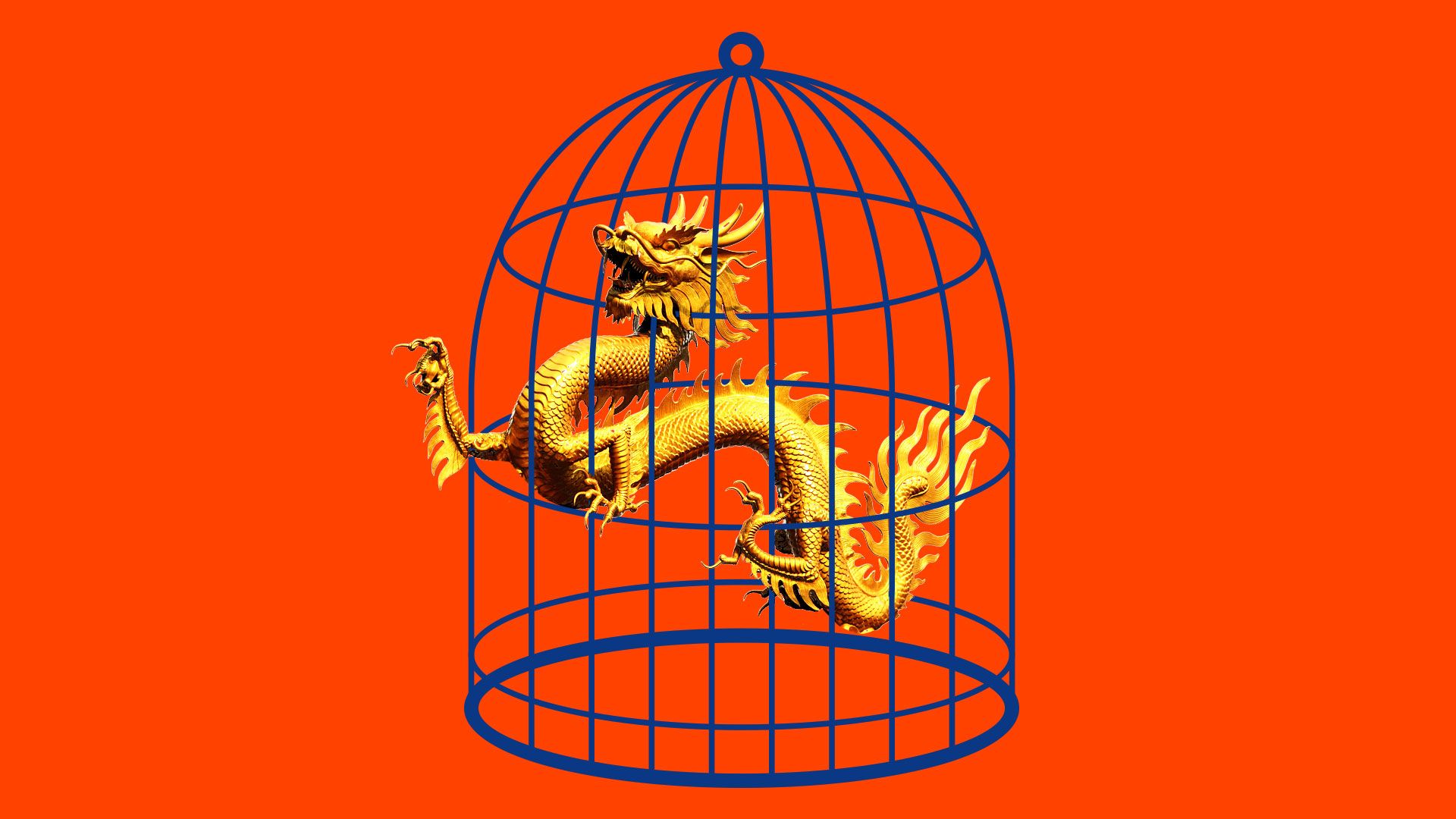 It's about to become harder for Chinese entities to invest in American companies.
Both the Senate Banking Committee and the House Financial Services Committee yesterday approved bills to strengthen the Committee on Foreign Investment in the United States (CFIUS). There are some differences between the two, but the Senate one is more comprehensive and is expected to mostly carry the day. So that's where we'll focus.
The Senate legislation isn't explicitly about China, but make no mistake: It is all about China.
The bill has bipartisan support, and the only possible monkey wrench could be if China raises loud objections during the ongoing trade negotiations.
The big picture is that Congress wants to make it harder for Chinese companies and its government to access critical technology and infrastructure. It will certainly slow down cross-border M&A (if not reduce it), and make some U.S. investment firms less likely to accept co-investment from China.
Digging down, there are two big groups of exemptions. The first relates to exempted countries — which is expanded from earlier drafts and is designed to prevent CFIUS from getting drowned in a flood of applications:
NATO countries are exempted
Major non-NATO allies, including Israel and Japan, are exempted
Countries with special security relationships to the U.S., such as Singapore, could be exempted by future rule-making.
The other exemption is for "passive investments," which includes three main requirements:
Investor cannot have board or board observer rights.
Investor cannot have access to non-public technical information (this is tightened from an earlier version that included such things as access to product road-map).
Investor cannot have any say in company operations outside of normal shareholder votes.
There also is a specific clarification that effectively permits limited partnership in investment funds, save for some unusual circumstances.
One sticky issue remains the specific definition of "critical technology and infrastructure," and the centrality of that technology to a company's business. For example, what if an e-commerce company uses proprietary AI technology to analyze customer sentiment, or robotics in its fulfillment process? Does it count?
This leads to the bottom line: Rule-making from Treasury will become as important as the final legislative language.
• Elsewhere on Capitol Hill: The House yesterday approved some rollback of Dodd-Frank, mildly weakening the financial reform package while arguably strengthening the staying power of its main pillars.
Per Bloomberg: "It could... spark a wave of deal-making among regional firms that have been reluctant to cross that $50 billion threshold."
• Oh boy: CalPERS chief financial officer Charles Asubonten "no longer works" there.
• New firm alert: Christine Aylward (ex-Foresite Capital) is raising up to $100 million for a new fund called Magnetic Ventures, which will invest in early-stage medical technology companies, Axios has learned. She also has become an advisor to TPG Growth. More here.
The BFD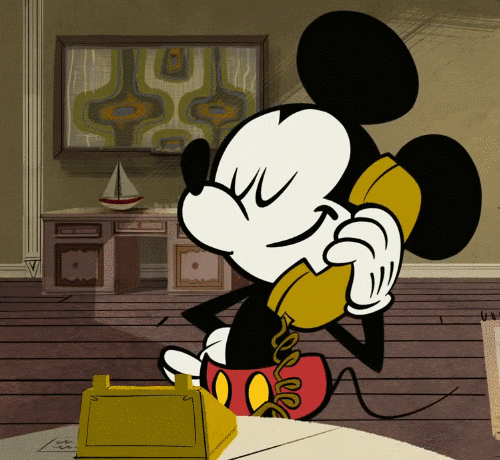 Comcast (Nasdaq: CMCS) confirmed plans to bid on the entertainment assets of 21st Century Fox (Nasdaq: FOXA), which already had agreed to a $52.4 billion deal with Walt Disney Co. (NYSE: DIS). Comcast says its offer will be all-cash, whereas Disney's is all-stock, and at a higher per-share price.
Why it's the BFD: Roberts vs. Iger. The Muscle vs. The Mouse. With Rupert holding the remote.
Bottom line: "Fox initially rejected a higher bid from Comcast, fearing regulatory hurdles with a vertical merger, according to SEC filings. But if AT&T's merger with Time Warner is allowed, Fox may have incentive to take Comcast's higher bid, leaving Disney in the dust." — Sara Fischer, Axios
Venture Capital Deals
• China Chengxin Credit, a Beijing-based credit information startup, has raised $70.5 million in Series A funding from CITIC Capital, Hillhouse Capital, Boyu Capital, Three Gorges Capital Holdings Co, Cherubic Ventures, Danhua Capital, Wanshi Capital and Harmony Riverside Investment Management. http://axios.link/1YIA
⛽ Sonnen, a German provider of residential solar storage solutions, raised €60 million in new funding led by Shell Ventures. http://axios.link/zAvW
• SignalFx, a San Mateo, Calif.-based provider of enterprise cloud monitoring solutions, raised $45 million in Series D funding. General Catalyst led, and was joined by return backers Andreessen Horowitz and CRV. www.signalfx.com
• Platform.sh, a French provider of cloud infrastructure management solutions, raised $34 million in new funding. Partech led, and was joined by Idinvest Partners, Benhamou Global Ventures, SNCF Digital Ventures and Hi Inov. http://axios.link/76AI
• Valimail, a San Francisco-based provider of email authentication services, raised $25 million in Series B funding. Tenaya Capital led, and was joined by Shasta Ventures, Flybridge Capital Partners and Bloomberg Beta. http://axios.link/8uqX
🚑 OM1, a Boston-based startup focused on predicting medical patient outcomes, raised $21 million in Series B funding. Polaris Partners led, and was joined by General Catalyst and 7wire Ventures. www.om1.com
🚑 Kronos Bio, a Cambridge, Mass.-based cancer drug startup, raised $18 million in seed funding from Omega Funds, BellCo Capital, Vida Ventures and individuals. It also named former Gilead Sciences R&D chief Norbert Bischofberger as CEO. http://axios.link/HH3G
🚑 Lava Therapeutics, a Dutch cancer drug startup that leverages of bispecific gamma-delta T cell engagers, raised €16 million in new VC funding. Gilde Healthcare and Versant Ventures co-led, and were joined by MRLV and return backers Lupus Ventures and Biox Biosciences. http://axios.link/swfp
• Okera, a San Francisco-based provider of enterprise data governance software, raised $12 million in new funding. Bessemer Venture Partners led, ad was joined by return backers Felicis Ventures and Capital One Growth Ventures. http://axios.link/Ues8
🚑 Tear Film Innovations, a Carlsbad, Calif.-based developer of a dry eye treatment device, raised $8.5 million in funding co-led by Bluestem Capital and Visionary Ventures. http://axios.link/28um
• eLichens, a Paris-based developer of gas sensors and an air quality analysis and prediction platform, has raised €7 million from Bpifrance, BNP Paribas Développement and return backers Aereco, DEMETER, SOFIMAC Innovation and France Angels. http://axios.link/1ayE
🚑 RenovoRx, a Los Altos, Calif.-based developer of catheter-based treatments for pancreatic cancer, raised $7 million in new funding. Boston Scientific led, and was joined by Btov Partners and return backers like Astia Angels and Golden Seeds. www.renovorx.com
• LockState, a Denver-based cloud platform for smart locks, raised $5.8 million in new VC funding. Iron Gate Capital led, and was joined by Kozo Keikaku Engineering, Nelnet and Service Provider Capital. http://axios.link/KrvI
• Mented Cosmetics, a New York-based multicultural makeup startup, raised $3 million in seed funding led by CircleUp Growth Partners. http://axios.link/9MHf
• Novel Effect, a voice-enabled children's storytelling app, raised $3 million in Series A funding from Alpha Edison, TenOneTen, Waverley Capital, Maveron, Lux Capital, McCune Capital, and Amazon's Alexa Fund. http://axios.link/MIgm
• Pensa Systems, an Austin, Texas-based developer of autonomous perception systems for inventory visibility, raised $2.2 million in seed funding led by ATX Seed Ventures. www.pensasystems.com
Private Equity Deals
⛽ Aretex Capital Partners has agreed to acquire Alerian, a Dallas-based provider of energy infrastructure indices and market intelligence. www.alerian.com
• Swiftpage, a Denver-based provider of CRM software to SMBs, has raised funding from SFW Capital Partners. www.swiftpage.com
🚑 Vitamin Packs, a Snoqualmie, Wash.-based provider of personalized dietary supplements, has raised an undisclosed amount of growth equity funding from L Catterton. www.vitaminpacks.com
Public Offerings
🚑 Verrica Pharmaceuticals, a West Chester, Penn.-based developer of treatments for warts and other viral skin diseases, filed for an $86 million IPO. It plans to trade on the Nasdaq (VRCA), with BoA Merrill Lynch as lead underwriter. Shareholders in the pre-revenue company include PBM Capital Group (58.4% pre-IPO stake), Perceptive Advisors (12.1%) and OrbiMed (6.4%). http://axios.link/F9rm
Liquidity Events
🚑 Anthem (NYSE: ANTM) has agreed to acquire Aspire Health, a Nashville, Tenn.-based provider of non-hospice palliative care. Aspire had raised around $54 million in VC funding, from firms like Oak HC/FT, GV, BlueCross BlueShield Venture Partners and Frist Cressey Ventures. http://axios.link/GbPz
• SoftBank confirmed that it will sell its 20% stake in Indian e-commerce company Flipkart to Walmart. http://axios.link/Ks8b
More M&A
• American Equity Investment Life (NYSE: AEL), an Iowa-based provider of annuities and life insurance products, is seeking a buyer after receiving inbound takeover interest, per Reuters. The company's closing market cap yesterday was $2.9 billion, but shares are up more than 11% in pre-market trading. http://axios.link/F342
• Bain Capital Credit is in exclusive talks for a $1.06 billion rescue deal with Italian ground engineering company Trevi (Milan: TFI), per Reuters. http://axios.link/m3Nd
• Barclays (LSE: BARC) has considered a merger with Standard Chartered (LSE: STAN), per the FT, but Reuters subsequently reported that discussions are not active.
• Elliott Management is amassing a stake in German engineering giant Thyssenkrupp and wants to replace CEO Heinrich Hiesinger, per Bloomberg. http://axios.link/kvTH
• General Electric (NYSE: GE) is seeking to sell its insurance business, according to Reuters. http://axios.link/Cu7T
⛽ PKN Orlen, a listed Polish oil refiner, will buy the 6% stake it doesn't already hold in Czech unit Unipetrol, which then will be delisted from the Prague exchange. http://axios.link/hAgd
• Qumei Home Furnishing Group of China has agreed to buy Norwegian furniture maker Ekornes (Oslo: EKO) for around $631 million in cash. http://axios.link/hwWZ
• SeaLink Travel Group (ASX: SLK), an Australian ferry operator, said it rejected a A$481 million cash takeover offer from an undisclosed buyer. http://axios.link/UyFz
🏈 David Tepper, co-founder of hedge fund Appaloosa Management, received NFL owners' approval to buy the Carolina Panthers franchise from Jerry Richardson for around $2.3 billion. http://axios.link/5Va9
Fundraising
• Fortress Investment Group is targeting $2 billion for its first direct lending fund, per Bloomberg. http://axios.link/yIrO
It's Personnel
• Long Hoang has left TPG to join The Carlyle Group as a director focused on Vietnam private equity. www.carlyle.com
• Max Ritter has left Morgan Stanley to join Goldman Sachs as head of Latin American M&A banking. http://axios.link/PvHr
Final Numbers: U.S. private equity fundraising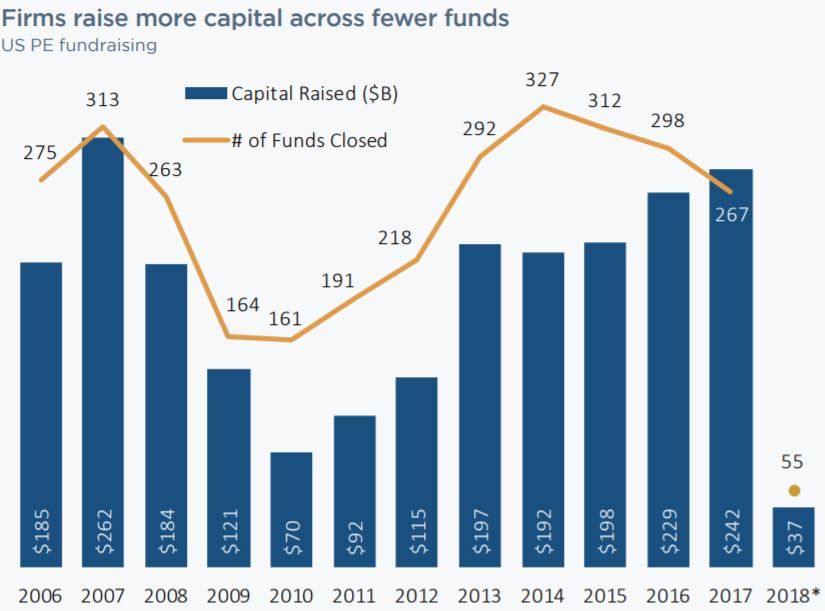 "It's easier to raise money than anytime I've been in the business over the past 30 years or so."
—
Carlyle Group co-founder David Rubenstein
, speaking yesterday at a conference in Washington, D.C.