Axios Pro Rata
April 14, 2021
🎂 Happy 1st birthday to the Axios app! Download it to get breaking news alerts and Axios podcasts, plus to create your own custom news feed from over 25 channels.
🚨 Situational awareness: Ponzi schemer Bernie Madoff has died in prison at age 82.
Top of the Morning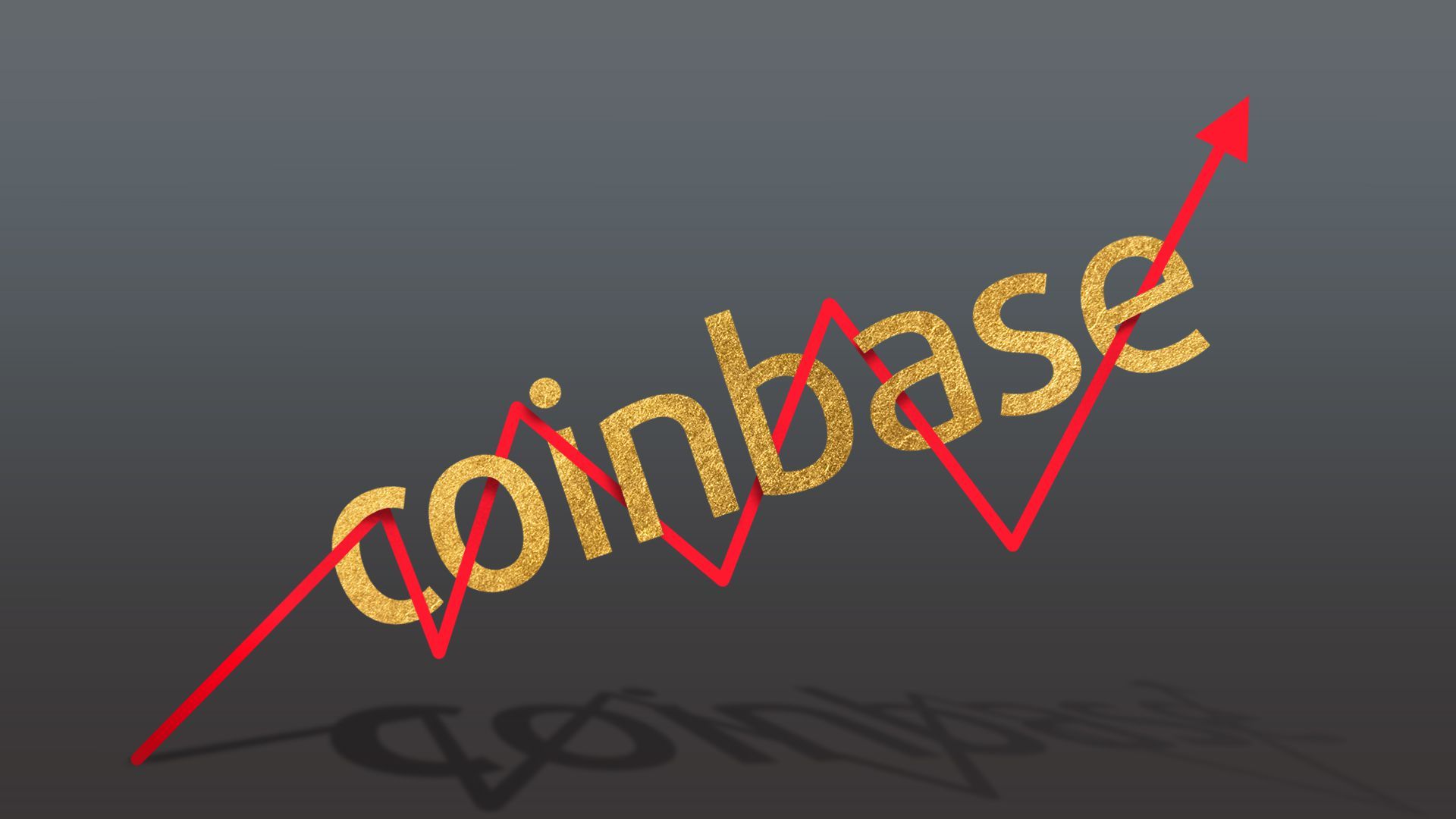 The cryptocurrency industry is about to get its Wall Street seal of approval, trading in its stained hoodie for a custom-tailored suit.
Driving the news: Coinbase, the largest U.S. crypto exchange, today will go public via a direct listing on the Nasdaq. Don't be surprised if early trades push the market cap north of $100 billion.
Long & winding path: "Coinbase had more near-death experiences than most successful startups I've been involved with," one of its earlier investors tells me, citing everything from executive churn to bitcoin price crashes.
He adds of CEO Brian Armstrong: "Brian doesn't get everything right and lacks some of the Silicon Valley EQ we see with other founders, but he got the big picture stuff very, very right."
Timing: Coinbase is going public in the midst of an extended bull run for bitcoin prices, which has translated into an enviable income statement.
Coinbase reports between $730 million and $800 million of net income for the first quarter of 2021, on a whopping $1.8 billion of revenue.
It generated a $322 million profit on $1.28 billion in revenue for 2020, compared to a $30 million net loss on $534 million in revenue for 2019.
So far, it doesn't appear that Armstrong's controversial political proclamation has hurt his company's top or bottom lines.
Pricing: Coinbase was valued at over $100 billion in private stock sales earlier this year, which the company launched to help determine a reference price for today's trades.
But the actual reference price conferred by the Nasdaq last night was $250 per share, which would work out to a $65 billion valuation.
Be smart: Ignore the reference price. Slack, for example, began trading 48% higher than its reference price. And former NYSE president Tom Farley tweets that Spotify's reference price was required by the SEC, despite the exchange's believe that a reference price was "unnecessary" and "would be misleading."
The big question for investors is how to assess risk for a company whose own value is so tightly correlated to crypto asset values, and the potential of fee compression as more trading platforms add crypto functionality.
🎧 Today's Axios Re:Cap podcast features a conversation with Coinbase president and COO Emilie Choi, including how she describes her job to friends and family.
She says of the direct listing choice: "It's exactly in the spirit and ethos of crypto... Let the market determine what the price should be without intermediaries."
The BFD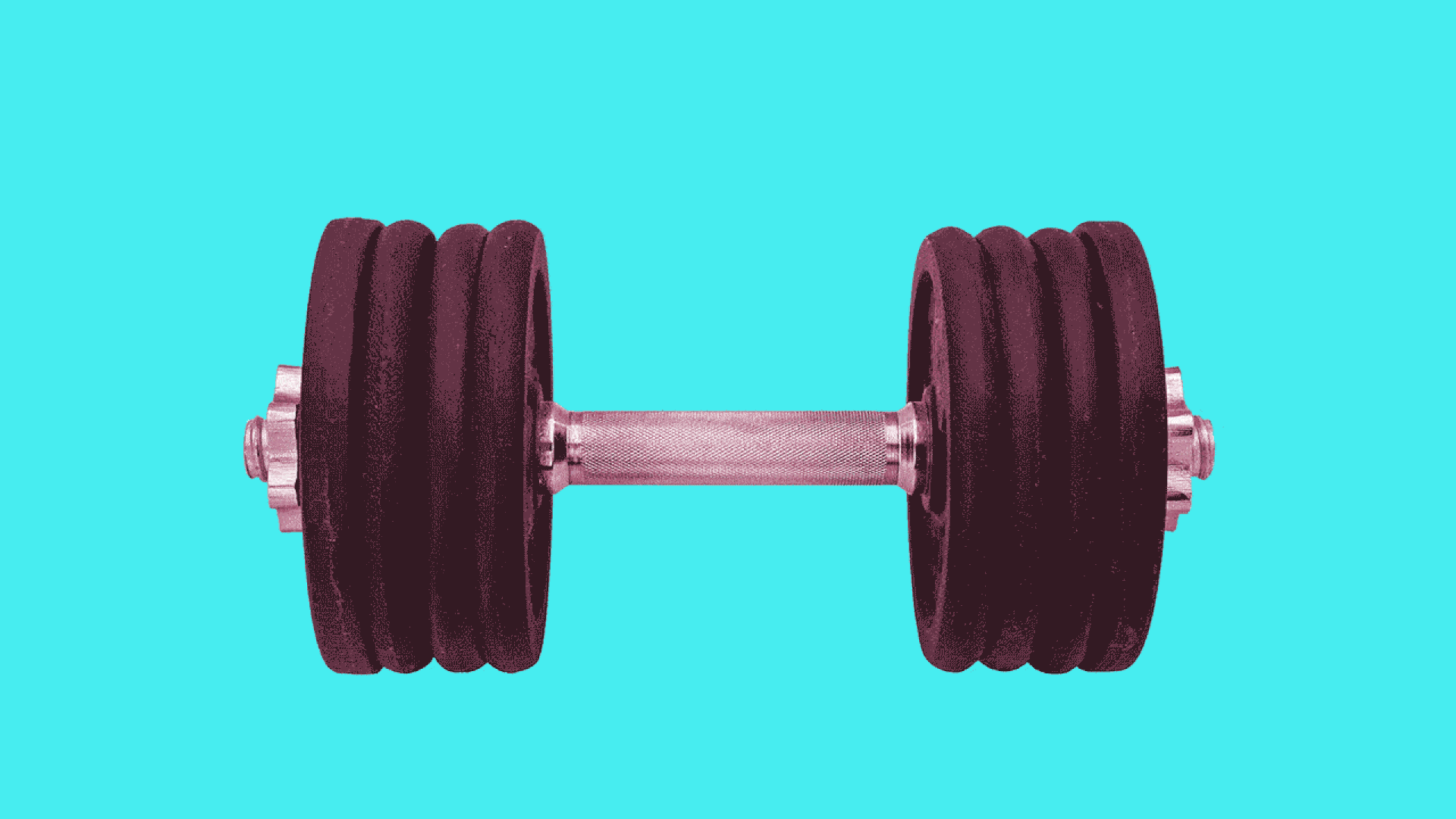 Tempo, a San Francisco-based connected home gym company, raised $220 million in Series C funding led by SoftBank Vision Fund 2.
Why it's the BFD: This is a signal that VCs don't buy into skepticism that the connected fitness market peaked with COVID-19, or at least that the increasingly crowded field doesn't have much more room for exponential growth.
Comp: Peloton stock is off 27% from its all-time high on Jan. 13, giving it a market cap of around $36 billion, although it remains 322% higher than the Sept. 2019 IPO price.
Other Tempo investors include Bling Capital, DCM, General Catalyst, Norwest Venture Partners and Steadfast Capital Ventures.
Bottom line: "Tempo intends to use its new funding on technology development and additional content, such as introducing yoga and adding cardio-boxing. It also launched new hardware, including an adjustable kettlebell system, folding squat rack, weight plate storage and a folding bench." — Christine Hall, Crunchbase
Venture Capital Deals
• Scale AI, a San Francisco-based data labeling platform, raised $325 million in Series E funding at a valuation north of $7 billion. Dragoneer, Greenoaks Capital and Tiger Global co-led, and were joined by Wellington Management, Durable Capital Partners and insiders Coatue, Index Ventures, Founders Fund and YC. http://axios.link/vzfl
• Degreed, a Pleasanton, Calif.-based upskilling platform, raised $153 million in Series D funding co-led by Sapphire Ventures and Riverwood Capital at a valuation north of $1.4 billion. CEO Chris McCarthy is stepping down, to be replaced by ex-Box COO Dan Levin. http://axios.link/vj3l
🚑 Jaguar Gene Therapy, a Lake Forrest, Ill.-based gene therapy startup, raised $139 million in Series B funding. Lilly Ventures and Deerfield Management co-led, and were joined by Goldman Sachs, Arch Venture Partners and Nolan Capital. http://axios.link/RjYc
• HomeX, a Chicago-based app that connects homeowners with home services providers, raised $90 million led by New Mountain Capital. http://axios.link/y996
• Netstars, a Japanese QR code payments company, raised around $61 million in new funding. KKR led, and was joined by SIG and LUN Partners. http://axios.link/3tQD
• Papa, a Miami, Fla.-based provider of care and companionship solutions to seniors, raised $60 million in Series C funding. Tiger Global led, and was joined by Comcast Ventures, Canaan, Initialized Capital, Sound Ventures, Pivotal Ventures and Magnify Ventures. http://axios.link/pFgT
• Plex, a streaming media software provider, raised $50 million from insider Intercap. http://axios.link/qS80
• Upstack, a New York-based provider of colocation procurement SaaS, raised $50 million from Berkshire Partners. http://axios.link/VfjW
🍕 Slice, a New York-based online ordering platform for pizzerias, raised $40 million in Series D funding. Cross Creek led, and was joined by 01 Advisors and insiders GGV Capital, KKR and Primary Ventures. http://axios.link/WzfU
• Connected Cannabis, a Sacramento-based designer weed cultivator, raised $30 million in equity and debt funding from Navy Capital, One Tower Group, Emerald Park Capital and Presidio View Capital. http://axios.link/c5Zp
• Wire, an end-to-end encrypted messaging app, raised $21 million in Series B funding led by UVC Partners. http://axios.link/MsTh
• Hatch, a San Francisco-based neobank for SMBs, raised $20 million from Kleiner Perkins, Foundation Capital and SVB. http://axios.link/7zjy
• Virtualitics, a Pasadena, Calif.-based data analytics and 3D visualization platform, raised $18 million in Series B funding led by North Sound Ventures. www.virtualitics.com
⭐ Co-Star, the maker of an astrology app, raised $15 million in Series A funding, Axios reports. Spark Capital led, and was joined by Maveron and Female Founders Fund. http://axios.link/UmQn
🚑 ImmunoScape, a Singapore-based immunomics platform, raised $14 million from EDBI and insiders Anzu Partners and UTEC. www.immunoscape.com
• Atrium, a San Francisco-based data platform for sales teams, raised $13.5 million in seed funding from Bonfire Ventures, CRV and Bullpen Capital. http://axios.link/ErCq
⚡ Standard Energy, a South Korean developer of vanadium ion batteries, raised $8.9 million in Series C funding from SoftBank Ventures Asia. http://axios.link/v32B
• Deeplite, a Montreal-based ML edge deployment startup, raised US$6 million in seed funding. PJC led, and was joined by Innospark Ventures, Differential Ventures, Smart Global Holdings, Somel Investments, BDC Capital and Desjardins Capital. http://axios.link/fSk6
• Bandwango, a Murray, Utah-based experience activities marketplace, raised $3.1 million in seed funding. Next Frontier Capital led, and was joined by Kickstart, Signal Peak Ventures, SaaS Ventures and Ocean Azul Partners. http://axios.link/vHK0
• Wyng, a New York-based provider of zero-party data software for social marketing, raised $2 million from insiders Edison Partners and Windcrest Partners. www.wyng.com
• Techsembly, a London-based e-commerce SaaS startup, raised £1 million led by Superseed Ventures. http://axios.link/aOVc
Private Equity Deals
• Accelalpha, a Bellevue, Wash.-based portfolio company of Century Park Capital Partners, acquired Key Performance Ideas, a managed services and IT consulting firm focused on Oracle EPM. www.accelalpha.com
• Apollo Global Management agreed to buy a 51% stake in ABC Technologies (TSX: ABCT), a Canadian maker of technical plastics for light vehicles that's controlled by Cerberus Capital Management, at C$10 per share http://axios.link/Uc3W
• The Blackstone Group agreed to buy Sabre Industries, an Alvarado, Texas-based maker of engineered structured and infrastructure for the electrical utility and telecom markets, from The Jordan Co. http://axios.link/Fkmi
• Hellman & Friedman agreed to buy a majority stake in energy data and analytics provider Enverus, an Austin, Texas-based provider of data analytics SaaS for the oil and gas industry, from Genstar Capital for $4.25 billion (including debt). http://axios.link/EV9C
• KKR agreed to buy Ensono, a Downers Grove, Ill.-based IT services provider, from Charlesbank Capital Partners and M/C Partners. Reuters pegs the price at around $1.7 billion. http://axios.link/nxPj
• RGI, a Milan-based portfolio company of Corsair Capital, acquired Flexperto, a German provider of B2C communication and collaboration software. www.rgigroup.com
• Silver Lake agreed to invest around $800 million for a minority stake in G42, an Abu Dhabi-based provider of AI and cloud computing products. http://axios.link/Y2Q5
• Sverica invested in WinWire, a Santa Clara, Calif.-based digital consultancy focused on Microsoft cloud platforms. www.winwire.com
• VertiGIS, a German geographic info systems software company owned by Battery Ventures, acquired KMS Computer, a German provider of computer-aided facility management software. www.vertigis.com
🚑 WindRose Health Investors acquired Bluestone Physician Services, a Stillwater, Minn.-based chronic disease management provider. www.bluestonemd.com
Public Offerings
🚑 Cue Health, a maker of portable health testing solutions, picked Morgan Stanley and Goldman Sachs to manage an upcoming IPO, per Bloomberg. It's raised over $480 million from firms like ACME Capital, J&J, Decheng Capital, Section 32 and Synergy Ventures. http://axios.link/RPaS
• Squarespace, a New York-based content management platform, is pursuing a direct listing for later this year, rather than an IPO, per Bloomberg. The company recently raised $300 million at a $10 billion valuation from Dragoneer, Tiger Global, D1 Capital Partners, Fidelity, T. Rowe Price, Spruce House and insiders Accel and General Atlantic. http://axios.link/Mh1b
• Tristar Transport, a liquid transport firm backed by Gulf Investment Corp., is planning to pull its Dubai IPO due to soft investor interest, per Bloomberg. http://axios.link/HDgw
SPAC Stuff
🚑 Babylon, a London-based digital health app, is in talks to go public at between a $3 billion and $4 billion valuation via Alkuri Global Acquisition (Nasdaq: KURI), a SPAC led by ex-Groupon CEO Rich Williams, per Bloomberg. Babylon has raised over $630 million from firms like Vostok New Ventures, Saudi Arabia's Public Investment Fund, Hoxton Ventures, Munich Re Ventures, Centene and Kinnevik. http://axios.link/Qpu0
🚑 Tango Therapeutics, a Cambridge, Mass.-based developer of cancer therapies, agreed to go public at an implied $353 million valuation via BCTG Acquisition Corp. (Nasdaq: BCTG), a biotech SPAC formed by Boxer Capital. Tango had raised $165 million from firms like Boxer, Third Rock Ventures, Casdin Capital, Gilead Sciences and Cormorant Asset Management. www.tangotx.com
Liquidity Events
• SMAC, a French building envelope and waterproofing company owned by OpenGate Capital, sold its skylights unit to a division of Kingspan Group (LSE: KGP). www.smac-sa.com
More M&A
• Prudential Financial (NYSE: PRU) is seeking a buyer for most of its retirement business, which could garner more than $2 billion, per Bloomberg. http://axios.link/IfsW
Fundraising
• CenterOak Partners, a Dallas-based PE firm, raised $690 million for its second fund. www.centeroakpartners.com
• Inflexion Partners, a London-based midmarket PE firm, is raising £2 billion for its sixth fund, per WSJ. http://axios.link/RWQY
• Pale Blue Dot, a European early-stage climate tech VC firm, secured €34 million more for its debut fund, on top of a €53 million first close. http://axios.link/cx08
It's Personnel
• John Browne, former CEO of BP, joined General Atlantic as a London-based senior advisor. http://axios.link/wcSO
• Clinton Foy joined UTA Ventures, the VC arm of talent agency UTA, as a general partner. He previously was with Crosscut Ventures. http://axios.link/nvAf
• Steve Reynard joined Hermes GPE as a partner. He previously was private equity portfolio manager for the State Teachers Retirement System of Ohio. www.hermesgpe.com
🙏 Thanks for reading Axios Pro Rata! Please ask your friends, colleagues and HODLers to sign up.