Axios Pro Rata
July 28, 2020
🎧 Axios Re:Cap digs into the expanded unemployment benefits that are set to expire on Friday.
Top of the Morning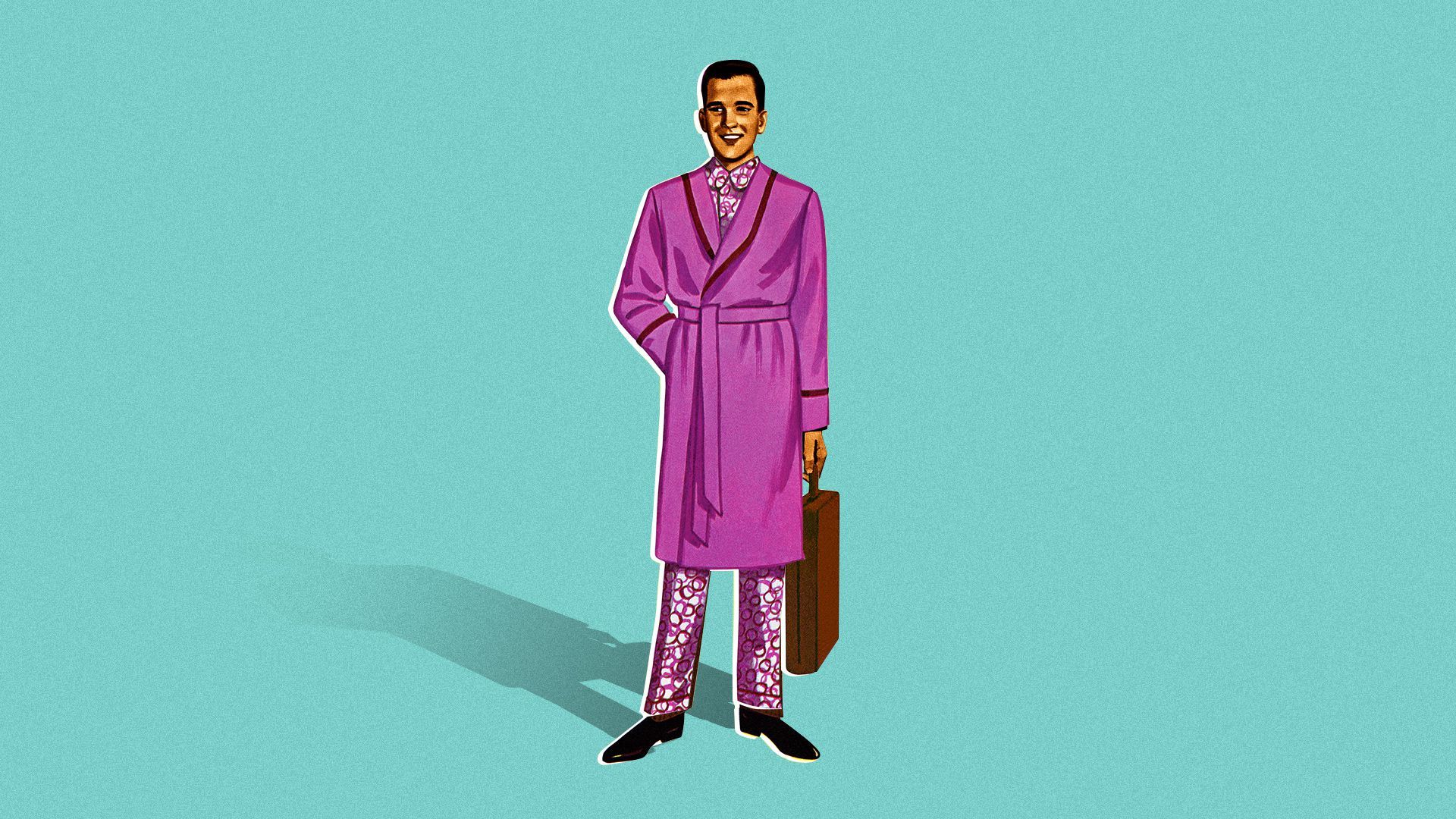 Venture capital activity has persisted in the COVID-19 era, as investors and founders have accepted virtual meetings as viable alternatives to the in-person standard.
What comes next: If society returns to "normal" at some point next year, will that also apply to pitch meetings, board meetings, etc?
Why it matters: One positive byproduct of the pandemic has been that investors have been more willing to entertain deals outside their ZIP codes.
After all, there's little difference right now between meeting with a startup based on the other side of the country or the other side of the city.
For entrepreneurs in oft-overlooked geographies, it's created a new opportunity.
What they're saying: Venture capitalists I speak with are split on the intrinsic value of returning to "the office," in keeping with white-collar workers everywhere.
Most believe that they've been just as productive as in the past, or even more so, by working at home.
At the same time, they're missing the tactile piece of advising founders. "The nurturing process is really important, particularly at the early stages, and I do think that will come back because what we have now is a bit of an awareness deficit," says Kevin Turner, the former Microsoft COO who just invested in a new firm called Fuse Venture Partners (more on that below).
There's also a concern among some younger VCs that the pandemic has made it more difficult for them to network. Or, as a Sand Hill Road associate recently explained it to me: "The way I become partner is to bring the next unicorn into my firm, and I do that by going out every night and meeting with tons of people — which is something a lot of our partners don't do, because they're older and have families. But, now, we're all at the same bar called Zoom."
Also...
• New firm alert: Fuse Venture Partners has launched as a Seattle-based shop focused on enterprise software startups in the Pacific Northwest.
It's targeting $100 million for its debut fund, with $67 million already banked, per SEC filings, and is led by former Ignition Partners principals Kellan Carter and Cameron Borumand.
It also has an unexpected venture partner: Bobby Wagner, who's better known as the Seattle Seahawks' captain and starting middle linebacker.
• Coming attractions: Pharmapacks later today will announce $150 million in growth financing from GPI Capital and JPMorgan Chase.
You may not have heard of Pharmapacks (I hadn't), but it's one of the largest-commerce sellers of health and beauty products (particularly via Amazon), generating $250 million in 2019 sales and projecting 70% year-over-year growth.
• Misfire: Remington Arms Co., America's oldest gunmaker, filed for Chapter 11 bankruptcy protection yesterday. If this sounds familiar, it's because Remington previously went bust in early 2018.
The big loser in 2018 was private equity firm Cerberus Capital Management, but this time it may be senior lenders like JPMorgan Chase and Franklin Advisors that resurfaced the company.
The big question will be what happened, given that U.S. gun sales have been surging since the pandemic began.
• PPP, Part 3: The White House and Senate Republicans yesterday unveiled their phase 4 stimulus proposal, which is called the HEALS Act (not to be confused with the HEROES Act, which House Democrats passed in May).
It includes $190 billion for a follow-on small business loan program, available to existing PPP loan recipients that have fewer than 300 employees and which can demonstrate gross revenue losses of at least 50%. The upper loan limit this time would be $2 million, foregivable if at least 60% of the proceeds cover payroll costs.
Go deeper: Axios' Alayna Treene breaks down the rest of the GOP proposal.
The BFD
RedBall Acquisition, a SPAC focused on buying a professional sports franchise, filed for a $500 million IPO. It's sponsored by private equity firm RedBird Capital Partners, and co-chaired by former Oakland A's executive Billy Beane.
Why it's the BFD: This is the intersection of two red-hot trends, raising blank-check acquisition companies and institutional investment in pro sports.
The bottom line: Don't be surprised if this SPAC, which has around $2 billion of buying power, focuses on European soccer. RedBird recently bought France's Toulouse FC, while Beane has spent the past few years advising Dutch club AZ Alkmaar.
Venture Capital Deals
🚑 Ro, a New York-based DTC pharmacy focused on men's health, raised $200 million at a $1.5 billion valuation. General Catalyst led, and was joined by The Chernin Group and return backers FirstMark Capital, Torch, SignalFire, TQ Ventures, Initialized Capital, 3L, and BoxGroup. http://axios.link/48HG
• Geltor, a San Leandro, Calif.-based animal-free "ingredients-as-a-service" startup, raised $91.3 million in Series B funding. CPT Capital led, and was joined by WTT Investment. http://axios.link/RAex
🚑 Withings, a French developer of health and wellness smart devices, raised $60 million in Series B funding. Gilde Healthcare led, and was joined by return backers IDinvest Partners, Bpfrance and BNP Paribas Développement, ODDO BHF, and Adelie Capital. http://axios.link/BZpf
🚑 Nanox, an Israeli medical imaging startup, raised $59 million in new Series B funding (round total $110m) from SK Telecom, Industrial Alliance, Foxconn, and Yozma Korea. http://axios.link/5tuB
• ComplyAdvantage, a London-based financial crime detection startup, raised $50 million in Series C funding. Ontario Teachers' led, and was joined by return backers Index Ventures and Balderton Capital. http://axios.link/AzoS
• Thought Machine, a London-based core banking platform, raised $42 million in Series B funding. Eurazeo Growth led, and was joined by Patient Capital and SEB. http://axios.link/E3vb
🚑 Indigo Diabetes, a Belgian developer of diabetes sensors, raised €38 million in Series B funding. Fund+ led, and was joined by Ackermans & van Haaren, Imec.xpand, Capricorn Digital Growth, QBICII, and Titan Baratto. http://axios.link/u8Bs
• True Link Financial, a San Francisco-based provider of digital financial services targeting retirees, raised $35 million in Series B funding. Khosla Ventures led, and was joined by Centana Growth Partners. http://axios.link/6o9Z
• Everphone, a Berlin-based mobile device rental service, raised €34 million in Series B funding. Signals VC led, and was joined by Deutsche Telekom, AlleyCorp, and NIBC. http://axios.link/aO0Q
• Explorium, a San Mateo, Calif.-based data science startup, raised $31 million in Series B funding. Zeev Ventures led, and was joined by Dynamic Loop, Emerge, and F2 Capital. http://axios.link/VaZH
🚑 Enthera Pharma, an Italian biotech focused on autoimmune conditions, raised €28 million in Series A funding. Sofinnova Partners and AbbVie co-led, and were joined by JDRF T1D Fund and Banor SIM. www.entherapharmaceuticals.com
• ClimaCell, a Boston-based weather intelligence platform, raised $23 million in Series C funding co-led by Pitango Growth and return backer Square Peg Capital. www.cimacell.com
• EMQ, a Hong Kong-based financial settlement network, raised $20 million in Series B funding. WI Harper led, and was joined by Abu Dhabi Capital, AppWorks, DG Ventures, Hard Yaka, Intudo Ventures, January Capital, Quest Venture Partners, SparkLabs Taipei, Vectr Fintech Partners, and VS Partners. http://axios.link/eEcP
• Mediant, a New York-based investor communications platform, raised $18.5 million. Argentum led, and was joined by Breakwater Mediant, Compo Seven Capital, Mathers Associates, and First Analysis Corp. http://axios.link/a1B4
• Advertima, a Swiss computer vision startup focused on physical retail, raised €15 million in Series A funding led by Fortimo Group. http://axios.link/S4ow
• Tandem, a Berlin-based language learning app, raised $5.7 million in Series A funding. Brighteye Ventures led, and was joined by Trind Ventures, Rubylight, and GPS Ventures. http://axios.link/Zoz3
Private Equity Deals
• Gemspring Capital acquired Cforia Software, a Westlake Village, Calif.-based provider of order-to-cash automation software. www.cforia.com
• Hornetsecurity, a German cloud-based email security company, secured new equity investments from Providence Strategic Growth and existing backer Verdane. www.hornetsecurity.com
🚑 TA Associates and Francisco Partners agreed to invest in Edifecs, a Bellevue, Wash.-based provider of health care IT solutions. www.edifecs.com
🚑 WindRose Health Investors acquired Caregiver, a Fort Worth, Texas-based provider of long-term care services to people with intellectual and developmental disabilities, from DW Healthcare Partners and Council Capital. www.cg-idd.com
Public Offerings
🚑 Harmony Biosciences, a Plymouth Meeting, Penn.-based biotech focused on sleep and CNS disorders, filed for a $100 million IPO. It plans to list on the Nasdaq (HRMY), and reports a $39 million net loss on $20 million in revenue for Q1 2020, and has raised $745 million from Valor Equity Partners, Fidelity, HBM Healthcare Investments, Vivo Capital, venBio Partners, Novo Holdings, and Nan Fung Life Sciences. http://axios.link/2Gz9
• Hensoldt, a German defense industry supplier owned by KKR, is prepping a Frankfurt IPO in September, per Reuters. http://axios.link/50AO
• Theeb Rent-a-Car, a Saudi Arabian car rental company backed by Investcorp, hired Fransi Capital to help prep a 2021 IPO, per Bloomberg. http://axios.link/oBPU
SPACs (yup, still doing this)
• ACE Convergence Acquisition, a tech-focused SPAC led by Behrooz Abdi, raised $200 million in an IPO. http://axios.link/DiFS
• Churchill Capital Corp IV, a new SPAC led by Michael Klein, upped its planned IPO size to $1.5 billion. http://axios.link/8jMU
• Lionheart Acquisition II, a real estate-focused SPAC formed by Lionhart Capital, filed for a $200 million IPO. http://axios.link/hRUJ
• Northern Genesis Acquisition, a SPAC focused on acquiring an environmentally-sustainable business, filed for a $300 million IPO. http://axios.link/ZBdl
Liquidity Events
• Eurazeo set September as the deadline for bids on troubled French auto rental company Europcar Mobility Group (Paris: EUCAR), in which it holds a 32% stake, per Reuters. http://axios.link/kydo
More M&A
• Reliance Industries is in talks to pay between $3.2 billion and $3.6 billion to buy Future Group's Indian retain chains, per Mint. http://axios.link/slvx
• Tencent has offered to acquire the 63.5% stake it doesn't already own in Chinese search company Sogou (NYSE: SOGO) for $2.1 billion, or at $9 per share (56.5% premium to Friday's price). http://axios.link/DXkH
Fundraising
• Antin Infrastructure Partners raised €6.5 billion for its fourth fund. http://axios.link/tdjh
• Gallant Capital, a Los Angeles-based private equity firm founded by veterans of Gores Group, raised $378 million for its debut fund. www.gallantcapital.com
It's Personnel
• AnaCap Financial Partners, a European private equity firm focused on financial services, promoted Edward Green, Nassim Cherchali, and Tassilo Arnhold to partners. www.anacapfp.com
• Mano Nazar joined AE Industrial Partners as an operating partner and chair of AEI portfolio company BHI Energy. He previously was president of NextEra Energy's nuclear unit. www.aeroequity.com
• Sisi Song joined Bessemer Venture Partners as a vice president, per her LinkedIn profile. She previously focused on cloud investing at Alibaba Group. www.bvp.com
• Justin White was named CFO of Willoughby Capital, the family office of Daniel Och. He previously was CFO and COO of Governors Lane. www.willcapllc.com
• Michael Woolhouse joined TPG as a partner in charge of secondary market activity. He previously led secondaries for Canada Pension Plan Investment Board. www.tpg.com
Final Numbers
DraftKings stock stumbled yesterday on speculation that Major League Baseball's season could be in jeopardy, and what that might mean for other pro and college sports leagues.
But, but, but: The Boston-based sports betting company has had a remarkable run since going public via a SPAC reverse merger in April. Its market cap closed yesterday at $12.4 billion, despite the lack of live sports (beyond e-gaming). For context, DraftKings' all-time high private market valuation was $2 billion back in 2015, and it later raised down rounds.
🙏 Thanks for reading Axios Pro Rata! Please ask your friends, colleagues, and WFH Googlers to sign up.