🦃 Get-away day greetings. Pro Rata will be off tomorrow and Friday, but back at it Monday morning. Have a great Thanksgiving, and be sure to subscribe to the Pro Rata podcast for those hours of sitting in traffic...
Top of the Morning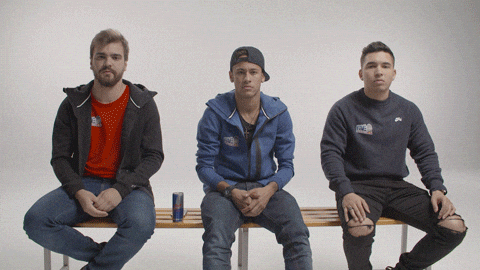 President Trump yesterday gave many American business leaders what they most wanted for Thanksgiving: An excuse to leave their conscience at the door.
Trump announced that the U.S. will not apply sanctions or other penalties on Saudi Arabia over the murder of journalist Jamal Khashoggi, even if it is proven conclusively that Crown Prince Mohammed bin Salman was involved.
Elected officials of both parties objected to both the language and the substance of Trump's statement, suggesting they might take matters into their own hands. But you'd have to go back more than a year since Senate Republicans broke with Trump (the Russia sanctions), so don't hold your breath for the lame duck to do more than quack.
American business leaders made a big show of not attending last month's Future Investment Initiative in Riyadh, and it no doubt embarrassed MBS.
Almost none of those same leaders, however, would commit to altering business ties with the Saudi government — which, I should emphasize, is different than cutting ties with the Saudi people — instead arguing that such decisions are best left to U.S. policymakers. If sanctions were applied, of course U.S. business would comply.
This comes after nearly two years of U.S. business leaders choosing sides on all sorts of federal policy, including hot-button topics like climate change and immigration.
This includes everyone from Wall Street powerhouses to Silicon Valley tech founders.
As I've written previously, there is a legitimate slippery slope argument to be made here (hello China), and Saudi Arabia's government holds no singular claim to atrocious actions. Nor is Trump the first president to overlook bad actions on behalf of what he believes to be America's best interests, although his predecessors usually were much firmer in their criticisms and louder in their defenses of human rights.
Bottom line: The difference here is that few other ascendant autocrats value their relationship with Western business as highly as does MBS, meaning that this particular situation presented an unusually high degree of leverage. Or it did, as U.S. business leaders built themselves an escape route, under the guise of powerless rationality, and Trump just waved them through.
The BFD
Autodesk (Nasdaq: ADSK) agreed to buy PlanGrid, a San Francisco-based provider of construction productivity software, for $875 million in cash.
Why it's the BFD: Because this is part of a mini-boom in acquisitions of construction tech startups, including Oracle last year paying $1.2 billion for Axonex and Trimble this past spring paying $1.2 billion for Viewpoint.
ROI: PlanGrid raised around $66 million in venture funding from Sequoia Capital, GV, Founders Fund, Initialized Capital, Spectrum 28, YC, DAG Ventures, Brick & Mortar Ventures, M1 Ventures and Northgate Capital.
Bottom line, per Axios' Kia Kokalitcheva: PlanGrid was considering a new round of VC funding when it got inbound interest from Autodesk, which had previously announced its own plans to go deeper into construction industry tools. Among those involved in the negotiations was Carol Bartz, the former Autodesk CEO who now sits on PlanGrid's board of directors.
Venture Capital Deals
• Coupang, a South Korean e-commerce giant, raised $2 billion from SoftBank Vision Fund. http://axios.link/PFlZ
• Agora, a Santa Clara, Calif.-based developer of cloud communication APIs, raised $70 million in Series C funding. Coatue Management led, and was joined by return backers SIG, Morningside Capital and Shunwei Capital. http://axios.link/fpVF
• Workable, a Boston-based recruiting automation platform for small and mid-sized businesses, raised $50 million. Zouk Capital led, and was joined by 83North, Balderton, Notion, TriplePoint, and Endeavor Catalyst. www.workable.com
• PlayVS, a Los Angeles-based provider of e-sports infrastructure for high schools, raised $30.5 million in Series B funding. Elysian Park Ventures led, and was joined by return backers NEA, Science Inc., Crosscut Ventures, Coatue Management and WindrCo. http://axios.link/LKvL
• Wind Mobility, a Berlin-based dockless e-scooter and bike rental startup, raised $22 million in seed funding from Source Code Capital and HV Holtzbrinck Ventures. http://axios.link/lZF3
• Cameo, a Chicago-based platform that enables fans to get personalized video shout-outs, raised $12 million in VC funding led by Lightspeed Venture Partners, per an SEC filing. www.cameo.com
• Green Mountain CBD, a Vermont-based hemp grower and maker of cannabidiol products, raised $7 million from One Better Ventures. http://axios.link/12QW
• Argent, a smart digital wallet startup, raised $4 million in seed funding from Creandum, Index Ventures, Firstminute, Hummingbird and Mattias Ljungman. http://axios.link/4P0f
• Wild Friends Foods, a Portland, Ore.-based nut butter startup, raised $3.5 million in Series A funding. Cambridge Companies SPG led, and was joined by Katjesgreenfood, Echo Capital, CircleUp and Portland Seed Fund. http://axios.link/4wJi
Private Equity Deals
• Apollo Global Management and other big buyout firms will need to compete with Amazon for the 22 regional sports networks being sold by Walt Disney Co., per a divestiture agreement tied to its 21st Century Fox purchase, per CNBC.
Thought bubble: Amazon can afford to pay way more than can private equity or other strategics, but Disney is unlikely to favor a bid designed to boost Amazon's streaming video business, at the same time Disney is launching its own streaming video service.
🚑 Community Medical Services, a Scottsdale, Ariz.-based portfolio company of Clearview Capital, purchased two opioid treatment center operators: Premier Care and Maintenance and Recovery Services. www.communitymedicalservices.org
🚑 CVC Capital Partners is in talks to buy Israeli medical device maker Lumenis from XIO for nearly $1 billion, per Calcalist. http://axios.link/iPrC
• Eos acquired Legacy Supply Chain Services, a Reno, Nev.-based provider of warehousing and distribution solutions. www.legacyscs.com
• Standard Chartered Private Equity acquired a control stake in Sunwoo, a South Korean meat importer, processor and distributor, for $90.1 million.
Public Offerings
• TuanChe, a Beijing-based online automotive marketplace, raised $20 million in its IPO. The company priced 2.6 million shares at $7.80, compared to initial plans to offer 4 million shares at between $7.50 and $8.50. It will trade on the Nasdaq (TC), used Maxim Group as lead underwriter and reports around a $3.2 million net loss on $41 million in revenue for the first half of 2018. Shareholders include Highland Capital Partners. http://axios.link/txFa
More M&A
• Anbang Insurance Group hired Bank of America to find a buyer for the portfolio of U.S. luxury hotels previously known as Strategic Hotels & Resorts, which includes the Westin St. Francis in San Francisco, per Bloomberg. http://axios.link/t6eB
• Columbia Threadneedle said it would vote against Restaurant Group's (LSE: RTN) proposed £559 million deal for noodle restaurant chain Wagamama. CT holds a 7.7% stake in Restaurant Group, making it one of the company's top shareholders. http://axios.link/NfaR
• Cosco Shipping Holdings (HK: 1919) has launched a sale process for its large container terminal in Long Beach, Calif. – a divestiture that was pledged to get approval for its $6.3 billion purchase of container shipping line Orient Overseas. Bids are expected to top $1 billion. http://axios.link/YYp0
🚑 Enlivex Therapeutics, an Israeli biotech focused on rebalancing immune systems for treating conditions like spesis, will become publicly-traded via a reverse merger with Israel-based BioBlast (Nasdaq: ORPN). Enlivex raised VC funding from firms like Korea Investment Partners. http://axios.link/hSBb
• Kuwait Projects Co. hired Goldman Sachs to find a buyer for its majority stake in Dubai-based pay TV operator OSN, per Reuters. http://axios.link/Yc5Q
🚑 Walgreens Boots Alliance (Nasdaq: WBA) and health insurer Humana (NYSE: HUM) are in talks to take equity stakes in one another, just as CVS prepares to close its $69 billion purchase of Aetna, per the WSJ. http://axios.link/eEVM
Fundraising
• Craft Ventures, the Silicon Valley shop led by David Sacks, is raising between $400 million and $500 million for its second fund, per an LP source.
It's Personnel
• Shannon Bolton left Capital Strategies Partners to open a new office in Lima, Peru for StepStone Group, where she's lead firm business in the Andean region. www.stepstoneglobal.com
• David Flannery joined Vista Equity Partners as president of its credit business. He previously was a senior managing director of GSO Capital Partners, a unit of The Blackstone Group. www.vistacreditpartners.com
• Anthony Maniscalco (ex-Credit Suisse) has joined Investcorp to lead a new business that will acquire minority equity stakes in mid-sized alternative asset managers. Fellow Credit Suisse vets David Lee and Dhanraj Chandiramani are joining as a partner and principal, respectively. www.investcorp.com
What are you still doing here? That turkey isn't going to prepare itself!