Axios Pro Rata
September 01, 2021
Top of the Morning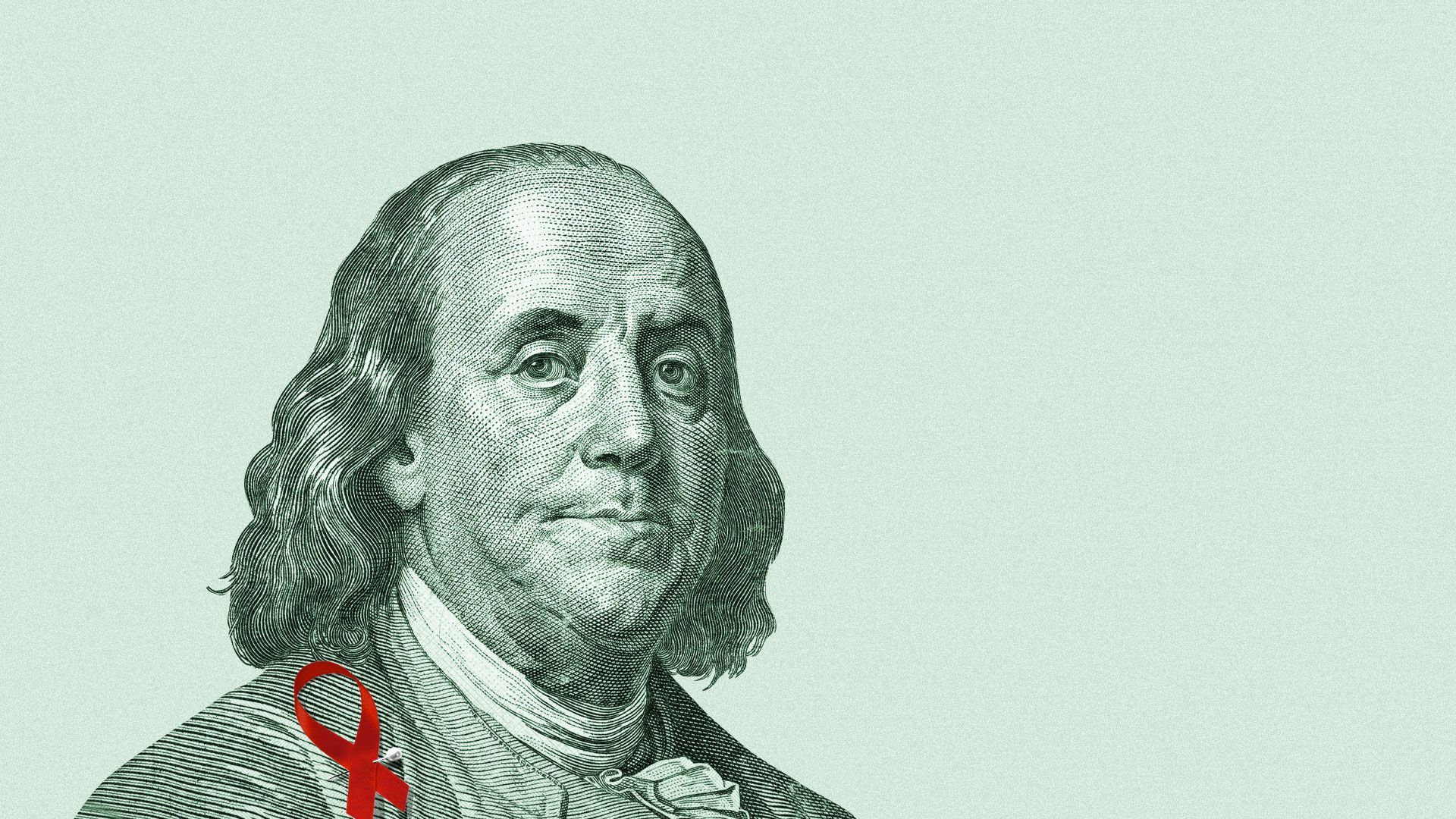 Take things only accessible to rich people and make them available to everyone else.
That was the startup advice given by serial entrepreneur and investor Joe Marchese to Jake Wood, the former U.S. Marine who co-founded and spent more than a decade leading Team Rubicon, a nonprofit that mobilizes other vets to respond to natural disasters.
The result is Groundswell, a new corporate philanthropy platform that turns donor-advised funds (DAFs) into an employee benefit.
Driving the news: Groundswell this morning announced $5 million in seed funding (via a SAFE), and is said to be speaking with VCs about a Series A round that could total between $15 million and $20 million.
How it works: Employees receive a certain amount of money each year in their Groundswell DAF, all earmarked for donation to nonprofits as chosen by each employee.
The model is partially based on what Goldman Sachs does with its GS Gives program, although that's only available to partners and managing directors.
Employers get the charitable donation tax benefits. But it still works out for employees who don't file itemized tax returns (i.e., most employees), arguably better than matching plans for charitable giving.
"This fits nicely with the new corporate focus on DEI," Wood explains. "Gone should be the days when corporate philanthropy is decided by a few execs or boards of directors ... Let's treat corporate philanthropy as a component of compensation to acknowledge the diverse perspectives of our employees, letting them identify the problems they believe are the most pressing. Basically giving each employee their own personal foundation."
DAFs themselves aren't the exclusive province of the wealthy — Fidelity, for example, offers them without a minimum while Vanguard's is just $500 — but the idea here is to better democratize corporate giving, where decisions are usually made by a select few.
The bottom line: Don't bet against Jake Wood, who traveled independently to Port-au-Prince just days after the 2010 Haiti earthquake, providing emergency medical services alongside people who'd become his fellow co-founders of Team Rubicon.
The BFD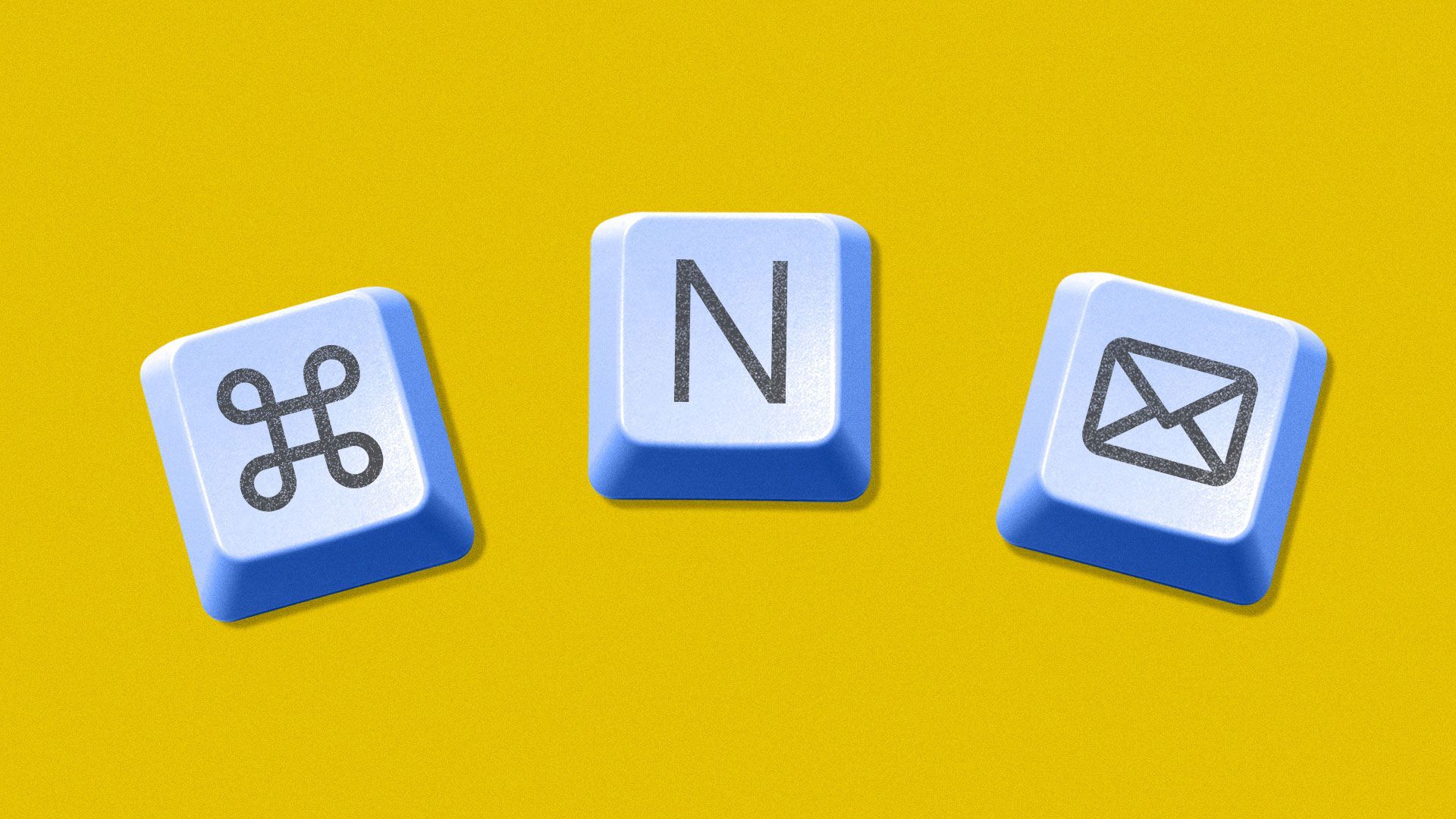 Intuit (Nasdaq: INTU), the maker of TurboTax and QuickBooks, is in talks to buy Mailchimp, an Atlanta-based email marketing company, for more than $10 billion, per Bloomberg.
Why it's the BFD: Mailchimp hasn't taken a dime of venture funding since its 2001 formation, making it one of tech's most successful bootstrapped companies. It's also survived the rise, "death" and revival of email (and email newsletters).
The bottom line: "The deal would unite two providers of services for small businesses. Intuit has offered QuickBooks accounting software to clients for decades, supplementing it with services such as Credit Karma, which it acquired last year. Mailchimp is focused on digital marketing services, including social advertising, so-called shoppable links and automation products." — Bloomberg
Today in Theranos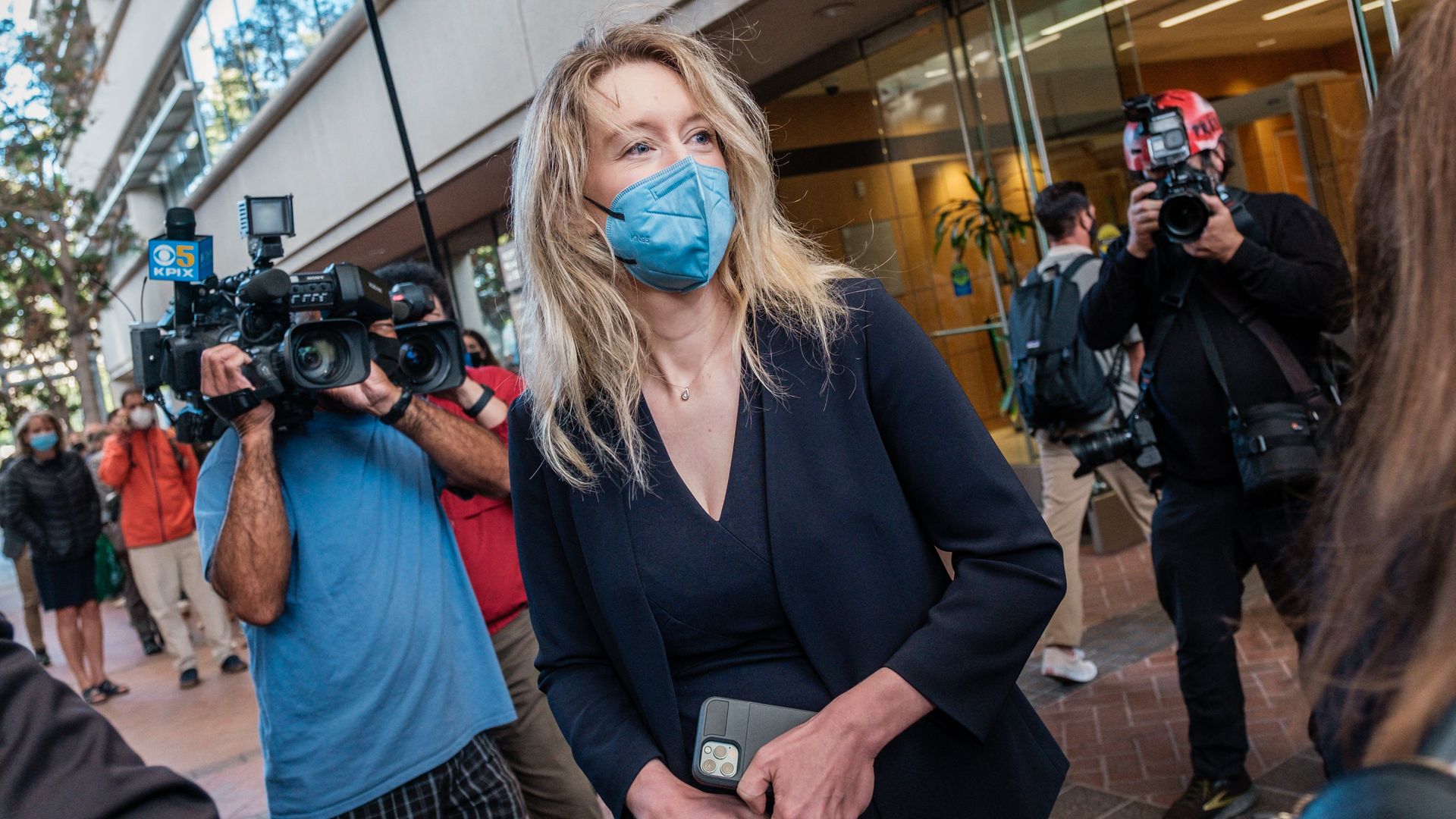 Jury selection kicked off yesterday, with 14 of nearly 40 potential jurors getting dismissed (including a radio producer whose station has done segments on Theranos).
Line of the day, from a potential juror: "I don't have bias, except for I remember the defendant's penchant for turtlenecks."
Venture Capital Deals
🐉 Databricks, a San Francisco-based unified data analytics platform, raised $1.6 billion in Series H funding at a $38 billion post-money valuation. Morgan Stanley led, and was joined by UC Regents, BNY Mellon, Clearbridge, House Fund and insiders like Andreessen Horowitz, BlackRock and Fidelity. http://axios.link/jQyy
• Checkr, a San Francisco-based platform for employee background checks, raised $250 million at a $4.6 billion valuation. Durable Capital led, and was joined by Fidelity, Franklin Templeton and insiders BOND, Khosla Ventures, IVP, T. Rowe Price, Coatue, Accel and YC. http://axios.link/umu5
• Heroes, a London-based Amazon merchant roll-up platform, raised $200 million from Crayhill Capital Management. http://axios.link/Iqtp
• Carsome Group, a Malaysian used car marketplace, raised $170 million at a $1.3 billion valuation from backers like Taiwanese chipmaker MediaTek, Gobi Partners and capital firm Gobi Partners and Mitsubishi UFG Financial Group. http://axios.link/a1I8
• Olsam, a London-based Amazon merchant roll-up platform, raised $165 million in Series A equity and debt funding. Apeiron Investment Group led the equity tranche, and was joined by Elevat3 Capital. North Wall Capital led the debt. http://axios.link/ZOw8
🚲 VanMoof, a Dutch e-bike brand, raised $128 million in Series C funding. Hillhouse Investment led, and was joined by Gillian Tans (ex-Booking.com CEO) and insiders Norwest Venture Partners, Felix Capital, Balderton Capital and TriplePoint Capital. http://axios.link/z6Ji
• CoachHub, a Berlin-based digital business coaching platform, raised $80 million in new Series B funding (round total now $110m). Backers include Draper Esprit, RTP Global, HV Capital, Signals Venture Capital, Partech and Speedinvest. http://axios.link/yE4M
🚑 Oviva, a British nutritional advice startup, raised $80 million in Series C funding. Sofina and Temasek co-led, and were joined by insiders AlbionVC, Earlybird, Eight Roads Ventures, F-Prime Capital and MTIP. http://axios.link/DM4g
🚑 DnaNudge, a London-based developer of a lab-free coronavirus PCR test, raised $60 million in Series A funding. Ventura Capital led, and was joined by Bank Julius Baer. http://axios.link/yzEE
🚑 Alma, a New York-based membership network for therapists to build their practices, raised $50 million in Series C funding. Insight Partners led, and was joined by Optum Ventures, Tusk Venture Partners, Primary Venture Partners, Sound Ventures, BoxGroup and Rainfall Ventures. http://axios.link/FDS8
• Code Climate, a New York-based engineering intelligence platform, raised $50 million in Series C funding. PSG led, and was joined by insiders Union Square Ventures, Foundry Group, Lerer Hippeau Ventures and NextView Ventures. www.codeclimate.com
• Vic.ai, a New York-based enterprise accounting automation startup, raised $50 million in Series B funding. Iconiq led, and was joined by insiders GGV Capital, Cowboy Ventures and Costanoa Ventures. http://axios.link/1Qim
• Trengo, a Dutch omnichannel communications platform, raised $36 million in Series A funding from Insight Partners. www.trengo.com
• Borzo, an Amsterdam-based delivery startup focused on emerging markets, raised $35 million in Series C funding. Mubadala led, and was joined by VNV Global, RDIF and Flashpoint VC. http://axios.link/7Ov4
• Skit, an Indian customer service automation startup, raised $23 million in Series B funding. WestBridge Capital led, and was joined by insiders Kalaari Capital, Exfinity Ventures, IAN Fund, LetsVenture and Sense AI. http://axios.link/6qLU
🚑 Osana Salud, an Argentina-based digital healthcare infrastructure startup, raised $20 million in Series A funding. General Catalyst led, and was joined by Quiet Capital, Preface Ventures, FJ Labs, AforeVC and K50 Ventures. http://axios.link/IiD1
• PayEm, am Israeli spend and procurement platform for multinationals, raised $20 million in Series A funding led by Glilot Capital Partners. Other backers include Pitango, LocalGlobe, NFX and Fresh Fund. www.payemcard.com
• Vectornator, a Berlin-based vector design tool, raised $20 million led by EQT Ventures. http://axios.link/06tk
• Walnut, a New York-based sales experience platform, raised $15 million in Series A funding led by Eight Roads Ventures. http://axios.link/gRNB
• Anima, a platform that turns designs into code, raised $10 million in Series A funding. MizMaa Ventures led, and was joined by INcapital and Hetz Ventures. http://axios.link/g92G
☕ Compound Foods, a synthetic coffee startup, raised $4.5 million in seed funding from Lowercarbon Capital, SVLC, Humboldt Fund, Collaborative Fund, Maple VC and Petri Bio. http://axios.link/hG59
• Rattle, a San Francisco-based provider of enterprise sales tools, raised $2.8 million from Lightspeed Venture Partners and Sequoia Capital India. http://axios.link/RIZh
• Agricycle Global, a Milwaukee-based ingredient upcycling startup focused on Sub-Saharan Africa, raised $2.4 million in seed funding co-led by MaSa Partners and CSA Partners. www.agricycleglobal.com
• Octane, a New York-based pay-as-you-go billing startup, raised $2 million led by Basis Set Ventures. http://axios.link/gl4Z
• Tabular, developer of a data platform around Apache Iceberg, raised Series A funding from Andreessen Horowitz. www.tabular.io
Private Equity Deals
• The Access Group, a British business management software provider backed by TA Associates and HgCapital, agreed to buy British health care services software provider Servalec from Montagu Private Equity. www.theaccessgroup.com
• Bain Capital is in talks to buy more than a 40% stake in Amazon roll-up firm Berlin Brands Group from Ardian at a valuation north of €1 billion (including debt), per Bloomberg. http://axios.link/IDQN
• Frendy, a Finnish IT services firm owned by Procuritas, acquired smaller peer Wisdomi. www.frendy.fi
• Genstar Capital acquired Arrowhead Engineered Products, a Blaine, Minn.-based distributor of aftermarket replacement parts for off-road vehicles, from Investcorp and The Riverside Company. www.arrowheadepinc.com
• Ocean Technologies Group, a Norwegian portfolio company of Oakley Capital, bought COMPAS, a provider of crew management SaaS to the maritime market. www.sgull.com
• TPG Capital and Vista Equity Partners each are in talks to buy Blue Prism (LSE: PRSM), a British robotic process automation company valued at around £1 billion, per The Telegraph. http://axios.link/07Y3
⚡ Turnspire Capital Partners acquired Daniel, a Houston-based provider of flow and energy measurement solutions, from Emerson Electric Co. (NYSE: EMR).
• Vista Equity Partners acquired a majority stake in Drift, a Boston-based marketing and sales SaaS platform that had raised over $100 million from VC firms like Sequoia Capital, CRV and General Catalyst. http://axios.link/27E6
• WestView Capital Partners recapitalized Invisors, an Atlanta-based Workday consulting firm. www.invisors.com
Public Offerings
• Galderma, a Swiss skincare group owned by EQT, is considering an IPO that could value the former Nestle business at more than €15 billion, per Bloomberg. http://axios.link/qv4q
• iFIT Health & Fitness, a Logan, Utah-based connected fitness company whose brands include NordicTrack, filed for an IPO. It plans to list on the Nasdaq (IFIT) and reports a $517 million net loss on $1.7 billion in revenue for the first half of 2021. Backers include Pamplona Capital Management and L Catterton. http://axios.link/vJZl
Liquidity Events
• Champlain Capital sold S.R. Smith, a Canby, Ore.-based maker of commercial and residential pool deck equipment and accessories, to Fluidra (BME: FDR) for $240 million. http://axios.link/zu4J
• Garnett Station Partners agreed to sell Twin Peaks, a Dallas-based sports bar and grill franchise company, to FAT Brands (Nasdaq: FAT) for $300 million. www.twinpeaksrestaurant.com
More M&A
⚡ National Grid (NYSE: NGG) received British antitrust approval for its $11 billion purchase of Western Power Distribution, the U.K.'s largest electricity distributor, from PPL (NYS: PPL). http://axios.link/i6WD
• Playtika (Nasdaq: PLTK) will pay $400 million in cash to buy Reworks, a Finnish maker of home design games that raised funding from firms like Play Ventures and EQT Ventures. http://axios.link/isav
• Terrascend (CNQ: TER) of Canada will pay around US$545 million to buy Michigan-based cannabis producer Gage Growth Corp. http://axios.link/E8qJ
Fundraising
• AGIC Capital, a Euro-Asia private equity firm, raised $1.2 billion for its second fund. www.agic-group.com
• Abry Partners is raising $625 million for its second lower midmarket private equity fund, per the WSJ. http://axios.link/uQba
It's Personnel
• Bob Berry joined Rothschild & Co. as a Boston-based managing director of financial sponsors. He previously was with Truist Securities. www.rothschildandco.com
• David Parker joined London-based debt advisory firm Axis Arbor Partners as managing partner. He previously founded Marlborough Partners. www.axarb.com
• Telstra Ventures promoted Saad Siddiqui to general partner and Joseph An to senior associate. www.telstraventures.com
Final Numbers
The media deal frenzy is coming for Washington, giving longtime owners and investors in political publications a way to finally cash out, Axios' Sara Fischer writes. Go deeper.
🙏 Thanks for reading Axios Pro Rata! Please ask your friends, colleagues and dismissed jurors to sign up.