Axios Pro Rata
May 10, 2022
Top of the Morning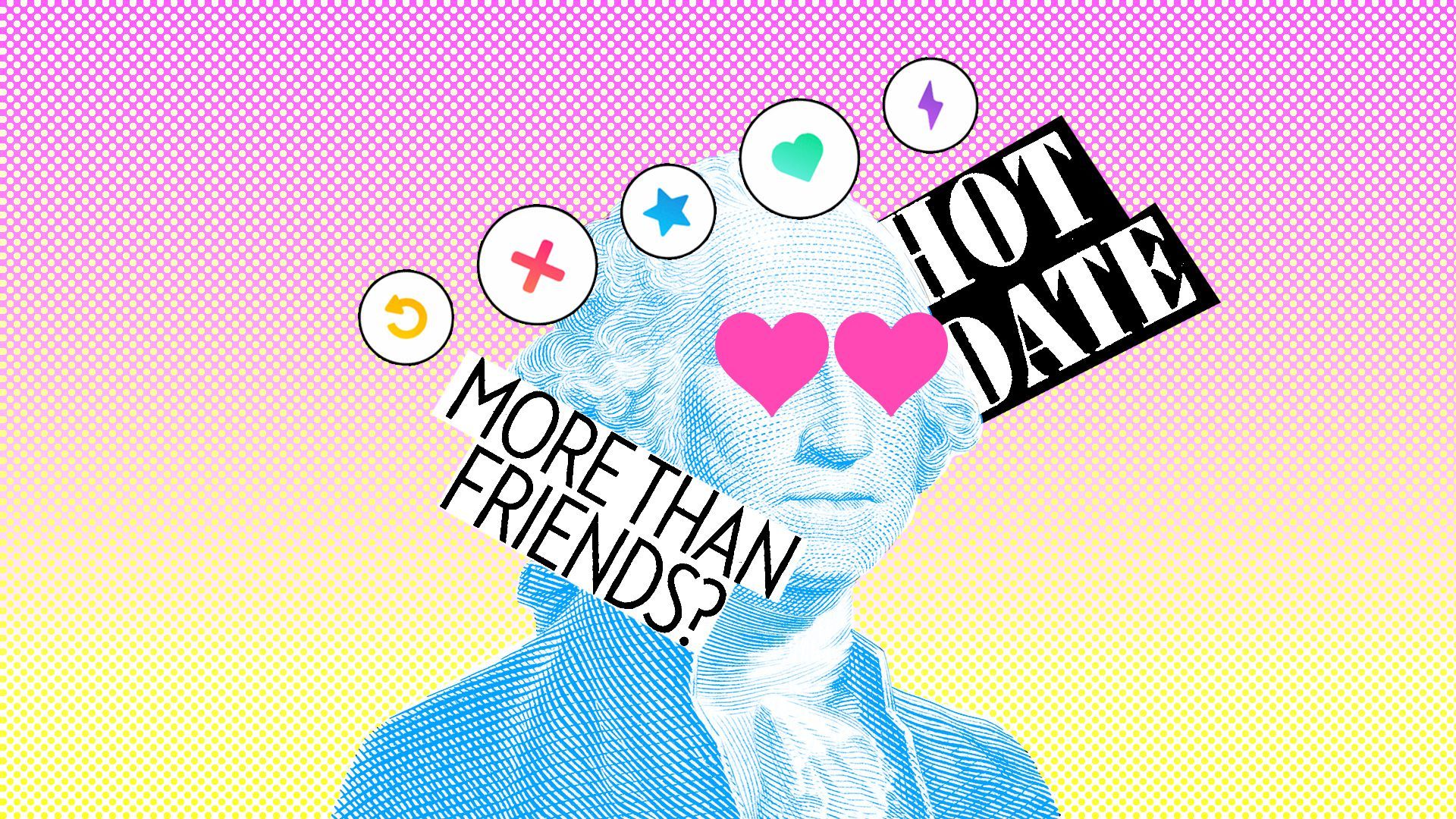 Two acronyms we wrote a lot in the Trump era were SPAC and CFIUS, referring to the boom in blank-check acquisition companies and increased scrutiny of tech deals on national security grounds. Now they've had a merger of their own.
Driving the news: Grindr, the popular LGBTQ+ dating app, has agreed to go public at an implied $2.1 billion enterprise value, via a SPAC — two years after its Chinese owner (Kunlun Group) was forced by CFIUS to sell the business for just over $600 million.
The forced divestiture came after reports that Grindr engineers in Beijing had access to U.S. user data, including private messages and HIV statuses.
Inside the deal: The Hollywood-based app is said to have briefly considered an IPO, but ultimately launched a SPAC-off that included around half a dozen serious suitors.
The winner was Tiga Acquisition, whose chairman and CEO Raymond Zage was part of the group that bought Grindr in 2020.
A Grindr spokesperson says that Zage has no voting shares or board seat with Grindr, and that he recused himself from any sell-side involvement.
But he's all over the buy-side. Not only via his existing stake, as the current owners will hold around a 78% stake after rolling over $1.6 billion worth of stock, but also via the SPAC and then a $100 million forward purchase agreement from his private investment firm Tiga Investments (the merger doesn't include any outside PIPE financing).
By the numbers: Grindr reports $77 million of adjusted EBIDTA on $147 million in revenue for 2021, up from $51 million on $113 million in 2020.
For comparison, Bumble reported $765 million of 2021 revenue.
Grindr's actual profit in 2021 was $5.1 million, up from a $13.1 million loss the year prior.
The bottom line: Grindr first announced plans to go public back in 2018, when it was still owned by Kunlun. Now it's finally for a date with Wall Street, after a very circuitous journey.
The BFD
Philip Morris International (NYSE: PM), which sells Marlboro cigarettes outside the U.S., said it's in talks to buy smokeless tobacco products maker Swedish Match (SWX: SWMA), whose market cap surged past $14 billion on the news.
Why it's the BFD: This would be the richest deal so far for a cigarette giant looking to diversify, topping the $12.8 billion that Altria paid for a 35% stake in Juul at the end of 2018. It also follows PMI's £1.1 billion deal for asthma inhaler maker Vectura Group and $813 million purchase of Danish nicotine gum maker Fertin Pharma.
Elsewhere: Aspire Global, a Chinese e-cigarette and vaping brand, pulled its U.S. IPO registration. It had planned to raise around $120 million and trade on the Nasdaq.
The bottom line: "Cigarette sales have been declining almost unabated for years because of the health hazards and the stigma attached to smoking. That is pushing PMI and its rivals to seek new revenue sources by investing billions of dollars into e-cigarettes, heated-tobacco devices and other products the companies say are less harmful and can be used more discreetly." — Ben Dummett and Cara Lombardo, WSJ
Venture Capital Deals
• Abnormal Security, an SF-based email security company, raised $210m in Series C funding at a $4b valuation. Insight Partners led, and was joined by Greylock and Menlo Ventures. www.abnormalsecurity.com
⚡Arcardia, a Washington, D.C.-based startup that pulls energy use data from smart meters via its API, raised $200m in Series E funding at a $1.45b valuation. JPMorgan led, and was joined by Triangle Peak Partners and insiders Camber Creek, Tiger Global Management, Wellington Management and Drawdown Fund. http://axios.link/reiX
• Paddle, a British provider of payments infrastructure for SaaS companies, raised $200m in Series D equity and debt funding at a $1.4b valuation. KKR led, and was joined by FTV Capital, 83North, Notion Capital, Kindred Capital and lender SVB. http://axios.link/loeS
• KuCoin, a Seychelles-based crypto exchange, raised $150m at a $10b valuation. Jump Crypto led, and was joined by Circle Ventures, IDG Capital and Matrix Partners. http://axios.link/NjlA
🚑 MOMA Therapeutics, a Cambridge, Mass.-based prediction medicines startup, raised $150m in Series B funding. Goldman Sachs Asset Management led, and was joined by Section 32, Pavilion Capital, Invus and LifeSci Venture Partners and insiders Third Rock Ventures, Nextech Invest, Cormorant Asset Management, Casdin Capital, Rock Springs Capital, Creacion Ventures and Alexandria Venture Investments. www.momatx.com
• Opn (fka Synqa), a Japanese payment processor, raised $120m at a valuation north of $1b from Japan Investment Corp., Mitsubishi UFJ Financial Group and Mars Growth Capital. http://axios.link/NO82
• Stord, an Atlanta-based cloud supply chain company, raised $120m in Series D funding at a $1.3b valuation. Franklin Templeton led, and was joined by Founders Fund, BOND and Susa Ventures. www.stord.com
• Hugging Face, a New York-based repository for ready-to-use ML models, raised $100m in Series C funding at a $2b valuation. Lux Capital led, and was joined by Sequoia Capital, Coatue and insiders Addition, Betaworks, AIX Ventures and Thirty Five Ventures. http://axios.link/7VJxGFC,
• Vention, a Montreal-based digital manufacturing automation platform, raised US$95m in Series C funding. Georgian led, and was joined by Fidelity Investment Canada and insiders White Star Capital, Bain Capital Ventures and Bolt Ventures. www.vention.io
• Brightseed, an SF-based plant nutrient tech startup, raised $68m in Series B funding. Temasek led, and was joined by insiders Lewis & Clark AgriFood, S2G Ventures, CGC Ventures, Germin8 and AgFunder. http://axios.link/dcqm
• Nexite, an Israeli data platform for in-store retail intelligence, raised $67m in Series C funding. Pitango Growth and Saban Ventures co-led, and were joined by Battery Ventures, Intel Capital, Pitango First and Vertex Ventures. www.nexite.io
• Byrd, an Austrian e-commerce fulfillment startup, raised $56m in Series C funding. Cambridge Capital led, and was joined by Speedinvest, Mouro Capital and Elevator Ventures. http://axios.link/hKBU
• Dusty Robotics, a Mountain View, Calif.-based developer of construction robots, raised $45m in Series B funding. Scale Venture Partners led, and was joined by insiders Baseline Ventures, Canaan Partners, Root Ventures, NextGen Venture Partners and Cantos. www.dustyrobotics.com
🚑 Domain Therapeutics, a French immuno-oncology biotech, raised US$42m in Series A funding. Panacea Ventures, CTI Life Sciences and 3B Future Health Fund co-led, and were joined by adMare BioInnovations, Schroders Capital, Omnes, Turenne Capital, Theodorus, Viva BioInnovator and insider Seventure Partners. www.domaintherapeutics.com
• Brookaway, an Israeli ground transport booking startup, raised $35m in Series C funding. Red Dot Capital Partners led, and was joined by Tenere Capital and insiders Aleph, Corner Ventures and Entrée Capital. http://axios.link/QrUw
• Mint House, a residential hospitality startup, raised $35m in Series B funding. Mohari Hospitality led, and was joined by Revolution Ventures, Allegion Ventures and Ingleside Investors. http://axios.link/ih2Y
• Arianee, a Paris-based provider of digital ownership and authenticity certificates for brands, raised €20m. Tiger Global led, and was joined by Bpifrance, ISAI, Noia Capital, Cygni Labs, Commerce Ventures and Motier Ventures. http://axios.link/6xRQ
• Oriient, an Israeli indoor positioning startup, raised $11m in Series A funding from OurCrowd, Regal Four, F2 VC, NGN Partners and Future Energy Ventures. www.oriient.me
• Rensair, a London-based air purification startup, raised $7m in Series A funding led by Hoxton Ventures. www.rensair.com
🚑 Handspring, a Newark, N.J.-based pediatric mental health startup, raised $6.2m in seed funding. Newark Venture Partners and NextView Ventures co-led, and were joined by 25madison Ventures, Arkitekt Ventures and Quantum Angels. www.handspringhealth.com
🚑 Hannah Life Technologies, a Singapore-based at-home fertility startup, raised $5m. Monk's Hill Ventures led, and was joined by Golden Gate Ventures and Anthro Ventures. http://axios.link/ezHH
🚑 Anja Health, an LA-based cord blood banking startup, raised $4.5m in seed funding. Seven Seven Six led, and was joined by Harvest Ventures and Crista Galli Ventures. www.anjahealth.com
• Eureka Robotics, a Singapore-based developer of HAHA robotics solutions, raised $4.25m. UTEC led, and was joined by Touchstone Partners and insider ATEQ. http://axios.link/fbgB
• Mentum, a provider of customizable investment APIs and widgets for Latin American companies, raised $4.2m. Gradient Ventures led, and was joined by Gradient Ventures, Soma Capital and YC. http://axios.link/VFJx
Private Equity Deals
🚑 Arsenal Capital Partners and McKesson invested in OncoHealth, an Atlanta-based cancer care cost optimization company, per Axios Pro.
• Camano Capital bought Turtle Fur, a Morrisville, Vt.-based maker of fleece headwear and outdoor accessories. It had been for sale since last summer.
• Carlyle agreed to buy Conshohocken, Pa.-based insurance brokerage NSM Insurance Group from White Mountains Insurance (NYSE: WTM) for $1.78b, per Reuters. http://axios.link/RuYe
🚑 Cornell Capital agreed to buy Advancing Eyecare, a Norfolk, Va.-based maker of ophthalmic instruments, from Atlantic Street Capital. http://axios.link/Hete
🚑 Franz Haniel & Cie of Germany bought STAX, a provider of cleanroom consumables to the Benelux life science industry, from Silverfleet Capital. www.staxs.eu
• General Atlantic invested in Dallas-based Buff City Soap, a Dallas-based maker of plant-based soaps and personal care products. www.buffcitysoap.com
• Peak Rock Capital acquired Mojix, an LA-based supply chain SaaS. www.mojix.com
• The Purple Guys, a Shreveport, La.-based portfolio company of Kian Capital, acquired Accelerate, an Indianapolis-based managed IT services provider. www.purpleguys.com
• TA Associates invested in Zifo, an Indian provider of scientific informatics services. www.zifornd.com
SPAC Stuff
⚡ CE Energy Acquisition, an Americas energy industry SPAC led by Ryan Cunningham (Cunningham Energy), filed for a $100m IPO. http://axios.link/RW1p
• Global Blockchain Acquisition, a SPAC formed by Global Blockchain Ventures execs, raised $150m in its IPO. http://axios.link/cF5T
• Investcorp India Acquisition, an India SPAC formed Investcorp, raised $225m in its IPO. http://axios.link/4dT6
Liquidity Events
🚑 Archimed sold Austrian point-of-care diagnostics company EUROLyser to Antech Diagnostics, a unit of Mars Veterinary Health. www.eurolyser.com
🚑 Aquiline Capital Partners is seeking a buyer for Aspirion, a Columbus, Ga.-based provider of revenue cycle solutions for hospitals, per Axios Pro.
🚑 Lead Capital Partners sold Common Cents Systems (dba ApolloLIMS), a Nashville-based provider of lab information management systems software, to CliniSys Group, a subsidiary of Roper Technologies (NYSE: ROP). www.apollolims.com
• Salesforce (NYSE: CRM) agreed to buy Troops, a New York-based Slackbot for sales teams that had raised over $20m (plus got a PPP loan) from Aspect Ventures, Susa Ventures, Flight Ventures, First Round Capital, NextView Ventures, Chicago Ventures, Great Oaks VC, Founder Collective, Slack Fund, Landis Capital and Vast Ventures. http://axios.link/OL2H
More M&A
• JSW Group, the Indian conglomerate led by Sajjan Jindal, offered $7b to buy the Indian assets of Swiss cement giant Holcim. http://axios.link/Wt2m
🚑 Pfizer (NUSE: PFE) agreed to buy New Haven, Conn.-based migraine drugmaker Biohaven Pharmaceutical (NYSE: BHVN) for around $11.6b in cash, or $148.50 per share (78.6% premium over yesterday's closing price). http://axios.link/OYwp
🎵 Pink Floyd reportedly is seeking a buyer for its song catalog. http://axios.link/uTmJ
• Sachem Head Capital Management is in "advanced talks" to drop its proxy challenge to US Foods (NYSE: USFD) in exchange for three seats on the food distributor's board, per Reuters. http://axios.link/yfOp
It's Personnel
• Matt Bromberg, former COO of Zynga, joined Blackstone as a senior adviser focused on growth equity. www.blackstone.com
🌎 Tinna Nielsen (ex-UN) and Angela Jhanji (Grant Thornton) joined EQT's global sustainability team. www.eqt.se
• Grace Rhee Kim joined Grafine Partners as a managing director of business development. She previously was with Arsenal Capital Partners. www.grafine.com
• Gordon Saint-Denis (ex-Citizens Bank) joined Monroe Capital as a managing director and head of sports finance. www.monroecap.com
Final Numbers: M&A breakdown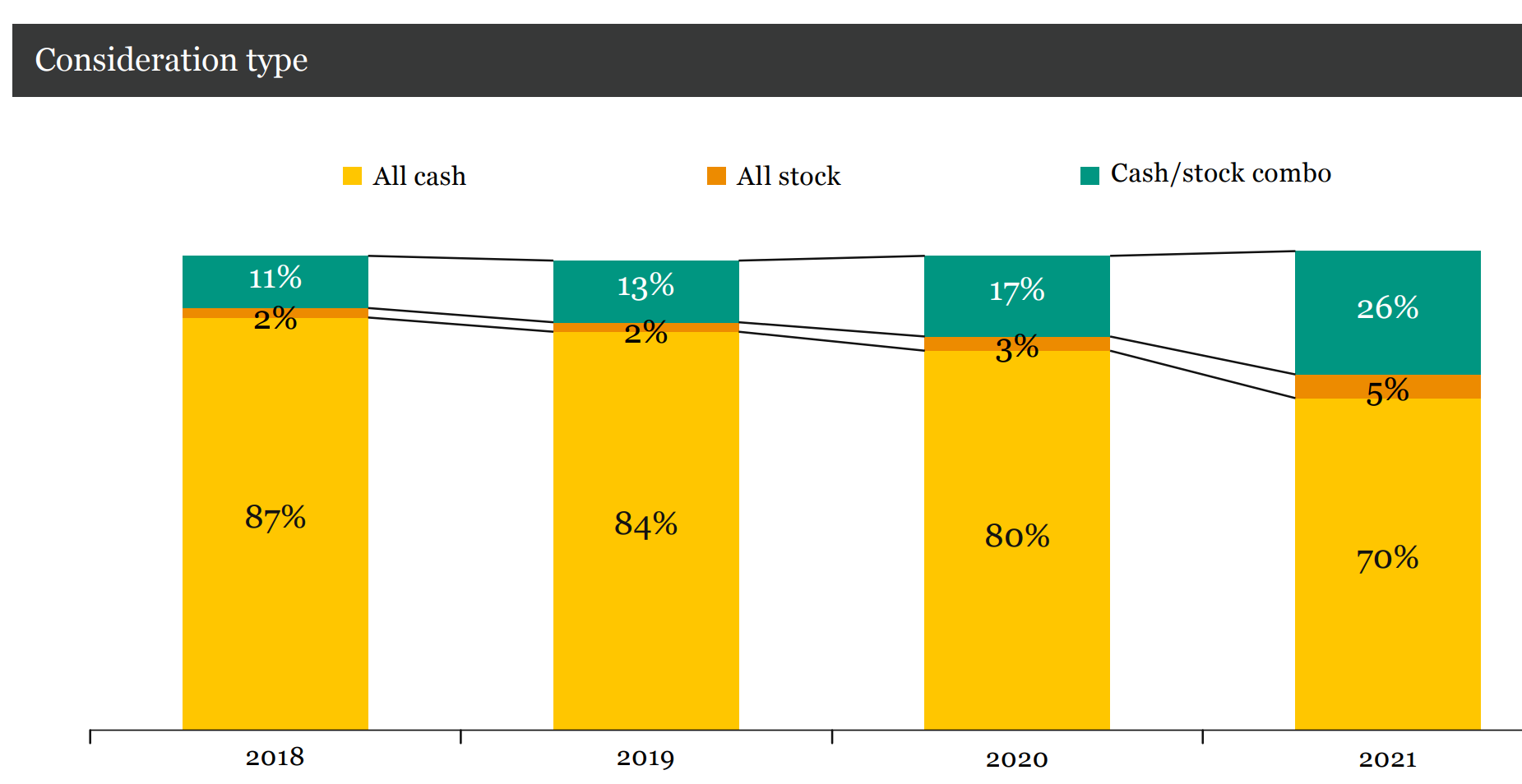 ✅ Thanks for reading Axios Pro Rata! Please ask your friends, colleagues and Al Horford to sign up.