April 04, 2019
Top of the Morning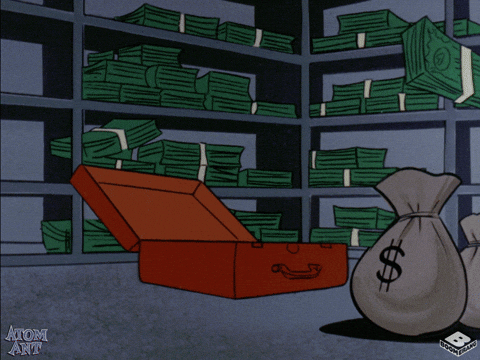 Last week we cautioned against extrapolating a market peak from Lyft's IPO.
But I'm a bit less sanguine on news that The Blackstone Group reportedly has closed on over $22 billion for what it expects to eventually become the largest leveraged buyout fund of all time. Particularly when married to a report that SoftBank wants to top off its $100 billion Vision Fund with another $15 billion.
Blackstone is currently investing out of a $19 billion fund, and its own record-holder was a $21.7 billion vehicle raised before the financial crisis. The LBO industry's current king is a $24.6 billion fund that Apollo Global Management raised in 2017.
SoftBank has already committed $70 billion of its initial pool, and likely is taking solace in how Silicon Valley startups and their VC directors don't seem to mind taking Saudi government money in the wake of Jamal Khashoggi's murder.
Silver lining: No two data points, even giant ones, make a trend — and both of these funds could completely collapse without resulting in a systemic financial failure. And it is true that global private equity raised (slightly) more fund capital in 2017 than in 2018.
Darker, larger cloud: Fund size creep, particularly from mature firms like Blackstone, is almost always a sign of market froth. It was true at the turn of the millennium and then again in mid/late-aughts. These funds only add to the dry powder mountain created over the past couple of years, and that stuff can quickly turn flammable.
🚗 Lyft shares closed yesterday up to $70 per share, thus stemming some of the "sky is falling into a black hole" talk we'd heard since last week's IPO. But...
12.4 million shares have been shorted, making Lyft the 27th most-shorted large U.S. stock.
Expect that list to be overrun with VC-backed tech "unicorns" by year-end.
S3 Partners reports that short-sellers are paying an average fee of 101.4% borrow fee, which is the highest price for any U.S. stock with more than $50 million of short interest.
Carl Icahn sold his 2.7% stake in Lyft to George Soros, shortly before the IPO, per the WSJ. It makes sense that Icahn would want out of a company that opted for a dual-class share structure, but the revelation remains curious for three reasons:

Lyft's co-founders seemed to suggest Icahn was still a shareholder when interviewed on CNBC last Thursday morning.
A Lyft source told Axios on March 19 that Icahn rep Jonathan Christodoro stepped down from the board to pursue other ventures, not because of any change to Icahn's position.
Private shareholders in companies like Lyft are usually subject to transfer restrictions, meaning Icahn likely needed company approval to sell the shares (although we don't know for sure yet if that applied in this case).
• Tea Leaves: Apple has changed its org chart so that M&A boss Adrian Perica now reports directly to CEO Tim Cook.
This may mean nothing, or it may signify that the acquisition-shy tech giant is finally considering some transformational purchases.
• Update: My understanding is that the VC backers of the Alliance of American Football remain shareholders, meaning they didn't sell their stakes to Carolina Hurricanes owner Tom Dundon in February.
That means they have some 'splainin to do, given what's coming out about how AAF has behaved this week. Per a must-read Twitter thread from Rich Ohrnberger, a former NFL player and color commentator for the AAF's San Diego club:
Players in Memphis came back to their hotels after news came down, and had their personal items waiting in the lobby. Kicked out of their lodgings.
Reserve/Injured players, "will be left in the cold." They will be paying for their own rehab/medical expenses.
🎧 Pro Rata Podcast: We dig into how YouTube execs not only turned a blind eye to extremist viral videos, but arguably encouraged their viewership in a quest for growth and profit. Listen here.
The BFD
Tradeweb Markets, a New York-based electronic bond and derivatives trading platform, raised nearly $1.1 billion in its IPO. The company priced 40 million shares at $27, versus original plans to offer 27.3 million shares at $24-$26, for an initial market value of around $6 billion.
Why it's the BFD: Because it's the second billion dollar+ IPO in the past two weeks, after a five month drought. It's also a nice IPO rebound for top shareholder The Blackstone Group, after its Alight float fizzled.
Bottom line: "Online venues are gaining ground in bond trading, digitizing orders that were once placed over the phone. At MarketAxess Holdings, Tradeweb's closest listed peer, trading volumes have more than doubled since 2014." — Liz Hoffman & Corrie Driebusch, WSJ
Venture Capital Deals
🚑 Dyne Therapeutics, a Cambridge, Mass.-based biotech startup focused on rare types of muscle diseases, raised $50 million in Series A funding from Atlas Venture, Forbion and MPM Capital. http://axios.link/nhGZ
• Onfido, a London-based identity verification startup, raised $50 million in new funding. SoftBank and Salesforce Ventures co-led, and were joined by M12 and FinVC. http://axios.link/lCGO
• Fast Radius, a Chicago-based on-demand manufacturing platform, raised $48 million in Series B funding. UPS led, and was joined by Drive Capital, Jump Capital, Skydeck, and Hyde Park Venture Partners. http://axios.link/sK86
• Rippling, an employee onboarding startup led by former Zenefits CEO Parker Conrad, raised $45 million in Series A funding at a $270 million post-money valuation. Kleiner Perkins led, and was joined by YC, Initialized Capital and Threshold Ventures. http://axios.link/PRaG
• Red Points, a Barcelona-based SaaS platforms to protect brands from both digital and physical goods piracy, raised $38 million in Series C funding. Summit Partners led, and was joined by return backers Northzone, Mangrove, Eight Roads Ventures and Banco Sabadell. http://axios.link/WQT9
🚑 HealthVerity, a Philadelphia-based medical data marketplace, raised $25 million in Series C funding. Foresite Capital led, and was joined by fellow return backers Flare Capital Partners and Greycroft Partners. http://axios.link/lUnw
• Hometalk, a New York-based community site for DIY home projects, raised $15 million. NFX led, and was joined by Altair Capital and WeWork CEO Adam Neumann. http://axios.link/8CNl
• Faction, a Denver-based managed service provider for VMWare Cloud on AWS, raised $14 million. Dell Technologies Capital led, and was joined by River Cities Capital Funds, Sweetwater Capital, Meritage Funds and Charterhouse Strategic Partners. http://axios.link/vjrE
• Boost, a New York-based provider of optimization software for corporate credit cards, raised $12 million in Series B equity and debt funding co-led by Mosaik Partners and North Atlantic Capital. http://axios.link/DyLf
• Squelch, a Redwood City-based provider of customer experience optimization software, raised $12 million from Shasta Ventures, Correlation Ventures and Tenaya Capital. http://axios.link/g4Vw
• Mighty Networks, a Palo Alto-based networking SaaS platform for brands, raised $11 million in Series A funding. Intel Capital and Sierra Wasatch co-led and were joined by First Round Capital, Floodgate, BBG Ventures and Lucas Venture Group. http://axios.link/Agqv
• Torch, a San Francisco-based virtual coaching platform, raised $10 million in Series A funding. Norwest Venture Partners led, and was joined by Initialized Capital, Y Combinator and West Ventures. http://axios.link/KUar
• Tru Optik, a Stamford, Conn.-based OTT data management startup, raised $10 million. Mithera Capital led, and was joined by TransUnion, Connecticut Innovations, Arab Angel Fund and Progress Ventures. http://axios.link/Zjkh
• Teridion, a cloud-based WAN service with offices in Israel and San Francisco, raised $9 million. JVP led, and was joined by return backers Magma Ventures and SingTel Innov8. www.teridion.com
🚑 Cora, a San Francisco-based maker of feminine hygiene products from organic products, raised $7.5 million in Series A fund led by Harbinger Ventures. http://axios.link/R7Eb
• Offchain Labs, a smart contracts startup co-founded by former U.S. deputy CEO Ed Felton, raised $3.7 million in seed funding led by Pantera Capital. http://axios.link/l4du
• Giblib, a Los Angeles-based streaming video platform for medical lectures and surgeries, raised $2.5 million in seed funding from Mayo Clinic, Venture Reality Fund, Wavemaker 360, USC Marshall Venture Fund and Michelson 20MM. http://axios.link/QarI
• Miles, a loyalty app that lets users earn points for movement that doesn't involve flying or purchases, raised $2.25 million in seed funding from JetBlue Technology Ventures, Porsche Digital, Sony Innovation Fund and SAIC. http://axios.link/0p5Y
• Maude, a Brooklyn-based sex toys startup, raised $1.5 million in seed funding. Tune House Capital led, and was joined by RRE Ventures, Outbound Ventures, Cassius Family, Shrug Capital and Pico Alto Ventures. http://axios.link/99Vo
Private Equity Deals
• H.I.G. Capital acquired Carlsbad, Calif.-based weight loss company Jenny Craig from North Castle Partners. http://axios.link/fj4X
• Studio Movie Grill, a Dallas-based movie theater-dining chain with 32 locations, raised $100 million from TowerBrook Capital Partners. http://axios.link/9Hh7
⛽ Tally Energy, a Houston-based oilfield services company backed by RedBird Capital Partners and Sallyport Investments, acquired Ft. Worth, Texas-based lift provider Epic Lift Systems from Intervale Capital. www.epicliftsystems.com
• Vantage Specialty Chemicals, a Chicago-based portfolio company of H.I.G. Capital, agreed to acquire Textron, a Spanish manufacturer, processor and formulator of natural oils for the personal care, food and chemical industries. www.vantagespecialties.com
• Wafra and Landmark Partners have acquired minority ownership stakes in Siris Capital Group, a tech-focused buyout firm that just raised $3.45 billion for its latest fund. www.siris.com
• Wellspring Capital Management completed its previously-announced purchase of Paragon Films, a Broken Arrow, Okla.-based maker of stretch films for unitizing pallet loads, from Wind Point Partners. www.paragonfilms.com
Public Offerings
• Ruhnn Holding, a Chinese platform for managing online influencers, raised $125 million in its IPO. The company priced 10 million shares at $12.50 (midpoint of range), but saw shares fall 37% on their first day of trading (Nasdaq: RUHN). Citi was lead underwriter, and the company reports a $58 million net loss on $125 million in revenue for the last nine months of 2018. http://axios.link/pRWa
🚑 Medacta Group, a Swiss orthopedic device-maker owned by the founding Siccardi family, priced its IPO on the Swiss Stock Exchange at a market cap of around $1.92 billion. http://axios.link/ALoc
🚑 NGM Biopharma, a South San Francisco-based developer of obesity and diabetes drugs, raised $107 million in its IPO. The company priced 6.7 million shares at $16 (high end of range), for an initial market cap of $1.04 billion. It will trade on the Nasdaq (NGM), used Goldman Sachs as lead underwriter and had raised around $390 million VC funding from Column Group (25.1% stake), Merck (16.3%), Prospect Venture Partners (9.1%), Topspin Fund (8.9%), Rho Ventures (7%) and Tichenor Ventures. www.ngmbio.com
🚑 Silk Road Medical, a Sunnyvale, Calif.-based developer of surgical solutions for stroke patients, raised $120 million in its IPO. The company priced 6 million shares at $20, versus plans to offer 4.7 million shares at $15-$17. It has an initial market cap of $604 million and will trade on the Nasdaq (SILK). J.P. Morgan was lead underwriter. Shareholders include Warburg Pincus (56% pre-IPO stake), The Vertical Group (18.9%), Norwest Venture Partners (11%) and Janus Capital Management (11%). www.silkroadmed.com
Liquidity Events
• Accenture has agreed to buy New York-based ad agency Droga5. Sellers include Endeavor, a portfolio company of Silver Lake that reportedly is prepping an IPO. http://axios.link/wfn2
More M&A
• Constellation Brands (NYSE: STZ) agreed to sell a portfolio of lower-end wine and spirits brands to E. & J. Gallo Winery for $1.7 billion. http://axios.link/cKNw
• Independent News & Media, Ireland's largest newspaper publisher, said it has received a takeover approach. http://axios.link/fTO2
🍔 McDonald's (NYSE: MCD) agreed to pay NZ$5.4 million for a 10% stake in Plexure (NZE: PLX), a New Zealand-based company that powers its mobile app in 48 countries. http://axios.link/xPBq
• UniCredit of Italy may bid to guy Germany's Commerzbank if the latter's proposed tie-up with Deutsche Bank falls through. http://axios.link/EmFr
Fundraising
• ATL Partners raised $575 million for its second private equity fund focused on the aerospace, transportation, and logistics sectors. www.atlpartners.com
• DFW Capital Partners, a New Jersey-based lower mid-market private equity firm focused on the services sector, raised $360 million for its fifth fund. www.dfwcapital.com
🚑 HealthQuest Capital raised $440 million for its third growth equity fund focused on commercial-stage healthcare companies. www.healthquestcapital.com
• IA Capital Group, a New York-based VC firm focused on insure-tech, raised $150 million for a series of new funds. www.iacapgroup.com
• Okta (Nasdaq: OKTA) launched a $50 million corporate VC fund focused on identity, security and privacy startups. http://axios.link/iQS2
It's Personnel
• Brittany Bagley stepped down as a managing director with KKR to join Sonos (Nasdaq: SONO) as CFO. She had been part of the KKR team that invested in Sonos in 2012, and has spent the past two years on its board. http://axios.link/yxMC
• Zeina Bain is leaving The Carlyle Group, where she's been a managing director focused on European buyouts, to join Intermediate Capital Group, per the FT. http://axios.link/1KK4
• Michael France has stepped down as a managing director of First Reserve in order to join Intrepid Financial Partners, where he will co-lead private equity investments in the energy sector. www.intrepidfp.com
• Nithin Johnson (ex-Citigroup) joined France's Tikehau Capital as New York-based executive director of business development. www.tikehaucapital.com
Final Numbers