https://www.axios.com/newsletters/axios-pro-rata-b398cb1e-a681-4e20-b1e5-c614b3c0eadc.html?chunk=0#story0
Top of the Morning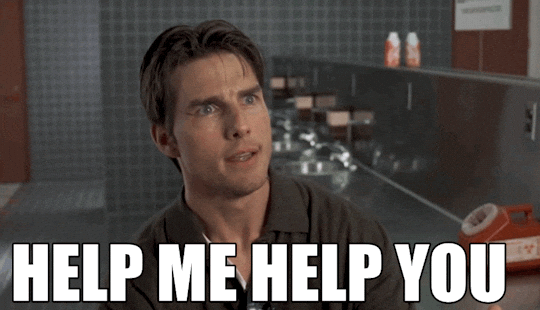 CalPERS, the country's largest public pension system, is officially seeking an outside firm to aid in management of its $26 billion private equity portfolio. We had last discussed this in September as a head-scratching possibility, with BlackRock among the likely applicants. Finalists will be interviewed in March and April.
This could cause some déjà vu for those old enough to recall CalPERS in the dotcom days, when it hired an outside firm to manage venture capital (before not only killing off the agreement, but VC investment altogether... at the next cycle's best buy-in point).
Hiring an outside manager would seem to be an exercise in increasing private equity management fees by a public pension that has made cutting such fees a cornerstone of its recent investment strategy (sometimes at the expense of accessing quality funds).
It also raises even more questions about what CalPERS will do with the slew of PE investment staffers it hired over the past couple years. These folks mostly have sat on their hands as the pension has sought to slash its number of GP relationships, and now they'll sit on their hands as an outside firm does the work.
Never mistake big money for smart money.
Calpers currently has an 8.9% allocation to private equity, which is above its 8% target allocation. The current $26 billion size expands to more than $40 billion if unfunded commitments are taken into account.
• Brain candy: Pfizer announced that it will kill off its research efforts into neurological diseases like Alzheimer's and Parkinson's, disappointing both patients and the approximately 300 people who will be getting pink slips. But it also said that it plans to launch a new venture capital fund to back neuroscience startups. No additional details of the VC effort were disclosed.
• Debt details: LevFin Insights reports that middle-market multiples are at historical highs:
"Average total debt on structures with second-liens or sub-debt finished December at 6.11x of EBITDA, up from 5.27x last January. Senior debt rose to 4.5x from 3.9x. A string of deals leveraged at 6x or higher arrived in the second half, and outer margin pitches moved to 5x by 7x, up from 4.5x by 6-6.5x at the start of 2017, lenders noted. Witness Institutional Shareholder Services and OB Hospitalist Group, both of which came to market at 7x."
• Digging into jobs report: The U.S. coal mining industry added around 300 jobs between December 2016 and December 2017, per the Bureau of Labor Statistics. No, I'm not missing any decimal points there.
But while U.S. coal employment grew by less than a percentage point, U.S. coal production climbed by around 6% — in large part due to demand from Asian steelmakers. The simplest way to explain the discrepency: Automation.
https://www.axios.com/newsletters/axios-pro-rata-b398cb1e-a681-4e20-b1e5-c614b3c0eadc.html?chunk=1#story1
The BFD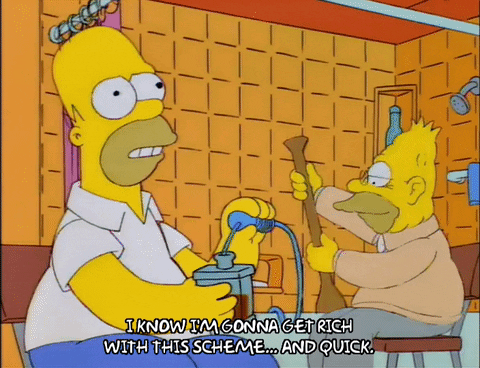 Celgene (Nasdaq: CELG) has agreed to acquire Impact Biomedicines, a San Diego-based cancer drug developer, for upwards of $7 billion (including $1.1 billion cash upfront and several types of earn-outs).
Why it's the BFD: Because this is a silly stupendous return on investment for Medicxi Ventures, which was the sole participant in Impact's $22.5 million Series A round. That deal was done just over a year ago, according to Medicxi's Kevin Johnson, even though the press release was held until last October. Johnson says that his firm's binary investment thesis was that the FDA would remove its 2013 clinical trial hold on a Sanifi cast-off candidate called fedratinib and that a sale would shortly follow. "It was a gamble on our part and it worked," Johnson tells Axios.
D.C. angle: Celgene executive chairman Bob Hugin is considering a U.S. Senate run in New Jersey, per Politico.
Bottom line: "Impact has been developing fedratinib to treat bone-marrow disorders known as myelofibrosis and polycythemia vera that affect blood-cell production in tens of thousands of patients. If approved, fedratinib would challenge a blood-disease drug from Incyte Corp. called Jakafi. Both drugs try to stop an enzyme that plays a key role in producing blood cells and driving the diseases." — WSJ
https://www.axios.com/newsletters/axios-pro-rata-b398cb1e-a681-4e20-b1e5-c614b3c0eadc.html?chunk=2#story2
Venture Capital Deals
🚑 KBP Biosciences, a Chinese biotech that just moved its headquarters to Philly, has raised $76 million in Series A funding. Advantech Capital and SDIC Venture Capital co-led, and were joined by Sangel Capital, Ping An Ventures, Bay City Capital GF XINDE Life Science Investment Fund, Efung Capital, CASH Capital, Cowin Capital Group, Korea Investment Partners and Elite Capital. http://axios.link/PQcg
• BaishanCloud, a Chinese provider of cloud data services, has raised $50 million in Series C funding co-led by Alpha Capital and Chunjia Capital. www.baishancloud.com
• Xinshang, a Chinese P2P marketplace for secondhand luxury goods, has raised $50 million in Series C funding. GGV Capital and Joy Capital co-led, and were joined by Northern Light Venture Capital. http://axios.link/3TNH
🚑 Intuity Medical, a Fremont, Calif.-based developer of blood glucose monitoring devices for patients with diabetes, has raised $40 million in new equity funding from return backers Accuitive Medical Ventures, Investor Growth Capital, KCK Group, Luther King Capital Management, PTV Healthcare Capital, U.S. Venture Partners and Versant Ventures. The company also secured $30 million in debt financing from Hercules Capital. www.presspogo.com
🚑 Leading Pharma, a Fairfield, N.J.-based generic pharma company, has raised $40 million in growth equity funding. Signet Healthcare Partners led, and was joined by Crestline Investors and Cane Investment Partners. http://axios.link/cBO8
• Element Analytics, a San Francisco-based provider of analytics data management and integration software for industrial companies, has raised $19.5 million in Series A funding from GE Ventures, Honeywell Ventures, ABB Technology Ventures, Mitsui & Co., Aster, Blue Bear Capital and return backer Kleiner Perkins. www.elementanalytics.com
🚑 Vitruvias Therapeutics, an Auburn, Ala.-based generic pharma startup focused on sterile injectibles, has raised $11.5 million in Series A funding co-led by JW Asset Management and Perceptive Advisors. www.virtuvias.com
• Pelian.com, a Shanghai-based online music lesson site, has raised "hundreds of millions of RMB" from Tencent, Orchid Asia Group and return backers BlueRun Ventures, GSR Ventures and Long Capital. http://axios.link/SO2Z
https://www.axios.com/newsletters/axios-pro-rata-b398cb1e-a681-4e20-b1e5-c614b3c0eadc.html?chunk=3#story3
Private Equity Deals
• Apex Group, Genstar Capital and SALU Capital have agreed to acquire the Luxembourg-based asset management and servicing business of M.M. Warburg & Co. www.apexfundservices.com
• Apollo Global Management and a pairing of Cerberus and J.C. Flowers are among the bidders for German state-backed bank HSH Nordbank, according to Reuters. http://axios.link/TOp2
• Arcapita has acquired a control stake in MC Sign Co., a Mentor, Ohio-based signage and lighting company, from Caltius Capital for more than $100 million. www.mcsign.com
• Audax Private Equity has acquired Corsearch, a New York-based provider of trademark and domain establishment and protection services, from Wolters Kluwer. www.corsearch.com
• Brookfield Business Partners has agreed to acquire a 75% stake in Schoeller Allibert, a Dutch packaging company, for €205 million from JPMorgan Chase & Co. http://axios.link/JaVw
• Marco Group International, a Davenport, Iowa-based portfolio company of The CapStreet Group, has acquired JAD Equipment, a Youngtown, Ohio-based distributor of surface preparation equipment and consumables. www.marco.us
⛽ Riverstone Holdings and Goldman Sachs Merchant Banking have agreed to acquire Delaware Basin-focused Lucid Energy Group II for around $1.6 billion.
⛽ Valentus Specialty Chemicals, a North Brunswick, N.J.-based portfolio company of Huron Capital, has acquired US Coatings, a St. Louis-based provider of coatings for industrial, petrochemical, and oil and gas facility maintenance applications. www.valentuschem.com
https://www.axios.com/newsletters/axios-pro-rata-b398cb1e-a681-4e20-b1e5-c614b3c0eadc.html?chunk=4#story4
Public Offerings
• Dalian Wanda Group is considering a Hong Kong listing for its sports assets, according to Reuters. http://axios.link/LOax
🚑 Siemens is planning to float Healthineers, an X-ray and MRI machine maker valued at nearly $48 billion, in March, according to Reuters. http://axios.link/ZTZt
https://www.axios.com/newsletters/axios-pro-rata-b398cb1e-a681-4e20-b1e5-c614b3c0eadc.html?chunk=5#story5
Liquidity Events
🚑 Baird Capital has sold RaySpec, a UK-based maker of X-ray detectors and electronic pulse processing systems, to Polatechno (Jasdach: 4239). www.sgxsensortech.com
• KKR has agreed to sell its 49.8% stake in Valinge, a Swedish maker of laminated wood flooring, to the Kristiansen family for around $500 million, according to the FT. http://axios.link/5kXT
https://www.axios.com/newsletters/axios-pro-rata-b398cb1e-a681-4e20-b1e5-c614b3c0eadc.html?chunk=6#story6
More M&A
🚑 Acorda Therapeutics (Nasdaq: ACOR), an Ardsley, N.Y.-based drug-maker focused on neurological disorders, is seeking a buyer, according to the WSJ. Centerview Partners and MTS Health Partners are managing the process for Acorda, whose market cap jumped to around $1.1 billion on the news. http://axios.link/sBIC
• Aurora Cannabis (TSX: ACB) has agreed to acquire a 17.6% stake in Toronto-based grower Green Organic Dutchman Holdings for around C$55 million. http://axios.link/c1H6
🍭 The Hershey Co. (NYSE: HSY) and The Ferraro Group both submitted final bids for Nestle's U.S. confectionary business, which could be valued at between $2 billion and $2.5 billion, per CNBC. http://axios.link/WJu3
🚑 Novo Nordisk has offered around $3.1 billion to acquire Belgium-listed biotech Ablynx, which is focused on rare blood disorders. The announcement reportedly comes after Ablynx rejected Novo Nordisk's earlier, confidential takeover bids. http://axios.link/8bO7
• TP ICAP (LSE: TACPI) has acquired SCS Commodities Corp., a Jersey City, N.J.-based energy and commodities broker. http://axios.link/iSgI
https://www.axios.com/newsletters/axios-pro-rata-b398cb1e-a681-4e20-b1e5-c614b3c0eadc.html?chunk=7#story7
Fundraising
• Centerfield Capital Partners of Indianapolis has closed its fourth mezzanine equity and equity fund with $310 million in capital commitments.
• Lerer Hippeau Ventures is in market with its sixth fund (targeting $100 million) and its second opportunities fund (targeting $50 million), per SEC filings.
https://www.axios.com/newsletters/axios-pro-rata-b398cb1e-a681-4e20-b1e5-c614b3c0eadc.html?chunk=8#story8
It's Personnel
• Chris Blunt, former president of New York Life's investments arm, has joined The Blackstone Group as a senior managing director and CEO of a new business that will provide investment products and advice to insurance companies. www.blackstone.com
• Remy Kawkabani has joined Coller Capital as a partner focused on fundraising and investor relations, according to Private Equity International. He previously was with Siguler Guff and Credit Suisse. http://axios.link/sahe
• Kazuki Kusaka has joined healthcare-focused investment bank MTS Health Partners as a partner. He previously led Lazard's healthcare practice in Japan. www.mtspartners.com
• Mark Victor Pinho has stepped down as a managing director in the private equity group of Soros Fund Management, after an 11-year run. He now is leading a new investment platform called St. Victor Capital, per his LinkedIn profile.
• Josselin de Roquemaurel has stepped down as a director in KKR's London office, after a 13-year run, per Private Equity News. No word yet on his future plans.
• Jason Tan, a former managing director with Tiger Global Management, has joined Jeneration Capital as chief investment officer, per his LinkedIn profile.
• VMG Partners, a consumer products-focused private equity firm, has promoted Robin Tsai to managing director. www.vmgpartners.com
https://www.axios.com/newsletters/axios-pro-rata-b398cb1e-a681-4e20-b1e5-c614b3c0eadc.html?chunk=9#story9
Final Numbers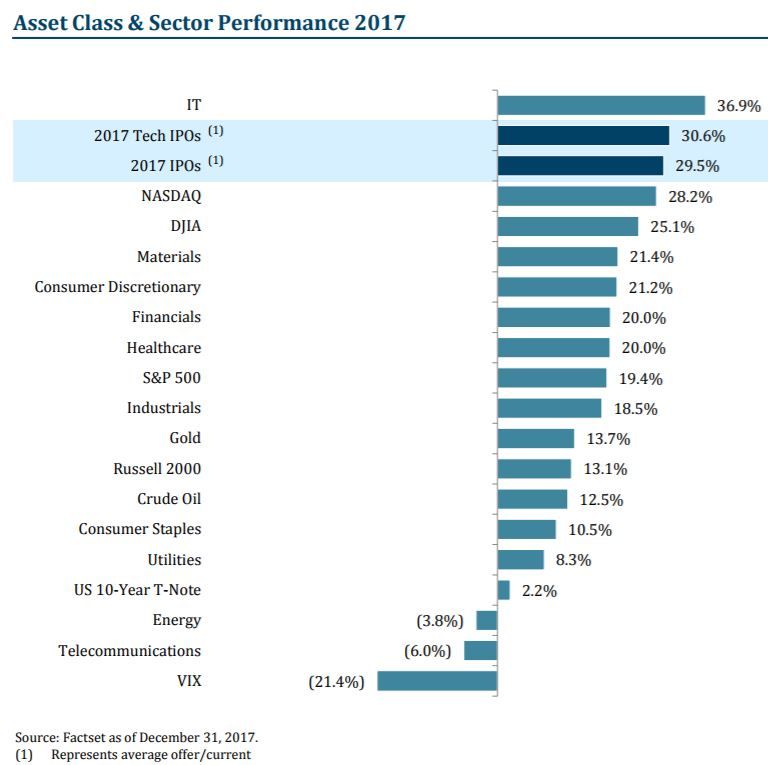 Source: William Blair 2017 tech IPO review