Axios Pro Rata
April 08, 2019
🚀 Reminder that the Axios Space newsletter launches tomorrow. Sign up here.
Top of the Morning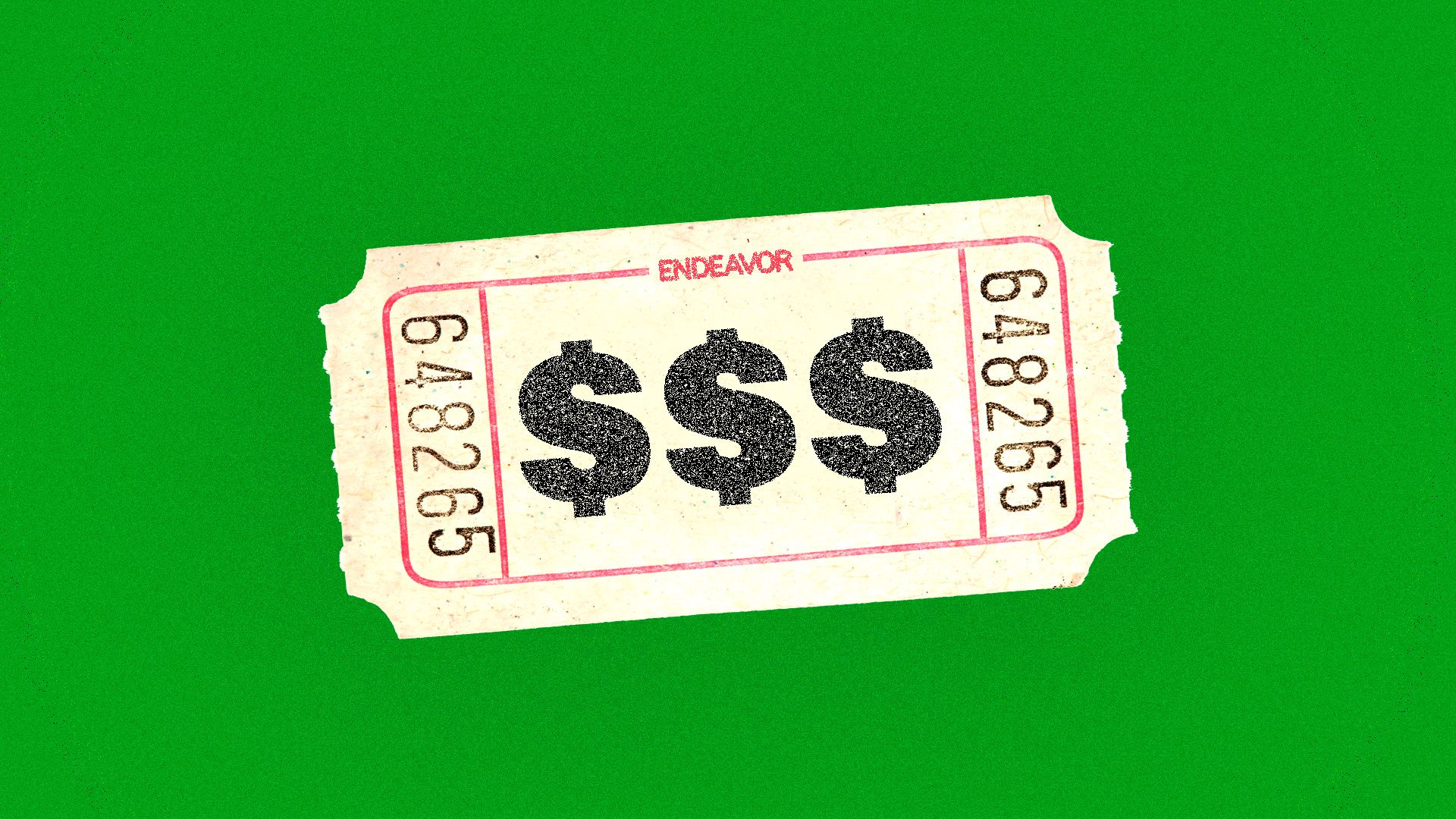 Endeavor continues to work toward an IPO later this year, but it no longer looks like the Hollywood talent agency that Ari Emanuel first built and later merged with William Morris.
Endeavor, backed by such investors as Silver Lake and SoftBank, has arguably morhped into an events company. Not only through the purchases on Ultimate Fighting Championship and Professional Bull Riders, but also through a video streaming effort that's signed such event-centered clients as World Wrestling Entertainment.
It also launched an "experiences" arm that has agreed in principle to buy On Location Experiences, which provides on-site events and access at NFL games.

A source puts On Location's enterprise value at around $700 million, with the NFL rolling over its 20% ownership stake. Private equity backers like RedBird Capital, Bruin Sports Capital and 32 Capital will exit — after having bought in at around a $70 million valuation.
On Location generated nearly $60 million in 2018 EBITDA, and Endeavor expects to close the deal in several months (assuming no red flags during due diligence).

All of this comes shortly after Endeavor unloaded its 49% stake in digital ad company Droga5 to Accenture Interactive, thus further accentuating the events part of its income statement.
Bottom line: We don't know the exact breakdown of Endeavor's representation vs. events units, particularly since the former also includes media rights. But we do know that this will look a lot different than it did when Silver Lake first invested five years ago.
Also worth remembering that Endeavor last fall turned down a $400 million investment from Saudi Arabia's Public Investment Fund. Speaking of which...
• See no evil, hear no evil: Saudi Aramco reportedly has $30 billion of investor interest in its debut bond sale, following a global road-show that's slated to finish up today. Among the stops was New York City, where JPMorgan CEO Jamie Dimon spoke on behalf of his bank's controversial client.
Why it matters: Because it seems that Jamal Khashoggi doesn't.
• Put a pin in it: Pinterest this morning set IPO terms, as the unicorn parade continues down Wall Street.
Most of the attention, understandably, will be on how Pinterest is targeting a lower initial valuation (both market cap and fully-diluted) via IPO than it received in its last private round ($12.3 billion post-money).
On the one hand, it's absurd to tie this into the perceived disappointment of Lyft's IPO. Not only because the two companies are in entirely industries, but also because Zoom Video just filed for an IPO that would give it an initial market cap of around 7x its last private valuation.
But, but, but... Private market investors have indulged some their own unicorn herd mentality when it comes to valuations, particularly for those companies with higher public profiles (Pinterest>Zoom, in this regard). And, remember, a lot of the pre-IPO money and IPO money is now managed by the same people.
• New voice: Leigh Farris is joining The Carlyle Group as head of global communications. She succeeds Chris Ullman, who retired at the end of 2018, and has spent the past five years doing comms for Goldman Sachs.
🚬 Quit it: Philip Morris International today launched a new public health initiative called "The Year of Unsmoke," aimed at both dissuading people from beginning to smoke and getting smokers to quit.
PMI is a different company from Altria, which owns Phillip Morris USA and recently bought big into Juul.
If "unsmoking" was truly a priority for these companies, they would stop selling cigarettes, including their popular Marlboro brand.
🏀 March Madness: More than 1,300 Pro Rata readers participated in our bracket challenge, and now we're down to two: Adam Cromie, a lawyer with Jones Day who once was assistant GM of the Washington Nationals, and Steve Teubl, a Chicago-based angel investor and private wealth manager for Merrill Lynch, Pierce, Fenner & Smith. Adam picked Virginia and Steve picked Texas Tech. Good luck tonight!
The BFD
Chuck E. Cheese, the restaurant chain where kids eat pizza with their bare hands after swimming around in a plastic ball pit, is going public via a reverse merger with Leo Holdings (NYSE: LHC), a blank check acquisition company formed by private equity firm Lion Capital.
Why it's the BFD: This would be the first restaurant company to enter the U.S. public markets in four years. Or, in this case, re-enter.
Backstory: Apollo Global Management paid $1.3 billion to take Chuck E. Cheese private in 2014 (including debt) and will hold a 51% stake in the newly-formed company. Apollo held sale talks in early 2017, but no deal materialized.
Bottom line: "Its average customer is between three and eight years-old. That means around 20% of your customer base ages out every year and a new group ages in, so it remains quite fresh for new customers, even though it's been around for 42 years." — Lyndon Lea, co-founder of Lion Capital, speaking to Axios.
Venture Capital Deals
• Fleetsmith, a San Francisco-based provider of automated Apple device management solutions, raised $30 million in Series B funding. Menlo Ventures led, and was joined by Tiger Global Management, Upfront Ventures and Harrison Metal. www.fleetsmith.com
• GrubMarket, a San Francisco-based farm-to-table food delivery service, raised $25 million in Series C-1 funding at a $255 million post-money valuation co-led by WI Harper Group and Digital Garage. http://axios.link/AZOM
• Boomplay, a music streaming service for the African market, raised $20 million in Series A funding. Maison Capital led, and was joined by Seas Capital. http://axios.link/MTSd
• RiskLens, a Spokane, Wash.-based provider of cyber risk quantification and cyber risk management software, raised $20.55 million in Series B funding. F-Prime Capital and MassMutual Ventures were joined by Paladin Capital Group, Dell Technologies Capital and Osage Venture Partners. www.risklens.com
• Simudyne, a UK-based developer of simulation software for the financial sector, raised $6 million in Series A funding. Barclays led, and was joined by Graphene Ventures and Gauss Ventures. http://axios.link/vfUq
• TrashButler, a Tampa, Fla.-based provider of trash and recycling pickup services for apartment and multi-family buildings, raised $5 million in Series A funding led by Florida Funders. http://axios.link/OBk8
• Riskified, an Israeli provider of anti-fraud software for online purchases, is in talks to raise $200 million in new funding, per Bloomberg. It previously raised over $60 million from firms like Pitango VC, Genesis Partners, Qyumra Capital, Kreos Capital and Entrée Capital. http://axios.link/K52B
Private Equity Deals
• Akoya Capital Partners and Landon Capital Partners acquired Trinity Technology Group, a Higginsville, Mo.-based manufacturer of waterproof membranes. www.ttgtech.net
⛽ The Carlyle Group agreed to buy between 30-40% of Spanish oil company Cepsa from Mubadala Investment Co. for upwards of $4.8 billion. http://axios.link/bZ2H
• Center Rock Capital Partners acquired Merit, a Spartanburg, S.C.-based distributor of paint sundries, flooring products, and related installation supplies, from Centre Lane Partners. www.lancasterco.com
• Clayton, Dubilier & Rice agreed to acquire a majority stake in Sirius Computer Solutions, a San Antonio-based IT solutions integrator with around $3.5 billion in annual revenue, from Kelso & Co. www.siriuscom.com
• Great Hill Partners acquired digital publishers Gizmodo Media Group and The Onion from Univision Communications. http://axios.link/muFJ
🚑 Intermediate Capital Group and Merieux Equity Partners agreed to buy Italian generic drugmaker Doc Generici from CVC Capital Partners. No financial terms were disclosed, but Bloomberg previously reported a price-tag of around €1.1 billion. http://axios.link/HqDr
• Nautic Partners acquired LindFast Solutions Group, a Blaine, Minn.-based distributor of specialty fasteners.
• Property Finder, a Middle Eastern real estate classifieds site backed by General Atlantic, agreed to acquire UAE-based rival JRD Group. It also invested $12 million to increase its stake in Turkish online property site Zingat to 40%. http://axios.link/9FrV
Public Offerings
• Three companies plan to IPO this week on U.S. exchanges: Jumia, PagerDuty and Tufin Software. http://axios.link/9eJw
• Zoom Video, a San Jose, Calif.-based videoconferencing company, set IPO terms to 20.87 million shares at $28-$32 per share. It would have an initial market cap of around $7.7 billion, were it to price in the middle, and plans to trade on the Nasdaq (ZM) with Morgan Stanley as lead underwriter. Zoom reports $7.6 million of net income on $331 million in revenue for 2018, and raised around $160 million in VC funding from firms like Emergence Capital Partners (12.5% pre-IPO stake) and Sequoia Capital (11.4%).
Liquidity Events
• 2U (Nasdaq: TWOI) agreed to buy Trilogy Education, a New York-based "workforce accelerator" that teaches digital skills to adults, for $750 million in cash and stock. Trilogy had raised around $80 million, most recently at a $595 million post-money valuation, from firms like Highland Capital Partners, Macquire Group, Exceed Capital Partners, Triumph Capital, Rethink and City Light Capital. www.trilogyed.com
• Investec and Bain Capital Credit hired Greenhill & Co. to find a buyer for Gerard Lighting, an Australian supplier of lighting projects for the commercial and residential markets, per The Australian. www.gerardlighting.com.au
More M&A
• Dubai Islamic Bank, the UAE's largest sharia-compliant bank, is in talks to acquire Dubai-based Noor Bank, per Bloomberg. http://axios.link/4iMt
• Gree Group is considering the sale of 15% of its stake in Chinese appliance maker Gree Electric (SZSE: 000651) in a deal that could be worth upwards of $6.4 billion, per Bloomberg. http://axios.link/5wjP
•Versum Materials (NYSE: VSM), a Tempe, Ariz.-based maker of specialty materials for the semiconductor and display industries, approved a sweetened $6.5 billion takeover offer from Germany's Merck KGaA. http://axios.link/3A26
⛽ Petrobras of Brazil agreed to sell a 90% stake in a natural gas pipeline unit to Engie (Paris: ENGIE) and Caisse de Depot et Placement du Quebec for $8.6 billion. http://axios.link/nDzI
🚑 Takeda Pharma (Tokyo: 4502) hired Bank of America to find a buyer for its Latin America business, which could fetch over $1 billion, per Reuters. http://axios.link/80t5
Fundraising
• B Capital, a VC firm co-founded by Eduardo Saverin, has raised $406 million for its second fund.
• Source Code Capital, a Chinese venture capital firm, raised $570 million for its fourth fund. http://axios.link/cxuB
It's Personnel
• Scott Dahnke, co-CEO of private equity firm L Catterton, joined the board of Williams-Sonoma (NYSE: WSM).
• Jimmy Holloran joined ParkerGale Capital as a principal. He previously led talent acquisition and special projects for Home Chef. www.parkergale.com
• Hunter McCrossin has stepped down as head of private market investments for Vanderbilt University, in order to join Columbia University's investment office as a managing director.
Final Numbers