Friday greetings. Want to get in touch with me? Emails are great (dan@axios), my DMs are open (@danprimack), you can for my Telegram/Signal/Confide info and we have an anonymous tipline. Okay, here we go...
Top of the Morning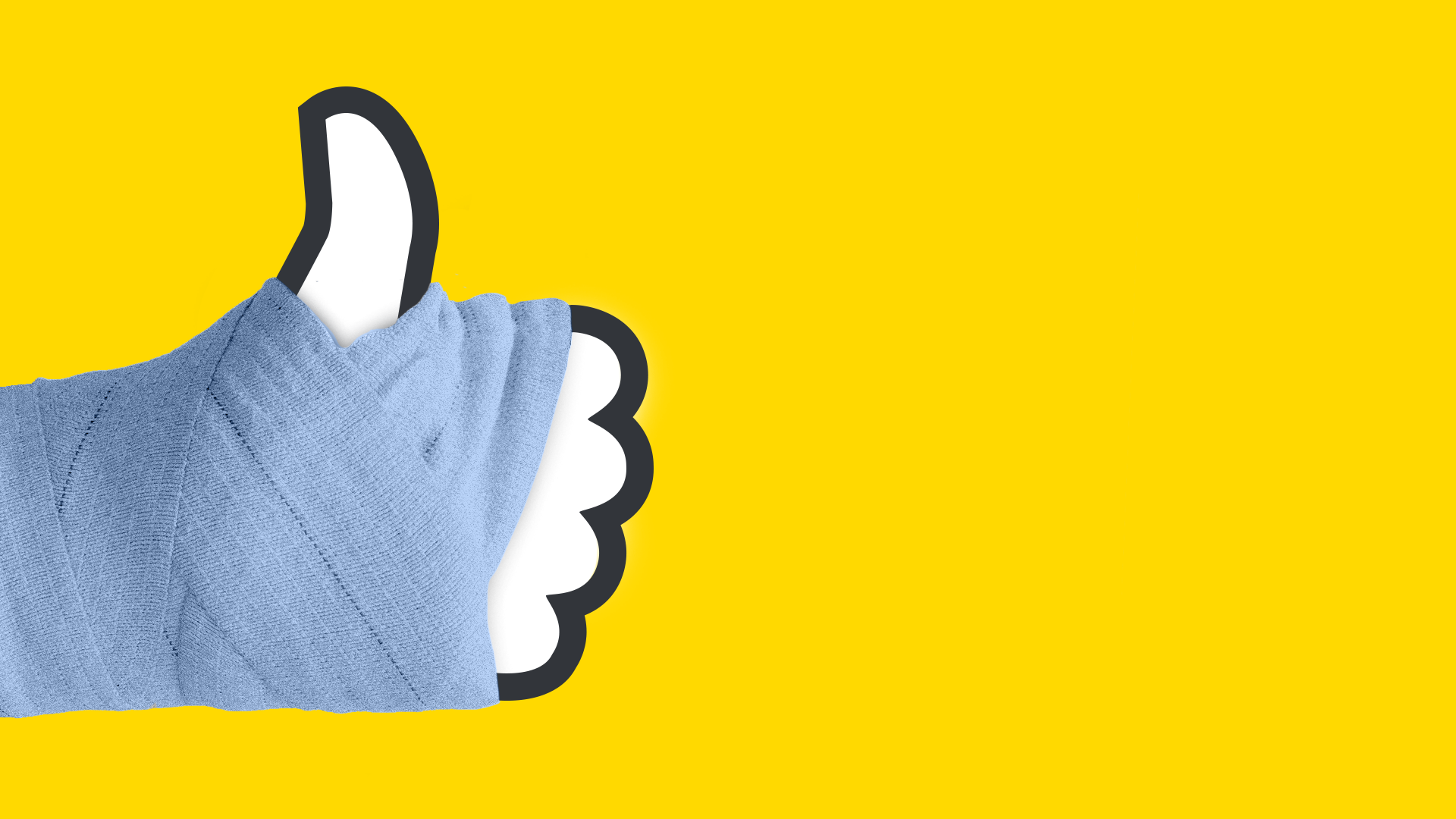 David Magerman, the former hedge fund manager who Axios reported was the initial donor behind a high-profile campaign urging regulators to break up Facebook, has become managing partner of a new venture capital firm called Differential Ventures.
Differential, which will back seed and early-stage deals for startups involved in the "future of data," is raising $50 million for its debut fund, per an SEC filing.
Firm co-founder Nick Adams (ex-Flatiron Investors) tells me: "David's involvement in the Freedom from Facebook campaign is a personal decision, not necessarily reflective of the company's perspective on investing. That said, he has a technological grasp of the issues involved with data science and its practical applications and his desire to educate internet users of the long-term value of their private data reflects his understanding of where the business of the internet is likely heading."
Facebook also is in the news this morning for revelations that Sheryl Sandberg requested information on George Soros, following critical comments he made about the company in Davos. Basically, she wanted to know if he was shorting Facebook stock.
Not at all an unreasonable thing for Sandberg to want to know.
The trouble is that Sandberg and Facebook had previously suggested that she was shocked, just shocked to learn that Facebook had hired a firm that researched Soros.
Bigger picture: The reason Facebook currently exists as an independent juggernaut is because Mark Zuckerberg always maintained voting control, thus letting him do things like turn down an early acquisition offer from Yahoo. And, it's also fair to say that one reason Facebook is currently in this mess is because Zuckerberg has always maintained voting control, thus has never had reason to fear being booted.
The founder control movement among tech startups took off because of Facebook's wild success. But we're already hearing that it's begun to ebb in the past year or so, and is likely to continue that downward trajectory if its patron saint continues to stumble.
Also...
• Trendwatch: Vista Equity has acquired a majority stake in workplace collaboration startup Wrike at nearly an $800 million valuation, per the WSJ. That's more than 3x where the startup reportedly raised venture funding late last year, and reflects how incredibly hot this space has suddenly become.
Asana hit unicorn status earlier this week, while adjacent startup Airtable hit it earlier this month.
Smartsheet went public earlier this year, and is currently trading 74% higher than the IPO price. And everyone is salivating over the prospects of a mega-IPO for Slack in the first half of 2019.
• G20 prep: The WSJ's Bob Davis and Lingling Wei have a fascinating tick-tock on how the U.S. and China arrived at the brink of a trade war, the outcome of which could be determined tomorrow night over dinner in Buenos Aires. "Bring me tariffs." Worthy of your time.
• Lindel Eakman runs a VC fund-of-funds for Foundry Group, and previously led private market investments for the University of Texas Investment Management Co. This week he published his "anti-portfolio" — some of the best deals he mistakenly didn't do — which I think is a first for a limited partner (the most notable one for direct deals is published by Bessemer Venture Partners). Most interesting item, related to how UTIMCO lost out on a Spark Capital fund due, in part, to wrangling over LPA terms:
"I've always struggled with the balance of terms in LPAs versus what we see in term sheets for company investments. That said, it was a learning moment. I think you should always focus on the cash flow terms in an investment (timing, order, splits) but the governance terms of LPAs are not where you should focus attention nor burn a relationship."
• Bustle yesterday agreed to buy millennial-focused content site Mic for less than $5 million, wiping out around $60 million in VC investment. It also laid off around 100 editorial staffers, including at least one it had onboarded just this week (yes, that's as disgraceful as it sounds).
Bustle also said it wants to hire an editorial team for Mic, so it appears the layoffs relate to how the Mic employees had just chosen to unionize (the contract hadn't yet been completely executed).
🎧 Pro Rata Podcast: Our new episode focuses on gene editing of embryos and the prospect of "designer babies," based on recent claims by a controversial Chinese scientist. Listen here.
The BFD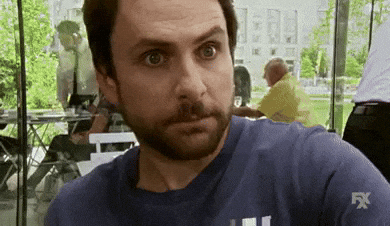 Bayer announced plans to sell multiple assets, including its animal health unit, sunscreen brand Coppertone, foot-care brand Dr. Scholl's and its majority stake in German chemical park operator Currenta. It also will cut 10% of its workforce, representing around 12,000 jobs.
Why it's the BFD: Because this is an admission that Bayer bit off more than it could chew when it paid $14 billion to buy Merck in 2014 and another $63 billion to buy Monsanto earlier this year. And it's yet another conglomerate eager to shrink its footprint.
Bottom line: "Bayer seems to have flunked its due diligence twice." — Stephen Wilmot and Charley Grant, WSJ
Venture Capital Deals
🚑 Bright Health, a Minneapolis-based health insurer, raised $200 million in Series C funding at a $950 million valuation. Declaration Partners and Meritech Capital Partners were joined by return backers Bessemer Venture Partners, Cross Creek Advisors, Flare Capital, Greenspring Associates, Greycroft Partners, NEA, Redpoint Ventures, and Town Hall Ventures. http://axios.link/pA6Z
🚑 ViaCyte, a San Diego-based regenerative medicine company, raised $80 million in Series D funding. Bain Capital Life Sciences led, and was joined by TPG, RA Capital Management and return backer Sanderling Ventures. http://axios.link/4ckx
• Wave Computing, a Campbell, Calif.-based developer of dataflow-based architecture and systems, raised $86 million in Series A funding led by Oakmont Corp. Existing backers include Tallwood Venture Capital, Southern Cross Venture Psrtners and Samsung. www.wavecomp.ai
• MondoBrain, an Annandale, Va.-based digital decision-making interface, raised $13.3 million in Series A funding. France's Japia led, and was joined by Finamar. www.mondobrain.com
• Rehearsal, a Reno, Nev.-based video role-play training platform, raised $2 million from Cypress Growth Capital. www.rehearsal.com
• Rags, a Lehi, Utah-based fashion brand startup, raised $1.5 million in seed funding led by Kickstart Seed Fund. www.rags.com
Private Equity Deals
• Abry Partners invested in AdSwerve, a Denver-based DoubleClick technology and service partner. www.adswerve.com
• Altice Europe (AS: ATCA) agreed to sell a 49.99% stake in its SFR FTTH fiber optic unit for $2.05 billion to Allianz Capital Partners, AXA Investment Managers and OMERS Infrastructure. http://axios.link/I9NS
• CPPIB agreed to invest $500 million into Berlin Packaging, a Chicago-based packaging company owned by Oak Hill Capital Partners, as part of a recapitalization. www.berlinpackaging.com
• Indigo Partners, a Phoenix-based private equity firm, agreed to invest in Icelandic discount air carrier Wow, after Icelandair bailed on a deal to purchase the company. http://axios.link/B2bA
• Madison Dearborn is among several buyout firms considering bids for all of part of market research company Nielsen (NYSE: NLSN), which has a market cap north of $9 billion, according to the FT. http://axios.link/AYtm
• Stanford Marine Group, a Dubai-based marine services firm 51% owned by Abraaj Group, has received first-round bids from Gulf Navigation Holding, Tristar Group, Hineni Capital and BT Investment, per Reuters. http://axios.link/EY7Y
🚑 TPG Growth acquired Q-Centrix, a Portsmouth, N.H.-based provider of quality data management solutions for hospital and healthcare providers, from Sterling Partners. www.q-centrix.com
• Will's Group, a Chinese fitness club operator, raised an undisclosed amount of equity funding from L Catterton Asia. http://axios.link/XFOj
Public Offerings
• Club Med, the holiday company owned by Fosun International, is seeking to raise up to $548 million via a Kong Kong IPO. http://axios.link/B27x
• EQT Partners, a Sweden-based private equity firm, picked Goldman Sachs and Morgan Stanley to lead its upcoming IPO, per Reuters. http://axios.link/D1c2
Liquidity Events
• Kraft Heinz (Nasdaq: KHC) agreed to buy paleo condiment and dressings maker Primal Kitchen, which raised an undisclosed amount of funding from Proton Enterprises and Wild Ventures, for around $200 million. http://axios.link/WY2f
🚑 Medtronic (NYSE: MDT) agreed to buy Nutrino, an Israel and San Francisco-based provider of nutrition-related data services and analytics that earlier this year raised $8 million in Series A funding from Pereg Ventures, Nielsen Ventures and Gandyr Group. http://axios.link/wzK4
• Rovio Entertainment, the Helsinki-listed maker of "Angry Birds," acquired Finnish mobile game studio PlayRaven, which recently raised $7.5 million in seed funding led by Northzone Ventures. http://axios.link/spPx
More M&A
🍔 Jack in the Box (Nasdaq: JACK), a San Diego-based fast food chain, is exploring options that could include a sale of the company, which has a market cap of around $2.28 billion, per Reuters. http://axios.link/FhMJ
• The Seydoux family launched a €3.50 per share takeover offer for French drone maker Parrot (Paris: PARRO), in which it already holds a majority stake. http://axios.link/HFzN
Final Numbers: M&A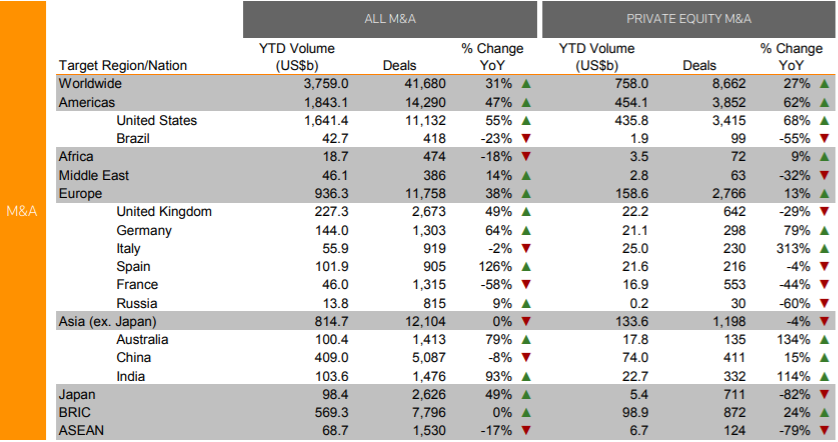 Source: Refinitiv. Data through 11/29/18.
More from the Refinitiv report:
Media and entertainment M&A is up 122% YTD, at $277 billion.
Healthcare M&A is up 80% YTD, at $408 billion.
Real estate M&A is down 28% YTD at $340 million
Thanks for reading. Have a great weekend, and I'll chat with you again on Monday from Half Moon Bay. Go Pats!