September 23, 2021
🌎 Join Axios' Niala Boodhoo and me today at 12:30pm for a virtual event on how VC firms and governments are investing in climate tech. Guests include Tom Steyer, who just launched Galvanize, and Sen. Ron Wyden (D-Ore.). Register.
Top of the Morning
We're more than a decade into the political debate over how to tax carried interest, the profits earned by private fund managers on others investors' capital. And somehow the proposals are getting worse.
For the uninitiated, carried interest is usually taxed as a capital gain, rather than as ordinary income.
Driving the news: A plan by House Democrats would significantly increase the amount of time the investment must be held to qualify for long-term capital gains tax treatment.
The current hold time is three years (increased via the 2017 tax bill), which would be extended to five years. This had been expected.
What wasn't expected is that the "clock" wouldn't begin until "substantially all" of the relevant fund's committed capital is invested, which lawyers suggest would be interpreted as around 80%.
The net result, in addition to increased federal tax revenue, would be to misalign general partners and limited partners (i.e., public pensions, university endowments, etc.).
Imagine a private equity firm raises a new fund today and buys Axios tomorrow. It plans to invest the fund over four years, and hits the 80% threshold in early 2025.
It now must hold Axios for a total of nine years, until 2030, to recognize the beneficial tax treatment. That's a very long time by private equity standards, and means that firms may pass up lucrative exit opportunities in the pursuit of future tax advantages. It also means there would be different tax rates for investments made early in a fund cycle and later in a fund cycle.
This isn't about protecting private equity or venture capital. My position on carried interest has been steadfast, agreeing with Presidents Obama, Trump and Biden that it should be treated as ordinary income.
But that's because I believe it is ordinary income, a fee for services.
Whether you agree or disagree, it's hard to see that opinion being swayed by if a company is bought at the beginning or end of a fund cycle.
Caveat: The entire Biden economic agenda, including tax reform, remains imperiled. So this might be a tempest in a shattered teapot.
Bottom line: I've previously referred to carried interest tax treatment as a political football whose continued controversy benefits both sides. What we're seeing now, though, is a fumble.
The BFD
Veritas Capital and Elliott Management hired bankers to consider a sale or IPO process for Athenahealth, which could be valued at more than $20 billion, per Bloomberg.
Why it's the BFD: This could be a four-bagger for Veritas and Elliott, which paid just $5.7 billion for the Watertown, Mass.-based health tech company in 2018; less than what Elliott had originally offered to pay, before its hostile efforts were buttressed by the departure of company co-founder Jonathan Bush. Plus, it reflects how there's still lots of money to be made in selling software to docs.
The bottom line: "Athenahealth helps doctors and hospitals collect money from health insurers and the government for services they provide. It processes $230 billion in bills a year, according to its website. It also has an electronic health records service that helps providers manage workflow and document patient visits, among other services." — Michelle F. Davis and Scott Deveau, Bloomberg
Venture Capital Deals
• Atome, a Singapore-based BNPL startup, raised around $400 million in Series D funding at a $2 billion valuation. SoftBank led, and was joined by Northstar, Vision Plus Capital, Gaorong Capital and EDBI. http://axios.link/qxF6
• FLYR Labs, an SF-based "revenue operating system" for airline and transportation companies, raised $150 million in Series C funding. WestCap led, and was joined by Silver Lake Waterman, WndrCo, Peter Thiel, Streamlined Ventures, JetBlue Technology Ventures and Gopher Asset Management. http://axios.link/K7hY
• StreamElements, an LA-based provider of video engagement and monetization tools, raised $100 million. SoftBank led, and was joined by PayPal Ventures, MoreTech and insiders State of Mind Ventures, Pitango First, Menorah and Mivtach Shamir. http://axios.link/5dhF
⚡ Zola Electric, a Dutch solar energy installer focused on sub-Saharan Africa, raised $90 million. TotalEnergies Ventures, DBL Partners, Helios Investment Partners, Vulcan Capital and Electron Capital Partners. http://axios.link/rMU4
• Ocrolus, a New York-based financial document analysis automation platform, raised $80 million in Series C funding. Fin VC led, and was joined by Thomvest Ventures, Mubadala Ventures, Oak HC/FT, FinTech Collective, QED Investors, Bullpen Capital, ValueStream Ventures, Laconia, RiverPark Ventures, Stage II Capital and Cross River Bank. http://axios.link/AzgK
• Provi, a Chicago-based alcohol e-commerce platform, raised $75 million in Series C funding at a $750 million valuation. D1 Capital Partners led, and was joined by Bessemer Venture Partners, Nosara Capital and CPMG. http://axios.link/Orb0
🚑 Hexagon Bio, a Menlo Park-based biotech leveraging fungi to treat cancer and infectious diseases, raised $61 million. Nextech Invest led, and was joined by SoftBank, Casdin Capital and insiders The Column Group, 8VC and Two Sigma Ventures. http://axios.link/SqtY
🚑 Centivo, a Buffalo-based health plan for self-funded employers, raised $51 million in Series B1 funding co-led by B Capital Group and Maverick. http://axios.link/EcEj
• Bigeye, an SF-based data observability platform, raised $45 million in Series C funding. Coatue led, and was joined by insiders Sequoia Capital and Costanoa Ventures. http://axios.link/hJ7P
• Cobo, a Singapore-based DeFi-as-a-service startup, raised $40 million in Series B funding co-led by DST Global, A&T Capital and IMO Ventures. http://axios.link/andV
• Spotnana, a business travel tech startup, raised $34 million in Series A funding. Iconiq and Madrona Venture Group co-led, and were joined by Decibel and Mubadala Capital. http://axios.link/FkYp
🚑 Meru Health, a Palo Alto-based digital clinic for mental health, raised $30 million in Series B funding. Industry Ventures led, and was joined by insiders Bold Capital Partners, Freestyle VC, FMZ Ventures and Leksell Social Ventures. It also secured $8 million in debt from JPMorgan. http://axios.link/4IzS
• Jiffy, a London-based grocery delivery startup, raised $28 million in Series A funding. Heartland led, and was joined by Flint Capital, Playrix, Baring Vostok Capital Partners and LVL1. www.jiffygrocery.co.uk
• June Homes, a New York-based rental property tech startup, raised $27 million in Series B funding. SoftBank Ventures Asia led, and was joined by TQ Ventures, FJ Labs, K50, Reshape and Quiet Capital. http://axios.link/0fhp
🐶 Loyal, an SF-based canine longevity startup, raised $27 million in Series A funding. Khosla Ventures led, and was joined by First Round Capital, Box Group, Collaborative Fund, The Longevity Fund, and Lachy Groom. http://axios.link/3Q97
• Crosschq, a Danville, Calif.-based talent intelligence cloud, raised $16.5 million in new Series A funding (round total now $30M). Tiger Global led, and was joined by GGV Capital, Bessemer Venture Partners, SAP, Rocketship.vc and Lattice CEO Jack Altman. www.crosschq.com
• Calyxia, a Paris-based startup focused on reducing microplastics, raised €15 million in Series A funding led by Astanor Ventures. http://axios.link/0ark
• 1build, a real-time data platform for building construction estimating, raised $14.5 million in Series A funding led by Greycroft. http://axios.link/qicU
• Flieber, a New York-based inventory optimization startup, raised $12 million in Series A funding co-led by GGV Capital and Monashees. http://axios.link/3cQo
• Osano, an Austin, Texas-based risk and compliance startup, raised $11 million. Jump Capital led, and was joined by insiders LiveOak Venture Partners and Next Coast Ventures. http://axios.link/dmYd
• Ubco, a New Zealand-based maker of electric utility bikes, raised $10 million in Series B funding led by Taiwan's TPK Holdings. http://axios.link/3ZGh
• Vinterior, a London-based marketplace for curated vintage furniture and home accessories, raised £8 million in Series A funding led by Active Partners. www.vinerior.co
• Cargamos, a Mexico City-based last-mile logistics company, raised $7 million from backers like Nazca, FEMSA and Kayyak Ventures. http://axios.link/KIou
• Thoughtful Automation, a Chicago-based automation-as-a-services platform for midmarket companies, raised $5 million in seed funding led by Drive Capital. www.thoughtfulautomation.com
• RemNote, a Cambridge, Mass.-based digital workspace for notetaking, raised $3 million in seed funding led by General Catalyst. www.remnote.io
• Climatiq, a Berlin-based carbon footprint intelligence startup, raised $2 million in seed funding led by Cherry Ventures. www.climatiq.io
• PandaDoc, an SF-based e-document company, raised an undisclosed amount of Series C funding at a $1 billion valuation. OMERS Growth Equity and G Squared co-led, and were joined by Altos Ventures, Rembrandt Venture Partners, One Peak Partners and M12. http://axios.link/qdcX
Private Equity Deals
• 777 Partners, a Miami-based PE firm, acquired Italy's oldest soccer club, Genoa, from Enrico Preziosi. http://axios.link/UFoF
• Ancala Partners agreed to buy British waste management firm Augean (LSE: AUG) for £390 million, beating out Morgan Stanley Infrastructure. http://axios.link/EkF5
• Buchanan Technologies, a Grapevine, Texas–based portfolio company of Lightview Capital, acquired Cybernoor, a Southfield, Mich.-based Oracle application performance management solutions. www.buchanan.com
• Comvest Partners invested in Gen3 Marketing, a Blue Bell, Pa.-based affiliate marketing firm. www.gen3marketing.com
• Granite Creek Capital and Equivu Capital invested in C&C Manufacturing, an Englewood, Colo.-based maker of heavy equipment for the scrap metal recycling, waste management and airport maintenance markets. www.ccmfg.com
• Montlake Capital and Cascadia Private Capital acquired a majority stake in SWS Equipment, a Spokane, Wash.-based waste equipment distributor. www.swsequipment.com
• Northstar Capital invested in Drake Waterfowl Systems, a hunter-focused branded apparel maker owned by Weinberg Capital Group. www.drakewaterfowl.com
• Ontario Teachers' Pension Plan Board agreed to buy reverse mortgage provider HomeQ from Birch Hill Equity Partners. http://axios.link/jOtp
• Relation Insurance Services, a Walnut Creek, Calif.-based portfolio company of Aquiline Capital Partners, acquired the assets of Perry Insurance Group, a Lexington, S.C.-based provider of personal and commercial lines insurance. www.relationinsurance.com
🚑 Welsh, Carson, Anderson & Stowe acquired Argos Health, a Dallas-based provider of claims revenue cycle services to health systems. www.complexclaims.com
Public Offerings
• The Better Being Co., a Salt Lake City-based seller of vitamins and supplements owned by HGGC, withdrew its filing for a $200 million IPO. http://axios.link/zzfg
• First Watch, a Bradenton, Fla.-based breakfast and lunch restaurant chain with over 420 U.S. locations, set IPO terms to 9.5 million shares at $17-$20. It would have a $1.1 billion fully diluted value, were it to price in the middle, and reports nearly $2 million of net income on $281 million in revenue for the first half of 2021. Backers include Advent International. http://axios.link/OwWR
🚑 Lucid Diagnostics, a New York-based maker of diagnostic tests for esophageal precancer and cancer, filed for a $58 million IPO. The pre-revenue company plans to list on the Nasdaq (LUCD). http://axios.link/ZD8Y
• Remitly, a Seattle-based digital remittance company, raised $523 million in its IPO. It priced at $43 (above range) for a $6.9 billlion valuation, will list on the Nasdaq (RELY) and reports a $9 million net loss on $202 million in revenue for the first half of 2021. The company raised around $480 million from backers like PayU (23.9% pre-IPO stake), Stripes (12.1%), Threshold Ventures (9.4%), Generation Investment Management (8%) and Trilogy Equity (6.2%). http://axios.link/2jWM
SPAC Stuff
🚑 Sanaby Health Acquisition I, a SPAC led by Sandra Shpilberg (founder of Seeker Health), filed for a $150 million IPO. http://axios.link/OT7K
Liquidity Events
🚑 Altaris Capital Partners agreed to sell BK Medical, a surgical visualization tech company with offices in Boston and Copenhagen, to General Electric (NYSE: GE) for $1.45 billion in cash. http://axios.link/d5nW
• Apollo Global Management agreed to sell Italian insurer Amissima Vita to Bermuda-based Athora Holding, in which Apollo has a minority stake. http://axios.link/ncBL
• LG Electronics of South Korea agreed to buy a majority stake in Cybellum, an Israeli auto cybersecurity company, for $160 million. Cybellum raised $14 million from RSBG Ventures, Blumberg Capital, Target Global and Azure Ventures. http://axios.link/sTZK
• Procore (NYSE: PCOR) agreed to buy Levelset, a New Orleans-based lien rights management platform, for approximately $500 million in cash and stock. Levelset had raised $47 million (plus got a PPP loan) from firms like Horizons Ventures, Brick & Mortar Ventures, Altos Ventures and S3 Ventures. http://axios.link/OImSt.
More M&A
• CreatorIQ, an LA-based provider of influencer marketing software, bought SF-based rival Tribe Dynamics for $70 million. CreatorIQ has raised $80 million from firms like Kayne Anderson, Silver Lake Waterman, TVC Capital and Unilever Ventures, while Tribe raised around $5 million from backers like Planven Entrepreneur Ventures and You & Mr Jones. http://axios.link/PVRe
⚡ Oman's state energy company, is considering a sale of its German chemicals unit, which could fetch around $3 billion, per Bloomberg. http://axios.link/ua0O
• Sandfire Resources (ASX: SFR) agreed to buy Spanish copper miner MATSA for US$1.87 billion. http://axios.link/Jscw
Fundraising
• Clearhaven Partners, a Boston-based PE firm focused on lower midmarket tech, raised $312 million for its debut fund. http://axios.link/CZJM
• Greylock raised $500 million for its first seed fund. Some chatter on the Twitters.
• Longford Capital, a Chicago-based litigation funder, raised $682 million for its third fund. www.longfordcapital.com
It's Personnel
• Apollo Global Management named senior partner Matt Michelini as head of Asia-Pacific. www.apollo.com
• Astasia Myers joined Quiet Capital as an enterprise partner. She previously was with Redpoint Ventures. www.quiet.com
• Sun Capital Partners promoted Steve Liff to senior partner and Bruce Roberson and Tim Stubbs to partners. www.suncappart.com
• Trive Capital, a Dallas-based PE firm, promoted Shravan Thadani to partner. www.trivecapital.com
Final Numbers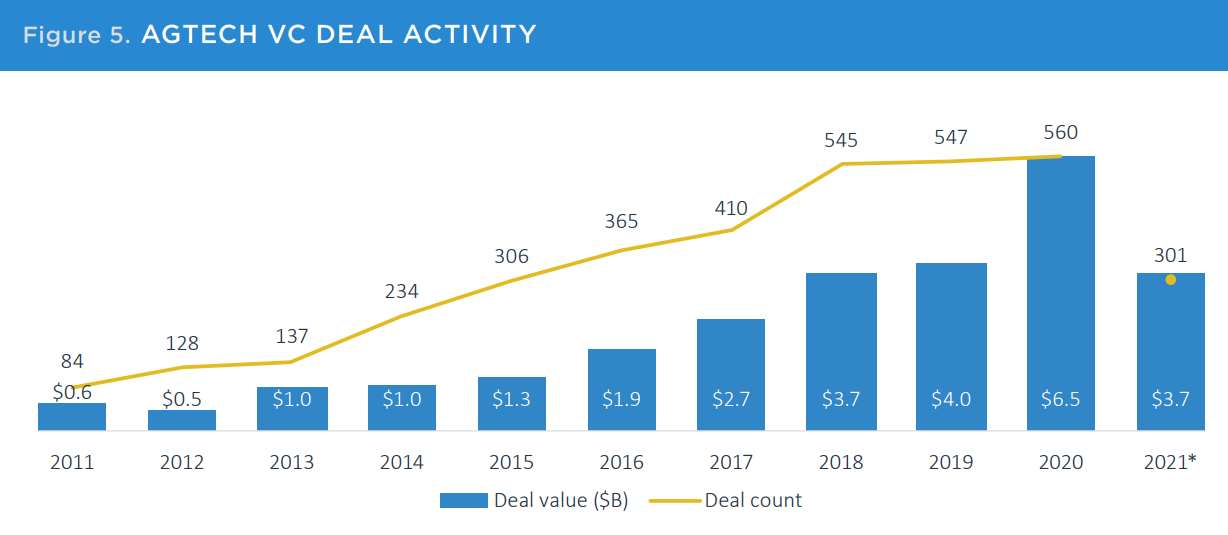 Decarbonization is the key buzzword for climate tech investors and, increasingly, that's as much about ag-tech as it is about carbon capture.
I'd expect Tom Steyer to talk ag-tech during our conversation today.
Ag is a key target sector for Ara Partners, a Houston-based private equity firm focused on decarbonization. Ara today announced that it raised $1.1 billion for its second fund.
"Climate uncertainty" is discussed in today's press release for Blue White Robotics, an Israeli based "robot-as-a-service" startup for farms, which raised $37 million in Series B funding co-led by Insight Partners and Entrée Capital.
🙏 Thanks for reading Axios Pro Rata! Please ask your friends, colleagues and medical office admins to sign up.