Axios Pro Rata
July 19, 2019
Top of the Morning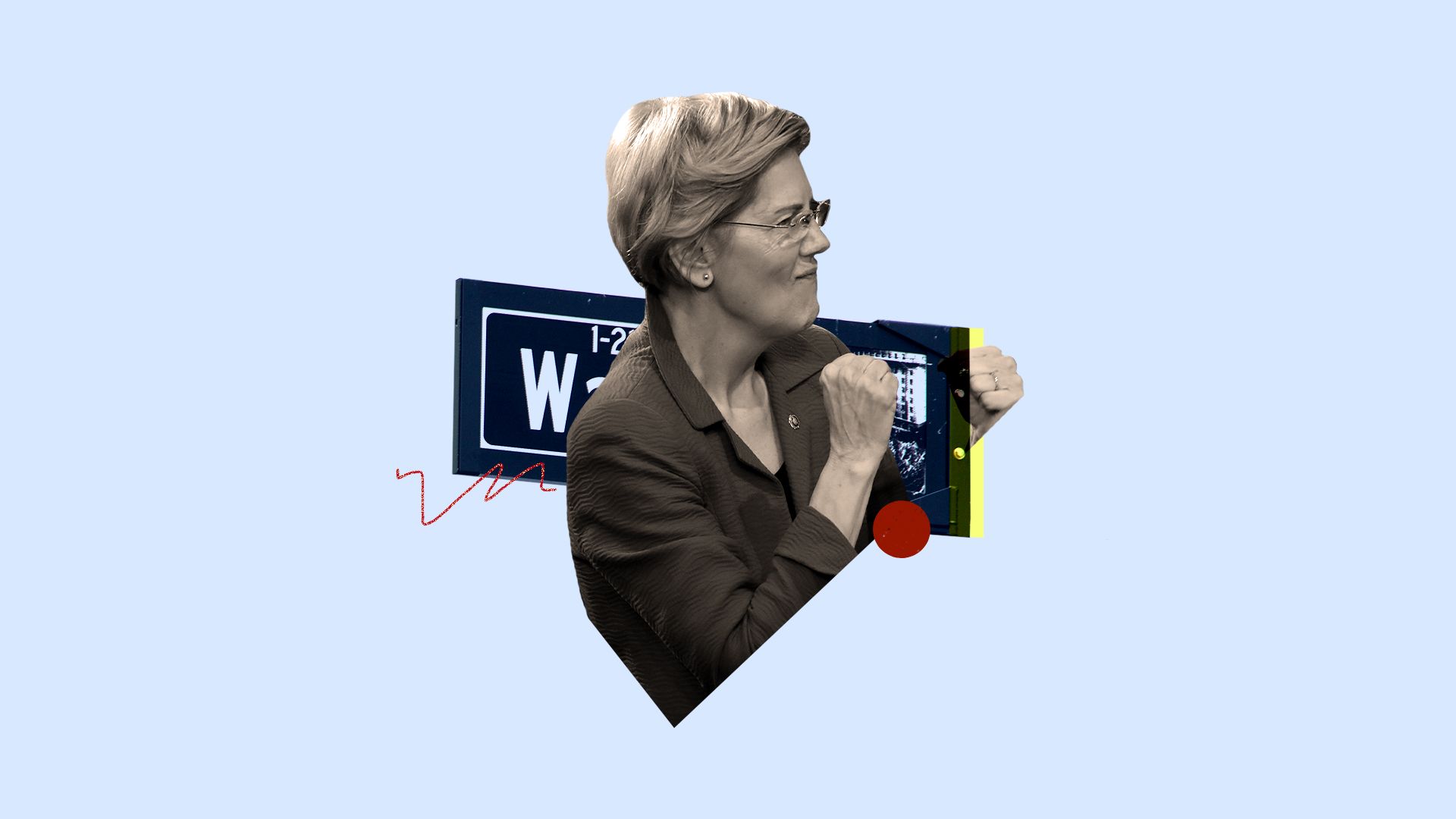 Elizabeth Warren is proposing to kill much of the leveraged buyout industry. Not just make meaningful reform or increase regulatory oversight. But treat it like Pennywise treats the schoolchildren of Derry.
Warren is lead sponsoring a bill that would make buyout funds liable for leveraged financing. It also would:
End dividend recaps and most company-derived fees for at least the first two years after a buyout.
Make funds liable for pension obligations.
Make general partners individually liable for certain obligations.
Increase disclosure to limited partners. (note: LPs are excluded from the above liabilities.)
Rework bankruptcy rules in a way that favors many parties over private equity, despite the debt liability.
Change the tax treatment of carried interest, and limit interest deductibility.
Her intention may be to put more of the equity back in private equity, thus forcing firms to make more responsible investment decisions, but the increased risk profiles and competitive disadvantages would stop many firms in their tracks — and likely end the turnaround industry.
There could be industry workarounds for Warren to contend with. Such as heavily-structured joint ventures with lenders or PE firms eschewing blind pool funds in favor of special-purpose vehicles.
Private equity is obviously crying foul. Sources argue that Warren's rationale — detailed in a Medium post — is cherry-picked; focused on a pair of industries (physical retail and local news) that were self-immolating regardless of private equity's involvement. They also decry how Warren overlooked the role private equity returns play in pension returns, particularly if/when public equities turn south, suggesting her bill would rob Pension Peter to pay Retail Cashier Paul.
They have a point. Relatively few PE-backed companies go bankrupt, let alone liquidate, and few firms still participate in the sectors she cites.
They also need to buy a better mirror. Private equity's ongoing refusal to abandon such parasitic practices as dividend recaps and monitoring fees has created the environment for Warren's rhetoric to be warmly received. And I'm not ashamed to say I told you so. Seven years ago.
Bottom line: This bill won't become law, despite having several Democratic Party co-sponsors (including Kirsten Gillibrand). But Warren has a megaphone right now, and has shown a deft ability to translate complex financial matters for debate and town hall audiences.
On Monday, Peter Thiel said that Warren was the Democratic candidate who scared him most. Now he's got a lot of private equity company.
🕒 It's Day 6 of Leon Black, CEO of Apollo Global Management, refusing to confirm or deny that his family foundation was the source of a $10 million donation to Jeffrey Epstein's charity in 2015. He can't play out the clock on this, and Apollo shares are down more than 4% on the week.
🎧 Pro Rata Podcast focuses on Elon Musk's efforts to merge man and machine, both to cure neurological diseases and to stay one step ahead of AI. Listen here.
The BFD
Anheuser-Busch InBev agreed to sell its Australian operations to Japan's Asahi for $11 billion. It also is considering divestitures of its South Korea and Central America businesses.
Why it's the BFD: This is quick consequence of AB InBev canceling its Asia-Pacific IPO, whose $9 billion-plus in expected proceeds had been largely earmarked for debt reduction. It's also yet another indictment of Warren Buffett's pals at 3G Capital, whose leverage-laden consolidation strategy for AB InBev is working out similarly at Kraft Heinz.
Bottom line: "The world's largest brewer has struggled to cut into its debt as it confronts challenging emerging markets and declining beer consumption in key regions. In the U.S., its biggest market, AB InBev's flagship Budweiser and Bud Light brands have lost share to rivals as consumers abandon American lagers for wine, spirits, craft beers and Mexican imports." — Jennifer Maloney & Saabira Chaudhuri, WSJ
Venture Capital Deals
• FlixMobility, a Germany-based low-cost bus service, raised $531 million co-led by Permira and TCV at a valuation north of $2 billion, per Reuters. http://axios.link/f457
🚑 Kronos Bio, a bi-coastal pharma startup focused on undruggable cancer targets, raised $105 million in Series A funding. Omega Funds and Vida Ventures co-led, and were joined by Nextech, GV, Perceptive Advisors, Invus and Polaris Partners. http://axios.link/rEYf
• Pivot, a San Francisco-based at-home connected fitness startup, raised $17 million in Series A funding. DCM led, and was joined by Bling Capital, Founders Fund, Khosla Ventures, Signal Fire and YC. http://axios.link/eQaR
🚑 Pyxis Oncology, a Boston-based immune-oncology startup, raised $22 million in Series A funding. Bayer led, and was joined by Agent Capital, Ipsen and Longwood Fund. http://axios.link/HsyD
• InCountry, a San Francisco-based provider of localized data storage solutions, raised $15 million in Series A funding co-led by Arbor Ventures, Global Founders Capital and Mudabala. http://axios.link/2lmC
• Submittable, a Missoula, Mont.-based platform for publishers and others to manage submissions, raised $10 million in Series B funding. Next Coast Ventures led, and was joined by return backers True Ventures, Next Frontier Capital and Flywheel Ventures. http://axios.link/fGsA
• Haus, a San Francisco-based co-investment platform for homeowners, raised $5 million in seed equity funding from backers like Montage Ventures and RIT Capital Partners. http://axios.link/tg5I
• Dashmote, a Dutch provider of data and image analytics, raised $2.8 million from SPIA, Three Curve Capital and Gaomei Yunjing Investments. http://axios.link/gCO3
• VertoFX, a London-based currency trading and payment startup focused on Africa and emerging markets, raised $2.1 million in seed funding led by Accelerated Digital Ventures. http://axios.link/Hh5Y
Private Equity Deals
• Ardian and Macquarie are among those considering takeover offers for Brisa, Portugal's largest motorway operator, per Reuters. A deal could be worth between €4 billion and €5 billion. http://axios.link/yQ4e
• CDI Technologies, a Canadian portfolio company of HIG Capital, acquired Troxell, a Phoenix-based AV services company for the K-12 education sector. www.cditechnologies.com
⛽ Kohlberg & Co. agreed to buy EN Engineering, a Warrenville, Ill.-based provider of engineering and consulting services to gas and electric utilities, from General Atlantic. www.enengineering.com
⛽ WildFire Energy I, a Houston-based oil and gas exploration and production company, secured an equity line of over $1 billion from investors like Warburg Pincus and Kayne Private Equity. The company is led by former execs with WildHorse Resource Development, which sold earlier this year to Chesapeake Energy for $4 billion.
Public Offerings
🚑 Afya, a Brazilian for-profit medical education company, raised $261 million in its IPO. The company priced shares at $19 (above $16-$18 range) and will list on the Nasdaq (AFYA). Morgan Stanley was lead underwriter. Afya reports $417 million in revenue for the year ending March 31, 2019.
• Medallia, a San Francisco-based customer experience feedback platform, raised $326 million in its IPO. The company priced shares at $21 (above $16-$18 range), for an initial market cap of $2.6 billion. It will trade on the NYSE (MDLA) with BAML as lead underwriter, and reports a $2.6 million net loss on $94 million in revenue for Q1 2019. Medallia had raised over $330 million in VC funding from firms like Sequoia Capital (40.7% pre-IPO stake).
Liquidity Events
• Apollo Global Management agreed to sell Portuguese insurer Tranquilidade and Portuguese health insurance servicer AdvanceCare to Italian insurer Assicurazioni Generali (Milan: GASI) for €600 million. http://axios.link/ysAi
• Brookfield Asset Management is seeking a buyer for the Atlantis Paradise Island Resort in The Bahamas, per Bloomberg. http://axios.link/ESL9
More M&A
• AT&T (NYSE: T) is considering a sale of its Puerto Rico business, which would fetch around $3 billion, per Reuters. http://axios.link/sUUe
• Barrick Gold (TSX: ABX) agreed to buy the 36% stake it doesn't already hold in rival gold miner Acacia (LSE: ACA), after raising its bid to 232 pence per share (valuing Acacia at £951 million). http://axios.link/murP
• Investindustrial offered to buy an addition 3% stake in luxury automaker Aston Martin (LSE: AML), which would raise its position to 34%. http://axios.link/GoXQ
• MGM Resorts (NYSE: MGM) is considering a sale/leaseback of Las Vegas properties like the Bellagio and MGM Grand, per Bloomberg. http://axios.link/Qe2Q
• PepsiCo (Nasdaq: PEP) agreed to buy listed South African food and beverage company Pioneer Food for $1.7 billion. http://axios.link/fq6e
• Vodafone India hired Bank of American and Morgan Stanley to find buyers for its fiber assets, which could fetch upwards of $1.9 billion, per Bloomberg. http://axios.link/1fR3
Fundraising
• Bain Capital is in early talks to raise a mid-market buyout fund focused on Japan, per Reuters. http://axios.link/G7dQ
🚑 Medicxi, a London-based early-stage VC firm focused on biopharma, raised €400 million for its latest fund. http://axios.link/BSNE
• Sierra Ventures, a Silicon Valley-based early-stage VC firm, raised $215 million for its twelfth fund. www.sierraventures.com
It's Personnel
• BC Partners made three hires in its investor relations group: director Fiona Anderson Wheeler (ex-CVC Capital Partners), director Audrey Hackett (GreenOak Real Estate) and managing director Migo Terjanian (Littlejohn & Co.). www.bcpartners.com
• Hercules Capital announced that interim CEO Scott Bluestein will take the position permanently. He was promoted from CIO following the resignation of Manuel Henrique, who was arrested as part of the "Varsity Blues" college admissions bribery scandal. www.htgc.com
Final Numbers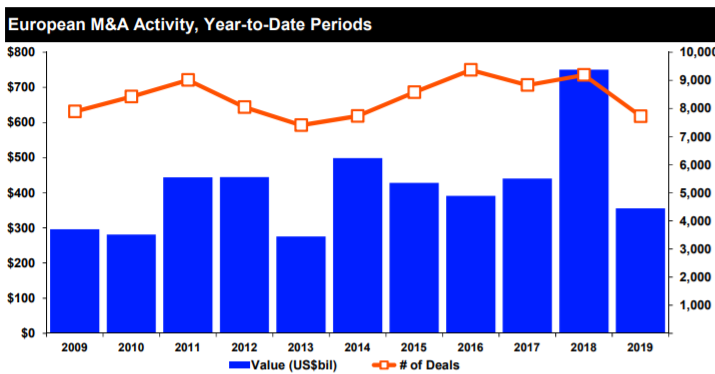 European M&A is at a six-year low through July 18, per Refinitiv.
Deal value is off 53% from this point in 2018.
The biggest drop is in Germany (-66%), while the UK is off 51%.
Global M&A is down 13% year-to-date, although the U.S. is up 13%.
🙏 Thanks for reading Axios Pro Rata. Please ask your friends, colleagues, and Neuralink cyborgs to sign up here.