Axios Pro Rata
September 09, 2021
Sunday Sunday Sunday (said in a Monster Truck announcer voice):
Our 2021 fundraising ride via Peloton is at 11am ET/8am PT. All proceeds will benefit Tuesday's Children, founded after 9/11 to help families impacted by terrorism, mass violence or military conflict.
More riders = more money. Can't wait to see you on the leaderboard this weekend. To donate directly, please go here. Or if you'd like to make a per rider pledge, please email me.
Top of the Morning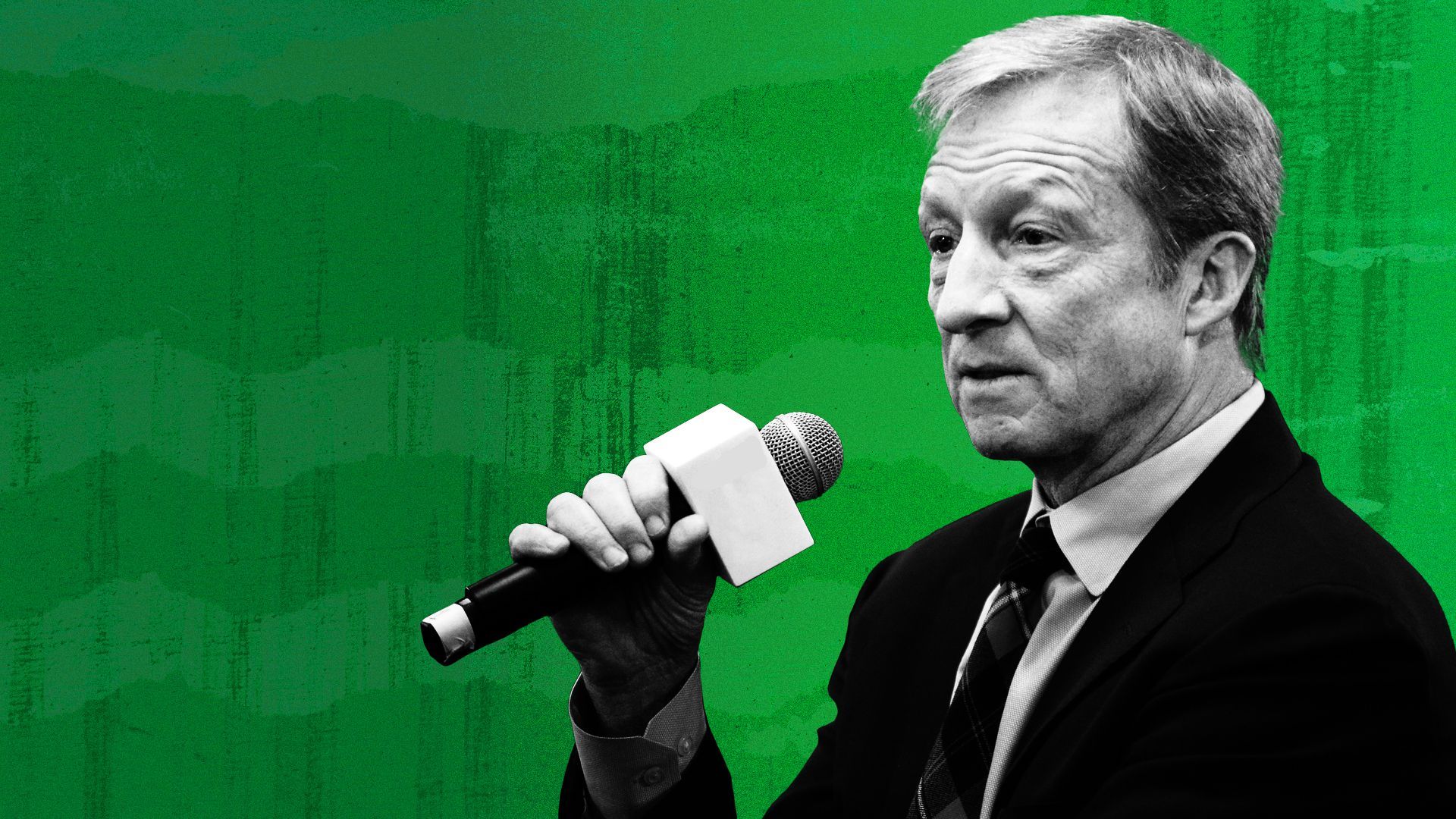 Tom Steyer is putting his money where his mouth is when it comes to fighting climate change. And other people's money too.
Driving the news: Steyer, the former presidential candidate and billionaire founder of Farallon Capital, today launched Galvanize, a climate tech investment platform that will back companies from the seed-stage through private equity and project finance.
Steyer's partner is Katie Hall, co-founder and co-chair of Hall Capital Partners.
Galvanize's senior team includes Veery Maxwell (Ajax Investment Strategies), Saloni Multani (Hellman & Friedman and CFO for Biden's presidential campaign), Cliff Ryan (Riverstone Holdings) and Christian Artmann (Deutsche Bank).
Initial backers include Marc Benioff's Time Ventures and the Laurene Powell Jobs' Emerson Collective.
The plan is to raise a series of funds with different investment strategies, totaling billions of dollars. It also expects to provide lots of value-add capabilities at the umbrella level, including people with deep knowledge of policy and politics.
Steyer declined to provide specifics, citing SEC marketing restrictions, but said he's already been investing personal money in climate tech companies.
"This is going to be investment with activism, which we're calling movement capitalism," he tells me. "Bring the best of capitalism — its innovation, entrepreneurialism and competitiveness — and apply it to a generational imperative."
Galvanize plans to invest throughout the climate tech ecosystem, but Steyer specifically pointed out his interest in carbon sequestration and agricultural technologies.
The bottom line: Private market investors spent years shying away from climate tech, scarred from failed aughts investments that were ahead of their time in terms of execution ability and market adoption. That pause is over.
The BFD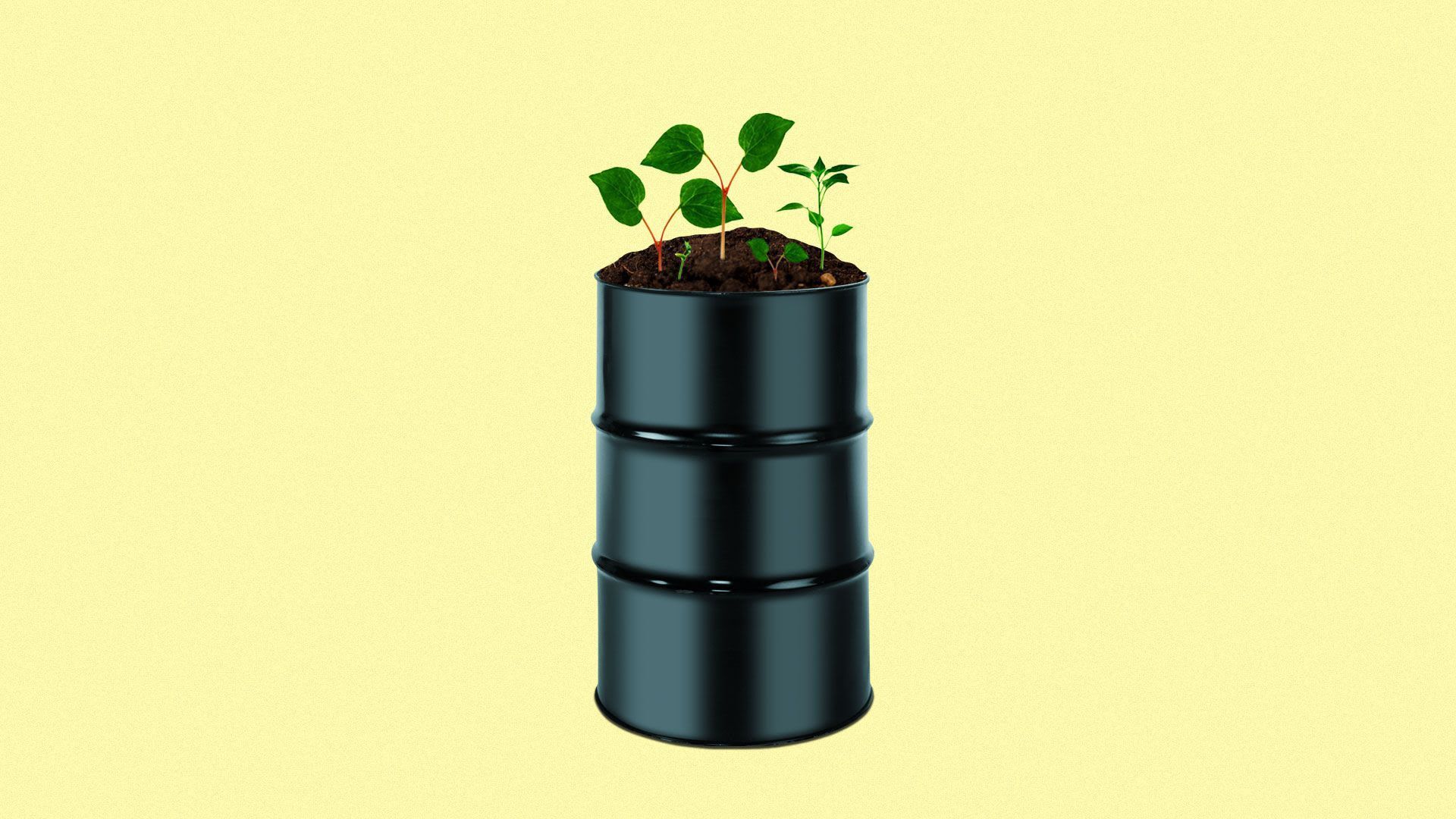 Solugen, a Houston-based developer of plant-derived chemicals, raised $350 million in Series C funding at a $1.5 billion pre-money valuation co-led by Baillie Gifford and GIC.
Why it's the BFD: This is a new front in the decarbonization battle, given the dominance of petroleum-based chemicals. Solugen says the big dollars will help it build "bioforges" around the world, adding that they're cheaper and take less time to build than do typical petrochemical or fermentation plants.
Other investors include Temasek, BlackRock, Carbon Direct Capital Management, Refactor Capital and Fifty Years.
The bottom line: Solugen is basically trying to apply Moore's Law to scaling chemical production, marrying microbe design with process tech.
Today in Theranos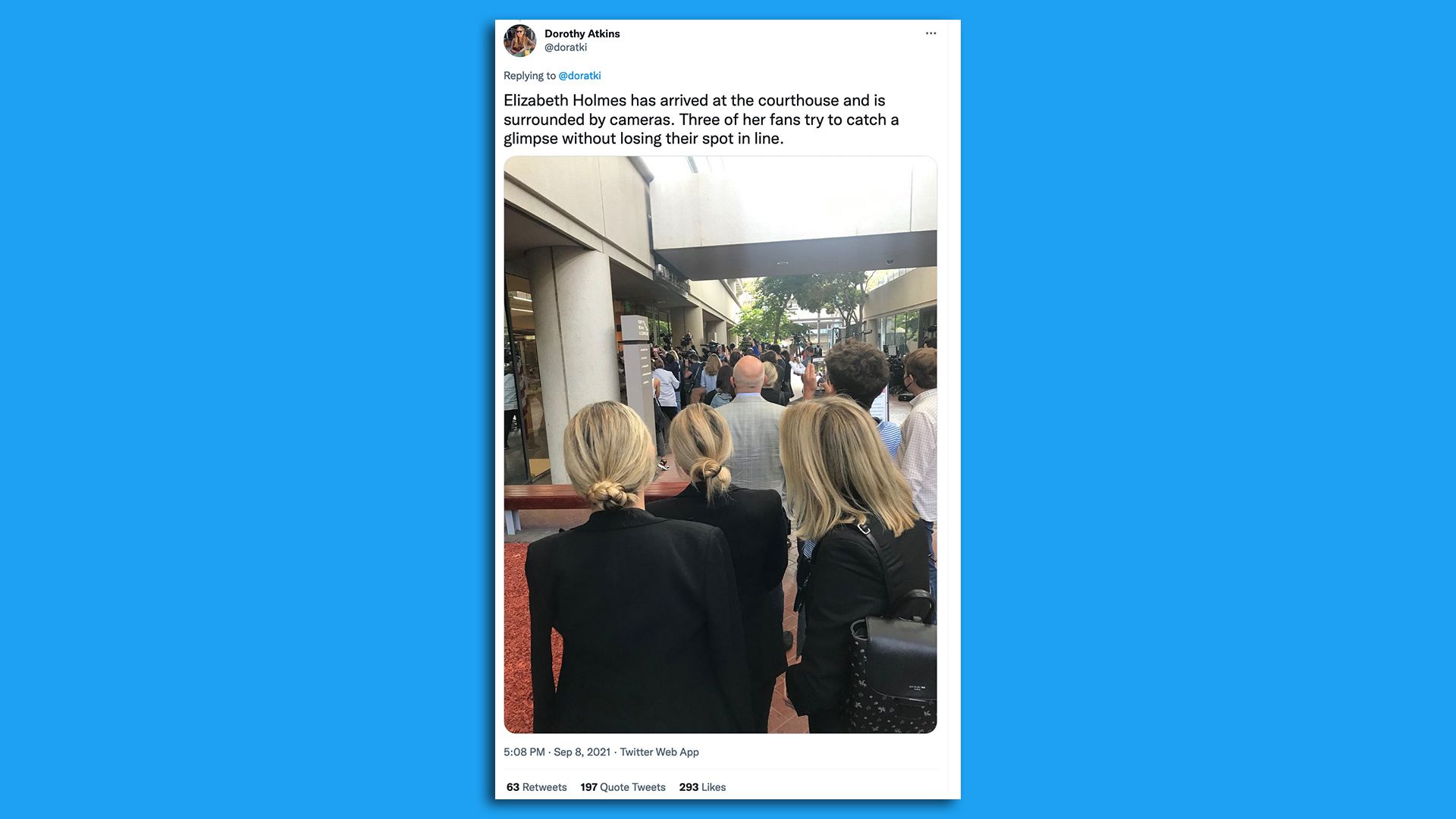 USA vs. Elizabeth Holmes, a trial that will litigate the most significant fraud in Silicon Valley history, kicked off yesterday. Per Axios' Kia Kokalitcheva, who was in the courtroom:
The prosecution said that this is a case about defrauding investors, partners and patients for the sake of getting rich.
It added that Holmes' "deceit of reporters was also an important way she executed her fraud" and that "she was not an absent CEO; she sweated the details."
The defense began laying out an argument that Holmes legitimately believed the Theranos tech would work, but was too trusting of Ramesh "Sunny" Balwani, the company's president and her then-boyfriend.
"Elizabeth Holmes did not go to work every day intending to lie, cheat and steal. The gov would have you believe her company, her entire life is a fraud. That is wrong. That is not true ... Theranos failed, and Ms. Holmes walked away with nothing. But failure is not a crime."
Venture Capital Deals
• Snyk, a Boston-based developer security company, raised $530 million in Series F funding at an $8.5 billion valuation. More than $300 million of the round was primary capital. Sands Capital Ventures and Tiger Global co-led, and were joined by Baillie Gifford, Koch Industries, Lone Pine Capital, T. Rowe Price, Whale Rock Capital Management and insiders Accel, Addition, Alkeon, Atlassian Ventures, BlackRock, Boldstart Ventures, Canaan Partners, Coatue, Franklin Templeton, Geodesic Capital, Salesforce Ventures and Temasek. http://axios.link/Vyv5
🚑 Mammoth Biosciences, a CRISPR diagnostics company co-founded by Jennifer Doudna, raised $150 million in Series D funding. Redmile Group led, and was joined by Foresite Capital, Senator Investment Group, Sixth Street, Greenspring Associates, Mayfield, Decheng Capital, Plum Alley and NFX. http://axios.link/HX9T
🚑 Attralus, a South SF-based biotech focused on systemic amyloidosis, raised $116 million in Series B funding. Logos Capital led, and was joined by Janus Henderson Investors, Redmile Group, Samsara BioCapital, Sarissa Capital Management, Surveyor Capital, Vivo Capital and venBio Partners. http://axios.link/XS1E
🚑 Lexeo Therapeutics, a New York-based gene therapy startup focused on genetic cardio and CNS conditions, raised $100 million in Series B funding. D1 Capital Partners and Eventide Asset Management co-led and were joined by CAM Capital, Verition Fund Management, Laurion Capital Management, Gray's Creek Capital Partners, Longitude Capital, Omega Funds, Lundbeckfonden Ventures, PBM Capital, Janus Henderson Investors, Woodline Partners LP, Invus Capital and Alexandria Venture Investments. http://axios.link/7SzL
• Orchard, a New York-based home buying and selling platform, raised $100 million in Series D funding at over a $1 billion valuation. Accomplice led, and was joined by insiders FirstMark Capital, Revolution, First American and Juxtapose. www.orchard.com
• Affinity, a San Francisco-based customer relationship intelligence startup, raised $80 million in Series C funding. Menlo Ventures led, and was joined by Advance Venture Partners, Sprints Capital, Pear Ventures, Sway Ventures, MassMutual Ventures, Teamworthy and ECT Capital Partners. www.affinity.co
• Koyo, a London-based provider of loans for individuals with poor credit, raised $50 million in equity and debt funding. Force Over Mass led, and was joined by insiders Forward Partners, Frontline Ventures and Seedcamp. http://axios.link/Ot3M
• Printify, a Latvian on-demand custom printing startup, raised $45 million in Series A funding. Index Ventures led, and was joined by H&M Group, Virgin Group and Dreamers VC. http://axios.link/E2D0
• Evolve Additive Solutions, a Minnetonka, Minn.-based additive manufacturing platform, raised $30 million from 3D Ventures. www.evolveadditive.com
• TrueFort, a Weehawken, N.J.-based cloud workload security startup, raised $30 million in Series B funding. Shasta Ventures led, and was joined by Canaan Partners, Ericsson Ventures and insiders Evolution Equity Partners, Lytical Ventures and Emerald Development Managers. http://axios.link/V5XF
• Batmaid, a Swiss home cleaning marketplace, raised €23 million in Series B funding from Aevis Victoria. www.batmaid.ch/en
• Wild Earth, a plant-based pet food maker, raised $23 million from backers like Mark Cuban, At One Ventures, Veginvest, Big Idea Ventures, Bitburger Ventures and Gaingels. www.wildearth.com
• Juno, a San Francisco-based developer of affordable and sustainable apartments, raised $20 million in Series A funding co-led by Comcast Ventures, Khosla Ventures and RET Ventures. http://axios.link/oCIc
• PolyAI, a London-based conversational AI startup, raised $14 million in Series B funding. Khosla Ventures led, and was joined by insiders Point72 Ventures, Amadeus Capital, Sands Capital Ventures, Passion Capital and Entrepreneur First. http://axios.link/pu0k
🚑 DotCom Therapy, a Madison, Wis.-based pediatric teletherapy provider, raised $13 million in Series A funding. New Capital Partners led, and was joined by LRVHealth and OSF Ventures. http://axios.link/Bfyr
• Headout, a New York-based same-day travel and tourism marketplace, raised $12 million. Glade Brook Capital led, and was joined by Espresso Capital, Practical VC and insiders Version One Ventures, Nexus Venture Partners, FJ Labs, 500 Startups, Haystack and Ludlow Ventures. http://axios.link/XgaN
• Smartwyre, a Denver-based agricultural pricing platform, raised $10.5 million in Series A funding. High Alpha Capital led, and was joined by Anterra Capital, Fall Line Capital, Rise of the Rest and Cavallo Ventures. www.smartwyre.com
🚑 Neuroglee Therapeutics, a Boston-based developer of digital therapeutics for neurodegenerative diseases, raised $10 million in Series A funding co-led by Openspace Ventures and EDBI. http://axios.link/9ujg
• Lean, a provider of financial products for gig workers, raised $4.5 million in seed funding. Inspired Capital led, and was joined by Atelier Ventures, Oceans Ventures and Acequia Capital. http://axios.link/UUF8
• Telos Brands, a San Francisco-based Amazon aggregator, raised $2.1 million in seed funding led by Picus Capital. www.telosbrands.com
• Advance.ai, a Singapore-based big data platform focused on fraud detection, is in talks to raise around $200 million at a valuation north of $1 billion led by Warburg Pincus, per Reuters. http://axios.link/QJTn
Private Equity Deals
• The Blackstone Group invested in Dynamo Software, a Watertown, Mass.-based provider of cloud software for the alt investment management industry. Francisco Partners reinvested as part of the deal. www.dynamosoftware.com
• Cinven agreed to acquire a majority stake in True Potential, a British wealth management firm backed by FTV Capital. www.tpllp.com
• Engie (Paris: ENGI) received multiple nonbinding bids for its Equans services unit, which could fetch around €5 billion, per Reuters. PE suitors include Bain Capital, The Carlyle Group and CVC Capital Partners, while strategics include Bouygues, Eiffage and Spie. http://axios.link/LNq8
• FoodScience, a Williston, Vt.-based portfolio company of Wind Point Partners, acquired Pet Tech Labs, a Syracuse, Neb.-based contract manufacturer of animal nutritional supplements. www.foodsciencecorp.com
🚑 Patient Square Capital agreed to buy Summit BHC, a Franklin, Tenn.-based provider of behavioral health and addiction treatment services, from FFL Partners and Lee Equity. www.summitbhc.com
• SBI Holdings made an unsolicited $1 billion takeover bid for Shinsei Bank (Tokyo: 8303). http://axios.link/SJwX
• Thoma Bravo invested in Intel 471, a Dallas-based provider of cyber threat intelligence solutions for businesses and governments. http://axios.link/goDW
• WilliamsMarston, a Boston-based portfolio company of Align Capital Partners, acquired Chord Advisors, a Newport Beach, Calif.-based accounting advisory. www.williamsmartston.com
Public Offerings
🚑 Dice Therapeutics, a South SF-based developer of therapies for chronic immunologic diseases, set IPO terms to 10 million shares at $15-$17. It would have a $550 million fully diluted value, were it to price in the middle, plans to list on the Nasdaq (DICE) and raised $234 million from firms like RA Capital (15.1% pre-IPO stake), Northpond Ventures (12.1%) and Sands Capital (9.3%). http://axios.link/0wrL
🚑 Tyra Biosciences, a Carlsbad, Calif.-based developer of therapies targeted at drug-resistant cancer cells, set IPO terms to 6.7 million shares at $14-$16. It would have a $584 million fully diluted value, were it to price in the middle. The pre-revenue company plans to list on the Nasdaq (TYRA) and raised over $150 million from firms like RA Capital (19.9% pre-IPO stake), Boxer Capital (19.9%), Canaan Partners (14.6%), Alta Partners (13%) and Nextech (6.3%). http://axios.link/dY4j
SPAC Stuff
🚑 Packable, an Islandia, N.Y.-based an online health and beauty marketplace, agreed to go public at an implied $1.55 billion valuation via Highland Transcend Partners I Corp. (NYSE: HTPA), a tech-focused SPAC formed by Highland Capital Partners and led by Ian Friedman (ex-Goldman Sachs). Packable raised over $70 million from backers like The Carlyle Group, Reckitt Benckiser Group, Sawaya Capital Partners, The Craftory, The Emerson Group and The Strauss Group. http://axios.link/rdUv
Liquidity Events
• Aramex, a Dubai-listed delivery service partially owned by ADQ, is in talks to buy Turkish delivery company MNG Kargo for upwards of $500 million, per Reuters. Sellers would include Turkven Private Equity and Sancak Group. http://axios.link/10Yo
• The Carlyle Group is seeking to fetch up to $2 billion via a sale process for VXI Global Solutions, a Los Angeles-based outsourcer, per Bloomberg. http://axios.link/678t
• Microsoft (Nasdaq: MSFT) agreed to buy Clipchamp, an Australian maker of video creation and editing software that had raised around US$15 million from firms like Tola Capital. http://axios.link/F5XQ
• Notion, a San Francisco-based workplace collaboration company valued at $2 billion by VCs, acquired Automate.io, an Indian provider of workflow automation SaaS that was seeded by firms like 50K Ventures. http://axios.link/o1kR
• Oshkosh Corp. (NYSE: OSK) and Terex Corp. (NYSE: TEX) are among possible bidders for Time Manufacturing, a Waco, Texas-based vehicle mounted crane manufacturer that could fetch around $1 billion, per Bloomberg. Time is owned by The Sterling Group, Stellus Capital Management and Oaktree Capital Management. http://axios.link/Pfvp
More M&A
🎲 888 Holdings (LSE: 888) will pay $3 billion to buy the non-U.S. business of William Hill, the British bookmaker owned by Caesars Entertainment (Nasdaq: CZR), beating out Apollo Global Management. http://axios.link/YGWe
Fundraising
• 10T Holdings, a crypto-focused firm led by Dan Tapiero and backed by Alan Howard, raised $750 million for its debut fund. http://axios.link/vT2h
• Crowberry Capital of Iceland raised $90 million to invest in Nordic tech startups. http://axios.link/kwJ8
• Elbrus, a Russian PE firm, held a $316 million close for its third flagship fund, which is targeting a total of $600 million, pe PEI. http://axios.link/tqSC
It's Personnel
• Andreessen Horowitz made several additions to its crypto team: Brian Quintenz, former CFTC commissioner, as a senior advisor, Jane Lippencott (ex-Winklevoss Capital) as an investing partner and Mike Manning (ex-Stripe) on its communications team. www.a16z.com
Final Numbers
The SEC slammed the brakes on Coinbase's plans to offer dollar-denominated savings accounts, which seems to have have genuinely surprised and upset company CEO Brian Armstrong.
Axios' Felix Salmon writes that Coinbase has bank envy, and that this episode shows that crypto still hasn't grown up: "Coinbase's comparative advantage was supposed to be that it stands comfortably in America's regulatory good graces. But now Armstrong seems to be jealous of other crypto companies that offer similar products without SEC approval, and is picking fights with regulators."
🙏 Thanks for reading Axios Pro Rata! Please ask your friends, colleagues and enzymatic scientists to sign up.
Correction: Activist hedge fund TCI holds around an 8% stake in Canadian Pacific, not a 40% stake. Read more. Apologies for the error.