Axios Pro Rata
January 18, 2023
🚨 Breaking: Microsoft announced plans to lay off 10,000 employees.
🎧 How It Happened: Elon Musk vs. Twitter has chronicled Musk's meteoric rise and his social media takeover. Don't miss the season finale, "Cracks in the Empire." Listen here.
Top of the Morning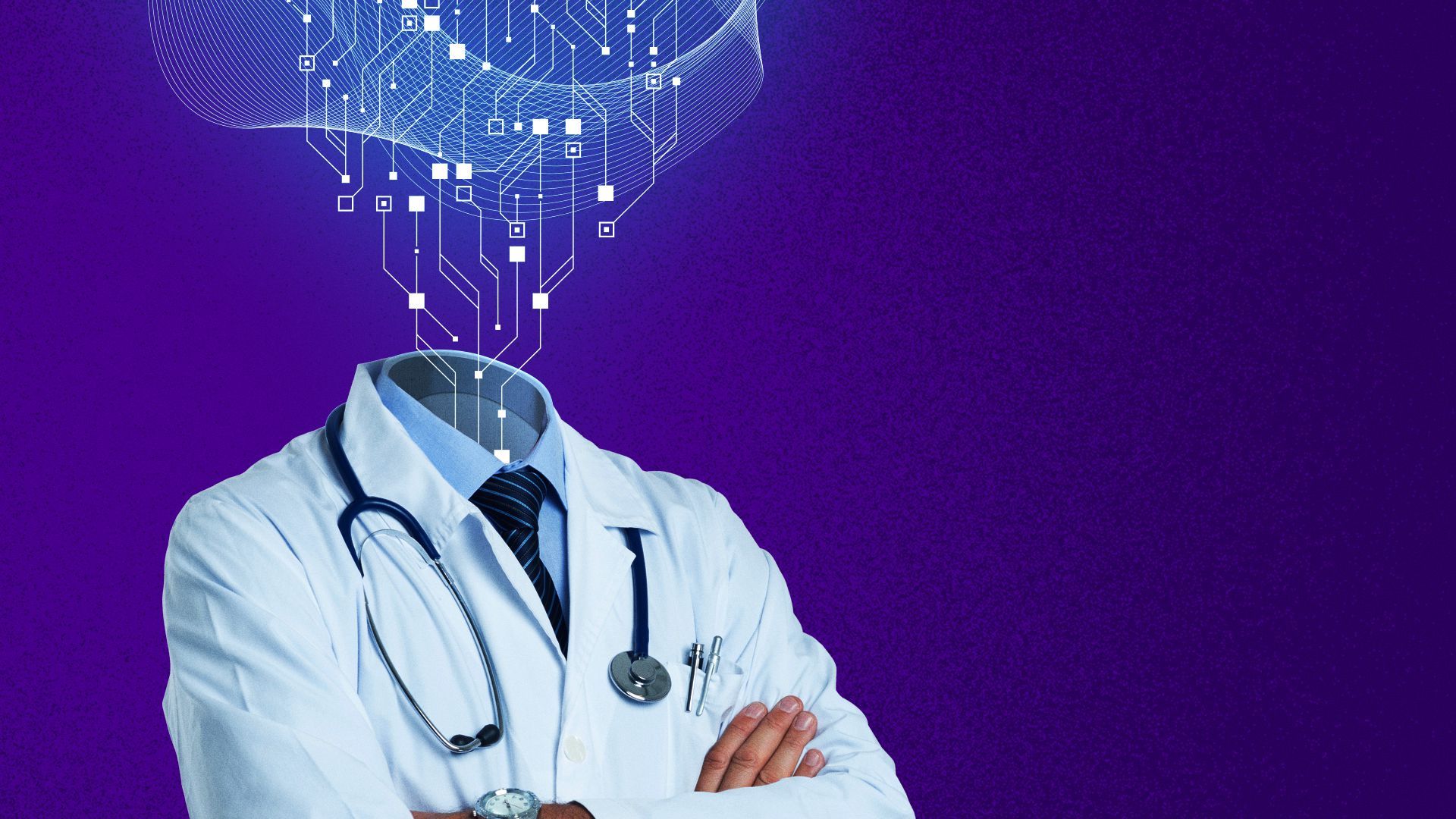 Clinical diagnoses and decisions could someday be made by machines, rather than by human doctors. And that creates opportunity for investors.
Driving the news: ChatGPT recently passed all three parts of the U.S. Medical Licensing Examination, although just barely, as part of a research experiment.
Second-year medical students often spend hundreds of hours preparing for Part 1, while Part 3 usually is taken by medical school graduates.
The big surprise was that ChatGPT performed so well without having been trained on a biomedical dataset.
One caveat is that researchers excluded a set of "indeterminate" answers, as it appears that ChatGPT was programmed to avoid providing what could be construed as medical advice.
What they're saying: "I think we're in the middle of a 20-year arc, kind of like what we already saw with finance," says Vijay Pande, a health care-focused partner with Andreessen Horowitz.
"In 2000, it was insane to think that a computer could beat a master trader on Wall Street. Today, it's insane to think that master trader could beat a computer."
Backstory: Ansible Health, a Silicon Valley startup focused on treating COPD, had been researching various AI and machine learning tools to improve its care.
"There was so much excitement in the tech world when ChatGPT came out, so we wanted to see if it was just hype or useful," explains Jack Po, Ansible's CEO and a former Google product manager.
"As we started doing validation we were pretty amazed at the results. Not only at what it was getting right, but at how it was explaining itself."
Po and several others then decided to have ChatGPT take the USMLE, first ensuring that "none of the answers, explanations or related content were indexed on Google." They then published their results, which are undergoing peer review.
VC portfolio: Morgan Cheatham, a vice president with Bessemer Venture Partners and a current med school student at Brown University, was among the researchers.
Bessemer made its first investment in generative AI for health when in 2018 it backed an imaging startup called Subtle Medical.
It's since invested in an AI-enabled medical transcription startup and also quietly backed Ansible, which already is using ChatGPT to help explain certain concepts to patients (after review by a trained professional).
Reality check: Generative AI is still in its early innings, often getting things wrong, so for now it'll augment medical work rather than replace it.
Over time, perhaps it could be applied to wellness checks and other general practitioner tasks.
To do so, however, it would need to move beyond text by incorporating data inputs like vocal tone, body language and facial expressions.
One benefit would be the immediate incorporation of a patient's medical records and the most up-to-date medical research.
The bottom line: Plenty of people rely on "Dr. Google" for their medical information needs. In the future, they may turn to "Dr. ChatGPT."
The BFD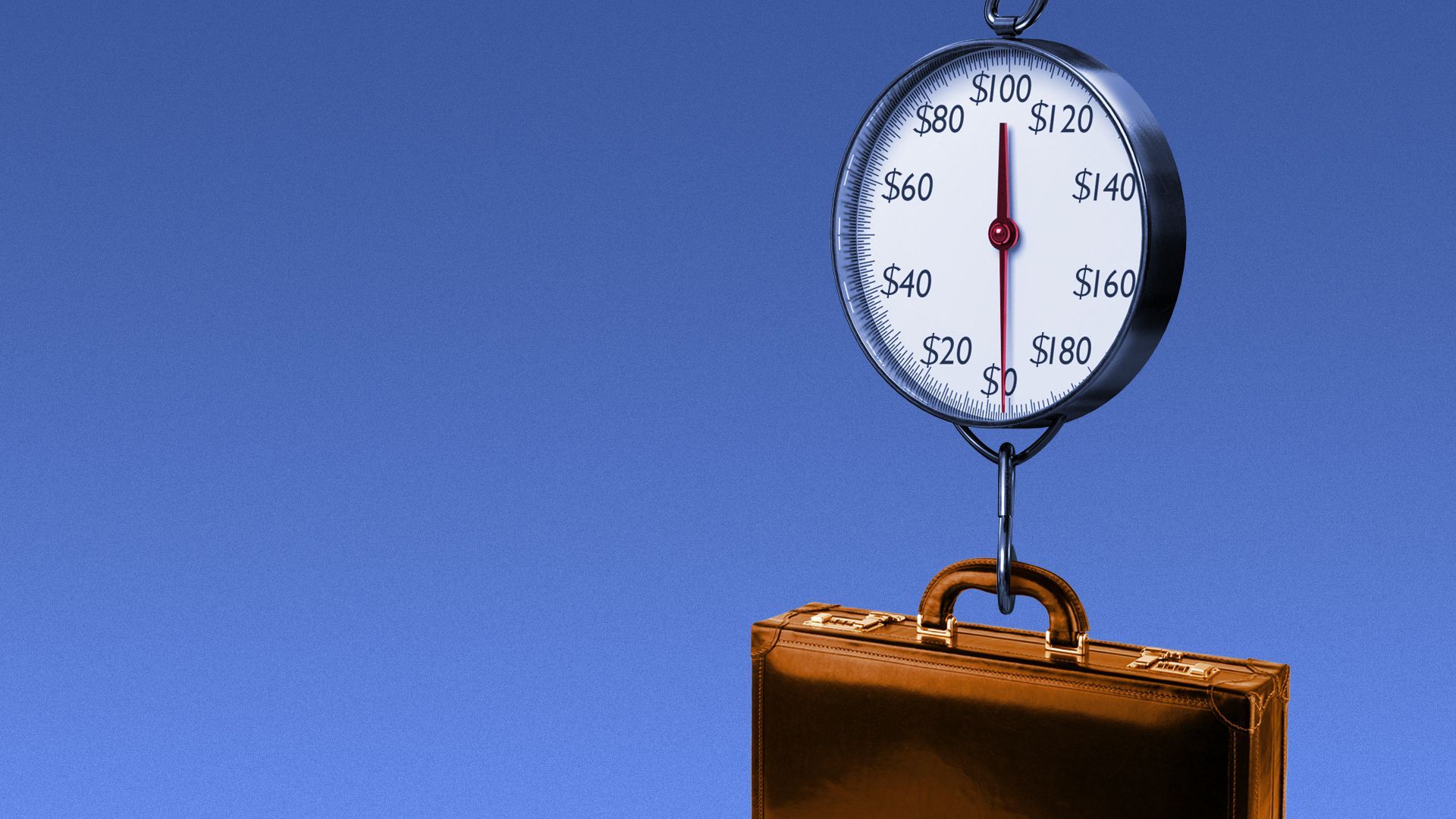 Emerson Electric (NYSE: EMR) on Tuesday disclosed a $7.6 billion, all-cash takeover offer for National Instruments (Nasdaq: NATI), an Austin, Texas-based maker of testing and measuring equipment.
Why it's the BFD: This is the year's first hostile takeover battle, with Emerson revealing that it's been trying (and failing) to buy National Instruments for the past eight months.
Details: St. Louis-based Emerson is bidding $53 per share, which represents a 32% premium to where they closed last Thursday (after which National Instruments said it had received takeover interest and was exploring strategic alternatives).
The price also is 10.4% higher than the $48 per share Emerson says it offered last May.
Emerson shares closed down 4.4% yesterday.
The bottom line: "Emerson said that picking up National Instruments' portfolio of electronic test and measurement offerings would bolster its automation business while also adding to its adjusted earnings within the first year. The company isn't putting any financing conditions on the deal, saying it can fund the transaction with cash on hand and existing lines of credit." — Dean Seal, WSJ
Venture Capital Deals
🚑 Pathalys Pharma, a Raleigh, N.C.-based biotech focused on secondary hyperparathyroidism in patients on hemodialysis, raised $150m via equity and secured product financing. Abingworth led, and was joined by Carlyle, OrbiMed, Catalys Pacific and DaVita Venture Group. www.pathalys.com
• Tabby, a Dubai-based BNPL startup, raised $58m at a $660m valuation. Sequoia Capital India and STV co-led, and were joined by PayPal Ventures, Mubadala Investment Capital, Arbor Ventures and Endeavor Catalyst. https://axios.link/3WdS4LK
• ThriveCart, an Austin, Texas-based provider of cart and funnel software for SMEs, raised $35m from LTV SaaS Growth Fund. www.thrivecart.com
• Carry1st, a South African social games publisher, raised $27m. Bitkraft Ventures led, and was joined by Andreessen Horowitz, Konvoy Ventures, TTV Capital, Alumni Ventures, Lateral Capital and Kepple Ventures. https://axios.link/3wcSDLf
🌎 Living Carbon, an SF-based developer of plants that can capture and store carbon, raised $21m in Series A funding. Temasek led, and was joined by Lowercarbon Capital, Toyota Ventures and Felicis Ventures. https://axios.link/3ZHHW0L
• PeopleFund, a South Korean P2P lender, raised $20m in Series C extension funding. Bain Capital led, and was joined by fellow insiders Access Ventures, CLSA Capital Partners Lending Ark Asia, D3 Jubilee Partners, 500 Global, Kakao Investment, TBT Partners and IBX Partners. https://axios.link/3ZHwKkL
• Brightpick, an Erlanger, Ky.-based provider of warehouse automation solutions, raised $19m in new Series B funding (round total now $40m). Taiwania Capital led, and was joined by IPM Group, Alpha Intelligence Capital, H&D Asset Management, Venture to Future Fund and Kolowrat Group. https://axios.link/3CW9HJ7
• CloseFactor, a Palo Alto, Calif.-based go-to-market operating system for revenue teams, raised $15m in Series A funding. Vertex Ventures and Sequoia Capital co-led, and were joined by GTMFund and Neythri Futures Fund. www.closefactor.com
• Parfin, a London-based web3 infrastructure provider, raised $15m in seed funding. Framework Ventures led, and was joined by Alexia Ventures, Valor Capital Group and L4 Venture Builder. https://axios.link/3QME4aG
• Hypori, a Reston, Va.-based zero trust mobile security startup, raised $10m in Series B funding. Hale Capital Partners led, and was joined by GreatPoint Ventures and David Petraeus. www.hypori.com
🚑 Posterity Health, a Parker, Colo.-based digital male fertility treatment provider, raised $7.5m in new seed funding, per Axios Pro. Distributed Ventures led, and was joined by FCA Venture Partners and WVV Capital. https://axios.link/3koiehJ
• Membrion, a Seattle-based maker of ceramic desalination membranes for water recovery in harsh environments, raised a $7m in Series B funding. PureTerra Ventures led, and was joined by Safar Partners, GiantLeap Capital, and Freeflow. www.membrion.com
• Sprinque, a Dutch B2B payments platform, raised €6m in seed funding. Connect Ventures led, and was joined by Kraken Ventures, Inference Partners, SeedX, Antler, Volta Ventures and Force Over Mass. https://axios.link/3QKTMTG
• AcceSenSe, an Israeli business continuity platform for Okta, raised $5m in seed funding. Joule Ventures led, and was joined by Fusion and Genfen Capital. www.accesense.io
• Diva, a decentralized ethereum liquid staking protocol, raised $3.5m in seed funding. A&T Capital led, and was joined by Gnosis, Bankless, OKX Ventures, Metaweb, DCV Capital, Alphemy Capital, Very Early Ventures and Stake.vc. https://axios.link/3H8775l
• Arch, an alt-asset lending platform, raised $2.75m from Castle Island Ventures and Tribe Capital. www.archlending.com
• Waabi, a Toronto-based maker of self-driving trucks, raised an undisclosed amount of funding from Volvo's VC arm. https://axios.link/3HemwkI
Private Equity Deals
• Antin Infrastructure Partners acquired Empire, a fiber-to-the-premise broadband provider in New York and Pennsylvania. www.empacc.net
🚑 Avesi Partners invested in Muir Wood, a Petaluma, Calif.-based provider of adolescent-focused behavioral health services. www.muirwoodteen.com
• California Family Fitness, a portfolio company of Perpetual Capital Partners, acquired health club chain In-Shape Solutions from Aquiline Capital Partners. www.inshape.com
• General Atlantic invested in Village Pet Care, a Salt Lake City-based operator of 11 pet care centers in five states.
• KKR agreed to buy the engineering solutions unit of S&P Global (NYSE: SPGI) for around $975m. https://axios.link/3XinxgZ
• Resurgens Technology Partners invested in MCIM, a Glen Allen, Va.-based provider of maintenance, operations and management software for mission-critical facilities. www.mcim24x7.com
⚡ RMA, a Rancho Cucamonga, Calif.-based portfolio company of OceanSound Partners, acquired C Below, a Chino, Calif.-based provider of underground utility locating services. www.rmacompanies.com
• Taymax, a Planet Fitness franchisee owned by Trilantic North America, acquired Saber Fitness, operator of 27 Planet Fitness locations in California.
Public Offerings
• Black Sesame Technologies, a Chinese developer of automotive AI chips, is considering a Hong Kong IPO that could raise around $200m, per Bloomberg. The company has raised around $115m in VC funding from firms like Xiaomi, Dongfeng Asset Management, SummitView Capital, Industrial Bank Company, Zhilu Capital, Boyuan Capital, Xin Ding Capital, North Beta Capital and The Hina Group https://axios.link/3CW9OUY
• Hesai Group, a Chinese maker of lidar products, filed for a $100m IPO. It plans to list on the Nasdaq (HSAI), and reports a $23m net loss on $112m in revenue for the first nine months of 2022. The company has raised over $500m in VC funding from firms like Lightspeed Venture Partners, Baidu, Qiming Venture Partners and Xiaomi. https://axios.link/3WdUo5q
SPAC Stuff
🚑 Aprinoia Therapeutics, a Hong Kong-based biotech focused on neurodegenerative diseases, agreed to go public at an implied $280m equity value via Ross Acquisition Corp. II (NYSE: ROSS), a SPAC formed by Wilbur Ross. Aprinoia raised around $40m from firms like KTB Network, DCI Partners, ShangPharma Investment Group, TaiAn Technologies and Yantai Dongcheng Pharmaceutical Group. https://axios.link/3QPX9Zm
Busted Deals
• GigaMonster, a Marietta, Ga.-based internet service provider owned by Barings, filed for Chapter 11 bankruptcy protection. https://axios.link/3kk95GN
• Performance Powersports Group, a Tempe, Ariz.-based ATV maker owned by Kinderhook Industries, filed for Chapter 11 bankruptcy protection. https://axios.link/3WplYfT
More M&A
• Air France (Paris: AIRF) said it won't bid for an equity stake in Italian flagship carrier ITA Airways. https://axios.link/3ZL2F3z
• CryptoSlam, a blockchain data analytics firm that tracks NFT valuations, and Forkast.News, a web3 media company, are merging. Both are backed by Animoca Brands. https://axios.link/3GQlwl4
• Deutsche Bahn, a German rail operator, may revive the sale process for its Arriva U.K. transport business, which could fetch upwards of €2b, per Bloomberg. https://axios.link/3HerA8A
• Forter, a New York-based provider of e-commerce fraud prevention solutions, acquired Immue, an Israeli bot detection company. Forter has raised over $500m in VC funding, most recently in 2021 led by Tiger Global at a $3b valuation. www.forter.com
⚡ Iberdrola (Milan: IBE) agreed to sell a 49% stake in its Spanish solar plant and onshore wind farms business to Norway's sovereign wealth fund for €600m. https://axios.link/3CTL0x8
🏈 Josh Harris is the leading bidder for the Washington Commanders franchise, per NBC Sports Washington. That report also says that Jeff Bezos didn't submit a first-round bid, although pro sports auctions rarely take process too seriously (as recently evidenced by the Phoenix Suns sale).
⚡Shell (NYSE: SHEL) agreed to buy Volta (NYSE: VLTA), an SF-based EV charging network that went public in 2021 via SPAC. The deal is valued at $169m in cash, or $0.86 per share. https://axios.link/3XlFqvk
🚑 Shockwave Medical (Nasdaq: SWAV) agreed to buy cardiac device maker Neovasc (Nasdaq: NVCN) for around $100m, or $27.25 per share. https://axios.link/3IX7hO5
• TaxBit, a Draper, Utah-based provider of crypto tax and accounting software, acquired New York-based rival Tactic. TaxBit has raised over $200m from firms like PayPal Ventures, Tiger Global, Insight Partners, IVP, Paradigm and Haun Ventures. Tactic had raised over $13m from backers like FTX Ventures, Founders Fund, Ramp, Coinbase Ventures, Definition Capital and Lux Capital. https://axios.link/3wafx5W
It's Personnel
• Baron Davis (ex-NBA star) and Joe Vezzani (CEO of LunarCrush) joined Draper Round Table, a web3 deals syndication platform launched by Tim Draper, as venture partners. https://axios.link/3JeZfAD
• Josiah Hsiung, former head of growth at Instacart, joined cybersecurity-focused VC firm NightDragon as a principal. www.nightdragon.com
• Jim Rock, former president and CEO of Seegrid Corp., joined Arsenal Capital Partners as an operating partner. www.arsenalcapital.com
• Shawn Xiao joined The Halifax Group as a VP. He previously was with GTCR. www.thehalifaxgroup.com
🚑 Irem Rami joined Norwest Venture Partners as a principal focused on health care. She previously was with Summit Partners and McKesson Ventures. www.nvp.com
• Robert Vincze joined Apollo Global Management as a principal focused on infrastructure investments. He previously was with Partners Group. https://axios.link/3IXJJZM
• Morgan Stanley Investment Management promoted Judy Choi (private credit and equity), James Stewart (MS Capital Partners), Mike Carroll (private market solutions) and Orit Mizrachi (private credit) to managing directors. www.morganstanley.com
• Redpoint Ventures promoted Jacob Effron to partner. www.redpoint.com
Final Numbers
Don't look now, but crypto prices are having a minor revival.
Bitcoin is up more than 27% over the past month, while Ethereum just turned positive for the six-month period.
Thanks for reading Axios Pro Rata, and to copy editors Mickey Meece and Bryan McBournie! Please ask your friends, colleagues and online clinicians to sign up.