April 06, 2021
🎧 Axios Re:Cap digs into President Biden's infrastructure proposal with Siemens USA CEO Barbara Humpton. Listen here.
🏀 Scott Bean, a product and marketing consultant in Seattle, is the winner of our March Madness contest. He edged out fellow Baylor-picker Casey Armstrong (CMO of ShipBob) via his final score pick, and gets an Axios quarter-zip, bragging rights and the chance to write part of a future Pro Rata newsletter. Thanks to all 850+ of you who participated!
Top of the Morning
Bad news for Amazon is usually viewed as good news by its smaller retail rivals, wherever they sit in the supply chain. But that may not be true this week.
The big picture: Nearly 6,000 Amazon warehouse workers in Alabama are awaiting the preliminary results of a unionization vote, which could be released at any moment by the National Labor Relations Board.
This is the most significant organized labor vote of the internet age. If successful, it could spark a union wildfire for everything broadly categorized as e-commerce in the U.S.
"Walmart obviously needs to pay the most attention, because that's where it would go next," says a venture capitalist who invests in e-commerce and on-demand services companies. "But it's just a matter of time before labor trends affecting Amazon and Walmart trickle down to everyone else."
Key point: This isn't just about take-home pay for warehouse workers, particularly given that starting wages at Amazon's distribution center in Alabama are above $15 per hour. Instead, it's more about the ability to collectively bargain working conditions.
And, again, a union win would represent a major trend reversal. U.S. organized labor has been losing power and influence for decades, while Amazon has risen to become one of the country's most powerful and pervasive companies.
Conversely, an Amazon win would further cement Big Tech dominance, which has its own trickle-down impacts.
Will the union win? Flip a coin. And even once we get a preliminary outcome, it wouldn't be surprising to see the loser challenge the results in court.
The bottom line: Amazon is the market leader, and everyone follows it. Even those seeking to disrupt it.
The BFD
Sarcos Robotics, a Salt Lake City-based developer of robotic exoskeletons, agreed to go public at a $1.3 billion implied valuation via acquisition by Rotor Acquisition (NYSE: ROT), a SPAC led by Wall Street vet Brian Finn.
Why it's the BFD: Expect this one to get some special scrutiny from the SEC. Finn's venture capital firm, Rotor Capital, last year led a Series C investment in Sarcos and also participated in a CES product unveiling. And Finn seems aware of the potential pitfalls, mentioning the existing relationship early in today's investor presentation.
Details: The deal includes a $220 million PIPE from investors like BlackRock, Palantir Technologies, Millennium Management, Caterpillar, Schlumberger and JAWS Estates Capital. Sarcos also could secure up to $281 million in earnouts.
Bottom line: "Sarcos develops robotic systems for non-repetitive tasks that are designed to increase productivity among industrial and military workers. Its wearable devices help people move heavy objects with mechanical limbs and support, reducing workplace injuries and allowing employees less capable of strenuous labor to carry out tasks such as lifting airport baggage and manufacturing components without assistance." — Crystal Tse, Bloomberg
Venture Capital Deals
• CRED, an Indian bill payment and rewards platform, raised $215 million in Series B funding at a $2.2 billion post-money valuation. Falcon Edge Capital and insider Coatue co-led, and were joined by Insight Partners and return backers DST Global, RTP Global, Tiger Global, Greenoaks Capital, Dragoneer Investment Group and Sofina. http://axios.link/rdK
🚑 Inscripta, a Boulder, Colo.-based genome engineering company, raised $150 million in Series E funding co-led by Fidelity and T. Rowe Price. http://axios.link/PAcz
• SendBird, an in-app chat, voice and video company, raised $100 million in Series C funding. Steadfast Ventures led, and was joined by Emergence Capital, Softbank Vision Fund 2, World Innovation Lab and insiders Iconiq Growth, Tiger Global and Meritech Capital Partners. www.sendbird.com
• MPB, a U.K.-based online marketplace for used camera equipment, raised £49.8 million in Series D funding. Vitruvian Partners led, and was joined by insiders Acton Capital, and Mobeus Equity Partners, Beringea and FJ Labs. http://axios.link/J4mh
• Cora, a Brazilian digital lender to SMBs, raised $26.7 million in Series A funding. Ribbit Capital led, and was joined by Kaszek Ventures, QED Investors and Greenoaks Capital. http://axios.link/t5G1
• Prosimo, a Santa Clara, Calif.-based app experience infrastructure startup, raised $25 million in seed and Series A funding co-led by General Catalyst and WRVI Capital. www.prosimo.io
• Upsolver, a no-code data lake engineering platform, raised $25 million in Series B funding. Scale Venture Partners led, and was joined by insiders JVP, Vertex Ventures US and Wing VC. www.upsolver.com
⛽ Syzygy Plasmonics, a Houston-based developer of photocatalyst for industrial energy industries, raised $23 million in Series B funding. Horizons Ventures led, and was joined by Equinor Ventures and insiders The Engine, Evok Innovations and the GOOSE Society of Texas. www.plasmonics.tech
• Glints, a Singapore-based career platform, raised $22.5 million in Series C funding. Japanese HR management firm PERSOL led, and was joined by Monk's Hill Ventures, Fresco Capital, Mindworks Ventures and Wavemaker Partners. http://axios.link/2Grd
• Windfall Data, a San Francisco-based wealth intelligence platform, raised $21 million in Series A funding. En Pointe led, and was joined by EPIQ Capital Group and insiders investors Bonfire Ventures, Bullpen Capital, Cherubic Ventures and ValueStream Ventures. www.windfalldata.com
🍸 Bartesian, a Chicago-based maker of premium cocktails, raised $20 million in Series A funding. Cleveland Avenue led, and was joined by Stanley Ventures. www.bartesian.com
• Empathy, a digital assistant for family bereavement, raised $13 million in seed funding led by General Catalyst and Aleph. http://axios.link/oq43
• Rapid Robotics, a San Francisco-based industrial robotics startup, raised $12 million in Series A funding. NEA led, and was joined by insiders Greycroft, Bee Partners and 468 Capital. www.rapidrobotics.com
• Bob W, a Finnish short-term hospitality company, raised €10 million in seed funding. Founders VC and Tesi co-led, and were joined by Kaamos, Superangel, United Angels and NREP. http://axios.link/eb7G
🚑 New Equilibrium, a Cambridge, Mass.-based developer of drugs that regulate intrinsically disordered proteins, raised $10 million in seed funding from RA Capital Management. www.newequlibriumbio.com
🎧 Casted, a podcast platform for B2B marketers, raised $7 million in Series A funding. Revolution Ventures led, and was joined by insiders High Alpha Capital, Elevate Ventures and Tappan Hill Ventures. http://axios.link/nh0l
• Charles, a Berlin-based commerce platform for WhatsApp, raised €6.4 million in seed funding co-led by Accel and HV Capital. http://axios.link/DvIs
• InfuseAI, a Taiwan-based machine learning ops startup, raised $4.3 million in Series A funding. Wistron Corp. led, and was joined by Hive Ventures, Top Taiwan Venture Capital Group and Silicon Valley Taiwan Investments. http://axios.link/pSUZ
• SafeSend, an Ann Arbor, Mich.-based provider of e-sign and workflow automation software for CPAs and tax preparers, raised an undisclosed amount of funding from Lead Edge Capital. www.safesend.com
Private Equity Deals
• Ardian agreed to invest in Deli Home, a Dutch made-to-measure manufacturer of wood-based home improvement products like doors and flooring. www.deli-home.com
• CeriFi, an Alpharetta, Ga.-based portfolio company of Leeds Equity Partners, acquired CPMI, a West Des Moines, Iowa-based provider of insurance pre-licensing and continuing education courses. www.cerefi.com
• Collected Group Co., a Vernon, Calif.-based women's fashion firm owned by KKR, filed for Chapter 11 bankruptcy protection. http://axios.link/LpP8
• FFL Partners made a $100 million growth equity investment in Velocity Global, a Denver-based provider of global expansion solutions. Some of the proceeds will be used to acquire San Francisco-based iWorkGlobal. www.velocityglobal.com
• H.I.G. Capital invested in Hopkins, Minn.-based consulting and digital transformation firm Concord USA, which used some of the proceeds to acquire Minneapolis-based healthcare consultancy Upton Hill. www.concordusa.com
🍕 Kelso & Co. acquired Ferraro Foods, a Piscataway, N.J.-based foodservice distributor to Italian restaurants and pizzerias, from Kainos Capital. www.ferrarofoods.com
• Mill Rock Capital and Intermediate Capital Group acquired TESG, a New York-based recruitment firm. www.execu-search.com
• OneStream, a Rochester, Mich.-based corporate performance management software company majority-owned by KKR, raised $200 million at a $6 billion valuation. D1 Capital Partners led, and was joined by Tiger Global and Investment Group of Santa Barbara. http://axios.link/TLmv
• OpenGate Capital acquired Kongsberg, a Norwegian maker of digital cutting systems.
• Right Time, a Canadian HVAC contractor owned by Gryphon Investors, acquired Edmonton-based Romaniuk Heating and Air Conditioning. www.right-time.ca
• SK Capital Partners acquired Ipackchem, a Paris-based maker of plastic barrier packaging for the crop protection and specialty chemicals markets. www.ipackchem.com
• SoftBank agreed to pay $2.8 billion for a 40% stake in Norwegian warehouse robotics firm AutoStore. Sellers are AutoStore majority shareholder Thomas H. Lee Partners, plus EQT. http://axios.link/uFU2
• Unnox Group, a Madrid-based portfolio company of Sherpa Capital, acquired HTM, a Spanish developer of masterbatches for the plastics processing industry. www.unnoxgroup.com
• Vista Equity Partners completed its $22.50 per share take-private buyout of Pluralsight, a Utah-based provider of workforce development software. www.pluralsight.com
Public Offerings
🚑 Reneo Pharma, a San Diego-based biotech focused on genetic mitochondrial diseases, set IPO terms to 6.3 million shares at $15-$17. The pre-revenue company would have a full diluted value of $425 million, were it to price in the middle, plans to list on the Nasdaq (RPHM) and raised $145 million from NEA (22.8% pre-IPO stake), Novo Ventures (15.3%), RiverVest Venture Partners (12.2%), Lundbeckfonden Ventures (9.4%), Abingworth (9.2%), Rock Springs Capital, Aisling Capital, Amzak Health and Pappas Capital. http://axios.link/7HXO
🚑 VectivBio, a Swiss biotech focused on short bowel syndrome, set IPO terms to 7.5 million shares at $16-$18. It would have a fully diluted value of $634 million, were it to price in the middle, plans to list on the Nasdaq and raised $145 million from OrbiMed (16.3% pre-IPO stake), Versant Ventures (16.2%), Novo Holdings (10.6%), Cowen Healthcare (9.1%), Bpifrance (8.5%), Surveyor Capital, Cormorant Capital, Tekla Healthcare Investors and Eventide Asset Management. http://axios.link/VCVP
SPAC Stuff
• Topps, a maker of baseball cards and chalky chewing gum, agreed to go public at an implied $1.3 billion valuation via Mudrick Capital Acquisition Corp. II (Nasdaq: MUDS), a SPAC formed by distressed debt investor Jason Mudrick. http://axios.link/BfKk
• Enjoy Technology, a Palo Alto-based provider of on-demand mobile stores, reportedly is in talks to go public at around a $1.6 billion valuation via Marquee Raine Acquisition, a TMT-focused SPAC formed by The Raine Group and Chicago Cubs owner Tom Ricketts. Enjoy has raised over $370 million from firms like Kleiner Perkins, Oak Investment Partners, Highland Capital Partners and LCH Partners. http://axios.link/ol3O
• EG Acquisition, a SPAC formed by EnTrust Global and GMF Capital, filed for a $250 million IPO. http://axios.link/6tFy
• Lamar Partnering, a SPAC formed by Lamar Advertising Co., filed for a $300 million IPO. http://axios.link/VvNf
Liquidity Events
• Cerberus Capital Management completed its $380 million sale of Sparton Corp., a De Leon Springs, Fla.-based defense supplier, to Elbit Systems of America. www.sparton.com
• DraftKings (Nasdaq: DKNG) acquired BlueRibbon, an Israeli jackpot and gamification company that had been seeded by Velo Partners, Atooro Fund and Oryzn Capital. http://axios.link/R7lg
More M&A
• Cleanway Waste Management (ASX: CWY) agreed to buy the Australian recycling business of France's Suez (Paris: SEV) for A$2.52 billion. http://axios.link/QWrP
🚑 Invitae (NYSE: NVTA), a San Francisco-based medical genetics company, secured a $1.15 billion convertible note investment led by SoftBank. It also agreed to buy Genosity, an Iselin, N.J.-based lab sequencing company, for $200 million in cash and stock. http://axios.link/ZLG5
• ViacomCBS (Nasdaq: VIAC) agreed to buy Chilevisión from WarnerMedia, a unit of AT&T (NYSE: T). http://axios.link/3mDe
Fundraising
• KKR raised $15 billion for its fourth Asia fund, which is the largest Asia-focused buyout fund ever raised. http://axios.link/BCBU
• Algebra Ventures, an Egyptian VC firm, raised $90 million for its second fund. http://axios.link/Hh0e
• Boro Capital of New York is raising $20 million for its second seed-stage fund, per an SEC filing. www.borocapital.com
• D.E. Shaw raised $1 billion for its fifth private credit fund, focused on special situations. www.deshaw.com
• VoLo Earth Ventures, a Colorado-based firm focused on climate tech, is raising $100 million for its debut fund, per an SEC filing. www.voloearth.com
It's Personnel
• Tracy Keogh joined Great Hill Partners as chief people officer. She previously was with HP. www.greathillpartners.com
• James Rothstein joined Lee Equity Partners as an operating partner. He previously led the global security and fire business at Wesco/Anixter. www.leeequity.com
• Tim Percarpio (ex- Contrarian Capital) joined MidOcean Partners as a managing director and head of investor relations. MidOean also hired Leslie Tanca (ex-Pinnacle Trust Partners) as a vice president of IR. www.midoceanpartners.com
• Wrede Smith, a former DOJ antitrust attorney, joined McGuire Woods as an antitrust partner. www.mcguirewoods.com
• Chris Sondej was promoted to vice president at Norwest Venture Partners. www.nvp.com
Final Numbers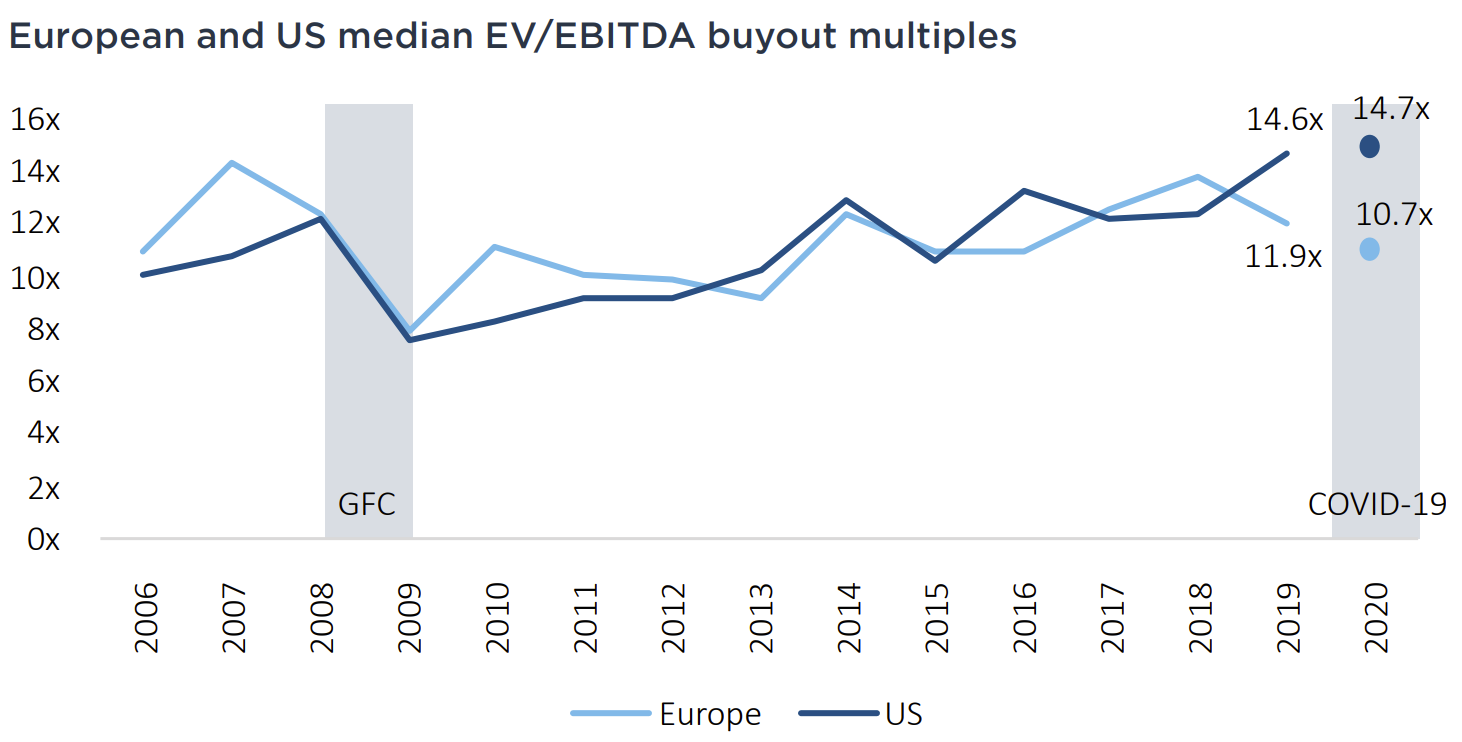 Buyout multiples for European and U.S. companies saw significant bifurcation in 2020. More from PitchBook:
"The four-turn gap between median European and US prices has never been wider and can be partly explained through Europe's poor public equity performance, considerably lower fiscal-monetary stimuli, mediocre handling of the COVID-19 pandemic, a weakening US dollar, and a steeper flight to pandemic-proof assets in the U.S."
🙏 Thanks for reading Axios Pro Rata! Please ask your friends, colleagues and robot helpers to sign up.