Axios Pro Rata
December 22, 2021
Welcome to the last edition of 2021, for which the Tl;dr has been up and to the right. We'll kick off with a few thoughts about what's to come, and include some of your predictions in the subsequent sections.
But first, some news: Our upcoming Axios Pro newsletter on media deals will be co-authored by Kerry Flynn, who's joining us from CNN. Please be sure to follow Kerry on Twitter, and join the waitlist for Axios Pro by going here.
Top of the Morning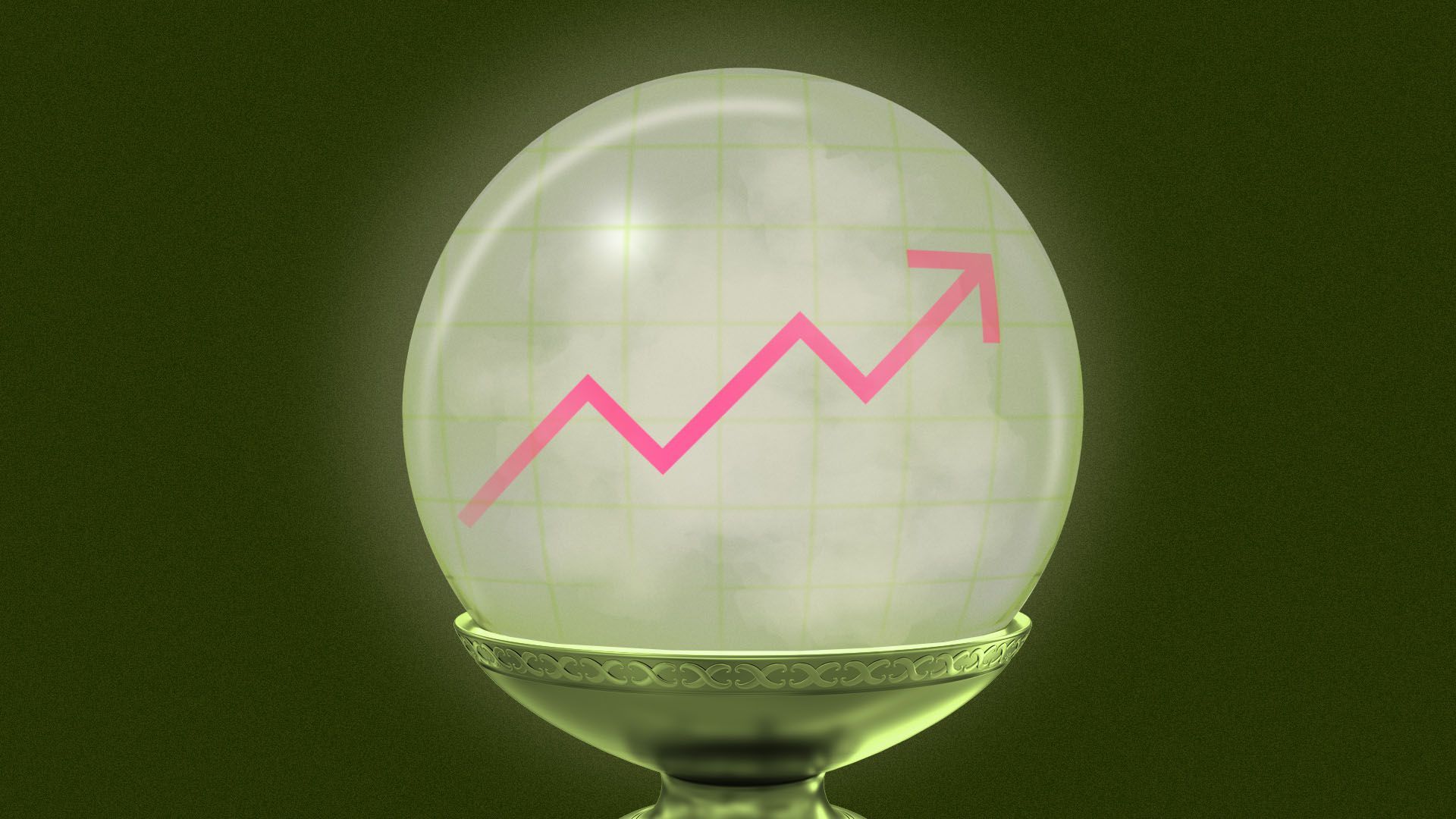 A few quick thoughts on what to watch in 2022:
The crypto divide: Venture capitalists have long been among the crypto world's loudest evangelists, but lately they've gotten pushback from some big-name HODLers like Jack Dorsey. In short, the dispute is all about prospective control of Web3, by virtue of investment, in the context of decentralization.
It's hard to overstate the preciousness of crypto purists here, given that the industry's popularity to date has largely been driven more by financial speculation than pragmatic problem-solving. Expect crypto-focused VCs to ignore the noise, and their numbers to proliferate.
The verdict: Jurors in U.S. vs. Elizabeth Holmes are now through two days of deliberations, and are expected to resume tomorrow. Hard to imagine this dragging into Christmas.
As journalist Adam Lashinsky smartly notes, their decision may come down to whether they pay more attention to the trial transcript (as the facts support conviction) or their memories of what was said (as the defense was emotionally compelling).
No matter the verdict, it won't impact whether or not future entrepreneurs take "fake it 'til you make it" liberties. But it will spark countless thought pieces on Silicon Valley, media complicity/criticism, women founders and due diligence.
SPAC attack: I've spent much of 2021 bemoaning how the SEC is waiting until April 2022 to propose new rules governing SPACs, including the inconsistency of what SPAC targets and IPO issuers are allowed to project without liability. Well, April is now just around the corner.
Don't be surprised if the Trump SPAC investigation prompts some unexpected proposals, including around better ensuring that SPAC sponsors don't talk with potential targets pre-IPO.
PE party: I'm hearing some private equity concerns about rising interest rates, in terms of leveraged financing, but am hearing more about how rate hikes could reverse (or at least slow) equity price inflation.
In short, PE will always find a reason to buy. And "cheaper" assets will be hard for many to pass up, particularly given the massive amounts of dry powder for funds raised over the past 12-24 months.
The BFD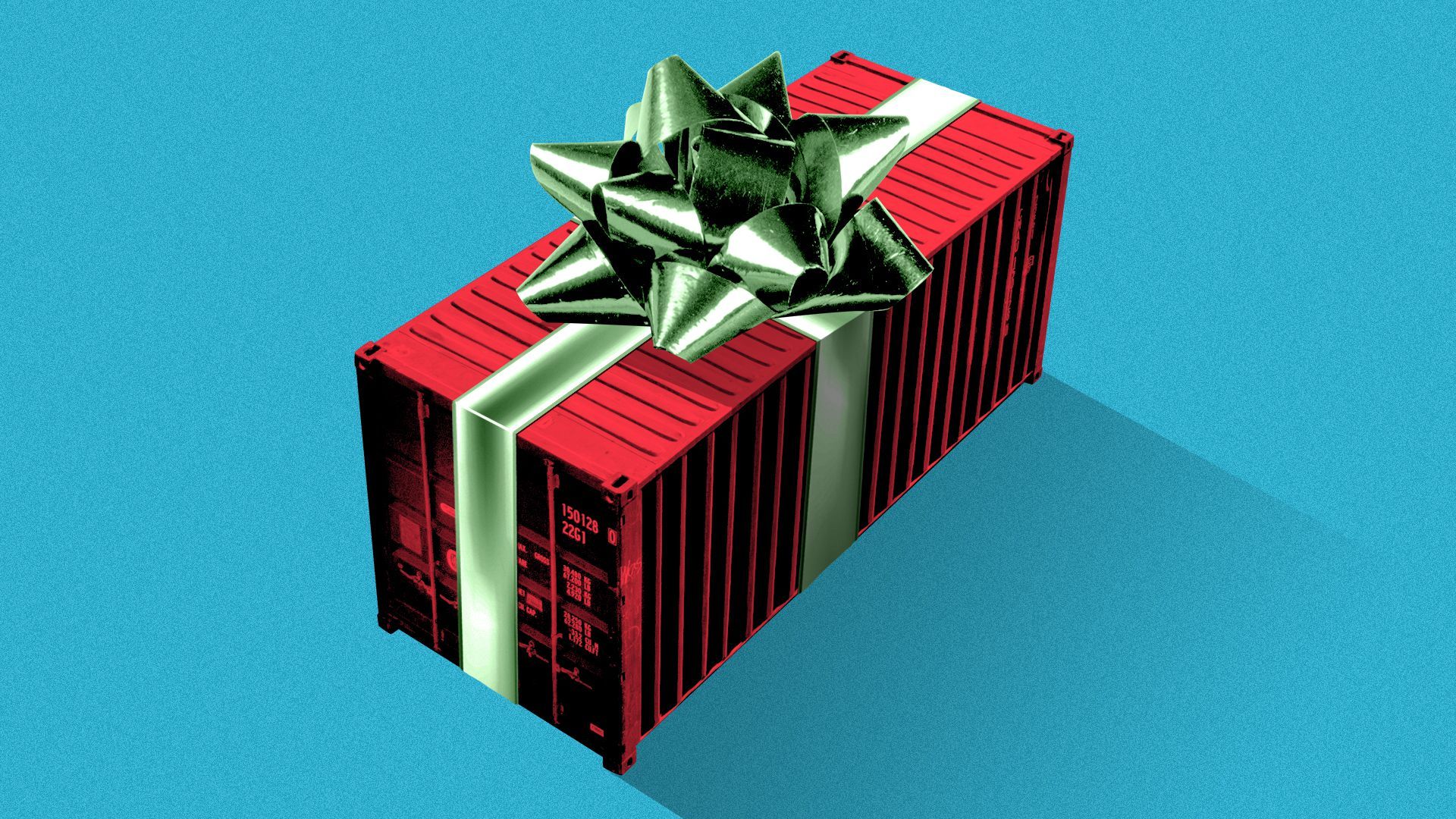 A.P. Moller-Maersk, the world's largest container shipper by volume, agreed to buy pan-Asian warehouse operator LF Logistics for around $3.6 billion in cash. The sellers are Hong Kong-based logistics firm Li & Fung and Singapore sovereign wealth fund Temasek.
Why it's the BFD: This reflects not only how Maersk has reaped billions in profit from the global supply chain crisis, but also how it's using some of that surplus to bulk up on landbound logistics for when shipping fees ease.
By the numbers: LF Logistics has more than 220 warehouses in 14 Asian countries, with around 10,000 employees. Its freight forwarding business is not included in the sale.
The bottom line: "Maersk has around 70,000 ocean customers that include U.S. retail chains, car makers, furniture suppliers, electronics makers and clothing importers. But less than a quarter of those customers use the company to move their goods from ports to warehouses and distribution centers." — Ben Dummett & Costa Paris, WSJ
Venture Capital Deals
"We'll see founders/operators become the main source capital for early-stage startups." — Will Manidis, CEO of ScienceIO
"Dozens (and dozens) of African continent unicorns, and they won't only be in fintech." — Raaid Ahmad
• Ampla Technologies, a New York-based provider of financing to consumer-facing SMEs, raised $40 million in Series A funding. VMG Partners and Forerunner Ventures co-led, and were joined by insiders Core Innovation Capital. http://axios.link/yOd9
🚑 TandemAI, a Chinese drug discovery tech startup, raised $25 million in seed funding co-led by OrbiMed and Chengwei Capital. www.tandemai.com
• Carats & Cake, a New York-based marketing and POS financing solutions for venues, raised $19.3 million. Acrew Capital and Founders Fund co-led, and were joined by 1Sharpe Ventures, Moore Specialty Credit, Correlation Ventures, GMO VenturePartners and Socially Financed. www.caratsandcake.com
🚑 X-Therma, a Richmond, Calif.-based regenerative medicine and organ preservation startup, raised $13 million in Series A funding. LOREA AG led, and was joined by Zen11 Holdings, Graphene Ventures, VU Venture Partners, 2b AHEAD Ventures, Methuselah Foundation and Catalytic Impact Foundation. www.x-therma.com
• Project Admission, a Nashville-based ticketing tech startup, raised $9 million in seed funding. Anthemis Group led, and was joined by Flyover Capital. www.projectadmission.com
• Cogsy, a London-based supply chain management platform for e-commerce, raised $6 million in seed funding. Accel led, and was joined by Bain Capital Ventures, WooCommerce, Sugar Capital and RiverPark Ventures. www.cogsy.com
• Dealroom, a European startup and VC data platform, raised €6 million in Series A funding. Beringea led, and was joined by Knight VC and Shoe Investments. http://axios.link/dLs
• MicroAcquire, an M&A marketplace for small profitable internet businesses, raised an additional $5 million at an $80 million valuation from firms like Shrug Capital. http://axios.link/kINQ
• Mperativ, an SF-based revenue marketing platform, raised $5 million in Series A funding. GFT Ventures led, and was joined by Heroic Ventures and Westwave Capital. www.mperativ.io
🚑 Kiira Health, an LA-based telehealth platform for women, raised $4 million in seed funding co-led by 500 Global and Forum VC. www.kiira.io
• Bounce, a luggage storage startup, raised $2 million in seed funding led by General Catalyst. www.usebounce.com
• Micro Services, an open-source public cloud platform, raised $2 million in seed funding led by Blossom Capital. www.m3o.com
Private Equity Deals
"Valuations will not go down for high growth private companies despite interest rates rising; capital will continue to chase tech-enabled innovation and growth." — Brad Bernstein, FTV Capital
• Align Capital Partners invested in We Are Rosie, an Atlanta-based advertising and marketing talent marketplace. www.wearerosie.com
• Carlyle struck out on its efforts to buy Australian shareholder registry Link Administration (ASX: LNK), which instead accepted a C$3.2 billion offer from Canada's Dye & Durham (TSX: DND). http://axios.link/BRR
🚑 CVC Capital Partners will take a co-control stake in FutureLife, a Czech provider of IVF and related genetics services, alongside existing backer Hartenberg. www.futurelife.cz
⚡ Global Infrastructure Partners agreed to buy a 25% stake in Scotia Gas Networks, operator of two U.K. gas distribution networks, from OMERS Infrastructure. www.sgn.co.uk
• PAI Partners agreed to buy a majority stake in Uvesco, a food retailer in Northern Spain.
• Sycamore Partners acquired Digital Room, a Sherman Oaks, Calif.-based e-commerce company focused on marketing products to SMBs, from H.I.G. Capital. www.digitalroominc.com
Public Offerings
• Via, an on-demand shuttle service, said it filed a confidential IPO registration. The company has raised around $775 million in VC funding, most recently at a $3.3 billion valuation, from firms like 83North, Hearst Ventures, Exor, Janus Henderson, Koch Disruptive Technologies, BlackRock, Ion Management, Porsche Ventures, Daimler, Fraser McCombs Capital and Robert Bosch VC. http://axios.link/qtz1
SPAC Stuff
• Gorilla, a Taiwan-based edge AI tech developer, agreed to go public at an implied $708 million valuation via Global SPAC Partners (Nasdaq: GLSPU). www.gorilla-technology.com
• AdMY Technology Group, the fifth SPAC formed by Niccolo de Masi and Harry You, withdrew registration for its $250 million IPO. http://axios.link/vBSF
🚀 Deep Space Acquisition I, a space SPAC led by Jose Ocasio-Christina (Caelus Partners), filed for a $210 million IPO. http://axios.link/aMl0
• Counter Press Acquisition, a sports and media SPAC led by Randy Frankel (part owner of Tampa Bay Rays) and Paul Conway (Pacific Media Group), filed for a $75 million IPO. http://axios.link/r0yG
• Gores Group is forming its ninth and 10th SPACs, targeting respective IPOs of $525 million and $725 million.
• RF Acquisition, a Southeast Asian SPAC led by Tse Ng (Ruifeng Wealth Management), filed for a $100 million IPO. http://axios.link/0orc
Liquidity Events
"2022 will be the year of messy recaps and acquihires of the increasing number of startup flameouts that emerge as their significant cash burn in pursuit of product-market fit stamps their own death sentence." — Jonathan Lehr, co-founder of Work-Bench
🚑 Novartis (NYSE: NVS) agreed to buy Gyroscope, a British developer of therapies for a condition that causes blindness, for up to $1.5 billion (including $800m upfront). Gyroscope had raised over $300 million from firms like Syncona, Sanofi, Forbion, Fosun Pharma, Cambridge Innovation Capital, Sofinnova and Tetragon. http://axios.link/514u
• Skillsoft (NYSE:SKIL) agreed to acquire Codecademy, a New York-based coding school, for $525 million in cash and stock. Codecademy had raised over $80 million in VC funding from Owl Ventures, USV, Prosus Ventures, Bloomberg Beta, Flybridge Capital Partners, Index Ventures and Richard Branson. www.codecademy.com
More M&A
"2022 will be all about new collaborations between early stage technology companies and global corporations providing proof points of significant new market development and opportunities for climate change mitigation moving forward." — Katie Rae, managing partner of The Engine
"Peloton, after losing >70% of its market cap in 2021, will merge with Live Nation, reinforcing the natural connection between music and fitness while helping the entertainment conglomerate hedge against potential COVID-related cancellations with the ultimate stay-at-home play." — Michael Proman, Scrum Ventures
⚡ Aker (Oslo: AKER) will pay $10 billion to buy the oil and gas unit of Lundin Energy (Stockholm: LUNE). http://axios.link/0gtZ
🚑 Becton Dickinson (NYSE: BDX) agreed to buy Scanwell Health, an LA-based maker of smartphone-enabled at-home medical tests. http://axios.link/upj0
• Cargill agreed to buy the bio-based industrial chemicals unit of Croda International (LSE: CRDA) for €915 million. http://axios.link/uAn1
• Seachange International (Nasdaq: SEAC) agreed to buy LA-based short video app Triller, in a deal that would value the combined company at around $5 billion. Seachange's current market cap is below $100 million, while Triller backers include co-founder Ryan Kavanaugh. http://axios.link/tEom
Fundraising
"VC fund formation will subside and not exceed $100 billion." — Jeff Grabow, U.S. VC leader at Ernst & Young
"LPs have poured tens of billions into dedicated crypto funds. In 2022 it will explode, with at least $50B in investment dollars going to companies focused on decentralized platforms and ecosystems." — Harshul Sanghi, Global Head of Amex Ventures
• Array Ventures, an enterprise tech VC firm led by Shruti Gandhi, raised $56 million for its second fund. http://axios.link/pSdv
• Autotech Ventures secured $111 million for its $175 million-targeted third fund, per an SEC filing. www.autotechvc.com
• Base10 Partners, an SF-based VC firm, is raising up to $400 million for its third fund, per an SEC filing. www.base10.vc
• Brick & Mortar Ventures of SF is raising up to $150 million for its second fund, per an SEC filing. www.brickmortar.vc
🚑 Korify, the international VC arm of Swiss family office Infinitas Capital, is raising $100 million for a VC fund focused on mental health and longevity startups. http://axios.link/prbz
• Saw Mill Capital, a Briarcliff Manor, N.Y.-based PE firm, is raising its third fund, per an SEC filing. www.sawmillcapital.com
It's Personnel
"In 2022, the labor market will be even tighter... The roles of HR and recruiting, which in the past have been cost centers, will become strategic as a function of the strained labor market. Any companies that have held off on hiring an HR person or team might pay the price." — Mark Woods, Cathay Capital
• David Marchick, a former Carlyle executive, stepped down as COO of the U.S. Development Finance Corp., which he joined at the beginning of the Biden-Harris administration.
Final Prediction
"Season 4 of Succession will feature a huckster VC character. NFTs will inevitably be involved." — Chase Roberts, Vertex Ventures
🙏 Thanks for reading Axios Pro Rata this year! Please ask your friends, colleagues and holiday revelers to sign up.