January 29, 2020
Bleary-eyed greetings from Pasadena, where today I'll be interviewing venture capitalist Keith Rabois at The Rose Bowl, as part of the annual Upfront Summit. Hope to see a bunch of you there...
Top of the Morning
2020 appears to be the year that Corporate America is serious about addressing climate change, but it remains unclear if venture capitalists plan to join the fight.
Many VCs still have painful scars from the mid-to-late aughts, when they lost billions on investments in "cleantech" companies.
Those deals were largely based on a presumption that federal climate policy, if not also dollars, would move swiftly and strongly in a favorable direction. But that didn't really happen, and VCs became saddled with manufacturing-intensive businesses that they didn't really know how to properly manage.
To be sure, much has changed over the past decade. Renewable energy has become more price viable, there's a much more comprehensive capital stack, and there's a wider supply of interested institutional capital (as opposed to before, when it was mostly fueled by a pair of large California pension plans).
But I'm still not hearing much interest, outside of the few remaining survivors from the last go-around. And that's a big stumbling block, because fundamental climate solutions like carbon capture will rely on the very sorts of commercialized innovations that venture capital is charged with enabling.
And, for existing technologies that require greater deployment, both growth equity and private equity have key roles to play.
The bottom line is that if Corporate America is really serious, beyond PR-laden lip service, then it must work to convince venture that it will be the change agent — particularly as a customer throughout the supply chain — that the federal government failed to be. It can be done, but it will take more than press releases out of Davos.
• Going up: Last week we discussed the bidding war for Thyssenkrupp's elevators unit, arguing that a private equity win would confirm that German sentiment has softened on the onetime "locusts."
Maybe we needn't wait for a winner. Finnish strategic Kone reportedly has made the highest bid so far, at a whopping €17 billion, but the head of a German labor union says "offer size alone is not enough." Apparently believing that a sale to private equity could save more member jobs.
• Breaking: The WSJ reports that Victoria's Secret could be on the block. Word is that private equity has been kicking the tires pretty hard.
🎧 Pro Rata Podcast digs into revelations that antivirus software company Avast has been selling the Internet browsing histories of its hundreds of millions of users. Listen here.
The BFD
Penn Gaming (Nasdaq: PENN) agreed to buy an initial 36% stake in sports media company Barstool Sports for $163 million in cash and stock. It also will increase its position to 50% in three years for another $62 million, with an option to buy a control stake for a price that would be determined at that time.
Why it's the BFD: This represents a stunning return for The Chernin Group, who some felt overpaid when it bought a majority stake in Barstool four years ago at an enterprise value of between $10 million and $15 million. At the time, Barstool was known as little more than an occasionally-misogynistic, regional sports blog. Chernin, which retains a 36% stake in the deal's initial phase, later upped its stake to 60% by investing at a $100 million valuation.
Bottom line: Barstool would have been a tough cultural fit within most media groups, but could work well with Penn Gaming, which will use to it expand its legal sports betting business.
Venture Capital Deals
• Miovision, a Canadian smart traffic platform, raised C$120 million. TELUS Ventures led, and was joined by McRock Capital. http://axios.link/L28s
• Securiti.ai, a San Jose, Calif.-based provider of cybersecurity and compliance automation tools, raised $50 million in Series B funding. General Catalyst led, and was joined by Mayfield. http://axios.link/hpWc
• Sendy, a Kenyan on-demand delivery platform, raised $20 million in Series B funding. Atlantica Ventures led, and was joined by Toyota Tsusho Corp. http://axios.link/DGT6
• Advano, a New Orleans-based developer of solutions for improving rechargeable battery life, raised $18.5 million in Series A funding. SBI Material Innovation Fund, Future Shape, and PeopleFund co-led, and were joined by Thiel Capital, DCVC, and YC. http://axios.link/fCGc
• Bond, a New York-based maker of electric tricycles for last-mile delivery, raised $15 million from Lightspeed Venture Partners, MizMaa Ventures, and TLV Partners. http://axios.link/FzQV
🐝 Roambee, a Santa Clara, Calif.-based on-demand shipment monitoring platform, raised $15.2 million in new Series B funding co-led by Anchor Group and Comccraft. http://axios.link/gEcM
• Pecan, an Israeli deep learning predictive analytics platform, raised $15 million co-led by Dell Technologies Capital and S Capital. http://axios.link/ibd5
• P2 Science, a Woodbridge, Conn.-based renewable chemistry startup, raised $12 million in Series C funding. HG Ventures and Chanel were joined by return backers Xeraya Capital, BASF VC, Elm Street Ventures, Connecticut Innovations, and Ironwood Capital Connecticut. www.p2science.com
• Nuweba, an Israeli serverless tech startup, raised $10.2 million in seed funding. Blumberg Capital led, and was joined by Magma Partners and Target Global. www.nuweba.com
• Aumni, a Salt Lake City-based robotic process automation and data analytics SaaS for private capital investors, raised $10 million in Series A funding. SVB led, and was joined by Kickstart Seed Fund, Blackhorn Ventures, Prelude, Service Provider Capital, Moneta Ventures, Next Frontier Capital, and Quiet Ventures. http://axios.link/sjil
• Yumpingo, a London-based restaurant intelligence platform, raised $10 million in Series A funding from Smedvig Capital. http://axios.link/IbVE
• Lynq, a Brooklyn-based developer of P2P location tracking tech, raised $6 million in new seed funding from ff Venture Capital, Sony Innovation Fund, Chetrit Ventures, and Plus Eight Equity Partners. http://axios.link/ws2U
• Knox Financial, a Boston-based home ownership investment platform, raised $3 million in seed funding. Greycroft led, and was joined by Pillar VC. http://axios.link/CuYW
• Open Phone, an app for adding a second phone number to a device, raised $2 million led by Slow Ventures. http://axios.link/5lhV
Private Equity Deals
⛽ BlackRock, Global Infrastructure Partners, and KKR are among thoe considering bids for a stake in natural gas pipelines being sold by Abu Dhabi National Oil Co. (Adnoc), which could value the business at $15 billion, per Bloomberg.
🚑 Hospice Care of South Carolina, a portfolio company of The Vistria Group, acquired South Carolina hospice chain Agapé. www.hospicecare.net
• Integrity Marketing Group, a Dallas-based portfolio company of Harvest Partners, acquired Agent Pipeline, a St. Albans, W.V.-based insurance marketing group. www.integritymarketinggroup.com
• Kian Capital Partners acquired and merged IT managed service providers ECS (Shreveport, La.) and My IT (New Orleans). www.myitsupport.com
• Platinum Equity is trying to convince CBS CEO Joe Ianniello to lead its takeover bid for Univision Communications, per the WSJ. http://axios.link/VQ4F
Public Offerings
• Calisen Group, a British smart meter maker owned by KKR, is seeking to raise upwards of £408 million in an upcoming London IPO. http://axios.link/kcwz
Liquidity Events
• The Carlyle Group hired JPMorgan to find a buyer for Twinset, an Italian fashion brand with around €45 million in annual revenue, per Reuters. http://axios.link/4elQ
More M&A
• Altice Europe (AS: ATCA) offered to buy Israel's Partner Communications, which has a market value of around $809 million. http://axios.link/yxPY
• Berkshire Hathaway agreed to sell its newspaper assets to Lee Enterprises (NYSE: LEE) for $140 million. http://axios.link/uCHF
🚁Leonardo (Milan: LDOF) agreed to buy Swiss helicopter maker Kopter Group from Lynwood for $185 million. http://axios.link/VYky
• Starwood Capital Group said it will offer to buy Australian Unity Fund (ASX: AOF) for A$485 million in cash. http://axios.link/erLk
• Vodafone (LSE: VOD) agreed to sell a 55% stake in its Egypt unit to Saudi Telecom for $2.4 billion. http://axios.link/pgnF
It's Personnel
• Brian Clapp joined Dell as a principal of corporate development, per his LinkedIn page. He previously was in corp dev at Roviant Sciences and, before that, was an investment banker at Goldman Sachs.
• Goldman Sachs promoted Anna Skoglund to head of EMEA financial sponsors, per Bloomberg. http://axios.link/x8m5
• Pedro Guimaraes joined Vestar Capital Partners as a senior advisor focused on the testing, inspection, and certification sector. He previously was a senior executive with Bureau Veritas. www.vestarcapital.com
• Joelle Khoury joined Fifth Wall as general counsel. She previously was with Saban Capital Group. www.fifthwall.com
• Monty Munford, a freelance tech journalist, joined Silicon Valley venture firm 7BC Venture Capital as a UK-based venture partner. http://axios.link/Ichj
• Shane Shook (cyber forensics professional) and Leo Casusol (ex-Cyxtera Technologies CIO) joined ForgePoint Capital as venture consultants, and the firm also promoted MJ Ramachandran to VP. www.forgepointcap.com
• Wind Point Partners promoted Joe Lawler to managing director. www.windpointpartners.com
Final Numbers: Private equity secondaries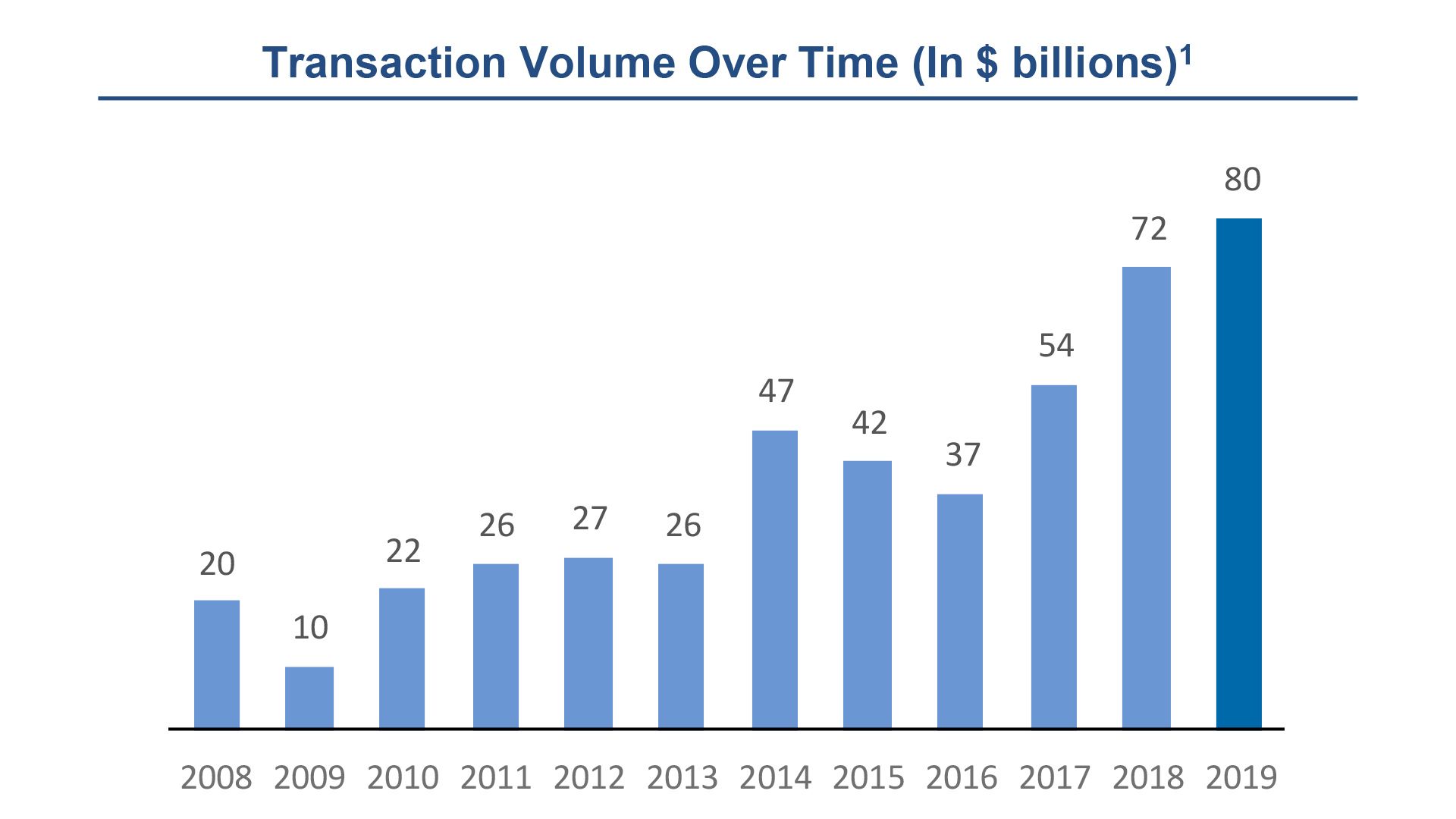 🙏 Thanks for reading Axios Pro Rata! Please ask your friends, colleagues, and cleantechies to sign up.