May 22, 2019
Top of the Morning
Lyft last Friday was hit with a class action lawsuit by investors in its IPO, who have seen the value of their shares fall precipitously.
Normally I ignore such cash grabs, as they reek of sour grapes.
But this one, with or without merit, highlights a reason why both Lyft and Uber have struggled since going public.
The plaintiffs argue that Lyft hid the ball in several respects:
Failure to disclose that its bike-share program was about to pull 1,000 electric vehicles in New York City over safety concerns. (Unclear that it's material, given that NYC is just one market and the e-bikes were replaced with pedal-bikes).
Failure to disclose an increase in surge pricing ahead of the IPO, thus allegedly disincentivizing drivers. (This flies in the face of Lyft's escalating price war with Uber and, even if true, it's not clear how it disincentivized drivers).
Possibility of labor disruptions. (Seriously? You didn't know this? Google much?)
Claiming a 39% market share for North American ride-hail, which the plaintiffs call impossible because Uber allegedly claimed a 65% share.
This last argument about market share discrepancy might just be the result of Uber filing its IPO papers several months after Lyft (i.e., numbers move over time), but it goes to a broader lack of granular transparency by both companies. For example, we don't know:
The exact number of rides by market, broadly or narrowly defined.
Per ride revenue, for either the company or the drivers.
Number or percentage of discounted rides.
Retailers provide same-store sale data, so that investors can better judge the delta between legacy and expansion, but Lyft and Uber don't do anything similar. And, when it comes to deeper unit economics, investors are largely left to their own devices, or to trusting amorphous statements about being contribution positive in unspecified large markets.
Again, none of this is to validate or invalidate the lawsuit. It's simply to say that it, in part, illustrates a core opacity that I'm told has made some investors stay away, particularly in light of "peak loss" promises.
A Lyft spokesman had no comment on the suit.
The bottom line: This is still relatively early days for both companies, and their public fortunes are nowhere near sealed. But when it comes to disclosure, they may need to speed up their maturity.
🎧 Pro Rata Podcast talks with presidential candidate Eric Swalwell about the power of big social media platforms, gun control, and the future of facial recognition technology. Listen here.
The BFD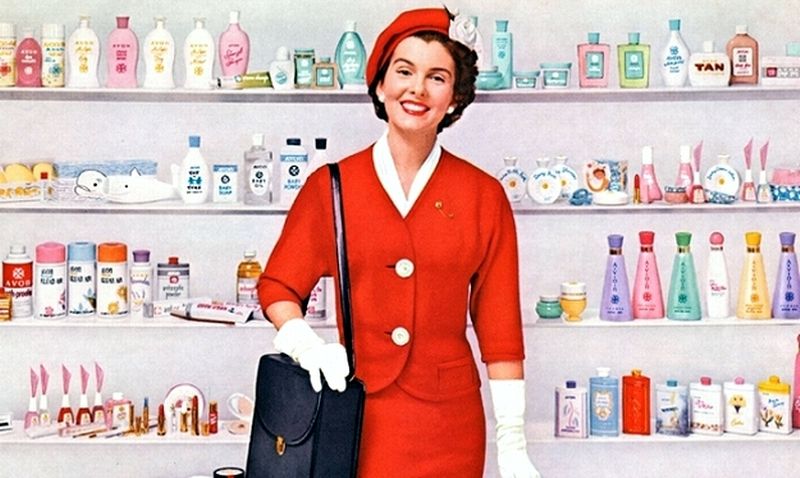 Natura Cosmeticos of Brazil has agreed to buy Avon Products (NYSE: AVP) in an all-stock deal that would value the cosmetics maker north of $2 billion, per The Financial Times. An announcement could come as early as today.
Why it's the BFD: Because another iconic American brand is moving into non-American hands.
Context: Avon announced plans earlier this year to cut 10% of its global workforce, and three years ago spun off its North American business to Cerberus Capital Management.
Bottom line: "Buying Avon would give Natura a bigger footprint in Brazil and elsewhere in Latin America, Europe and Asia. Given Natura's ownership of the Body Shop, it would also give Avon a new bricks-and-mortar distribution channel." — Cara Lombardo & Dana Cimilluca, WSJ
Venture Capital Deals
🚑 Locana, a San Diego-based RNA-targeting gene therapy startup, raised $55 million in Series A funding. Arch Venture Partners led, and was joined by UCB Ventures, GV and return backers Temasek and Lightstone Ventures. www.locanabio.com
• KaiOS, a San Diego-based mobile operating system, raised $50 million in Series B funding. Cathay Innovation led, and was joined by return backers Google and TCL Holdings. http://axios.link/ZUYX
🚑 Inhibrx, a La Jolla, Calif.-based developer of biologic immunotherapeutics, raised $40 million from Viking Global Investors. http://axios.link/m2II
• Modsy, a San Francisco-based interior design platform, raised $37 million in Series C funding. TCV led, and was joined by return backers Norwest Venture Partners, Advance Venture Partners and Comcast Ventures. http://axios.link/C90Z
• Aperia Technologies, a Burlingame, Calif.-based developer of commercial truck tire management solutions, raised $36 million in Series C-1 funding co-led by Blackhorn Ventures and Tenfore Holdings. www.aperiatech.com
🚑 Biofourmis, a digital therapeutics startup, raised $35 million in Series B funding. Sequoia India and MassMutual Ventures co-led, and were joined by EDBI, Jianke and return backers Openspace Ventures, Aviva Ventures and SGInnovate. http://axios.link/POpz
🚑 Natural Partners Fullscript, an Ottawa-based nutraceutical prescribing platform, raised US$25 million in Series B funding led by Kayne Partners. http://axios.link/4Tj7
• Sofar Sounds, a London-based promoter of musical concerts in private homes, raised $25 million co-led by Battery Ventures and Union Square Ventures. http://axios.link/CCPD
• AmazeVR, a Sunnyvale, Calif.-based platform for VR content creation and distributions, raised $7 million. Mirae Asset Group led, and was joined by LG Technology Ventures, Timewise Investment and Smilegate. http://axios.link/kVin
• Interplay Learnings, an Austin, Texas-based startup that uses VR simulations to train for skilled trades, raised $5.5 million in Series A funding. S3 Ventures led, and was joined Shasta Ventures, Sierra Ventures, Holt Ventures, Wild Basin Investments, and Shelter Capital Partners. http://axios.link/Y5lB
• Dahmakan, a Malaysian food delivery startup, raised $5 million from Partech Partners, UpHonest Capital, YC and Atami Capital. http://axios.link/QECc
Private Equity Deals
• Anbang Insurance Group of China has received numerous bids for a portfolio of 15 U.S. luxury hotels, including one bid of $5.8 billion, per the FT. Suitors include Brookfield Asset Management, Blackstone Group, Fortress Investment Group, GIC and Mirae Asset Management. http://axios.link/ISPe
• Ascensus, a Dresher, Penn.-based retirement planning and college savings company owned by Aquiline Capital Partners and Genstar Capital, agreed to buy Phoenix-based third party administrator Pension Strategies. www.ascensus.com
• Nuvei, a Plano, Texas-based fintech portfolio company of The Jordan Co., agreed to buy British payments company SafeCharge International (LSE AIM: SCH) for $889 million, or $5.55 per share (25% premium to yesterday's closing price). http://axios.link/Pu6X
• OpenGate Capital acquired SMAC, a French maker of waterproofing and building envelope solutions, from Colas Group (Paris:RE).
• PDFTron Systems, a Vancouver-based provider of document processing tools for software developers, raised US$71 million in private equity and debt financing from Silversmith Capital Partners and THL Credit. http://axios.link/iI4x
• The Riverside Company invested in Naturally Slim, a Dallas-based weigh management company. www.naturallyslim.com
🚑 Solabia Group, a French pharma company backed by TA Associates, acquired Algatech, an Israeli developer of ingredients derived from microalgae. www.algatech.com
Public Offerings
• Mulsanne, a Chinese menswear company, raised $112 million in a Hong Kong IPO after pricing below its indicative range (the first HK listing to do so since the exchange introduced pricing flexibility). http://axios.link/ClRl
• Trainline, a London-based train travel ticketing company owned by KKR, said it is considering a London IPO. http://axios.link/3GAM
More M&A
• aiBank, a startup digital bank launched by China CITIC Bank and Baidu, is seeking to raise upwards of $1 billion in a private funding round, per Bloomberg. http://axios.link/hOaN
🚑 Amgen (Nasdaq: AMGN) agreed to buy Nuevolution (Olso: NUE), a Copenhagen-based drug discovery company focused on cancer and inflammatory diseases, for around $167 million. http://axios.link/SqY7
⛽ CVR Energy (NYSE: CVI), a Texas-based refiner controlled by Carl Icahn, is exploring strategic options that could include a sale, per Reuters. The company has a market cap of around $4.75 billion. http://axios.link/Ml3N
• MetLife (NYSE: MET) is in talks to sell its Central European assets to Italy's Assicurazioni Generali (BIT: G) for more than €2 billion, per Bloomberg. http://axios.link/obuw
• Oriflame (Oslo: ORI), a Swedish cosmetics company, received a takeover offer from its founders at an enterprise value of around $1.3 billion. http://axios.link/48yk
• Pret A Manger, owned by Brazil's JAB, bought rival British sandwich and coffee shop chain EAT. http://axios.link/mQOR
• Wynn Resorts (Nasdaq: WYNN) said it has ended talks about selling its Boston-area casino and hotel – which hasn't opened yet – to MGM Resorts (NYSE: MGM). http://axios.link/Sxsq
Fundraising
• Horsley Bridge Partners is raising up to $1.6 billion for its thirteenth VC fund-of-funds, per an SEC filing. http://axios.link/UTik
It's Personnel
• Barrett Karr is stepping down as chief of staff to House Minority Leader Kevin McCarthy (R-CA), in order to join Silver Lake as head of government relations. http://axios.link/DN6w
• Yukon Partners, a Minneapolis-based private equity firm, said that CFO Corey Peters also will assume the position of COO. www.yukonpartners.com
Final Numbers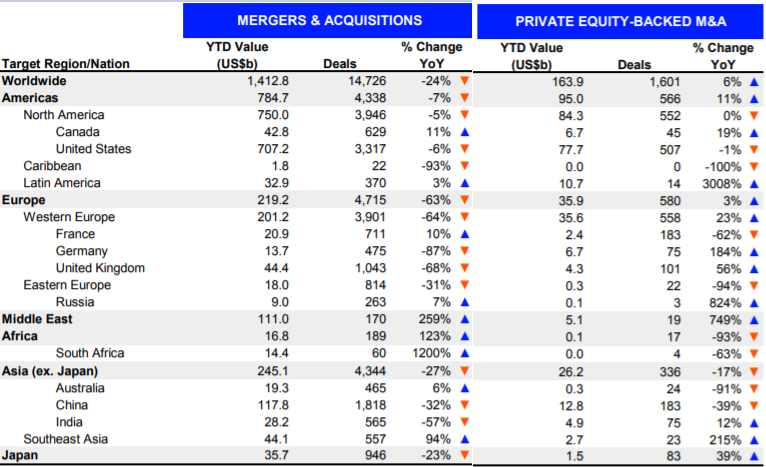 🙏 Thanks for reading Axios Pro Rata. Invite your friends and colleagues to sign up here.