Axios Pro Rata
February 13, 2019
⛄ Greetings from the snow-covered home office. Thanks for reading, and please remember to email me feedback or news tips (just hit reply, it goes directly to me). Or use my anonymous tip line: http://axios.com/tips. Here we go...
Top of the Morning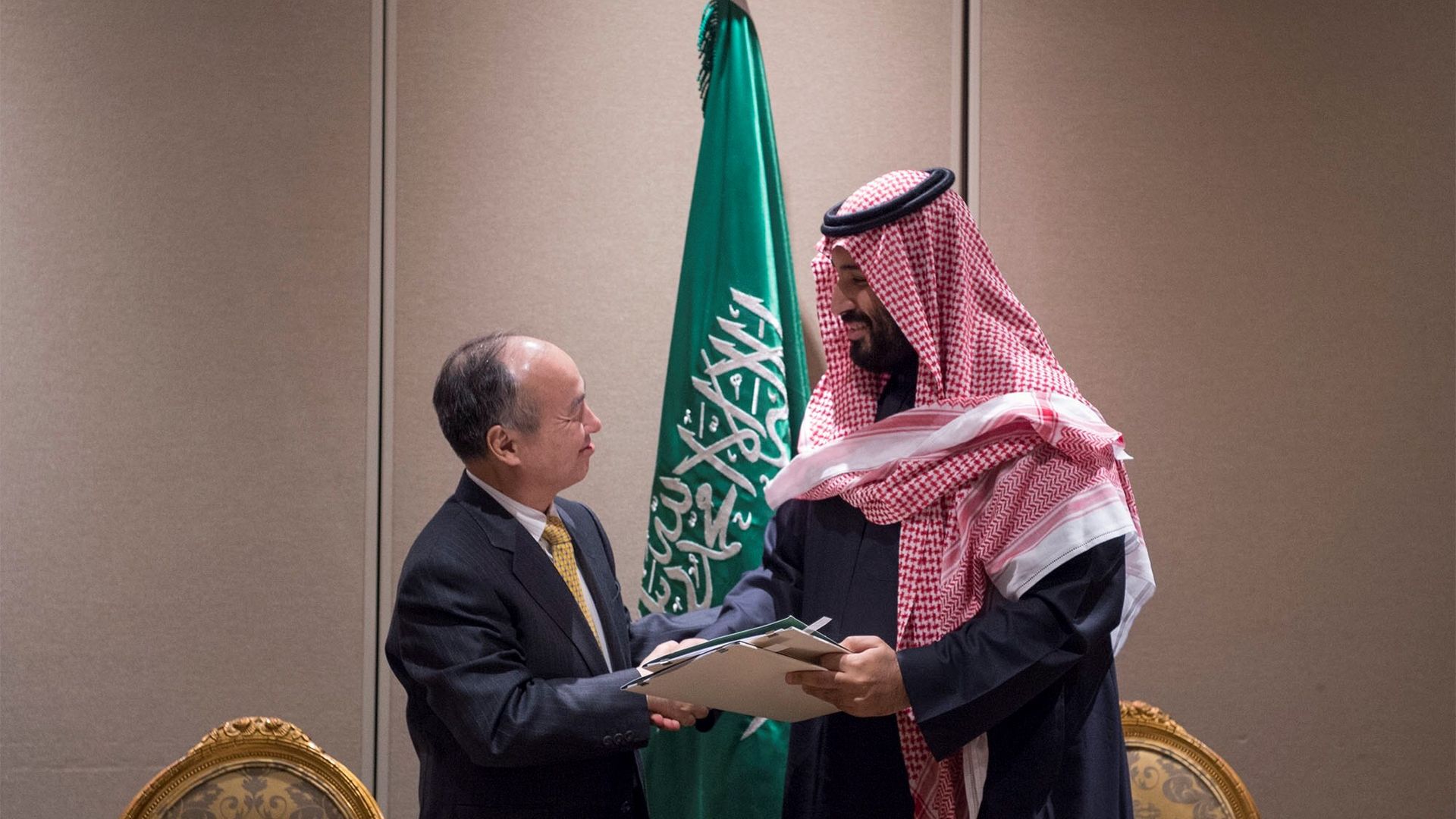 Let's call it: Neither SoftBank nor Saudi Arabia will face any significant U.S. investment losses over the murder of journalist Jamal Khashoggi.
Axios has learned from multiple sources that San Francisco-based freight logistics startup Flexport is in talks to raise around $500 million in a SoftBank-led deal. One source puts the pre-money price talk at around $3 billion, which could mean the final investment is smaller if either side becomes concerned about CFIUS approvals (which I'd think they would).
Last week, Silicon Valley-based robotic delivery vehicle-maker Nuro raised $940 million from SoftBank Vision Fund.
The Saudi sovereign wealth fund is now so confident that it's planning to open investment offices in U.S. cities like New York and San Francisco.
Just to make it crystal clear, Colony Capital CEO Tom Barrack yesterday joked about the murder from a conference stage in Dubai, arguing that U.S. concerns were a "misunderstanding" about the rule of law in Saudi Arabia. Unclear if Barrack realizes that Khashoggi was killed in Turkey.
🤖 Breaking big deal: Johnson & Johnson said it will buy Auris Health, a Silicon Valley-based robotic surgery platform, for $3.4 billion upfront in cash plus up to $2.35 billion in milestone payments. Typically in these situations, investors estimate that around 20% of the contingent payments will be realized.
Auris had raised over $830 million, most recently at a valuation north of $2 billion, from Mithril Capital, Wellington Management, Partner Fund Management, D1 Capital Partners, Senator Investment Group, Lux Capital and Viking Global Investors.
Key here is that this will build on J&J's existing robotic surgery partnership with Alphabet's Verily.
• D.C. flyover: President Trump is expected to sign Congress' bipartisan plan to stave off another government shutdown, per both CNN and the WSJ. But put this in the "trust but verify" category, as Trump was also expected to sign a funding bill in December before instead opting for what became the longest government shutdown in history.
Trump yesterday (slightly) backed off his March 2 deadline for massively increased tariffs on Chinese goods, which could give time for added negotiation. He also on Monday night reiterated his claim that current tariffs are pumping billions of dollars into the U.S. Treasury, which is still not how tariffs work.

Chinese econ optimism from Alibaba's Joe Tsai yesterday at a Goldman Sachs conference: In terms of GDP, China "is creating a new Netherlands every year."

The U.S. debt hit a record $22 trillion, largely on the back of increased government spending. Trump had pledged during the 2016 campaign to completely eliminate the national debt by renegotiating trade deals.
🎙Podcast: Our new episode focuses on the future of Reddit and the concept of "peak social." My guest is Reddit co-founder and Initialized Capital managing partner Alexis Ohanian. Listen here.
The BFD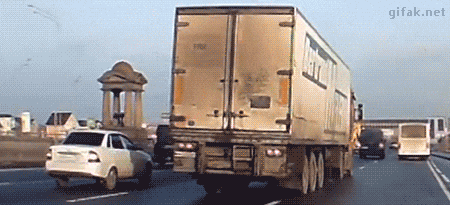 TuSimple, a Tucson, Ariz.-based self-driving truck startup, raised $95 million in Series D funding at a pre-money valuation of $1 billion led by China's Sina Corp.
Why it's the BFD: Because the widespread adoption of autonomous trucks could move significantly faster than that of autonomous cars (even ride-hail), due to the high costs and human safety requirements (read: sleep) of long-haul trucking.
No, this is not the same as Rivian, which Amazon and GM reportedly may invest in. That's self-driving pickup trucks. It's closer to Ike, which last week raised $52 million.
Bottom line: "Today, TuSimple is taking three to five fully autonomous trips per day for customers on three different routes in Arizona...Now, it's ready to ramp up further... expanding its daily "fully-autonomous" commercial deliveries to Texas. The company also plans to use this influx of capital to fund what it describes as 'critical joint production programs' with OEM, Tier 1 suppliers and sensors partners." — Kirsten Korosec, TechCrunch
Venture Capital Deals
• Starling Bank, a London-based challenger bank, raised £75 in Series C funding led by Merian Global Investors. http://axios.link/ernB
• InfluxData, a San Francisco-based time series database maker, raised $60 million in Series D funding. Norwest Venture Partners led, and was joined by Sorenson Capital and return backers Sapphire Ventures, Battery Ventures, Mayfield Fund, Trinity Ventures and Harmony Partners. www.influxdata.com
• Rapyd, a London-based digital wallet startup, raised $40 million in Series B funding co-led by Stripe and General Catalyst. http://axios.link/VsNy
• Chainalysis, a New York-based provider of cryptocurrency compliance solutions, raised $30 million in Series B funding. Accel led, and was joined by Benchmark. http://axios.link/KIkB
• May Mobility, an Ann Arbor, Mich.-based developer of self-driving shuttles, raised $22 million in Series A funding. Millennium New Horizons and Cyrus Capital Partners co-led, and were joined by LG Technology Ventures, Thayer Ventures, BMW i Ventures, Maven Ventures, Toyota AI Ventures and YC. http://axios.link/ITH8
• Second Measure, a San Mateo, Calif.-based provider of consumer behavior analytics, raised $20 million in Series A funding. Bessemer Venture Partners and Goldman Sachs co-led, with Citi Ventures also participating. http://axios.link/tCSI
• ShiftLeft, a Santa Clara, Calif.-based runtime protection startup, raised $20 million in Series B funding. Thomvest Ventures led, and was joined by SineWave Ventures and return backers Mayfield and Bain Capital Ventures. http://axios.link/mNhY
• Joor, a New York-based wholesale platform and data exchange, raised $16 million in Series C funding. Itochu led, and was joined by return backers Canaan Partners and Battery Ventures. www.jooraccess.com
• RapidDeploy, an Austin, Texas-based provider of software for public safety offices, raised $12 million in Series A funding co-led by GreatPoint Ventures and Samsung NEXT. http://axios.link/U185
• Wurk, a Denver-based provider of HCM software for the cannabis market, raised $11 million co-led by return backers Poseidon Asset Management and Arcadian Fund. http://axios.link/77yt
• Qu, a Bethesda, Md.-based maker of point-of-sale solutions for restaurants, raised $10 million in Series B funding. Cota Capital led, and was joined by NRD Capital and the Bobby Cox Cos. www.qubeyond.com
• Donde Search, a visual search engine for fashion retailers, raised $6 million in Series A funding led by Matrix Partners. http://axios.link/SpcF
• Enfuce Financial Services, a Finnish cloud payment infrastructure startup, raised €5 million from Nordea, LähiTapiola and Finnvera. www.enfuce.com
• The Premier Lacrosse League raised an undisclosed amount of Series A funding led by Alibaba's Joe Tsai. Per Axios Sports' Kendall Baker:
"The most popular upstart sports league at the moment is the Alliance of American Football (AAF). The most interesting upstart sports league at the moment is the PLL."
Private Equity Deals
• BCM One, a New York-based portfolio company of Thompson Street Capital Partners, acquired SIP.US, an Alpharetta, Ga.-based provider of enterprise IP communications software. www.bcmone.com
• Catapult Capital bought JibJab, a Los Angeles-based provider of e-cards, messages and branded satire. Sellers include Polaris Partners.
🚑 Leonard Green agreed to sell Plano, Texas-based dialysis services company U.S. Renal Care to a management-led investor group that includes Bain Capital, Summit Partners and Revelstoke Capital Partners. www.usrenalcare.com
⛽ Macquarie Infrastructure Partners acquired Wheelabrator Technologies, a Portsmouth, N.H.-based owner and operator of waste-to-energy facilities, from Energy Capital Partners. www.wtienergy.com
• mTAB, an Anaheim, Calif.-based portfolio company of Milestone Partners, acquired Slideworx, a German provider of digital storytelling software. www.mtab.com
Public Offerings
🚂 Virgin Trains USA, an owner and operator of passenger rail in Florida, has postponed an IPO that had been expected to offer 28.3 million shares at $17-$19. It would have had a market cap of $3.15 billion at the top of its range, while shareholders include Virgin Group and Fortress Investment Group. http://axios.link/zcrR
Liquidity Events
• Dynamic Map Platform of Japan agreed to buy Ushr, a Livonia, Mich.-based developer of mapping software for autonomous vehicles, for upwards of $200 million. Ushr in 2017 raised $10 million from Forté Ventures, GM Ventures, EnerTech Capital and Emerald Technology Ventures. http://axios.link/rqkc
• InterContinental Hotels Group (LSE: IHG) agreed to buy most of the assets of Thailand-based Six Senses Hotels Resorts Spas for $300 million in cash. Sellers include Pegasus Capital Advisors. http://axios.link/nTO4
• Onex Corp. is seeking a buyer for Advanced Integration Technology, a Plano, Texas-based maker of aerospace manufacturing equipment that could fetch over $1.5 billion, per Bloomberg. http://axios.link/bt6H
• Vitruvian is seeking a buyer for Smava, a German online platform for consumer loans that could fetch upwards of $500 million, per Reuters. http://axios.link/qc1U
More M&A
• JAB Holding, a German conglomerate, is offering to increase its stake in U.S. cosmetics maker Coty (NYSE: COTY) from 40% to 60% via a tender to minority shareholders. Coty has lost around half of its market value over the past year. http://axios.link/fHfV
🚑 Trice Medical, a King of Prussia, Penn.-based maker of orthopedic devices, agreed to buy S.E.G-Way Orthopaedics, maker of an endoscopic carpal tunnel release device. Trice backers include Smith & Nephew, Safeguard Scientifics, HealthQuest Capital and BioStar Ventures. http://axios.link/vwsB
Fundraising
• All-Stars Investment, a Hong Kong-based VC firm, raised $500 million for a new fund. http://axios.link/lMIw
• Btov Partners raised €80 million for a new VC fund focused on European industrial tech startups. http://axios.link/F6ba
It's Personnel
• Ciara Burnham joined Washington D.C.-based venture firm QED Investors as a partner. She previously was a senior managing director with Evercore. www.qedinvestors.com
• Francisco Partners promoted Megan Austin Karlen and Neil Tolaney to partners, and Evan Daar, Mario Razzini and Christine Wang to principals. www.francisopartners.com
Final Numbers: Divestment plans