Big congrats to Jack Parks, a vice president with Align Capital Partners, who is the winner of our March Madness contest. And thanks to so many of you for playing. Okay, here we go...
https://www.axios.com/newsletters/axios-pro-rata-6d2d960a-84eb-47d0-827f-391be0a80743.html?chunk=0#story0
Top of the Morning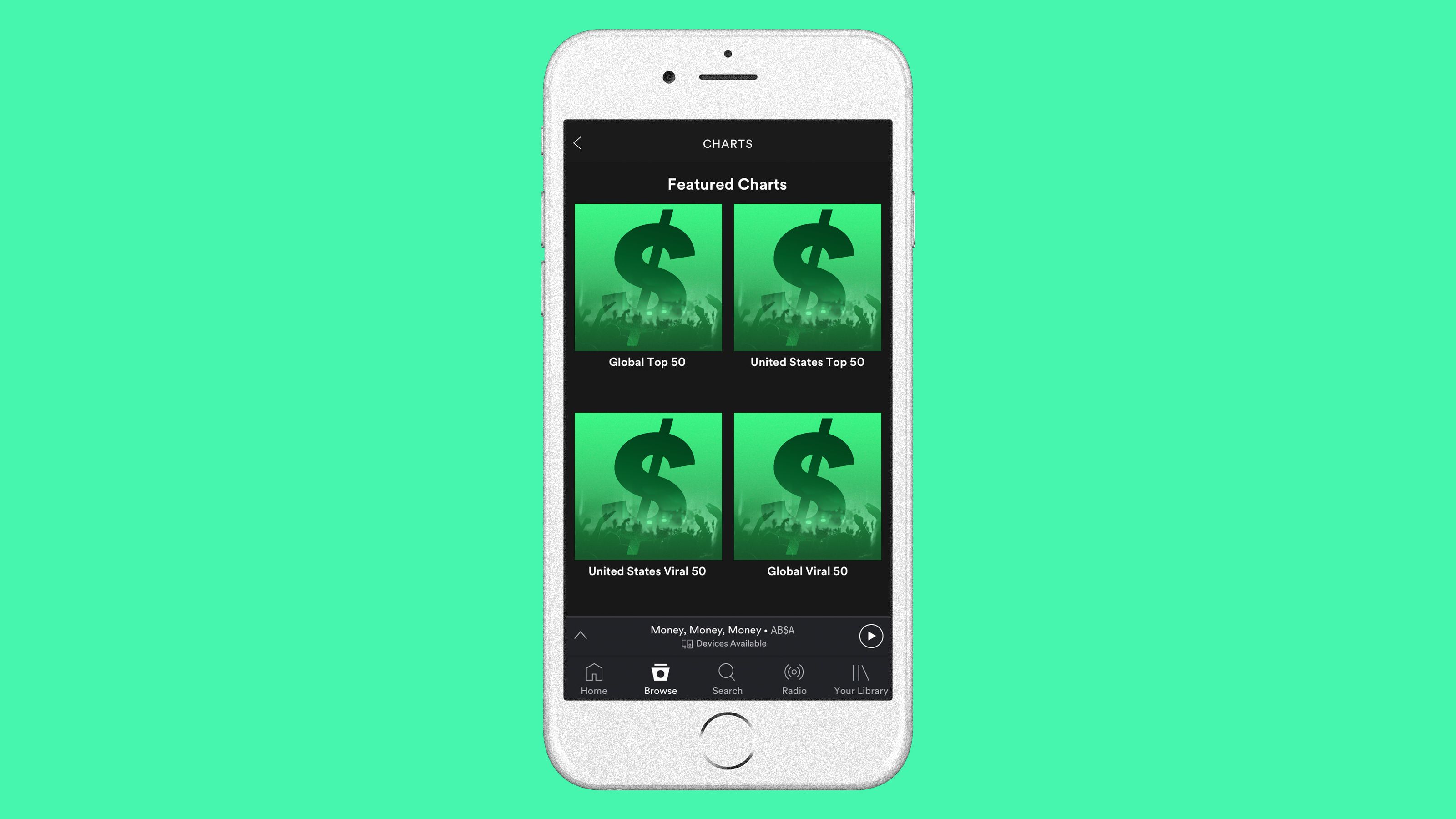 Illustration: Sam Jayne/Axios
All tech and business eyes are on Spotify, as the music streaming giant goes public today without a traditional IPO process.
Why it matters: Precedent. If Spotify's direct listing is successful, other private companies may pursue their own alternative paths to public equity, including ones like Spotify's that use investment banks more as navigators than as drivers.
This could be particularly important for retail investors, who often are at price and information disadvantages to large institutions and high-net-worth bank clients.
What is success? Strong pricing after discovery, relatively low volatility over the first couple of weeks.
Something to watch on pricing is how close it hews to trades in the private secondary markets, where Spotify has been much more permissive than many of its fellow unicorns.
Those secondary trades could cut down a bit on volatility, since there aren't as many early Spotify shareholders who view tomorrow as their first stab at liquidity.
Per PitchBook: "Based on the share prices of Spotify's private sales in 2018 and the probability-weighted expected return method, we've estimated Spotify's market capitalization will fall between $17 billion and $23 billion."
Wither Wall Street? No. Spotify is still paying €40 million to banks like Goldman Sachs, Morgan Stanley and Allen & Co.
Per Bloomberg's Shira Ovide: "If $1 billion of shares begin to trade, on a percentage basis Spotify's costs will amount to 4-5% of total stock sold. Compare that with underwriting fees in high-profile IPOs, which tend to be 4% or less of the money raised in the transaction."
Banks often view IPOs as just the first transaction in a more lucrative relationship that could include both M&A and secondary public offerings. No IPO here — thus no allocations for their wealthiest clients — but the second part still applies.
A longtime friend of Spotify's Daniel Ek tells me: "They first told the banks they were thinking about a direct listing, and the banks told them all the reasons why it wouldn't work. Then they told the banks they were doing a direct listing, and the banks asked how they could help."
Ek's message to the markets:
"Normally, companies ring bells. Normally, companies spend their day doing interviews on the trading floor touting why their stock is a good investment. Normally, companies don't pursue a direct listing. While I appreciate that this path makes sense for most, Spotify has never been a normal kind of company."
Why Spotify isn't normal: A major argument against Spotify opening the non-IPO floodgates is that it's pretty unusual.
Few other private companies can count on the same sort of brand and product recognition.
Most companies IPO, in part, for the proceeds. Spotify has plenty of cash on hand, even though it remains unprofitable.
Spotify's permissive attitude toward private market trades was encouraged, in part, by financial disclosure rules in its home country of Sweden. U.S. startups, on the other hand, hold their financials more closely, thus making it more difficult for outsiders to invest.
https://www.axios.com/newsletters/axios-pro-rata-6d2d960a-84eb-47d0-827f-391be0a80743.html?chunk=1#story1
The BFD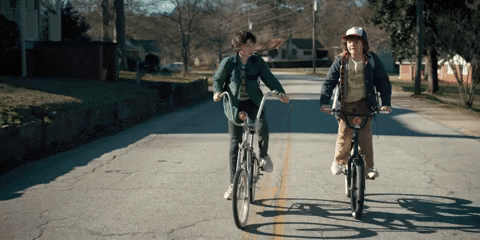 Meituan Dianping, a Chinese provider of on-demand services, reportedly is in talks to buy bike-sharing company Mobike for around $3.7 billion. Other local media reports say that the price remains subject to change, and that Didi Chuxing and SoftBank are trying to make a last-second play.
Why it's the BFD: Because this isn't really about Meituan Dianping and Mobike, so much as it is about the battle between Tencent (a major holder in both companies) and Alibaba (which backs rival bike-share company Ofo). It also could be a very quick and cash-rich return for Mobike shareholders, who invested around $1 billion in less than two years.
Looking ahead: A Mobike buy could boost Meituan Dianping's top line ahead of its expected IPO, but also could wreak some havoc on its bottom line.
https://www.axios.com/newsletters/axios-pro-rata-6d2d960a-84eb-47d0-827f-391be0a80743.html?chunk=2#story2
Venture Capital Deals
🚑 Accolade, a Plymouth Meeting, Penn.-based personalized health and benefits platform, has raised $50 million in new funding. Cross Creek Advisors and Madera Technology Partners were joined by return backers Andreessen Horowitz, Carrick Capital Partners, Madrona Venture Group and McKesson Ventures. http://axios.link/Nn1c
• Bitpay, an Atlanta-based bitcoin payments startup, raised $40 million in Series B funding from firms like Menlo Ventures and Aquiline Technology Growth. http://axios.link/LrX6
• Verbit, an Israeli transcription startup, has raised $11 million in seed funding from Vertex Ventures, Oryzn Capital and HV Ventures. http://axios.link/jN8Z
• BioConsortia, a Davis, Calif.-based developer of "microbial solutions for natural plant trait enhancement and yield improvement," raised $10 million in new funding. Otter Capital led and was joined by Khosla Ventures. http://axios.link/Mwbs
• 82Labs, a Mountain View, Calif.-based developer of a hangover recovery drink, raised $8 million from Altos Ventures, Slow Ventures, Strong Ventures and Thunder Road Capital. http://axios.link/KpTp
🥩 Wild Type, a San Francisco-based meat-culturing startup, has raised $3.5 million in seed funding. Spark Capital led and was joined by Root Ventures and Mission Bay Capital. http://axios.link/3iuR
• Shine, a self-care app, raised $5 million in Series A funding. Comcast Ventures led, and was joined by Betaworks, Felix Capital and The New York Times Co. www.shinetext.com
https://www.axios.com/newsletters/axios-pro-rata-6d2d960a-84eb-47d0-827f-391be0a80743.html?chunk=3#story3
Private Equity Deals
• Anvil International, an Exeter, N.H.-based portfolio company of One Equity Partners, has acquired the assets of FlexHead Industries and SprinkFLEX, a Holliston, Mass.-based makers of adjustable steel hoses, brackets and fittings for fire safety systems, from Atkore International Group (NYSE: ATKR). www.anvilintl.com
⛽ Harbour Energy, backed by EIG Energy Partners, has made a A$10.4 billion unsolicited takeover bid for Australian gas producer Santos (ASX: STO), which says that it will "engage." http://axios.link/TOuO
• Hydromax, a Chandler, Ind.-based provider of data collection services for infrastructure assets, has agreed to acquire the technical services unit of New Brighton, Penn.-based Miller Pipetech. Hydromax is a portfolio company of Warren Equity Partners. www.hydromaxusa.com
🚑 Great Hill Partners has acquired a majority stake in Vatica Health, a Miami Beach, Fla.-based provider of risk adjustment and clinical quality solutions to health plans. www.vaticahealth.com
• Thoma Bravo has completed its acquisition of a majority stake in Nintex, a provider of intelligent process automation solutions. http://axios.link/YCRR
🚑 TorQuest Partners has acquired Rubicon Pharmacies Canada from BMO Capital Partners, and merged it with existing portfolio company Amenity, which also is a retail pharmacy focused on Western Canada. www.rubiconpharmacies.com
🚑 Veritas Capital has agreed to acquire GE Healthcare's enterprise financial management, ambulatory care management and workplace management units for $1.05 billion.
Bonus: Joe Nocera argues Jack Welch is more to blame than Jeff Immelt for GE's woes
https://www.axios.com/newsletters/axios-pro-rata-6d2d960a-84eb-47d0-827f-391be0a80743.html?chunk=4#story4
Public Offerings
• Goosehead Insurance, a Westlake, Texas-based personal lines insurance agency, has filed for a $100 million IPO. It plans to trade on the Nasdaq under ticker GSHD, with J.P. Morgan as lead underwriter. The company reports $8.7 million in net income on $42.7 million in revenue for 2017. www.gooseheadinsurance.com
• GreenSky, an Atlanta-based online lender, has filed confidentially for an IPO, per the WSJ. Backers include TPG Growth, DST Group, ICONIQ Capital, Wellington Management and PIMCO. http://axios.link/tPVJ
• Pluralsight, a Farmington, Utah-based professional learning platform that has raised over $230 million in VC funding, said that it has filed confidentially for an IPO. No, that is not the sort of thing companies usually announce. http://axios.link/pfpR
https://www.axios.com/newsletters/axios-pro-rata-6d2d960a-84eb-47d0-827f-391be0a80743.html?chunk=5#story5
Liquidity Events
• Cerberus Capital Management has agreed to sell Reydel, a maker of interior components to auto OEMs, to a subsidiary of India's Motherson Sumi Systems.
• Lone Star Funds is considering a sale of its 61% stake in Warsaw-listed real estate developer GTC, which currently has a total market cap of around $1.26 billion. http://axios.link/FWNv
🚑 Walmart (NYSE: WMT) is in talks to buy online pharmacy Pillpack, as first reported by CNBC. Axios has confirmed the report, and also has learned that no deal is signed and that conversations have been ongoing for a couple of months. Pillpack has raised over $110 million in VC funding, most recently at around a $360 million valuation, from firms like Accel, Accomplice, CRV, Pillar Cos, Astral Capital and Sherpa Capital. http://axios.link/9PRC
https://www.axios.com/newsletters/axios-pro-rata-6d2d960a-84eb-47d0-827f-391be0a80743.html?chunk=6#story6
More M&A
• 21st Century Fox submitted a proposal to the UK's competition authority Tuesday to sell Sky News to The Walt Disney Co. if it would help ease regulators' concerns over media plurality. http://axios.link/yzFG
• Ebix (Nasdaq: EBIX) has agreed to acquire India-based money exchange business Centrum Direct from India's Centrum Capital. http://axios.link/4jYK
• Monex Group, a Japanese online brokerage, said that it may buy cryptocurrency exchange Coincheck. http://axios.link/ppkS
• InVision, a New York-based digital product design platform, has acquired Wake, a connection and collaboration tool for digital product designers. InVision has raised around $235 million in VC funding, while Wake earlier this year raised $2.1 million via a SAFE offering. www.wake.io
https://www.axios.com/newsletters/axios-pro-rata-6d2d960a-84eb-47d0-827f-391be0a80743.html?chunk=7#story7
Fundraising
Merit Capital Partners has closed its sixth middle-market private equity fund with $536million. www.meritcapital.com
https://www.axios.com/newsletters/axios-pro-rata-6d2d960a-84eb-47d0-827f-391be0a80743.html?chunk=8#story8
It's Personnel
Amber Baldet is stepping down as head of J.P. Morgan Chase's internal blockchain lab, in order to launch her own company, per Reuters. http://axios.link/JDJL
• Qiming Venture Partners has promoted Steven Hu to partner, with a continued focus on the Internet and consumer sectors. www.qimingvc.com
https://www.axios.com/newsletters/axios-pro-rata-6d2d960a-84eb-47d0-827f-391be0a80743.html?chunk=9#story9
Final Numbers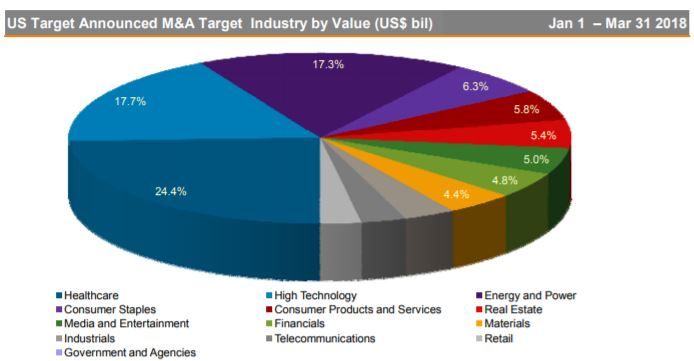 Source: Thomson Reuters