Axios Pro Rata
April 27, 2017
Trump to private equity: You're welcome
The White House yesterday unveiled its tax reform principles, and they read like an obscenely-generous gift to alternative investment managers. Hedge funds? Yup. Private equity funds? Yup. Venture capital funds? Yup. Real estate funds? Oh, you'd better believe it.
Key point: Trump's plan would tax pass-through entities at 15%, whereas they currently are taxed at individual rates. This basically makes the carried interest debate irrelevant.
Result: This is officially aimed at small businesses, but pass-through treatment also applies to a lot of hedge funds and real estate funds (e.g., ones structured as LLC's). Moreover, funds organized as limited partnerships likely would restructure to qualify as pass-through entities for tax purposes (or at least firms would be sure to raise the next one that way). In short, such fund managers could pay a flat 15% tax on all of their income, including annual management fees on which they currently pay individual rates.
More goodies: There is no mention in the White House plan about changing the deductibility of interest on debt. But if you're an individual who currently gets to deduct student debt interest, you'll be out of luck.
But about carry: There was no mention of carried interest taxation during yesterday's WH presser, but Treasury Secretary Mnuchin was asked about it last night by Tucker Carlson on Fox News. Even though Carlson's question explicitly mentioned both hedge funds and private equity, Mnuchin replied only in reference to hedge fund managers, saying the Trump remains committed to eliminating their carried interest tax loophole. Carlson tried again, with the same result (here's video of the exchange). But, again, it doesn't matter if carried interest is considered capital gains or ordinary income if the entire fund just gets reclassified as a pass-thru entity. 15% for all.
Caveat: What the White House unveiled will not become law. It's got zero revenue offsets and, save for pie-in-the-sky economic projections, would inflate the national debt like a toddler bouncy house. The devilish details are still to come, so alternative managers aren't quite off the hook yet ― but should be comforted in knowing that they have a tax ally in a President who vilified them on the campaign trail.
Telco tizzy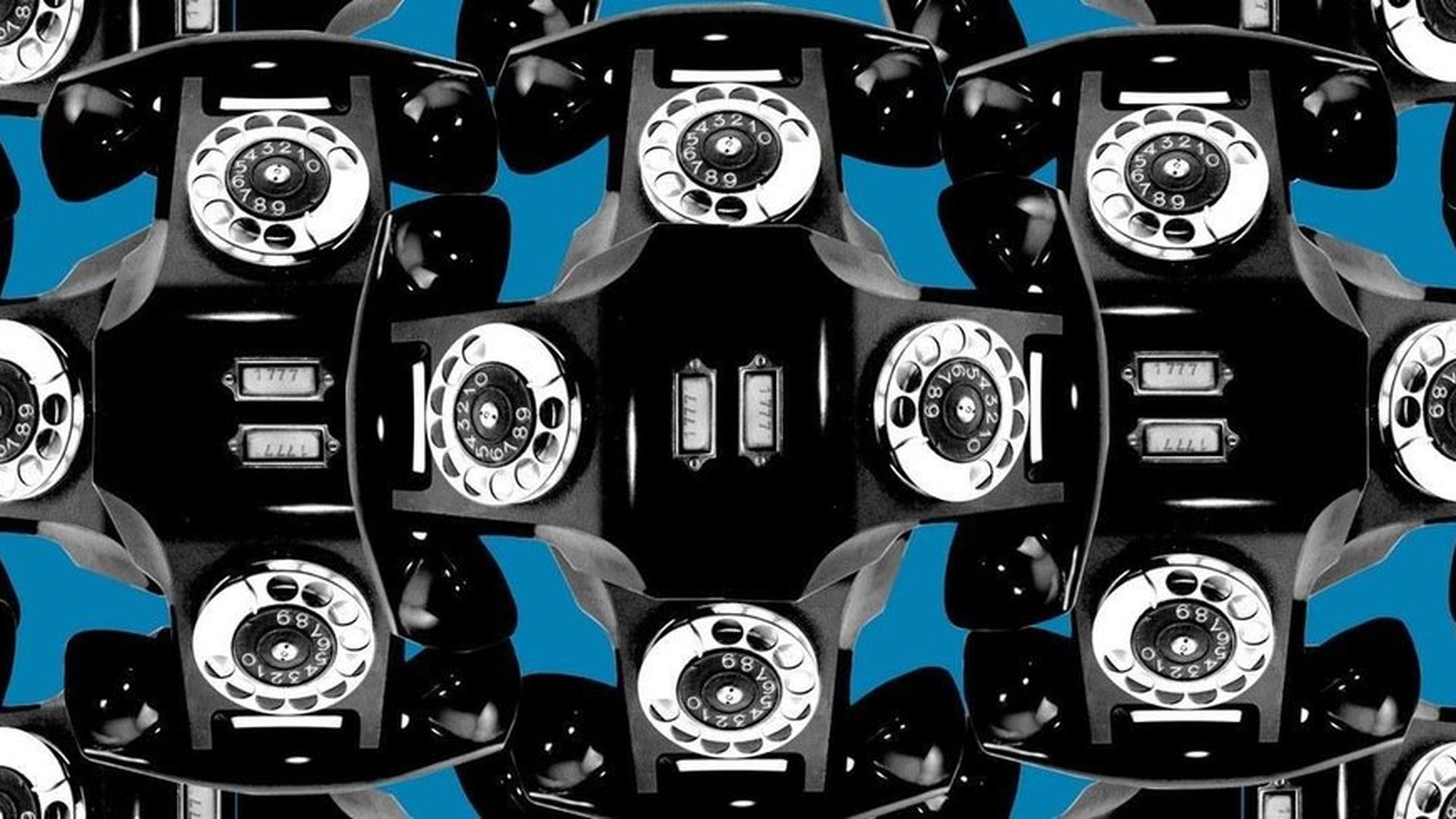 The FCC's ban on merger talks will be lifted this evening, and Wall Street is positively giddy about what might come from all that pent-up frustration. Axios' David McCabe lays out some big possibilities:
T-Mobile + Sprint: Combining T-Mobile and Sprint would create a stronger competitor to wireless giants AT&T and Verizon. T-Mobile comes to the table with loads of spectrum it purchased in the FCC's auction. The Obama administration scuttled an earlier merger attempt, citing competitive concerns about going from 4 national wireless carriers to 3.
Verizon + Charter: Verizon could benefit from Charter's extensive network of in-the-ground broadband. That would let it expand its fixed broadband business and to link its wireless customers up with wifi hotspots to lessen the load on its cellular network.
Dish + Verizon: Dish brings to the table a massive amount of spectrum from previous auctions and an entryway into the content business through its Sling TV product.
The BFD
Didi Chuxing, the Chinese ride-hailing giant, is in the process of closing on a new funding round that would garner upwards of $6 billion at around a $50 billion post-money valuation (up from its prior private mark of $34 billion). Bloomberg reports that backers would include SoftBank, Silver Lake Kraftwerk, China Merchants Bank Co. and Bank of Communications Co. A source tells Axios that company management would retain a majority of voting rights.
Why it's the BFD: Didi is beginning to approach Uber valuation levels, but without nearly as much competition in its primary market. This also would make it China's most valuable startup.
One dark cloud: "Cities including Beijing and Shanghai have imposed stricter regulations that have crimped revenue growth. Among them, drivers have to be local residents to work for Didi, cutting out thousands from the countryside who had been willing to take chauffeur jobs to make a better living." ― Lulu Yilun Chen
Venture Capital Deals
• EverFi, a Washington, D.C.-based digital learning platform, has raised $190 million in new funding led by The Rise Fund. Existing backers include Bezos Expeditions, NEA, TomorrowVentures, ReThink Education, Advance Publications, Allen & Co. and Silicon Valley Bank. http://for.tn/2oNiPaR
• Tmon (f.k.a. Ticketmonster), a Korean mobile e-commerce company, has raised $115 million in new VC funding at a $1.2 billion valuation led by Simone Investment Management. Existing investors include KKR and Anchor Equity Partners. http://bit.ly/2phkHK1
• Arsanis, a Waltham, Mass.-based developer of antibodies for the treatment of bacterial infections, has raised $45.5 million in Series D funding. Bill & Melinda Gates Foundation led the round, and were joined by GV, Alexandria Venture Investments and return backers OrbiMed, Polaris Venture Partners, SV Health Investors, NeoMed, EMBL Ventures and the Anna Maria and Stephen Kellen Foundation. http://bit.ly/2piUR8z
• Avedro, a Waltham, Mass.-based corneal remodeling startup, has raised $42 million in new debt and equity funding. HealthQuest Capital led the equity tranche, and was joined by OrbiMed Advisors and InterWest Partners. www.avedro.com
• OverOps, a San Francisco-based software developer tool for finding and fixing bugs, has raised $30 million in Series C funding. Lightspeed Venture Partners led the round, and was joined by fellow return backer Menlo Ventures. http://tcrn.ch/2oJkXPW
• UIpath, a Romania-based developer of robotic process automation software, has raised $30 million in Series A funding. Accel led the round, and was joined by return backers Earlybird Venture Capital, Credo Ventures and Seedcamp. http://bit.ly/2p6L0nE
• Domino, a Hollywood, Fla.-based data science platform, has raised $27 million in new VC funding. Coatue Management led the round, and was joined by return backers Sequoia Capital, Zetta Venture Partners and Bloomberg Beta. www.dominodatalab.com
• ChromaCode, a Carlsbad, Calif.-based molecular diagnostics startup, has raised $12 million in Series B funding. NEA led the round, and was joined by return backers Domain Associates and Okapi Ventures. www.chromacode.com
• Huddly, a Norway-based camera and computer vision platform for capturing remote company meetings, has raised $10 million in Series B funding. No investor information was disclosed. http://tcrn.ch/2oJsn5N
• AIdoc, an Israel-based platform for analyzing medical scans for radiologists, has raised $7 million in new VC funding. TLV Partners led the round, and was joined by return backers Magma Ventures and Emerge. http://tcrn.ch/2ov1g38
• Token, a New York-based gift-giving assistant app, has raised $2.5 million in VC funding. Upfront Ventures led the round, and was joined by Slow Ventures and Human Ventures. http://tcrn.ch/2plzYf4
• wiBotic, a Seattle-based provider of wireless power and battery solutions for the robotics industry, has raised $2.5 million in new seed funding. Tsing Capital led the round, and was joined by Comet Labs, Digi Labs and return backers W Fund, WRF Capital and Wisemont Capital. http://bit.ly/2pmwg4L
• Congenica, a UK-based provider of clinical genomics software for inherited diseases, has raised an undisclosed amount of new Series B funding from BGI Genomics, Healthlink Capital and Future Planet Capital. It previously held a $10 million first close on the round from Cambridge Innovation Capital and Amadeus Capital Partners. www.cogenica.com
• Exonar, a UK-based data loss prevention platform, has raised £1.25 million in VC funding from Winton Group and Amadeus Capital Partners. www.exonar.com
• Oyo Rooms, an Indian budget hotel room aggregator, is closing on a $250 million financing at an $850 million valuation from existing backer SoftBank, per the Economic Times. An earlier ET report said that the company was seeking upwards of $500 million but it reportedly was unable to find new investors. http://bit.ly/2p6PPgK
Private Equity Deals
• Accuride, an Indiana-based portfolio company of Crestview Partners, has agreed to acquire KIC, a Vancouver, Wash.-based supplier of wheel end components to the North American commercial vehicle industry. No financial terms were disclosed. Sellers include Industrial Opportunity Partners. www.kic-group.com
• GIC and the Abu Dhabi Investment Authority have agreed to acquire minority stakes in Pharmaceutical Product Development, a Wilmington, N.C.-based contract research organization that was taken private in 2011 for $3.9 billion by The Carlyle Group and Hellman & Friedman. No financial terms of the new deal were disclosed. http://bit.ly/2q9TSYl
• Industrial Growth Partners has acquired Royal Die & Stamping, a Carol Stream, Ill.-based provider of electrical connectivity components for automotive and industrial applications. No financial terms were disclosed. www.royaldie.com
• Solar Spectrum has been formed to acquire certain assets of bankrupt Sungevity, including its infrastructure, technology, installer network, supplier warranties and certain agreements. No financial terms were disclosed. Northern Pacific Group is the lead sponsor of Solar Spectrum, while other backers include Hercules Capital and DGB Investments. http://bit.ly/2oKa9kX
• Windjammer Capital Investors has acquired Vital Records Control, a Memphis, Tenn.-based provider of information governance services. No financial terms were disclosed. http://bit.ly/2pmuiBy
Public Offerings
• Floor & Décor, a Smyrna, Ga.-based retailer of hard surface flooring and related accessories, raised $185 million in its IPO. The company priced 8.82 million shares at $21 per share (above $16-$18 offering range), and will trade on the NYSE under ticker symbol FND. BofA Merrill Lynch served as lead underwriter. The company reports $43 million of earnings on $1.05 billion in revenue for 2016, and is owned by Ares Management and Freeman Spogli & Co. http://bit.ly/2pCJc7J
• Verona Pharma, a London-based developer of therapeutics for treating respiratory diseases, raised $78 million in its IPO. The company priced 5.8 million shares at $13.50 per share, and will on the Nasdaq under ticker symbol VRNA. Jefferies and Stifel served as lead underwriters. Shareholders in the pre-revenue company include Novo AS (15.5% pre-IPO stake), Vivo Capital (15.4%), OrbiMed (12.3%), NEA (11.7%), Abingworth (9.3%), Arix Bioscience (7.5%), Aviva PLC (6.4%), Biodiscovery (5.9%), Tekla Capital (5.9%) and Aisling Capital (4%). www.veronapharma.com
Liquidity Events
• Gett, a ride-hailing company that has raised over $500 million, has acquired New York-based Juno for $200 million. As part of the deal, Juno is rescinding the restricted stock unit program for drivers it rolled out last summer, and will instead send a one-time payment to participating drivers (many of whom are displeased). Juno had been seeded by Empire Angels. http://bit.ly/2p7oLhz
• Olympus Partners is considering a sale process for Phoenix Services, a Kennett Square, Penn-based provider of steel mill support services, according to Bloomberg. The company could be worth upwards of $900 million. https://bloom.bg/2oKJggx
• Spotify has acquired Mediachain Labs, a Brooklyn, N.Y.-based blockchain startup focused on attribution issues, for an undisclosed amount. Mediachain had raised around $1.5 million in seed funding from firms like Andreessen Horowitz and RRE Ventures. http://tcrn.ch/2q7OojJ
• Telegraph Media Group has acquired Gojimo, an app that helps British high school students prep for exams. No financial terms were disclosed. Gojimo had raised around $3 million in VC funding from firms like Index Ventures and Jamjar Investments. http://tcrn.ch/2qdGilU
More M&A
• Lufthansa said it is not interested in buying troubled Italian airline Alitalia. http://reut.rs/2qb9764
• Teva Pharmaceutical (NYSE: TEVA) is considering a sale of its specialty cancer treatment business, in an effort by the Israeli drugmaker to cut debt, according to Bloomberg. https://bloom.bg/2oL4Nqk
• Volkswagen is exploring a sale of Italian motorcycle maker Ducati, according to Reuters. http://reut.rs/2p6YFLN
Fundraising
• Accolade Partners, a Washington, D.C.-based VC and growth equity firm, has closed its sixth fund with $235 million. www.accoladepartners.com
It's Personnel
• Rebecca Miller has joined Slow Ventures as VP of brand and community. She previously was founder and CEO of event planning company MartiniBird. www.slowventures.com
• The Rise Fund, a social impact fund co-founded by Bill McGlashin (TPG), Bono and Jeff Skoll, has made the first hires for its education sector team: John Rogers (ex-Bridges Ventures) as sector lead and Arne Duncan (former U.S. Ed Sec) and Rick Levin (CEO of Coursera) as senior advisors.
• Tim Smith has joined venture firm Bee Partners as head of portfolio operations. He previously founded a consulting firm called Applied.Design. www.beepartners.vc
Final Numbers: KKR's holdings